It is officially training camp news season when it comes to 2022 fantasy football. As such, here are the top training camp storylines as camp kicks off for every AFC team.
Editor's note: And for those who missed it, here's the NFC version.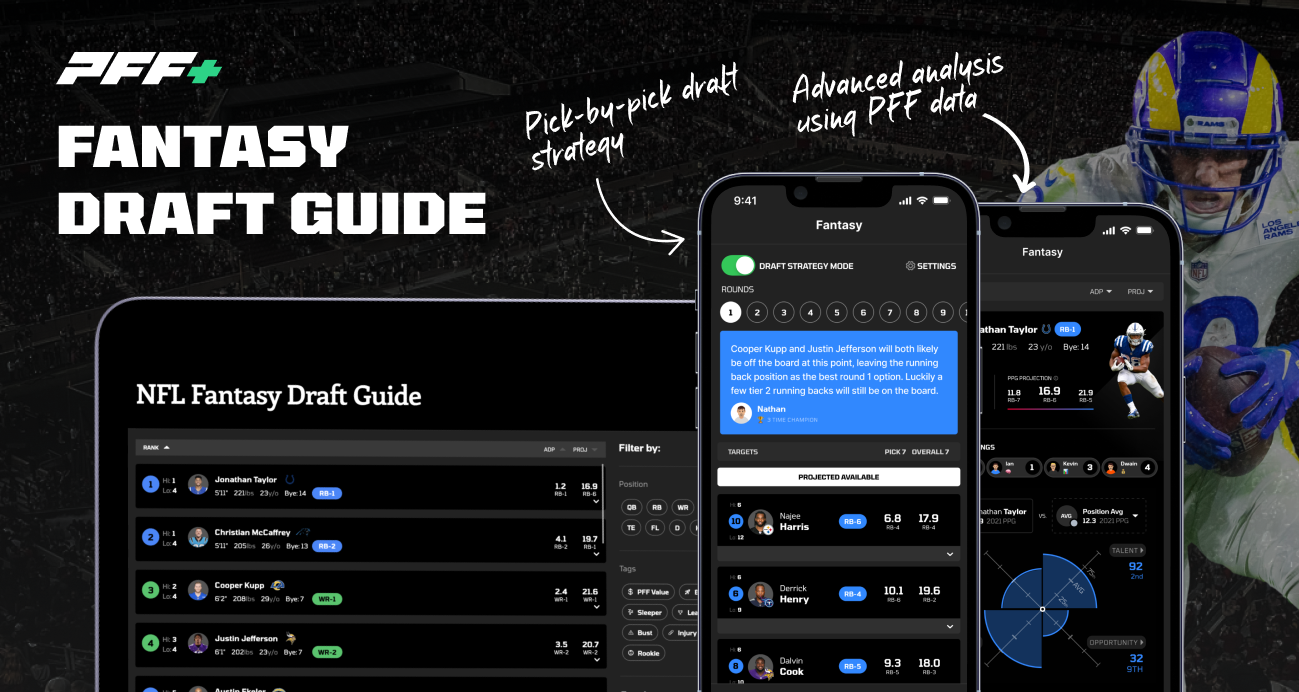 When will J.K. Dobbins and Gus Edwards be ready to play?
Dobbins and Edwards began training camp on the physically unable to perform (PUP) list, creating questions about their value heading into the season. However, there are massive ripple effects:
If one of these backs is healthy and the other is not, we could see an expanded role. The team will take it easy early on regardless, but if one is much further ahead, that could provide late fantasy season returns.
Last year, without a healthy backfield, the Ravens opted for a more pass-heavy attack. The assumption is that the ground game will return, but these two's health is a factor.
Dobbins currently goes in Round 5, which is steep for a rotational player who is coming off of injury. Edwards is a late-round depth option but is slipping down boards.
---
Why were the Bills so adamant about adding a passing-down back to the fold? Is there a No. 2 option behind Stefon Diggs?
Given the current roster makeup, Diggs should dominate targets for the Bills this year. Still, in this elite pass-centric offense, there is room for complementary options to succeed in fantasy football.
The most intriguing name is James Cook because the Bills went hard after multiple pass-catching backfield options this offseason, including a deal with J.D. McKissic that fell through at the last second. Ultimately, they spent a second-round selection on Cook.
The team has a plan for the archetype, and it may want to push the boundaries on pass-run splits and create mismatches on the field at every position. If Buffalo takes this path, Cook carries enormous upside as the passing-down option with explosive playmaking ability.
Alvin Kamara only handled 27% of the New Orleans Saints' rushing attempts as a rookie on the way to 300-plus fantasy points.
If we find evidence – not reports that he looks great – that the Bills want to use Cook similarly, he could be a key component of winning championships this year. He is currently a Round 9 pick in high-stakes leagues such as the FFPC.
---
Who is the RB2 behind Joe Mixon?
We know the roles for all of the Bengals' offense except for one – Mixon's backup. Last year, Samaje Perine filled that role, but last year's sixth-round pick, Chris Evans, flashed a 75.4 PFF receiving grade on a tiny sample of routes (65).
Evans isn't your typical swing-pass back, as he is a plus-ADOT (3.4) receiver – a trait that most elite options share. If Evans wins the passing-down role, he could provide spike-week upside and contingent value as an RB5.
---
Will DeShaun Watson play in 2021?
When Watson is on the field, he is a top-six option and will score plenty of fantasy points. If he is only suspended for six games, he should be the first quarterback off the board after Trey Lance and Russell Wilson are gone.
Many won't want to deal with the headache or just don't like the person – and both are understandable stances — however, I am coming at this strictly from an upside standpoint in fantasy land, and the numbers say Watson is worth the risk late in drafts right now.
Amari Cooper is a fade if Jacoby Brissett is leading the offense, but he becomes a WR3 with upside if Watson plays half the season or more. David Njoku turns from a late-round option to a high-end TE2 with Watson, and David Bell becomes a late-round stash in deep formats.
---
How do the Broncos plan to split the reps between Javonte Williams and Melvin Gordon III?
During his rookie season, Williams teased us with a tantalizing talent profile similar to Jonathan Taylor and Nick Chubb. The Broncos let Gordon test the free-agent market, but he could not find the proper suitor, so the Broncos brought him back on a one-year $2.5 million deal.
There have been rumblings that Williams will take over the RB1 role, as he has led the way early in camp. However, Gordon flashed high-end ability last season, so we can't expect him to fade away completely.
If Williams takes over 65% or more of this tandem, he carries No. 1 overall upside in a much-improved offense with Russell Wilson that must score points due to a schedule loaded with quality offenses.
---
Can Dameon Pierce emerge as the leader of Houston's backfield?
Pierce never handled an every-down role in college, but the former Gator was the No. 3 back on the PFF big board after leading the FBS in rushing grade (93.5) in 2021. His career 25% tackles avoided per attempt is two percentage points above the NCAA average, and he was one of four backs who posted a 70.0-plus PFF grade in rushing, receiving and pass blocking in the 2022 class.
Marlon Mack and Rex Burkhead hardly qualify as immovable obstacles to a large workload. The key for Pierce is earning the passing-down duties, which can be elusive for rookies. The value of an early-down option isn't likely to produce fruit on an offense that will trail often. However, a back could thrive in the receiving game, and this depth chart lacks proven options outside Brandin Cooks.
---
How will the Colts' offense change with Matt Ryan under center?
The early buzz out of Colts camp surrounds how quickly Ryan moves the offense. Last season, the Colts averaged two plays per minute, ranking as the second-slowest in the NFL.
Additionally, they opted to run the ball well above the league average in all game scripts. Some of that is tied to leading by four or more points the fourth most often (13% above the NFL average), which could also regress toward the mean.
The Colts will still center much of their game around Jonathan Taylor, but there are many ways for this team to throw the ball more in 2022. That would boost Michael Pittman Jr, who I already have higher than consensus. Nyheim Hines' value could improve while Taylor's could slightly devalue.
---
Is Travis Etienne locked into the passing-down role?
Etienne earned the No. 1 PFF receiving grade (90.9) in the country in his final year at Clemson, and there is significant camp buzz about his role as a receiver. We want explosive playmakers who can catch the ball, and Etienne checks both boxes.
If he locks in the passing-down work, we are drafting him at his floor in Rounds 3 and 4 as a D'Andre Swift arbitrage play. The current assumption is that James Robinson (avoided the PUP) will handle much of the early-down work, but Etienne has rocketship-type upside if that doesn't come to fruition.
At ADP, that makes him an absolute centerpiece to our running back draft strategy for 2022.
---
Can Skyy Moore earn a starting role in three-wide receiver sets?
Behind Travis Kelce, this pecking order is wide open. Marquez Valdes-Scantling got a nice contract but hasn't checked one-single breakout box in his entire career – even in games without Davante Adams. Now, we are supposed to believe he is suddenly going to earn targets because of Patrick Mahomes when he already played with Aaron Rodgers? Call me skeptical at best.
JuJu Smith-Schuster has provided fantasy production in the past, but his underlying metrics have been free-falling for years, and Mecole Hardman also hasn't shown much.
That brings us to Moore – who might be the most NFL-ready receiver from this class despite coming from a small program. He is already turning heads early in camp and should best Hardman for the No. 3 role. If that comes to fruition, he could surprise as the second-most targeted option in a pass-heavy offense.
---
Will Josh McDaniels deploy the dreaded three-headed backfield committee he used in New England?
Sometimes, we can overrate how much a coach's historical utilization tendencies matter, but this isn't one of those times. The Patriots have a long history of creating niche roles for multiple backs, so we must monitor this one closely.
The Raiders added multiple backs with diverse capabilities in the offseason. Also, they drafted an early-down banger in Zamir White to join the well-rounded Kenyan Drake, who is a plus in the receiving game. This alone makes it seem like McDaniels is leaning toward a committee.
---
Can Isaiah Spiller overcome a lackluster depth chart for the No. 2 RB role behind Austin Ekeler?
Spiller tumbled to Round 4 in the NFL draft after a terrible combine and pro day. However, his collegiate production profile was one of the best in this class, and this depth chart is weak.
The Chargers don't want to overload Ekeler, which provides the RB2 here an opportunity to provide spike-week value in a super-charged offense. The early camp buzz suggests Joshua Kelley is in the lead, but we see rookies get that sort of treatment out of the gate. Kelley isn't a complete back like Spiller, who offers upside on the ground and in the passing game.
Spiller is one of my favorite picks in Round 10 or 11 in sharp draft rooms.
---
What will the Dolphins' timeshare look like at running back?
The Dolphins moved swiftly to secure Chase Edmonds early in free agency. He offers explosive playmaking ability and receiving chops in an offense designed to unleash big plays.
Later in free agency, the Dolphins added Sony Michel and Raheem Mostert, who should work in, but if Edmonds even gets half the work plus passing-down duties, he will obliterate his Round 8 ADP.
---
Can Damien Harris and Rhamondre Stevenson finally condense this backfield to a two-way committee?
Harris and Stevenson are both quality players who could provide value at ADP if they can make this a reality. Unfortunately, the Patriots have a long-standing tradition of getting three backs involved, even using roster-depth and special teams options when necessary.
The Patriots also drafted Pierre Strong Jr. in the fourth round, who offers passing-down upside and is wide-zone ready if the team is serious about using more Kyle Shanahan-like concepts.
---
What role will Michael Carter play in the Jets' backfield?
Carter flashed great receiving prowess as a rookie and is currently standing between Breece Hall and an every-down role. However, Carter was only a Round 4 pick, and the team invested heavily in Hall with an early Day 2 selection.
Hall profiles as an elite back from both a production and measurables perspective while offering every-down upside. He is a perfect fit for the Jets' wide zone scheme, but he must overcome Carter for the receiving-down role to unlock his full fantasy potential. Historically, early-down options on questionable offenses aren't big fantasy success stories.
If Carter relieves Hall every third or fourth series, the rookie carries RB1 upside. If Carter wins the passing-down role, Hall dips to high-end RB3 status.
---
Which receivers will play in two-wide looks?
The Steelers will likely run a multiple-offense under Matt Canada, which will dictate matchups and game script. That could mean games where 11 personnel isn't their primary set, which creates a challenge for the WR3 on the depth chart.
Early reports have Chase Claypool as an option to kick inside to play slot, but that doesn't mean he won't also be on the field in two-wide receiver sets. If Claypool locks down this role, he is under-drafted based on historical breakout metrics and comparisons.
George Pickens fell in the NFL draft after some injury challenges as a senior but is receiving rave reviews out of camp and could challenge Claypool for the every-down role. Of course, we could also see a rotation between the two players.
---
Can Treylon Burks secure a starting role after a rough mini-camp?
Burks battled asthma and conditioning challenges in mini-camp, creating some negative buzz that pushed him down fantasy draft boards. However, he has snapped back early in training camp and still has that Round 1 NFL draft pedigree.
Burks has the after-catch ability to help fill the big-play void left behind by A.J. Brown if he can stay on the field. He offers the big-play upside we want when targeting a run-first offense that is looking to live off efficiency in the passing game.
Burks is currently a high-end WR4 with WR2 upside but could move into the WR3 range if the news remains positive on his role. That would make him a vital component of the draft plan at wide receiver.