Free agency and the 2022 NFL Draft have come and gone. Now, it's time to fully embrace the 2022 offseason by breaking down each team's fantasy football aspirations before fantasy-draft season truly gets underway in August.
What follows is a fantasy-focused breakdown of the Tennessee Titans, focusing on key questions like:
Is Ryan Tannehill egregiously cheap in fantasy land?
Is Derrick Henry still a top-three fantasy pick?
Just how high should expectations be for Treylon Burks in Year 1?
We will cover every fantasy-relevant player from the Titans in the following paragraphs. Make sure to check out the PFF Team Preview Landing Page through early July for more all-encompassing fantasy football coverage.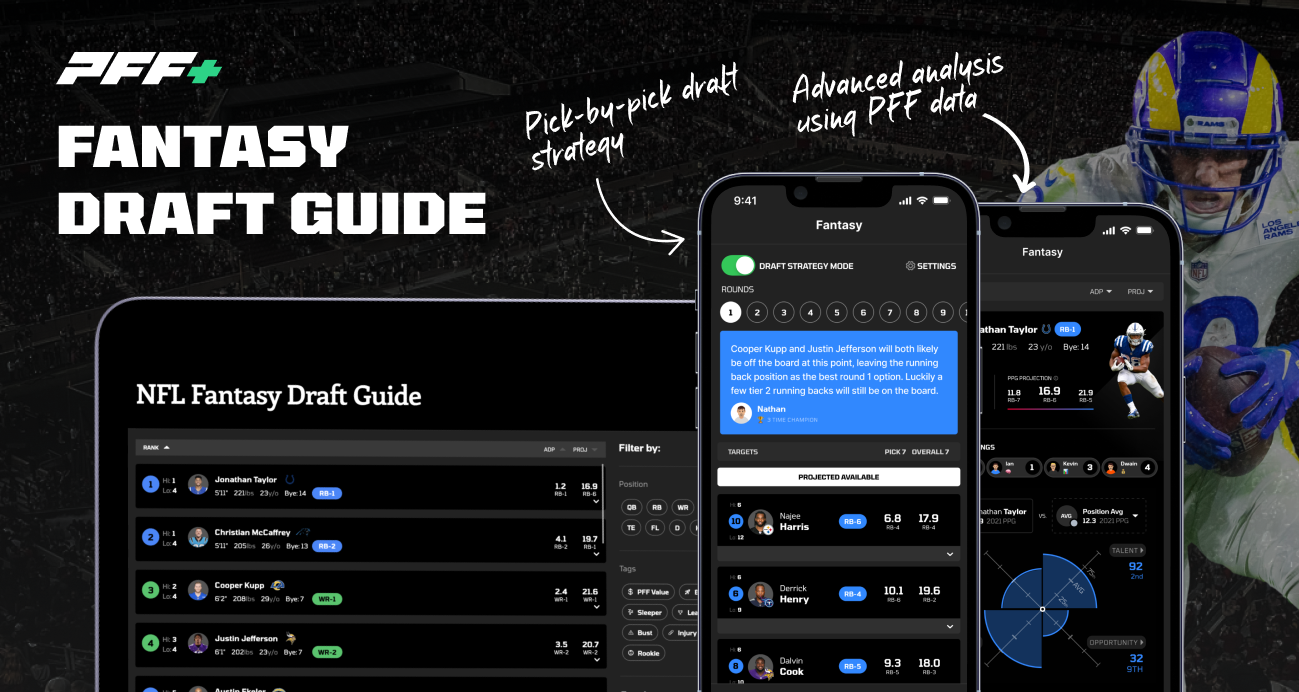 Notable offseason moves
Head coach Mike Vrabel is back for his fifth season as the Titans head coach. He'll once again be joined by offensive coordinator Todd Downing and defensive coordinator Shane Bowen, who each enter their second year in that specific role.
Downing's 2021 offense didn't differ much from the earlier years of the Vrabel experience. This team has been here to run the damn ball ever since 2018:
2021: 54% pass-play rate in non-garbage time situations (32nd)
2020: 52.8% (30th)
2019: 58.7% (26th)
2018: 55.7% (30th)
The Titans ranked a modest 21st in situation-neutral pace (Football Outsiders). This offense simply isn't capable of enabling more than one consistently high-end pass-catcher without outlier-level efficiency.
Additionally, the Titans have made plenty of changes to their roster. The following quarterbacks, running backs, wide receivers and tight ends have either joined or left the Titans in some way, shape or form this offseason:
RB D'Onta Foreman: Moved on to the Panthers in free agency to presumably work as Christian McCaffrey's backup. Foreman quietly filled in nicely for Henry during the second half of the 2021 regular season, posting 133-566-3 rushing and 9-123-0 receiving lines in nine games of action.
RB Darrynton Evans: Was released in March and has since signed with the Bears. The former third-round pick played just six games for the Titans in two injury-riddled seasons.
RB Trenton Cannon: Signed a one-year, $1.1 million contract with the Titans —  but note that the deal has just $125,000 guaranteed. The Titans will be the fifth squad the journeyman special teamer has bounced around with since 2019.
FB Khari Blasingame: Signed with the Bears in free agency. Blasingame played in 32 games for the Titans from 2019 to 2021 as Derrick Henry's lead blocker.
WR A.J. Brown: Traded to the Eagles in return for the 2022 NFL Draft's No. 18 overall pick as well as Philly's third-round pick. AJB immediately signed a four-year, $100 extension upon being traded. It's difficult to understate just how efficient Brown was over the past three seasons, as he posted top-four marks in both PFF receiving grade (91.2, No. 3) and yards per route run (2.61, No. 4) among 108 qualified wide receivers with 100-plus targets since 2019.
WR Robert Woods: Acquired from the Rams in exchange for a 2023 sixth-round pick. Woods racked up 5,111 total yards and 28 scores during his five years with the Rams while also establishing himself as arguably the position's single-best run-blocker. Triple-digit targets aren't a guarantee inside this run-first offense, but Woods will certainly be a top-two passing-game option upon recovery from last season's ACL tear.
WR Marcus Johnson: Signed with the 49ers. Johnson caught 9-of-19 targets for 160 scoreless yards, most notably posting a 5-100-0 receiving line against the Saints in Week 10. The field-stretching veteran is far from guaranteed more opportunity in San Fran.
WR Chester Rogers: Remains an unrestricted free agent. The AFC South veteran posted a 30-301-1 receiving line in 16 games last season while also working as the team's punt and kick returner.
WR Cameron Batson: Remains an unrestricted free agent. The pint-sized former undrafted free agent out of Texas Tech caught just 22 passes for 197 scoreless yards in 27 games with the Titans.
TE Austin Hooper: Signed a one-year, $6 million deal with the Titans after being released by the Browns. While Hooper didn't quite live up to his gaudy contract in Cleveland, he doesn't turn 28 years old until October and offers the most all-around ability of any tight end on this roster.
TE Anthony Firkser: Signed with the Falcons, re-joining former coach Arthur Smith. His role never changed after Jonnu Smith signed in New England. Overall, Firkser caught 106 balls for 1,107 yards and five scores in 58 games as a rotational tight end in Tennesse.
TE MyCole Pruitt: Remains an unrestricted free agent. Pruitt posted a modest 34-386-7 receiving line in 58 career games with the Titans, but his continued absence could be a sign that Hooper is set up for more of a full-time role than past tight ends in this system.
Tennessee immediately made an attempt to replace AJB by using their newfound No. 18 overall pick on Arkansas WR Treylon Burks. While much of Burks' collegiate production was of the schemed and low-aDOT variety, his absurd efficiency — on a small sample — against press coverage is borderline salacious.
In the third round, the Titans stopped Liberty QB Malik Willis' free fall and tabbed him as their potential quarterback of the future. Of course, noted non-mentor Ryan Tannehill is the quarterback of the present for at least another season, so Willis' fantasy-friendly dual-threat skill set might only see the light of preseason at the moment. It's a shame because the man is electric with the ball in his hands.
The Titans added three more talents to their skill-position corps on Day 3. Fourth-round Michigan RB Hassan Haskins profiles as Derrick Henry's potential handcuff and a replacement for D'Onta Foreman. Fourth-round TE Chigoziem Okonkwo offers some freaky athletic intangibles in the 40-yard dash (4.52 seconds) and the vertical jump (36 inches). Fifth-round WR Kyle Phillips earned some rave reviews at the Senior Bowl and has an opportunity to earn some early playing time in the slot on this shallow depth chart. With all that said, the fantasy track record of players not selected inside of the draft's first three rounds isn't pretty.
Tannehill has largely functioned as one of the league's better quarterbacks since taking over for Marcus Mariota during the 2019 season.
Tannehill: Passing statistics and rank among 52 quarterbacks with 300-plus dropbacks since 2019
| | | |
| --- | --- | --- |
| Stat | | Rank |
| PFF passing grade | 91.0 | 3rd |
| Passer rating | 102.0 | 7th |
| Yards per attempt | 7.9 | T-6th |
| Adjusted comp. % | 76.9% | 11th |
The longtime Dolphins veteran put up solid enough numbers in 2021, given the offense's plethora of injuries at wide receiver and running back. Still, there were plenty of missed opportunities throughout that certainly weren't Tannehill's fault. Overall, he posted a league-high nine big-time throws that unfortunately fell incomplete.
Most big-time throws that wound up being incomplete in 2021 (PFF)

1. Ryan Tannehill (9) pic.twitter.com/tohZAwnlnU

— Ian Hartitz (@Ihartitz) May 24, 2022
Additionally, Tannehill continued to provide some underrated fantasy goodness last season. This was in large part to another season with seven rushing touchdowns. Don't expect Tannehill's Tennessee average of 16 rushing yards per game to increase, as history tells us that quarterbacks run less as they get older. Still, his 18 rushing touchdowns (and finger roll celebrations) since 2019 rank third among all quarterbacks behind only Josh Allen and Kyler Murray.
Yes, Tannehill has more trips to the end zone as a rusher than Lamar Jackson over the past three seasons.
While it's unlikely that the artist known as TanneThrill has another ceiling to reach, the soon-to-be 34-year-old veteran has certainly shown off a solid fantasy floor during his time in Nashville.
2021: QB12 overall, QB14 per game (minimum eight games)
2020: QB7, QB9 per game
2019: QB22 (10 starts), QB9 per game
Overall, Tannehill's 94 combined rushing and passing touchdowns since 2019 are tied with Lamar for the seventh-highest mark in the league. Madness.
The question is whether there's a ceiling worth chasing in fantasy land without AJB in town. Perhaps the Titans' new weapons produce a greater sum, but that's far from a given. And a healthier Derrick Henry should continue to keep Tannehill's pass-game volume towards the bottom of the league.
Ultimately, Tannehill doesn't project as more than a streamer option in traditional one-QB re-draft leagues. His low passing volume doesn't seem to be going anywhere, the efficiency is awfully tough to project up given the loss of AJB, and expecting more of the same on the ground seems like wishful thinking. Consider that Tannehill has converted 15 of his 20 rush attempts inside the 10-yard line into touchdowns since 2019, while all but one of his 11 carries inside the 5-yard line ended with him in the end zone.
Don't confuse this as Tannehill slander: I have him at QB18, so I'm far above Tanne's present QB24 average draft position (ADP) over at Underdog Fantasy. I'd take him ahead of younger quarterbacks without the same proven track record — players such as Zach Wilson, Tua Tagovailoa and Trevor Lawrence, although it's fair to prioritize the latter signal-callers among others ahead of Tanny in best-ball land when chasing that big-time ceiling, especially when stacking partners have already been obtained in the draft's earlier rounds.
Willis' third-round price tag isn't the sort that indicates that he'll have a chance to take Tannehill's job anytime soon. The rookie is unlikely to play more than a few packaged snaps per game as long as Tanne is healthy, even if his tantalizing rushing upside would immediately elevate him to the QB1 conversation if given the chance to start in 2021.
All he did in 23 games at Liberty was rack up 1,822 yards and 27 scores on the ground. His rather robust average of 79 rushing yards per game is further accentuated by some sensational advanced numbers.
Willis: Rushing stats and rank among 97 quarterbacks with at least 100 rush attempts since 2020
| | | |
| --- | --- | --- |
| Stat | | Rank |
| PFF rushing grade | 93.4 | 1st |
| Yards per carry | 8.1 | 1st |
| Yards after contact per carry | 4.7 | 3rd |
| Missed tackles forced per carry | 0.48 | 1st |
Overall, only Lamar Jackson (8.6) averaged more yards per carry than Willis (8.4) among all college quarterbacks with at least 100 rush attempts since 2015. That's pretty good company. The rookie will be an easy top-five rushing quarterback the second he steps foot on a professional field.
Henry has missed NFL action at three separate points in his NFL career (per DraftSharks):
2016: Strained his calf in pre-game warmups and sat out the team's Week 9 matchup against the Chargers.
2019: Inactive in Week 16 against the Saints while battling a lingering hamstring injury. He returned in Week 17 and for the playoffs with 32-211-3, 34-182-1, 30-195-0 and 19-69-1 rushing lines — because of course he did.
2021: Suffered a broken bone in his foot in Week 8 and missed the rest of the regular season. He struggled to make an impact against the Bengals in the divisional round, converting 20 carries into just 62 yards and a short touchdown.
Henry is 28 years old with plenty of mileage on his tires. I mean, seriously, what kind of monster fed Henry 1,397 carries across a four-year high school career. And yet, 2021 marked the first time that he missed more than a single game in a season, and there hasn't exactly been a consistent stretch of similar issues.
The larger problem for Henry is whether or not he can continue to work as a modern-day gladiator and outperform expected results. Part of what has made the big back so special in fantasy football has been his ability to overcome a lack of work in the passing game with startling efficiency on the ground.
Historically, one target is equivalent to roughly 2.7 carries in full-PPR scoring. And yet, Henry has combined top-flight efficiency with enough run-game volume to consistently work as one of fantasy's top producers since being elevated to the franchise's undisputed lead back midway through the 2018 season:
2016: 7.05 PPR points per game (RB50 among all running backs to play 8+ games)
2017: 8.44 (RB43)
2018: 12.6 (RB21)
2019: 19.6 (RB4)
2020: 20.8 (RB3)
2021: 24.2 (RB1)
Henry averaged an absurd 27.4 carries per game in 2021. This was easily a career-high mark, surpassing his averages in 2019 (20.2) and 2020 (23.6). Hell, Henry's 239 carries last season ranked ninth in the entire league despite him only playing in nine games (including playoffs).
It's not a given that Henry continues to make the most out of this absurd volume. The law of 1,500 professional carries suggests that running backs start to drop off in their ability to pick up copious yards above expectation after reaching this mark. Henry's average of just 4.3 yards per carry last season certainly was a drop-off from his marks in 2019 (5.1) and 2020 (5.1).
And yet, it might just be Henry's newfound pass-catching chops that help him overcome a potential drop-off in efficiency. Overall, he averaged a career-high 4.2 PPR points per game from receiving production in 2022. The only other season Henry managed to reach even two-such points per game was in 2019 (3.4). There's less competition than ever with Darrynton Evans out of the picture, Haskins profiling as an early-down option and Hilliard just doesn't seem like the sort of back to take Henry's snap rate from the 70-80% range back to the 50-60% levels that plagued previous seasons.
This upcoming campaign could very well be the worst version of Henry that the world has ever seen if Father Time has anything to say about it, but his ever-absurd run-game volume might finally be complemented by decent target volume.
This is enough for me to keep on firing him up as a top-five option at the position. The only running backs I'd draft ahead of Henry in full-PPR are Jonathan Taylor and Christian McCaffrey. Henry has a plenty solid case as the top-one option in half-PPR or standard formats — nobody should be projected for more total touches this season if the injury gods chill the hell out, and it's tough to conclude that Henry is any more injury-prone than the other workhorse running backs being prioritized in fantasy land.
Don't expect Haskins to steal any early-down work from Henry, but he's quietly in a great position to work as the offense's lead back should the big dog be forced to miss any time. Last season, the Titans leaned heavily on D'Onta Foreman during the second half of the season, and he racked up 142 total touches from Weeks 9-18. This ranked 14th among all running backs, while his 93.9 PPR points were good for RB25 status. It's likely Hilliard would be far more involved and split things fairly evenly with Haskins from a snap standpoint without Henry in the picture, but Haskins is still one of the cheapest running backs out there that has a reasonable best-case scenario outcome leading to 15-plus touches per game.
First things first: This offense isn't exactly equipped to produce a high-end fantasy-relevant wide receiver.
In 2020 AJB's average of 17.4 PPR points per game ranked seventh among all wide receivers, although his 13.2 expected PPR points per game ranked 29th. Brown was less productive with an average of 13.9 PPR points per game in 2021 (tied for 27th), but once again his expected PPR points per game (14.8, 16th) weren't anything to call home about.
Brown largely won by being a man among boys. He scored 59.4 PPR points above expectation in 2020, joining 2020 Davante Adams (+74.5), 2020 Tyreek Hill (+59.1), 2021 Deebo Samuel (+97.3), 2021 Ja'Marr Chase (+74.3) and 2021 Cooper Kupp (+73.9) as the biggest outliers in scoring more fantasy points than expected over the past two seasons.
It'll be awfully difficult for Burks to replicate Brown's production in 2022 because it'd be tough for ANY wide receiver to do so. The good news is that Burks does possess the sort of untapped upside to believe that he is capable of coming close.
PFF's 2022 NFL Draft Guide had the following to say about Burks entering the draft:
Where he wins: Size-Speed
Burks is a vertical-route weapon. He can not only win with speed by stacking opposing corners, but he can also win regularly at the catch point when he doesn't create separation.
What's his role: Project X/Big Slot
While he played slot in college, you're drafting Burks highly to be the guy who can win outside one-on-one and where it matters most: downfield and in the red zone. Big slot is his fallback position.
Where he can improve: Route nuance
Burks can still improve in a number of ways as a route-runner, mainly because he didn't run a varied set of routes for Arkansas.
Burks almost seems to be penalized for being bigger than your average Gen-Z wide receiver. His weight-adjusted speed score should calm any concerns about a slower than expected 40-yard dash, as does his (limited) dominance against press-man coverage.
Ultimately, the Titans deciding that Burks was worth the No. 18 overall pick to them is more important than wherever some industry analyst had him ranked before the draft. After all, Vrabel and company are the ones deciding who gets the ball.
It's fair to not immediately crown Burks as the next big thing at the position, but he couldn't ask for a softer depth chart to land on. Throw in the Titans' demonstrated ability to produce YAC-friendly opportunities for a talented big-body receiver like Burks, and he deserves to be ranked as the top overall rookie receiver for 2022. It's far from a blowout, as I have Drake London and Skyy Moore literally ranked right behind Burks. Still, the Arkansas product deserves the nod over his fellow first-round wide receivers thanks to his superior potential target volume and the reality that he has the group's most-proven quarterback under center.
I'm mostly out on Woods due to the offense's lack of history in consistently enabling multiple fantasy-relevant pass-catchers. The Athletic's Jordan Rodrigue did report back in March that Woods is expected to be ready by training camp, and he's been practicing at OTAs. Still, it'd make sense if the issue causes a slow start of sorts. Throw in learning a new offense, age (turned 30 in April) and all the aforementioned volume concerns in both the pass *and* run game (averaged 14 rush attempts per season with the Rams), and there are simply too many red flags to target Woods as anything more than a middling WR5.
The Titans have largely been hesitant to feature any single tight end in the post-Delanie Walker era. While Jonnu Smith did play at least 70% of the offense's snaps in 12-of-15 games in 2020, nobody was given that sort of opportunity in 2021. This offense regularly rotated three tight ends during any given game last season:
It seems unlikely Swaim is pushed out of the picture. Fourth-round TE Chigoziem Okonkwo offers some freaky athletic intangibles in the 40-yard dash (4.52 seconds) and the vertical jump (36 inches), making him a solid candidate to fill Firkser's departed primary pass-catcher role. Other options to siphon away a handful of snaps per game include Tommy Hudson, Ryan Izzo and Thomas Odukoya.
Ultimately, the same volume problems that plague the rest of this passing game are only more pronounced at tight end. Hooper projects as the target leader, but even then it's tough to be overly confident that he'll receive a high enough number to warrant fantasy consideration. The Titans are tied for just 16th in total targets to tight ends since 2019, and they rank 29th in total routes.
Hooper isn't someone who will be drafted in traditional one-TE re-draft leagues. He'll immediately be on the cover of waiver-wire articles if given a full-time role. And unfortunately, I'm not confident that will happen inside an offense that has proven to be more than willing to rotate the position. I'd rather prioritize guys like Evan Engram, Gerald Everett and even Hayden Hurst once the first 20 or so tight ends are gone in best-ball drafts.