Free agency and the 2022 NFL Draft have come and gone. Now, it's time to fully embrace the 2022 offseason by breaking down each team's fantasy football aspirations before fantasy draft season truly gets underway in August.
What follows is a Pittsburgh Steelers fantasy-focused breakdown, asking key questions such as:
Do either

Mitchell Trubisky

or

Kenny Pickett

offer fantasy upside?

Does

Najee Harris

offer overall RB1 upside thanks to one of the league's largest workloads?

Could the balance of power in the passing game shift from

Diontae Johnson

to

Chase Claypool

and/or

George Pickens

?
Every fantasy-relevant player from the Steelers will be covered in the following paragraphs. Make sure to check out the PFF Team Preview Landing Page through early July for more all-encompassing fantasy football coverage.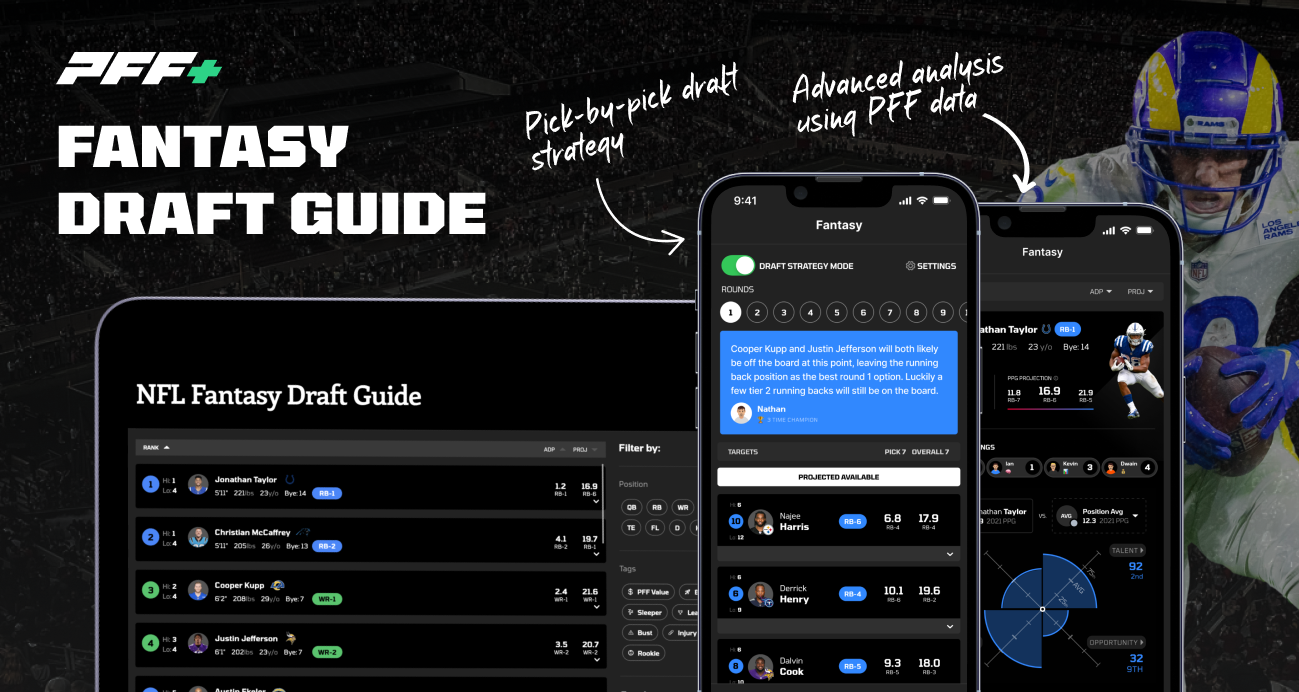 Notable offseason moves
Head coach Mike Tomlin is back for year No. 16, and he'll look to keep his .500 or better streak going with second-year offensive coordinator Matt Canada and former secondary coach, now defensive coordinator, Teryl Austin.
It's tough to fully know what exactly Canada is planning for this post-Ben Roethlisberger offense. Canada said himself last June that "We're going to do what Ben wants to do and how he wants to do it." Backup QB Mason Rudolph said the Steelers didn't run Canada's offense because of Roethlisberger this offseason, specifically noting:
"But I'm excited this year just to kind of have the dialogue with Matt and move forward with his bread and butter. He's a play-action guy, he's a push the ball down the field kind of guy. I think that suits my style well."
Last season, the Steelers utilized play-action on just 19.4% of their dropbacks – the 31st-ranked mark in the league. Roethlisberger ranked 41st in average target depth (7.3 yards) among 44 qualified quarterbacks. The offense also ranked 29th in shift/motion rate, so there are several easy fixes that Canada can employ in an effort to make the league's 21st-ranked scoring offense less predictable and potentially more explosive.
The league's reigning eighth-ranked offense in pass-play rate during non-garbage time situations regularly bent toward things that made Big Ben comfortable, which makes sense given their lack of better options. Hopefully, they continue to operate at a top-10 pace (Football Outsiders) and bring out even more-productive versions of their already established skill-position weapons.
Additionally, the Steelers have made plenty of changes to their roster. The following quarterbacks, running backs, wide receivers, and tight ends have either joined or left Pittsburgh in some way, shape or form this offseason:
The Steelers broke the 2022 NFL Draft's quarterback dry spell by selecting Pittsburgh QB Kenny Pickett with the 20th overall pick. The baby-hand assassin broke out in 2021 with 47 total touchdowns in 13 games while leading the Panthers to an impressive 11-3 record and a 13th-place finish in the final AP poll. While his fake slide touchdown was truly masterful, he doesn't profile as the sort of high-usage dual-threat talent who capable of working as a great fantasy quarterback while progressing in real life.
Georgia WR George Pickens became the latest wide receiver tabbed for big things in Pittsburgh. Overall, only Plaxico Burress (No. 8 overall), Santonio Holmes (25th), and Chase Claypool were selected higher than Pickens (52nd) among all wide receivers that the Steelers have drafted since 2000. While a torn ACL prohibited Pickens from building upon his electric freshman campaign, his ceiling is as the sort of big-bodied alpha that every offense would be happy to have.
The Steelers made a trio of additional Day-3 picks to help bolster their quarterback and skill-position rooms, taking Memphis WR Calvin Austin in the fourth round, Michigan State TE Connor Heyward in the sixth and South Dakota State QB Chris Oladokun in the seventh. Neither Heyward nor Oladokun seemingly has a shot in hell of carving out fantasy-friendly roles ahead of 2022, but Austin at least has an open starting position to compete for with JuJu and Ray-Ray out of the picture. Still, the fantasy track record of players not selected inside of the draft's top-three rounds isn't pretty.
Quarterback: Kenny Pickett (Ian's fantasy football QB30), Mitchell Trubisky (QB34)
The Athletic's Mark Kaboly reported that quarterback competition "will be more for show than substance." Kaboly echoed the common sentiment out of Steelers camp that Trubisky is the early favorite for the job.
Here's a little secret: Trubisky was actually a pretty solid fantasy quarterback during a large chunk of 2018. Overall, he ripped off fantasy QB1 (x2), QB2, QB5, and QB9 finishes between Weeks 1-11 before suffering a shoulder bruise. The overall QB7 during this stretch, Trubisky averaged a robust 36.3 rushing yards per game and racked up three performances with over 300 passing yards and three scores.
The 2017 NFL Draft's No. 2 overall pick clearly regressed in 2019 and 2020, but there's a case to be made that he managed to make the most out of a fairly awful situation. Trubisky's first season was largely lost with the John Fox-led Chicago Bears in a similar manner as Jared Goff and Trevor Lawrence. Then, 2018 produced some aforementioned prolificness and notably included a Bears offense that ranked inside the league's top-12 offenses in the percentage of receivers considered open on a per-route basis. Trubisky certainly deserves plenty of blame for 2019's dropoff in performance with his receivers repeating their top-12 open-route rank, but 2020 (24th) and 2021 (32nd) revealed that head coach Matt Nagy, as well as the surrounding talent available, might have been the larger problem.
Nobody expects Trubisky to turn into Josh Allen, but just realize he's a prime example of a signal-caller who is priced awfully cheap despite having multiple teammates ranked highly in fantasy land. Historically, quarterbacks tied to multiple high-end fantasy receivers also wind up posting more than solid fantasy production themselves.
Of course, first-round quarterbacks typically aren't drafted to sit on the bench, and nothing about Trubisky's deal indicates that he's expected to be this team's starter for any lengthy amount of time. PFF's 2022 NFL Draft Guide said the following about Pickett:
"Where he wins: QB Feel. Pickett has a natural feel that's uncoachable in a lot of ways. Whether it's throwing guys open, understanding receiver leverage avoiding the rush or keying blitzes, Pickett gets a lot of the little things already.
What's his role: All-Around QB. Between his combination of experience and NFL-translateable skills, Pickett is as ready as any quarterback in the draft class to start out the gate. The question is: How high is his ceiling?
Where he can improve: Processing Speed. He has to speed up his process in the league. He'll work through reads under the assumption he can always buy himself more time. "Ball out" has to be his first thought at the next level instead of "break pocket.""
While the pass-catchers at hand should help the transition for either quarterback, working behind PFF's 30th-ranked offensive line entering 2022 is far from ideal.
Much has been made about anybody being an upgrade over what Roethlisberger brought to the table last season. While it's hard to deny that there are plenty of quarterbacks out there who sure look capable of elevating this entire group, neither Trubisky nor the 2022 version of Pickett should be seen as locks to do so. There isn't too much lower for last season's 27th-ranked offense in EPA per pass play to fall, but then again, is their quarterback room really that much better than the Houston Texans, New York Jets, Bears, New York Giants or Carolina Panthers?
The potential for these quarterbacks to play musical chairs with the starting job makes it tough to trust either as anything more than a late-round dart in best-ball drafts. Early-season evidence that this offense will embrace the passing game could elevate whoever winds up starting into upside QB2 territory in the right matchup, but that could be wishful thinking if this offensive line doesn't gel. I'm in line with PFF projections that rank both quarterbacks outside of the position's top 30.
First of all: Calm down about Harris' weight, as the man weighed 242 pounds last year and showed up to OTAs at 244. Cool? Cool.
Who cares what Harris weighs as long as he continues to work as one of the league's tougher players to get to the ground. Nobody broke more total tackles than Harris in 2021, as he proved to be a handful for defenders of all shapes and sizes.
Najee Harris pic.twitter.com/cmZGgqmicv

— Ian Hartitz (@Ihartitz) June 22, 2022
Of course, Harris managed to put up such big counting numbers thanks almost entirely to his corresponding volume. Only Derrick Henry averaged more expected PPR points per game in 2021, as Harris was regularly afforded 20-plus combined carries and targets.
Harris wasn't exactly what the kids might call an efficient running back in 2021.
PFF rushing grade:

71.4 (No. 30 among 50 running backs with 100-plus carries in 2021)

Yards per carry:

3.9 (No. 38)

Yards after contact per carry:

3 (No. 20)

Missed tackles forced per carry:

0.19 (tied for No. 15)
Harris did grade better as a receiver, although there is some real concern about whether or not Trubisky and/or Pickett will check the ball down to Harris in the same manner as Roethlisberger. Last season, just 14% of Harris' targets came on screens – the sixth-lowest mark among 54 qualified running backs. Overall, Harris led the NFL with 34 check-down targets. Note that Tarik Cohen recorded just 24 check-down targets total in 2017 through 2019 with Trubisky, as the Bears' pint-sized playmaker instead racked up more targets from screens than anyone other than Alvin Kamara.
Ultimately, volume is king in fantasy football, and Harris projects to have more of it than just about anyone else. The Steelers have historically leaned heavily on a single running back, Le'Veon Bell (25.6 touches per start), DeAngelo Williams (22.8), James Conner (20.8), Jaylen Samuels (18), and even Stevan Ridley (17) massive workloads from 2014-2018.
While Pittsburgh and Harris have talked about keeping him off the field on certain plays, the reality that they did absolutely nothing to bolster this running back room sure makes it seem like another 300-plus touch workload is on the way. PFF projections agree, as Harris is one of just seven running backs projected to clear this threshold:
Harris comes in as my RB4, behind only Taylor, McCaffrey and Henry. I would take Harris ahead of aging veterans Ekeler, Cook,and Barkley thanks to his superior chances of receiving a touch count closer to 400. Ultimately, Harris is my seventh-ranked player, making him a more than reasonable value at his current Underdog Fantasy RB5, overall 9.5 ADP.
Snell would probably be the team's lead back if Harris misses time, although a veteran addition would be likely. While the Steelers have given Snell at least 15 carries on eight separate occasions over the years, he's received just 22 targets in 46 career games. He's nothing more than a last-round dart with non-existent standalone value and a middling handcuff projection as a low-end RB2 should Harris miss any time.
On the one hand, Johnson has good enough route-running chops to warrant an NFL offense throwing the ball his way 313 times in his last 31 regular-season games.
On the other, the idea that Johnson has been held back by Roethlisberger might be a bit overstated. The following ranks denote Johnson's performance on targets that were deemed accurate, in the receiver's frame and/or away from coverage in 2021:
PFF receiving grade:

96.3 (No. 62 among 84 wide receivers with 25 such targets in 2021)

Yards per target

: 10.7 (No. 59)

Yards per reception

: 11.4 (No. 59)

QB rating when targeted:

135.2 (No. 47)
Of course, Johnson's ability to demand more targets than just about anybody allowed him to get by just fine with subpar per-route efficiency numbers. Volume is the name of the game in fantasy football, and only Stefon Diggs, Davante Adams and Cooper Kupp have more total targets over the past two seasons.
However, there has to at least be some uncertainty about Johnson demanding that same sort of gaudy target share inside of this new-look Steelers offense. Claypool didn't score 13 touchdowns in 17 games as a rookie by accident, and Pickens wasn't selected on Day 2 in order to sit on the bench. Obviously, Harris and TE Pat Friermuth will be involved as well.
The concern for everyone involved is the overall ceiling of the Steelers' passing game. It's not impossible for bad offenses to enable a good fantasy wide receiver, although history tells us not to necessarily chase these situations. On average, the top-scoring wide receiver from a bottom-10 scoring offense has finished as the WR32 in full-PPR scoring over the last five years. There have been 20 instances of these low-scoring offenses producing a top-24 wide receiver, but also 20 of them not enabling anybody ranked higher than 35th.
It's not a safe assumption that the Steelers' reigning 21st-ranked scoring offense improves next season. Trubisky led the league's 29th- and 22nd-ranked units during his final two seasons with the Bears, and expecting immediately elite play from Pickett probably isn't wise.
Johnson finds himself in the WR2 jumble, where seemingly everybody has at least one red flag. His price tag has dropped to a more appropriate level over at Underdog Fantasy (ADP WR19), which is where I presently have him ranked. I'll take Johnson ahead of more likely No. 2 pass-game options such as Jaylen Waddle, Gabriel Davis and Rashod Bateman, but I'd take D.J. Moore, D.K. Metcalf,and Terry McLaurin ahead of Johnson under the belief that they hold similar target projections and are superior overall players. Ultimately, 13 of the top-24 wide receivers in Underdog ADP are adjusting to a new quarterback under center, so it's probably best to caution expectations for those without a clear-cut upgrade.
Claypool is seemingly as cheap as he is because folks are still mad about him celebrating a first-down too long. While this was a boneheaded mistake, it's curious that Claypool (8-93-0 on nine targets) wound up being the scapegoat in a game that featured Johnson drop two touchdowns. Throw in Claypool's recent assertion that he's a top-three wide receiver in the game, and suddenly the conversation around him is talking about everything other than actual football ability. I'm fine throwing a dart at Claypool ahead of guys with lower ADP, such as Allen Lazard, Marques Valdes-Scantling and Christian Kirk, who each haven't reached the heights that Claypool has managed during his first two years in the league.
And then there's Pickens. PFF's 2022 NFL Draft Guide said the following about the Georgia product:
"Where he wins: Ball Skills. Pickens' ball skills are among the best in the class. Even hobbled, he still managed to make one of the best catches in the SEC Championship and National Championship this season.
What's his role: Project X. Pickens looked like a shoo-in to be a WR1 in the NFL after his freshman season. He certainly has the size to stick on the outside in the NFL. That ability hasn't gone anywhere, but it comes with far more questions now.
Where he can improve: Health. Pickens needs to show that he's developed since his tremendous true freshman campaign because we've yet to see much in that regard.."
Ultimately, Pickens projects as the No. 3 wide receiver in an offense that will also keep the tight ends and running backs plenty involved. This could simply not leave much in the room of fantasy-friendly value if the offense flirts with bottom-10 scoring status and/or embraces the run far more than last year. Each seems like a fair possibility given the state of the quarterback room and offensive line. I'm slightly higher than consensus (WR72 ADP) but don't be afraid to lower expectations of this passing game in general.
Freiermuth impressed with his opportunities in 2021. Typically rookie tight ends produce next to nothing during their debut season, so it was pleasantly surprising to see the Steelers' 2021 second-round pick look more than capable as a receiver:
PFF receiving grade:

74.8 (No. 9 among 53 tight ends with 25-plus targets in 2021

Yards per route run:

1.26 (No. 24)

Yards per reception:

8.3 (No. 50)

Targets per route run:

19.5% (No. 15)
The reason why Freiermuth didn't make more out of this high-level efficiency was Ebron and Gentry's presence, as they actually ran more routes on a higher snap rate than Freiermuth in the Steelers' wild card loss to the Kansas City Chiefs. Note that Freiermuth had previously posted snap rates of 77% and 66% in two games following his Week 15 concussion. I still haven't been able to uncover a good reason for the strange usage in the team's final contest of the season.
This isn't to suggest that Gentry will overtake Freiermuth as the offense's go-to tight end, but the lack of a full-time role would be problematic in a potentially low-scoring offense that has plenty of other places to go with the football. It might be tough for Freiermuth to make too much happen with that sort of role considering he was targeted on a pass that traveled at least 20 yards in the air just once all season. His sub-six-yard average target depth could certainly increase with a new quarterback under center, but if not, he'll need to live on touchdowns in an offense that isn't exactly expected to live in the red zone.
I'm out on paying a premium for Freiermuth considering all the boxes he'll need to check in terms of playing time, pass-game volume, as well as quarterback and offense ability. Throw in a low-aDOT role that could make explosive plays even harder to come by, and I find myself leaning toward Irv Smith, Tyler Higbee, Robert Tonyan and David Njoku at a fraction of the coast.