We're just one month away from the NFL season opener, one month away from fantasy football, and, thus, one month away from regular season DFS. But DraftKings released Week 1 pricing Sunday, so you can start your Week 1 research right away.
After spending some time looking at their pricing, here's what I found to be the most glaring and top values at each position:
Note: These are the top values today, but maybe not in September. A lot can change in that time, so please keep that in mind.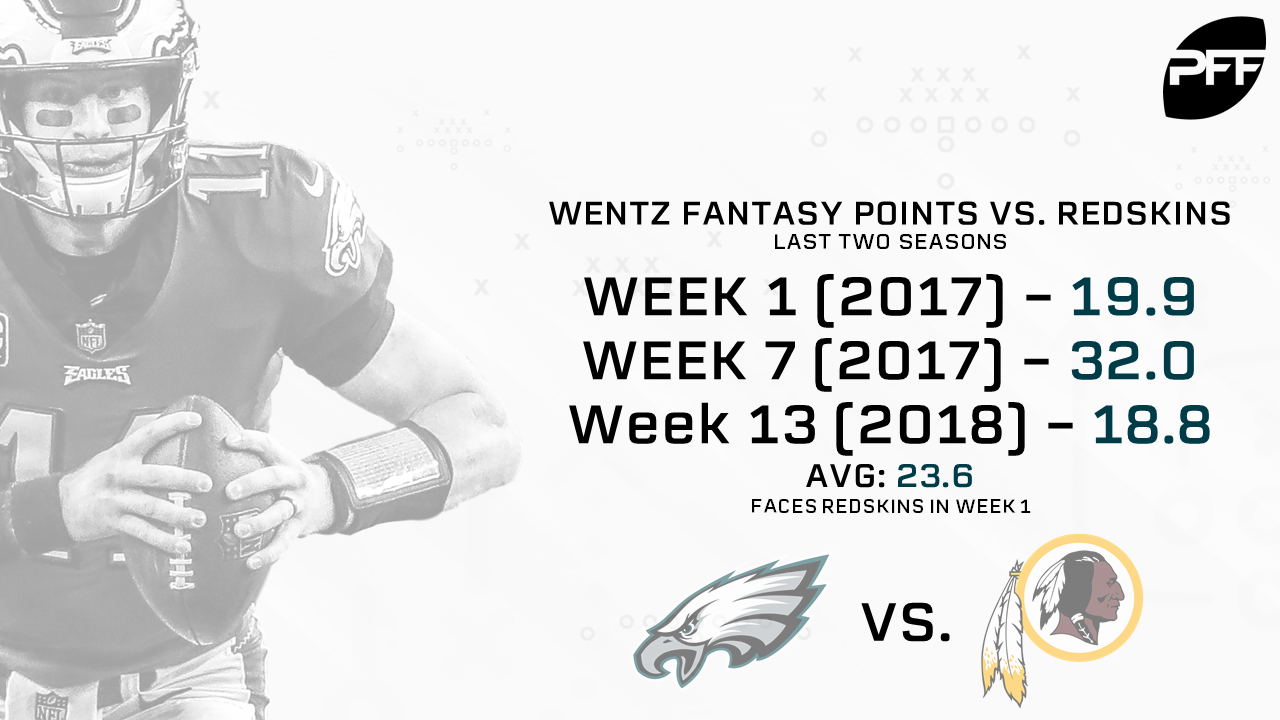 Wentz is easily the most mispriced quarterback of Week 1. Over the past two seasons, Wentz ranks fourth in fantasy points per game (19.8). He also ranks eighth at the position in 2019 season-long ADP. In spite of this, he ranks just 13th in salary. If he performs in line with his average over the past two seasons, his $5,700 salary offers a 3.4X value. If he performs in line with his average against Washington over the past two seasons (23.6 fantasy points per game), he offers a 4.1X value.
Behind Wentz, Murray stands out as a top value and for similar reasons. The No. 1 overall pick in 2019 ranks ninth in ADP but 14th in salary. As I explained this offseason, the lofty expectations for Murray are more than warranted. He has massive upside as a hyper-accurate dual-threat quarterback in Kliff Kingsbury's high-powered and fast-paced offense. The matchup against Detroit is neutral at worst.
Fournette has long been a top value in redraft leagues this offseason, so it should come as no surprise he's also being undervalued by Week 1 DFS pricing.
In 2017 (postseason included), Fournette ranked sixth in fantasy points per game (18.1) and third in touches per game (23.8). Looking at Fournette's per-game output from last year, it looks as though he took a diminished role in the offense and suffered for fantasy because of it. Though that's played a major role in Fournette's plummeting ADP, it's not entirely true. Fournette played in only eight games last year but saw the field in only 26 (of a potential 32) quarters, due to ejection and injury. Once adjusted for that, it becomes clear Fournette saw little dropoff in usage or production, averaging 23.8 touches (second-most) and 18.5 fantasy points (ninth-most) per four quarters.
If he puts up those kinds of numbers in Week 1, and he should, against a Chiefs defense that gave up the third-most fantasy points per game to running backs last year, he's easily one of the best values at the position.
Despite playing through injuries last season, Cook averaged 0.27 missed tackles forced per touch, which led the league and ranks fifth-best by any running back this past decade. From Week 11 (his first week off the injury report) until the end of last season, Cook played on 76% of the team's snaps and averaged 15.7 fantasy points per game. Over the past two seasons, excluding games Cook was not on the injury report and didn't leave early due to injury, he averaged 15.8 fantasy points per game. Both numbers would have ranked 11th-best last year. And, yet, he ranks just 12th at the position in salary, and in spite of Latavius Murray's departure and the zone-heavy run-happy arrival of Gary Kubiak. The matchup is strong as well – Atlanta gave up the fourth-most fantasy points per game to opposing running backs last year.
Miles Sanders, RB, Philadelphia Eagles ($3,900) (vs. WAS)
Sanders had the misfortune of getting stuck behind Saquon Barkley for his first two seasons in college, but he replaced him nicely last year. In 2018, Sanders actually totaled more rushing yards than Barkley gained the year prior, on only three more carries. He was the second running back drafted in the 2019 NFL Draft, selected with the 53rd-overall pick – the highest the Eagles have drafted a running back (by 79 picks) during Roseman's 10-year tenure. In spite of the lofty draft capital, he probably isn't Philadelphia's bell cow in Week 1, but he should serve as the lead back, handling the majority of the team's early-down and goal-line carries in a game Philadelphia should win in a landslide. Sanders ranks 28th among running backs in our season-long projections but ranks 37th in Week 1 salary.
Over the past two seasons, Jones has ranked 27th and 14th in fantasy points per game. And yet, he ranks just 29th by DraftKings salary for Week 1. This is in spite of the fact that the Cardinals best cornerback, Patrick Peterson (our fifth-highest-graded CB last year) is suspended for the game.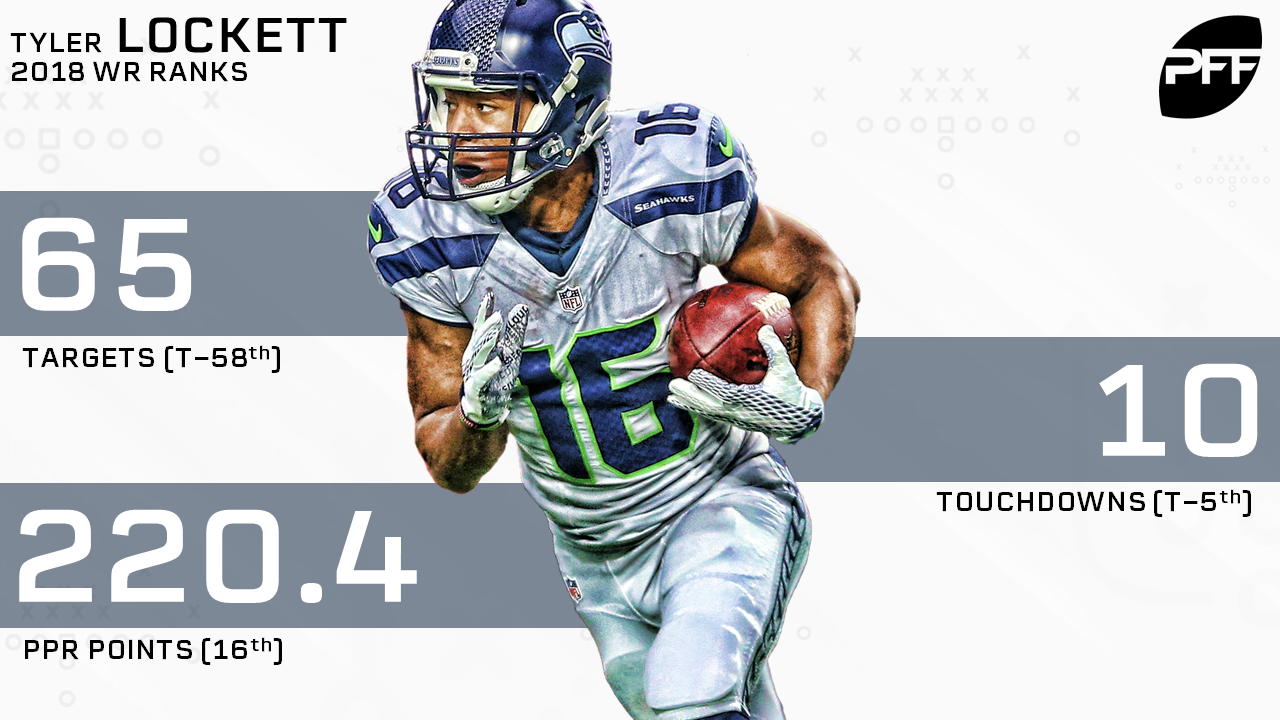 Lockett may still be too risky for cash games but is an ideal tournament option for Week 1. Last season Lockett ranked 16th in fantasy points but 57th in targets. Now, with Doug Baldwin retired and the team doing little to replace him, Lockett feels like a lock to see a massive jump in targets. As just the 15th-most-expensive wide receiver for Week 1, he appears to be a strong value.
If Brown is not 100% healthy by Week 1, or if he hasn't wowed the pants off of every Baltimore beat writers by then, feel free to disregard this pick. However, as it stands right now, Brown seems to be a screaming value for DFS tournaments. His skillset was tailor-made for DFS tournaments, and he's the safest bet to lead the team in targets this year. As I've highlighted multiple times (looking at WR breakout age, the draft class leaders in yards per route run, and the draft class leaders in depth-adjusted yards per target), he's also a really special talent.
Prepare yourselves: The Hunter Henry breakout is coming, and it's coming soon. Maybe even as soon as Week 1, against a Colts defense that gave up the second-most fantasy points per game to opposing tight ends last year.
In 2016-2017, Henry ranked first in passer rating when targeted (143.7), first in fantasy points per target (2.33), third in PFF grade (90.1), and third in yards per route run (2.02). Over this span, he averaged 10.4 fantasy points per game in games he was targeted. This was despite the fact that he played on just 55% of the team's snaps. Now, with Antonio Gates out of the picture, Henry seems poised to explode.
Mark Andrews, TE, Baltimore Ravens ($3,000) (@ MIA)
If Brown doesn't pay off in Week 1, I'd bet it's Andrews who swings lineups, and at a near-minimum price tag. Last season Andrews totaled 552 yards, or the 22nd-most by a rookie tight end in NFL history — remember, rookie tight ends typically make a sizeable leap in their sophomore seasons. On top of this, he was also hyper-efficient, ranking fifth of 30 tight ends in yards per route run. Perhaps most importantly, he was also Lamar Jackson's most productive receiver, comprising a team-high 26% of Jackson's passing yards, and on just 12% of his throws.