When you draft a player in fantasy football, there is a reasonable expectation, that his draft slot is a fair range for him — a guy drafted 10th is likely to finish anywhere between, say, seventh and 15th (just to pick some numbers).
As such, players fit into tiers. There are the surefire starters, the above-average starters, the probable starters, and the rest of the guys. If every player you draft ends up in his designated tier, you'll have at least an average fantasy season. If they fall short, your year could be a bad one.
And if they rise a tier, welcome to winning.
That's what we're looking for each year. You expect players to return the value they are drafted at, but we want to find players who will return the value of a tier above at the value of a tier below. I've (subjectively) defined the tiers below. It's a framework.
| | | | | |
| --- | --- | --- | --- | --- |
| | QB | RB | WR | TE |
| Tier 1 | 1-5 | 1-10 | 1-10 | 1-3 |
| Tier 2 | 6-10 | 11-30 | 11-30 | 4-6 |
| Tier 3 | 11-20 | 31-50 | 31-50 | 7-20 |
| Tier 4 | 21+ | 51+ | 51+ | 21+ |
Tier 1 players obviously can't make it to a higher tier. So we're looking for players below Tier 1 who could climb to the better today. Today, we're looking at quarterbacks.
(All ADP data comes from Fantasy Football Calculator.)
Tier 2 to Tier 1
(Current ADP: QB6)
It admittedly feels like cheating to pick a guy ranked sixth to rise to the top five. But oh well. Ryan is going sixth among quarterbacks in drafts so far this drafting season despite being unanimously fifth in our PFF Fantasy staff rankings — in fact, with the exception of one of our rankers flipping Aaron Rodgers and Andrew Luck at 3 and 4, our staff is completely in line on each of the first five quarterbacks, which makes finding someone to bet on rising into the top five in 2019 a tough ask. And we only have to look a few months back to see Ryan not only finish as the No. 2 fantasy QB, but the 14th-best season ever. It wouldn't remotely be a surprise to see him in the top five in 2019.
(Current ADP: QB8)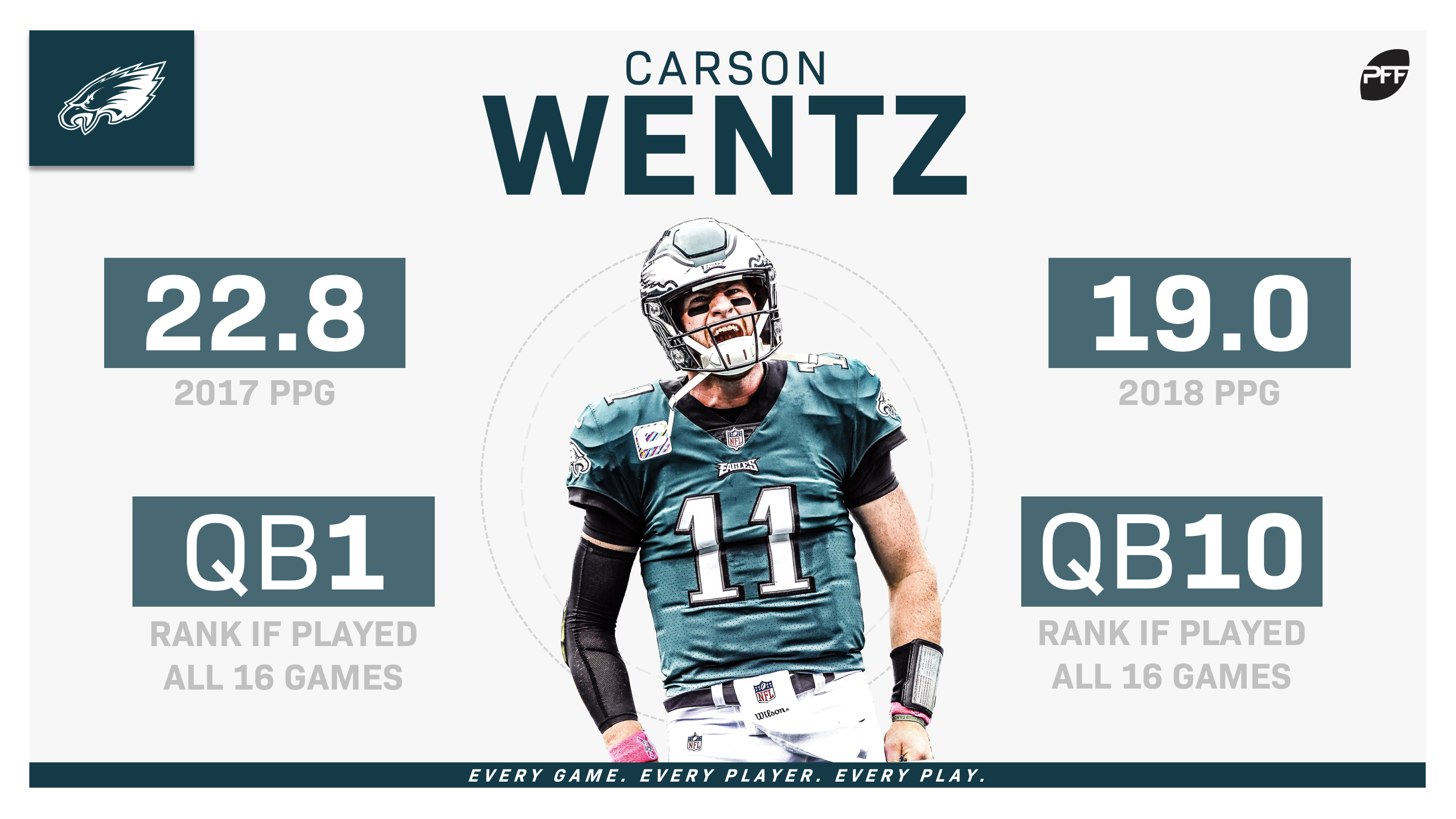 Wentz finished 2018 as the No. 23 fantasy QB, but with 19.0 points per game, he was on a 304-point pace that would have had him as the QB10 over 16 games, and that was despite arguably being rushed back from injury (his first game of the season was one of his two or three worst outings on the year). Wentz finished 2017 as the No. 7 fantasy QB, but with 22.8 points per game, he was on a 365-point pace that would have had him as the QB1 over 16 games. His upside is huge if he can stay healthy, and with a year of seasoning for Dallas Goedert and newcomers J.J. Arcega-Whiteside and DeSean Jackson to utilize as targets, Wentz is set up for success in 2019.
Tier 3 to Tier 2
(Current ADP: QB11)
The reaction to Newton's 2018 season seems a little overboard. Yes, he finished as the No. 13 fantasy QB, but in 14 games, he put up 20.8 fantasy points per game, actually more than a point better than he averaged in his 2017 season in which he finished as the No. 2 QB. Yes, his injury issues popped up late in the year, and there is some concern about him being 100% to start the year, but those concerns appear to be fading. He's sixth in our current staff rankings. That's a heck of a leap from QB11.
(Current ADP: QB13)
Winston, 2018: 215.8 fantasy points. Ryan Fitzpatrick, 2018: 177.8 fantasy points. Combined, that's 393.6 points, comfortably second-place among quarterbacks. That's almost certainly the peak possible performance out of that offense, but you can drop it by 25% and it's still right around 300 points and a borderline QB1. Factor in the fact that Bruce Arians' arrival should at least guarantee an offense-heavy approach (even if you can't allow for an increase in performance), and Winston certainly has top-10 potential. There is no quarterback our staff is more divided on in the rankings — he's my No. 7 (his highest rank), and he is Scott Barrett's No. 18 (his lowest rank). So you can say his current ADP is reasonable. But he definitely has the upside.
Tier 4 to Tier 3
(Current ADP: QB21)
I will bet a fair amount of money that Allen will not finish 21st in QB fantasy scoring in 2019. If he continues to rush like he did down the stretch in 2018, he's a borderline top-10 fantasy QB. If the team's improved line leads him to not scramble as much as he did, his passing deficiencies could knock him much further down the board. Drafting him 21st is a hedge. At that point in the draft, it's arguably a worthwhile hedge — it can't hurt to get a guy with that sort of upside that late in the draft. But just for an idea of where I land on this conversation … he's my No. 24 quarterback.
(Current ADP: QB22)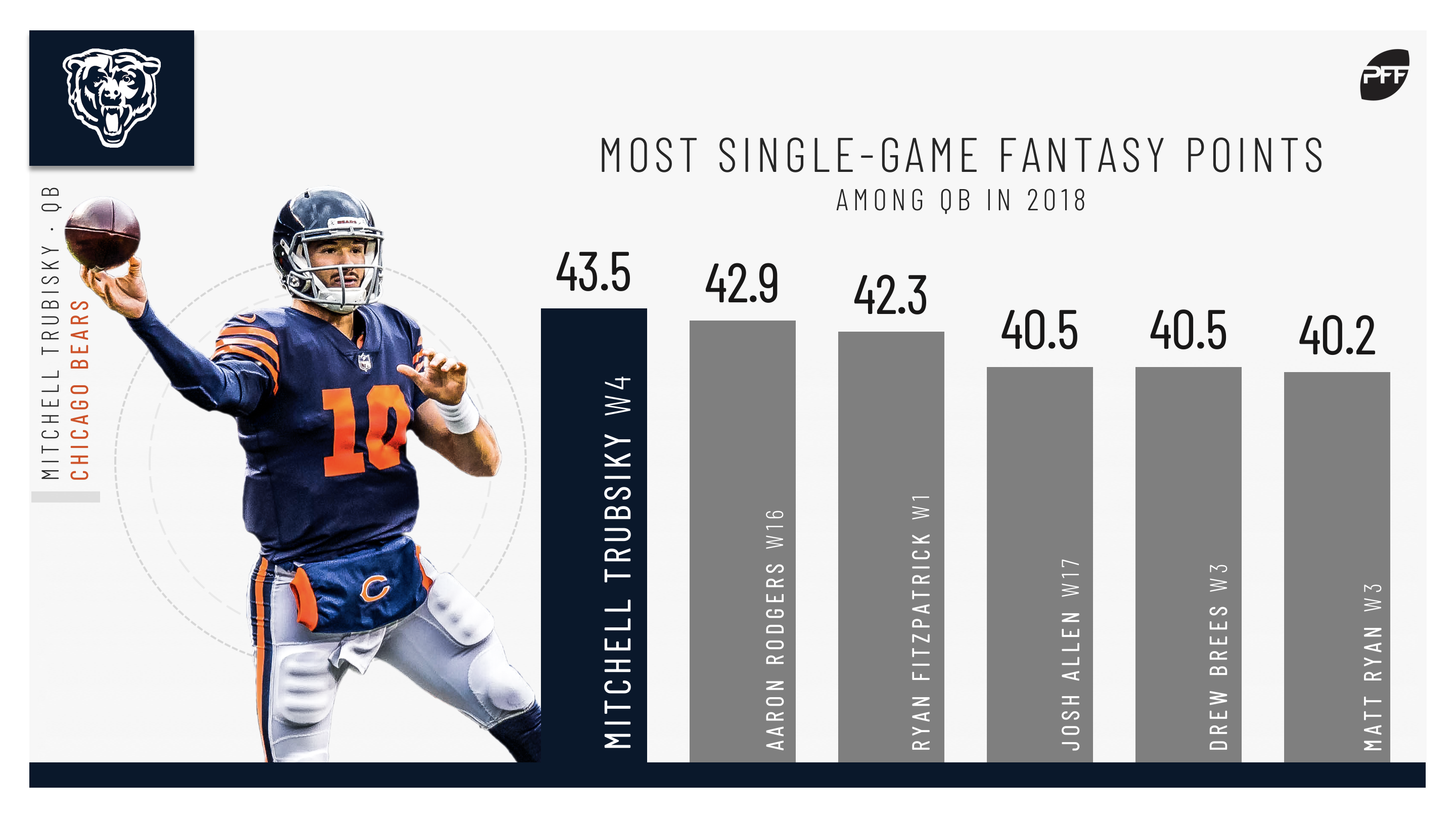 Trubisky's 2018 would be all the more remarkable if Allen hadn't taken all his strengths and weaknesses and turned them up to 11. Trubisky's fantasy upside might not be what Allen's can be (though it might be; his Week 4 six-TD performance against the Buccaneers was the single best QB fantasy game all year), but his lows aren't likely to be as low either. That means Allen is the more likely of the two to finish as, say, a mid-range QB1, but he's also more likely to lose his job by Week 9. Trubisky finished last year as the No. 15 fantasy QB, and that would be a nice return on a guy drafted 22nd; he's currently 18th in our staff rankings.
(Current ADP: Undrafted)
If you want a deeper dive than Allen and Trubisky with sneaky upside, can I offer Mariota? It's easy to forget now, but Mariota was QB11 in 2016 in only 15 games, putting up 26 touchdowns against only 9 interceptions. He now has the best cast of receivers he's ever had in his career, with Adam Humphries, A.J. Brown and a back-from-injury Delanie Walker joining Corey Davis and Dion Lewis. The coaches have said the team wants to go more run-heavy than it has been in the past, but Derrick Henry hardly has the longest track record of being any kind of bell cow — and even with that, Mariota has the third-highest PFF rushing grade among all quarterbacks (min. 40 attempts) the last two years. Obviously, he carries significant risk — if for nothing else health reasons — but among quarterbacks who are basically free in drafts, he has some of the best upside.