Record crowds in Nashville demonstrated fans' appetites for the NFL draft, but it is still the case that the first few rounds hold the bulk of that attention, even for fantasy football. And with many of the best skill-position talents landing in positional logjams that will likely temper their short-term production, this year's draft to my mind produced an unusually shallow top of dynasty rookie drafts.
That may leave you at a loss for whom to draft as early as the third round of those fantasy drafts. Fear not — I've identified a dozen running backs and receivers who were drafted in the fifth round or later and who have specific strengths or favorable fits that make them attractive dynasty assets.
They are listed here more or less in their order in my dynasty rookie rankings. Check those out for additional context and to compare with our other fantasy rankers.
[Editor's Note: All of Pro Football Focus' EDGE & ELITE subscribers have access to our DraftMaster tool, which allows subscribers to run mock drafts and practice roster building BEFORE their season-long and Best Ball drafts. New subscribers can subscribe to EDGE for as low as $9.99 today!]
Scott's ranking: Overall 26, RB11
It isn't a coincidence that wide receiver Mecole Hardman and Thompson were the two biggest risers from my pre-draft dynasty rookie rankings. The Chiefs offense is one of the most explosive in the NFL, and with a 23-year-old Patrick Mahomes at quarterback, they should maintain that excellence longer than their peers. Independent of that situation, Thompson is equipped to succeed at the next level. He is strong for his size of 5-8 and 200 pounds and could continue to score at his 9% clip, especially in the Chiefs' spread offense. More importantly, his 13.0% college reception ratio trails only Tony Pollard and Josh Jacobs among notable 2019 running back prospects. He has three-down potential and could be closer to that role than many expect. Undrafted incumbent Damien Williams owes much of his 5.1 yards per carry to easy-difficulty carries.
Scott's ranking: Overall 32, WR14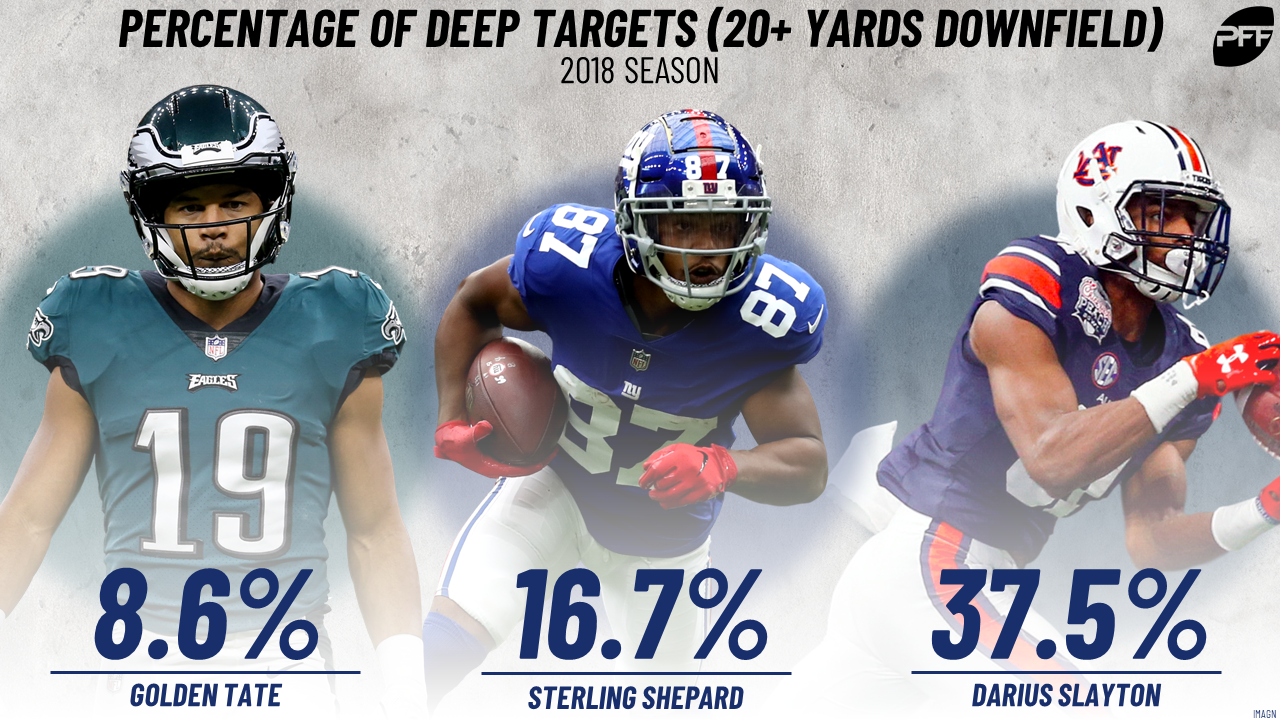 At 6-1 and 190 pounds, with a sub-4.40-second 40 time and more than 20 yards per catch at Auburn, Slayton is an archetypal deep threat. Typically, that skill set is a bad one for fantasy, but it should be a breath of fresh air on a Giants team whose top two receivers, Sterling Shepard and Golden Tate, saw more than half of their 2018 targets from the slot. There isn't much in front of Slayton for the role he would best fill, and that could make him the rare late-round wide receiver who could produce as a rookie.
Scott's ranking: Overall 36, WR18
Even a fifth-round pick might seem high for a 5-10, 184-pound receiver with poor strength, speed, and leaping ability. But Renfrow took more than 90% of his snaps from the slot last year and is primed to do the same for the Raiders. Slot receivers rely on traits like agility and quickness that the brand-name combine drills fail to capture. Renfrow measured well with 4.19-second short shuttle and 6.8-second three-cone times, and he could play immediately in three-receiver sets. That's the formula that made third-round selection Cooper Kupp the steal of 2017 rookie drafts.
Scott's ranking: Overall 37, WR19
A super-productive three-year career at NC State had Harmon in many analysts' top-10 rookie picks for fantasy. His fall to the sixth round certainly doesn't help his fantasy prospects, but his 6-2, 221-pound frame could buoy his fantasy value with red zone work. I wouldn't be stunned to see Harmon score more touchdowns than his new teammate and third-round pick Terry McLaurin, even though their college production told a radically different story. Really, both rookies have a short path to success on a Redskins roster without established volume receivers. Harmon should be available later in rookie drafts and may have greater value because of it.
Scott's ranking: Overall 38, WR20
Miller is a similarly productive receiver with a similar lack of tools as Renfrow, but he drew far less attention than the two-time national champion playing his four college seasons for Bowling Green in the MAC. Like Renfow, Miller can succeed in the slot in the NFL, and he landed in a good spot for it on the Buccaneers. Jameis Winston relied heavily on his slot targets in 2018, and Adam Humphries left 81 such targets behind when he left for the Titans as a free agent.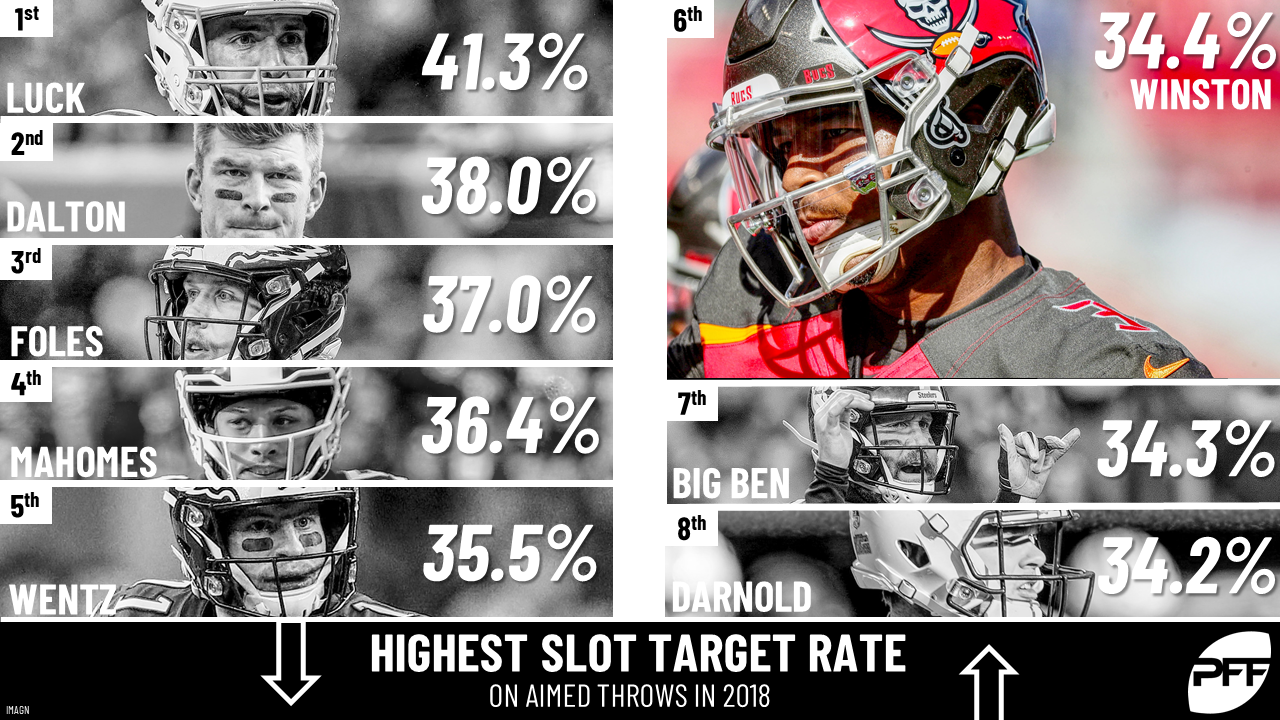 Miller may have more initial competition for those looks since teammate Chris Godwin was very productive with 1.64 yards per route run from the slot last season. But Miller's ability as a returner makes him a strong bet to stay on the roster where he can hopefully earn a shot down the road.
Scott's ranking: Overall 39, WR21
Meyers was the most productive college slot receiver in this class, but I was down on him before the draft because his 4.63-second 40 and 4.23-second shuttle times were slower than many of his peers and made him an uncertain fit for the slot. I still have those reservations after he went undrafted, but the Patriots' decision to sign him elevates his stock in my eyes. The team's recent-year late selections and undrafted signings of Braxton Berrios and Austin Carr show that Meyers is far from a slam dunk, but Julian Edelman and Wes Welker were similar fliers in their day.
Scott's ranking: Overall 40, RB12
Now that Melvin Gordon put up a 5.1 yard-per-carry season, Leonard Fournette carries the torch for backs underrated by yards per carry because of their heavy usage in third-and-short and goal-line situations. I'm just not sure Fournette has the same confidence of his team that the Chargers showed in Gordon. Fournette has butted heads with his front office and had injury problems. If the Jaguars decided to move on from him, Armstead wouldn't have much long-term competition for the team's early-down carries. His excellent combine times hint that he could out-produce his meager 4.9 yards per carry and 4.8% reception ratio at Temple with better health at the next level.
Scott's rankings: Overall 44 and 41, RB16 and RB13
Anderson and Williams were both in my top-10 rookies at the position before the draft, but similar falls to the sixth round and a joint landing on the Bengals sabotaged their short-term fantasy potential. That said, Joe Mixon isn't a sufficient reason to ignore Anderson and Williams in your dynasty drafts. Backs' careers can be fleeting, and a loss of Mixon could open the door for fantasy production for both Anderson and Williams at the same time. With 25 bench reps, Anderson showed the strength to maintain his 8.0% touchdown rate from Oklahoma, and with a 9.9% reception ratio and a 96.5 pass block efficiency, Williams teased a potential to play on third downs where a heavy target volume could make him a PPR option.
Scott's ranking: Overall 43, RB15
Williams fell short of standout with 17 bench reps and a 4.57-second 40 time at the combine, but his 4.16-second shuttle and 7.00-second three-cone times were exceptional for his size of 5-11 and 212 pounds and more telling of his NFL potential. Aaron Jones had a similar profile, and I don't think it's a coincidence the Packers selected Williams in a similar spot to where they selected Jones two years ago. Williams has Jones to contend with and will likely suffer in the short-term because of it, but he's one of my favorite long-term sleepers at the position.
Scott's ranking: Overall 47, RB17
Ozigbo is a one-year wonder out of Nebraska whose 10.5% college receiving ratio hints at three-down potential. He went undrafted, but his signing with the Saints could offer him a similar upside as comparable player Damien Williams enjoyed with the explosive Chiefs offense. Latavius Murray signed a four-year deal with the Saints this offseason, but the contract is such that the team could release him early without major financial ramifications if Ozigbo popped. Meanwhile, Mark Ingram showed that a second Saints back could thrive in fantasy alongside Alvin Kamara.
Scott's ranking: Overall 48, RB18
Ito Smith is the obvious internal candidate for the Falcons to replace the departed Tevin Coleman's touches, but Smith was one of the least efficient backs in football, costing his team 12 yards on 90 carries and another 12 yards on 27 catchable targets last season. He's one of my bust candidates, and that could open the door for rookie Ollison. Ollison underwhelmed with a 7.53-second three-cone time at the combine, but he caught a pass for 8.6% of his college touches. And at 6-1 and 228 pounds, he certainly has the size to sustain a heavy workload.