Nailing a sleeper pick may be the most satisfying experience in fantasy football, but skipping over an eventual bust can be just as critical. I like to use Yards Added to evaluate whether running backs have demonstrated the efficiency they will need to keep their expected roles over the full season. It accounts for the context of attempts and targets with adjustments for the down and distance, distance from the end zone, quality of blocking and coverage, and more. Entering 2019, there are seven backs whose Yards Added trends make them strong candidates to underperform their draft positions.
Inefficient rookies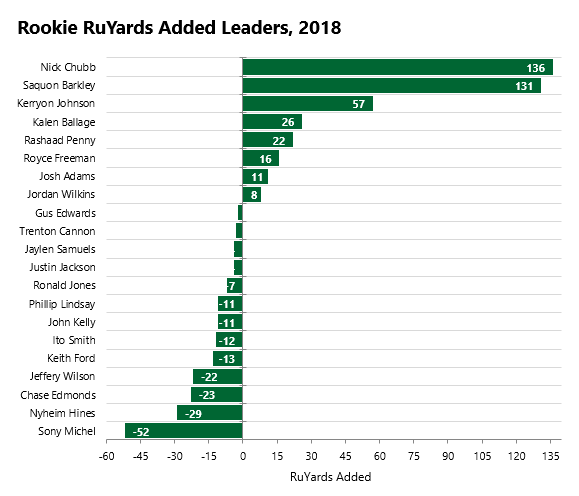 There are few NFL jobs as coveted for fantasy owners and as difficult for backs to hold down for multiple seasons as RB1 for the Patriots. As a team, they have 10 more carries from one yard from the end zone than the next-closest team — the Saints — and 17 more than the other 30 teams over the last three seasons. Michel will almost certainly be a top-15 fantasy back if he keeps his job, but his inefficiency as both a runner and receiver has me worried.
By traditional measurements, Michel improved from 3.5 yards per carry in his first two games to 4.6 yards per carry over the rest of the season. But Yards Added paints a more pessimistic picture in which Michel cost the team 53 yards over his 209 carries and failed to trend upward over the second half.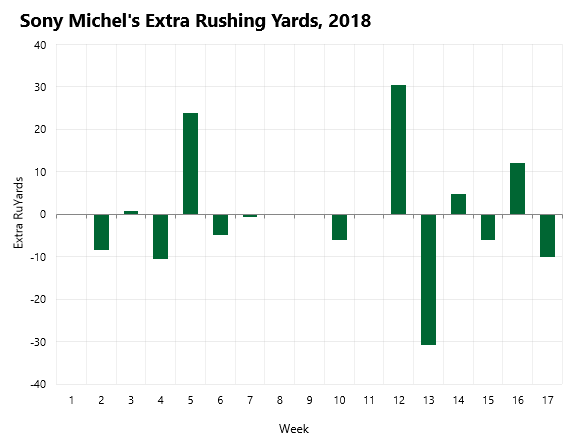 I would be less distressed if Michel had translated his 9.8% college receiving ratio, but he caught a pass on just 3.2% of his rookie touches for the Patriots. He cost the team 9 yards on his 10 catchable targets and faces a tough road to steal passing work from efficient receiving backs Rex Burkhead and James White.
It's premature to label Michel an ineffective player based solely on his rookie season, and he should have a window of time to improve with little competition for his role. Burkhead and White cost the team 18 and 28 yards on their 2018 carries, respectively, and Jeremy Hill is a free agent after a torn ACL ended his Patriots career before it really began. But Michel still needs the turnaround to start this season. Laurence Maroney is proof that a first-round draft selection won't buy a Patriots back the third and fourth chances he would likely have on another team.
At 5-9 and 198 pounds, Hines was never going to be an every-down back like Michel had the chance to be. I'm less concerned, then, that Hines cost the Colts 29 yards on his 85 carries last season. But Hines threw a major red flag in costing the team 20 yards on his 70 catchable targets. NFL teams tend to be good at selecting efficient receiving backs for their passing-down roles, so it's really unusual to see a back costing his team 20 yards on north of a 30% target ratio.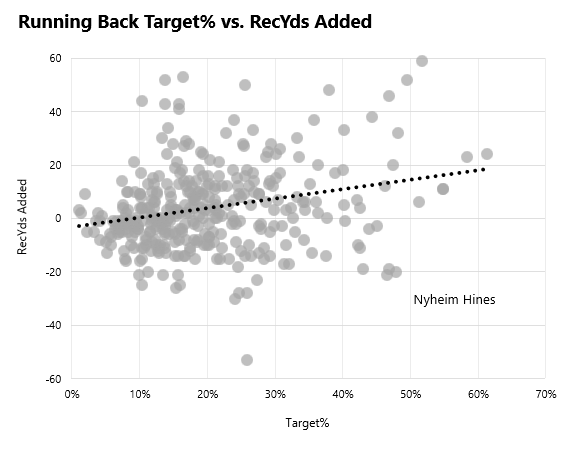 A few of the dots near Hines represent players who bounced back to efficient receiving and productive fantasy seasons, most notably Chris Thompson from 2016 to 2017. But far more players with that profile saw their workloads evaporate. I want to own the receiving back in the explosive Colts offense, but I'm not convinced Hines will be that player for years to come.
On its own, the Mark Ingram signing wouldn't sabotage Edwards' fantasy potential. After Lamar Jackson took over at quarterback last season, the Ravens ran the ball on 66% of their plays, 10% more than even the run-heavy Seahawks. They had 28 carries per game for their running backs even after Jackson took 17 for himself. Edwards may simply be a victim of the Ravens' quality depth. Ingram added 28 yards on his 138 carries for the Saints last season, and the oft-injured Kenneth Dixon added an impressive 17 yards on his 60 carries after he returned from injured reserve. Edwards was average costing the Ravens 2 yards on 137 carries, and while average in the NFL is a pretty high bar, it in my mind makes him the clear third choice, especially since Ingram and Dixon are more versatile.
The Falcons have been one of only a handful of NFL teams that have turned backfield teammates into consistently productive top-25 fantasy options. Now that Tevin Coleman has left for the 49ers in free agency, sophomore back Smith seems poised to replace him as the 1B to Devonta Freeman's 1A. I'm not convinced. Smith underwhelmed as a rookie, costing the team 12 yards on 90 carries as a runner and 12 yards on 27 catchable targets as a receiver. Smith will likely need to excel as a receiver to thrive in the NFL with his smaller frame, but his freshman 5.6 yards per reception was barely half of the 11.0 yards per catch Coleman averaged in his Falcons career. It's encouraging that Smith never dropped a pass, but the Falcons may still opt to draft a complementary back with more explosiveness.
Replaceable veterans
Rookie Ronald Jones was a year-one bust for the Buccaneers at the very least, and that opened the door for unsexy veteran Barber to touch the ball 250 times and turn in an RB3 season. And he likely would have done better in fantasy in better circumstances. The Buccaneers' were a bottom-five run-blocking team, and Barber averaged just 1.02 yards before contact per attempt. Yards Added lowers its expectations for players who take their carries in those sorts of difficult circumstances, but even considering the poor blocking, Barber cost the team 27 yards as a runner and 25 as a receiver. Underscoring that latter number, Barber produced just 0.34 yards per route run, barely half the rate of the next-lowest back with 20 or more targets.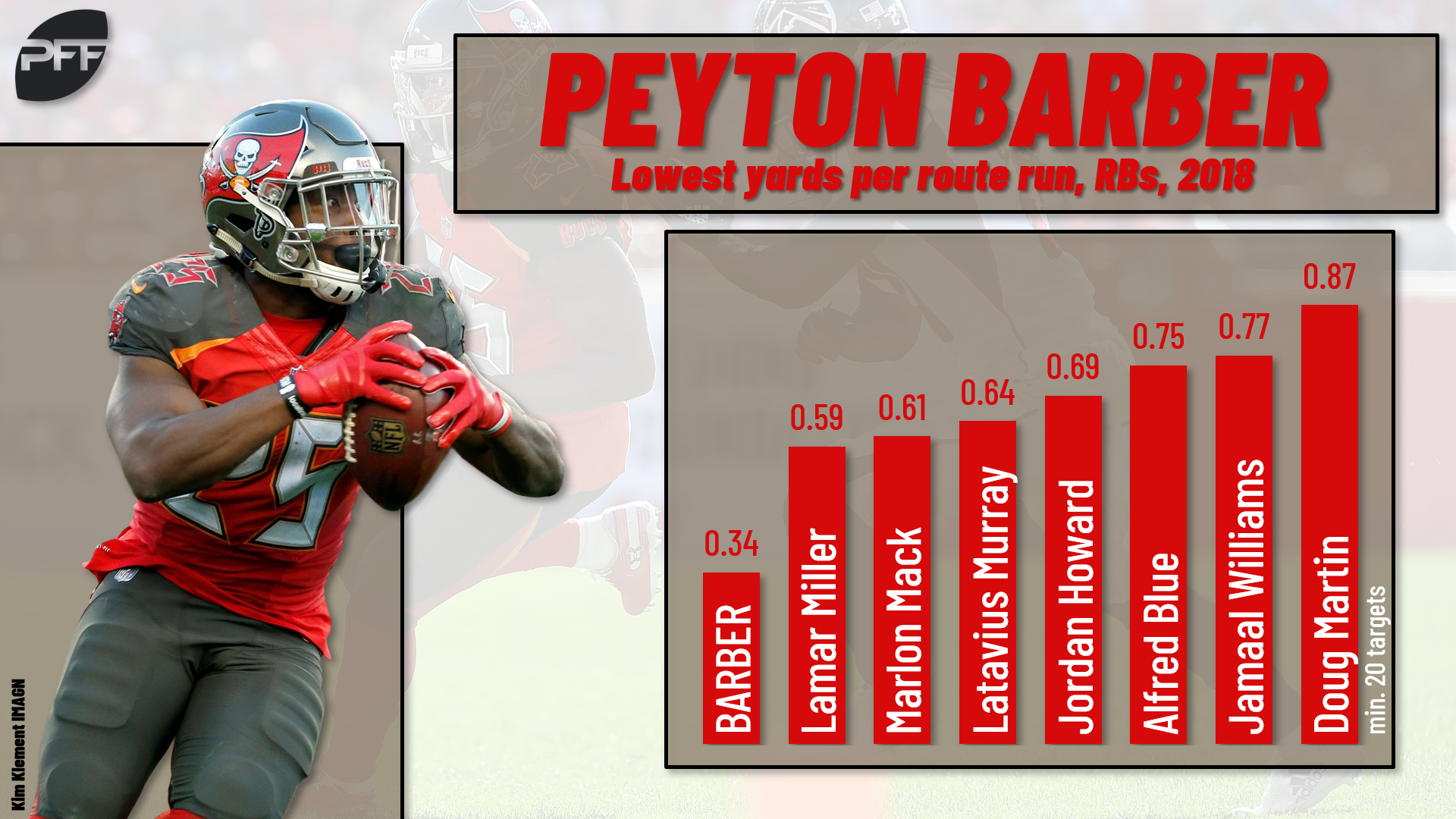 Whether or not Jones can be the team's long-term solution at the position, Barber has the look of a stop-gap. I would aim for greater skills upside in the later rounds of fantasy drafts, even if he seems locked into the No. 1 job for the Buccaneers to start the season.
Following the departures of Jay Ajayi and Darren Sproles, the Eagles' backfield lacked a brand-name player until their Howard trade. But the likely concerns that motivated the Bears' decision to move Howard won't vanish with his new uniform. Howard is in a three-year decline from 65 Yards Added in his rookie season to 15 in 2017 and -14 last year. And that has mirrored his yards-per-carry decline from 5.2 to 4.1 to 3.7. I don't see a talent discrepancy between Howard and their other backs that would motivate the Eagles to discontinue their committee approach that limited even Ajayi to 10 carries per game in his Eagles career. Given my expectations for their relative draft positions, I'm actually more inclined to take a chance on sophomore back Josh Adams, who had a solid but unheralded rookie year in 2018.
Davis will presumably be the man to replace Howard in Chicago and seems on the surface to be a better fit for Matt Nagy's west coast offense given his experience as a receiving back for the Seahawks. The problem is Davis hasn't actually been effective in his previous role. In 2018, he cost the Seahawks 14 yards on 112 carries as a runner and 23 yards on 38 catchable targets as a receiver. By rate, only Barber was a less efficient receiver among the backs who saw 20 or more catchable targets. It's a totally different role in a totally different offense, but Davis profiles more like a backup and was paid like a backup. I expect the team to draft a running back to take the bulk of Howard's vacated touches.