The 2022 NFL Draft is nearly here. Of course, that hasn't stopped the football world from gathering intel and adjusting the ole ranks on this year's rookie class despite the reality that nobody is sure who will be playing where come September.
First-year rankings, especially for re-draft formats, should lean heavily on landing spot and draft capital. The latter variable is arguably the most-predictive variable when it comes to accessing the year-one fantasy value of rookies. Additionally, volume tends to trump talent in fantasy football land; staying woke to the league's most-open situations in terms of available carries and targets is another valuable piece of the puzzle. Still, studying past high-performing rookies has led to takeaways like prioritizing dual-threat quarterbacks, receiving running backs and wide receivers that are particularly adept at running the NFL's most-used routes.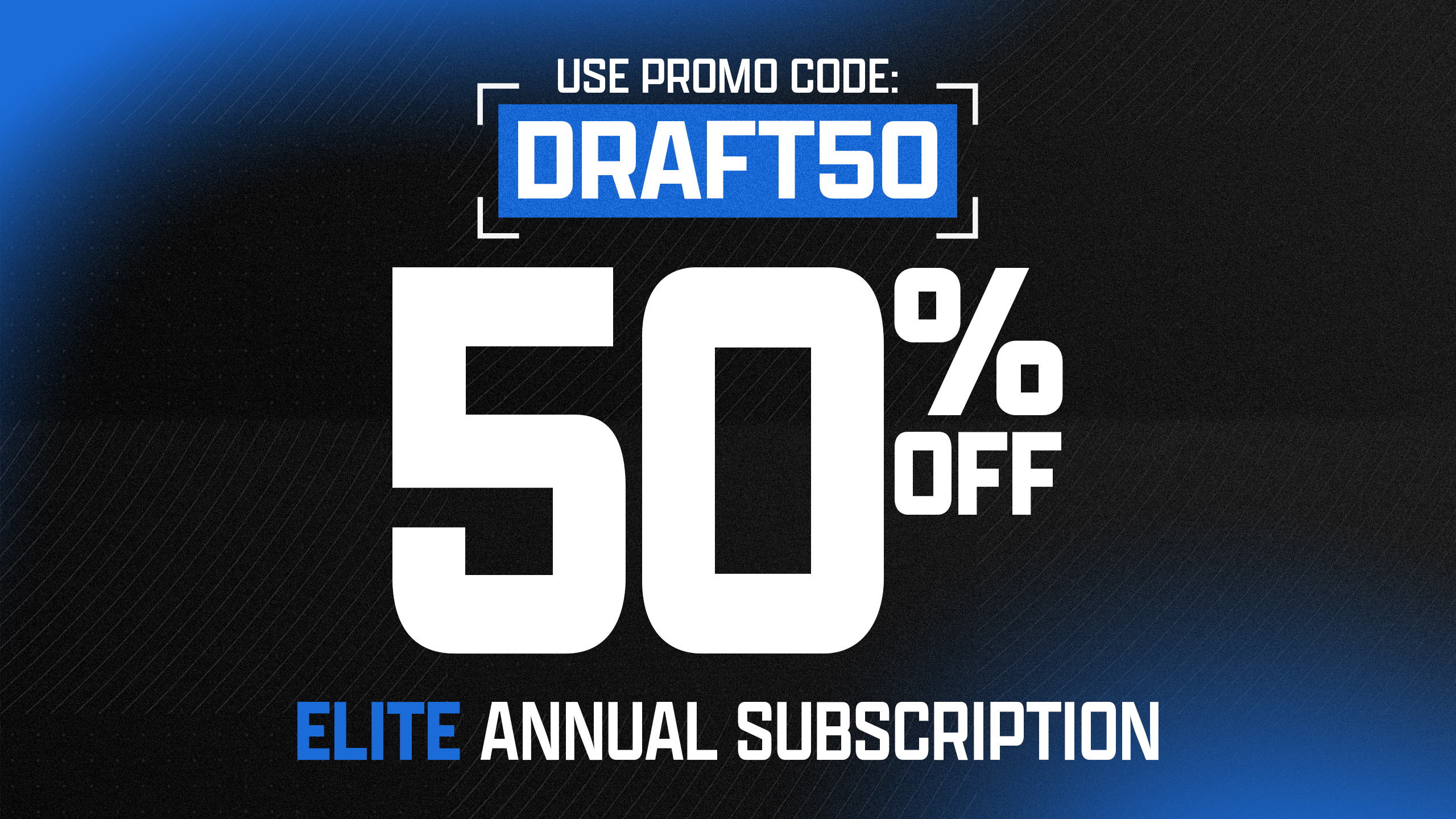 The following re-draft 2022 pre-draft rookie rankings will attempt to find the best mix of all these variables, knowing all the while that things will change in a hurry after draft capital and landing spots are revealed. After all, what's the point of learning new information if you aren't willing to ever upgrade your opinion?
Quarterback
| | | |
| --- | --- | --- |
| Rank | QB | College |
| 1 | Malik Willis | Liberty |
| 2 | Matt Corral | Ole Miss |
| 3 | Desmond Ridder | Cincinnati |
| 4 | Sam Howell | North Carolina |
| 5 | Kenny Pickett | Pittsburgh |
I wrote a tongue-in-cheek hater's guide to the group in an effort to highlight the fact that every quarterback in this class has at least one red flag that a "hater" could bring up in an effort to ridicule someone's positive opinion on them. Of course, there are plenty of good things to potentially hang your hat on with this group as well; just realize the QB1 in this class could very well have been ranked outside 2021's top five.
Malik Willis: Literally only Lamar Jackson (8.6) averaged more yards per carry than Willis (8.4) among all college quarterbacks with at least 100 rush attempts since 2015. Truly special with the ball in his hands, Willis also flashes plenty as a passer and scored the second-highest big-time throw rate that PFF has ever charted (11.0%). Ultimately, the potential for Willis to see double-digit rush attempts the moment he earns a starting job is enough of a fantasy cheat code to earn him overall QB1 honors.
Matt Corral: Concerns over Corral's ability to transition to a more pro-style offense seem to overshadow just how good executing the game plan at Ole Miss. Corral is the most-efficient quarterback in this class by a variety of measures and also stands out as a signal-caller capable of handling pressure better than most. There's also a rushing floor here; Corral was rather productive on the ground in 2020 (112-506-4) and 2021 (152-614-11) alike.
Desmond Ridder: Allegedly acing all the pre-draft tests, Ridder checks all seven boxes from Bill Parcell's famous process for evaluating collegiate quarterbacks. Your favorite NFL draft nerd's favorite quarterback, Ridder seems to possess all the necessary physical tools (4.52-second 40-yard dash!) and mental attributes to succeed at the next level, so long as his much-publicized ball-placement issues improve.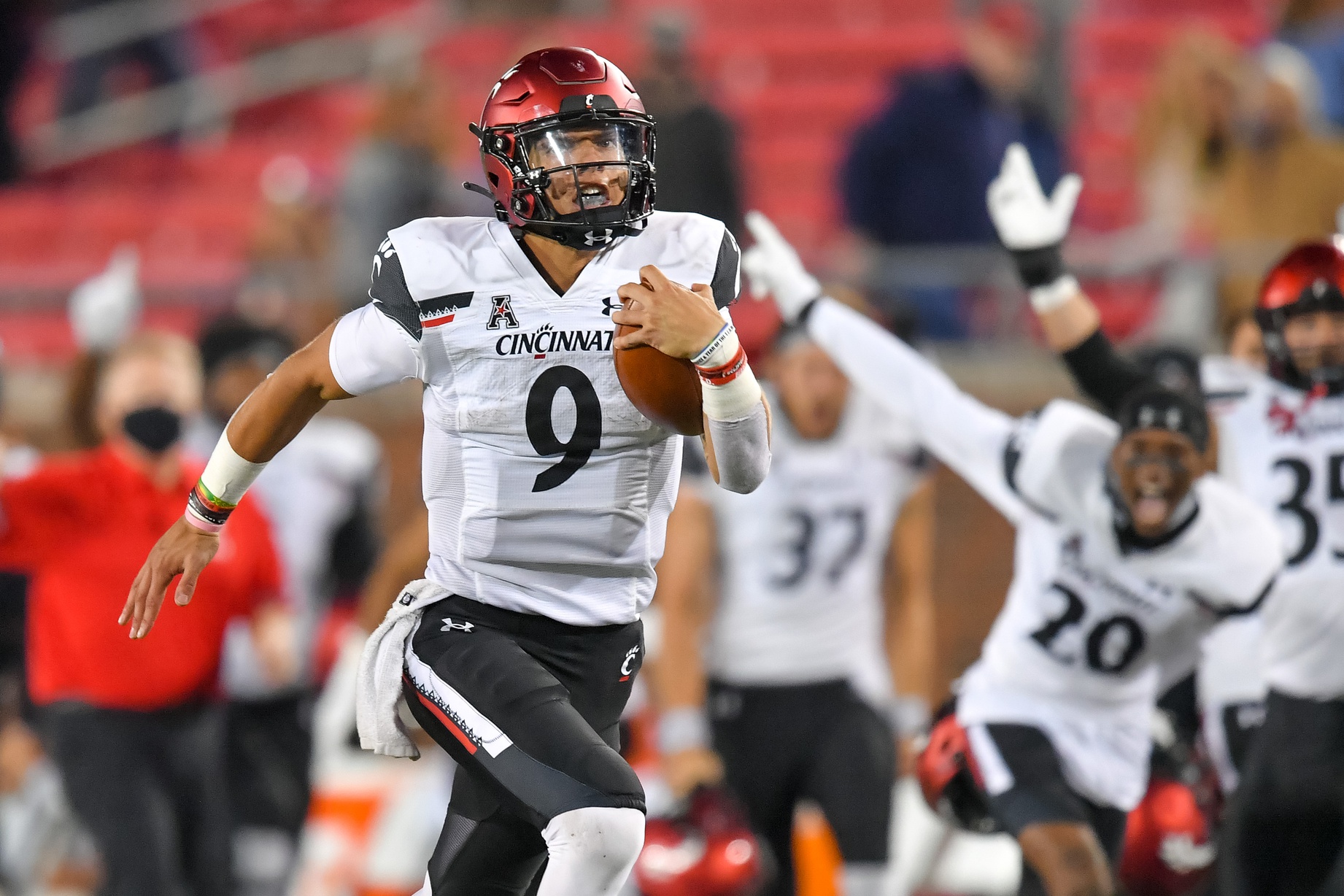 Sam Howell: Managed to post a rather wild 183-828-11 rushing line in 2021 and looked damn good doing it. Comped as a "slower Russell Wilson" on the PFF Big Board, Howell displayed excellent deep-ball ability throughout his collegiate career. Rushing goodness combined with the potential to rack up explosive downfield plays could be a recipe for fantasy goodness should teams conclude that his step back in 2021 was simply due to the loss of copious NFL talent inside of the North Carolina offense.
Kenny Pickett: Simply doesn't look to have the rushing capacity to produce much fantasy goodness in year one. This isn't to suggest that Pickett is a statue in the pocket; his fake slide touchdown was truly masterful. Still, Pickett posted a pedestrian 28-40-3 rushing line on non-scrambles while only forcing five total missed all season. Each of my top four quarterbacks had 50-plus rushing yards in at least 22% of their games; Pickett did so in just 13% of his career contests. Betting on a primary pocket passer to win big as a year-one fantasy asset simply hasn't worked out in recent history.
Running back
| | | |
| --- | --- | --- |
| Rank | RB | College |
| 1 | Breece Hall | Iowa State |
| 2 | Kenneth Walker | Michigan State |
| 3 | Isaiah Spiller | Texas A&M |
| 4 | Dameon Pierce | Florida |
| 5 | Zamir White | Georgia |
| 6 | Rachaad White | Arizona State |
| 7 | Tyler Allgeier | BYU |
| 8 | James Cook | Georgia |
| 9 | Kyren Williams | Notre Dame |
| 10 | Brian Robinson | Alabama |
One target has historically been equal to roughly 2.7 carries in terms of expected fantasy points in full point-per-reception (PPR) scoring. For this reason, incoming rookie running backs who have demonstrated the ability to catch the ball will be prioritized, particularly if they also possess enough size to feasibly warrant three-down usage in the right situation.
Breece Hall: Showed the capacity to do virtually everything at a high level during his three seasons at Iowa State. A true freak among freaks in terms of measurable athleticism, Hall has the sort of scary good comp groups that make him an easy pick as 2022's overall RB1.
Kenneth Walker: The main concern here is pass-blocking. PFF NFL Draft expert Mike Renner had the following to say about this:
"Walker has to buy in as a pass-blocker to see a bell-cow role in the NFL. Coaches at the next level won't let him see the field on passing downs with what he put on tape as a pass-blocker in 2021."
And yet, Walker has a real chance to be the first back off the board and might just be good enough on the ground to make up for a lack of overall pass-down work. Overall, nobody broke more tackles than Walker (89) in all of college football last season; he's excellent at executing just about any rushing concept.
Isaiah Spiller: A prime prospect to potentially go earlier than many expect, Spiller is at a minimum an above-average back in all facets of the game. This ability to work across all three downs, combined with Day 1 or 2 draft capital, makes him worthy of RB3 treatment barring a worst-case landing spot.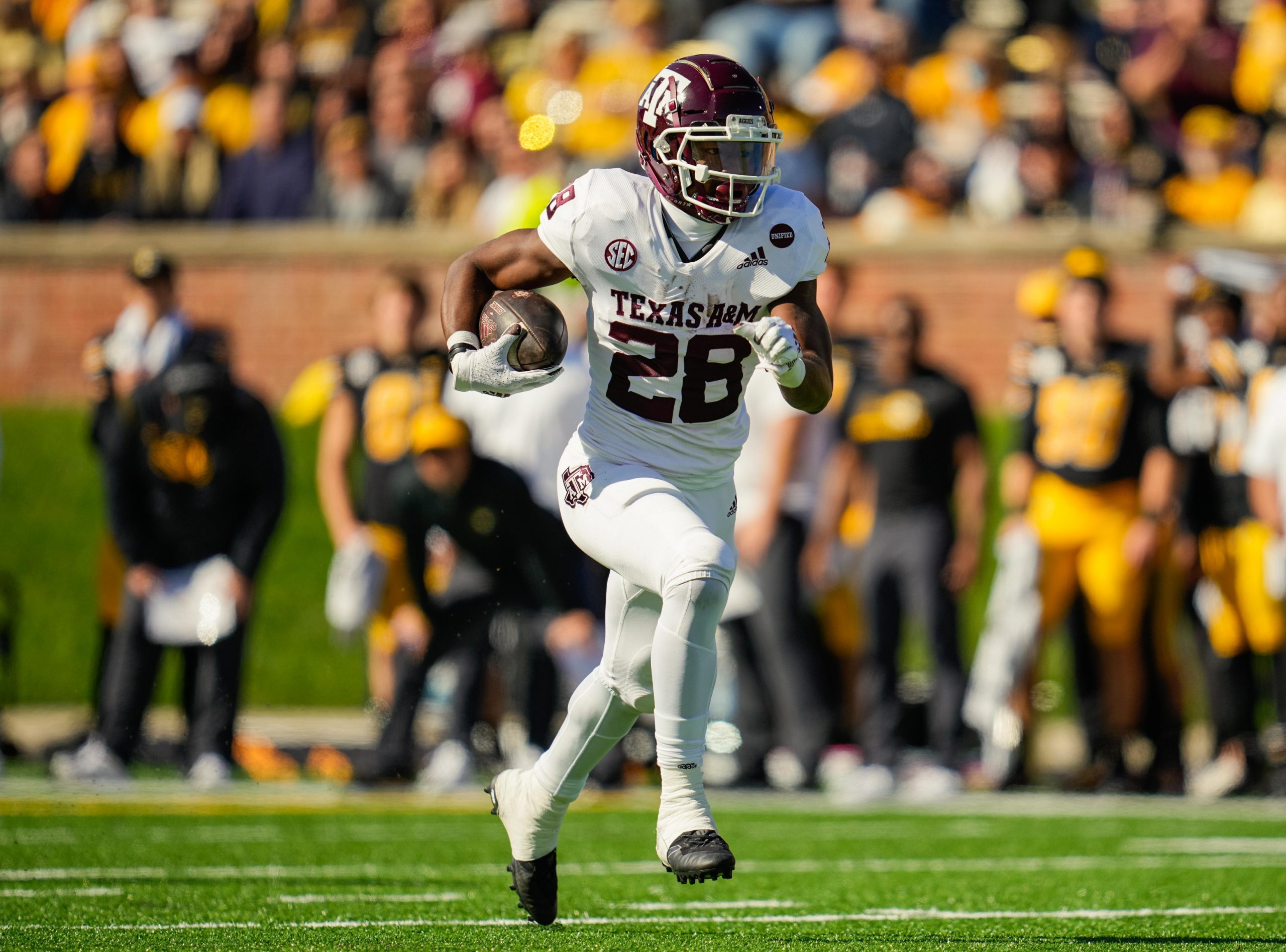 Dameon Pierce: One of just four draft-eligible running backs to boast a 70-plus PFF grade in rushing, receiving and pass-blocking in 2021, Pierce did everything right at Florida but simply didn't ever get much of a chance to do so with a ton of volume. He shouldn't be going behind more one-dimensional talents like Cook and Williams.
Zamir White: The latest extremely talented Georgia running back to post good, not great, production while splitting time with other extremely talented Georgia running backs, White is a violent runner (3.6 yards after contact per carry in 2021) and potentially offers untapped upside as a receiver in a future backfield that doesn't include James Cook.
Rachaad White: College football's highest-graded receiving running back and ranked sixth as a pure rusher. White is a sneaky candidate to more than capably handle a three-down workload should the opportunity come his way — and he has the size (6-feet, 214-pounds) and playmaking ability (52 broken tackles, 20 touchdowns on 225 collegiate carries) to make good use of it.
Tyler Allgeier: One of just four draft-eligible running backs to boast a 70-plus PFF grade in rushing, receiving and pass-blocking in 2021, the only problem with Allgeier is that he might not be elite enough in any single area to seize a starting job anywhere. Hence, his PFF draft comp with Devontae Booker. Allgeier is as high as he is due to his theoretical three-down ability, but Day 3 draft capital could make that more of a pipe dream in a hurry.
James Cook: Boasts the sort of NFL bloodline and high-end receiving ability to feasibly find himself a new home sooner rather than later once the draft starts. Perhaps the 15 pounds separating James from his brother Dalvin will be the difference between the former not being used on the ground as much as the latter, but the aforementioned boost that receiving production plays in fantasy football is enough to prioritize a potentially special talent like we have here.
Kyren Williams: PFF's "most willing pass-blocker in the class" has the ability to work across all three downs and at worst should be someone's third-down back from Day 1. Of course, size concerns (5-foot-9, 194-pounds) could limit his chances at ever commanding a fantasy-friendly three-down role; that doesn't mean his target upside isn't worth chasing in the middle rounds of rookie drafts.
Brian Robinson: Viewed as an early-down bruiser thanks to his size (6-foot-2, 225-pounds) and physical running style, but he also deserves credit for reeling in 35 of 38 targets in 2021. Robinson did drop at least two passes during each of his final three seasons at Alabama; just realize he might offer a bit more three-down ability than given credit for, particularly if his pass-blocking chops continue to develop.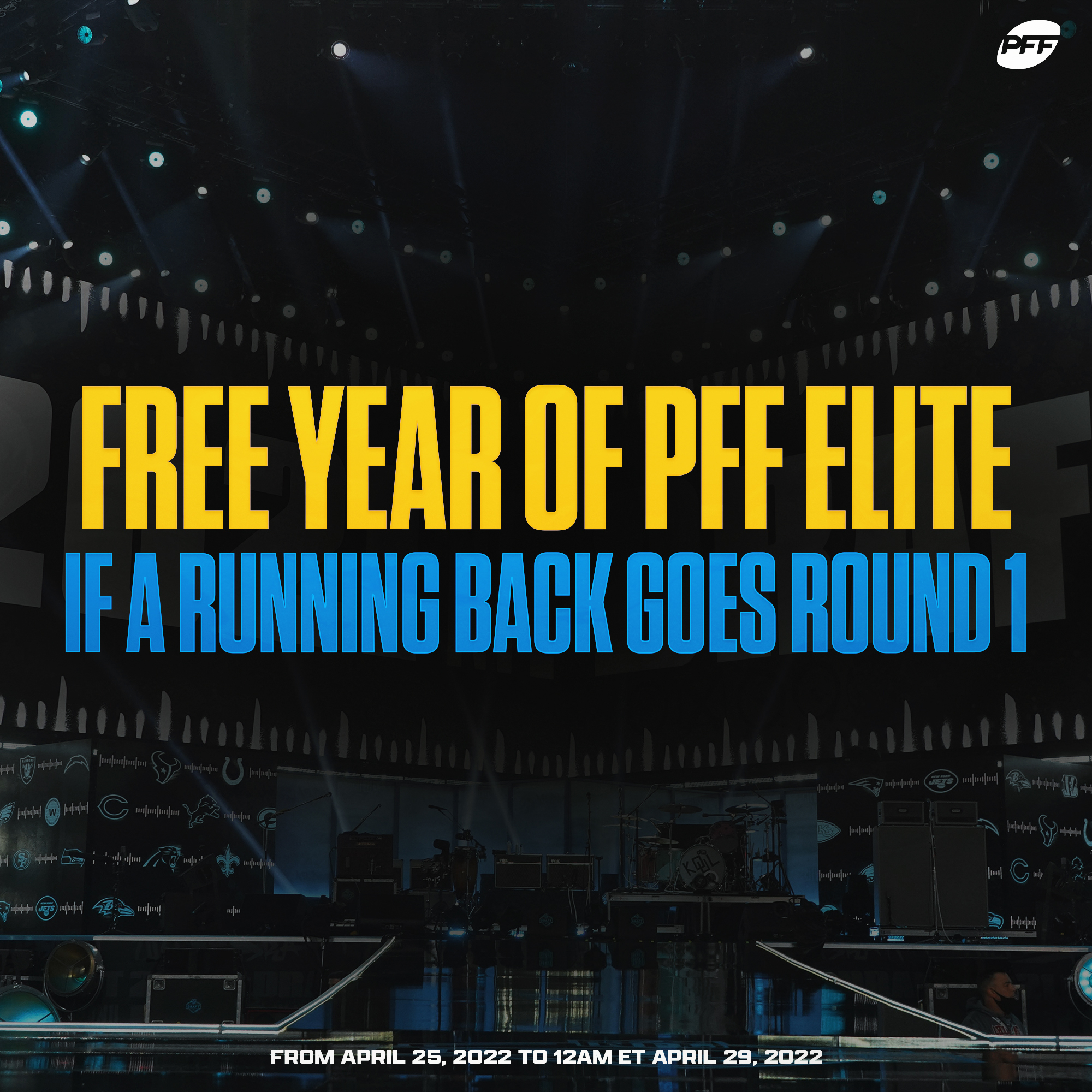 Wide receiver
| | | |
| --- | --- | --- |
| Rank | WR | College |
| 1 | Garrett Wilson | Ohio State |
| 2 | Drake London | USC |
| 3 | Treylon Burks | Arkansas |
| 4 | Chris Olave | Ohio State |
| 5 | Jameson Williams | Alabama |
| 6 | George Pickens | Georgia |
| 7 | Skyy Moore | Western Michigan |
| 8 | Jahan Dotson | Penn State |
| 9 | David Bell | Purdue |
| 10 | Justyn Ross | Clemson |
Thirteen of 16 rookie wide receivers to finish as top-24 PPR scorers were drafted inside of the top two rounds. Leaning on projected draft capital is thus essential. For fantasy purposes, it's probably more important to understand what a player's employer thinks of them as opposed to leaning on our own personal opinions.
Garrett Wilson: Proven high-level ability from both the slot (73.4% of his snaps in 2020) and outside (82.9% of his snaps in 2021), Wilson was born with pogo sticks for legs and consistently found ways to flash as a route-runner as well as after the catch throughout his Ohio State career.
Drake London: Concerns surrounding London's ability to separate don't seem to be overly backed up with extensive film study. Contested-catch excellence shouldn't necessarily be interpreted as an inability to separate; receivers can win and separate early in the route before being forced into contested situations due to a bad throw. PFF's Draft Guide comps London to Brandon Marshall; it's not illegal for big-bodied wide receivers to ball out in the year 2022.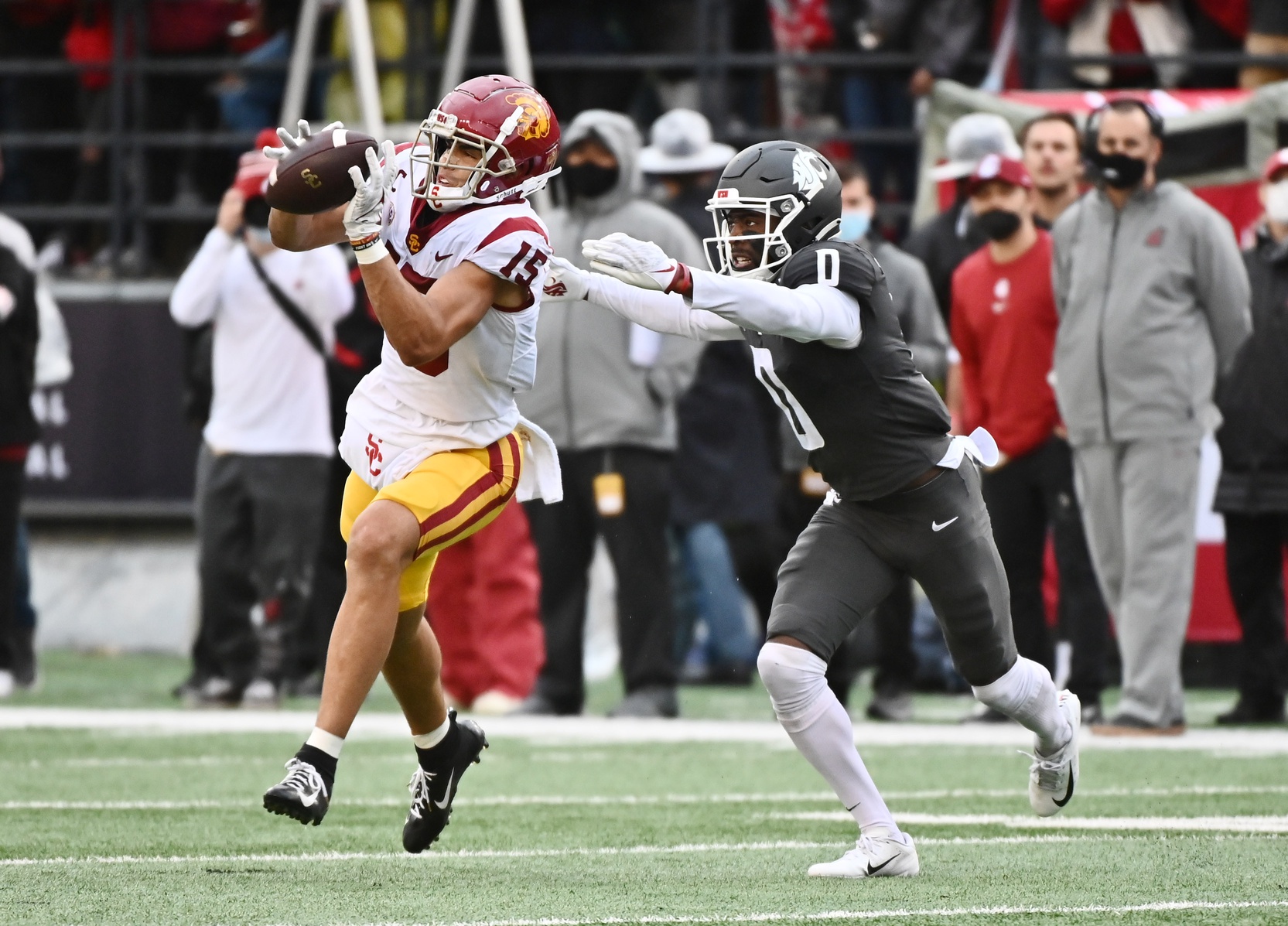 Treylon Burks: Similar to London, Burks almost seems to be penalized for being bigger than your average Gen-Z wide receiver. His weight-adjusted speed score should calm any concerns about a slower than expected 40-yard dash, as does his (limited) dominance against press-man coverage. PFF's Big Board notes that "Burks' combination of size (6-foot-3, 225 pounds) and speed is unrivaled in the class." It'd be surprising if that sort of talent falls outside the draft's top-32 selections, let alone the top-50.
Chris Olave: A plenty solid pick for the single-best route runner in this class, Olave's only negative is a lack of physicality that led to just 10 career broken tackles. Still, his PFF Draft Guide comp to Calvin Ridley perfectly encapsulates what Ohio State's all-time leader in receiving touchdowns is capable of achieving at the next level even without elite YAC ability.
Jameson Williams: My dynasty WR2 behind only Wilson, Williams stands to shoot up these rankings with the assurance that he'll be near 100% by the time Week 1 rolls around. Speed kills, after all, and Williams' never-ending supply of it has him shaping up as a dark horse top-10 pick. That sort of draft capital could produce triple-digit targets on an annual basis in a hurry.
George Pickens: Another Georgia talent whose lack of high-end production seems to be more due to his offense's overflowing supply of elite talent than anything, Pickens earned a Kenny Golladay comp from the PFF Big Board thanks to his alpha-WR1 profile. It's fair to wonder just how high his stock could be if his collegiate ACL tear wasn't a concern.
Skyy Moore: No wide receiver broke more tackles than Moore (26) in 2021. PFF's single-highest-graded receiver among 1,007 qualified players at the position, Moore figures to start in the slot from day one and has the potential for so much more.
Jahan Dotson: Another candidate to *at worst* function as a productive starting slot receiver due to his size, Dotson actually has more experience playing on the outside and might just boast the sort of next-level route-running ability to win regardless of where he lines up.
David Bell: Seemingly the only problem is a 4.65-second 40-yard dash. Faster would certainly be better, but that doesn't take away from his impressive three-year stretch in 2019 (86-1,035-12), 2020 (53-625-8 in 6 games) and 2021 (93-1275-6).
Justyn Ross: Similar to Pickens, Ross' name would be far higher on this list if his career ended as well as it began. Still, freshmen don't lead the nation in yards per route run without having some truly elite ability; I'll chase Ross' best-case upside in the middle rounds of dynasty drafts over the rest of this class' potentially more limited options.
Tight end
| | | |
| --- | --- | --- |
| Rank | TE | College |
| 1 | Trey McBride | Colorado State |
| 2 | Jeremy Ruckert | Ohio State |
| 3 | Jelani Woods | Virginia |
| 4 | Greg Dulcich | UCLA |
| 5 | James Mitchell | Virginia Tech |
With all due respect to each of these esteemed scholar-athletes: Stay the hell away from rookie tight ends in fantasy land. Overall, Kyle Pitts and Evan Engram are the only rookies to turn in top-12 PPR seasons at the position over the past 10 years. Throw in the reality that each was assisted by their offense's No. 1 wide receiver in Calvin Ridley (personal) and Odell Beckham (ankle) missing the majority of the season, and it's simply tough to expect any first-year tight end to earn a large enough role to warrant serious fantasy consideration in normal re-draft formats.