Full point-per-reception scoring in fantasy football just doesn't make much sense. Yes, certain catches deserve a round of applause and truly require plenty of talent (cc. Auden Tate). Also yes, Deebo Samuel gets the equivalent to 10 rushing or receiving yards by being on the other end of one of Jimmy Garoppolo's patented six-inch pop passes.
Alas, plenty of fantasy football leagues around the world continue to reward a full fantasy point per reception. I'm not a fan, but it is what it is. Like any other rule we don't like in life: Sometimes the best way to pass its constraints is by exploiting the entire system.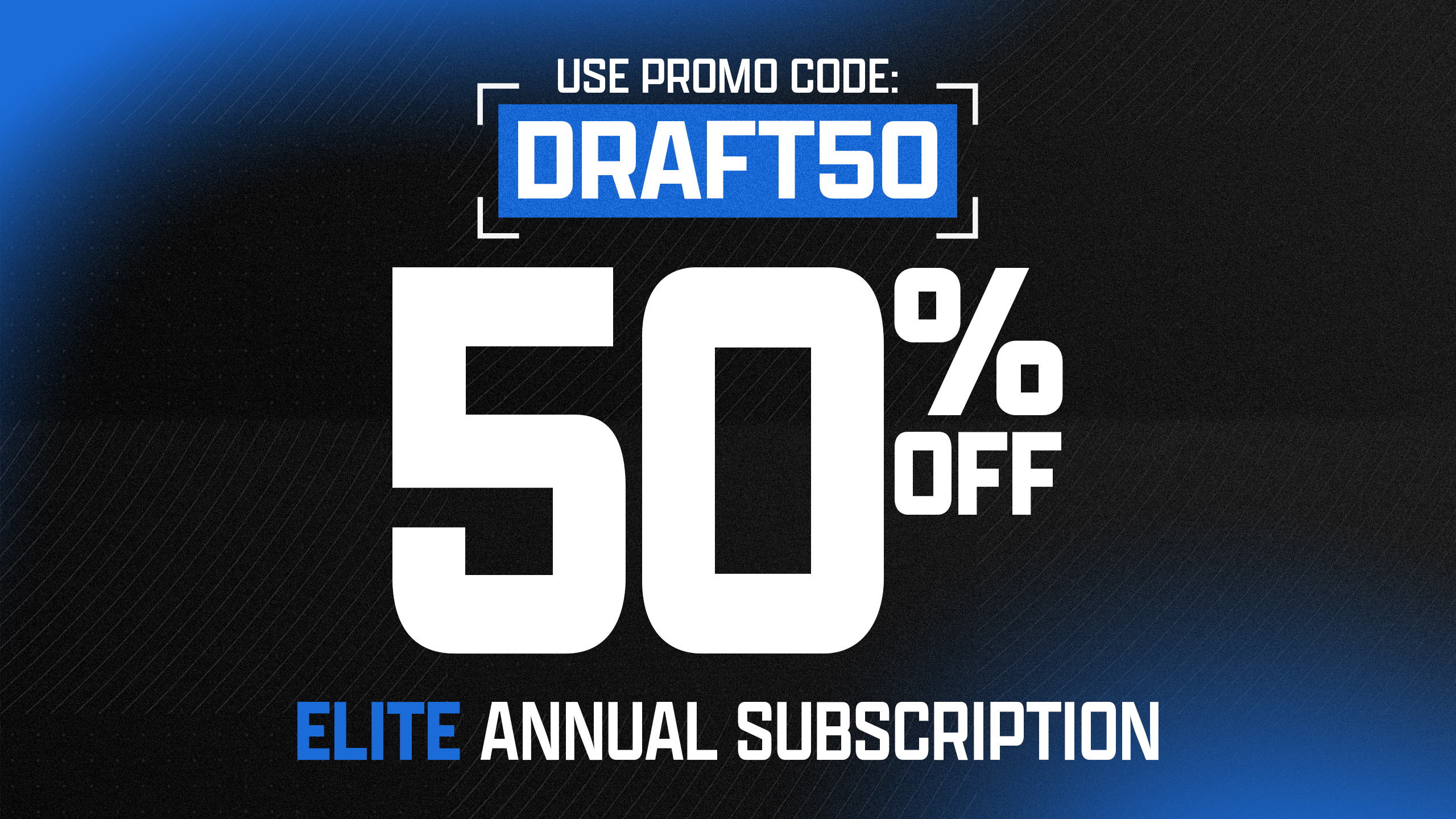 Enter: receiving running backs. Much like Travis Kelce has done at tight end, No. 1 pass-game options that happen to be their team's starting RB have largely taken over fantasy football in recent seasons. Christian McCaffrey and Alvin Kamara have been at the forefront of this movement, and they just so happen to rank first and second in PPR points per game among all running backs in NFL history (minimum 50 games).
Some monsters like Derrick Henry continue to get by just fine without much of a role in their offense's passing attack, but make no mistake about it: Targets are objectively good for fantasy business. We won't know for sure how large of a role each rookie will be looking at until the draft concludes, although identifying which incoming running backs have at least shown the ability to operate as an above-average receiver will be useful when projecting who might be flying under the radar in fantasy land.
What follows is a breakdown of the projected receiving ability of PFF's top-15 incoming rookie running backs. The list comes from the PFF 2022 NFL Draft Big Board and is meant to include the likeliest backs to be drafted inside the top three rounds. Draft capital isn't everything; just realize Zac Stacy, Jordan Howard, Alfred Morris, Phillip Linsday, and James Robinson are the only rookies not drafted inside of the top three rounds to finish as one of the position's top-24 PPR performers in their debut campaign over the past 10 years.
Walker caught just 13 passes during his final collegiate season at Michigan State. This isn't necessarily an indictment on his pass-catching ability; Big Ten offenses rarely keep a running back heavily involved in the passing game.
Perhaps the larger concern is Walker's pass-blocking ability. PFF NFL Draft expert Mike Renner had the following to say about this:
"Walker has to buy in as a pass-blocker to see a bell-cow role in the NFL. Coaches at the next level won't let him see the field on passing downs with what he put on tape as a pass-blocker in 2021."
Maybe Walker just needs an NFL system to bring out the best of him as a receiver and pass-blocker, but at this point, it'll take a leap of faith in assuming he's even average in either ability.
Conclusion: Profiles as an immediate lead early-down back but runs the risk of being game-flowed off the field if his future offense has even a decent incumbent pass-down option.
Hall consistently made good things happen in the passing game during his time at Iowa State, posting 23-252-1, 23-180-2, and 36-302-3 receiving lines from 2019 to 2021.
It's hard to nitpick just about anything in Hall's game, particularly when it comes to working in the passing game. Overall, he dropped just two of his 69 targets over the past two seasons while racking up 25 total forced missed tackles as a receiver — tied for the highest mark among all running backs in college football.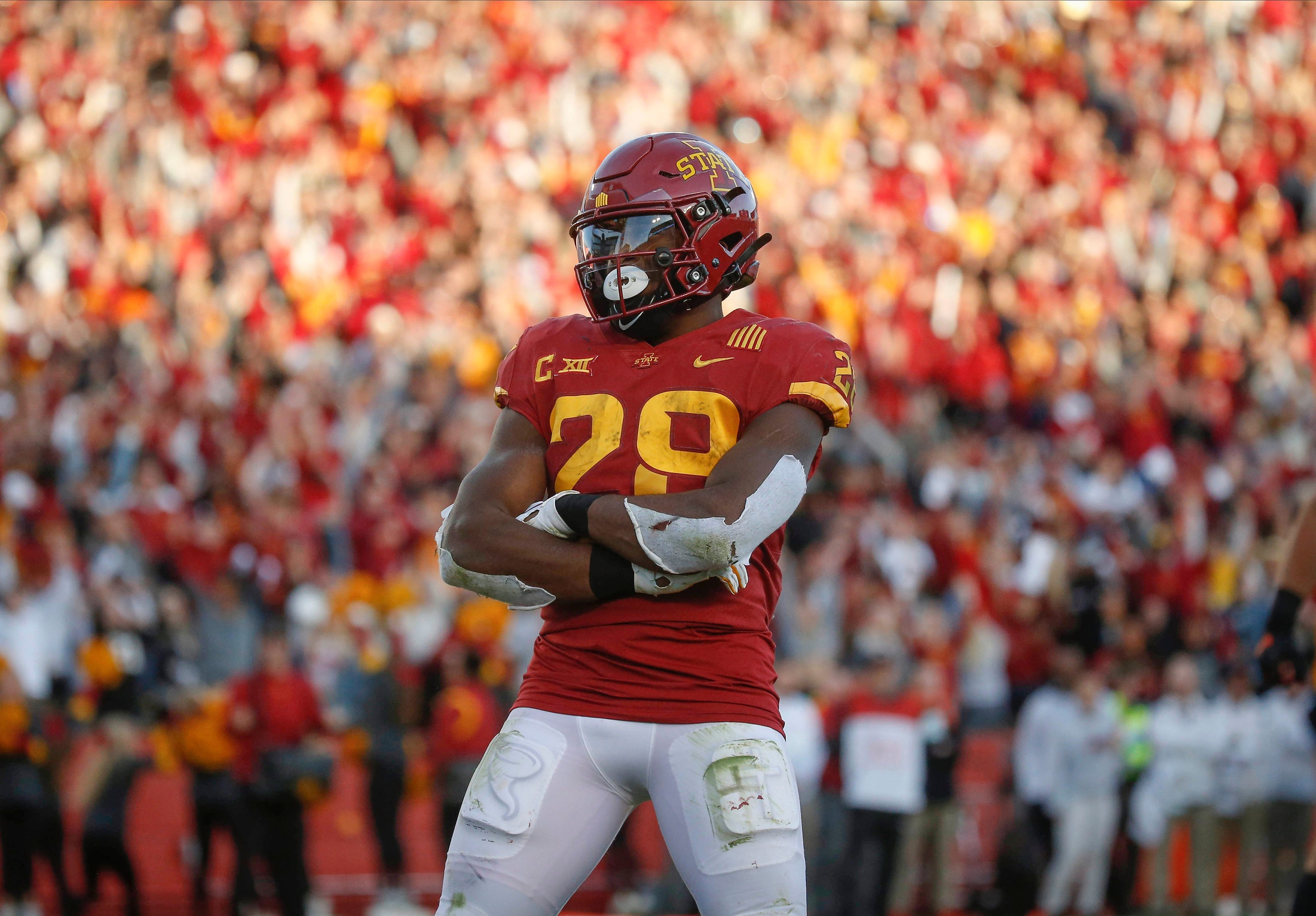 The one potential concern to keep an eye on is pass-blocking ability. Hall wasn't much better than Walker when it came to PFF pass-blocking grade (39.6 vs. 34.2) and ultimately allowed just one fewer pressure on only five more total reps.
Conclusion: Hall is a talented and proven receiver who seems to do his best work after the catch. Here's to hoping his future employer embraces this part of his game by regularly sending him out on routes as opposed to penalizing his mediocre pass-blocking ability with a seat on the bench.
The sample size is the biggest problem in projecting Pierce as a three-down back at the next level. He never had more than 15 rush attempts in a game and surpassed three receptions in a contest just three times.
Still, we're looking at a true three-down back based on what Pierce did manage to put on tape:
PFF rushing grade: 92.8 (No. 2)

PFF receiving grade: 84.8 (No. 3)

PFF pass-blocking grade: 72.0 (No. 12)
Overall, Pierce was one of just four running backs in the country to post PFF grades of at least 70.0 in each of these three categories. 
Conclusion: Pierce is the definition of a theoretical three-down back thanks to his size (5-foot-10, 218-pounds) and demonstrated ability to operate at a high level in all three facets of the game. Don't count out Pierce's potential to make some serious noise on the stat sheet as early as 2022 if he falls into an open backfield.
Allgeier joins Pierce as one of just four running backs to post a PFF grade of at least 70.0 as a rusher, receiver, and pass-blocker last season. While Allgeier also possesses bruiser size (5-foot-11, 224 pounds), there are a few more questions to ask in terms of competition level, how much of his production was thanks to BYU's beastly offensive line, and if he has the sort of long speed to make big plays at the professional level.
PFF comps Allgeier to Devontae Booker, another running back capable of working across all three downs, though NFL teams have usually found better avenues to go with the football. Still, at a minimum Allgeier stands out as one of few proven three-down backs in this draft; that sort of skill set is all a fantasy manager can hope for when a young back is pressed into action.
Conclusion: Algeier might not boast any particularly elite skills, but at the same time it's tough to call him a liability in any area of the game. He checks the boxes of a back who shouldn't have to leave the field if his future coaches don't want him to.
Cook's pass-catching ability is borderline erotic:
Throw the ball to James Cook and good things happen pic.twitter.com/4EyqGOfEit

— Ian Hartitz (@Ihartitz) April 5, 2022
Seemingly the only thing preventing Cook from inserting himself in conversation as one of the draft's best overall backs is his size (5-foot-11, 199 pounds). This was likely why he never had more than 12 carries in a single game, although the pass-catching ability here is too strong to ignore. Overall, Cook dropped just one of his 68 career catchable passes and proved capable of roasting linebackers and safeties alike on the outside.
The one potential concern for Cook is pass-blocking: He posted a rather meh 61.9 PFF pass-blocking grade and never recorded more than three such snaps in any game last season. Using a running back as a receiver as opposed to a blocker is always an easy way to relieve them of this stress, but NFL coaches might not be willing to feature Cook as often as fantasy managers would hope should his pass-blocking chops fail to pass standards.
Conclusion: Cook might be the single-most electric receiver in this class, but the size and pass-protection concerns could limit his chances of ever seeing a true bell-cow role.
Best of the rest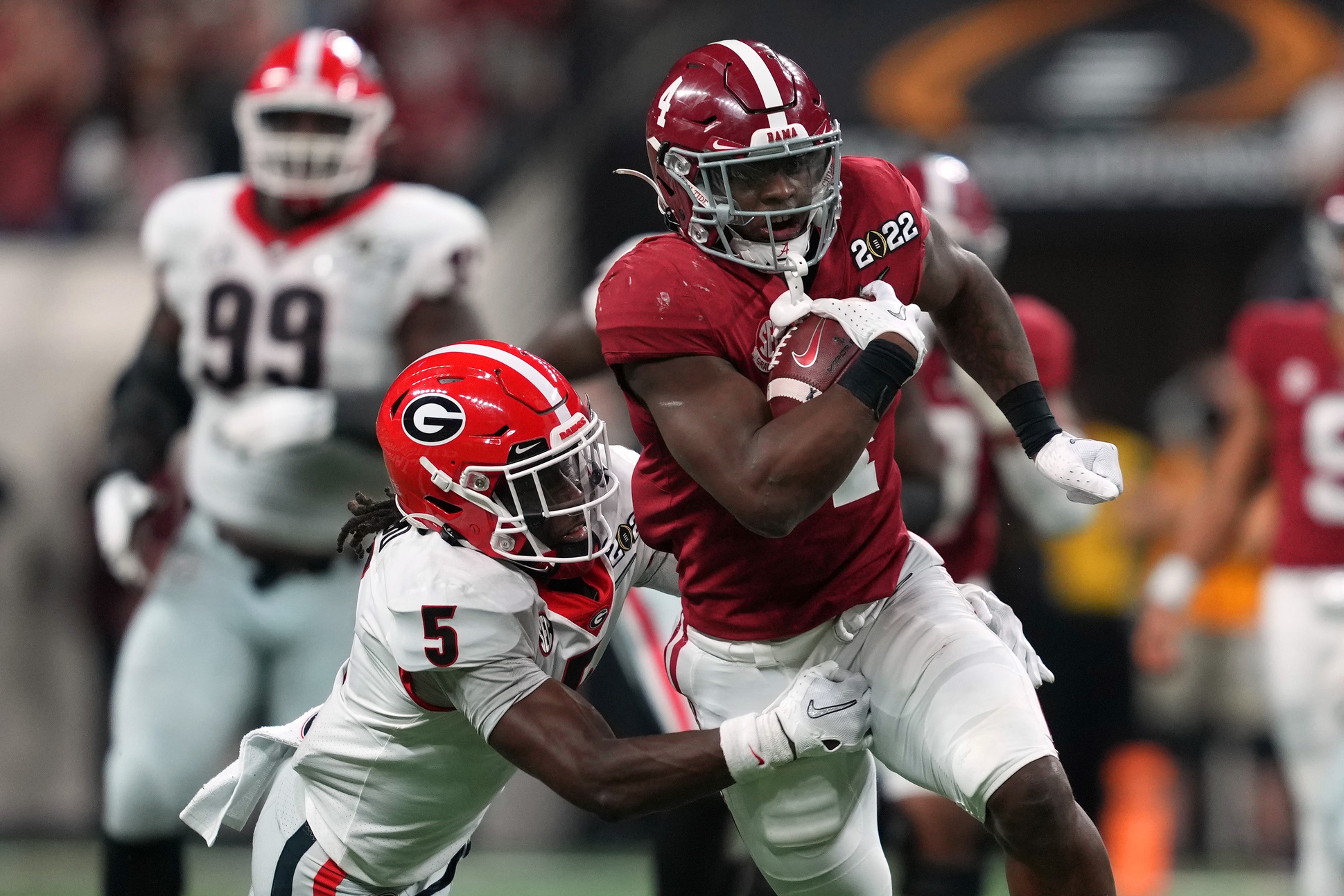 Alabama RB Brian Robinson Jr.:

Viewed as an early-down bruiser thanks to his size (6-foot-2, 225 pounds) and physical running style, but he also deserves credit for reeling in 35 of 38 targets in 2021. Robinson did drop at least two passes during each of his final three seasons at Alabama; just realize he might offer a bit more three-down ability than given credit for, particularly if his

pass-blocking chops

continue to develop.
Notre Dame RB Kyren Williams:

Williams might not have the size (5-foot-9, 194 pounds) to ever command a fantasy-friendly three-down role, but his 77 receptions in 2020-2021 reflect the reality that he's one helluva weapon in the passing game. Still, PFF's "

most willing pass-blocker in the class

" has the ability to work across all three downs; it just remains to be seen if he'll ever get the chance to do so at the next level.
Cincinnati RB Jerome Ford:

Ford has the sort of size (5-foot-11, 211 pounds) to earn an early-down role and didn't drop a single pass during his collegiate career. The two potential concerns are pass-blocking ability (53.9 PFF grade) and holding on to the football (six fumbles on 311 carries since 2019).
South Carolina RB ZaQuandre White:

White played some linebacker at Florida State before catching on in the South Carolina backfield but unfortunately doesn't project as a fantasy-friendly back at the next level based on his top-two cons: 1) Bad hands; dropped four of 23 catchable targets in 2021, and 2) Pass protection concerns; he allowed a whopping eight pressures in just 46 reps last season.
South Dakota State RB Pierre Strong Jr.:

Possesses all sorts of explosive ability but does have nine drops on 71 career catchable targets to his name. Throw in a rather terrible 25.2 PFF pass-blocking grade, and it might be tough for Strong to gain the sort of pass-down work that fantasy managers are always hoping to target.
Arizona State RB Rachaad White: PFF's 2022 Draft Guide

described White's pass protection as, "having the desire, but not the refinement." This is the only real hole in White's game: He was college football's highest-graded receiving running back and ranked sixth as a pure rusher. White is a sneaky candidate to more than capably handle a three-down workload should the opportunity come his way.
Texas A&M RB Isaiah Spiller:

Caught at least 20 passes during each of his three seasons at Texas A&M; the potential problem is whether or not his pass protection (35.7) will hold up at the next level. Still, Spiller has a theoretical three-down size (6-feet, 217 pounds) and worked as such over the past three seasons. He's similar to Allgeier in terms of his ability to do pretty much anything, albeit nothing at an exceptionally high level.
Georgia RB Zamir White:

The former five-star recruit led the ever-loaded Georgia backfield in 2021 with a stellar 161-859-11 rushing line, although he caught just 16 total passes from 2019 to 2021. Of course, why would the Bulldogs feature White as a receiver when they also had James Cook? The size (6-feet, 217 pounds) and physicality of a solid pass-blocker are there; perhaps White will be the latest Georgia running back asked to do more in the pros than they were in college.