We're finally here – training camp has opened and preseason football is just days away. Along with the return of televised football, it's also time for our fantasy football power rankings – a PFF annual tradition.
Here's how it works: we're diving deep into our fantasy projections to measure the overall fantasy value of all 32 NFL teams. We've been presenting them to you in groups of four, working up towards the top-four most-valuable teams in the league (from a fantasy perspective). After already digging into the teams ranking 32-5, we've finally reached our top-four teams.
Fantasy drafters who correctly predicted Kansas City as the team to break out in 2018 were handsomely rewarded, likely winning their fantasy leagues. Who has the best odds of being this year's Chiefs? Keep reading.
These rankings are based on our 2019 player projections, which are accessible with a PFF Edge or PFF Elite membership.
Without further ado…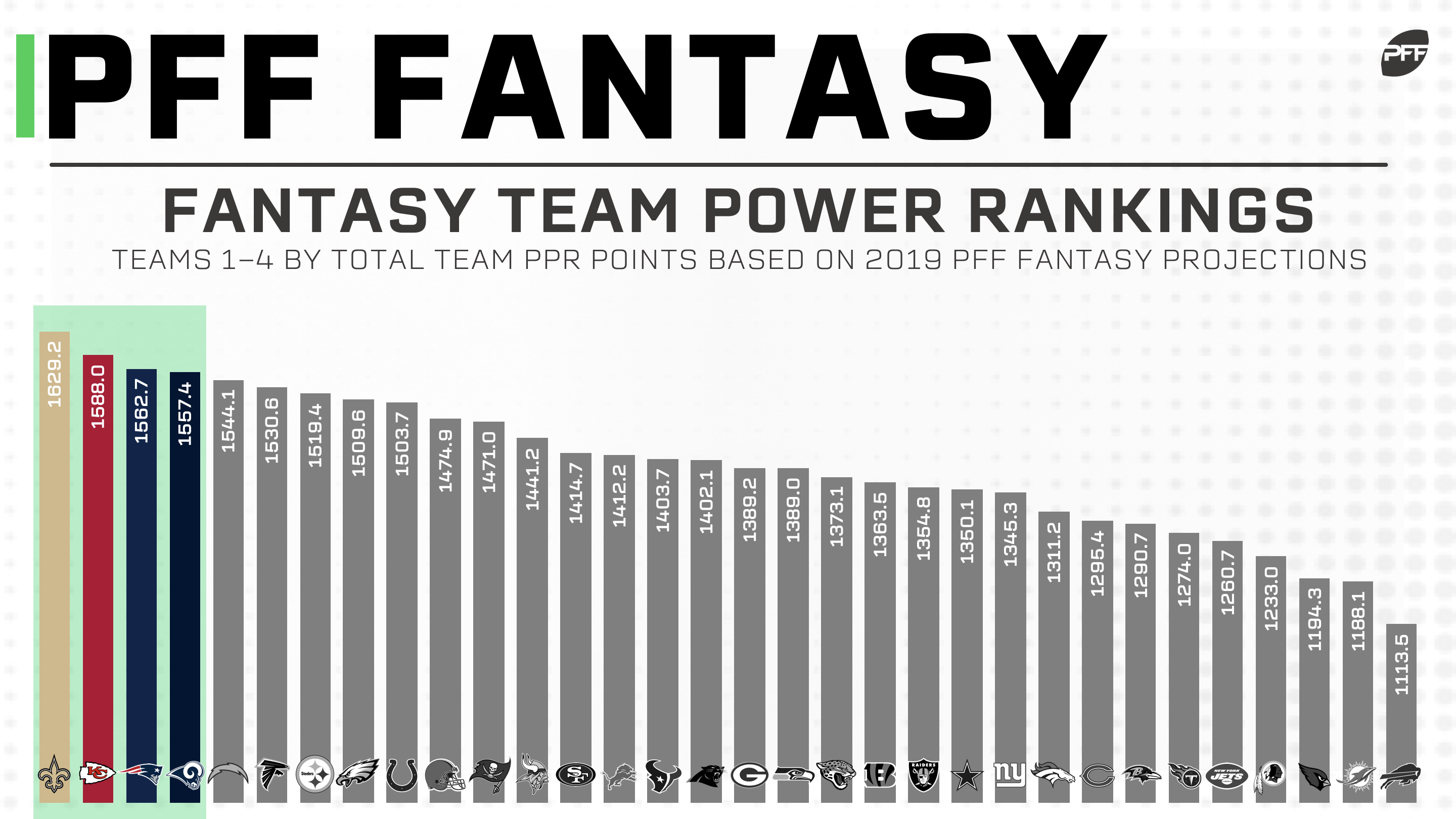 No. 1 Name to Know: Todd Gurley, RB
Gurley ranks seventh in our projections, three spots higher than current ADP (RB10). Keep in mind, this is despite the fact that we're projecting him to score 8.7 fewer touchdowns in 2019. And this is despite the fact that we're projecting his market share of the team's running back fantasy points to fall from 87.5% to 57.9%. All of this makes Gurley seem like a massive value, but keep in mind, with added injury-risk or a potential decline in play, he might still be too risky to consider drafting at ADP. Similarly, Darrell Henderson seems a little low in our projections (RB34) compared to ADP (RB32) but has added value as a potential league-winning handcuff.
In the passing game, Jared Goff comes in about where you expect (QB15), but his targets are highly concentrated enough to support two WR2s and a WR3. Brandin Cooks ranks highest (15th), followed closely by Robert Woods (19th), and then Cooper Kupp (26th). Although Woods outscored Cooks last year, this pecking order is more in line with their production in games all three played on at least 50% of the team's snaps. In those games, Cooks averaged 19.5 fantasy points per game, Woods 17.5, and Kupp 16.3. For perspective, those numbers would have ranked seventh-, 12th-, and 18th-best at the position last year. Of course, that's much higher than our projections but their production was so far out of line with their volume, an efficiency regression is inevitable.
No. 1 Name to Know: Julian Edelman, WR
The Patriots are an interesting team to analyze. We're projecting them to rank top-three in total fantasy points, which is about where they typically rank. Though this is in spite of the fact that the offense has 195 lost targets between the departures of Rob Gronkowski, Josh Gordon (presumably), and Chris Hogan.
Who will the main benefactor of this lost volume? Our projections say it will be Edelman, who we have projected to finish seventh at the position in total fantasy points. Over his past five seasons, Edelman has ranked 12th, 17th, seventh, 14th, and 15th among wide receivers in fantasy points per game. He averages 18.6 fantasy points per game across his last 16 games (postseason included) without Gronkowski on the field. For perspective, that would have ranked ninth-best at the position last year. Clearly, he's a top value (ADP WR16) at the position.
Outside of Edelman, there really isn't much value to go around. Tom Brady, rightfully, gets dinged by the loss of Gronkowski, and comes in at just 18th at the position. The rest of the team's projected fantasy points is so spread out as to make no one else seems very exciting to draft. None of Gronkowski's tight end replacements is expected to finish any better than 35th at the position. Rookie N'Keal Harry comes in at just 47th among wide receivers in our projections.
There is some value among the running backs, however. In our projections, James White ranks 16th and Sony Michel 25th. By ADP, White ranks 26th among running backs and Michel 25th. We're not expecting much from Rex Burkhead (15% market share) or rookie Damien Harris (13% market share), but, at the moment, I'd much prefer owning Harris over Michel for injury reasons. The LeGarrette Blount role is valuable for fantasy, and it wouldn't shock me if Harris ends up with that role should Michel's knee injury linger. We're projecting 100.6 targets for White, which feels about right. He saw 123 targets with a 15.6% target market share, by far the most for any Bill Belichick running back. That number should fall with all of the other running backs healthy, but maybe not by much given the lack of receiving talent elsewhere. He's a high-floor/low-upside value play in 2019 drafts.
No. 1 Name to Know: Travis Kelce, TE
To the surprise of no one, the Chiefs rank as one of our most productive teams for fantasy purposes. We're projecting Patrick Mahomes to finish first among quarterbacks while also supporting a bevy of fantasy-viable options. Kelce comes in first overall among tight ends. Not only does he rank first among tight ends but he'd rank fifth among wide receivers. And we're projecting him to outscore the No. 4 tight end (Evan Engram) by a whopping 110.2 fantasy points. All of this keeps Travis Kelce firmly in play as a potential first-round fantasy pick, a point I argued earlier in the offseason.
Damien Williams checks in at No. 15 among running backs. We're projecting Williams to see 59% of the team's backfield carries and 56% of the team's targets out of the backfield. Both numbers seem low to me, based on Andy Reid's recent comments and his history coaching the position.
Tyreek Hill also comes in much lower than I expected (WR18) but still significantly ahead of Sammy Watkins (WR41). We're projecting a 43-target falloff for Hill, losing a bulk of those targets to Watkins, who is projected to play in all 16 games (after playing on only 45% of the team's snaps last year). Still, I think that number is far too high. Instead, Hill probably has better chances of again finishing first at the position in total fantasy points (like he did last year) than he does of finishing this low.
No. 1 Name to Know: Alvin Kamara, RB
Coming in at No. 1 in our team projections is New Orleans. Unlike New England, their fantasy points are far more highly concentrated.
We have Michael Thomas projected to finish No. 1 among wide receivers in both targets (154) and fantasy points. If the former happens, I can get on board with the latter. Over the past three seasons, he ranks behind only Tyreek Hill in fantasy efficiency. Over this span he's ranked 15th, 11th, and 21st in expected fantasy points, but sixth, sixth, and seventh in actual fantasy points. With an increase in volume, a jump in production is sure to follow.
However, Jared Cook is the only other pass-catcher worth targeting, coming at No. 7 among tight ends. Just last week I argued why he might be one of the best values at the position and why New Orleans might be an even more ideal landing spot than Oakland (where he ranked fifth in fantasy points last year). Ted Ginn (WR57) and Tre'Quan Smith (WR83) appear to be players to avoid at ADP.
At the running back position, Kamara checks in at No. 2 overall, with Latavius Murray (37th) serving in a watered-down version of Mark Ingram's 2018 role. In 2017, Kamara averaged 1.59 fantasy points per touch, the most in NFL history. Most projections systems had him falling back down to earth in 2018. That obviously didn't happen. He averaged 1.29 fantasy points per touch, or the fourth-most in NFL history. In 2019, we're not making that mistake, again projecting him to be one of the most efficient players at the position (1.19 fantasy points per touch).