All offseason, we've heard people talk about what the loss of Odell Beckham Jr. means to the New York Giants' offense.

Since Beckham entered the league in 2014, the Giants have been 1.5x as likely to win, scored 4.1 more points per game and averaged 40.7 more passing yards per game when Beckham was active. Over this span, Eli Manning averages 16.2 fantasy points per game with Beckham and only 12.7 fantasy points per game when he's been inactive. For perspective, that's the difference between finishing 20th-best (of 32 qualifiers) last year and third-worst.

Okay, so, it's a big loss, and Eli Manning has been left for dead in 2019 fantasy drafts as a result. While I think that's certainly warranted, I also think it's caused us to overlook another quarterback who just lost their top receiver, and whose splits are just as egregious without him.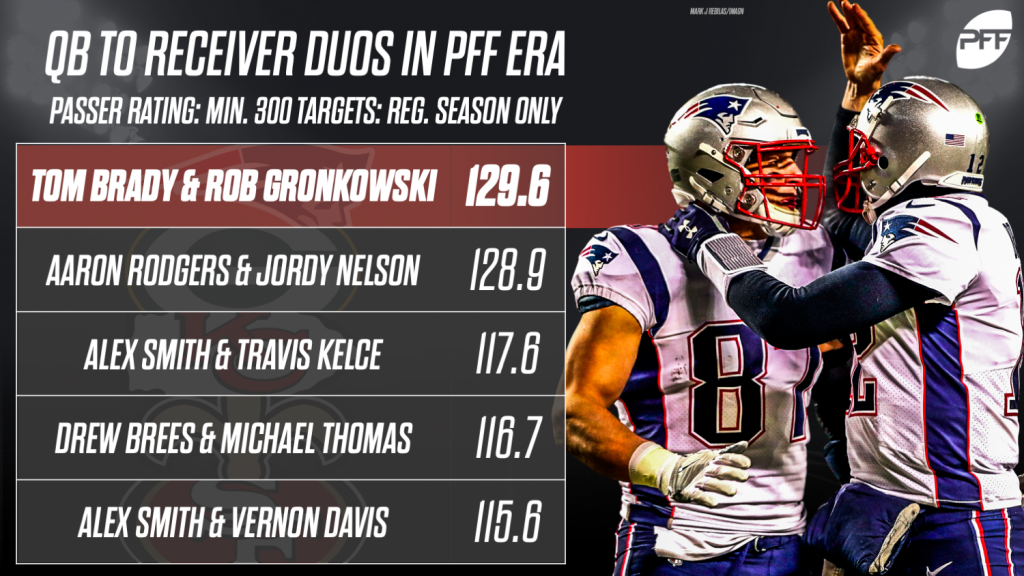 When Rob Gronkowski retired in March, Tom Brady lost the best receiver of his career and football fans waved goodbye to maybe the best tight end to ever play the game. In fantasy football, Gronkowski's impact couldn't have been more dramatic.

Over the past decade, no player was more efficient at scoring fantasy points or touchdowns. Over the past decade, Gronkowski outscored his fantasy expectation by 385.3 fantasy points and outscored his touchdown expectation by 24.1. Both numbers led all players and, by a landslide, all tight ends. In addition to efficiency, Gronkowski has also been one of the most productive fantasy tight ends of all time. Among all tight ends, he holds the highest-scoring season by fantasy points per game all-time, as well as the sixth-, ninth-, 14th- and 25th-highest scoring seasons by fantasy points per game all-time. No other tight end has more than three appearances in the top-25.

By a number of non-fantasy metrics, Gronkowski again stands out, not only as a generational tight end but as, maybe, the greatest receiver of his generation. Targets became a stat in 1992. Since then, there have been 372 receivers to see at least 350 career targets. Gronkowski leads all of them in yards per target average (9.90).

Gronkowski wasn't just great at racking up yardage; he was also an elite touchdown scorer. In addition to ranking 22nd all-time (68.4) in yards per game (most among all tight ends), he also ranks fifth-best all-time in touchdowns per game (0.69) and 28% better than the next-closest tight end (Jimmy Graham).

On a per-target basis, his numbers stand out even more. Over the past decade, there are 400 different receivers to see at least 115 career targets over this span. Gronkowski leads all of them in passer rating when targeted (129.3).

Other less prominent metrics, like defensive pass interference yards and first downs, only make Gronkowski stand out more. Thus far we've only spoken of Gronkowski's prowess as a receiver, but he was also one of the league's best blocking tight ends. Throughout his nine-year career, he's graded top-seven in run blocking or pass blocking six times. In terms of overall grade, Gronkowski has ranked top-10 in all nine seasons, top-three in eight and first in seven consecutive seasons (2011-2017).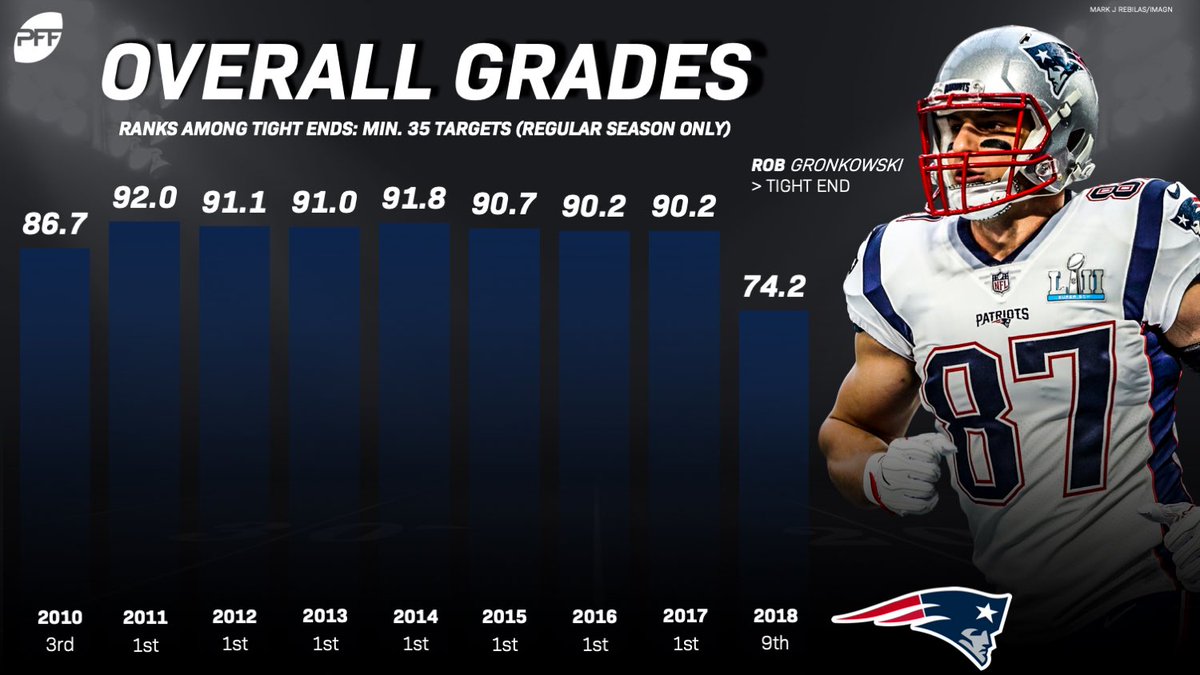 Okay, you get it – no need to keep eulogizing Gronk. He was a freak; maybe the greatest offensive player (non-quarterback) since Jerry Rice. He's an easy first-ballot Hall of Famer. But, what does this mean for Tom Brady – maybe the greatest football player of all time, or, at least the most accomplished?

It doesn't look good.

Gronkowski entered the league in 2010. Since then, Brady has played in 80% of his games (postseason included) with Gronkowski on the field. When Gronkowski missed time (about 3.7 games per year), Brady attempted more passes but also threw more interceptions and was more frequently sacked. He also saw a significant decline in completions, passing yards and passing touchdowns.

Maybe this chart explains Gronkowski's impact a little bit better. 

Without Gronkowski, Brady falls from 20.10 fantasy points per game to 17.45. That would have been the difference between finishing eighth- and 18th-best last year.

Without Gronkowski, Brady falls from 103.1 in passer rating to 88.1. For perspective, of the 23 quarterbacks to attempt at least 400 passes last year, only three quarterbacks returned a passer rating worse than 88.1 – Sam Darnold, Blake Bortles and Case Keenum.

The team as a whole also suffered. The Patriots averaged 3.6 fewer points per game without Gronkowski, and the difference in win total equates to one less win per 16 games.

This is a fairly robust sample — I think, robust enough to prove meaningful. Brady is a risky investment without Gronkowski, but also because of a few other factors. Brady ranked just 16th in fantasy points per game last year — his worst finish since 2001 (his first year as a starter). Across his previous 12 seasons, he ranked top-five nine times and top-12 11 times. Brady is also turning 42 years old this year — no quarterback has ever reached even 2,000 career passing yards after the age of 41. In addition to losing Gronkowski, Brady will also be without Chris Hogan and (likely) Josh Gordon, who combined for 123 targets last year.

So where should we be drafting Tom Brady in 2019? I have him at QB20 in my own rankings, five spots below his current ADP (QB15).