(PFF Fantasy is reacting to all the offseason moves from a fantasy football perspective. Follow along here.)
The New York Jets have reportedly signed former Washington wide receiver Jamison Crowder to a three-year, $28.5 million deal. Crowder has run over 75% of his career routes from the slot, and will likely reprise that role for new head coach Adam Gase this season. Per Ian Rapoport, "This was the guy they wanted. This was their top choice (from the list of available free agent slot wide receivers)."
Crowder seemed on the precipice of a promising fantasy career after finishing 30th in PPR points in 2016 (his sophomore year). That season, he also ranked 16th of 96 qualifying wide receivers in passer rating when targeted (112.9). However, his next two seasons were riddled with injuries. In 2017, he first popped up on the injury report in Week 4 with a hamstring injury, which would linger into Week 16. In spite of that, this was the best season of his career by PFF grade, grading out 27th-best of 101 qualifying wide receivers. In 2018, he missed seven games with an ankle injury.
With that in mind, perhaps it's somewhat understandable why he went from averaging 12.3 fantasy points per game in 2016, to 10.7 in 2017, to 9.2 in 2018.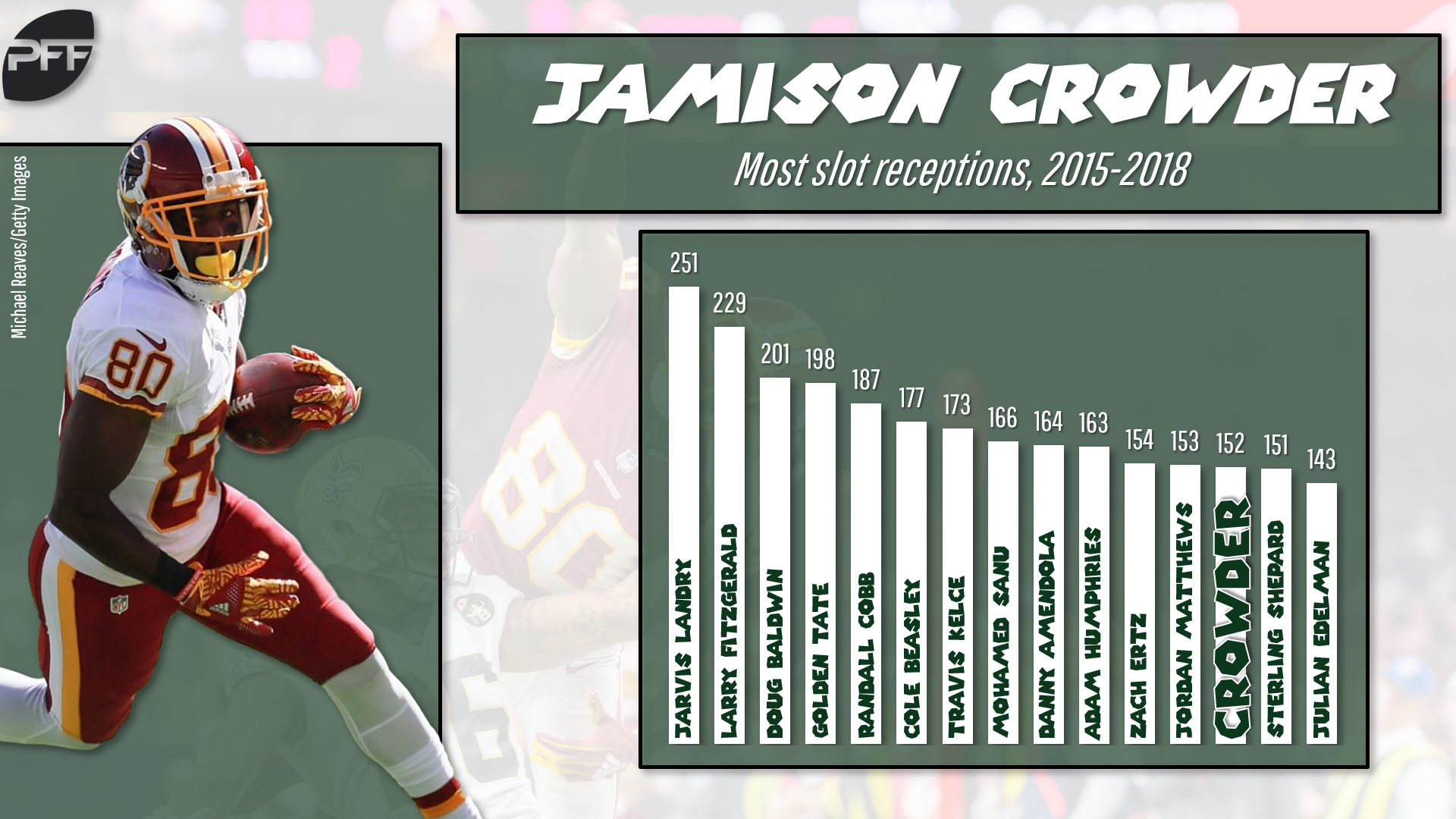 The pairing with Gase is enticing, given Gase's recent success with slot receiver Jarvis Landry, who ranked 13th at the position in fantasy points in 2016, and then fourth-best in 2017. In 2013, Gase's primary slot wide receiver, Wes Welker, ranked 13th in fantasy points per game. Outside of that, Gase's slot wide receivers have been far less impactful for fantasy.
As it stands, I'll be ranking Crowder as a high-end WR4 or borderline-WR3 in PPR leagues for 2019.
This signing also (slightly) boosts the prospects for QB Sam Darnold, who had one of the worst supporting casts in all of football last year. New York was one of only three teams without a top-50-graded wide receiver last season. I'm also mildly excited for Trey Quinn's prospects as a potential sleeper. Per Matthew Berry, Washington is high on Quinn, and seems ready to make him their starting slot wide receiver this season.