• Philadelphia Eagles' dominance continues: The Eagles handled their division rival Commanders, including three touchdown passes from Jalen Hurts to his three favorite targets.
• Mark Andrews enjoys two-TD day: Andrews scored two touchdowns in the Baltimore Ravens' road win, overshadowing the return of teammate J.K. Dobbins.
• Khalil Herbert goes for over 100 yards: Herbert came in for an injured David Montgomery and gained over 100 rushing yards and two touchdowns for the Chicago Bears in their victory.
---
PFF's fantasy football recap focuses on player usage and stats, breaking down all the vital information you need to achieve fantasy success in 2022.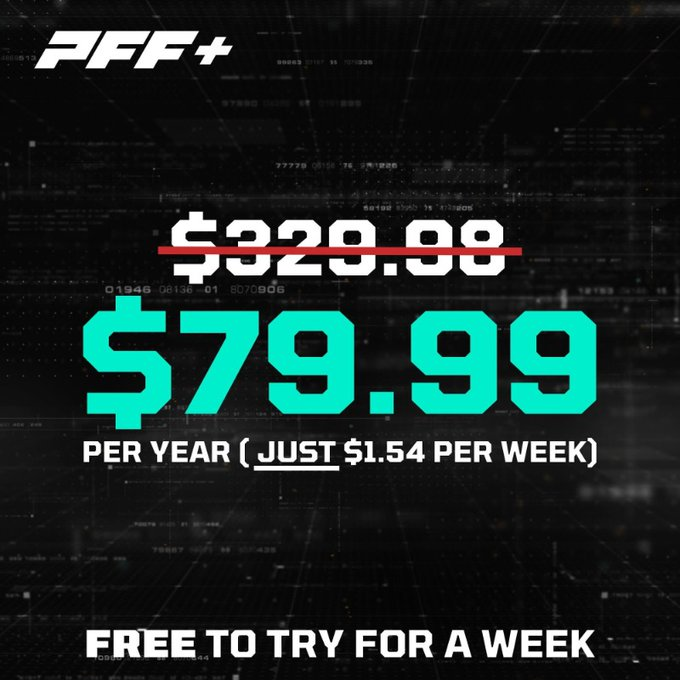 Click to jump to a game:
[email protected] | [email protected] | [email protected] | [email protected] | [email protected] | [email protected]
[email protected] | [email protected] | [email protected] | [email protected] | [email protected]
[email protected] | [email protected] | [email protected]
---
Khalil Herbert

: 20 carries, 157 yards, 2 touchdowns, 2 receptions, 12 receiving yards

Dameon Pierce

: 20 carries, 80 yards, 1 touchdown, 2 receptions, 21 receiving yards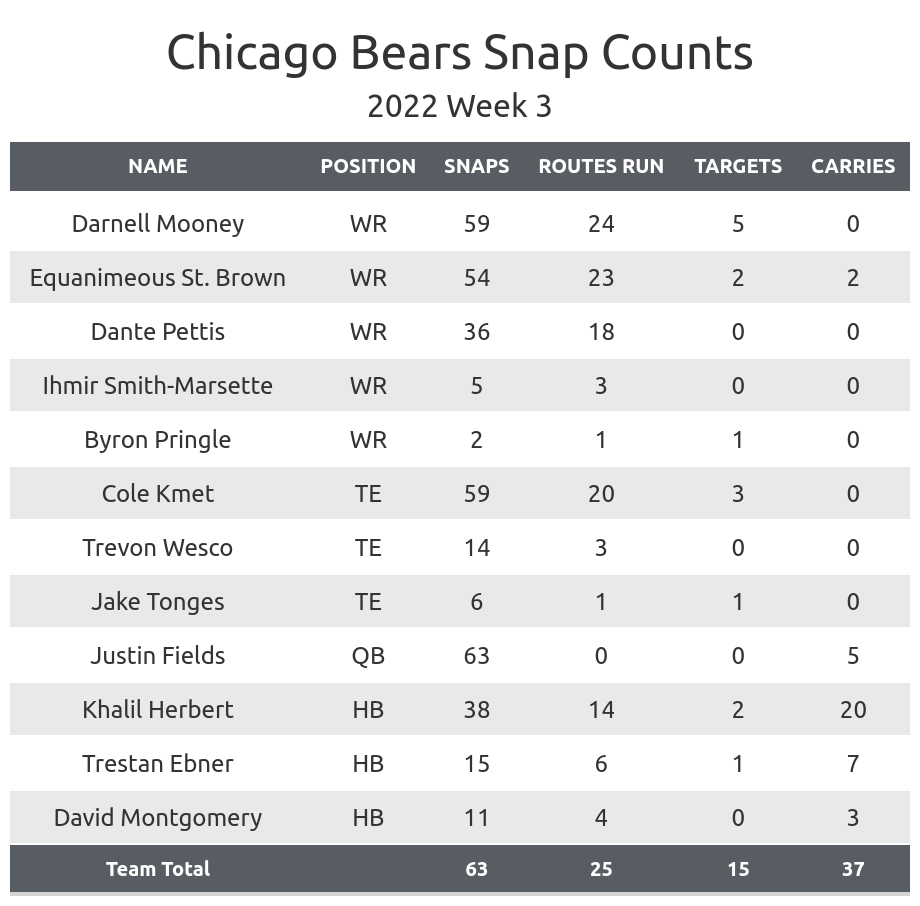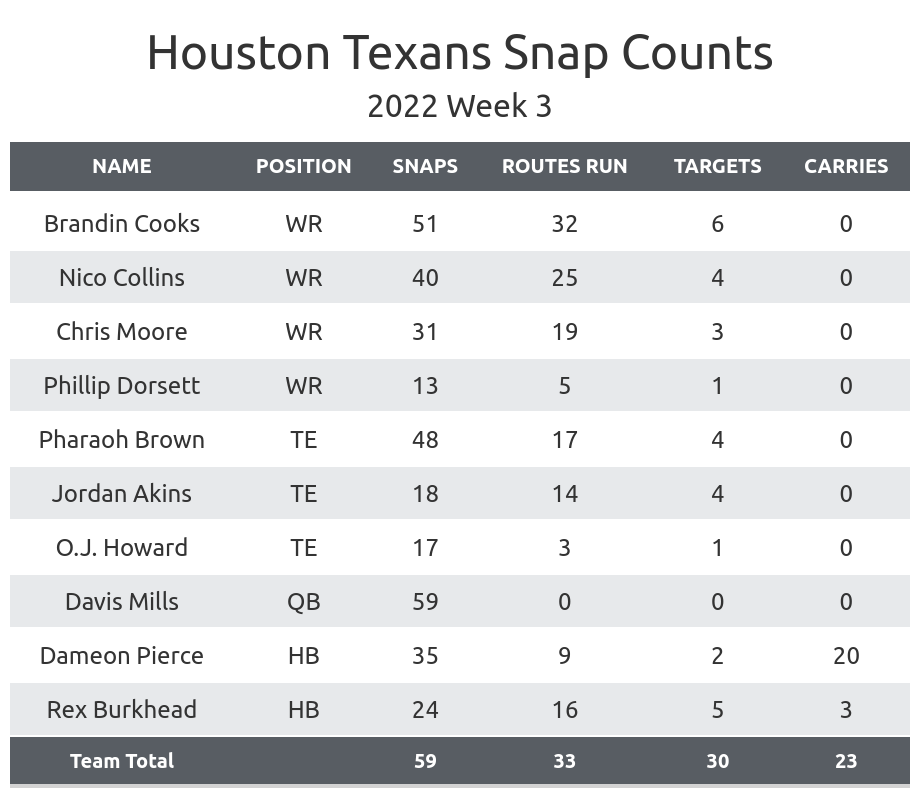 Add Khalil Herbert: David Montgomery suffered an ankle and knee injury early in the first quarter and was quickly ruled doubtful to return. Herbert became the Bears' lead back and dominated throughout the game.
Herbert and

Trestan Ebner

shared the snaps early on, but Herbert took more of the workload after playing well.

He played 16 snaps to Ebner's 13 in the first half. Herbert dominated the snaps, 22 to two, in the second half.

The second-year back would be the clear starter for as long as Montgomery is out.

Montgomery was declared day-to-day in coach Matt Eberflus' press conference.

He should be a waiver wire target regardless of Montgomery's health. Herbert's rushing performance was Chicago's best so far this season, and he could see more playing time even with a healthy Montgomery.

Herbert is on only 25.4% of rosters in ESPN leagues.
Monitor the Byron Pringle injury: Pringle suffered a calf injury on the Bears' second offensive play and didn't return.
Pringle had been fourth on the Bears' depth chart, running only eight pass routes in the first two games.

He had missed roughly a month during training camp, including all of the preseason, with a quadriceps injury.

He received his first start over

Dante Pettis

against the Texans and seemed destined for more playing time prior to the injury.

Pettis went back to being the third wide receiver for the rest of the game.
Sell high on Dameon Pierce: Pierce continued to be the clear early-down back, putting up the best numbers of his career, but the game script had a lot to do with his number of carries.
Pierce remains the clear early-down and short-yardage back, but

Rex Burkhead

remains the clear passing-down back.

Burkhead took all 15 snaps on third-and-3 or longer and in two-minute drill situations.

The Texans have been lucky with one of the easier schedules so far this year, allowing them to stay close in games.

Houston was playing with a lead or wasn't far behind for the entire game against Chicago despite losing.

Pierce can definitely be a fantasy starter, particularly in some division matchups, but in other games, Houston won't have the luxury of running 15-plus times.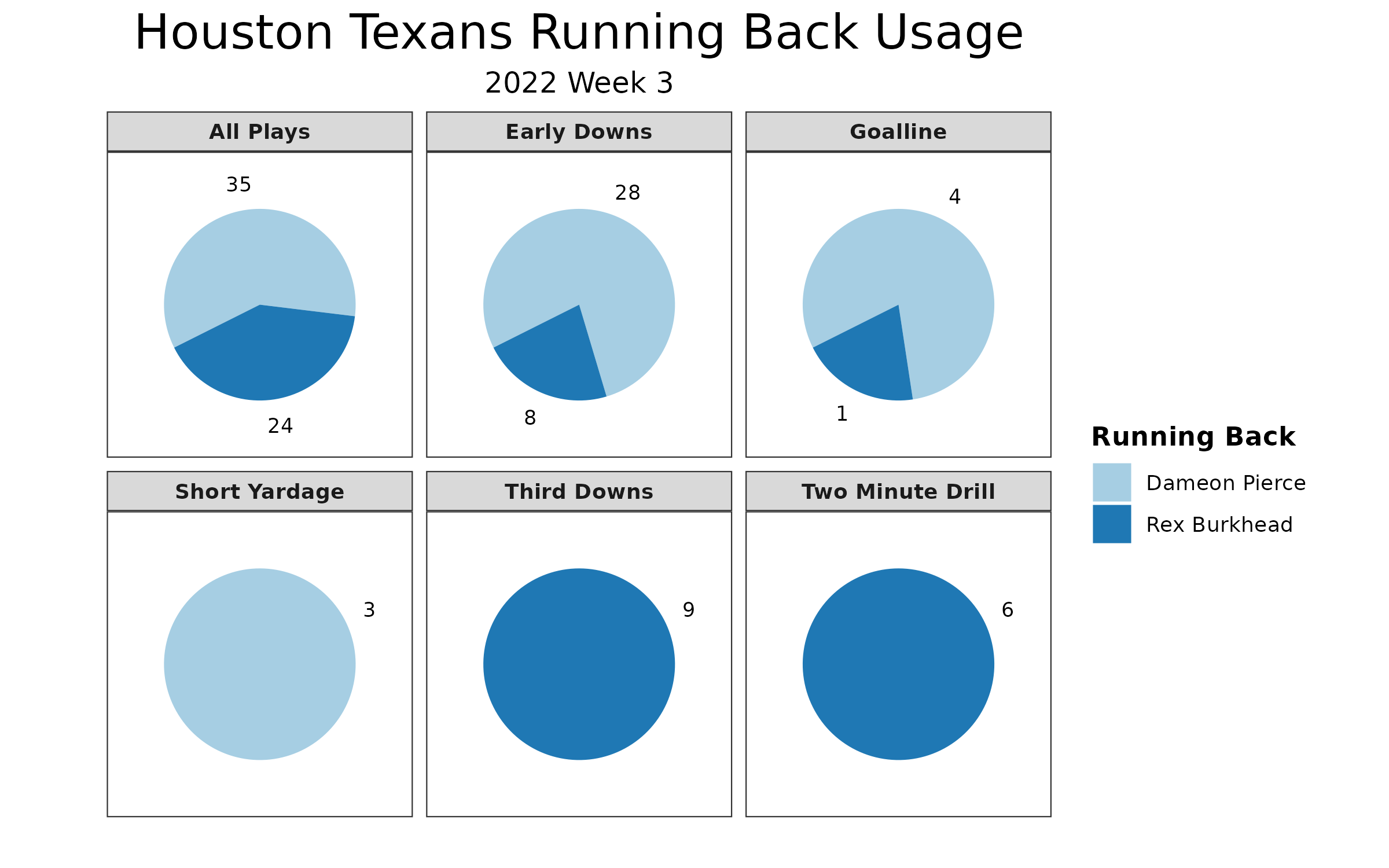 Don't add Jordan Akins: The former Texans tight end returned to the team after a short amount of time with the Giants and hauled in Houston's only passing touchdown.
Brevin Jordan

missed this game with an ankle injury. He will likely be the Texans' receiving tight end again once he's back.

Pharaoh Brown

ran the most routes on the team, took most of the early down snaps, and split two-minute drills and third downs with Akins.

O.J. Howard

was one of the biggest surprises of Week 1 but barely played in this game.
---
Chase Edmonds

: 6 carries, 21 yards, 2 touchdowns, 1 reception, 6 receiving yards

Devin Singletary

: 9 carries, 13 yards, 9 receptions, 78 receiving yards, 1 receiving touchdown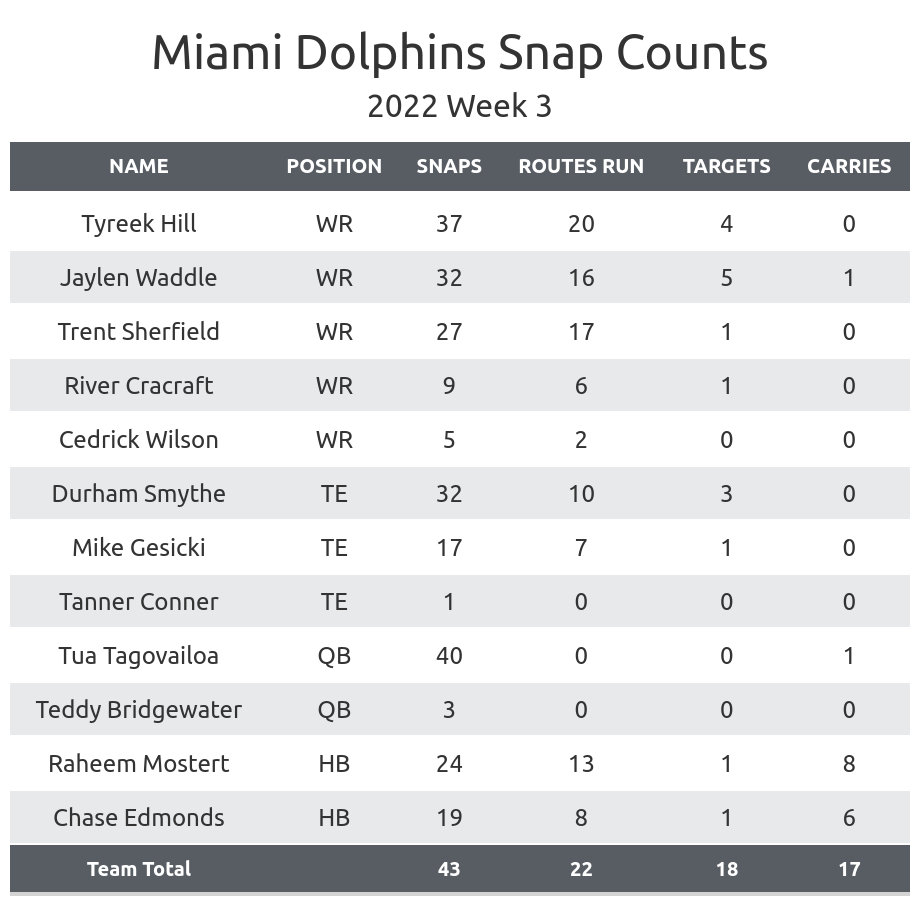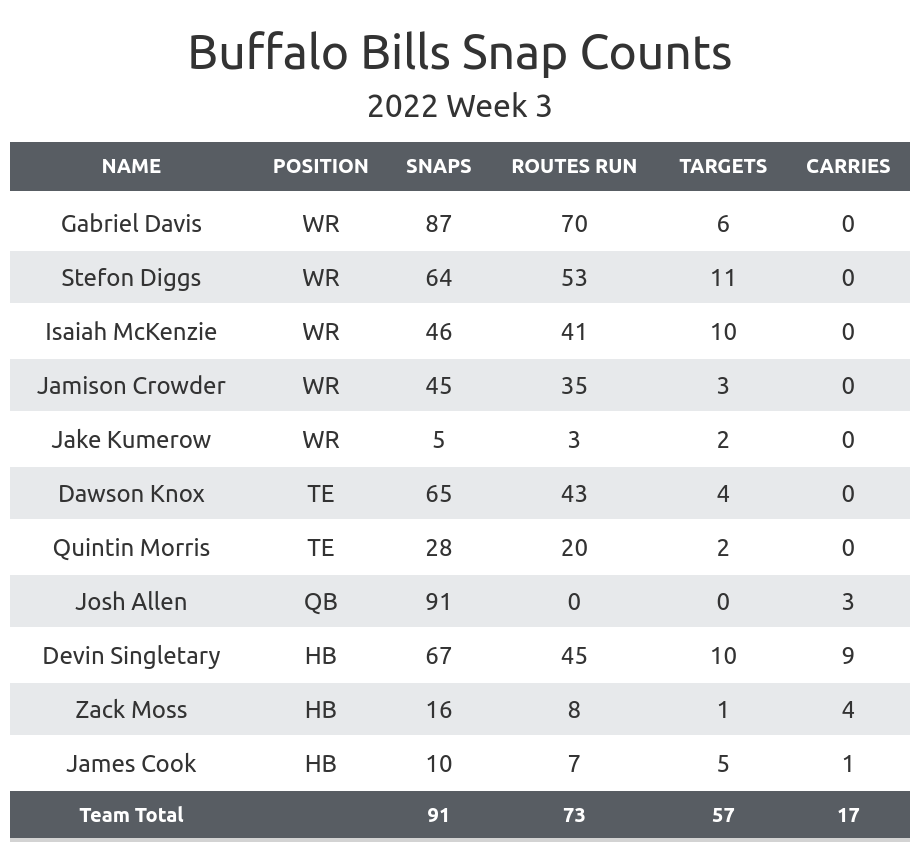 Monitor the Jake Kumerow injury: The Bills' top backup outside wide receiver suffered an ankle injury in the first quarter and was later ruled out.
Gabriel Davis

, who missed last week, returned to lead the Bills' wide receivers in snaps.

The Bills went back to giving

Stefon Diggs

plenty of rest as they did in Week 1. This was a little surprising considering the injuries, but not as surprising considering the Miami heat.

Buffalo continued with this strategy even after Kumerow left the game, with

Isaiah McKenzie

and

Jamison Crowder

both seeing snaps in two-wide receiver sets and some plays where Davis, McKenzie and Crowder were the three wide receivers.

This was good news for McKenzie's fantasy value against the Dolphins, but it's unlikely he would continue seeing more playing time with or without Kumerow. He could be a sell-high candidate.

Rookie

Khalil Shakir

was a healthy inactive, and he would likely take the Kumerow role on offense if the veteran misses games.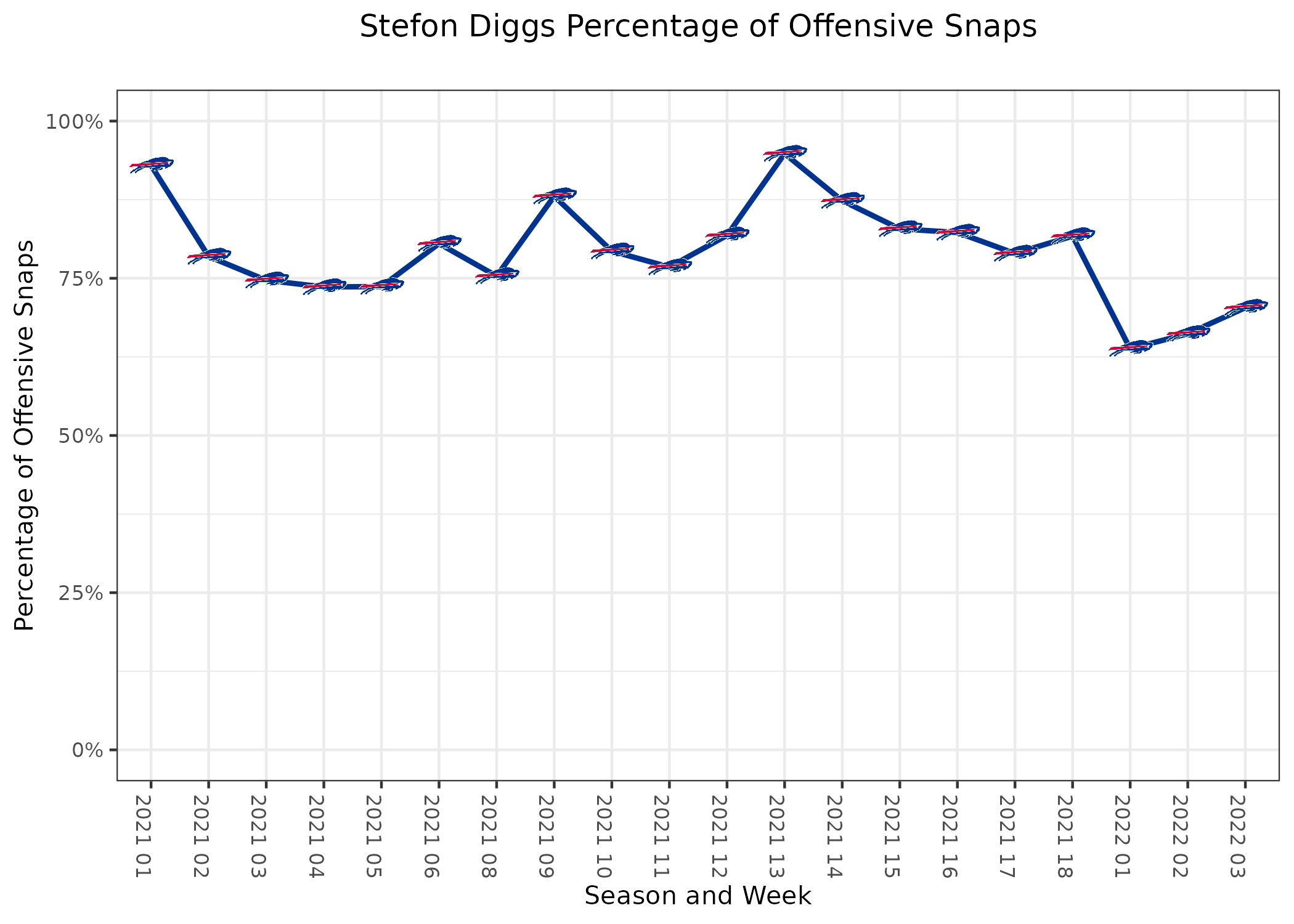 Buy low on the Dolphins' big-name players: The Dolphins have had the most difficult schedule to date, but the schedule now becomes much easier.
Miami ran only 39 offensive plays, making it understandable why there weren't many great fantasy performers on the team.

The Dolphins' backfield usage remains a little difficult to interpret, with

Chase Edmonds

getting all of the goal-line work and

Raheem Mostert

taking half of the third-down snaps.

Both backs have big-play potential, and it's possible both can be fantasy starters in games where Miami is the favorite.

The Dolphins' top two wide receivers are the only players to trust in the passing game.

Cedrick Wilson

was limited in practice all week, which is partially why his snaps were so low, but Miami has liked using some of its other backups at times this season.

That includes

River Cracraft

, who scored one of the Dolphins' three touchdowns.

The Dolphins continue to rotate their tight ends too much to trust either player.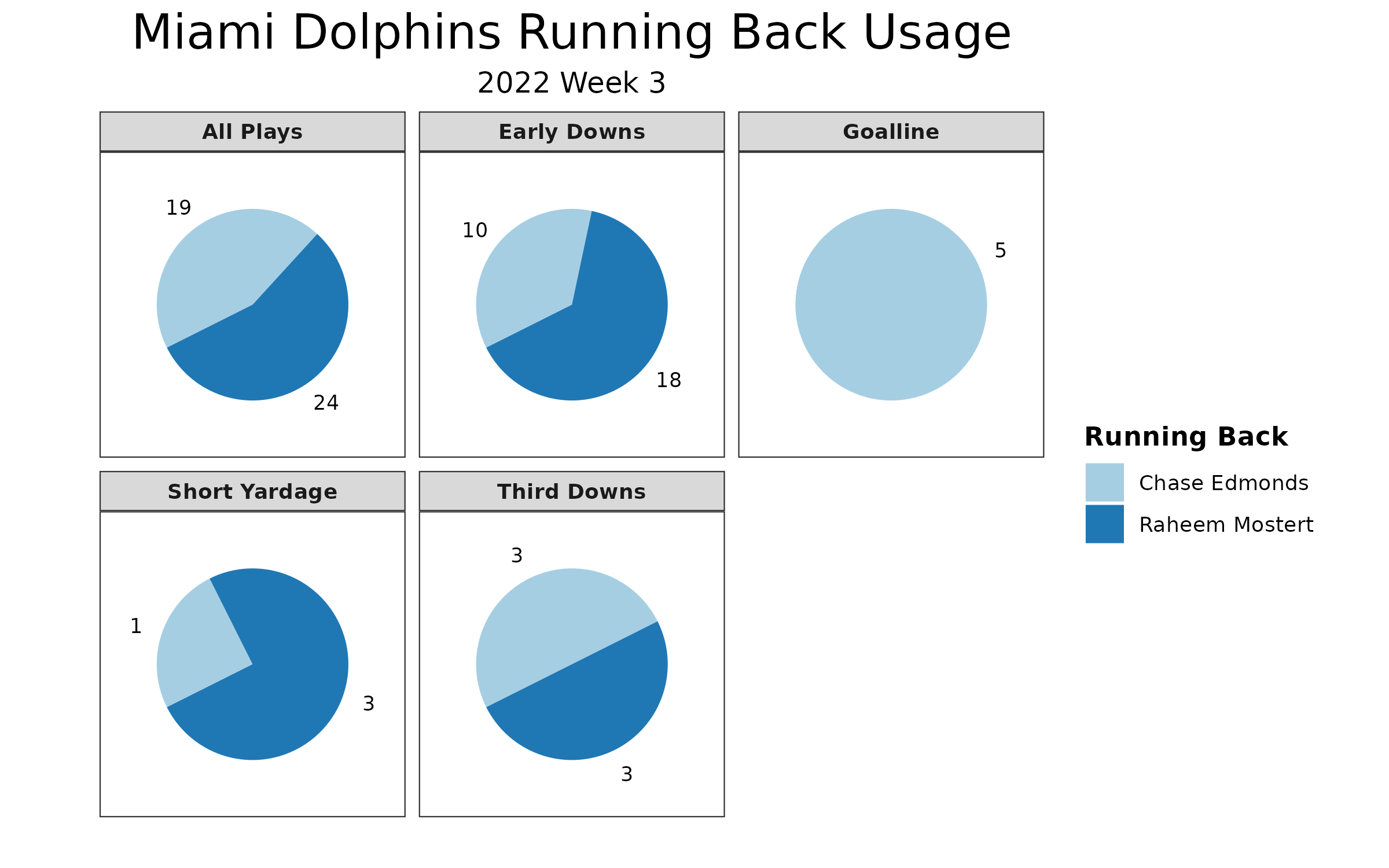 ---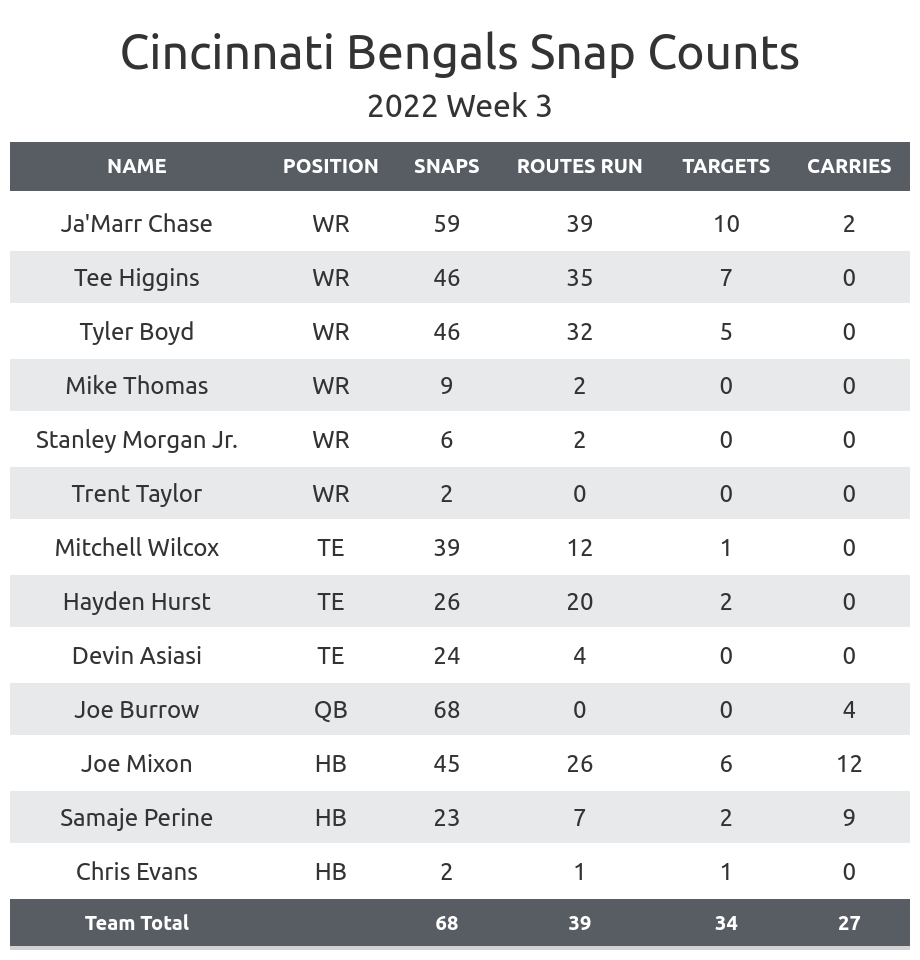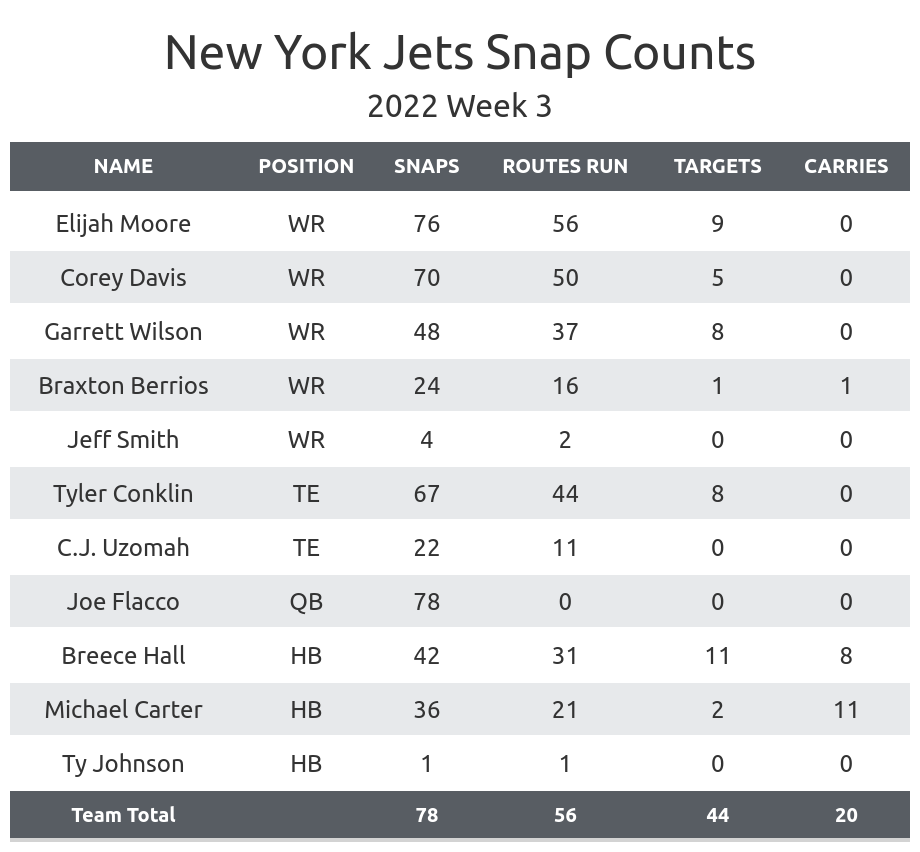 Breece Hall's most interesting game yet: The Jets' backfield seemed destined to be a three-man committee after Week 2, but Hall played in most of the important situations for New York in Week 3.
He played on the vast majority of third downs and in short-yardage situations.

Hall caught six of 11 targets for 53 yards and ran the ball eight times for 39 yards.

His rushing production was better than

Michael Carter

's, which could lead to more early-down work going forward.

Ty Johnson

was the third-down back last week but played only one offensive snap.

The Jets' running back situation has been bizarre, and we could see something different next week. But for now, this is a good sign for Hall.
Garrett Wilson's questionable usage: Wilson was the Jets' slot receiver, leading the team's wideouts in production despite missing several drives.
He caught six passes for 60 yards.

Ignoring the four drives he missed, Wilson ran a route on 37 of a possible 42 pass plays.

Elijah Moore

played all 42, while

Corey Davis

was at 36.

Wilson was in the slot for 39 snaps compared to only seven out wide.

Wilson has caught nine of 18 passes on 43 targets while lined up out wide this season. He's gained 120 yards, compared to 121 by Moore and 129 by Davis, despite both players running more than double the routes while out wide.

His targets per route rate of 41.9%, two touchdowns and 2.8 yards per route run are all more than double the other two Jets receivers.

His targets per route rate drops to 18.6% in the slot, as does his 1.6 yards per route run.

Wilson can potentially be a fantasy starter in this role, but so far, he's been much better out wide.
Add Tyler Conklin: The Jets tight end is playing the ideal role for a fantasy tight end this season, and he led the team in receiving yards despite the rest of the offense's talent.
He's the only tight end this season with over 200 offensive snaps as of the end of the early Week 3 games.

Similarly, his 141 routes run are 25 more than any other player.

He's seen at least five targets every game this season.

He might not be the tight end to win you a matchup, but he can help make sure you don't lose it.
Ignore the Bengals' tight end snap counts: Hayden Hurst played much less than usual but was dealing with an injury.
Hurst was limited early in the week with a groin injury and suffered a setback on Friday, but he still played in clear passing situations.

He led the tight end room in snaps in the first half.

He was used sparingly in the third quarter while the Bengals had a clear lead and played only the first play in the fourth quarter.

He should see his normal snap workload when healthy.
---
Mack Hollins

: 8 receptions, 158 yards, 1 touchdown

Derrick Henry

: 20 carries, 85 yards, 1 touchdown, 5 receptions, 58 receiving yards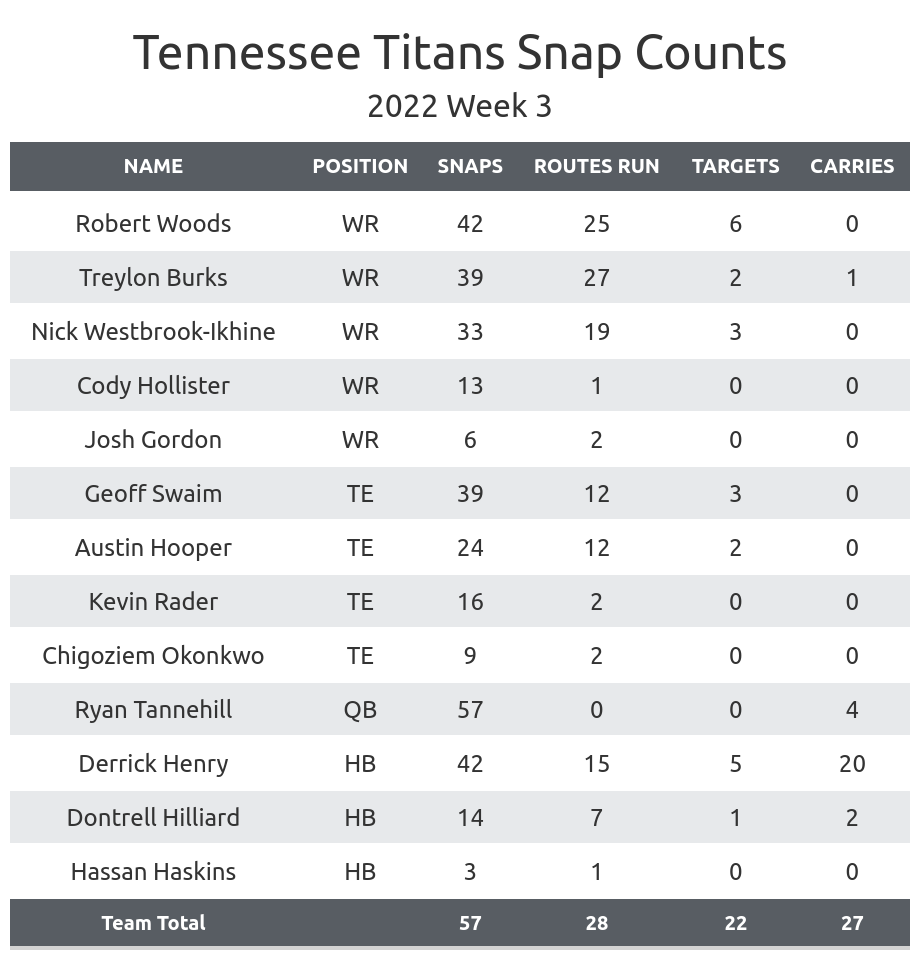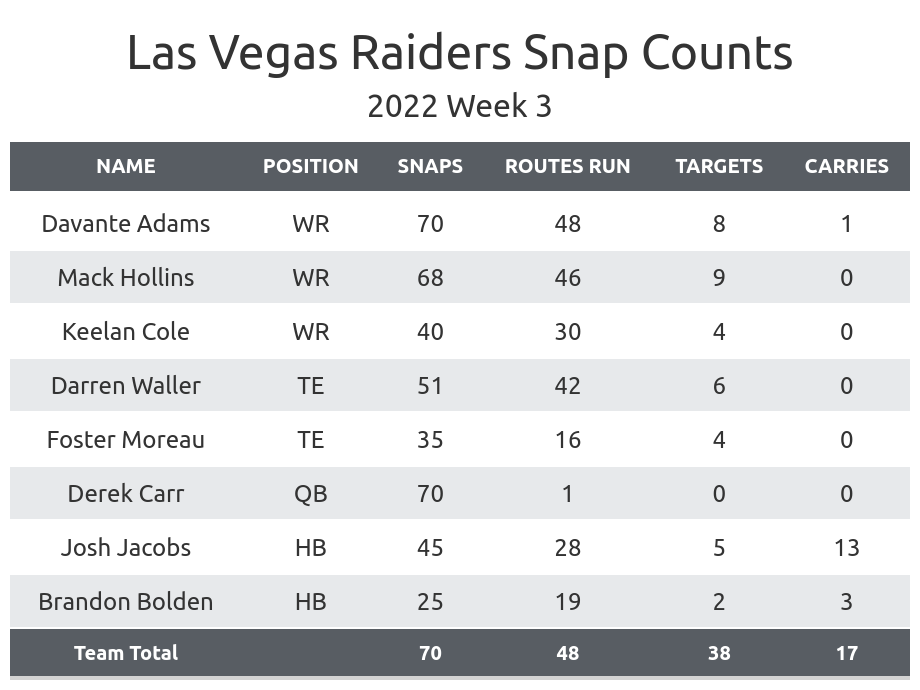 Don't add Mack Hollins: The Raiders wide receiver had the best game of his NFL career, but it's unlikely he can be a consistent fantasy starter in future weeks.
Hunter Renfrow

missed this game due to a concussion suffered last week, but he will ideally be cleared by next week.

Hollins saw a slight increase in playing time but, more importantly, saw an increase in targets.

His 10.5% threat rate over the first two weeks was 11th-lowest out of 66 qualifying receivers.

The 29-year-old had never caught more than five passes or tallied more than 72 receiving yards in a game.

He will continue to see significant playing time for Las Vegas, but he will at best be the fourth-most important option for the offense.
Monitor Darren Waller's playing time.: Waller played on under 75% of offensive snaps for the second straight week, something he did only once last season — and that was due to injury.
Waller has not appeared on the injury report this season.

Foster Moreau

took all 14 snaps out of 21 personnel after taking eight of nine such snaps over the first two weeks.

The two players split snaps from this group roughly 50-50 last season.

Moreau played significantly in 11 personnel last week but played just five of those 36 snaps this week.

Working under the assumption that Week 2 was a fluke, and Moreau continues to play in 21 personnel, this is only a slight downgrade for Waller compared to what we thought to begin the season. It will cost Waller two or three routes per game.

Waller caught three passes for 22 yards.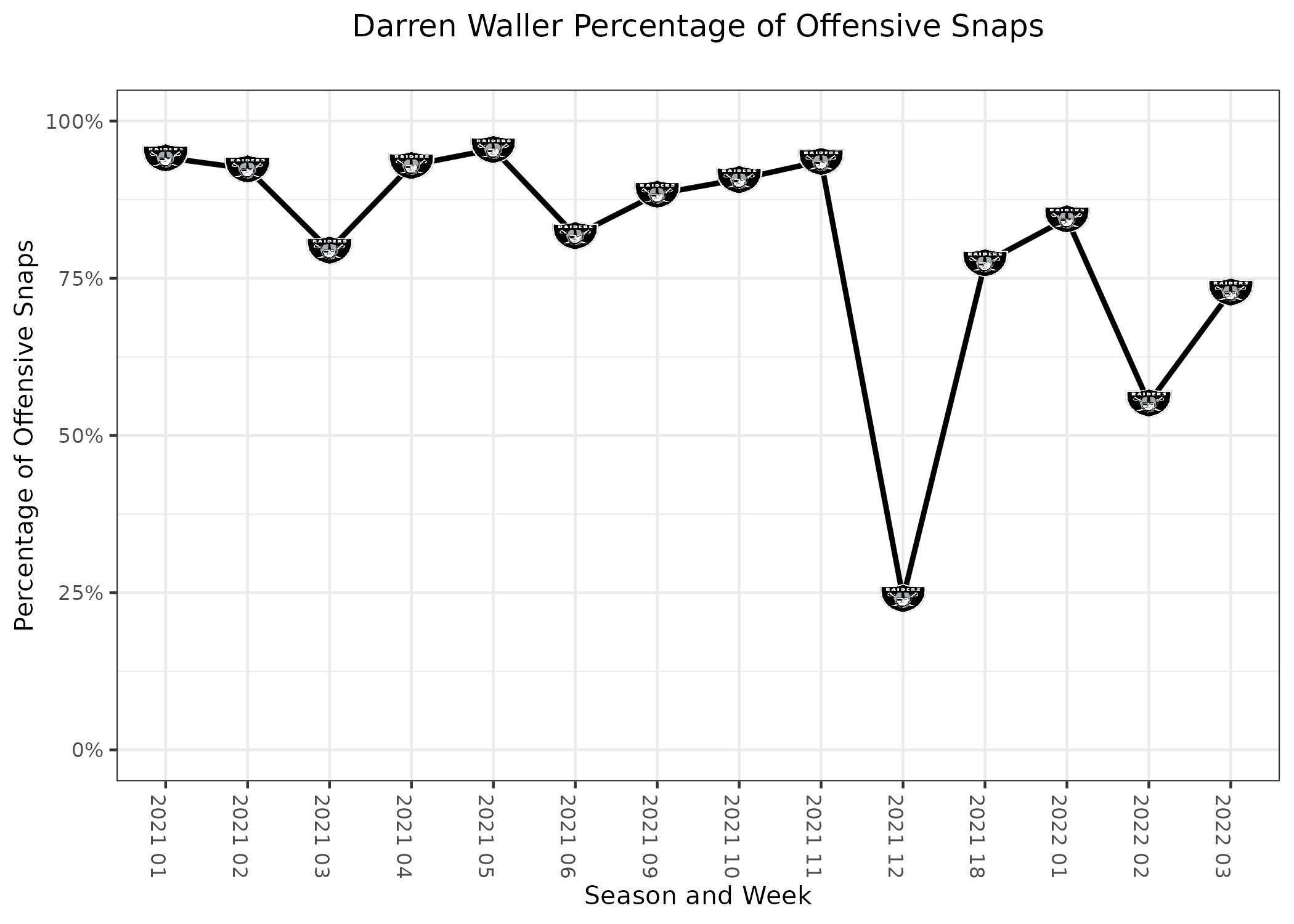 Cut Austin Hooper: The former Brown remains the Titans' receiving tight end on third downs, but he has started to lose his role in other situations.
He played 11 of 24 snaps out of 11 personnel, with

Geoff Swaim

playing significantly from that personnel grouping on early downs.

Kevin Rader

was signed to the active roster from the practice squad earlier in the week. He took significant snaps from Hooper in two-tight end sets.

Hooper will likely lead the Titans' tight ends in receiving production, but it won't be enough to put him in fantasy starting lineups. 

He caught two passes for 19 yards against the Raiders.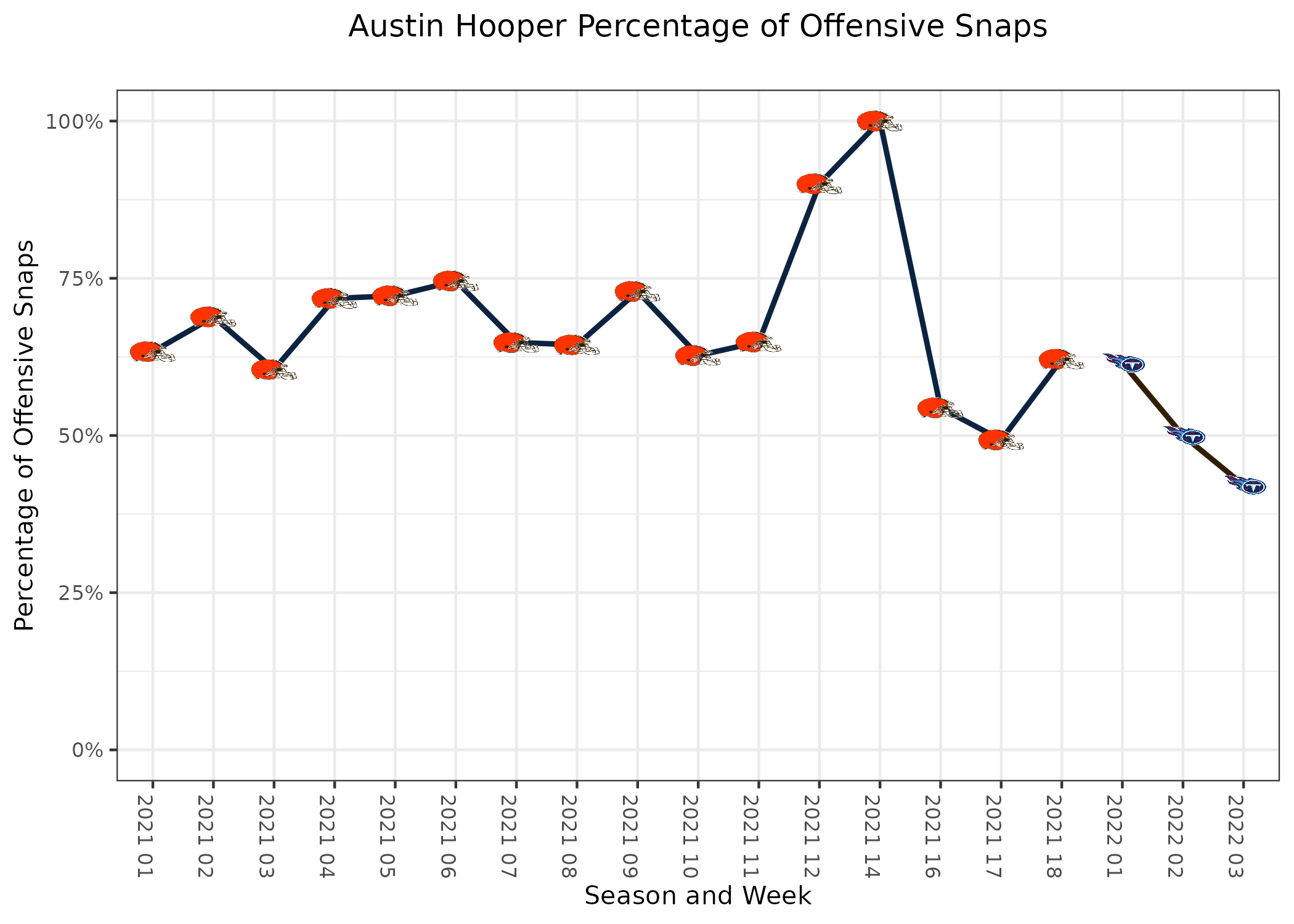 Sell high on Robert Woods: Woods put up his best numbers for the Titans so far, but the rookie wide receivers will see more targets in the future.
Woods caught four of six passes thrown his way for 85 yards.

Treylon Burks

led the team in routes run. His percentage of offensive snaps has increased every week. His target total should increase each week, and he could be considered a buy-low candidate.

Kyle Philips

led the team in targets in Week 1, wasn't 100% in Week 2 and missed Week 3 with a shoulder injury. He will take several targets once he returns.
---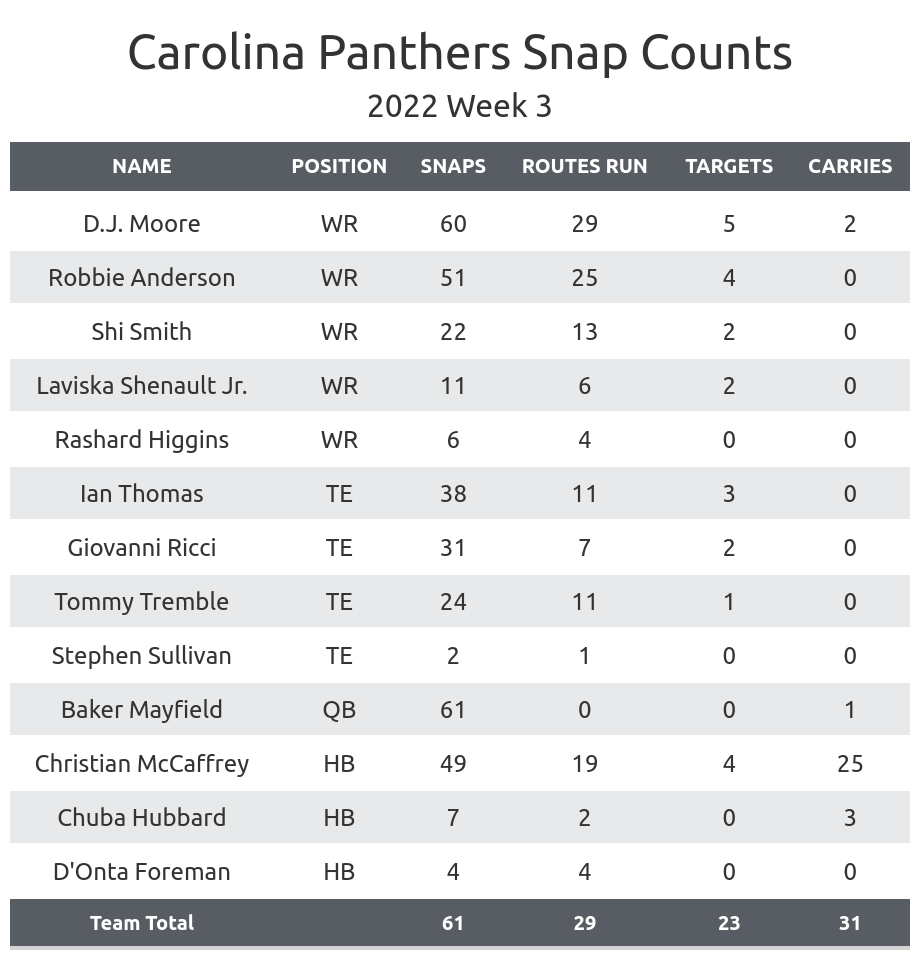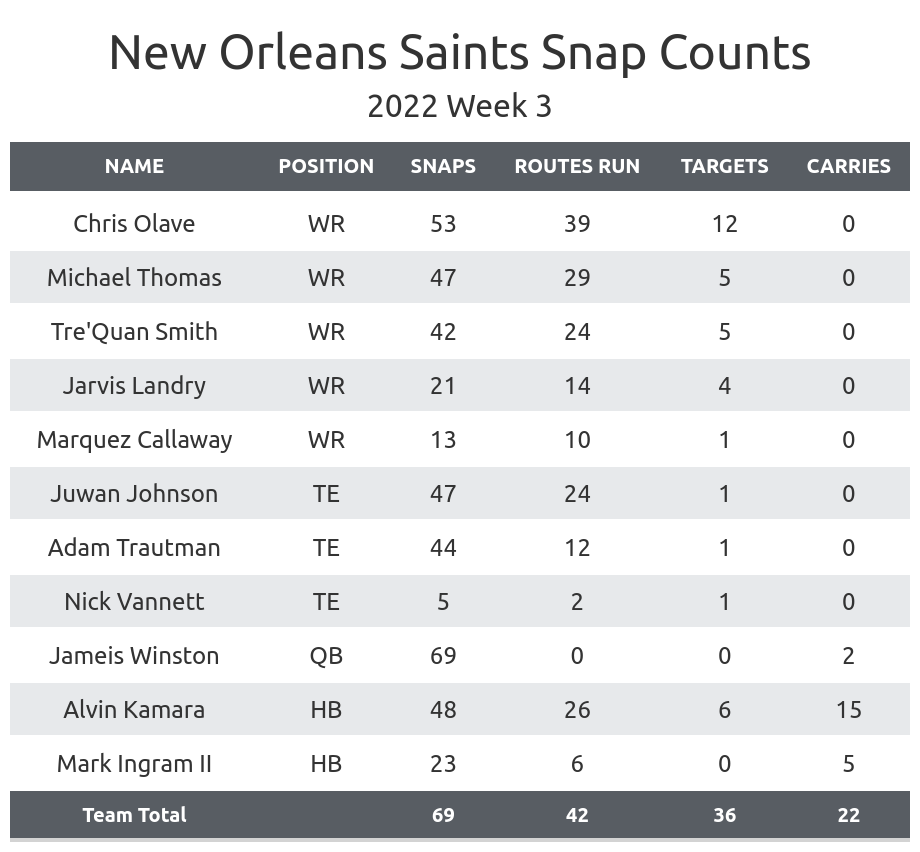 Monitor the Saints' wide receiver injuries: Jarvis Landry suffered an ankle injury, and Michael Thomas suffered a toe injury. They prevented both players from finishing the game.
Tre'Quan Smith

took over for Landry as the Saints' slot receiver following his injury.

Marquez Callaway

took over as the other outside wide receiver.

Chris Olave

led the three in targets in the first half (4-3-3) when everyone was still healthy. He dominated further in the second half once the others were injured.

Olave should be in fantasy starting lineups going forward, regardless of the health of the other receivers.

Both Smith and Callaway could be worth stashing if one of the two injuries is serious.
Buy Low on D.J. Moore: Moore has been one of the most disappointing fantasy performers this season. There is no guarantee that changes, but it's worth trying to pick him up at this low point.
He caught only one pass for two yards in the Panthers' win against the Saints.

He was thought to be a

potential league-winner

before the season, and he should still have the talent he had in previous seasons.

Moore is actually seeing a higher percentage of offensive snaps this year compared to last.

The biggest difference between last season and this season is his targets per route. He was targeted on 25.1% of his routes last season, compared to 15.3% this season.

He led the league in uncatchable targets last season.

He and

Robbie Anderson

are two of the five wide receivers with seven or more uncatchable targets this year and nine or fewer receptions.

The quality of passes thrown his way can only get better, and even if it's not significantly better, there is still a chance he sees more volume.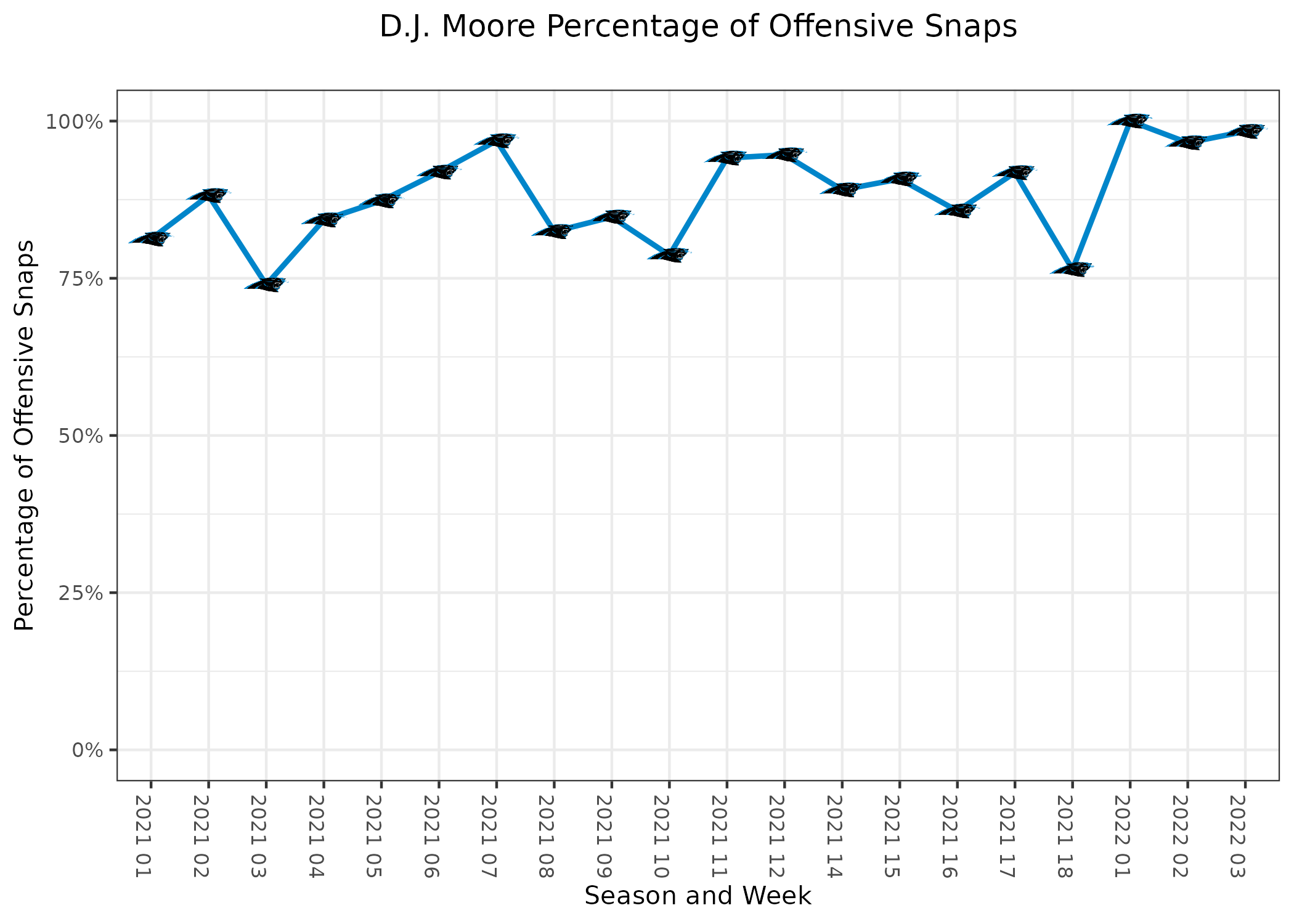 ---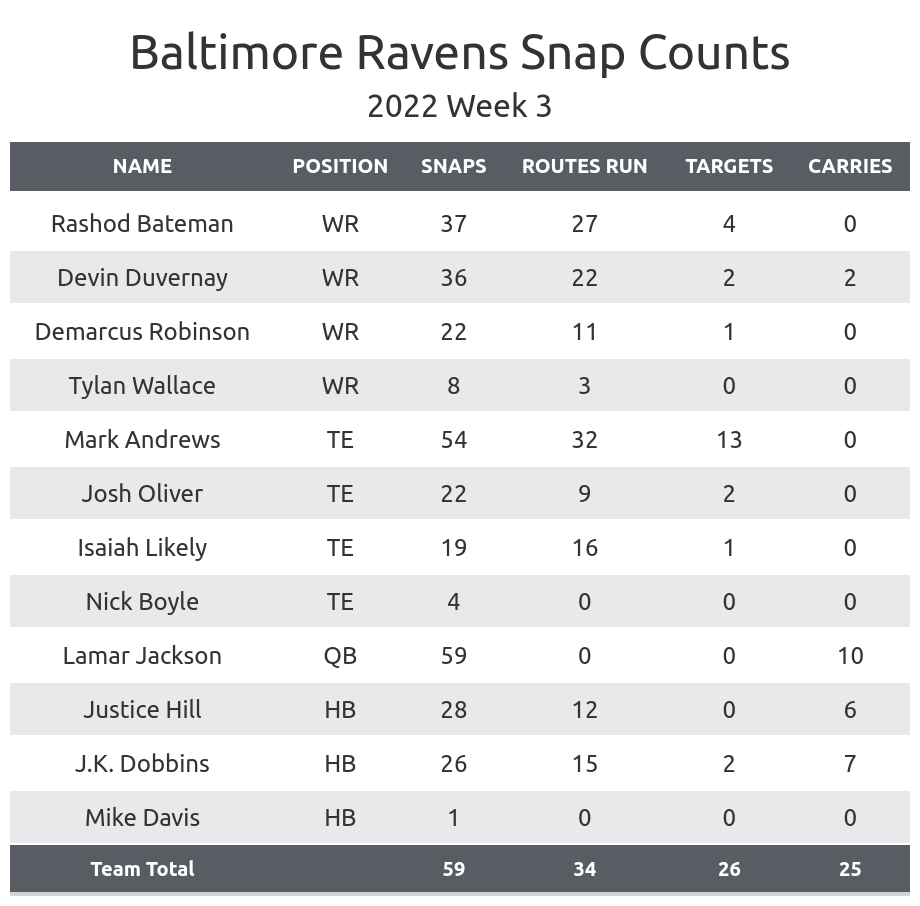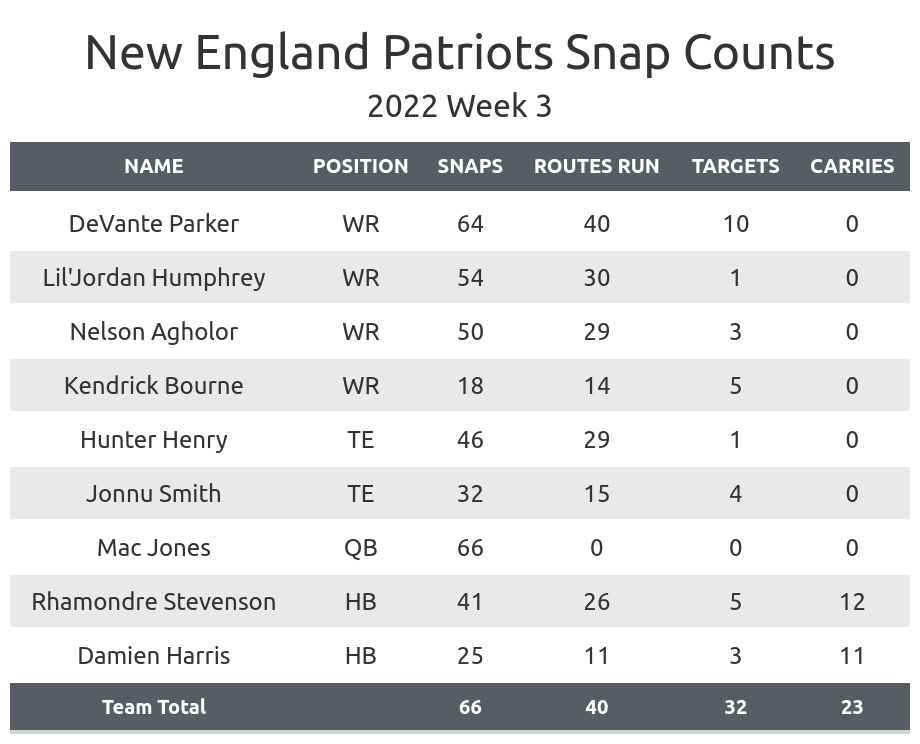 J.K. Dobbins' return: Dobbins returned to the field after suffering an ACL, LCL, hamstring and meniscus injury during the 2021 preseason. 
The Ravens used a two-man backfield with Dobbins and

Justice Hill

, tending to bring in Dobbins on early downs and Hill on later downs.

Dobbins wasn't very inefficient, tallying 23 yards on seven carries and two catches for 17 yards.

Expect Dobbins to receive at least a little bit more playing time going forward.

His role could change throughout the season whenever

Gus Edwards

is ready to return.

Kenyan Drake

was a healthy inactive, while

Mike Davis

was active and barely played. Both players can be cut in fantasy football.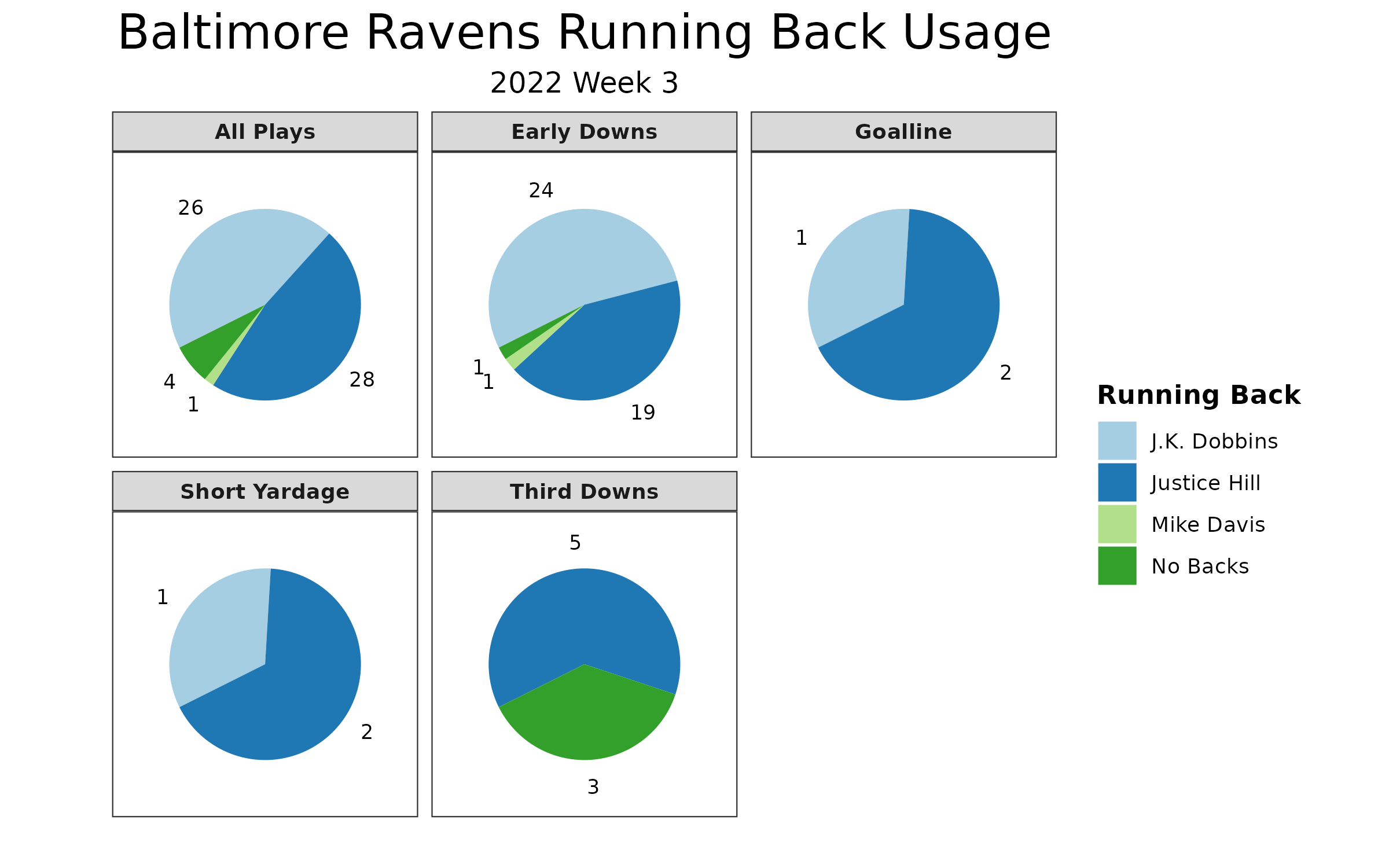 Monitor the Mac Jones injury: Jones appeared to suffer a leg injury at the end of the game and immediately went to the locker room.
Brian Hoyer

is the Patriots' backup quarterback and would take over if Jones misses some time.

Hoyer would only be a waiver wire target in superflex leagues and would hurt the value of the Patriots' receivers.
Rhamondre Stevenson season could be arriving: Stevenson led the backfield in carries (12), rushing yards (73), receptions (4) and receiving yards (28)
Damien Harris

started the game for New England, and the team continued to use a fairly strict rotation by drive.

The biggest exception to this was Stevenson receiving back-to-back drives at the end of the first half so that he would remain in on two-minute drills.

The main reason Stevenson has so many more snaps is the drives with him on the field have lasted longer.

It's possible the Patriots realize the offense is doing better with Stevenson and subsequently start giving him more snaps.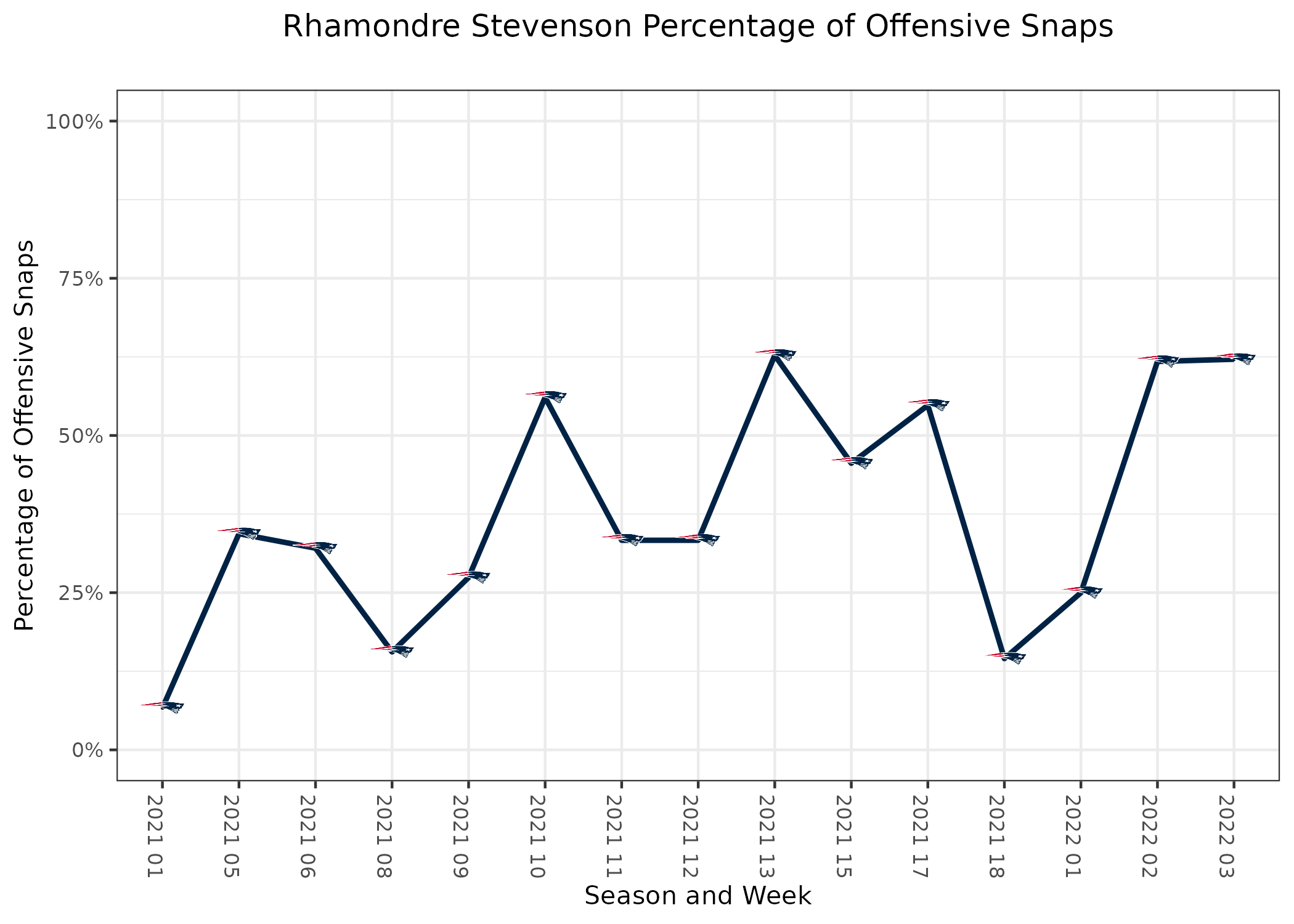 The Patriots' confusing wide receiver room: DeVante Parker had an excellent game in Jakobi Meyers' absence.
Nelson Agholor

received more snaps than usual, taking Meyers' role on the outside.

Lil'Jordan Humphrey

became the team's slot receiver, despite Agholor having the second-most routes there over the first two weeks and

Kendrick Bourne

running 148 routes from the slot last season.

Bourne was the second-most successful wide receiver on the team Sunday despite running the fourth-most routes.

Tyquan Thornton

could

return in around a month

and complicate the situation even further once he's back.

Parker should be on fantasy rosters, but it would be hard to trust him in starting lineups unless he keeps this up.
---
Jamaal Williams

: 20 carries, 87 yards, 2 touchdowns, 2 receptions, 20 receiving yards

Dalvin Cook

: 17 carries, 96 yards, 1 touchdown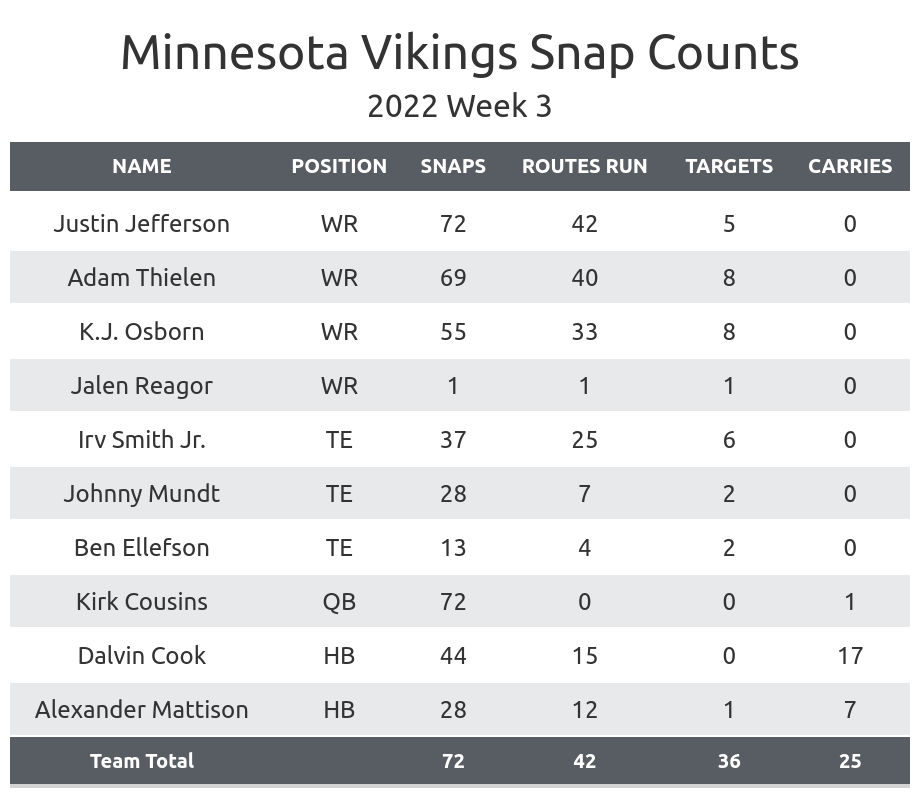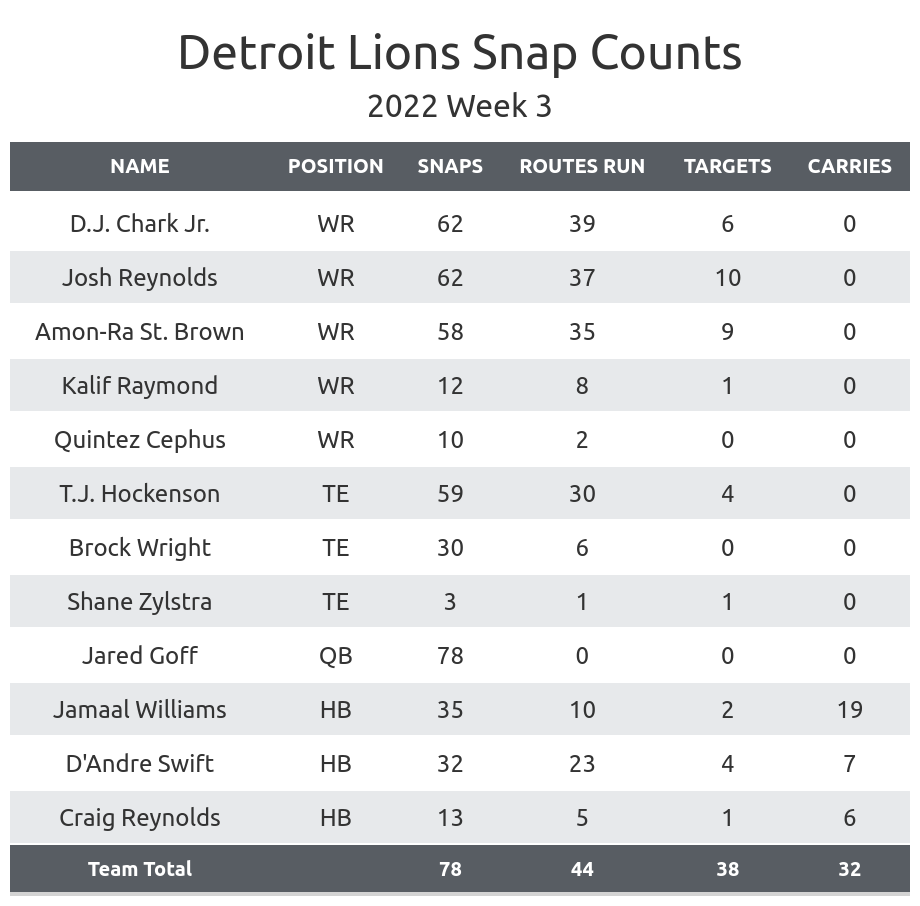 Add Alexander Mattison: Dalvin Cook suffered a wrist injury in the third quarter and was quickly ruled out for the game. 
Mattison took over and ran the ball seven times for 28 yards and a touchdown in Cook's absence.

Cook is expected to play with a brace in Week 4, but Alexander should still be picked up in case Cook sufferers a setback or is injured again later in the season.

He ranked

third in PFF's handcuff rankings to begin the year

and has consistently been a fantasy starter whenever Cook has been out.

He is still available in 37.3% of leagues.
Add Jamaal Williams: Williams continued to be the Lions' leader in carries despite D'Andre Swift playing.
Swift continued to dominate the passing-game work, seeing most third downs, half of the two-minute drill and plenty of routes run on early snaps.

Williams continues to take all of the goal-line work and plenty of the short-yardage snaps.

Swift's ankle injury limited him in practice all week, which could be part of the reason he's not touching the ball as much.

Even when he's healthy, Williams likely isn't going away — at least not in short-yardage situations.

Williams should remain a borderline starter or at least a flex play in the right matchups.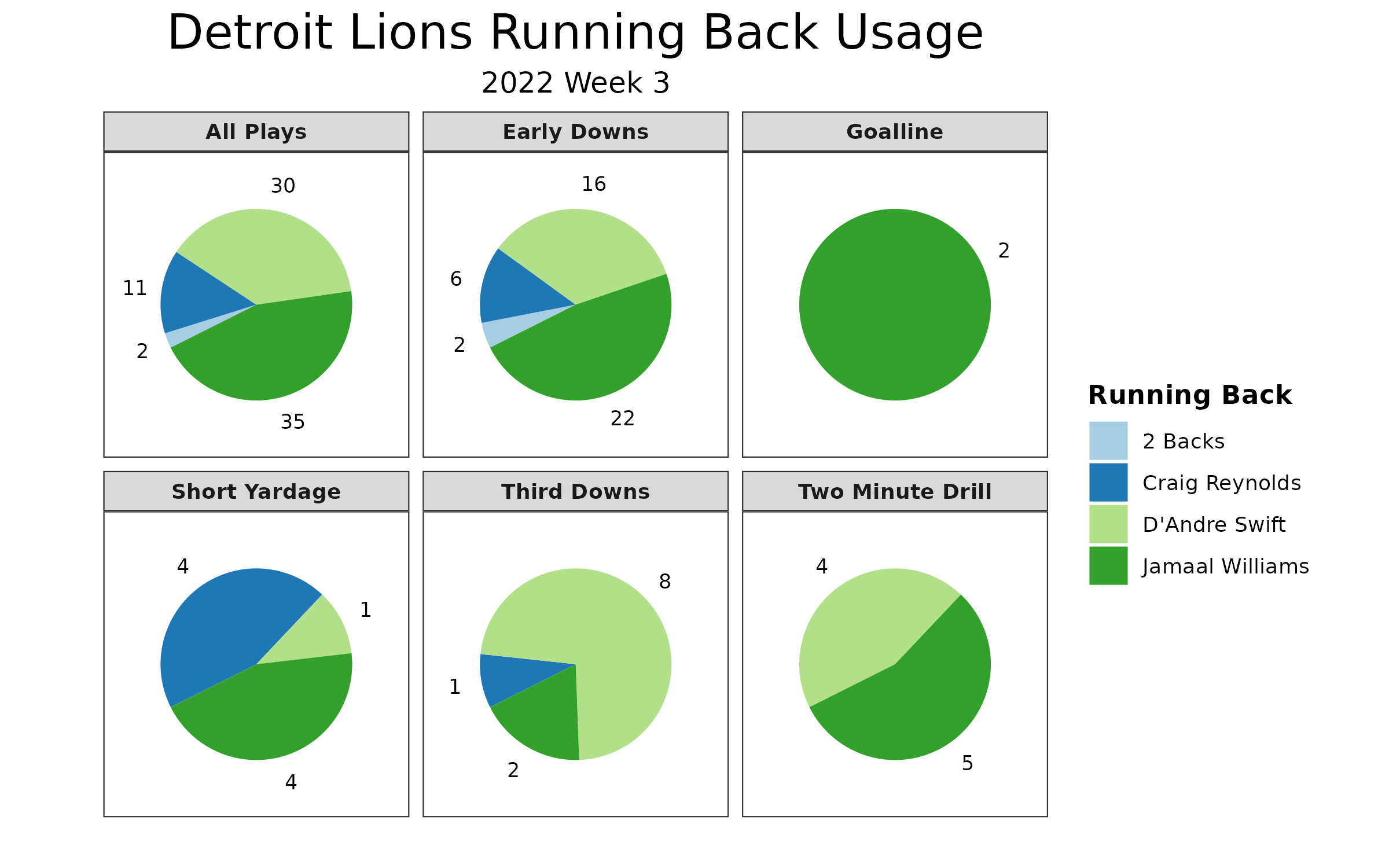 ---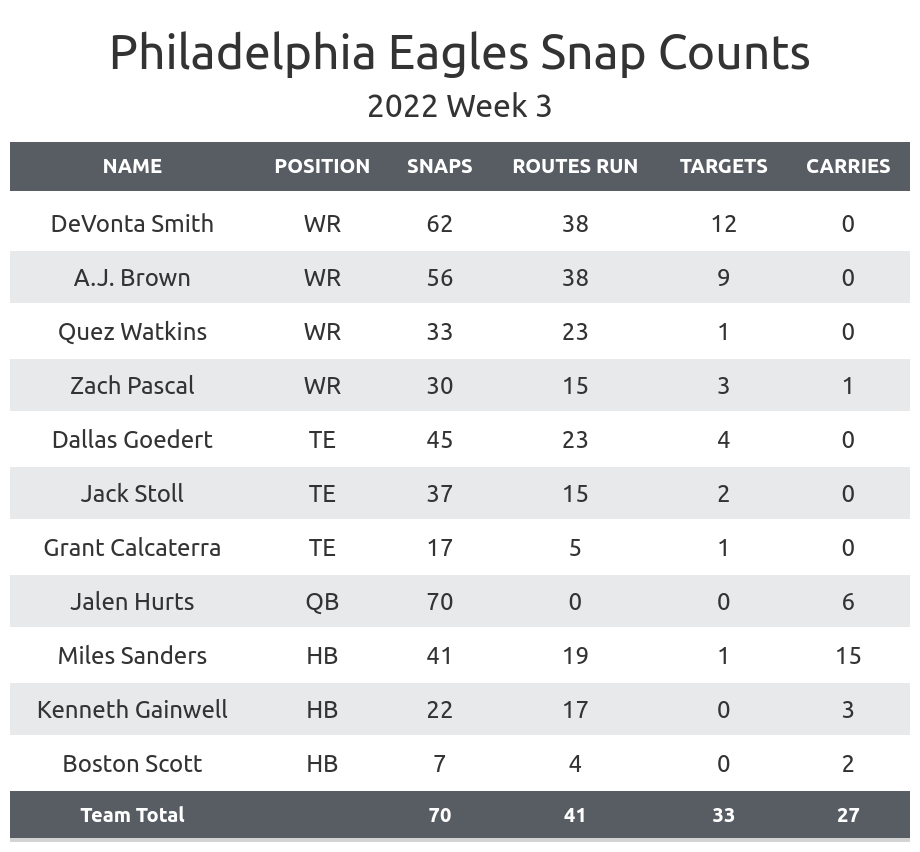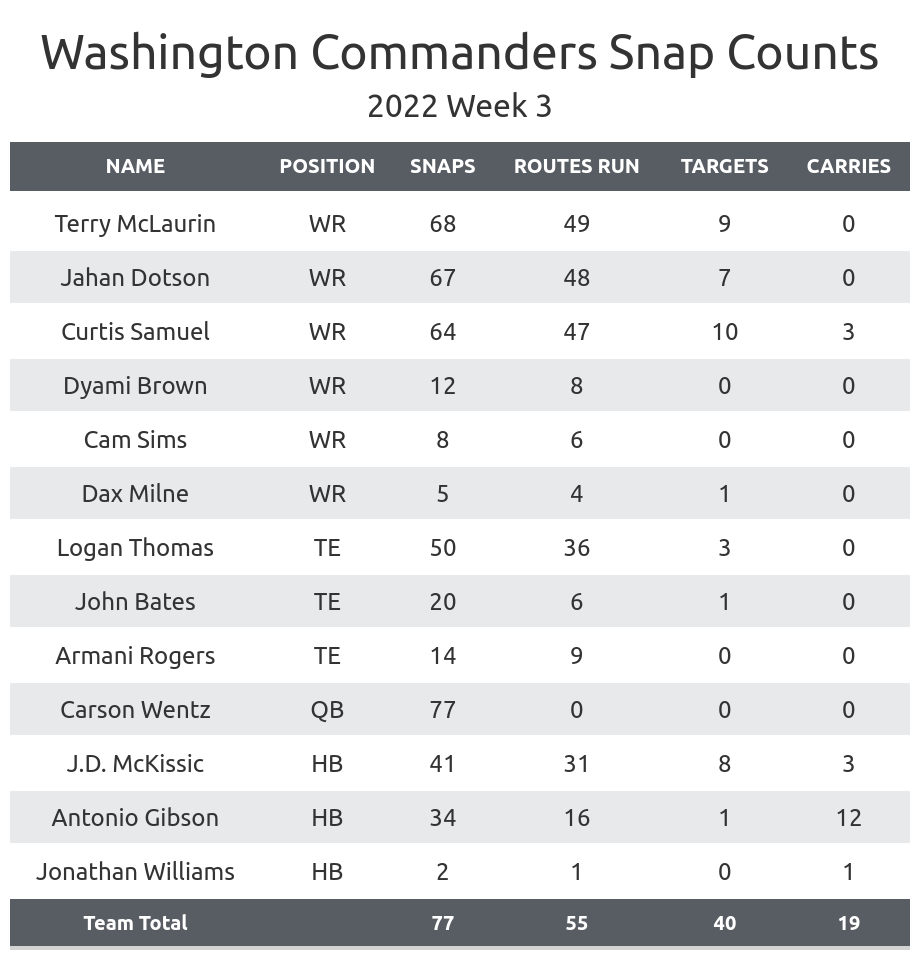 Monitor the Dallas Goedert injury: Goedert suffered a shin injury. He returned to the game, but his playing time was limited over the last three quarters.
He received his usual amount of playing time in the first quarter.

He caught three passes for 26 yards and a touchdown.

The fact that he returned and played throughout the game despite the blowout is likely a good sign, but it's worth keeping an eye on just in case.
Start DeVonta Smith: The Eagles wide receiver put up the best numbers of his career.
This came after he caught seven passes on seven targets last week for 80 yards.

The Eagles are largely just targeting their top two wide receivers and Goedert this season. No one else on the team is averaging more than two targets per game. This is a big benefit to the three star players.

He was starting in only 25.5% of leagues at ESPN.
Buy low on the Commanders' receivers: The Commanders unsurprisingly struggled with the Eagles' pass rush, leading to nine sacks and several destroyed drives.
Washington's first nine drives all finished in six plays or fewer for 23 or fewer yards.

They had three drives of 12-plus yards in the fourth quarter, which helped pad the stats for some players a little — but not enough to some fantasy managers' liking.

The Commanders won't have the same problem against future teams, which will lead to more fantasy points.

They continue to use their wide receivers and tight ends in a very fantasy-friendly way, largely staying in 11 personnel and not rotating their receivers out much.

All three wide receivers had at least seven targets.
---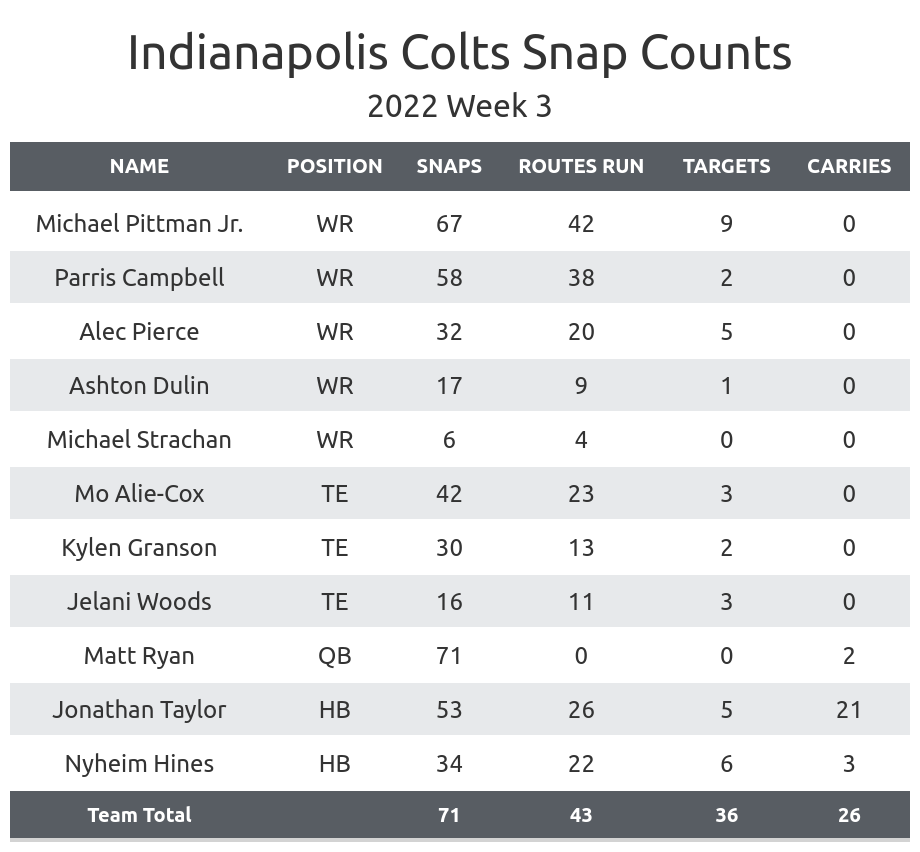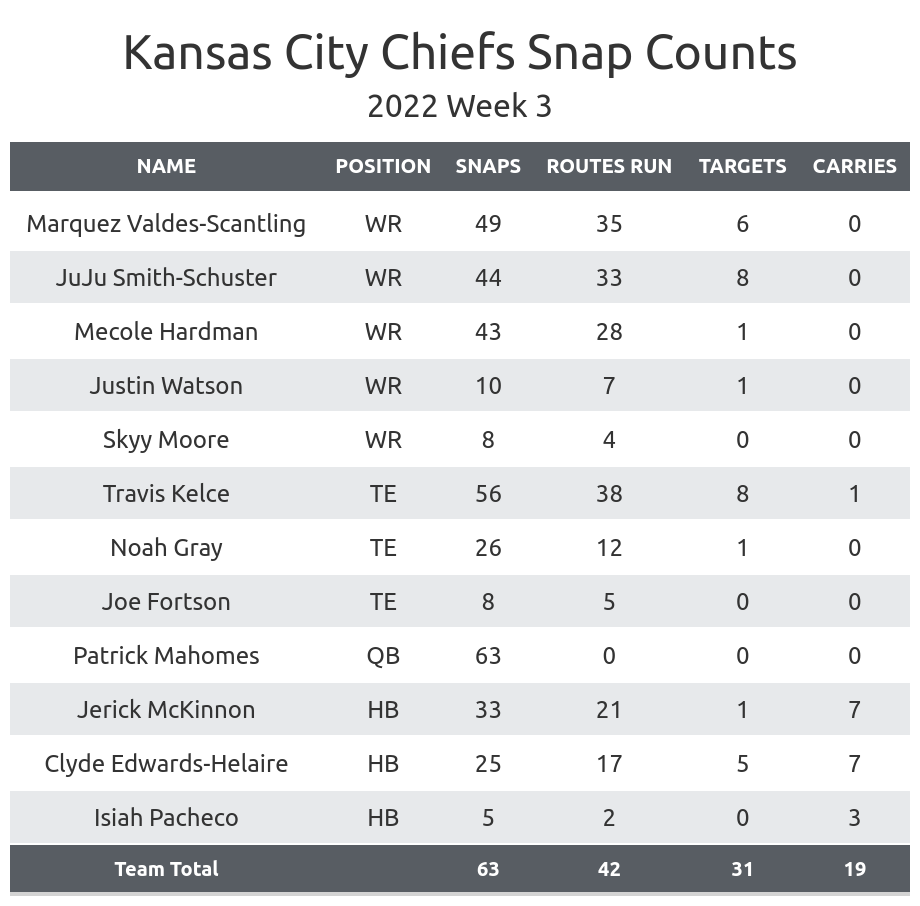 Cut Mecole Hardman: Hardman was held to one target on 28 routes, with Kansas City getting its other starters more involved.
His snaps are similar to other Chiefs wide receivers because he stays in to run block more often than the starters.

Kansas City ran double-digit pass plays out of 12 personnel for the third straight game. The team accomplished this only three times all of last season. This means more tight ends and fewer wide receivers on pass plays for the Chiefs.

Second-round rookie

Skyy Moore

played only on kneel-downs last week but saw a few offensive snaps this time around.

We can expect Moore to garner increased playing time as the season progresses, and that playing time will likely come from Hardman.
Don't Add Jelani Woods: Woods scored two touchdowns for Indianapolis, but he's in a very crowded Colts tight end room.
Woods rarely played in two-tight end sets because the other two are better run-blockers.

He played the third-most snaps out of 11 personnel and the third-most on third downs.

He might see more playing time after these touchdowns, but this will remain a three-tight end committee that should be avoided at all costs.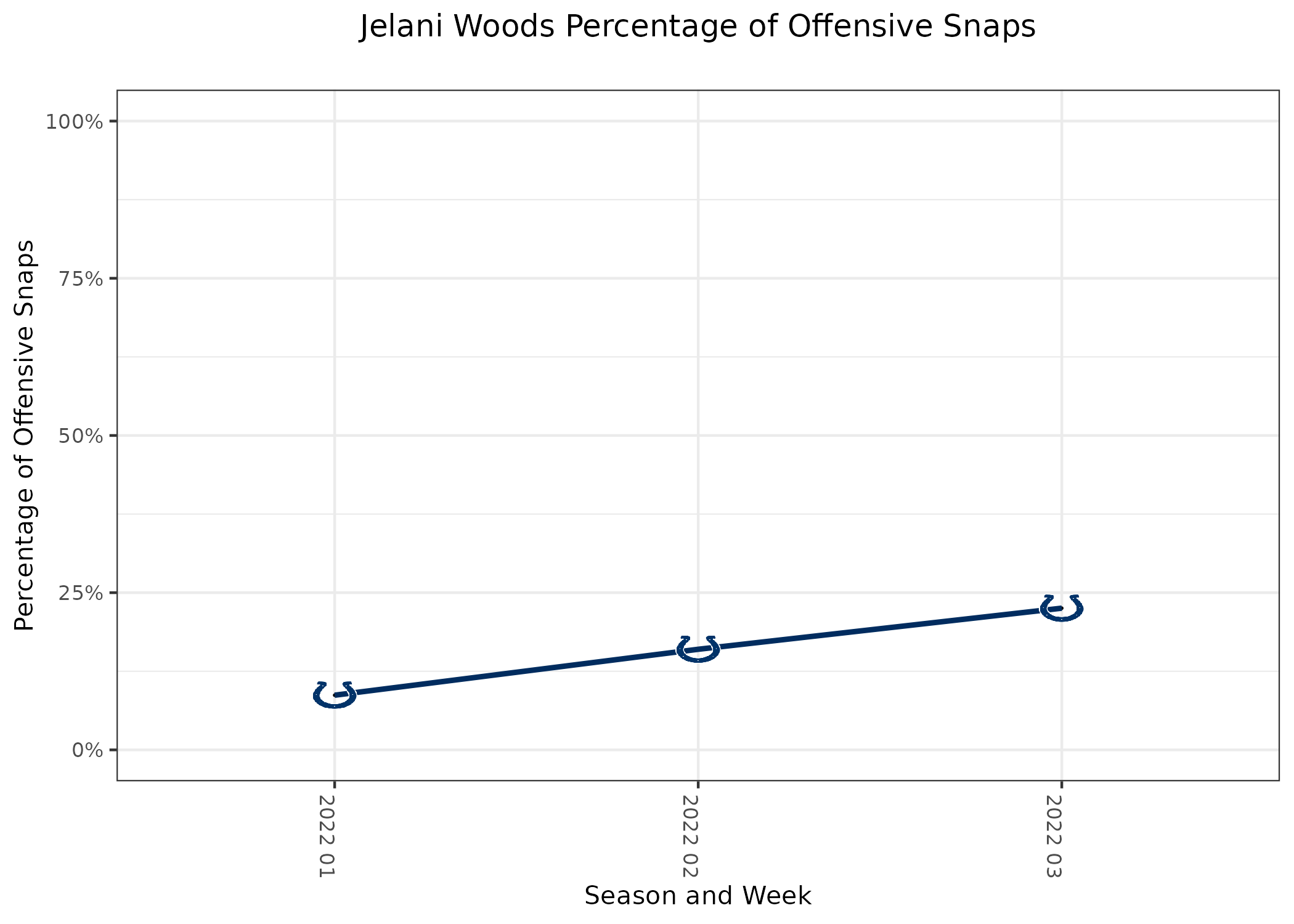 ---
James Robinson

: 17 carries, 100 yards, 1 touchdown, 3 receptions, 16 receiving yards

Zay Jones

: 10 receptions, 85 yards, 1 touchdown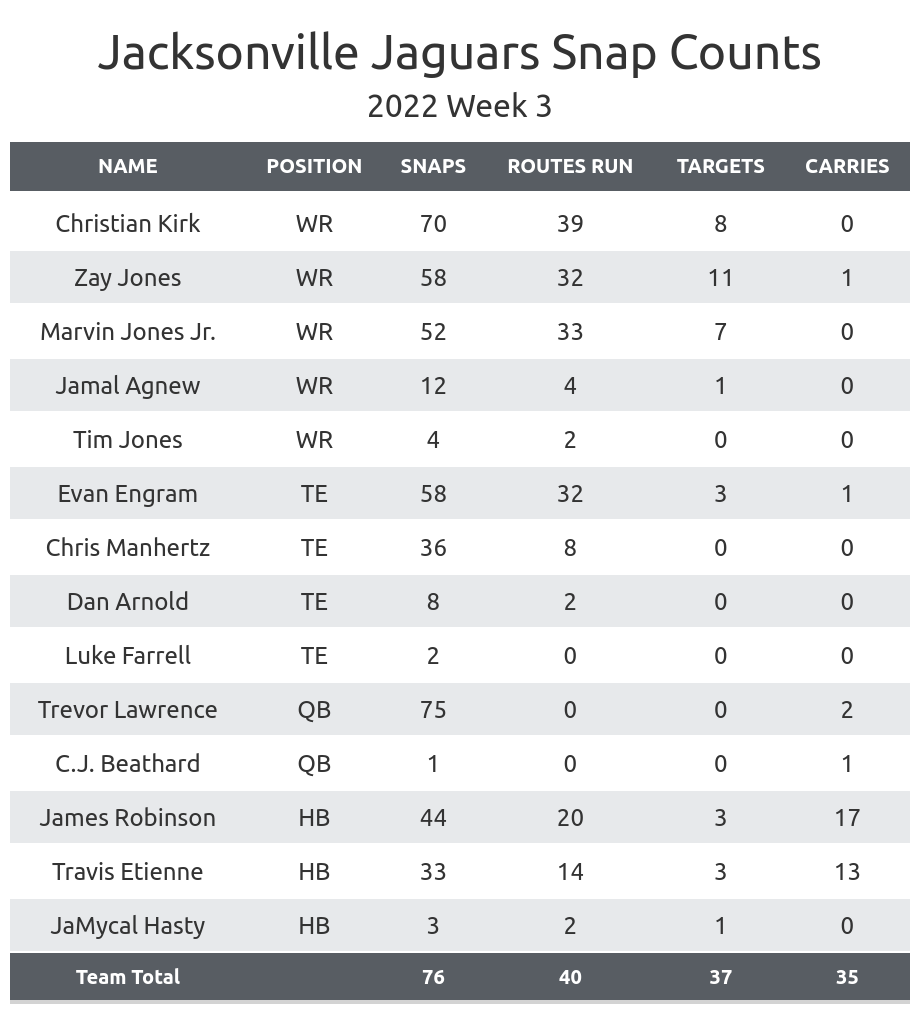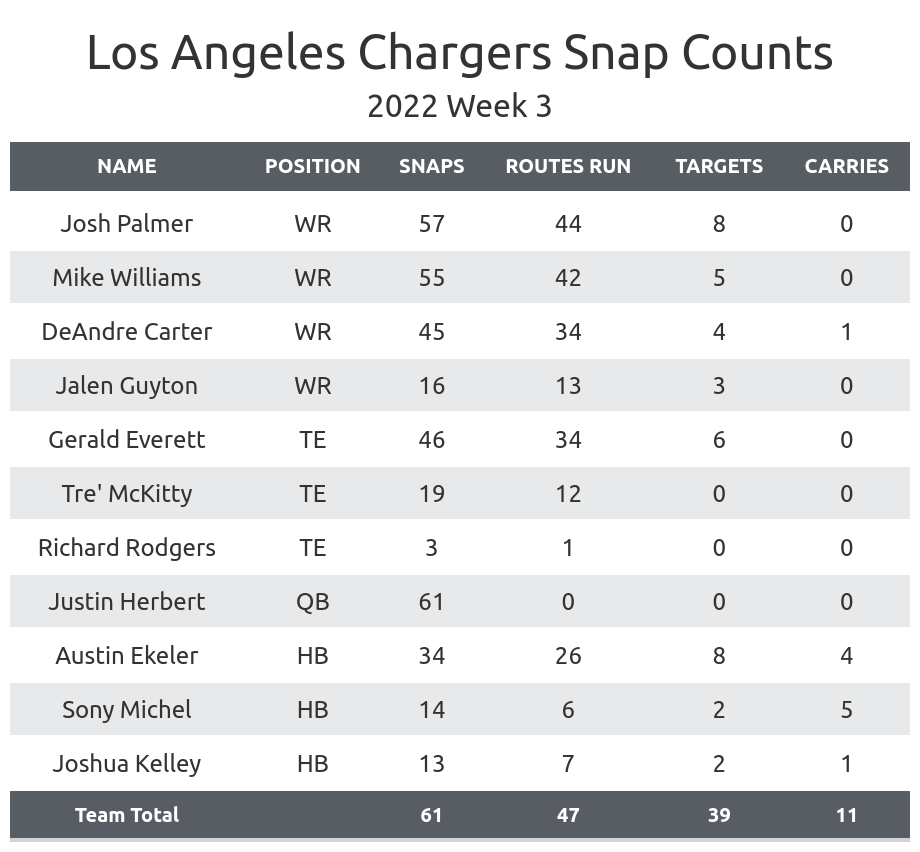 Add Zay Jones: The veteran receiver led the team in targets, receptions and yards, and all three starting wide receivers on the team scored a touchdown.
The Jaguars' offense is in some ways ideal for a fantasy wide receiver. They run most of their snaps in 11 personnel, rarely substitute out their top three receivers and are happy to pass the ball both early in the game and late even with a lead.

Jones may not be as talented as other wide receivers in the league, but his current usage puts him among the top 20 wide receivers for targets on the season.

He might not stay quite that high, but even if he's in the top 30, that is enough to be a fantasy starter.

He should be considered a high-floor player and someone who is excellent to have during bye weeks.
Add Josh Palmer: The second-year receiver caught six passes thrown his way for 99 yards while leading the team in routes run and offensive snaps.
He benefited from

Keenan Allen

not playing for a second straight week.

Palmer should continue to dominate in offensive snaps in three-receiver sets, but will likely lose most of his snaps in two-wide receiver sets once Allen is back.

He's played well enough to earn more targets even when everyone on the offense is healthy.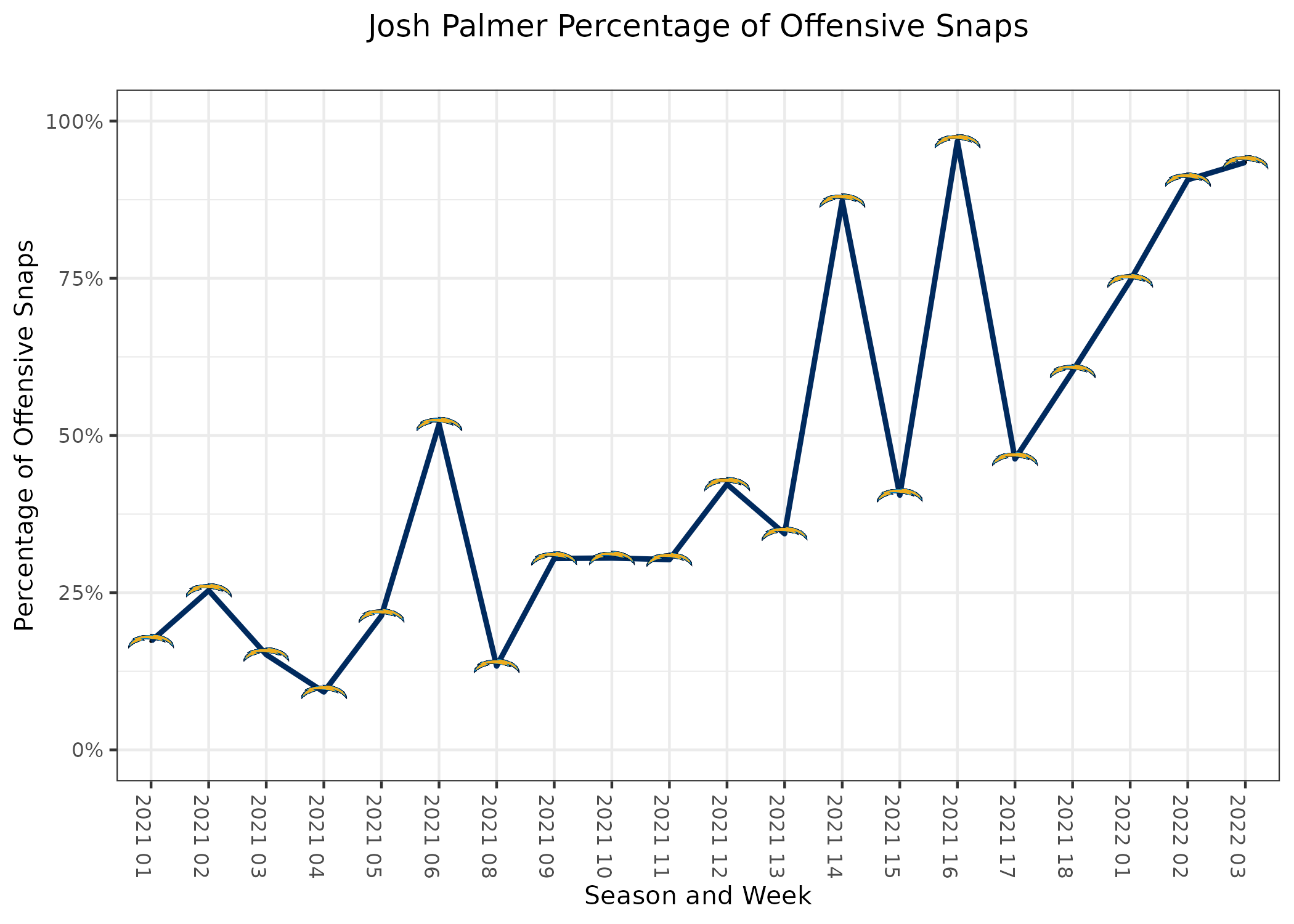 ---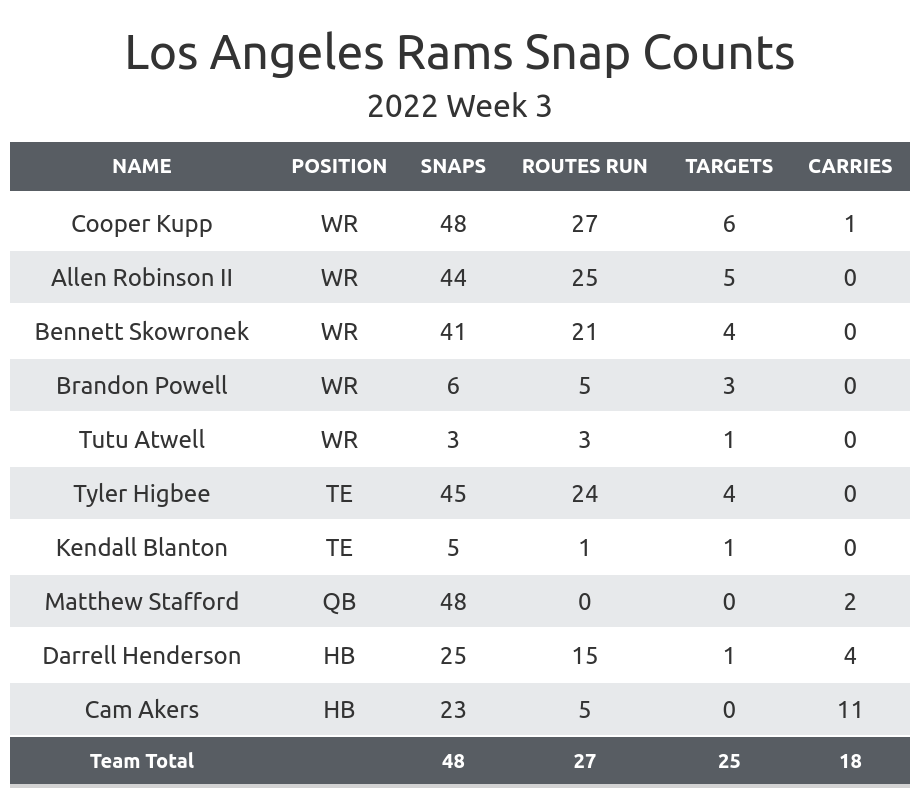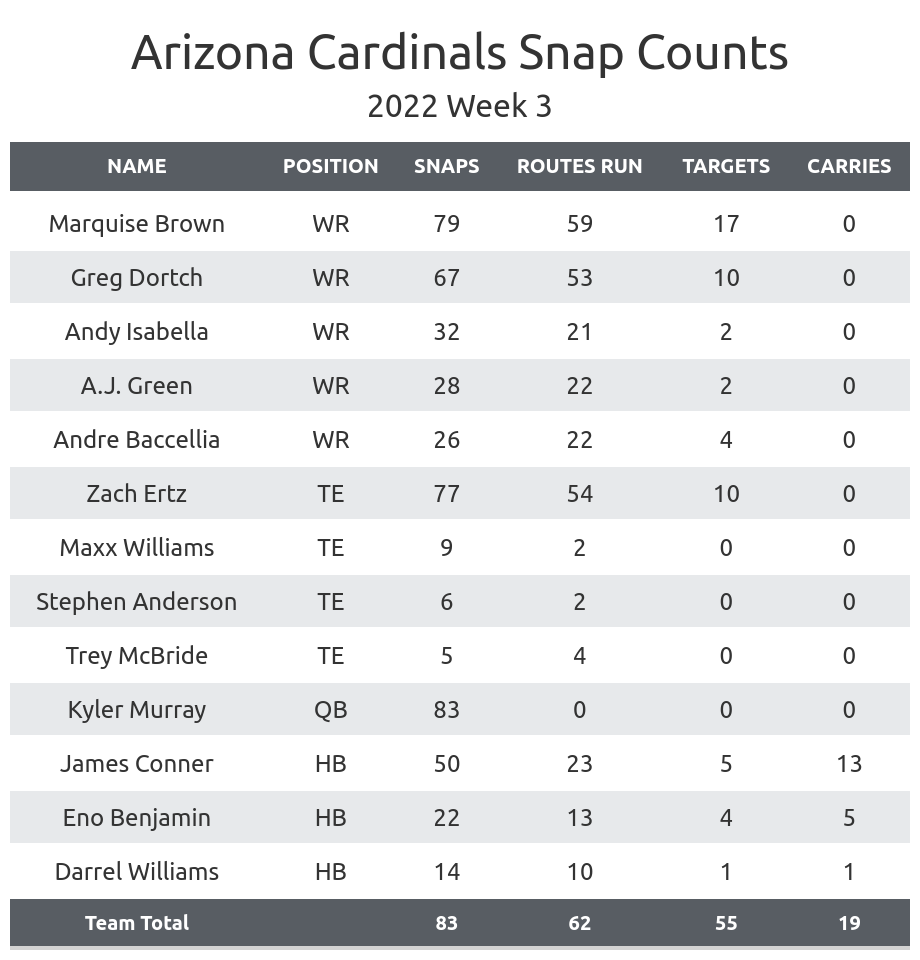 The Rams' backfield does what we expect: Cam Akers saw most of the carries, and Darrell Henderson ran most of the routes.
Typically, a backfield like this means the back who does most of the rushing can be a fantasy starter.

On the upside, this Rams team should be winning games more often than not, allowing their running backs to run the ball significantly.

On the downside, Henderson has continued to receive a majority of goal-line carries and a split in short-yardage situations. That means Henderson will be able to snipe some touchdowns away from Akers throughout the season.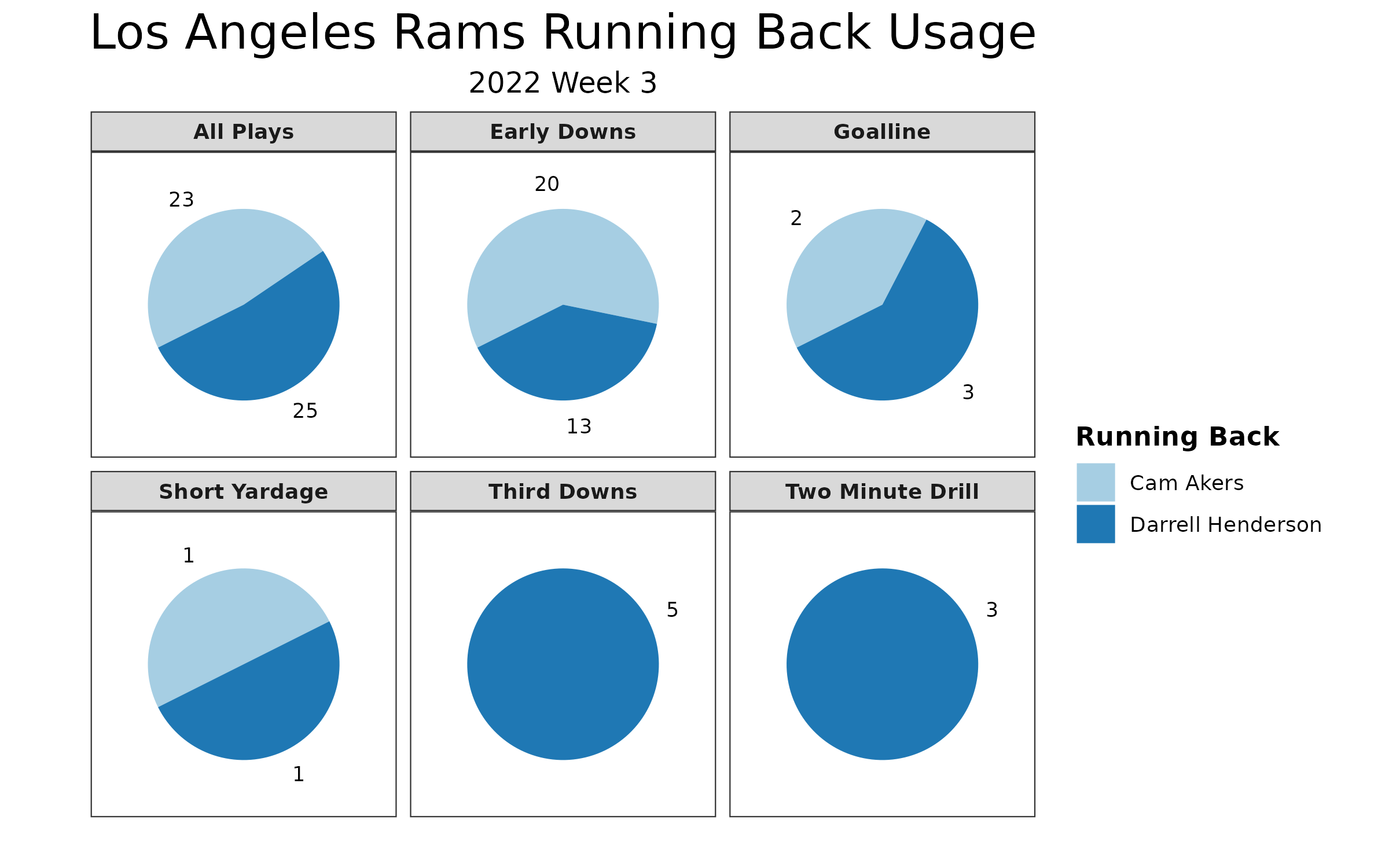 Monitor the A.J. Green injury: Green suffered a knee injury that kept him out of the second half of the game against the Rams.
Buy low on James Conner: Conner was questionable coming into Week 3 with an ankle injury. The Cardinals restricted his usage somewhat, but he still played significantly.
He still played roughly half of the snaps to a clear majority in all situations. This helped him to double-digit carries and three targets.

It's unsurprising he didn't perform all that well when he wasn't 100% against the reigning Super Bowl champions' run defense.

The Cardinals have faced one of the

most difficult schedules to this point

, but it gets easier. And the offense should get healthier, giving Conner more touchdown opportunities.

Eno Benjamin

was the top backup in rushing situations, while

Darrel Williams

was the top backup in receiving. We could see this kind of split if Conner misses time at any point this season.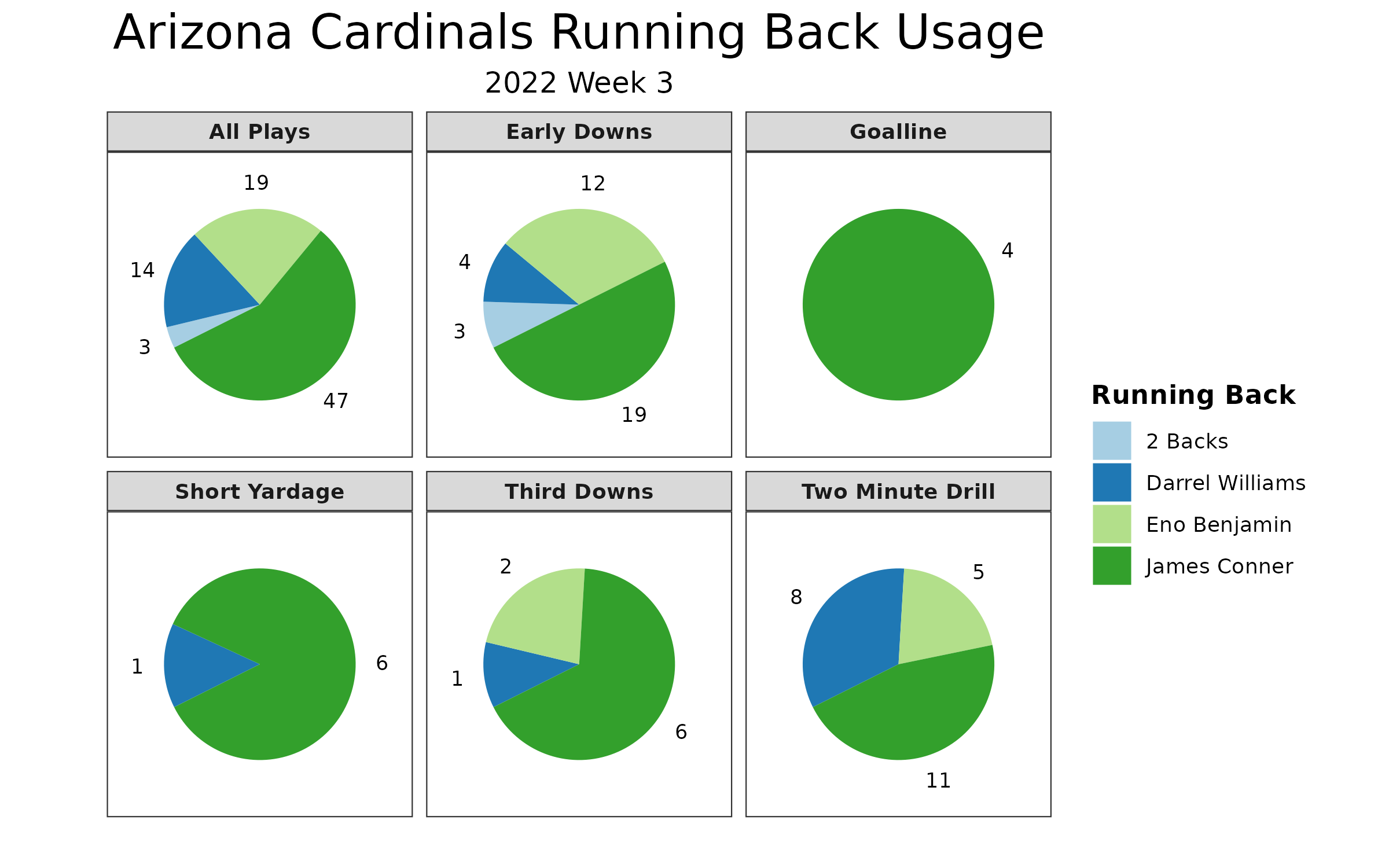 ---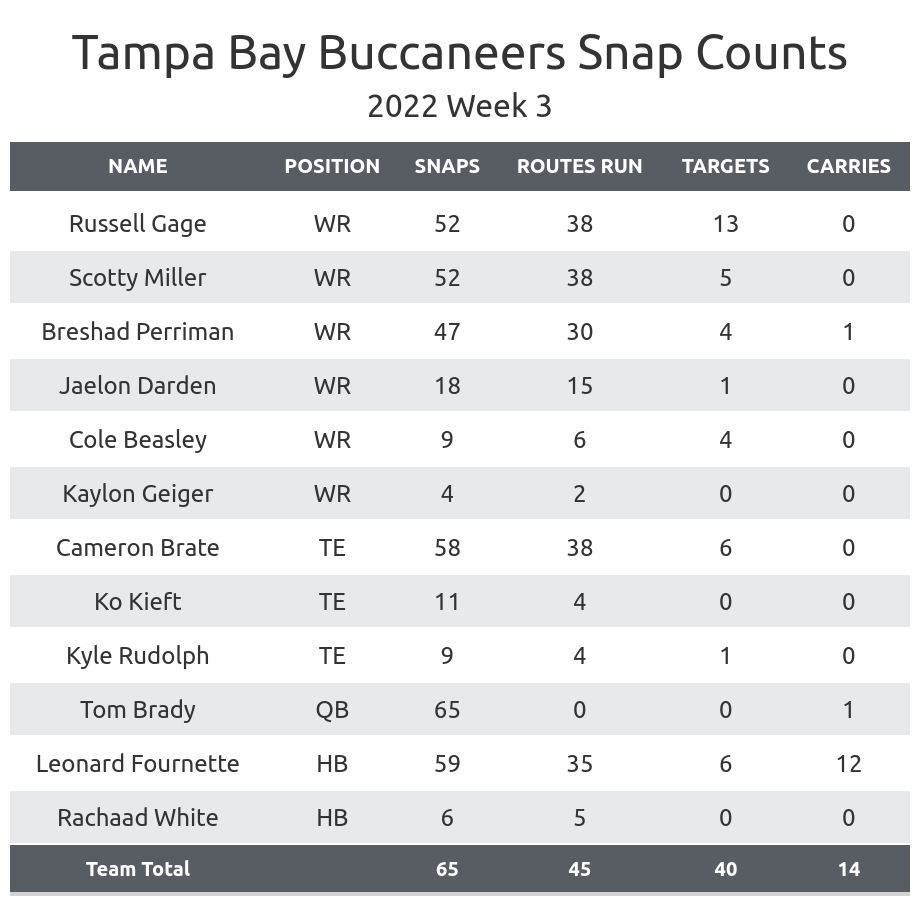 Add Romeo Doubs: The Packers were hurting at wide receiver, which helped Doubs lead the team in targets, receptions and receiving yards.
Sammy Watkins

landed on injured reserve earlier this week with a hamstring injury. He will miss at least the next three games.

Christian Watson

missed this game with a hamstring injury. He could be back as soon as next week.

Doubs is clearly ahead of

Randall Cobb

on the depth chart. He should remain second on the depth chart at least for the next three weeks.

With more performances like this, he could be considered the new number one in Green Bay.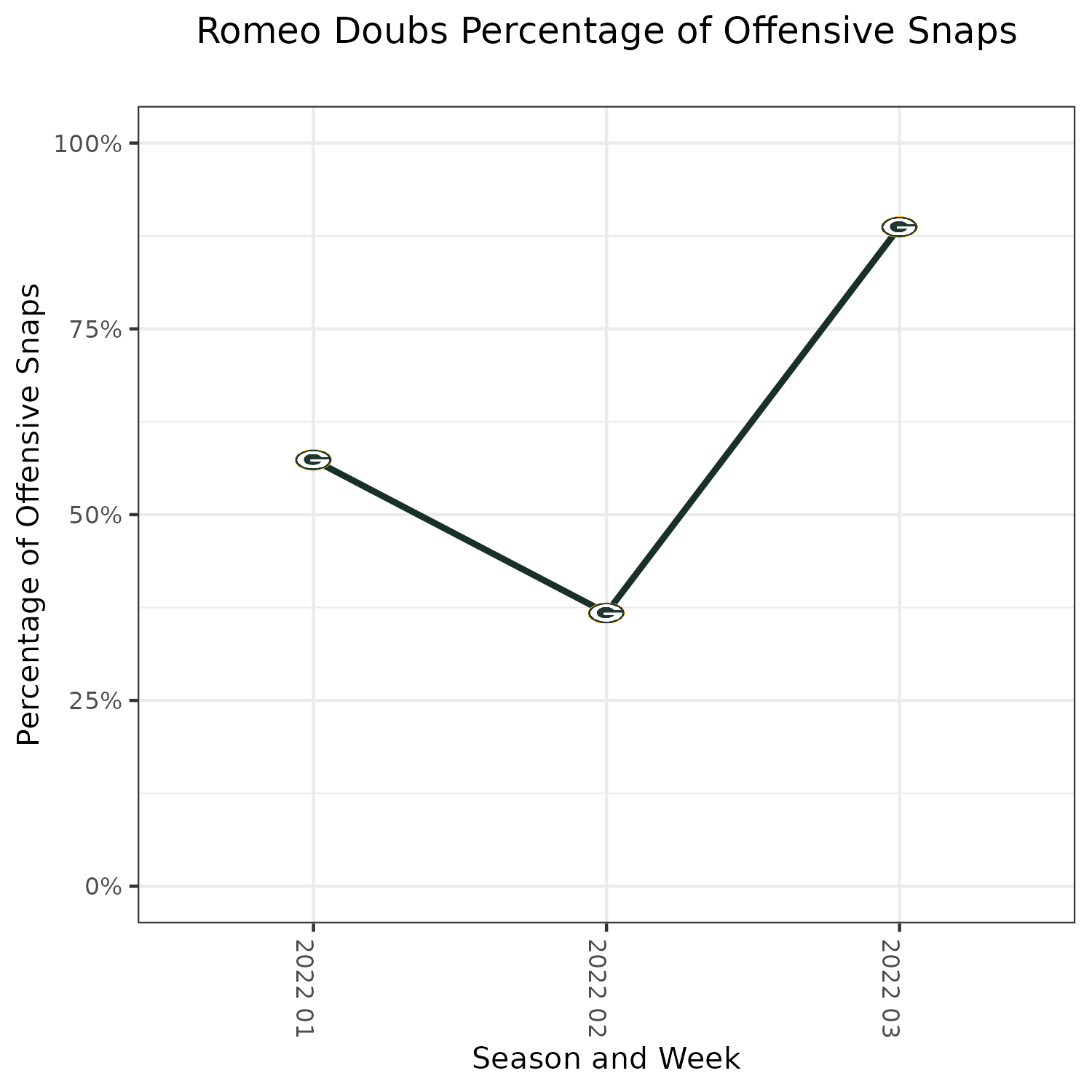 Cole Beasley's quiet Buccaneers debut: The Buccaneers didn't have three of their top four wide receivers, while the other three of their top six were on the injury report this week. That wasn't enough for Beasley to see significant playing time.
Beasley was fifth on the Buccaneers' depth chart today, with the three wide receivers dealing with injuries leading the way.

He was targeted on four of his six routes, making his stat line look better than his total usage.

It wouldn't be surprising if he returns to the practice squad once the receiving room is healthier.
---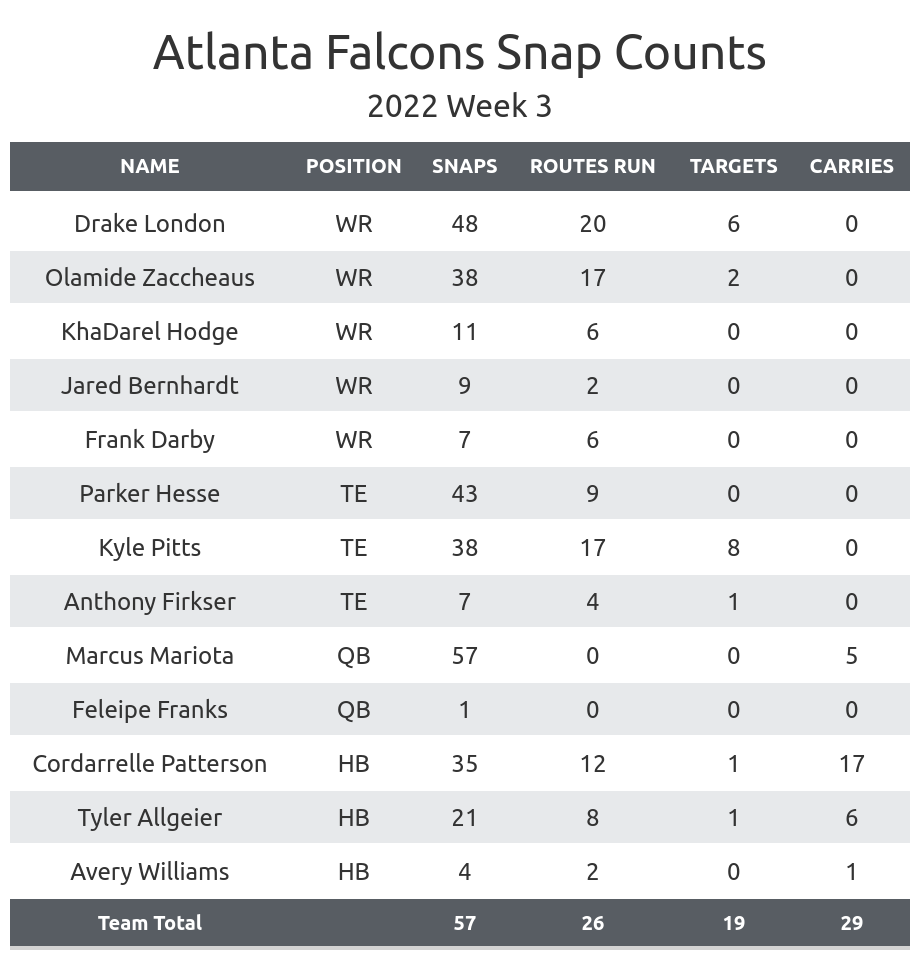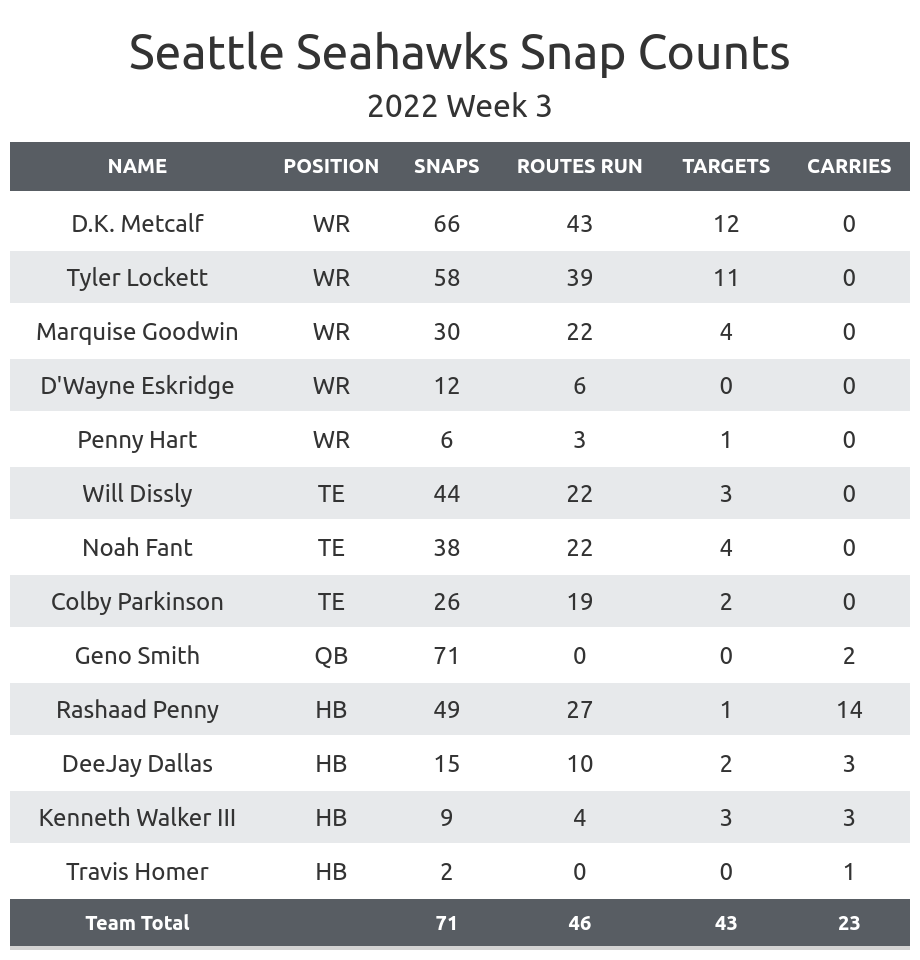 Monitor the Travis Homer injury: Homer suffered a rib injury after two offensive snaps and didn't return.
The Seahawks gave all of Homer's offensive snaps to

DeeJay Dallas

. That included the two-minute drill and most of the third-down snaps. 

The offense played relatively well, scoring on five of their first six drives. This meant they didn't need to use a passing-down back very much.

Rashaad Penny

finally took a few third-down snaps late in the game.

It's disappointing that Penny and

Ken Walker

didn't see even more snaps in the typical passing situations with Homer out. Their upside will continue to be limited, particularly in games where Seattle is behind more.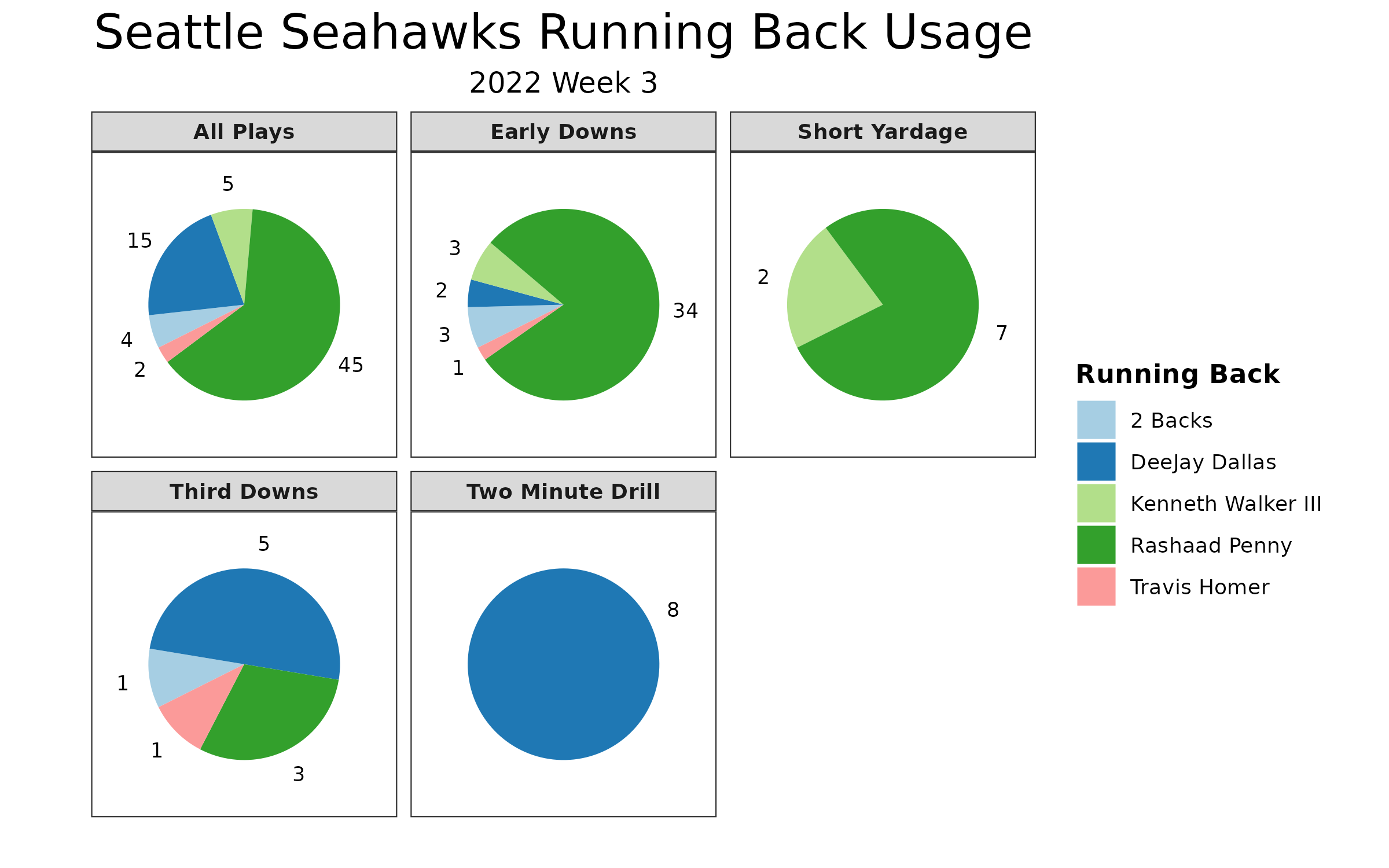 Falcons running back update: Patterson was the most impressive offensive player of the game, but his usage was still odd compared to what we might expect.
Tyler Allgeier played more in third-and-3 or longer situations, and he split goal-line snaps.

Patterson should continue to see a clear majority of snaps as long as he's playing this well, but considering the lack of consistency from one week to another, this remains a situation to monitor.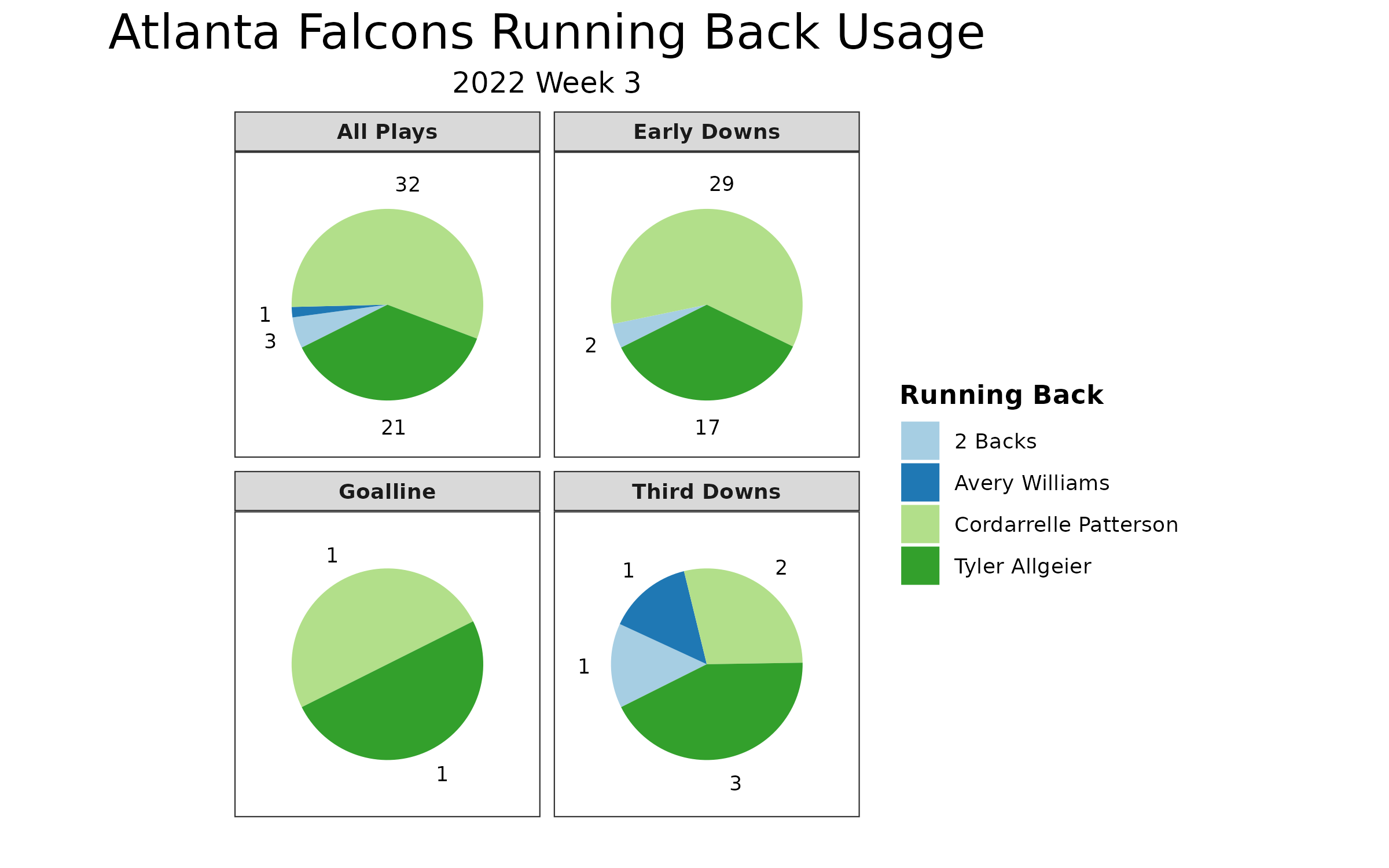 Kyle Pitts' confusing day: Pitts rebounded in a major way compared to the first two weeks with five catches for 87 yards, but he saw a sharp decrease in playing time.
Pitts played 64 of 74 snaps in two-receiver sets the first two weeks, compared to 19 of 35 in Week 3.

This was a formation Pitts was often blocking from, including more pass blocks than last year. Parker Hesse took a lot of these snaps and, particularly, these pass blocks.

The Falcons ran only 11 plays in 11 personnel, but Pitts was on the field for eight of those snaps.

Pitts had an unsustainably high 47.1% threat rate.

He lined up more from a traditional tight end position compared to other weeks.

He still needs to be in fantasy starting lineups due to his talent, but it wouldn't be surprising if he sees more games similar to Weeks 1 and 2.

This makes him a potential sell-high candidate.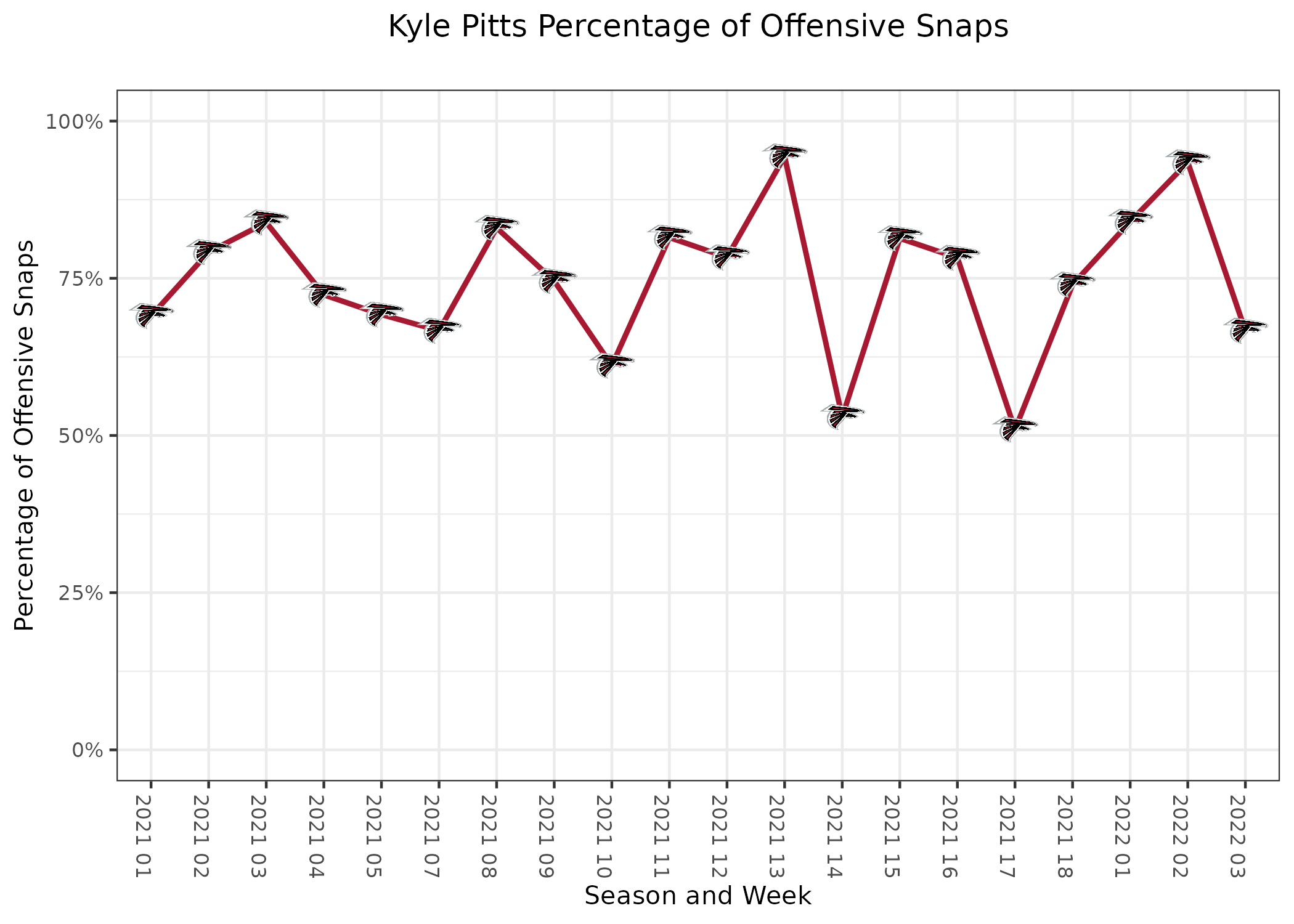 ---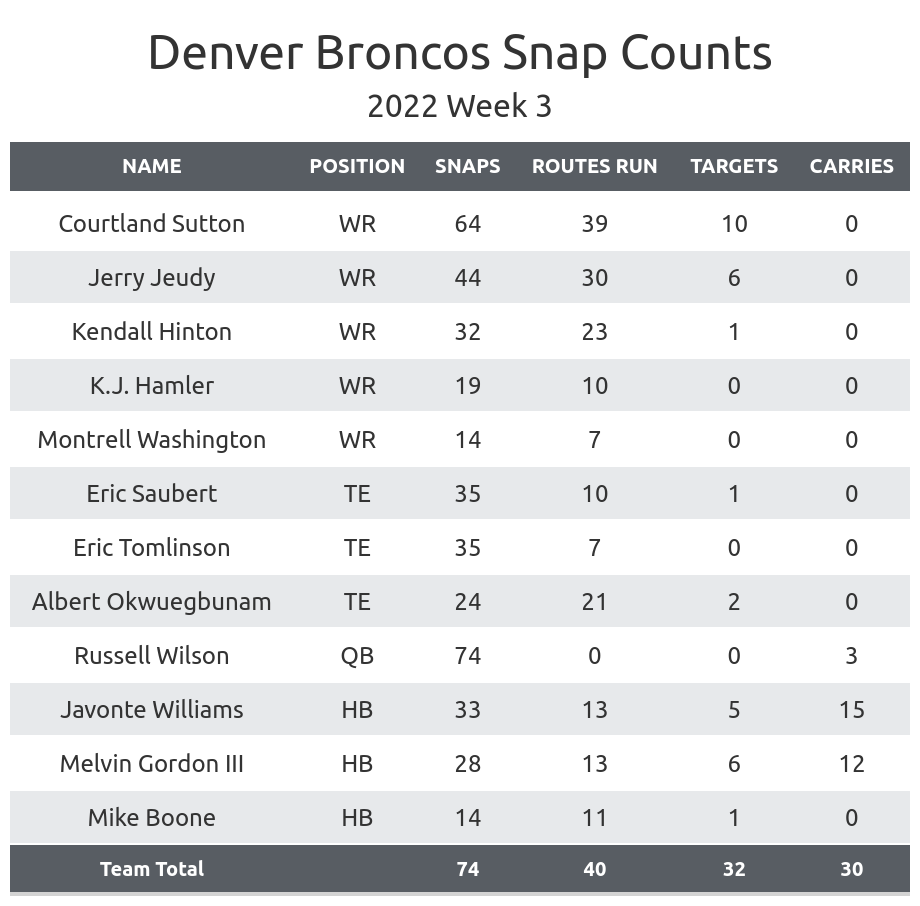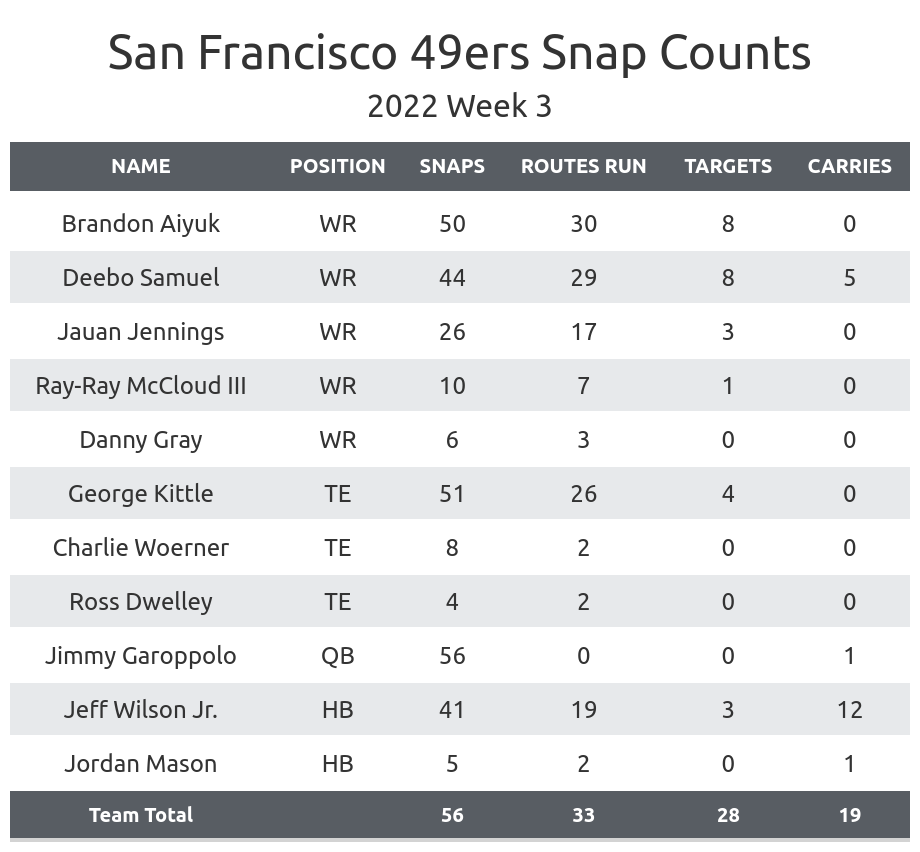 Trouble for Javonte Williams: Williams continues to see more carries, routes and targets than Melvin Gordon III, but the Broncos' two-man committee may have turned into three.
Mike Boone

was brought in primarily as a third-down back.

Gordon was the primary third-down back in Week 1, and Williams in Week 2.

These are plays Williams would ideally be on the field for so he can see more targets.

Boone didn't catch his only target, so the hope is for Williams to see these snaps in Week 4.

Williams gained 58 yards on 15 carries and caught three passes for two yards.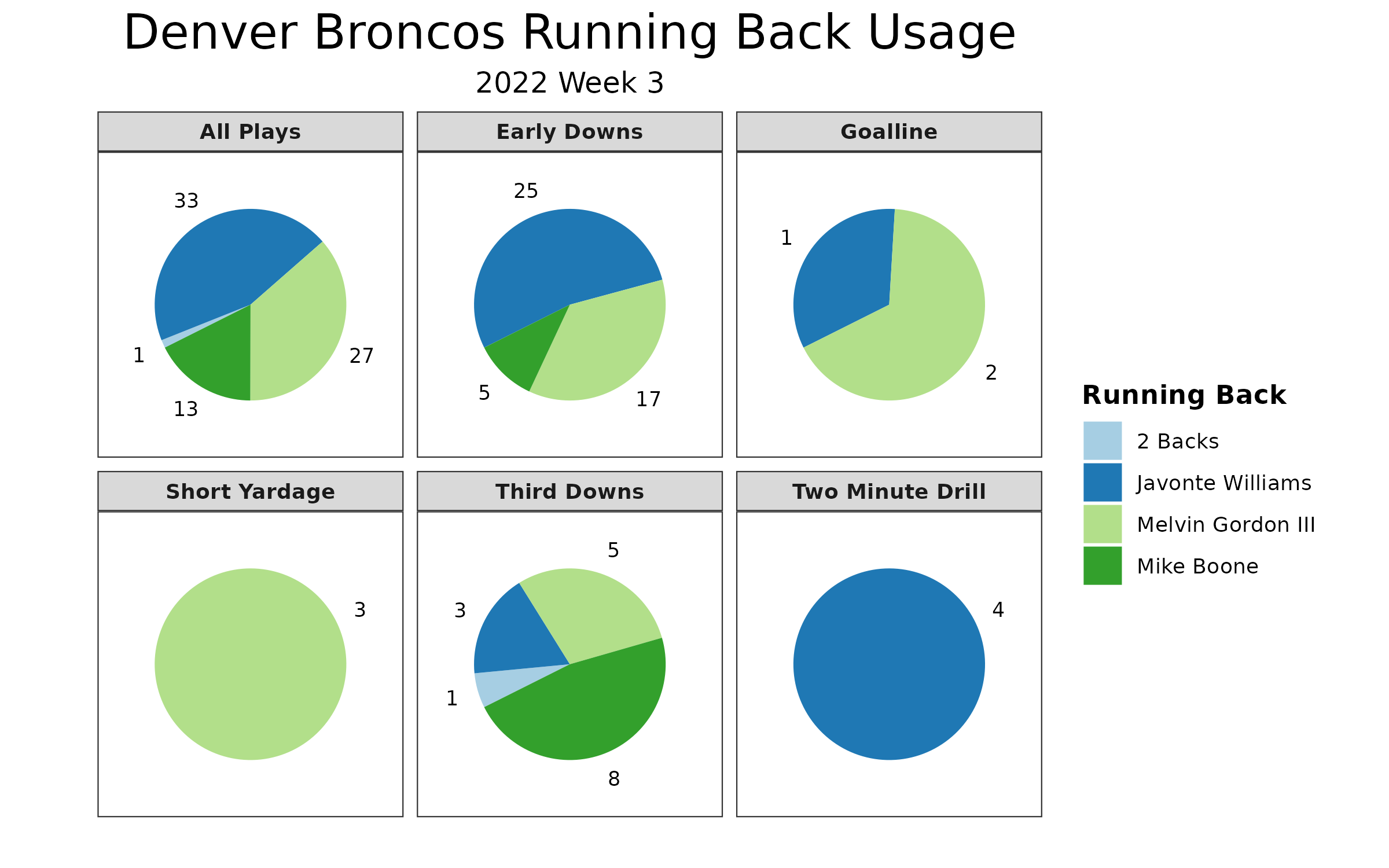 The return of Broncos receivers: Jerry Jeudy missed most of Week 2, and K.J. Hamler missed all of it, but both receivers were back in the Broncos' lineup for Sunday Night Football.
Jeudy played roughly the same number of snaps we would expect if he was 100%. This included mostly playing in the slot in three-receiver sets.

Hamler was eased into action, with

Kendall Hinton

being the third receiver for this game.

Hinton was the Broncos' primary slot receiver last week but moved back outside for this game.

Neither player made much of an impact, with Jeudy gaining 17 yards on two catches and Hamler not seeing a target.
George Kittle's return: Kittle made his season debut for San Francisco after missing the first two weeks with a groin injury.
Kittle's playing time was slightly lower than expected when he was 100%, which is still better than plenty of other starting NFL tight ends.

He caught four of five targets for 28 yards.

The 49ers ran fewer plays than average, which included running a lot because of the close game. Kittle should see more targets going forward.

He can confidently be put back in fantasy starting lineups.
Start Jeff Wilson Jr.: Wilson continued to dominate the 49ers' backfield in how he was used, which should be good enough for fantasy starting lineups.
He ran 12 times for 75 yards and caught three passes for 32 yards.

Wilson took the vast majority of early-down snaps, as well as all short-yardage and two-minute drill snaps.

He was typically off the field for third downs in favor of

Kyle Juszczyk

.

Rookie

Jordan Mason

was the backup running back, but he ran the ball only once for seven yards.

Marlon Mack

was active but didn't play on offense.

Wilson was in only 33.1% of starting lineups on ESPN.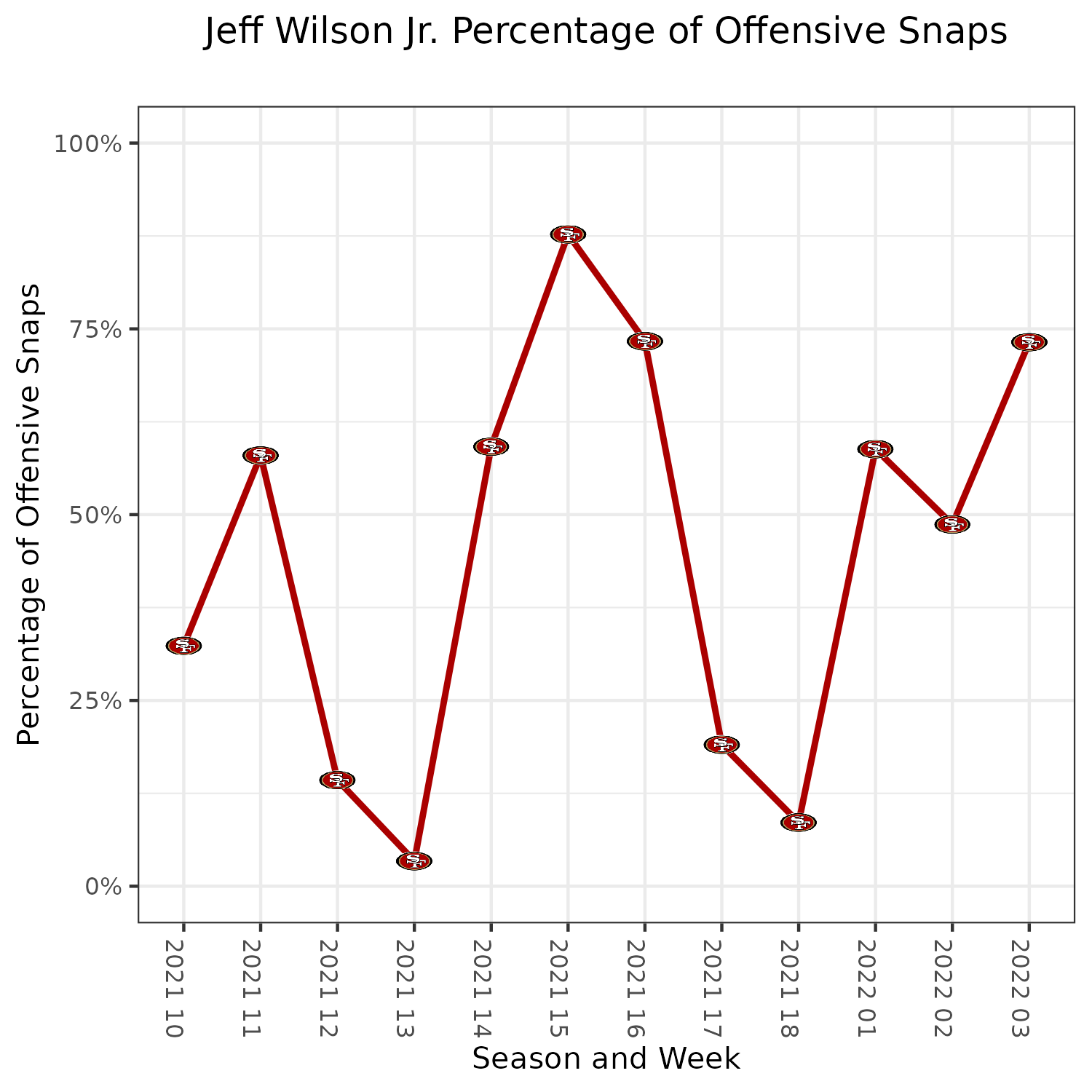 ---
Table Notes
Snaps include plays called back due to penalties, including offensive holding or defensive pass interference. The other three stats have these plays removed.

Targets may differ from official NFL sources. The most likely discrepancy would be from a clear thrown-away pass, where the NFL may give the target to the nearest receiver, while this data will not.

Carries are only on designed plays. Quarterback scrambles won't count for the total number of carries in the game.
---