The NFL Draft is less than a month away, but it's not too early to prepare for dynasty leagues. There was a window to make trades before free agency during which players like Chase Edmonds and Anthony Firkser were a value. Those who realized they are likely to have larger roles in 2021 had plenty of time to trade for them. 
Similarly, there's a window right now to make trades before the draft. The following top 200 dynasty rankings include more than 40 rookies. The rookie rankings will change a lot depending on where they land and how early they're drafted. But this top 200 should offer a good sense of where current NFL players can be valued against each other and against the newcomers in a neutral setting.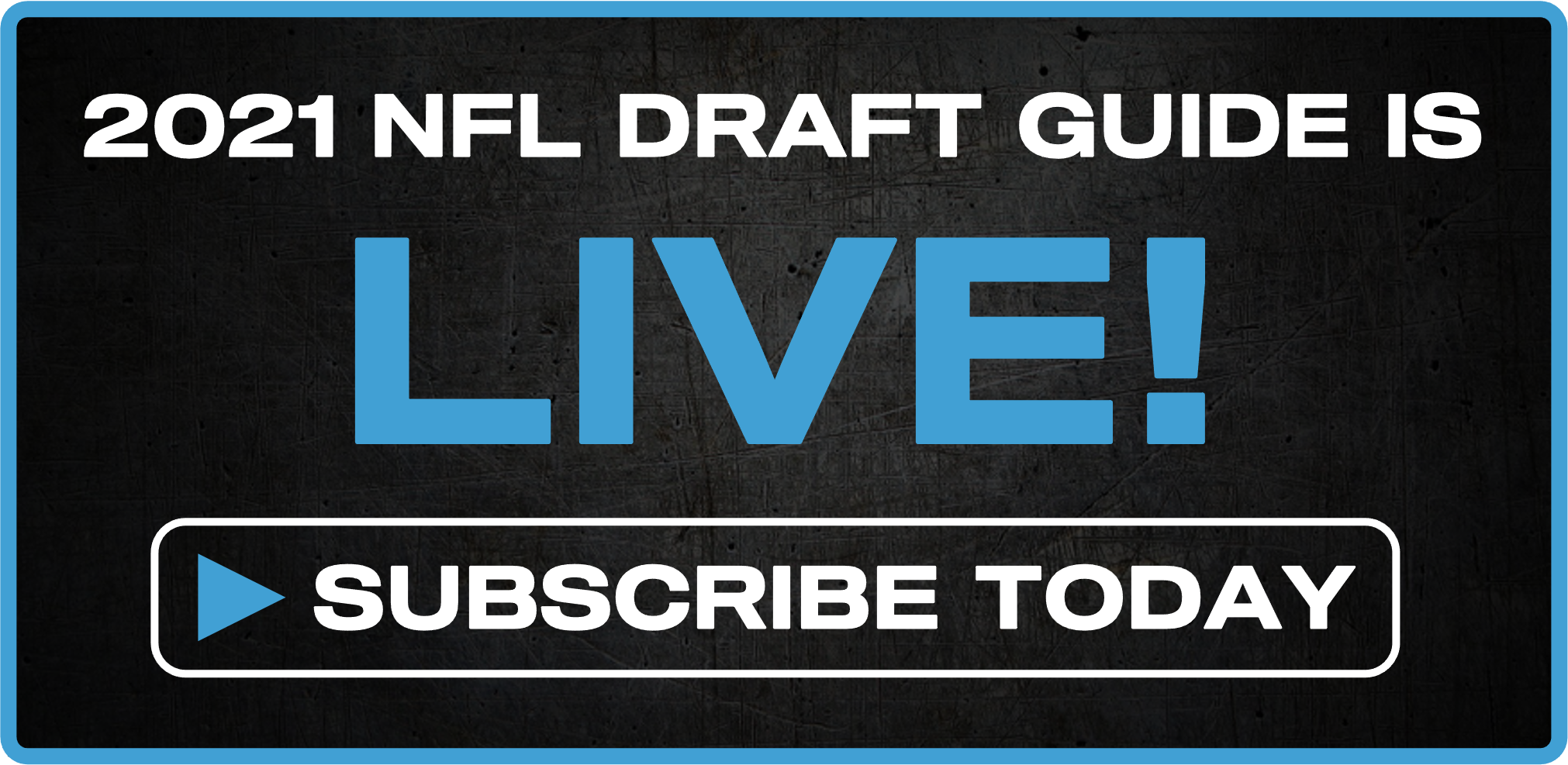 As always, you can find these and other rankings at PFF's main rankings page, including positional rankings sortable by league format and fantasy analyst. I'll provide commentary on the first 120 players here. 
The top of my dynasty rankings look very similar to the re-draft rankings. That's because these players are still at the peak of their careers with plenty of years ahead of them.
At running back, four reliable backs are holding off the 2020 rookie class at the top of the list. They're also four of the top 10 backs by PFF grade over the last three seasons. The top of this list includes two of the top three leaders in carries over that time, while the other two are in the top three in targets. 
Two second-year backs found their way into the top 12. Jonathan Taylor led his class in overall PFF grade, rushing attempts, yards and touchdowns. Marlon Mack's return might hurt Taylor's production a little in the short term, but his long-term outlook is the brightest. Cam Akers moved to second in his class due to his potential for opportunities and for being a full year younger than a few of the other backs in his class.
At wide receiver, there is plenty of excellent talent, but Davante Adams and Tyreek Hill benefit from playing with MVP quarterbacks who still operate at an elite level. This keeps the two wide receivers ahead of the pack despite being a few years older.
They are followed closely by the three best young wide receivers, whose rankings are based in their current situations. D.K. Metcalf has the best quarterback situation of the three in the most pass-happy offense. Both Jefferson and Brown might be more talented, but Metcalf should see the most targets in the near-term.
This group of players is highlighted by three running backs entering their second seasons as well as the top two tight ends.
The 2020 running back draft class is taking over the position, with 14 backs from the class sitting in one of the top two spots on their team's depth chart. Most of the running backs ranked 11-20 in re-draft are from this class. They will be ranked higher in dynasty leagues — a total of five of the top 21 players are second-year backs.
Antonio Gibson had the best PFF rushing grade of the class, while James Robinson and D'Andre Swift are expected to be bigger parts of the offense compared to the second-year backs they rank ahead of.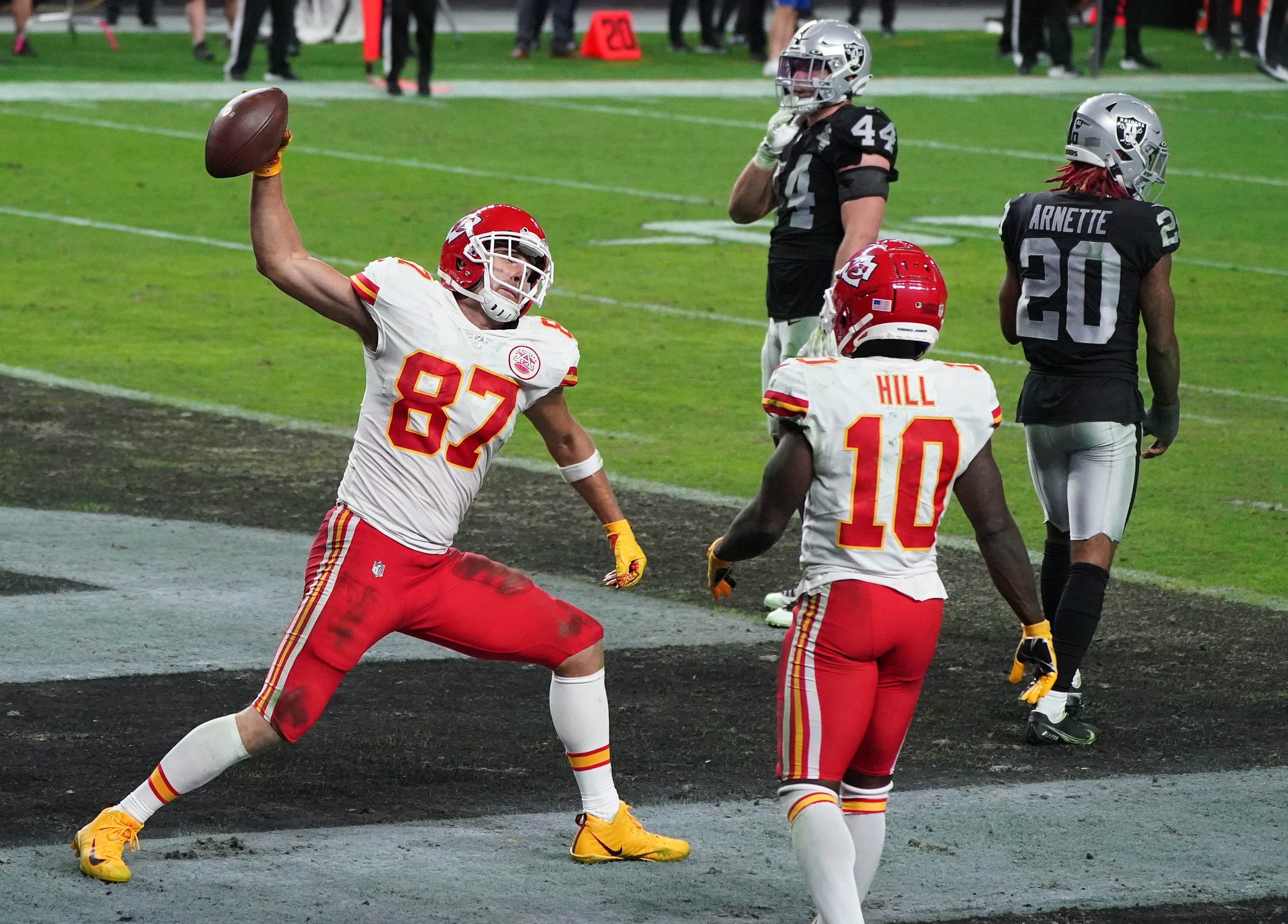 Travis Kelce remains at the top of the tight end group despite his age. He should be a first-round pick in re-drafts but falls a bit in this format. Kelce is 31 years old, but he's coming off the best season of his career. His closest competition is only a few years younger, but Kelce has a far superior quarterback situation. The gap between him and the other tight ends is large enough that a few more years of this play is just too valuable compared to other tight ends. 
Tier 3 is home of the second-year wide receiver, with Lamb, Aiyuk, Higgins and Claypool. The four receivers ranked second to fifth in PFF receiving grade among the draft class last season behind Justin Jefferson. They were also four of the top six in terms of targets. The combination of age, opportunity and skill makes it hard to pass them up.
This group also includes the first rookie in Ja'Marr Chase. It might be surprising to see so many other wide receivers before Chase in dynasty, but it's important to remember that not all rookies work out. Three of the first four wide receivers picked in 2020 are ranked much lower than this, while few people expected Jefferson to look the best of the group after one season. The uncertainty pushes him and the rest of the rookie class down.
This tier also includes Patrick Mahomes, who should be the first quarterback off the board in any format.
This next group is highlighted by a trio of rookie running backs. There is plenty of debate over which back should be selected first in fantasy drafts. Where the backs land will greatly influence their rankings. Few teams have a clear need at running back, so some of these RBs could become the second part of a one-two punch. Some could end up on a team where they could get the majority of snaps right away.
A number of talented wide receivers also fill this group, though each player has a question mark around their age, quarterback or their target share. They are all clear starters who will probably be drafted higher in redraft leagues, but the overall number of talented young wide receivers pushes them down the rankings in dynasty formats.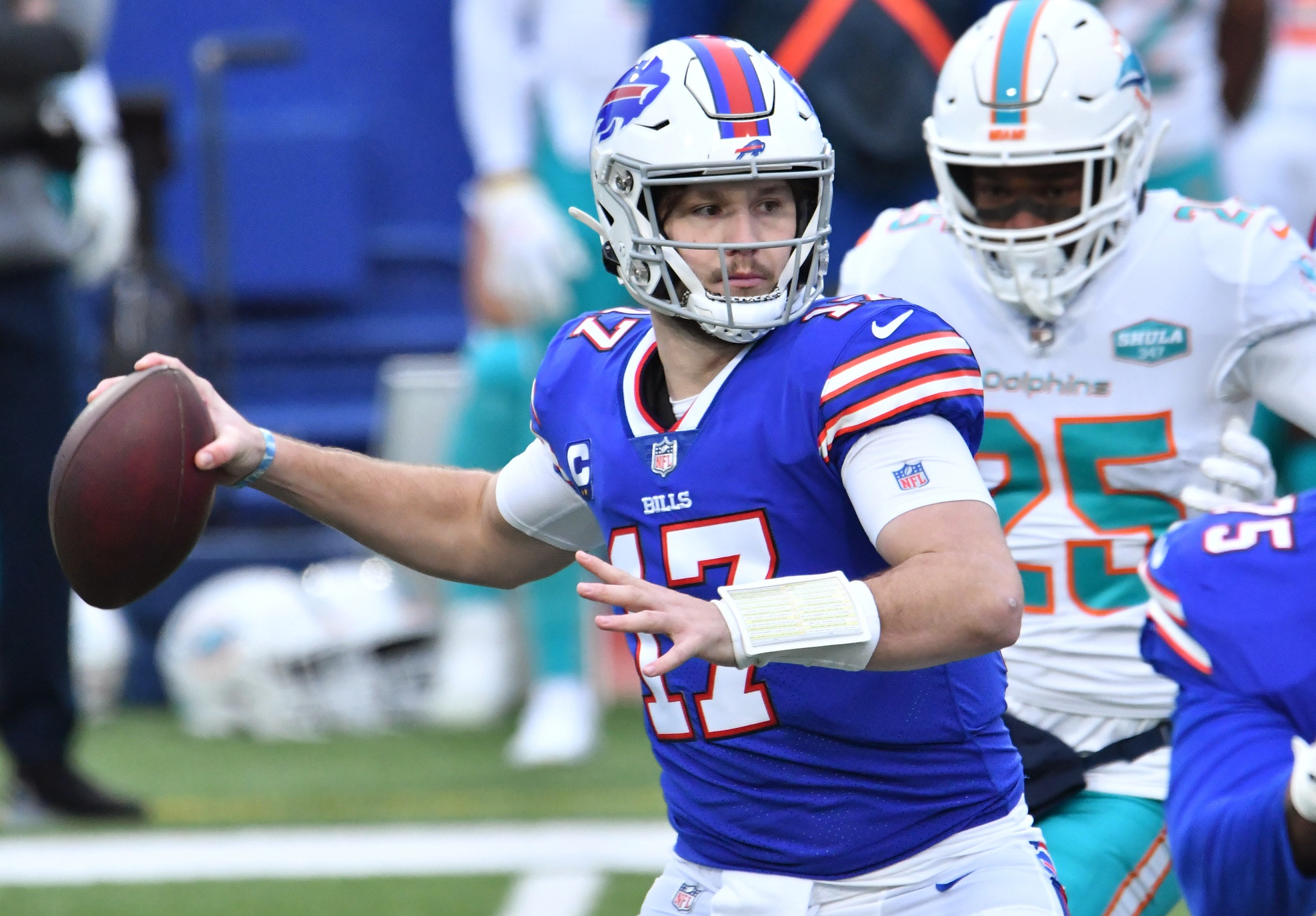 Josh Allen and Kyler Murray also find their way into the top 50. They scored the first- and second-most fantasy points at the position last year. Six of the top 12 QBs in fantasy points are 32 years old or older. This makes the young quarterbacks who are proven QB1s all the more valuable.
This interesting bunch of players is mostly younger running backs or wide receivers with more red flags than the previously listed players, along with veterans in newer situations.
Kenny Golladay is the highest-ranked player that has found a new home this offseason, leaving him with a wide range of possibilities for his production. Both Rams wide receivers have a new quarterback and as always will be competing with each other for targets.
Miles Sanders is one of the biggest gambles outside of rookies in dynasty leagues. He's about to turn 24, so he may not have hit his peak yet. His PFF grade of 62.8 is second-lowest among those with at least 1,000 snaps in the last two seasons, only ahead of Todd Gurley. Philadelphia has 11 draft picks, so competition could be coming sooner rather than later.
This tier also includes Diontae Johnson and Jerry Jeudy. Both are very promising young wide receivers, but each will have plenty of competition for targets for the foreseeable future.
Quarterbacks highlight this area of the rankings, showing some of the depth at the position. Jalen Hurts appears to be a polarizing player within the Eagles organization as well as in dynasty drafts. Hurts finished as QB3 from Weeks 14-16, and he should have more talent around him. The return of Brandon Brooks and Lane Johnson will significantly upgrade the offensive line, while the draft should bring in some skill players to help Hurts as well. The second-year QB has the upside to be the top quarterback in fantasy football with his rushing ability, but he could also be backup by 2022.
Dak Prescott is lower on the list then some might expect. He's the oldest quarterback in the rankings so far and is coming back from injury.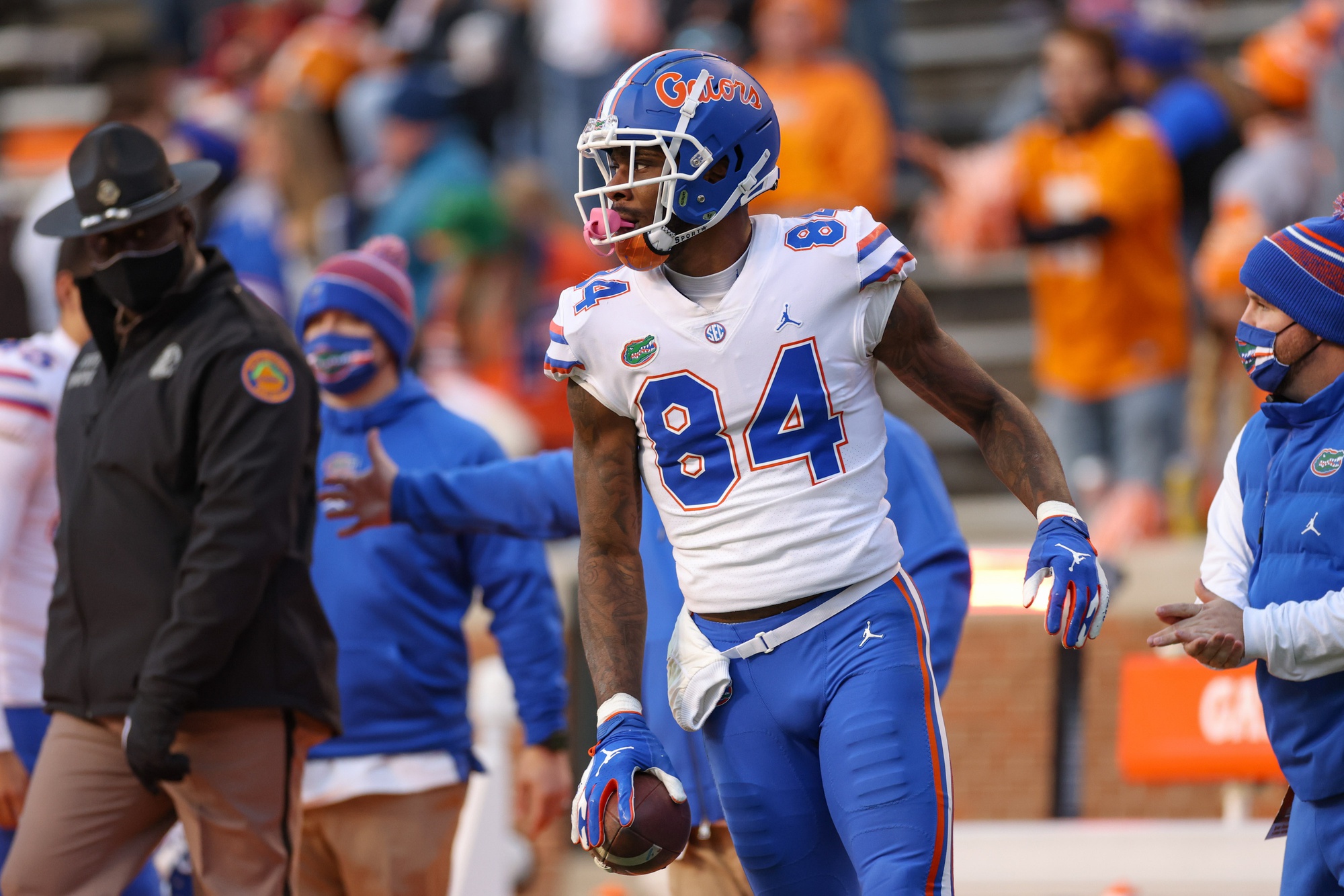 Four rookies can be found from ranks 60-70, each of whom is expected to be called on the first day of the draft. Most notable is Kyle Pitts. Scarcity at tight end keeps pushing Travis Kelce and George Kittle up draft boards. If anyone can join that tier in the next few years, it is Pitts.
Two Jaguars receivers can also be found here. Both are expected to see a spike in fantasy production with Trevor Lawrence presumably throwing them passes in 2021.
A Trevor Lawrence receiver is ranked 72, with Lawrence right behind at 73. The 70s and early 80s are full of players likely to go in the late first round of rookie drafts. After this point, rookies will be sprinkled in throughout the rankings.
The non-rookies are mostly players recovering from injury or in a new situation. Josh Jacobs and Gabriel Davis are exciting young players, but their teams added competition in free agency. Dallas Goedert has been moving up the rankings with the presumptive release of Zach Ertz, but as of now, Ertz is still on the roster.
Running backs in this group have question marks when it comes to playing time, while wide receivers in the group are fighting for targets.
Both Zack Moss and Ronald Jones have found themselves in three-back committees after the Bills added Matt Breida and the Buccaneers brought back Leonard Fournette. Having three backs might not stop their teams from drafting another running back. Chase Edmonds and Melvin Gordon III are currently in great positions now, but that could change with a draft pick.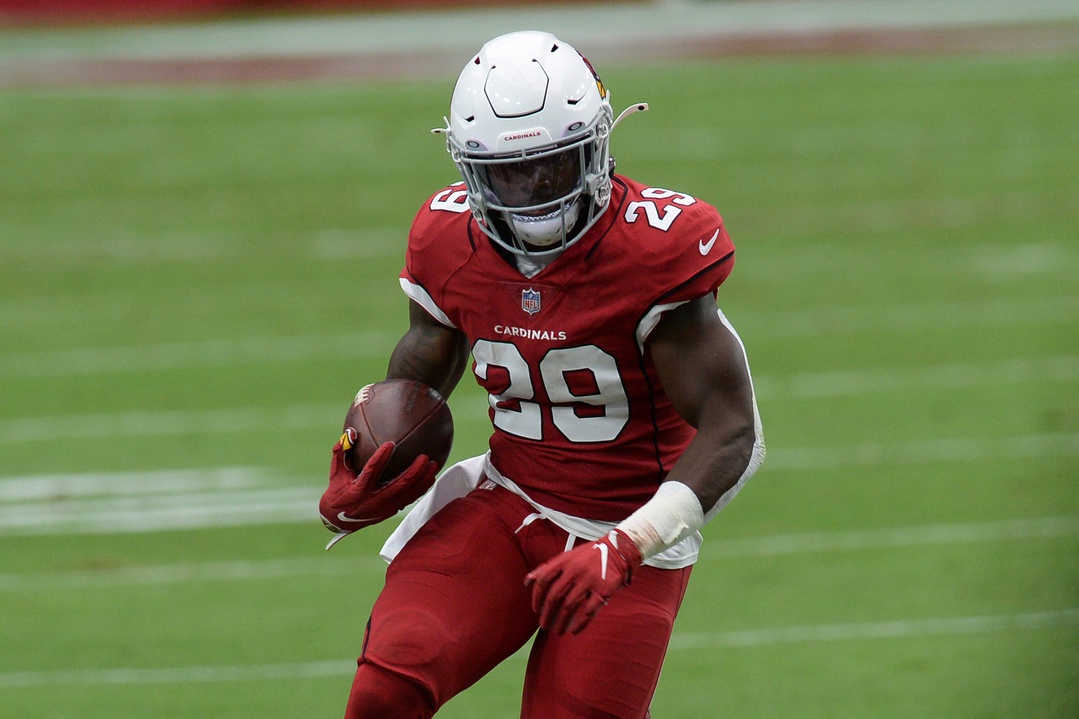 All of the wide receivers on this list are both relatively young and talented, but each is expected to finish second on his team in targets at best. They could fill fantasy starting lineups for a number of years but might never reach the top tiers.
At tight end, the top five in dynasty and re-draft are the same and won't have much dispute. Kyle Pitts is the wildcard, and then tight end becomes more of a gamble. Tonyan tied for the league lead in touchdowns among tight ends but is coming off of 11-straight games with five or fewer targets. Gesicki finished fourth in receiving yards and is only 25, but Will Fuller will cut into his target share. Despite the concerns, both remain clear top-10 tight ends.
Most running backs with a starting job in the NFL have been drafted at this point. The Dolphins backfield is an exception because of a few question marks. Both Myles Gaskin and Salvon Ahmed graded out well in their first meaningful snaps. The Dolphins added Malcolm Brown, who can be a mentor to these young backs and ideally not take many snaps. One of the two could be a steal at this point, although it's not out of the question for Miami to draft a back.
The 2020 season gave us a lot of exciting rookie wide receivers, and this is the point where we see the WRs we thought could produce as rookies but didn't. Jalen Reagor, Michael Pittman Jr. and Henry Ruggs III each finished with overall PFF grades of 64.0 or lower. Plenty of wide receivers have had slow rookie seasons and turned their careers around, but there are also several highly drafted receivers who never did. Their low ranks compared to this time last year corresponds to their risk.
Tyler Higbee and Irv Smith Jr. highlight the tight ends coming into 2021 with more upside compared to recent years. They are no longer competing with Gerald Everett and Kyle Rudolph for snaps, which means they should see all of the receiving targets at tight end. The Rams' upgrade at quarterback offers Higbee even more upside. Minnesota's offense looks nearly identical compared to last season, and that consistency mixed with a better defense should help Smith score touchdowns.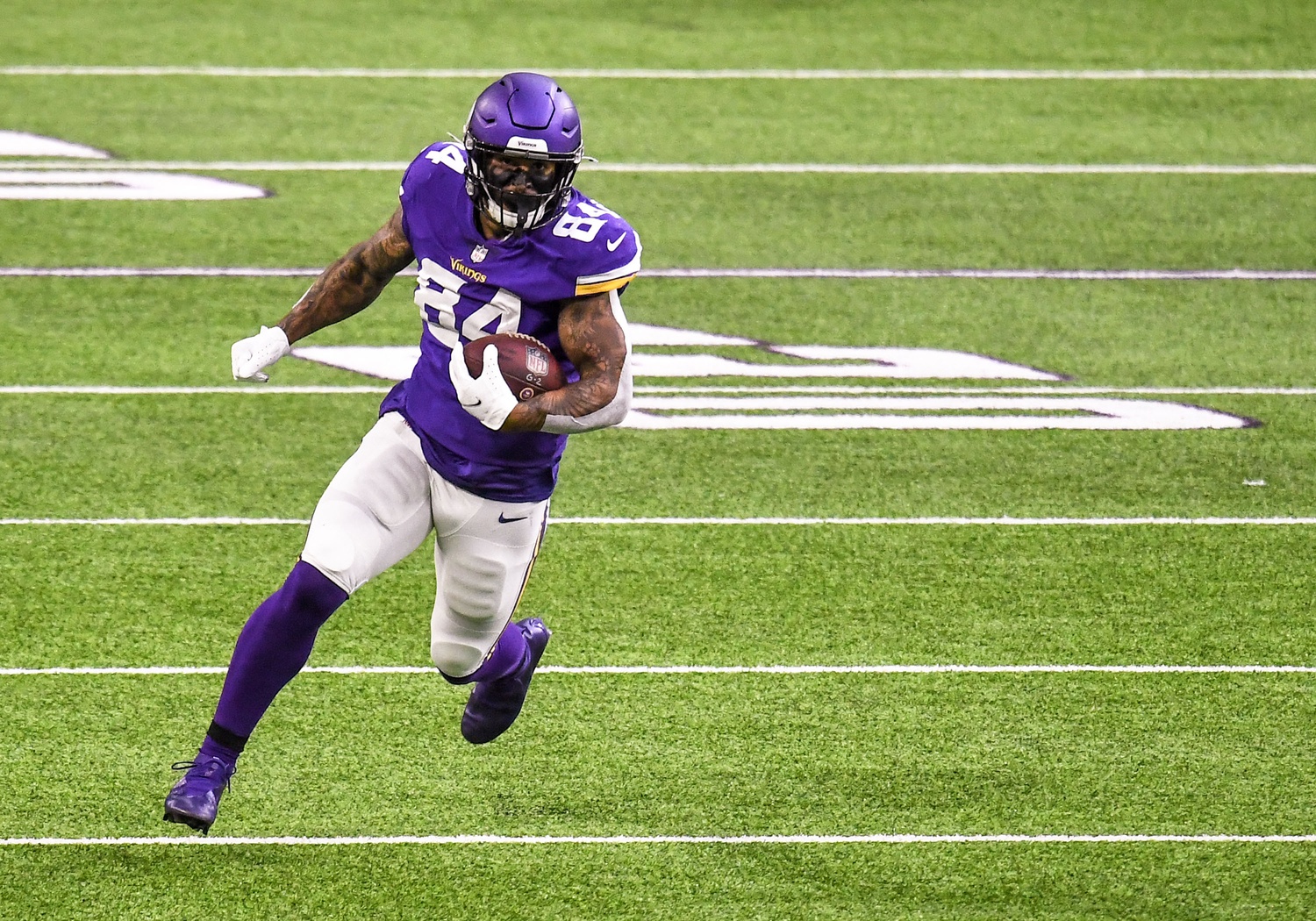 The Jets offense is also highlighted here, as the team is expected to draft Zach Wilson or another quarterback to lead the team. Perine has the most upside among the running backs currently on the Jets roster, while Davis and Mims should be Wilson's outside wide receivers for the next few seasons at least.