Fantasy football rankings are cool, but sometimes they aren't necessarily the most helpful tool for doing a little something the cool kids like to call winning. Median projections become the main tool for lining up each individual player, which can lead to -EV scenarios where those not willing to stray from their faithful ranks fail to capitalize on a better choice available because of how their specific draft played out.
Subscribe to
Additionally, it's simply wishful thinking to expect to rank hundreds of footballers with pinpoint accuracy: Coaches will hold back promising rookies, injuries will take away some of our favorite talents and even people paid to write about the game like myself will inevitably miss on more than a few players ahead of any season.
It's with this in mind that I present to you my 2021 fantasy football tiers based on redraft leagues. The general scoring I had in mind was half-point PPR in typical one-QB, non-TE premium formats. Players in the tiers are listed in order of who I would prefer first; just realize their standing in the same group reflects the reality that I'm not overly confident in picking one over the other. (Also check out my 2021 fantasy football quarterback tiers, running back tiers and wide receiver tiers.
Tier 1: The reigning, defending, undisputed fantasy football TE champion of the world (1)
The PPR TE1 has been Kelce for not one, not two, not three, not four, but five consecutive seasons. Some people seem to get off on attempting to criticize Kelce by calling him a wide receiver; all you're saying is that the man is relatively underpaid. Whatever you want to call Patrick Mahomes' BFF: Kelce is just about impossible for any mere mortal to deal with.
The fact Travis Kelce can make true No. 1 corners look this silly is absolute madnesspic.twitter.com/q3qlvxih5M

— Ian Hartitz (@Ihartitz) January 29, 2021
One of the best to play the position, Kelce didn't look any worse off in 2020 in terms of athleticism or yards after the catch ability. Even once he does, it's easy to imagine the 31-year-old veteran aging just about as gracefully as possible with Mahomes under center. Continue to fire up Kelce as fantasy's clear-cut TE1; he's a dark horse to lead the entire NFL in receiving yards on an annual basis.
Tier 2: Absolute ballers that work as their offense's No. 1 pass-game option (2)
The only human being that averaged more yards per route run than Kittle (2.84) last season was Davante Adams (2.96). The 2021 TE3 in PPR points per game, Kittle would probably have my vote ahead of Kelce as the league's best overall player at the position if we could convince god to turn off injuries. Alas, the real world isn't so fine, and we also have to deal with Kittle continuing to 1) operate in a run-first offense, and 2) lose target share to Deebo Samuel and Brandon Aiyuk. If there's a TE that is capable of making the most out of somewhat reduced targets, it's Kittle; unfortunately this volume concern is the only thing holding him back from leaping into the upper tier.
Waller has posted 90-1145-3 and 107-1196-9 receiving lines over the past two seasons; he's once again locked in as the Raiders' undisputed No. 1 pass-catcher. We saw the true potential of his powers from Week 13-on last season, when he posted 13-200-3, 7-75-0, 9-150-1, 5-112-0 and 9-117-1 receiving lines. Like Kelce and Kittle: Waller is a No. 1 pass-game option that we happen to call a tight end. The only reason he's not a tier above is due to my concern that the Raiders' revamped offensive line takes a step back, leading to regression from Derek Carr following last year's career-best campaign (seriously).
Tier 3: The ceiling is the roof (4)
Hockenson finished 2020 as the overall PPR TE5; he missed a TE3 finish by a whopping 1.4 points. He might very well experience some regression in the efficiency department, but there's potential for well over triple-digit targets in an offense that is replacing the most total pass-game volume in the league. Look no further than Tyler Higbee's overall TE1 fantasy finish during the final five weeks of 2019 to catch a glimpse of what Hockenson's upside could be as this passing game's No. 1 option. Hockenson isn't in a higher tier because it's not a given he'll see a major boom in targets inside of this brand new offense; that doesn't mean that scenario doesn't remain the most likely outcome.
Pitts is a unicorn, and we like unicorns in fantasy land. PFF has never given a college pass-catcher a higher single-season grade than 2020 Pitts (96.2). Pitts is closer to a modern-day receiver than yesterday's tight end. Today's brand of football has embraced the passing game and hybrid players more than ever before; any coach that doesn't think they can find a way to get high-end production out of Pitts because he doesn't fit into their "system" should be publicly chastised to no end. Don't be surprised if his rookie year numbers more closely resemble the sort of receivers he's being drafted next to as opposed to past first-year tight ends. The Falcons might boast a crowded offense with Julio Jones and Calvin Ridley likely leading the way in targets, but this is hardly Matt Ryan's first rodeo when it comes to enabling multiple fantasy-relevant receivers alongside a baller tight end.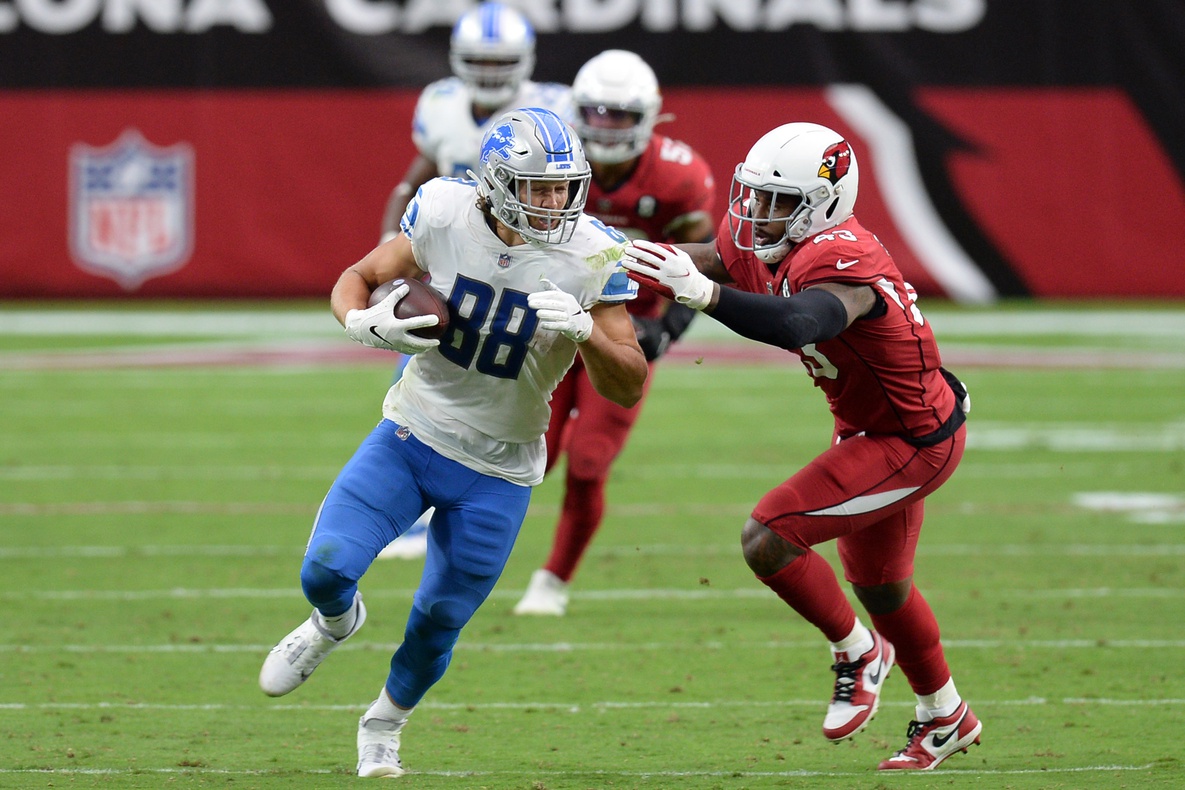 Lost in the frustration regarding Lamar Jackson's 2020 regression as a passer was the reality that Andrews didn't exactly offer his usual goodness either. Career-low marks in yards per reception (12.1) and yards per target (8) could be pinned on Jackson, although his putrid 3.2 yards after the catch per reception pales in comparison to both 2019 (4.5) and 2018 (5.8) despite boasting a negligible difference in average target depth. Credit to Andrews for pulling in 17 scores over the past two seasons, but the Ravens' general reluctance with playing him for even 60% of the offense's snaps is concerning when expecting him to continue to overcome this run-first offense that has now added several new pass-catchers at WR. I've typically been attempting to come away with one of the class' top five TEs and am otherwise happy to not reach on anyone that doesn't really have triple-digit targets in their potential range of outcomes.
I will happily boost Goedert ahead of Andrews if/when Zach Ertz is no longer employed by the Eagles. Somehow the rising fourth-year TE posted career-best marks in yards per reception (11.4), yards per target (8.1) and yards per game (47.6) alike in 2020 despite dealing with the train wreck that was Carson Wentz.
Tier 4: You could imagine how a TE1 finish comes to fruition (7)
Fant was playing at less than 100% seemingly every week of 2020 and had to deal with plenty of inconsistency under center. That didn't stop him from putting up a rather stellar 62-673-3 receiving line, good for an overall PPR TE8 finish. Fant is tied with George Kittle for the most yards after the catch per reception over the past two seasons among 46 tight ends with at least 50 targets over the past two seasons; the 23-year-old talent has largely made the most out of his opportunities. There isn't a guarantee that the Broncos' underwhelming, yet crowded, passing game feeds Fant enough targets to improve upon last season's top-eight finish; just realize he's the sort of rising stud worth betting on entering year three.
Tonyan is the only player with more TDs than incompletions on a 50-plus target workload since the metric began being tracked in 1992. And he was +6 in this TDs vs. incompletions metric. Madness. Obviously we're not dealing with a prodigy here in terms of contested-catch or YAC ability, but Tonyan's already established high-end rapport with Aaron Rodgers makes up for any sort of negatives Tonyan offers as an athlete. It's incredibly likely Tonyan regresses next season because who the hell could be this efficient again; the more important matter is that he remains locked in as Rodgers' No. 1 TE for however long the reigning MVP continues to call Green Bay home. That's enough for me to crown the reigning PPR TE3 as top-10 talent worth pursuing in 2021.
Thomas finished 2020 with exactly as many fantasy points as Tonyan. It seems rather unlikely the (have you heard?) former QB sees 110 targets again in 2021, but the potential for his efficiency to skyrocket with Ryan Fitzpatrick under center can't be overlooked. Terry McLaurin and Curtis Samuel should be projected to see more total pass-game opportunities than Thomas, although it would hardly be surprising if he manages to lead the offense in receiving scores. I understand selling high on Thomas in dynasty land (he turns 30 in July), but at least for 2021: Don't expect his standing as a fantasy TE1 to go anywhere.
We saw what Higbee is capable of achieving as the offense's featured No. 1 TE back during the final five weeks of 2019 when he ripped off 7-107-1, 7-116-0, 12-111-0, 9-104-0 and 8-84-1 receiving lines to close the season. This coincided with Gerald Everett (now a member of the Seahawks) being sidelined. The general rule of thumb is that players earn targets, but at a minimum we should give Higbee some slack considering he had at least eight targets in his aforementioned five-game stretch compared to *one* contest with that many pass-game opportunities in his other 79 career games. Obviously this passing game will flow through Robert Woods and Cooper Kupp more than Higbee, but don't let last season's disappointing fantasy campaign distract from the fact that Matthew Stafford's undisputed TE1 is set up better than ever to rack up scores and targets alike in 2021.
Smith stands 6-foot-2, weighs 242-pounds and ran the 40-yard dash in 4.63 seconds. Credit to him for boasting the blocking ability to function as a true inline TE, but we're truly looking at a talented receiver regardless of what his positional designation says. By the way: Smith is somehow still only 22 years of age. Last season Smith posted 4-63-1, 3-37-0, 6-53-2 and 2-30-0 receiving lines in four games with Kyle Rudolph sidelined. Note Smith was returning from injury himself but was handed 82%, 88% and 79% snap rates in his final three games. Similar to Higbee: We shouldn't expect Irv to rise to the top of his passing game's pecking order, but his proven high-end ability, combined with a more than solid QB, should produce anyone's idea of a fantasy TE1 now that the starting job is his and his alone.
The Titans declined to add any sort of real competition to replace Jonnu Smith, meaning Firkser is locked in as Ryan Tannehill's No. 1 TE. The 26-year-old has posted 8-113-1, 5-51-0 and 3-19-0 receiving lines in his only three career games with more than five targets and finds himself in an offense completely devoid of target competition outside of A.J. Brown. The risk with Firkser is that he might not be a complete enough TE to stay on the field all the time; he's only played more than 50% of the offense's snaps in two of 47 career games. Still, the opportunity available from the loss of the Titans' No. 2, No. 3 and No. 5 target getters from a season ago is too much to pass up in fantasy land, particularly with Firkser having already demonstrated some solid chemistry with the artist known as Ryan TanneThrill.
Trautman started to already take over from Jared Cook toward the end of 2020, flashing some borderline erotic route-running ability along the way.
Okay Adam Trautman okaypic.twitter.com/TclMWcM27k

— Ian Hartitz (@Ihartitz) May 12, 2021
The Saints' 2020 third-round pick only posted a season-long 15-171-1 line, but it's impressive that this total came on just 16 targets. PFF's single-highest-graded run-blocking TE from a season ago, Trautman has a chance to rarely leave the field in an offense that has plenty of available targets even after Michael Thomas and Alvin Kamara get their hefty doses. I understand we're taking a bit of a leap of faith with Firkser and Trautman by placing them in this tier; I'm higher on them than most and want to prioritize them as my top late-round options at the position at their still depressed average draft positions.
Tier 5: Expect success, but not consistently (9)
The talent part of the equation isn't an issue with Gesicki; the question is whether or not he'll still be afforded the 1) big slot role now that Jaylen Waddle, Will Fuller and DeVante Parker seem cemented in three-WR sets, and 2) sort of contested catch opportunities that he regularly made a living on with Ryan Fitzpatrick under center.
The only pairs of teammates at TE that have both finished as top-12 PPR options in the same season since 2010 are Rob Gronkowski and Aaron Hernandez in 2011 as well as Zach Ertz and Dallas Goedert in 2019. Both Henry and Jonnu are objectively great players, and maybe the Patriots' passing game takes a big step forward with either 1) an improvement from Cam Newton, or 2) Mac Jones; I'm just not willing to take the leap of faith with either player as long as they're being priced so closer to their ceiling.
Just about nothing went right for Engram last season, and now there's more competition for targets than ever with Kenny Golladay and Kadarius Toney in town. You'd like to think the 2021 version of Engram could potentially more closely resemble his 2017-2019 self as opposed to what we saw in 2020, but it's a leap of faith in an offense with an unproven QB and proven-meh play-caller.
Give Russell Wilson a single featured TE over the course of a season and I'd be confident in projecting that player for double-digit scores; we just don't know if this opportunity will be afforded to Everett. He's certainly my pick for the most receiving-friendly TE on the Seahawks' roster, but the likes of Will Dissly and Colby Parkinson could make this an annoying three-player committee. Historically we're better off fading free agency signings at the TE position in fantasy land; just realize Everett has flashed the sort of high-upside ability to warrant some exposure in case a high-volume role comes to fruition.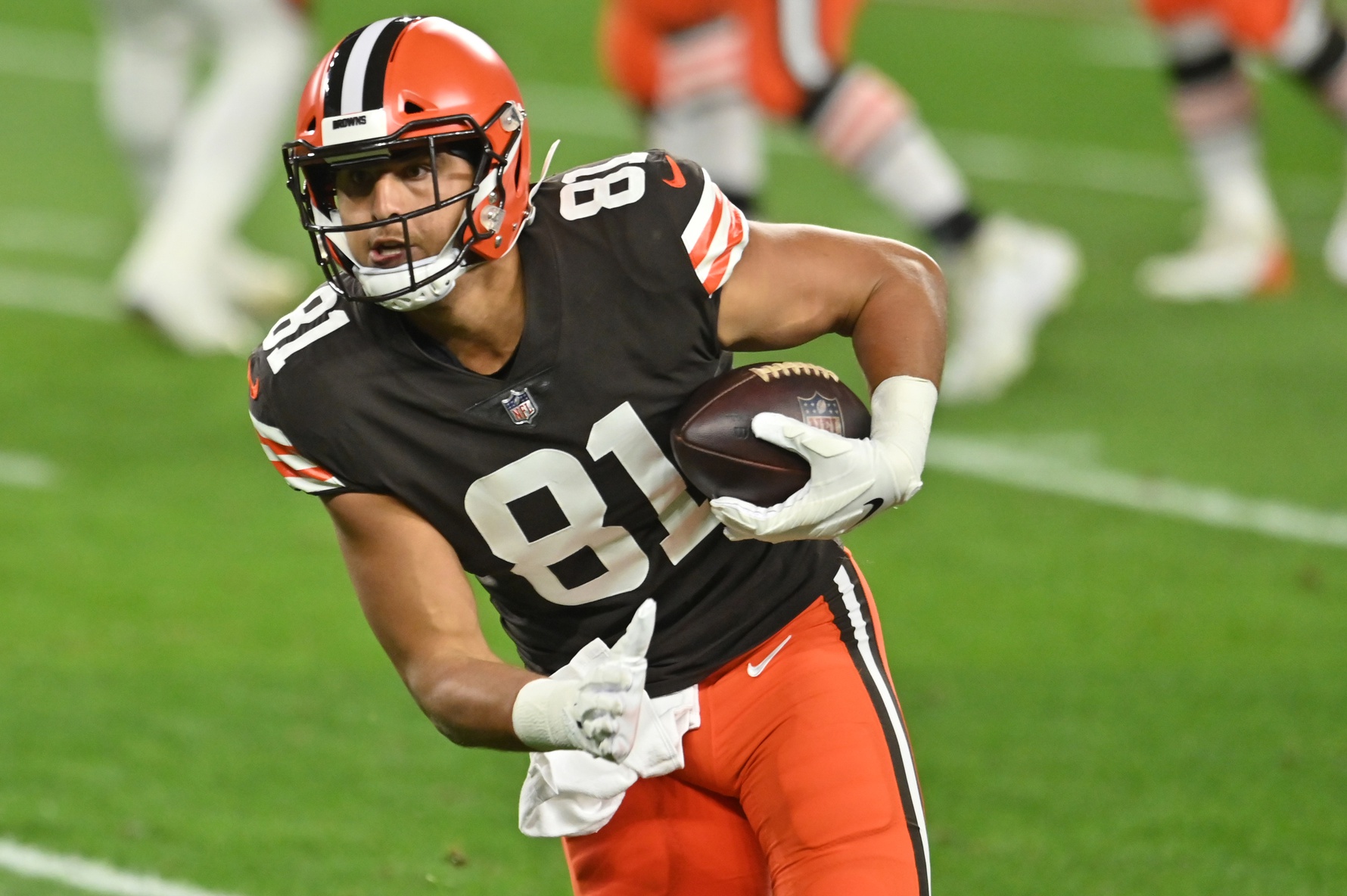 Hooper has proven capable of making the most out of his targets over the years; the problem is that the Browns regularly split up his snaps between Harrison Bryant and David Njoku. Last season's 16-game pace of 86 targets isn't too far removed from what Hooper finished with in 2019 (97) during his breakout fantasy campaign, and it'd make sense if he experiences some positive TD regression if the good version of Baker Mayfield is alive and well in 2021. Ultimately, I'd rather not go out of my way to target the likely No. 3 or No. 4 pass-game option in a run-first offense.
Friendly reminder the Bears gave Jimmy Graham a no-trade clause. They can save $7 million against the cap if they release Graham at some point, although this isn't a situation where we should be waiting until June 1; the Bears have simply decided against doing so thus far. Graham wasn't totally washed in 2020; he's still capable of making a circus catch or two in the red zone and is big enough to post up pretty much any defender. His release would vault Kmet into the low-end of our previous tier alongside Firker and Trautman; until then, don't expect either TE to have enough targets to consistently ball out in 2021.
Credit to Rob Gronkowski on getting healthier enough down the stretch to ball out in the Super Bowl and post an overall PPR TE9 finish. Perhaps the Buccaneers are happy to keep him as their undisputed starter, but this wasn't the case to start last season. Howard played in four games last season before suffering a torn ACL. The Buccaneers utilized the following usage at tight end:
Howard: 18 targets, 11 receptions-146 yards-2 TD

Gronkowski: 14 targets, 9-88-0

Cameron Brate: 2 targets, 1-3-1
It's not like Gronk was eased back into action coming back from retirement; he played at least 69% of the offense's snaps in each of Weeks 1-4 and 92 snaps more than Howard. Still, it was clear Tom Brady enjoyed targeting his speedy big-bodied TE down the field. The 2017 first-round pick worked as the PPR TE17 during the first four games of last season and relegated Brate to a bench role for the first time in his career.
The most-likely answer to Gronk vs. Howard is probably, like in New England, no, but both are worthy of late-round darts due to their respective proven potential to ball the hell out with a featured role.
Tier 6: Have five drinks, give me a call, and have an open mind (1)
I'm one of the bigger Herndon apologists you'll find, so take this with a grain of salt. My reasoning for targeting the Jets TE in fantasy drafts of all shapes and sizes last year was as follows:
"Herndon joins Mark Andrews, Rob Gronkowski, Hunter Henry, Heath Miller, Aaron Hernandez, Noah Fant, Jordan Reed, Zach Ertz and George Kittle as the only rookie TEs to average at least 8.0 yards per target since 2000. Ryan Griffin was fine in relief of Herndon in 2019, but it's not like the Jets' talented third-year TE lost his job. Herndon was simply suspended and then injured before even having a chance to show what he could do. Last season's goose egg has left a sour taste in the mouths of Herndon's ex-fantasy investors, leading to his currently depressed ADP.
Drafting for value in the late rounds to beat an ADP by a round or two is pointless; take the guy with a real chance to post top-five production at the position if he's available. There's a low floor for Herndon in 2020 — and he's currently being priced at it. Don't be afraid to scoop up one of the game's talented young TEs who just so happens to be inside of one of the league's most-barren passing attacks."
All of that reasoning still applies in the year 2021, and now Herndon is even cheaper than before. The favorite to be the next great post-Gase breakout, Herndon remains undervalued in fantasy land thanks to his status as a starting TE that has demonstrated the ability to play a high level (even if it was back in 2018).
Honorable mention
Blake Jarwin and C.J. Uzomah started 2020 with fantasy-friendly roles as the Cowboys and Bengals starting TE; it just remains to be seen if they'll still maintain full-time workloads after Dalton Schultz and Drew Sample played fine enough in their absence. I'm expecting something more resembling a committee at TE in both offenses that figure to focus the heavy majority of their target share at WR anyway. … Zach Ertz is expected to get traded at some point. Even if he lands in a good situation, I have a hard time expecting much from the 30-year-old veteran after witnessing by far the worst season of his career in 2020. Here's to hoping Ertz at least winds up without an Eagle on his helmet so that Dallas Goedert TE1 szn can finally commence. … Dawson Knox has a great catch or block almost every game in between a drop or miscue. It'd make sense if his play evens out in his third year; just realize there are a lot of mouths to feed in this (incredibly productive) Bills passing game. … Jared Cook is the man with the Chargers, although Donald Parham will also seemingly be involved. Ultimately, Cook looked worse enough athletically in 2020 for me to fade him even at cost, while Parham likely won't see enough target share to really be a worthwhile fantasy investment. … Eric Ebron was a far more enticing late-round TE option before the Steelers drafted Pat Freiermuth. The general rule of thumb in fantasy is to fade two-TE systems. … Mo Alie-Cox is seemingly the Colts' No. 1 receiving TE after they chose to not bring back Trey Burton. We'll still see plenty of Jack Doyle, and fourth-round pick Kylen Granson is more of a receiver than tight end, but at the moment I'd project MAC to be Carson Wentz's most-targeted TE, which has historically been good for the fantasy business.