• Adam Thielen leads the Panthers offense: Bryce Young spread the ball around in the first two preseason games, but he honed in on Thielen tonight and even connected with him for a touchdown.
• Hayden Hurst wasn't targeted again: Hurst was rotated out more than in previous preseason games and didn't receive a target for the second straight game.
• Fantasy draft approaching? Use PFF's AI-powered Live Draft Assistant to win the draft and dominate your 2023 fantasy football league.
Estimated reading time: 4 minutes
---
Want to dominate your fantasy football league this year?
Check out PFF's fantasy tools below:
PFF's fantasy football recap focuses on player usage and stats, breaking down all the vital information you need to achieve fantasy success in 2023. You can find more information on why it's essential to pay attention to the preseason here.
Check out PFF's 2023 Fantasy Draft Kit for even more content to help you dominate your league.
Preseason Recaps: Thursday Week 3 | Week 2 | Week 1 | Hall of Fame Game
Player Profiles | Depth Charts | 10 tips to win | Undervalued | Overvalued
Rankings: PPR | Half-PPR | Standard | Superflex | Best Ball
Dynasty Rankings: PPR | Rookie | Superflex | Superflex Rookie
Position Rankings: QB | RB | WR | TE
Sleepers: Top-10 | QB | RB | WR | TE
League Winners: Top-5 | QB | RB | WR | TE
Breakouts: QB | RB | WR | TE
Position Draft Strategy: QB | RB | WR | TE
 16-Team Draft Strategy: Overall strategy
 14-Team Draft Strategy: Overall strategy
12-Team Draft Strategy: Overall strategy | Picks 1-3 | Picks 4-6 | Picks 7-9 | Picks 10-12
10-Team Draft Strategy: Overall strategy | Picks 1-3 | Picks 4-7 | Picks 8-10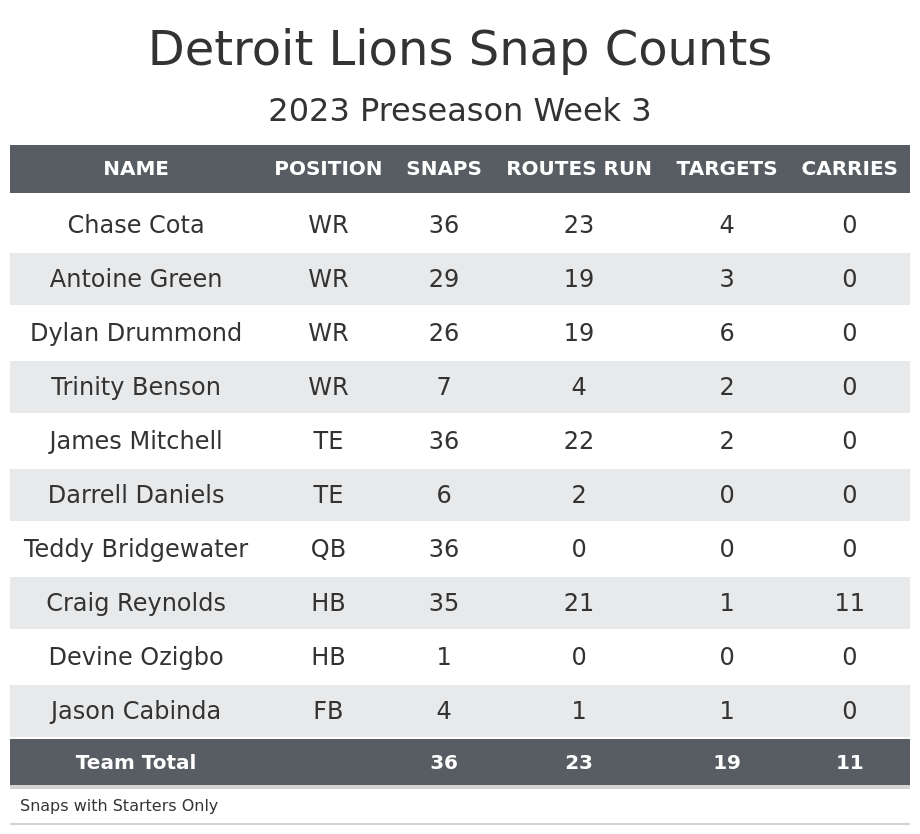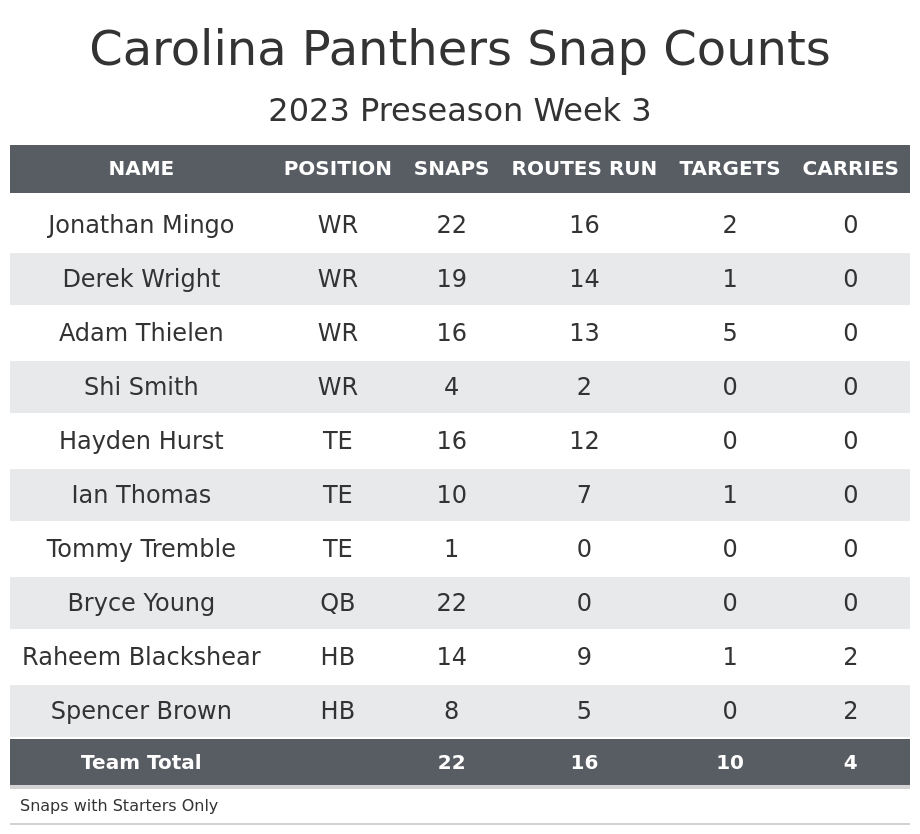 Adam Thielen and Jonathan Mingo lead the Panthers: Adam Thielen caught four passes for 48 yards and a touchdown over the Panthers' first two drives.
The Panthers are dealing with a number of injuries at wide receiver:

D.J. Chark

is out with a hamstring injury,

Terrace Marshall Jr.

with a back injury, and

Laviska Shenault Jr.

is in the concussion protocol. Those three pass-catchers make up three of the top five wide receivers on the depth chart.

Adam Thielen

and

Jonathan Mingo

unsurprisingly started this game, with

Derek Wright

joining them.

Shi Smith

is more likely than Wright to make the roster, but Smith backs up Thielen in the slot, while Wright is a backup outside receiver.

The Panthers have used their starters extensively in the preseason, and there has been no indication of who

Bryce Young

's favorite target was until tonight. Thielen appears to be the early favorite, given this stat line.

Thielen did spend a few plays in the medical tent, but he was able to return to the game, which is a pretty clear sign he is okay.

Mingo caught his only pass on the game's first offensive play, but there was positive news regarding how Carolina used him.

Carolina had run only three snaps outside of 11 personnel with the starters in the first two games. Mingo had played only one of those three snaps out of 12 personnel.

However, Mingo played all of the 12 personnel snaps and the only snap out of 13 personnel with the starters today.

This is great news for his playing time during his rookie season. Now, he just needs more targets.
Slow the hype for Hayden Hurst: Hurst didn't dominate offensive snaps with the starters like he did during the Panthers' first two preseason games.
The former

Cincinnati Bengals

tight end took all 11 snaps with the starters in their first game and all but three snaps in the second game.

The three plays he missed last week came late in a 15-play drive, and they were all run plays, so that wasn't too concerning.

On both drives tonight, Hurst played the first four or five plays and then took the following three plays off. He was replaced by

Ian Thomas

.

He ended up playing 72.7% of offensive snaps with the starters, similar to his playing time with the Bengals last season and with the

Atlanta Falcons

in 2020.

He's only received one target over the three preseason games — a 5-yard reception, which came in the first week of the preseason.

Hurst is still the clear starting tight end for Carolina, but his upside is very limited if he's not seeing targets and not playing over 80% of offensive snaps.
Panthers' third running back spot heats up: Raheem Blackshear started this game for Carolina.
Miles Sanders

returned to practice this week, but the team still held him out of this game. Backup

Chuba Hubbard

was also held out after injuring his ankle last week against the

New York Giants

. Hubbard also returned to practice this week, but the team is being cautious.

Blackshear had been the team's third running back last season. He typically played between three and 11 offensive snaps a game over the second half of the season.

Spencer Brown

appeared to be in the lead for the third spot with the new coaching staff.

Brown took over for Hubbard in the first preseason game. He played 20 snaps in the second and third quarter to Blackshear's three snaps, with Blackshear taking over in the fourth quarter.

Brown similarly took 20 snaps to Blackshear's nine in the first three quarters last week, with Blackshear again playing the entire fourth quarter.

Blackshear started, but it was a heavy rotation between the two players.

Blackshear has been the primary returner for Carolina this preseason after being the primary returner last season. His job on the roster is safe, whereas Brown will only be safe if Carolina keeps four running backs.
Lions competition for the fifth receiver spot: Detroit rested its top five wide receivers, but someone who played today will be their fifth receiver with Jameson Williams suspended.
Undrafted rookie

Chase Cota

seems to be the favorite over

Antoine Green

and

Dylan Drummond

for the next wide receiver spot.

He was one of two wide receivers to start last week and the only one who played last week who stopped playing before the fourth quarter.

He similarly started this week and was the only one playing 100% of snaps over the first quarter. Every other wide receiver was rotating in and out.

Cota led the Lions in receiving yards in the first preseason game with 60 yards. He caught the Lions' only touchdown in the second game and caught a 21-yard pass late in the first quarter of this game.

The only other player who could be in contention is

Maurice Alexander

, an undrafted rookie in 2022 who played seven offensive snaps last season and scored a touchdown on a 95-yard punt return in the first preseason game. His roster spot seems safe, especially after running back/returner

Justin Jackson

retired.
Miscellaneous Notes
---
Table Notes
• Snaps include plays called back due to penalties, including offensive holding or defensive pass interference. The other three stats have these plays removed.
• Targets may differ from official NFL sources. The most likely discrepancy would be from a clear thrown-away pass, where the NFL may give the target to the nearest receiver, while this data will not.
• Carries are only on designed plays. Quarterback scrambles won't count for the total number of carries in the game.