The Fantasy Focus is a weekly column that breaks down everything you need to know to set your fantasy football lineups. Make your start and sit decisions with fantasy facts, injury information, matchups stats, predictions for the week and more.
We're coming down the home stretch of the first quarter of the NFL season with Week 4 underway. In a lot of ways, the fantasy football season is like an NFL game with each quarter being slightly different from the previous one. While some of what we've seen in September will continue in October, other things will change.
Through the first three weeks of the season, we've seen crazy quarterback production with Patrick Mahomes and Ryan Fitzpatrick heading the list. That trend continued Thursday night with the two starters combining for nearly 900 passing yards and eight touchdown passes. While it's tempting to just assume that this production will continue around the league, remember that it's still warm out. As the weather gets colder, the passing production tends to decrease.
Also, don't forget that players emerge at different times. At this point last season, Alvin Kamara was an afterthought. But he showed signs of fantasy life in Week 4 with 10 catches, and then the breakout really began in Week 6. That was October 15. Who is this year's late bloomer? I'm putting my chips on Sony Michel.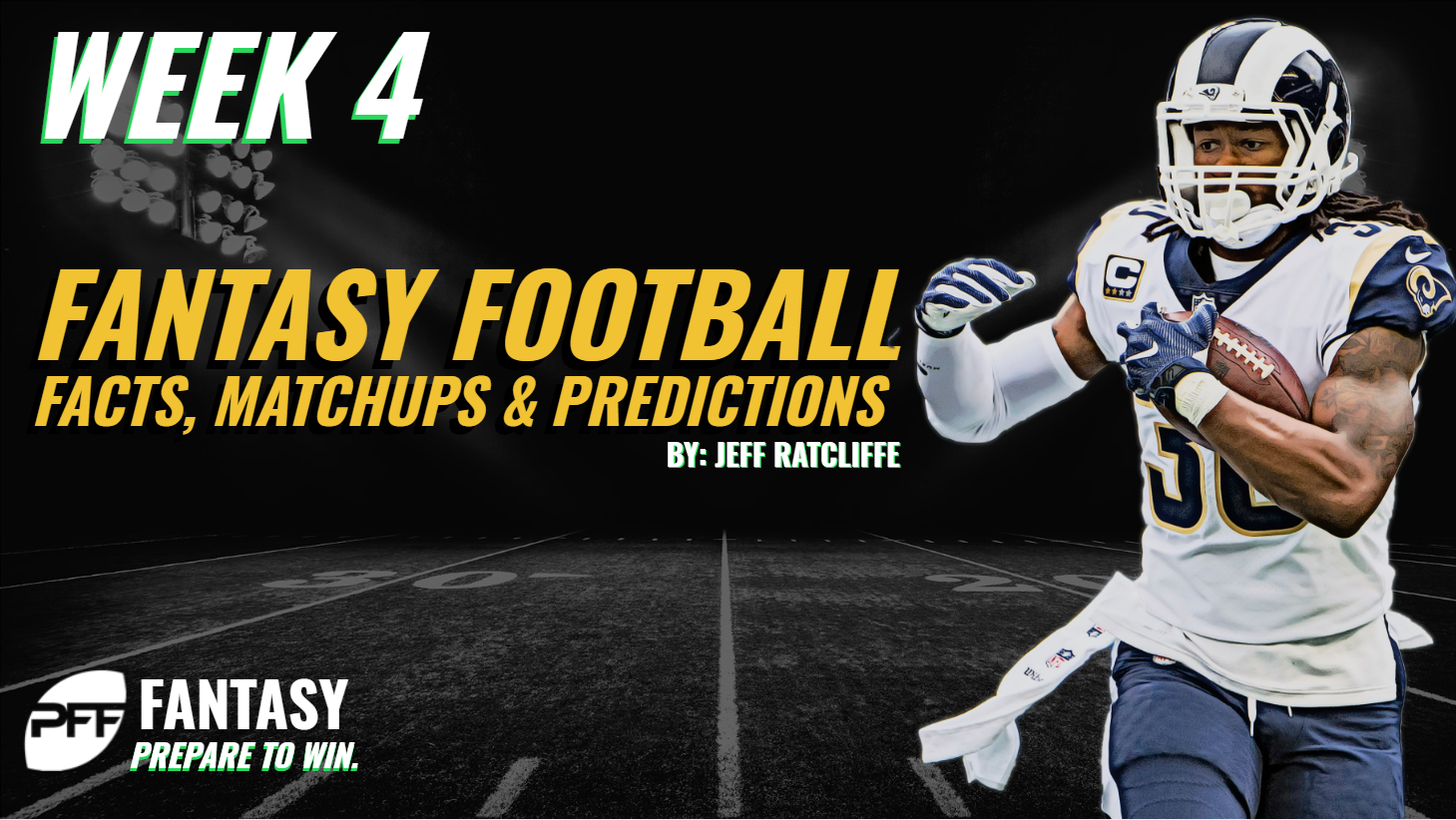 Fantasy facts
Calvin Ridley was one of the biggest fantasy studs of Week 3, but should we expect his production to continue going forward? While there's a lot to like about Ridley's game, it's always important to consider how teams use their wideouts. Here's the Falcons percentage of routes run from their wideouts last week: Julio Jones 90%, Mohamed Sanu 85%, Ridley 71%. Despite what the box score says, Ridley was clearly the No. 3 receiver.
So why the production? Atlanta exploited a matchup weakness. Jones saw plenty of coverage from Marshon Lattimore, so the Matt Ryan went after slot corner P.J. Williams. Here are Ridley's Week 3 stats vs. Williams: 10 routes run, 4 targets, 4 catches, 119 yards, and 2 touchdowns. That's insane efficiency that obviously isn't sustainable over the long haul. So if you have Ridley, don't overvalue him based on last week's production. He's a fantasy WR4 with upside going forward.
Alvin Kamara saw a massive 19 targets in Week 3, catching 15 for 124 yards. That brings him up to a 29 percent share of the Saints targets this season. Only 11 players have seen a higher target share and all of them are wide receivers. And that isn't even the most impressive stat from the Saints. Kamara's teammate Michael Thomas has seen 40 targets this season and caught 38 of them. Wow. Just wow.
We saw huge performances out of two unlikely Dolphins receivers last week, with Jakeem Grant and Albert Wilson both finishing in the top 12 among wideouts in fantasy scoring. While the numbers certainly look good, both have the makings of fantasy fool's gold. Wilson was on the field for just 10 snaps, and Grant played only nine snaps in Week 3. That sort of usage makes both players all but unrosterable in fantasy.
Frustrations abound with Andrew Luck right now. He enters the week a lowly 21st among quarterbacks in fantasy scoring with just five passing scores. But there is good news if you're stuck with Luck. He targeted receivers in the end zone six times last week, which led all quarterbacks. Eventually all of those shots are going to turn into some touchdowns.
Speaking of end-zone throws, the quarterbacks who've looked to the end zone the most so far this season are Deshaun Watson and Ryan Fitzpatrick. Both have tossed 13 end-zone throws so far. Given this stat, it shouldn't be a surprise that Fitzpatrick has racked up a massive 11 touchdowns already. But Watson is sitting at just five and is due for positive regression.
Derrick Henry's role in the Titans offense means he's going to see a lot of base defense this season. Has faced base on 74 percent of his carries so far this year. Meanwhile, Dion Lewis has seen base on just 44 percent of his carries. Why does that matter? Base defense means fewer defensive backs are on the field. The more defensive backs, the greater the advantage for running backs. Henry had 18 carries last week, so a least the volume was there. But if he keeps facing this much base, his efficiency is going to continue to be low.
Alex Collins dominated Ravens carries in Week 3 with 64 percent of the team total. However, Javorius Allen had both the goal-line carries. So far this year, the Ravens have six rushing attempts inside the 5-yard line. Here's how the carries have been distributed: Allen 4, Collins 1, Kenneth Dixon 1. Of course, this is an extremely small sample size, but it's a trend worth monitoring. Collins' fantasy value is capped unless he starts getting red-zone carries.
No player in the NFL has seen a higher share of his team's touches than Ezekiel Elliott. Through the first three weeks Elliott has touched the ball on 60 of Dallas' 121 touches this season. Given the Cowboys lack of offensive skill position talent, Elliott figures to continue to see a massive workload going forward. He's a lock for 300-plus touches and could certainly flirt with 350-plus.
Carlos Hyde led all running backs with three carries inside the 5-yard line last week, scoring on two of them. Hyde entered the week tied with Todd Gurley for the most carries inside the 5 with six. That usage bodes well for Hyde to continue his productive fantasy ways, as does the Browns turning the keys over to Baker Mayfield.
Injuries
With Jimmy Garoppolo out for the season, the entire San Francisco 49ers offense takes a hit. C.J. Beathard is a bottom-five quarterback and his presence sinks the fantasy value of Marquise Goodwin and Pierre Garcon. It's tough to trust either in fantasy starting lineups going forward. George Kittle should still see volume, but his upside is limited without Garoppolo. Matt Breida has upside regardless of who's under center, though he's best considered a volatile flex option. And any hope for a revival from Alfred Morris is down the tubes.
It looks like the Falcons will be without Devonta Freeman again this week. He was labeled "limited" on Thursday, so there's still a chance he suits up, but Freeman owners should plan to be without him. Tevin Coleman is averaging 19.6 touches per game when he's been called on to be the lead back over the last two seasons. He's shaping up to be a strong play against a Bengals defense that is allowing 4.6 yards per carry to opposing running backs this season.
Jay Ajayi appears to be on track to play this weekend after getting a full practice in on Thursday. Ajayi missed last week with fractured back. That sounds a lot worse than it apparently is. Regardless, Ajayi slots right back in as an RB2 this weekend, and he could have added value if Corey Clement is unable to play. Alshon Jeffery's status is much more up in the air after the wideout missed Thursday's session with an illness. Jeffery owners should be prepared to wait another week for his return.
Eric Ebron missed practice Wednesday, but he was back and practicing in full on Thursday. It looks like Jack Doyle will be out again this week, so that means plenty of Ebron. While his fantasy line failed to impress last week, Ebron did see 11 targets. More importantly, three of them came in the end zone. That brings his season total up to six end-zone targets, which is tied for second among all receivers so far this year.
Doug Baldwin has gotten two limited sessions in this week and looks like he could get back on the field after a two-week absence. Tyler Lockett has been solid with Baldwin sidelined, racking up three scores over the first three weeks. While Lockett will continue to have upside going forward, a healthy Baldwin will dominate the Seahawks' target share. He'll be a high floor WR2.
Keep a close eye on Keenan Allen's status. The Chargers wideout is dealing with a knee injury and has missed both practices so far this week. Allen played all 16 games last season, but he has a well-documented injury history that caused him to miss 26 games over his first four professional seasons. If Allen doesn't go, both Mike Williams and Tyrell Williams would become very interesting in a favorable matchup against the 49ers. PFF Greenline has the Chargers as heavy favorites this weekend, which doesn't necessarily bode well for the passing game. However, it's tough to ignore the matchups for the Chargers receivers. With Richard Sherman sidelined, the 49ers will have to rely on Jimmie Ward at corner. Ward is allowing a massive 2.25 yards per route covered since the start of last season.
More injury notes: Randall Cobb was added to the injury report with a hamstring on Thursday. It's rarely a good sign when a player is added to the report mid-week. … The Bengals look like they'll get Joe Mixon back next week. Mixon has resumed running and cutting after having his knee scoped. If you can buy low on Mixon, do it now. … A.J. Green was a full participant in Thursday's practice and reportedly feels great. Green should be good to go for a potential shoot out against the Falcons. … Bears rookie WR Anthony Miller will miss this week with a separated shoulder. Miller is an exciting fantasy prospect, but he's a fantasy cut candidate if you need the room on your bench. … Josh Gordon was limited on Thursday and could make his Patriots debut this weekend. Regardless of whether he suits up, fantasy owners should avoid Gordon until we're clear on his role in the New England offense. … LeSean McCoy is on track to play this weekend. He's an interesting buy-low candidate, especially given the spark Josh Allen gave the Bills offense last week. … The Jaguars should get Leonard Fournette back this week. The back was limited on Thursday. He's a fringe RB1 if he manages to suit up.
Wide receiver matchups
Kelvin Benjamin has seen shadow coverage in each of the first three weeks of the season. Those matchups included shadows from Brandon Carr, Casey Hayward, and Xavier Rhodes. Given those matchups, it shouldn't be surprising that Benjamin sits just 70th among wide receivers in fantasy scoring. But there is some reason for optimism here. Benjamin will get a boost from Josh Allen under center and will not see shadow coverage this week against the Packers. Don't throw the towel in on Benjamin just yet.
The Chicago Bears have gotten off to a sluggish start with an average of just 293.7 offensive yards per game over the first three weeks. Those numbers may have Allen Robinson owners concerned, but he's an intriguing play this week. Brent Grimes looks like he'll be back for the Bucs, but Robinson will also see his share of Carlton Davis. Through the first three weeks, Davis has allowed 14 catches on 19 targets for 175 yards and a score. Davis is currently tied for 11th among corners in yards allowed and is tied for eighth in receptions.
Not only is Baker Mayfield's presence going to help Jarvis Landry this week, but he also gets a favorable matchup against veteran Leon Hall out of the slot. Hall has seen 11 targets thrown into his coverage this season and allowed nine of them to be caught. Look for a high-volume day for Landry in Week 4.
Demaryius Thomas hasn't lived up to his fantasy draft stock as a WR2. Through three games he sits a lowly 47th among wide receivers in fantasy scoring. But fantasy redemption is the theme of the theme week at wideout, and Thomas is another player poised to bounce back. He draws a plus matchup against the Chiefs with primary coverage projected to come from Orlando Scandrick, who has seen a massive 21 targets thrown into his coverage this season. With a favorable gamescript likely, Thomas and Emmanuel Sanders are intriguing plays this week. Those in deeper leagues may also want to dial up Courtland Sutton.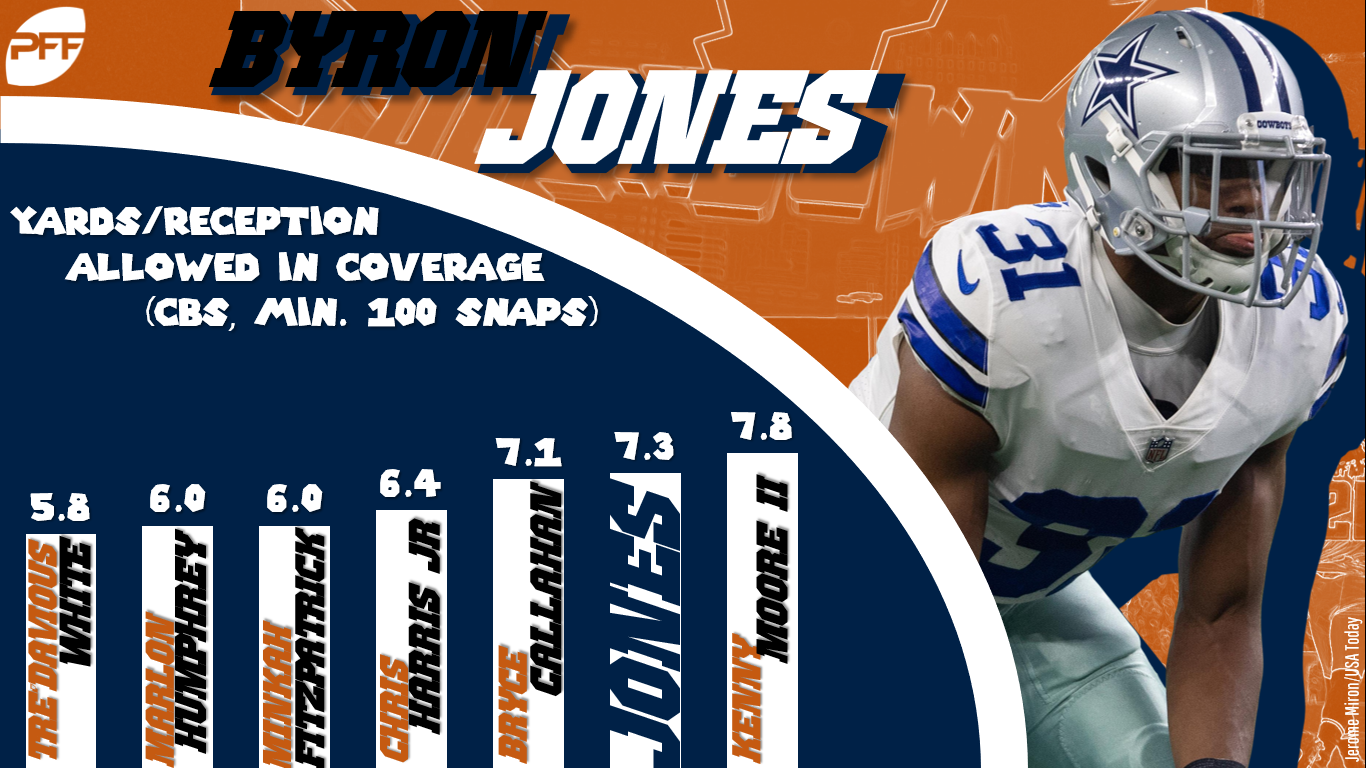 A quick glance at our cornerback grades shows that Cowboys CB Byron Jones is the No. 1 corner through three weeks of the season. Jones has allowed just seven catches on 16 targets for a measly 7.3 yards per reception. That isn't good news if you own Marvin Jones. We expect to see Jones on Jones in primary, which is a downgrade for the Lions receiver. It's also wise to temper expectations for Golden Tate and Kenny Golladay in this contest, as the Cowboys secondary has been solid to start the season.
Davante Adams has continued his productive ways with three scores already this season. There isn't a situation where you'd sit Adams outside of injuries but be aware that this matchup isn't particularly ideal. The Bills haven't used shadow coverage this season, but we do expect Adams to see plenty of Tre'Davious White. The Bills standout corner has seen just nine targets thrown into his coverage this year and is holding receivers to a ridiculous 5.8 yards per catch. This is a sneaky week to play Randall Cobb (assuming he is active), who gets by far the best matchup of the Packers receivers out of the slot. Let's not forget that Adam Thielen racked up 14 catches last week with a lot of his damage coming against the Bills slot corners.
We'll likely see Josh Gordon's debut as a Patriot this week, but that doesn't mean you should start him. Gordon's role in the offense is far from clear at this point, and he could also see plenty of Xavien Howard in coverage. Howard has shut down opposing wideouts this season, allowing just five catches on 15 targets.
Marshon Lattimore hasn't quite been the same player he was last season, with 10 catches allowed on 12 targets thrown into his coverage through the first three games. We expect Lattimore to shadow Odell Beckham this week, but that isn't a reason to sit Beckham. However, we saw Atlanta go after P.J. Williams in Week 3 and it's reasonable to expect the same from the Giants in this contest. That means Sterling Shepard is a sneaky bet to have a big day. It's wise to have plenty of exposure to Shepard this week.
There was hope that Amari Cooper would bounce back after a disappointing 2017 campaign, but that hasn't quite materialized this season. Don't expect things to turn around this week. Cooper will see his share of Denzel Ward in coverage. The rookie first-rounder has been as advertised so far this season. Ward has kept everything in front of him, allowing just 8.7 yards per reception so far this year.
Matchup stats to know
Detroit managed to shut down the New England run game last week, but the Lions are still allowing a massive 6.3 yards per carry to running backs in 2018. The Jets and 49ers backfields absolutely shredded this defense in the first two weeks of the season. Next up against the Lions: Ezekiel Elliott.
Running backs are also faring well against the Chiefs, with an average of 5.2 yards per carry. But it isn't just on the ground. Kansas City has allowed 92.3 receiving yards per game to running backs, which is by far the most this season. The Broncos backfield is a bit of a puzzle with Phillip Lindsay and Royce Freeman in a full-blown committee. However, we do know that the Lindsay is the preferred option in 11 personnel. Given the potential gamescript in this contest, expect to see a lot of Lindsay on the field. He's an interesting flex option.
Opposing running backs have racked up 28 catches against the Colts through the first three games of the season. Only the Falcons have allowed more to the position with 36 (I see you, Giovani Bernard). While Lamar Miller has been far from the most efficient back this season, he should factor heavily into this contest. He's a front-end RB2 play.
Only three teams have not allowed a rushing score to a running back this season: Tennessee, Seattle, and Chicago. To be fair, the Titans and Seahawks are allowing 4.6 yards per carry to the position. But the Bears have been absolutely shutdown against the run game — backs have managed just 2.9 yards per carry. That's bad news if you were hoping to see Peyton Barber finally have a strong day.
Tampa Bay has allowed opposing quarterbacks to complete 78 percent of their throws this season. The Bucs should be a bit better off this week with Brent Grimes back, but that number plus the fact that they've allowed the second-most net passing yards this season bode well for Mitchell Trubisky and the Chicago passing game. The Bucs are also struggling against tight ends with the most yards allowed to the position (329). Trey Burton is poised for his biggest fantasy performance so far this season.
Through the first three weeks of the season, just two defenses have surrendered double-digit touchdown passes: New Orleans and Pittsburgh. It's tough to endorse either of their opposing quarterbacks as streamer options this week, but those in DFS circles may want to get some exposure to Eli Manning and Joe Flacco. Manning is a very intriguing play, especially if stacked with Odell Beckham and/or Sterling Shepard. Likewise with Flacco along with Michael Crabtree and John Brown.
Miami enters the week as the third-worst fantasy matchup for quarterbacks with just two passing scores allowed, but don't let that intimidate you if you own Tom Brady. The numbers don't tell the whole story, as the Dolphins have faced Marcus Mariota, Sam Darnold, and Derek Carr over the first three weeks. Despite the rough start to the season, Brady is locked in as a strong QB1 play at home.
Ben Roethlisberger has more than twice the amount of passing yards (1,140) as the Ravens have allowed (555). But again, we have to look at opponents. Baltimore shut down Nathan Peterman in Week 1 and Case Keenum last week. But Andy Dalton toss four touchdowns and 265 yards on them in Week 2. If you're worried about Big Ben, don't be. He's going to be just fine this week.