This article is long, so I'll spare you a lengthy intro. Here's everything need to know for fantasy football in order to dominate your Week 10 DFS tournaments and cash games
Note: This article is published Friday mornings, so it can fall behind some of the more important late-week updates regarding injuries. Be sure to keep an eye on news throughout the weekend, and to apply some of your own intuition on who to play.
Quarterback
(DK: QB1, FD: QB2)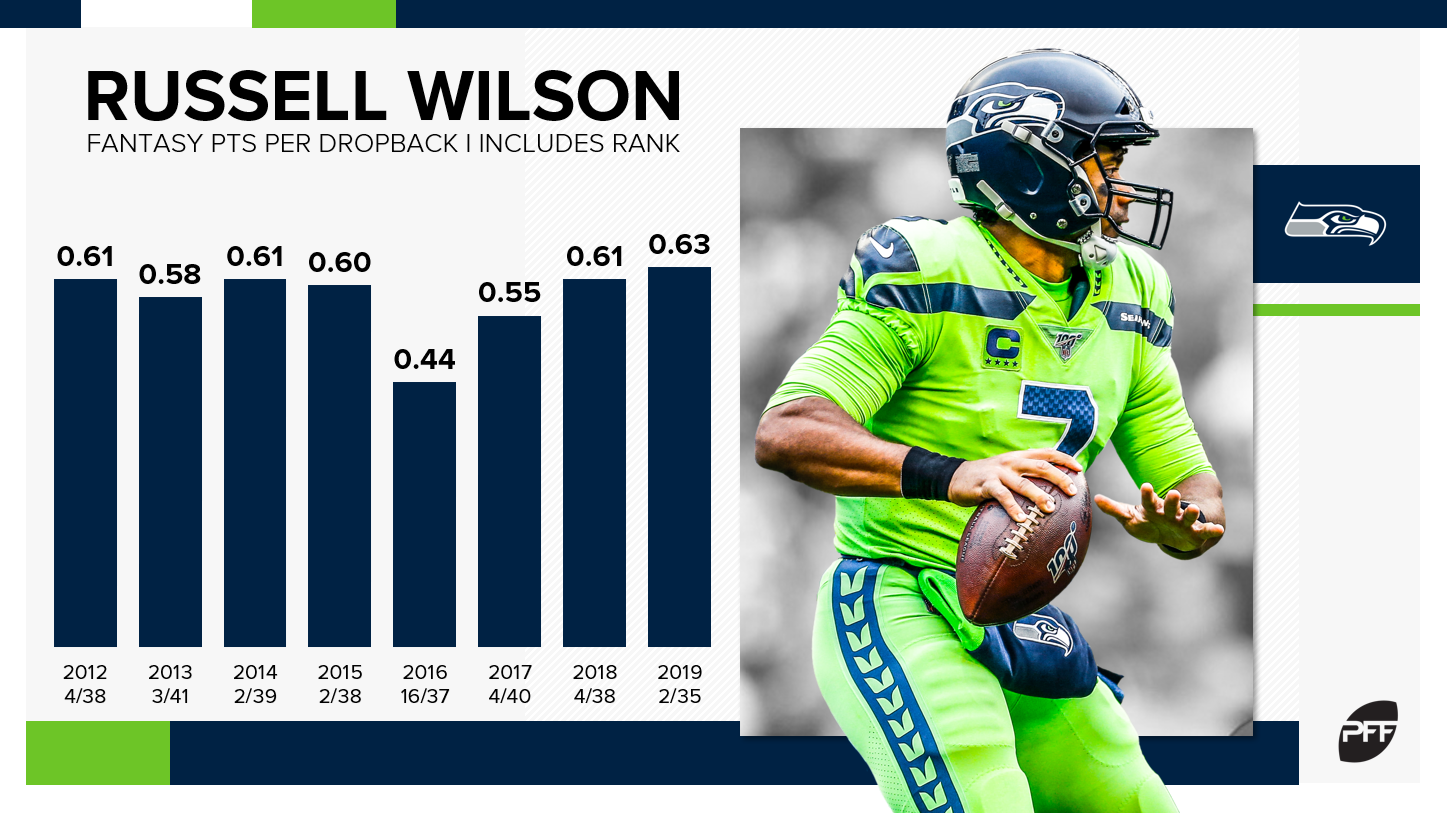 Wilson has ranked top-four in fantasy points per dropback in seven of eight career seasons. This year, he's averaging 0.63 fantasy points per dropback, which would represent a new career-high and the seventh-best mark by any quarterback this past decade. For a quarterback, we can say fantasy points per game comprises fantasy points per dropback and dropbacks per game. This makes figuring out when to play Wilson fairly easy — because Wilson always ranks highly in fantasy points per dropback, we just need to determine when he's going to rank highly in dropbacks per game. Unfortunately, that isn't very often, but it should be the case this week, as 1.5-point underdogs to the Eagles.
In part because they rank second-best in yards per carry allowed, Philadelphia is one of the league's top pass-funnel defenses for the third year in a row. This season, 75% of their surrendered yardage has been via the pass, which ranks third-most. Wilson has faced three other teams ranking in the top-seven by this same stat – Tampa Bay (79%, most), New Orleans (75%, fourth-most), and the Rams (74%, fifth-most) – totaling 39.2, 41.3, and 29.9 fantasy points against them. Within just $200 of Matt Ryan on both sites, and at a much lower ownership, Wilson is an ideal tournament play.
(DK: QB1, FD: QB4)
Atlanta is just 0.25 points off New Orleans for the highest implied point total of the slate, but unlike New Orleans, we should expect Ryan to comprise nearly all those points for Atlanta. Tampa Bay is the league's top pass-funnel defense (as we just outlined), Atlanta is down to just their third-string running back, and, the high over/under (most by 3.5) and close spread (-4.5) imply shootout potential. Look for Ryan to continue his run of 300-yard games (eight over his last 10 games) this week, and do a little more damage than that, up against a Buccaneers defense that has given up the second-most passing yards and passing touchdowns to opposing quarterbacks. He's glaringly mispriced FanDuel, ranking just fourth in salary, and an even better value on DraftKings ($6,700). Over the past two seasons, only Patrick Mahomes averages more DraftKings fantasy points per game (23.8).
(DK: QB10, FD: QB9)
If looking to save salary, Mayfield is your best option. He certainly has underwhelmed this season, but he has reached at least 17.0 fantasy points in three straight games since facing the Patriots. Keep in mind those games came against Buffalo (third-fewest fantasy points per game allowed), Denver (fourth-fewest), and Pittsburgh (eighth-fewest if schedule-adjusted). Now he gets a can't-fail matchup, against a Miami defense that ranks second-worst in fantasy points allowed per dropback and fourth-worst in schedule-adjusted fantasy points allowed per game.
Running back
(DK: RB10, FD: RB2)
Jacksonville's defense ranks dead-last in rushing yards allowed per carry (5.3), well above the league average rate (4.31). Since Week 5, they've allowed 6.21 yards per carry on the ground, while also surrendering 100-yard games to every runner they've faced who has exceeded 12 carries against them (Jonathan Williams, Marlon Mack, Carlos Hyde, Christian McCaffrey). Henry, meanwhile, comes off a game against the defense (Chiefs) that ranks second-worst in yards per carry allowed (5.05). On 23 carries, he totaled 188 rushing yards and two touchdowns against them. In a game the Titans are at home and favored, Henry isn't just a top play on DraftKings, he's a near-lock-button play.
Nick Chubb, RB, Cleveland Browns
(DK: RB3, FD: RB4)
Despite Kareem Hunt's return from suspension, Chubb is seeing his best volume of the season – he's just a little more gamescript-sensitive now. Luckily, that won't matter too much this week, as Cleveland has ideal gamescript, favored by 10.5 points, and against a Miami defense that is giving up the most rushing yards per game (128.7). Cleveland is also projected to score 27.25 points this week, which is 8.1 points above their per-game average this season, and that's especially relevant to Chubb, who ranks sixth among all players in expected touchdown percentage (31%).
(DK: RB16, FD: RB14)
Montgomery has been one of the league's most frustrating players to own week-to-week, but he has seen good volume in games with favorable gamescript. Essentially, Montgomery is seeing low-end RB1 volume (16.0 XFP per game) in games Chicago has either won or lost by fewer than three points. In all other games he's averaging just 7.1 XFP per game (RB5 volume). Look for good volume this week, in a game Chicago is projected to win by 6.0, against a Giants defense that is giving up the eighth-most rushing fantasy points per game to enemy running backs. Like with Chubb, he also has one of the best touchdown expectations on the week (and that's not being weighted into his salary). Montgomery ranks third among all players in XTD percentage (33.7%), and Chicago is also expected to score 23.25 points, which is 6.4 points more than their per-game average.
Other
Christian McCaffrey is a great play for all the reasons he's been a great play all season. Primarily, because he's playing like 2006 LaDainian Tomlinson but priced like 2018 Saquon Barkley. However, in a tough matchup and on a week where there's a lot of other high-priced names to like, he's not a must-play.
I don't love Alvin Kamara as much as his projected ownership might imply, but he is a solid value. Within that price range, Leonard Fournette and Le'Veon Bell are also comparably strong values. Both are top volume-related values due for some positive regression, and, in Fournette's case massively so.
If looking for some punt options for large-field tournaments, all of Brian Hill, Benny Snell, and Kalen Ballage are vaguely in play as hold-your-nose options.
Wide receiver
(Jones DK: WR2, FD: WR2; Ridley DK: WR11, FD: WR16)
Jones isn't just a top play this week but, given his slate-breaking upside, he might be unavoidable chalk. Inarguably, Tampa Bay is the best possible matchup for any WR1. In eight separate instances this season, a wide receiver has scored 25.0 or more fantasy points against Tampa Bay, which is twice as many as the next-closest defense. All wide receivers to play Tampa Bay who rank top-25 in fantasy points per game — Michael Thomas, Tyler Lockett, Cooper Kupp, Christian Kirk, and Sterling Shepard — have combined to average 33.1 fantasy points per game (with a low of just 25.4 fantasy points). In 14 career games against Tampa Bay, dating back to 2011, Jones averages a whopping 24.2 fantasy points per game, or 27.3 across his last five games.
There's no doubt Jones has the top matchup of the week, but Ridley can't be too far behind. Tampa Bay ranks bottom-four in fantasy points per game to both left and right wide receivers. Tampa Bay is giving up the most schedule-adjusted fantasy points per game to WR1s, but also to WR2s. In Week 9, when Tyler Lockett scored 40.2 fantasy points against them, D.K. Metcalf scored 27.0. In Week 4, Robert Woods scored 29.4 fantasy points while Cooper Kupp dropped 26.9. Jones is certainly one of the best plays on the slate, but Ridley should be almost just as chalky on FanDuel, mispriced by about $800.
(DK: WR6, FD: WR11)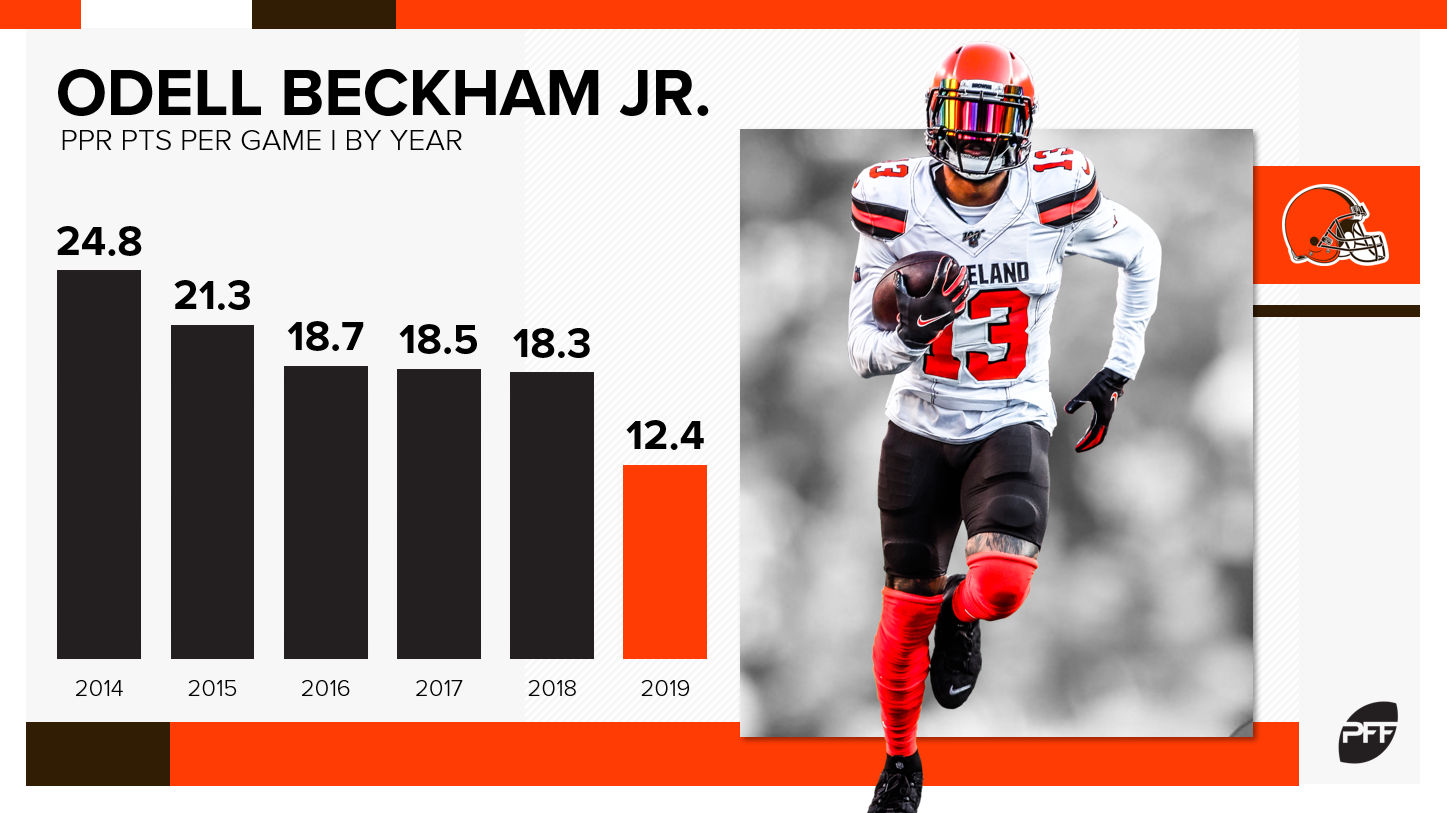 Beckham totals just 124.2 fantasy points in his 10 career games with the Browns. For perspective, that's 46.6 fantasy points less than his worst 10-game stretch with the Giants. Without question it's been ugly for him this year, and partly due to a league-worst strength of schedule, but volume has remained strong and Week 12 looks like the perfect get-right matchup. Miami has been getting beaten up by opposing WR1s since their Week 5 bye, surrendering: 26.0 fantasy points to Terry McLaurin, 21.3 to JuJu Smith-Schuster, 22.3 to Jamison Crowder, and 19.3 and 34.7 to John Brown. He's an ideal tournament option on FanDuel, mispriced by about $700.
(DK: WR13, FD: WR23)
Moore leads all players in targets since Week 8, and he's exceeded 15.0 fantasy points in five of his last six games. Although Moore has failed to find the end zone in any of those games, that's due more to bad luck than volume or efficiency. In other words, expect a positive regression (more fantasy points) to the mean within the next few weeks. He's a top-three play on FanDuel, and, on DraftKings somewhere between a good-to-great play and a must-play option depending on whether Marshon Lattimore sits out again.
(DK: WR12, FD: WR13)
Chark ranks fifth among all wide receivers in fantasy points per game (18.1), and, since Week 5, ranks sixth in XFP per game (18.0). He's coming off the best volume-game of his career (15 targets and 220 air yards) to draw a neutral-at-worst matchup against the Titans. So, why is he being priced as just a borderline WR1 on both sites? I have no idea.
(DK: WR17, FD: WR19)
In seven games with Sam Darnold under center, Crowder averages a team-high 8.4 targets per game and 16.0 fantasy points per game. For perspective, 16.0 fantasy points – a number he's exceeded in each of his last three games – would rank tied for 15th among wide receivers. That makes him a top value this week, given the matchup – Oakland ranks bottom-10 in fantasy points per game allowed to slot wide receivers, representing his best (and only better-than-neutral) matchup of the season (with Darnold under center).
D.K. Metcalf, WR, Seattle Seahawks
(DK: WR15, FD: WR16)
Since Week 7, Metcalf has been producing like a mid-range WR2 (15.9 fantasy points per game) on mid-range WR2 volume (14.5 XFP per game). That alone makes him look like a value, but especially so when factoring in the matchup on a depleted week. Philadelphia is giving up the fewest fantasy points per game to opposing slot wide receivers, while also ranking top-10 against running backs and tight ends. However, for the third consecutive season, they're giving up the most fantasy points per game to opposing outside wide receivers. In other words, look for Russell Wilson to lean heavily on Metcalf, who runs 85% of his routes on the perimeter, with Tyler Lockett drawing the tougher matchup on the week.
Other
Michael Thomas is a legitimate MVP candidate, head and shoulders above whoever the next wide receiver might be. He's expensive, but not overpriced based on his numbers this year. Even so, I prefer Jones, Beckham, or Mike Evans when paying up. Thomas should see shadow coverage from James Bradberry, who shut him down twice last year, and has shut down all other wide receivers he's shadowed this year (DeAndre Hopkins, Jones, and Evans).
Evans has been tough to predict this year, but owning him in the right weeks has made a world of difference this year – he's hit 39.0 DKFP in three separate games. I like his odds of posting another such game this week, given ideal gamescript and matchup that suits him better than Chris Godwin. Atlanta is giving up the fifth-most schedule-adjusted fantasy points per game to opposing WR1s and the fourth-most fantasy points per game to outside wide receivers, but just the 17th-most to opposing slot wide receivers.
DeVante Parker is a glaring value on both sites. Since Week 4, Parker ranks 17th among wide receivers in fantasy points, with top-36 finishes in all seven of these games.
Tight end
It's an absolutely brutal week in a brutal season for tight ends. Travis Kelce and Hunter Henry are on bye, George Kittle and Mark Andrews are off the main slate, and Austin Hooper and Evan Engram are banged up and unlikely to play. That leaves us with just three tight ends available on this slate who are averaging 10.0 or more fantasy points per game: Darren Waller (14.1), Zach Ertz (12.9), and Greg Olsen (10.1). All are at least a little mispriced, but, if paying up at the position, I'm primarily looking at Ertz. He should continue to receive high-end volume given injuries elsewhere, and the matchup is strong – Seattle ranks sixth-worst in schedule-adjusted fantasy points per game allowed to opposing tight ends.
If punting the position, your best options are Dallas Goedert, Ryan Griffin, and Jacob Hollister. Of these, my preferred option is Griffin. He's scored 11.0 or more fantasy points in four of his last six games and 24.0 or more in two of his last four. He draws a Raiders defense that ranks third-worst in schedule-adjusted fantasy points per game allowed to tight ends.