Each week in this space, we'll be taking a look back at Sunday's games to find five of the most interesting or most important stats for fantasy owners. With 12 of 13 games from NFL Week 10 in the books, here are the five stats you need to know:
1. Heading into Week 10, there were over 50 different wide receivers averaging 10.0 or more fantasy points per game. The Tampa Bay Buccaneers have played against nine of these wide receivers across seven of their games. Here's the full list:
Eight of these nine wide receivers reached at least 23.5 fantasy points against Tampa Bay. Combined, Tampa Bay is giving up 27.4 fantasy points per game to wide receivers averaging double-digit fantasy points per game.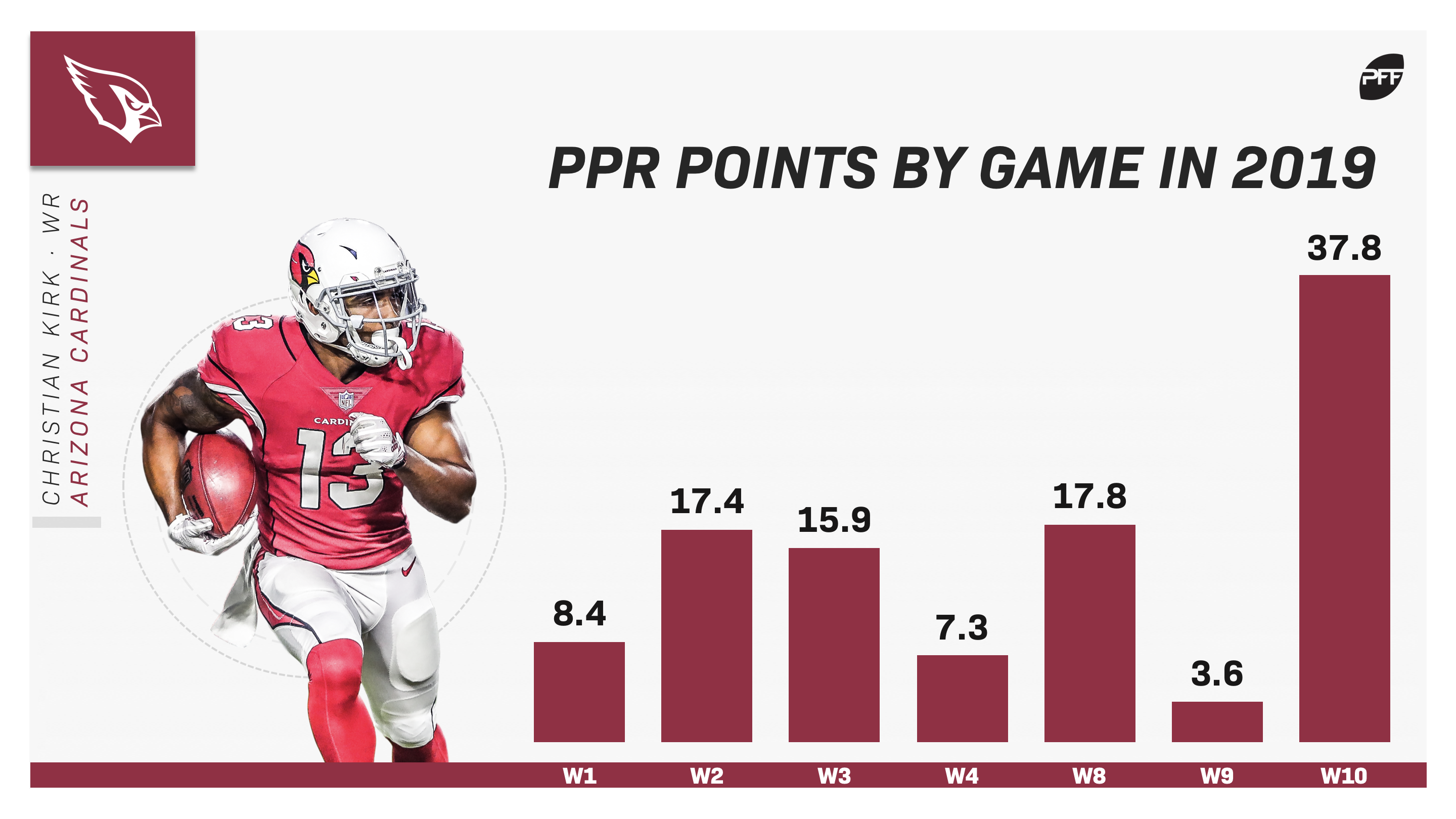 There might not be a more exploitable matchup in fantasy football than "fantasy-relevant wide receivers versus Tampa Bay." If you play DFS, be sure to note the following:
In Week 11, Tampa Bay again faces Thomas. In six career games against Tampa Bay, Thomas has eclipsed 90 yards five times. He averages 24.6 fantasy points per game over this span, and 34.0 fantasy points per game over his last three games against Tampa Bay.
In Week 12, Tampa Bay faces Atlanta's Julio Jones and Calvin Ridley, who are both averaging over 10.0 fantasy points per game. In 14 career games against Tampa Bay, dating back to 2011, Jones averages a whopping 24.2 fantasy points per game, or 27.3 across his last five games.
2. If there is a more-exploitable matchup, it'd "tight ends versus Arizona." On Sunday, against Arizona, O.J. Howard hit a new season-high in fantasy points, which comes after all of Austin Hooper, Mark Andrews, T.J. Hockenson, Greg Olsen, and Rhett Ellison hit season-highs against Arizona. There have been nine instances of a tight end scoring at least 25.0 fantasy points this year, and four of those games have come against Arizona. In total, the Cardinals are giving up a league-high 21.4 fantasy points per game to opposing tight ends (or 22.9, if we count Taysom Hill as a tight end), which is almost double the league-average rate (12.1)
Next week, the Cardinals take on George Kittle and the 49ers. Kittle dropped 19.9 fantasy points against Arizona last week, despite also suffering knee and ankle injuries (which are going to hold him out of Monday night's game against the Seahawks).
In Week 13, following their bye, Arizona faces Gerald Everett and the Rams. Since Week 4, Everett ranks second in targets (44) and sixth in yards (322).
3. During Sunday's 26-9 home loss to the Falcons, Michael Thomas caught 13 of 14 targets for 152 yards. For his career, he now totals 407 receptions, 4,814 receiving yards, and 27 touchdowns. For perspective, that's already the most receptions by any player in his first four seasons in the NFL. That's also the fourth-most receiving yards by any player in his first four seasons in the NFL. Among elite company, he ranks behind only Randy Moss (5,396), Torry Holt (5,088), and Jerry Rice (4,881). With seven games left to go on the season, he's on pace to total 5,616 yards for his career, which would break Moss' record by 220 receiving yards.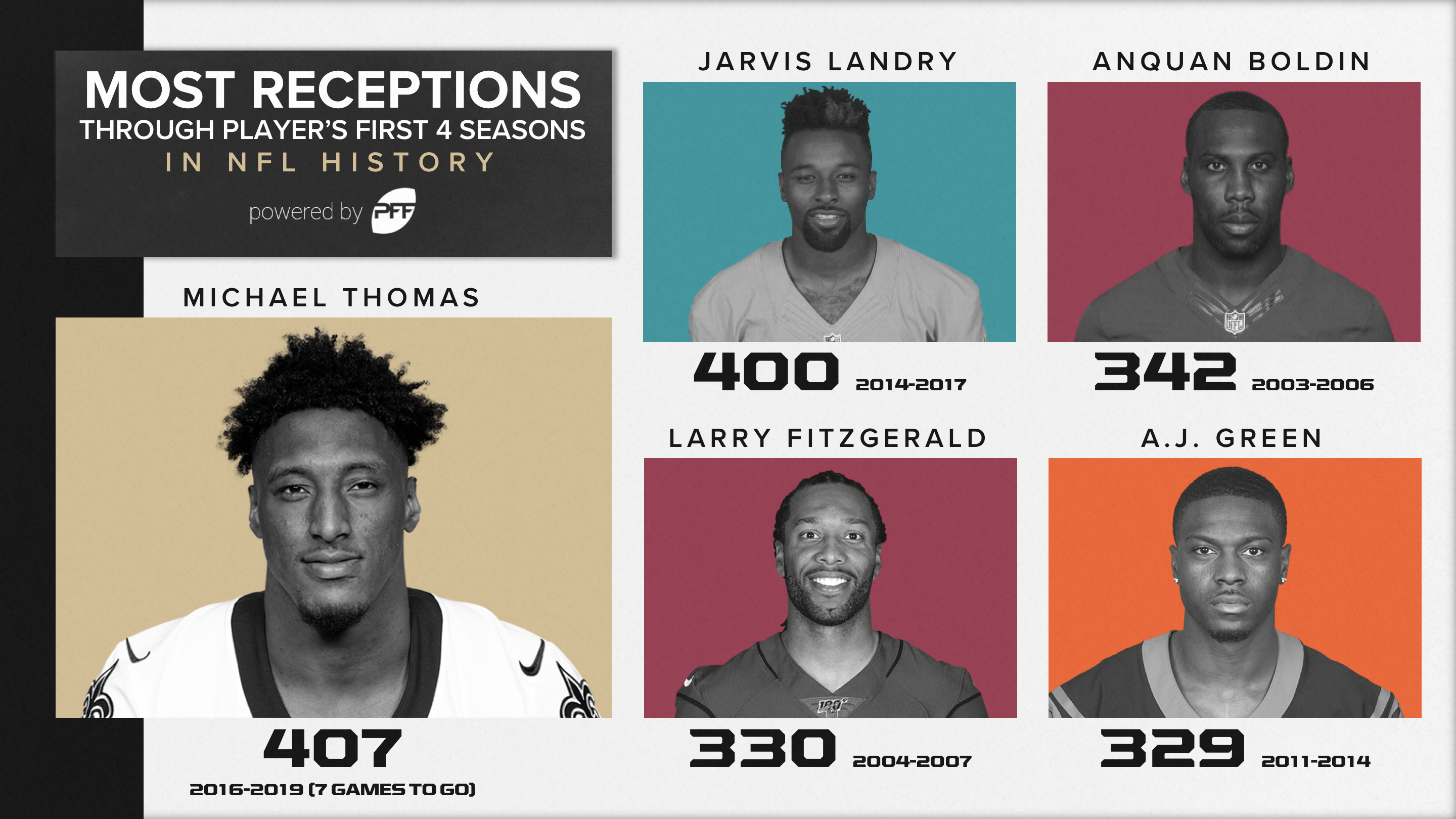 Clearly, Thomas is putting up some historic numbers to start his career. In a few months, during "dynasty football season" Thomas is a safe bet to be the first wide receiver selected in start-up drafts. In fact, he's probably behind only Christian McCaffrey and in competition with Saquon Barkley to be selected as the second player off the board.
In season-long leagues, Thomas is clearly at the top of his position (leading all wide receivers in fantasy points per game by 2.3) and having no less a historic season. His 1,029 receiving yards through the first nine games of a season is the seventh-most by any player all-time. And, as we highlighted in our first stat, it seems safe to expect another big game next week.
4. Thomas totals 4,814 receiving yards throughout his 56-game career, but that's 468 yards behind Odell Beckham Jr.'s total through 56 games (all with the Giants). Across his other nine career games (all with the Browns), Beckham's numbers are far less impressive:
Across 56 games with the Giants, Beckham averaged 20.6 fantasy points per game.
In his first nine games as a Giant, he averaged 20.2 fantasy points per game.
Across his next nine games, he averaged 25.0.
Then, in his next nine games, 23.1.
Then 18.4
Then 18.6
Then 19.2
In his last nine games as a Giant, he averaged 19.9 fantasy points per game.
In nine career games with the Browns, he averages just 12.6 fantasy points per game.
What's happened to Beckham? I think he's still the great player he's always been, but he's now dealing with a few issues beyond his control.
First, Baker Mayfield has not played well. Of 34 qualifying quarterbacks, Mayfield ranks 21st in yards per attempt (7.1), 32nd in touchdown% (2.9%), and 31st in passer rating (75.2).
Second, Beckham has had the toughest cornerback schedule of any wide receiver in the NFL. He's run a league-high 54% of his routes against top-30-graded cornerbacks. Tyler Boyd (46%) ranks as the only other wide receiver above 40%.
Beckham's schedule softens up across the remainder of his season, and he is due for some positive regression, but a WR1 season is probably already out of reach at this point.
5. Lamar Jackson is on pace for 431.3 fantasy points, which would be the most by any quarterback in NFL history.
In 2017, Deshaun Watson tied the PFF-era record for fantasy points per dropback (0.73). Jackson shattered that record in his rookie season (0.79), and again, this year is averaging 0.80.
On top of terrific production, Jackson's consistency is also unrivaled. Jackson has been held to under 20.0 fantasy points just once this year, compared to four times for Patrick Mahomes.
Yeah, there's really not much to say here other than, (if you drafted him) "congratulations" and "we told you so."