Hello, and welcome to Week 12 of the Expected Fantasy Points Report. If you're unfamiliar with expected fantasy points, you can read this in-depth explanation from the offseason. You can also read more about expected touchdowns.
Every week we'll be using a 10-season sample of play-by-play data to calculate expected fantasy points from a player's seasonal or weekly usage. We look at each target (by distance from the end zone and depth of target) and each carry (by distance from the end zone and down and distance) and add this up to determine how valuable a player's role was for fantasy. We can contrast this with fantasy production to measure efficiency.
In layman's terms, expected fantasy points measures the exact worth of a player's volume – "how many points a player should have scored" given his workload, based on what the average player would have scored.
Through 11 weeks of action, here are the top-25 players in expected fantasy points per game:
[Note: Full-season XFP is now available for download in spreadsheet form. We'll be releasing it each week in our PFF Elite Facebook Group. This spreadsheet will also include valuable PFF-exclusive metrics like XTD, air yards, end zone targets, and more. If you're not already an Elite subscriber I highly recommend joining.]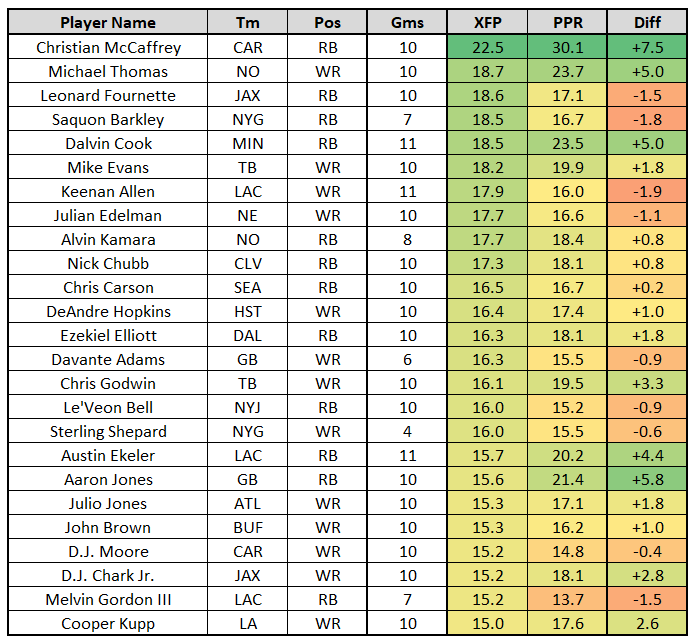 (XFP: 15.2, PPR: 18.1, Diff: +2.8)
Earlier in the season we questioned whether Chark could keep up his WR1 pace. Not only was his hot start to the season entirely unexpected, but he was also a little too overly efficient, producing like a WR1 on WR3 volume. Then, he started to see better and more consistent volume. Heading into Week 11, Chark was questioned again – would he continue to be as productive with Nick Foles as he was with Gardner Minshew?
Well, in Week 11, with Foles under center, Chark led the position in XFP with a season-high 28.2. In total, he turned 15 targets and 220 air yards into 30.4 fantasy points. Chark currently ranks fifth among all wide receivers in fantasy points per game (18.1), and, since Week 5, he ranks sixth in XFP per game (18.0). So, yes, it's safe to call him a WR1.
Subscribe to PFF Edge to continue reading

Already have a subscription? Sign In