The 2021 NFL Draft has come and gone with plenty of crazy twists and turns. Like with every NFL draft, the fantasy football landscape looks a little bit different with high-end talent added to rosters across the league. Certain rookies have landed in favorable spots, while others might not see much playing time right away. 
More of PFF's 2021 NFL Draft tools here: 
2021 NFL Draft Big Board | 2021 NFL Draft Guide | 2021 NFL Draft Stats Export | NFL Mock Drafts | NFL Mock Draft Simulator
Here are the players whose fantasy value rose the most during the draft, along with those who lost value. For a more complete picture of where every player currently stands, check out my 2021 dynasty rankings and 2021 dynasty rookie rankings.
Biggest Risers
Lance is heading to the 49ers, a much better landing spot compared to the rest of the first-round quarterbacks. He'll have George Kittle, Brandon Aiyuk and Deebo Samuel at his disposal — Lance's third-best option is better than any of the rest of the rookie quarterbacks' second-best receiver.
Lance already had more fantasy upside than some of the other first-round quarterbacks due to his rushing ability and willingness to throw the ball downfield. The combination of talent and landing spot makes him the top quarterback option in dynasty leagues. Lance should be a late-first-round pick in dynasty rookie drafts. Few dynasty teams will be in need of a quarterback, which will make Lance a value as a later pick.
The majority of mock drafts successfully predicted that Harris would land with the Steelers, and the move solidifies him as the top running back option in rookie drafts. 
The Steelers were the best team for a rookie RB to join. Very few teams had a need at running back, and Pittsburgh was the least likely team to utilize a running back committee. Harris would have been among the fallers in any other landing spot; now he's is the most likely rookie back to lead his team in touches and most likely to be a RB1 on the season.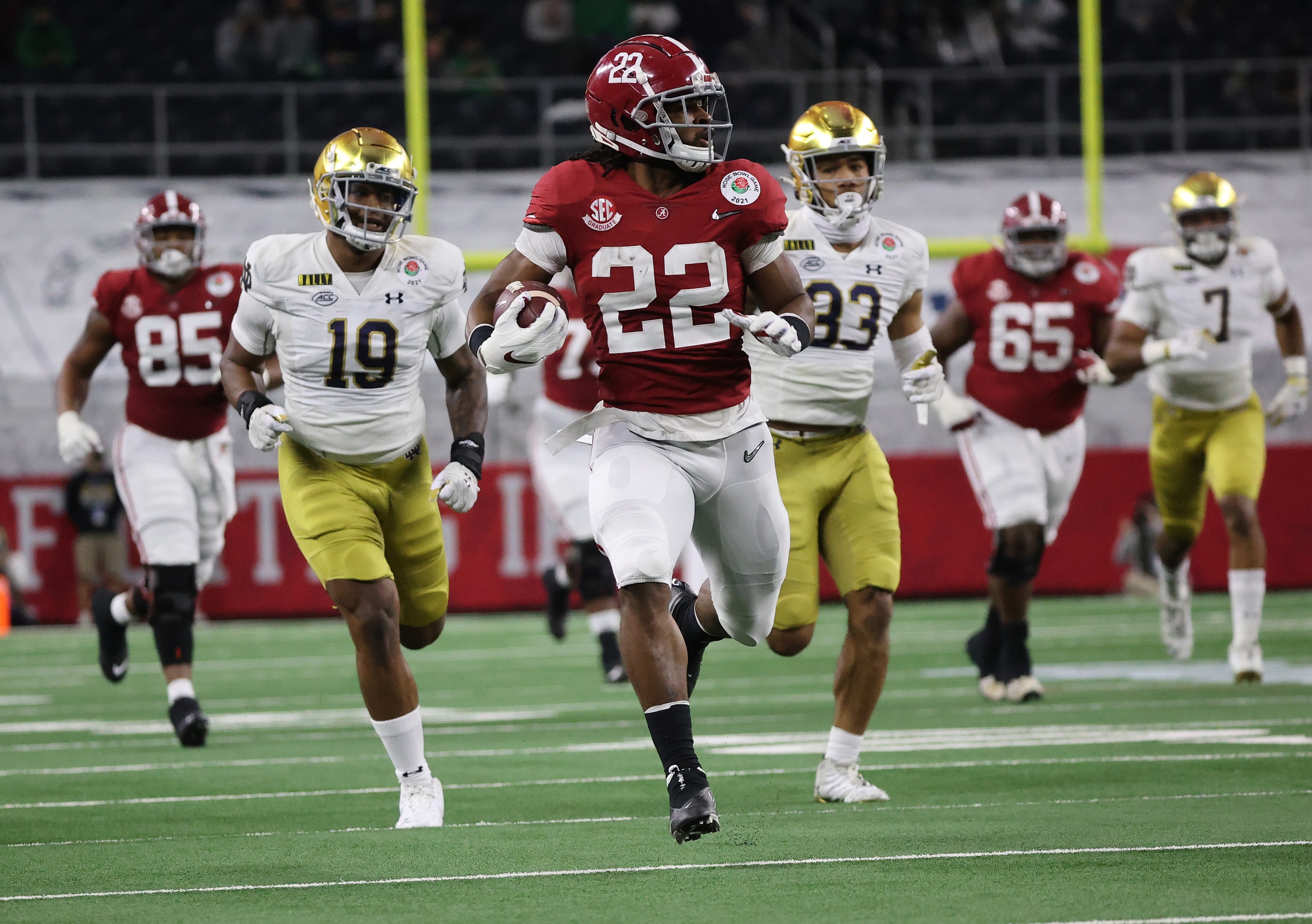 Travis Etienne will be competing for playing time with at least one or two other backs, while Javonte Williams wasn't selected in the first round. Reasonable minds can disagree about which of the three backs is the most talented, but thanks to the situation Harris should go first among the three in both redraft leagues and dynasty formats.
Smith found an ideal home in Philadelphia. The other top rookie wide receivers all went to teams with two other solid wide receiver options, which limits their target shares. The Eagles' wide receiver room before the pick consisted of Jalen Reagor, Greg Ward and Travis Fulgham. 
Smith instantly becomes the top Eagles wide receiver and has the best chance to lead his team in targets. He reunites with former teammate Jalen Hurts, who also sees a boost after the draft. The Eagles had the opportunity to pick a quarterback but instead chose to help Hurts. Smith should be a WR4 as a rookie with the potential to be much higher. This solidifies Hurts as a QB1 in 2021.
The Patriots had a busy offseason, highlighted by the additions of Jonnu Smith, Hunter Henry and Nelson Agholor. Their fantasy upside was limited with Cam Newton as their quarterback. Newton runs a lot, particularly near the goal-line, which prevents the receivers from getting enough red-zone targets.
New England selected quarterback Mac Jones with their first-round pick. He isn't anywhere near the runner Newton is, which will help the Patriots receivers once he takes over as the starter.
The big question is how much of an upgrade Jones could be in terms of pass accuracy. If Jones lives up to his potential and there's a big difference, the Patriots tight ends could rejoin the TE1 conversation. If the rookie is only a slight upgrade, then his receivers will only move modestly up the rankings. 
Only four running backs went off the board through three rounds of the draft. The Dolphins and Falcons seemed like two of the teams most likely to pick a back, but they both passed early. 
The Dolphins added Malcolm Brown in free agency and still have Salvon Ahmed, who played well in limited opportunities. Neither back should stop Gaskin from playing 60-70% of the Dolphins offensive snaps. Miami added receiving options throughout the offseason, which should force teams to respect the pass. That only helps Gaskin.
Davis joined the Falcons in free agency after the team lost its top three running backs from the 2020 season. Cordarrelle Patterson is currently slated to be his backup. Even if the Falcons pick a back to start Round 4, Davis could easily see 70% of the offensive snaps on a consistent basis.
Both players will be drafted as RB3s, which is their floor as long as they stay healthy. If they outplay expectations, they can be consistent RB2s.
Moore was one of the most exciting players in the draft, and he lands in one of the best situations for a wide receiver drafted so far. We ranked him as a first-round player, so Arizona is getting a steal in the middle of the second round.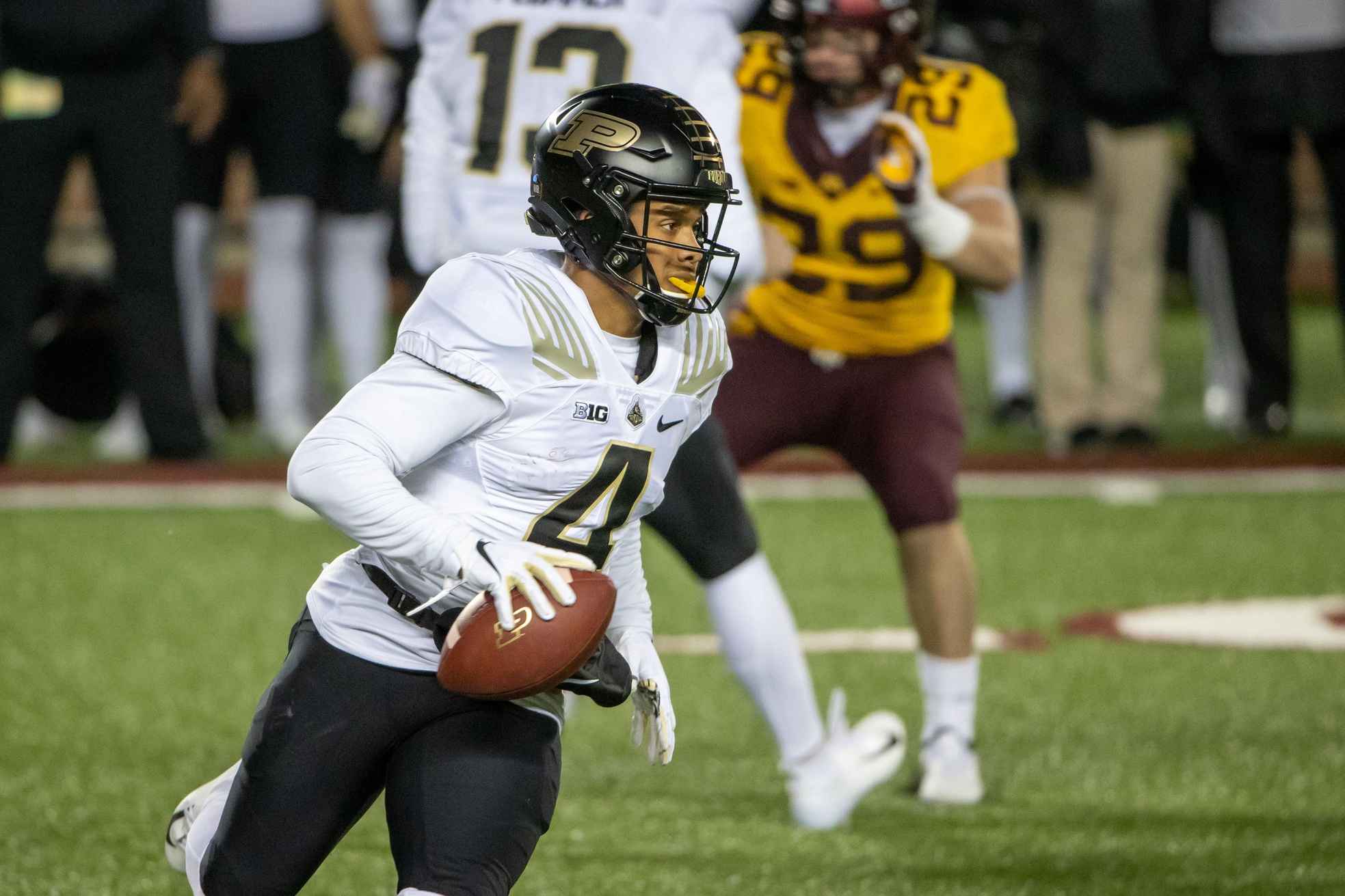 Larry Fitzgerald seems unlikely to return to Arizona, so his slot snaps are up for grabs. The top three wide receivers on the team primarily play on the outside, and the Cardinals use a lot of four-wide-receiver sets — Moore should see playing time right away. Based on his talent, he should see the second-most targets in the offense behind DeAndre Hopkins. He could easily make his way into the back of the first round of dynasty rookie drafts.
The end of the second round and start of the third round saw a run on quarterbacks. They'll all be backups in 2021 and can only become starters once other QBs retire or leave their teams. Mills was the exception — he was the Texans first pick of the 2021 draft, giving him more importance than the typical third-round pick.
Deshaun Watson is unlikely to take another snap in a Texans uniform. Tyrod Taylor will likely be the starter in Week 1, but if the Texans are out of playoff contention midseason, or if Taylor isn't playing well, then Mills could end up as the starter. 
Marshall was declared a draft riser just days ago and lands in a very favorable situation for fantasy football purposes. All three Panthers wide receivers finished among the top 25 in PPR points last season, and Curtis Samuel left in free agency. Marshall should be able to play in three-wide-receiver sets immediately, giving him access to more targets than most wide receivers picked on Day 2.
Many of the wide receivers selected early this year are shorter and best suited to play in the slot. The best fantasy WRs play on the outside or both outside and in the slot. Marshall should have the chance to do both in Carolina. The main thing limiting his upside will be the Panthers' quarterback play.
Carter ended up in one of the best situations for a running back. The Jets added Tevin Coleman in free agency to a group that includes two backs from the previous regime. It was completely up in the air how those backs would be used, and now Carter joins the conversation.
Carter was the clear fourth-best back on the big board after earning a 91.7 PFF overall grade last season. He's well rounded in that he can run well in both zone and gap plays and is one of the best receiving backs in the class. At the very least, Carter should be playing on third downs starting in Week 1. The Jets never had a consistent third-down back last season. Carter might not have the size to be a 20-touch back, but he should see enough touches to potentially be a RB2 for a long time.
St. Brown is the second clear case of a talented player landing with a team with a desperate need. The USC product is a YAC weapon from the slot who should start in 11 personnel right away. Like Carter, we projected St. Brown to be a third-round selection, and he fell to the start of round four.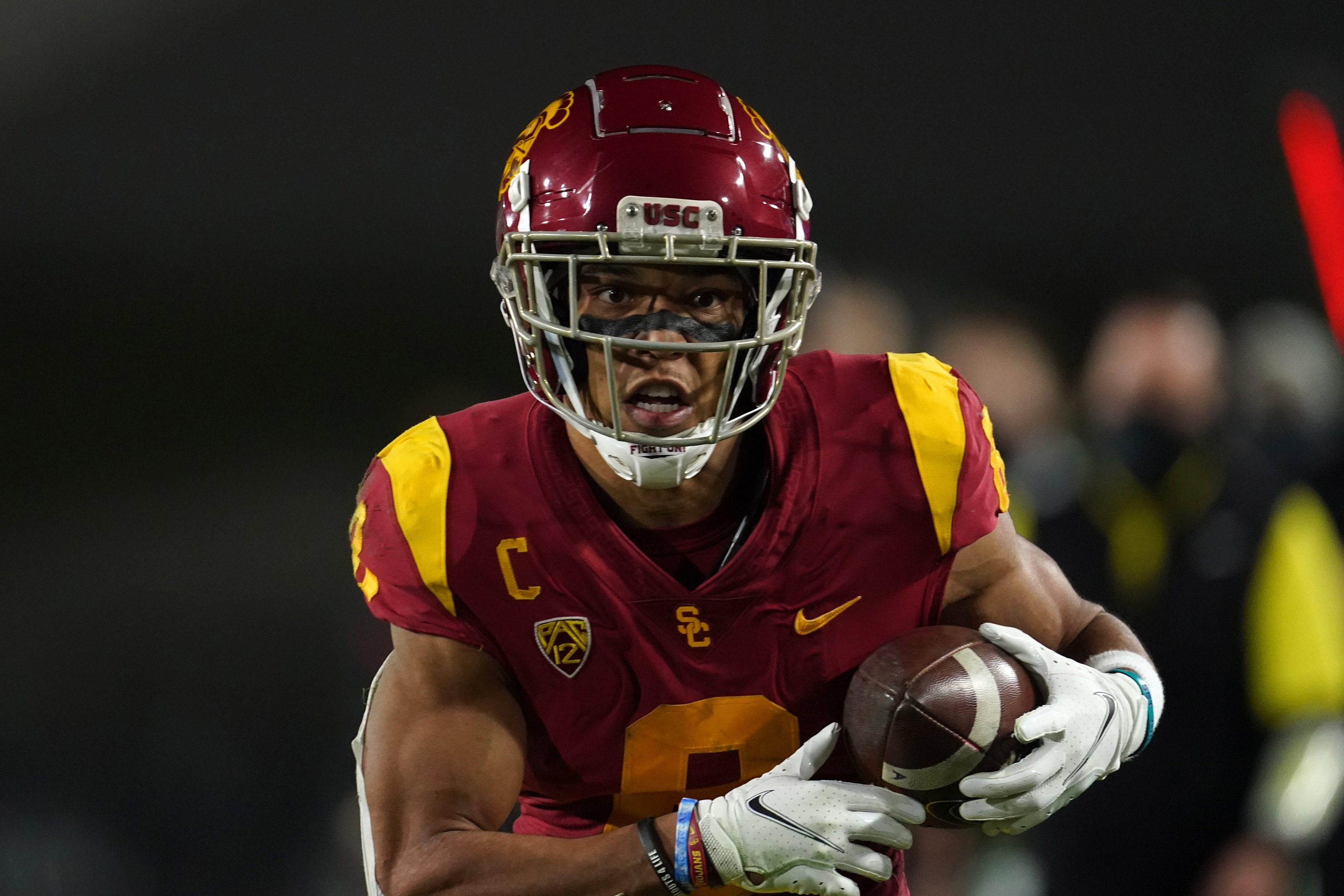 The Lions lost all of their veteran receivers in free agency. The team added Breshad Perriman and Tyrell Williams in free agency, with both players fitting better on the outside. Last year's fifth-round pick, Quintez Cephus, will rotate with them on the outside. This should give St. Brown the possibility of leading the wide receiver room in targets as a rookie.
The Bills were among the teams that could have picked one of the top-three running backs. Not only did they pass on those talents, pick after pick went by with Buffalo mostly focused on improving in the trenches. This included an offensive linemen to finish Day 2 and a lineman to start Day 3.
If anything, the Bills brought in players to help Moss succeed instead of players to compete with him for playing time. Moss should see over 50% of the rushing snaps, along with over 50% of red zone snaps. This should allow Moss to have a better sophomore season compared to his first year.
The Bears seemed primed to take a wide receiver early. They don't have the depth most teams have at the position, and the team's third wide receiver, Anthony Miller, could be traded away at some point.
Chicago didn't take a wide receiver until the end of the sixth round in Dazz Newsome. The incoming rookie has only played in the slot and will potentially take Miller's spot there. This means Mooney's playing time is secure, while Chicago used its first five picks on offense to improve the talent around Mooney. The second-year WR should finish second in targets for the team and will see some better passes thrown his way compared to last year.
Biggest Fallers
Robinson will be the biggest faller of the draft season, and it won't be close.
Last year's breakout UDFA had the potential to go in the first round of re-draft leagues this season if the Jaguars hadn't made an addition at running back. Robinson was RB7 last season despite missing two games. Jacksonville's signing of Carlos Hyde this offseason hurt his value slightly but also suggested that the Jaguars might be set at running back.
That wasn't the case, as Jacksonville used the No. 25 pick on Travis Etienne, the second back off the board. Etienne should immediately see more touches than Robinson, which moves Robinson from a potential first-rounder to the middle rounds.
If Hyde gets his few touches per game as expected, Robinson might not see the field very much. It will be interesting to hear from coaches about how Jacksonville plans to use its backs in the next few days. If this is a two-back committee, then Robinson can still be a mid-round pick. If it's a three-back committee or they give Etienne the job, Robinson is just a handcuff.
Waddle was mocked to a number of different teams during the pre-draft process and most were better situations than landing with the Dolphins.
Miami had a definite need alongside DeVante Parker after Preston Williams didn't live up to expectations last season, but the team addressed the position in free agency with Will Fuller. As things stand, Waddle is probably only playing in three-wide-receiver sets in the slot. Mike Gesicki also plays in those situations, giving Tua Tagovailoa four good receiving options on any given pass play.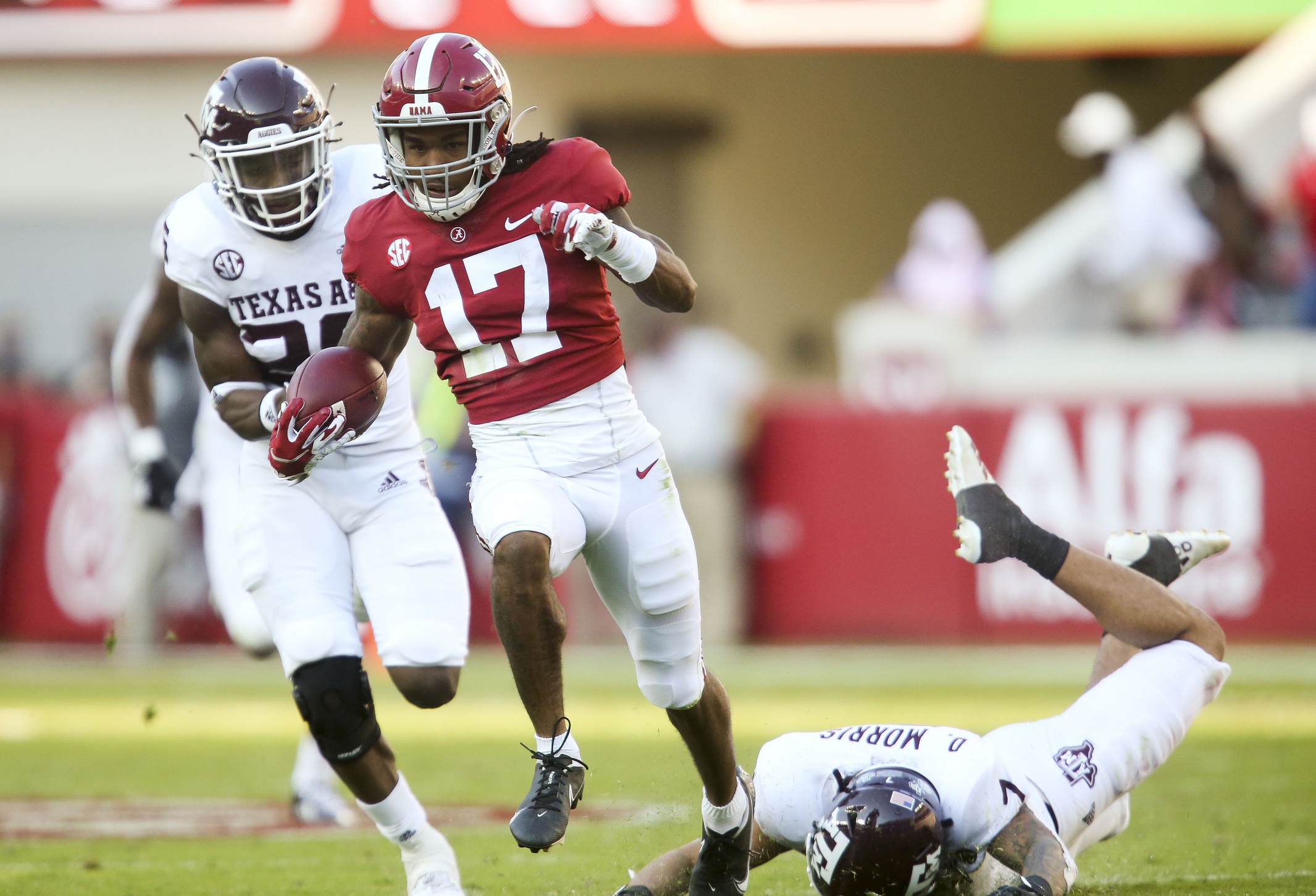 Waddle could potentially see the second-most targets on the team behind Fuller, but targets should be pretty evenly distributed. That would be OK if Tagovailoa takes a huge step in his sophomore season. But based on his rookie season, Tua won't be able to sustain three or four fantasy-relevant receivers
Both the Panthers and Broncos have several great receiving options that were held back by their quarterbacks in 2020. Both teams addressed the quarterback situation via trade, but they only added signal-callers that other QB-needy teams were willing to let go. 
When it came time to draft, both teams passed on Justin Fields and Mac Jones. It's likely that both franchises are looking for a quarterback again next year, which burns up another prime year for great young receivers like D.J. Moore and Jerry Jeudy. This all would obviously change if a team could swing a trade for Aaron Rodgers.
Shepard led the Giants in targets per game at 7.3, and it looked like he would see more snaps from the slot in 2021 after the team added Kenny Golladay and let go of Golden Tate. Shepard has played better from the slot throughout his career, having played from the alignment more often in past seasons. 
But the Giants used their first round pick on wide receiver Kadarius Toney, a dynamic WR who spent the majority of college snaps in the slot. Now the Giants have three wide receivers fighting for one or two spots on the field behind Golladay. Toney will limit Shepard's playing time and targets, potentially limiting his slot snaps as well. Any upside Shepard had heading into the season has disappeared.
As the Jets slot receiver over the last two seasons, Crowder has seen 146 targets despite missing a few games with injury. At times, he was the only fantasy-relevant player on the team. 
Crowder's 2021 cap hit is over $11 million, but it would only leave $1 million in dead money if he's released. The question of whether he'll make the roster intensified after the Jets took the first skill player of the night in Elijah Moore. 
According to the PFF Draft Guide, Moore is the quintessential slot receiver. Crowder would have been a WR4-WR5 if healthy, but now he might be out of a job. If he remains with the Jets, he won't see as much playing time with Moore in the slot and Corey Davis and Denzel Mims out wide.
There were several intriguing landing spots for Williams at the start of the second round where he could have ended up as a lead back. But the Broncos traded up to pair him with Melvin Gordon III.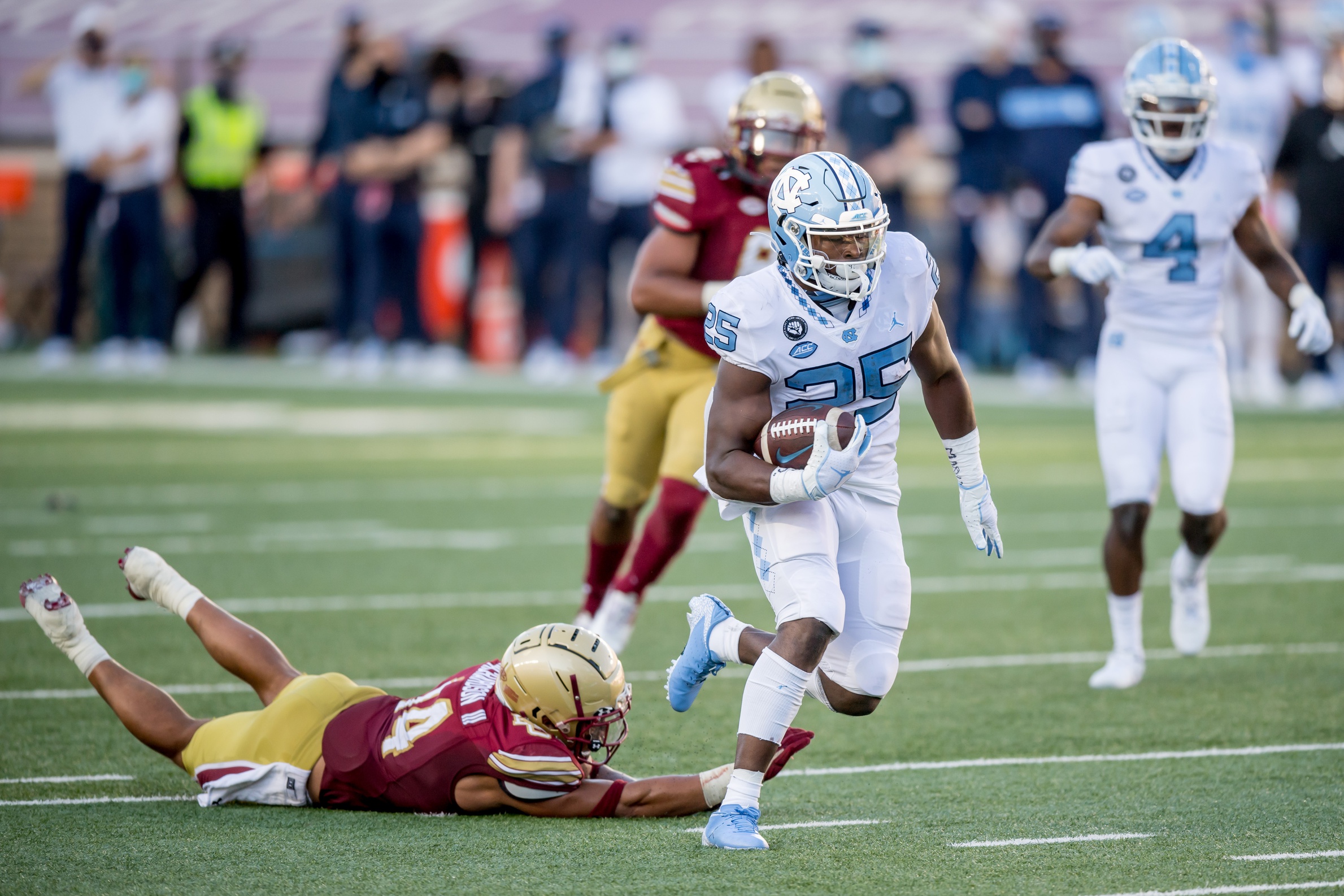 The Broncos have stuck with a committee approach over the past couple of seasons even when Gordon or Phillip Lindsay missed time. There's a very real chance that Williams could pass Gordon on the depth chart and still only see around 60% of the offensive snaps. The Broncos were also in the bottom five in terms of run-blocking grade, so Williams won't get a lot of help.
Williams should be in the RB3 conversation this year — and for years to come — but his upside is limited compared to the top two 2021 rookie running backs as long Gordon is in Denver and healthy.
Atwell's player comparison was Tavon Austin, and he lands with Austin's former team. The problem for Atwell is that there won't be the opportunity for him to see enough touches to be fantasy relevant, and it might take some time before that situation changes. Robert Woods and Cooper Kupp will continue to lead the team in targets. Van Jefferson was a second-round pick just one season ago, and the team added DeSean Jackson in free agency. Atwell could very well be fifth on the depth chart.
The best scenario for Atwell is for Woods or Kupp to be traded next offseason. Until one of those two players is off the roster, Atwell is a luxury for the Rams that they'll use a few times per game. A few touches a game won't get him on your fantasy roster.
Ebron joined the Steelers last season and took over as the starting tight end. It was difficult at times for him to find targets among so many receiving options, but he was still worthy of being started in fantasy at times because of the lack of options at the position. 
Ebron's time as a TE1 might have come to an end after the Steelers added Penn State's Pat Freiermuth — the second tight end off the board. He probably won't take the starting job from Ebron in 2021, but he will eat into his playing time. Ebron's contract voids at the end of the season, at which point Freiermuth will probably take over as the Steelers starting tight end. Ebron is left with little value this year except in two-TE leagues.
The Eagles have needed a receiving back in recent seasons and found one on Day 3 of the draft.
Miles Sanders' 33.9 receiving grade was the second-worst at the position in 2020. His 50 targets ranked top-15 among backs, but he finished outside of the top-30 in yards.
Philadelphia added Kenneth Gainwell, a player we projected as a third-round pick whom the Eagles stole in the fourth round. He is arguably the best receiving back in the class with great hands and elite agility. Sanders played over 70% of the Eagles' third-down snaps when he was healthy, but all of those snaps could be going to Gainwell.
Sanders still should be a RB2 because he will see the majority of carries, but his upside isn't nearly as high.
A number of backs selected in the fourth round landed on teams that already have a crowded backfield. Stevenson potentially has the worst landing spot in New England.
New England has Damien Harris and Sony Michel to handle run situations. Harris had the second-best grade among all running backs, with all of his grade coming from his rushing. Michel was a more well-rounded back with an 80.9 overall grade. James White returned to the Patriots — he might not be the same player he once was but still boasted an 84.2 receiving grade last year.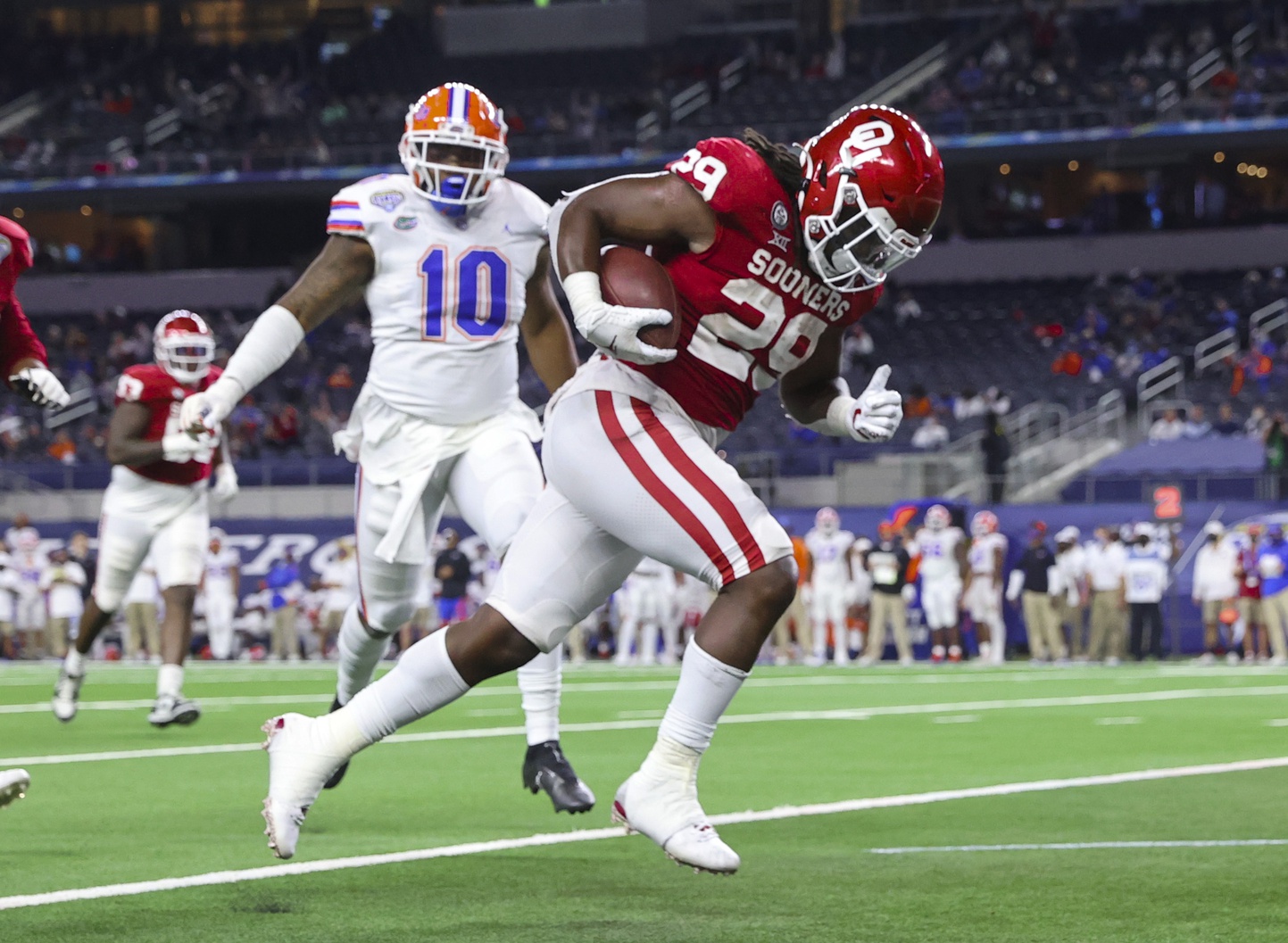 Stevenson is a bigger back than the other three players, so he can fit a specific role in the Patriots offense. It would take multiple injuries for Stevenson to get enough touches to be worth starting. New England has long been a fantasy situation to avoid, and it just got worse with a four-man backfield.
Miller could have been the Buccaneers second wide receiver heading into 2021 prior to free agency. But Chris Godwin re-signing early in the offseason and Antonio Brown re-signing earlier in the week pushed Miller back down to fourth on the depth chart. Then Tampa Bay added Jaelon Darden with the 130th overall pick in the draft.
This potentially pushes Miller down to fifth — even lower if Tyler Johnson can surpass him as well. Miller isn't even assured a roster spot at this point. A trade might be best for Miller so he has a chance to see the field.
A tight end had more than 110 receiving yards in a game 13 times last season. Most of those games belonged to the three elite fantasy tight ends, but Alie-Cox had one of his own.
Alie-Cox couldn't live up to that hype the rest of the season amid the Colts' three-tight-end rotation. Trey Burton is an unrestricted free agent who likely won't re-sign, which left Indianapolis with Alie-Cox and Jack Doyle. Doyle will turn 31 later this week, which meant Alie-Cox could have been a starting fantasy TE in two TE leagues.
Then today the Colts used a fourth-round pick on Kylen Granson, who can play more of an H-back role. This moves the Colts back into a three-tight-end rotation, which will leave Alie-Cox outside the top 30 fantasy tight ends.