The NFL hot stove is ablaze with NFL Draft rumors, from Kyle Shanahan's plan for the No. 3 pick to Elijah Moore's steady rise up draft boards. With just days left before the big reveal, it's worth monitoring the players who are seeing their draft stocks soar, along with those at risk of sliding down in the first round or even dropping into the second round and beyond.
More of PFF's 2021 NFL Draft tools here: 
2021 NFL Draft Big Board | 2021 NFL Draft Guide | 2021 NFL Draft Stats Export | NFL Mock Drafts | NFL Mock Draft Simulator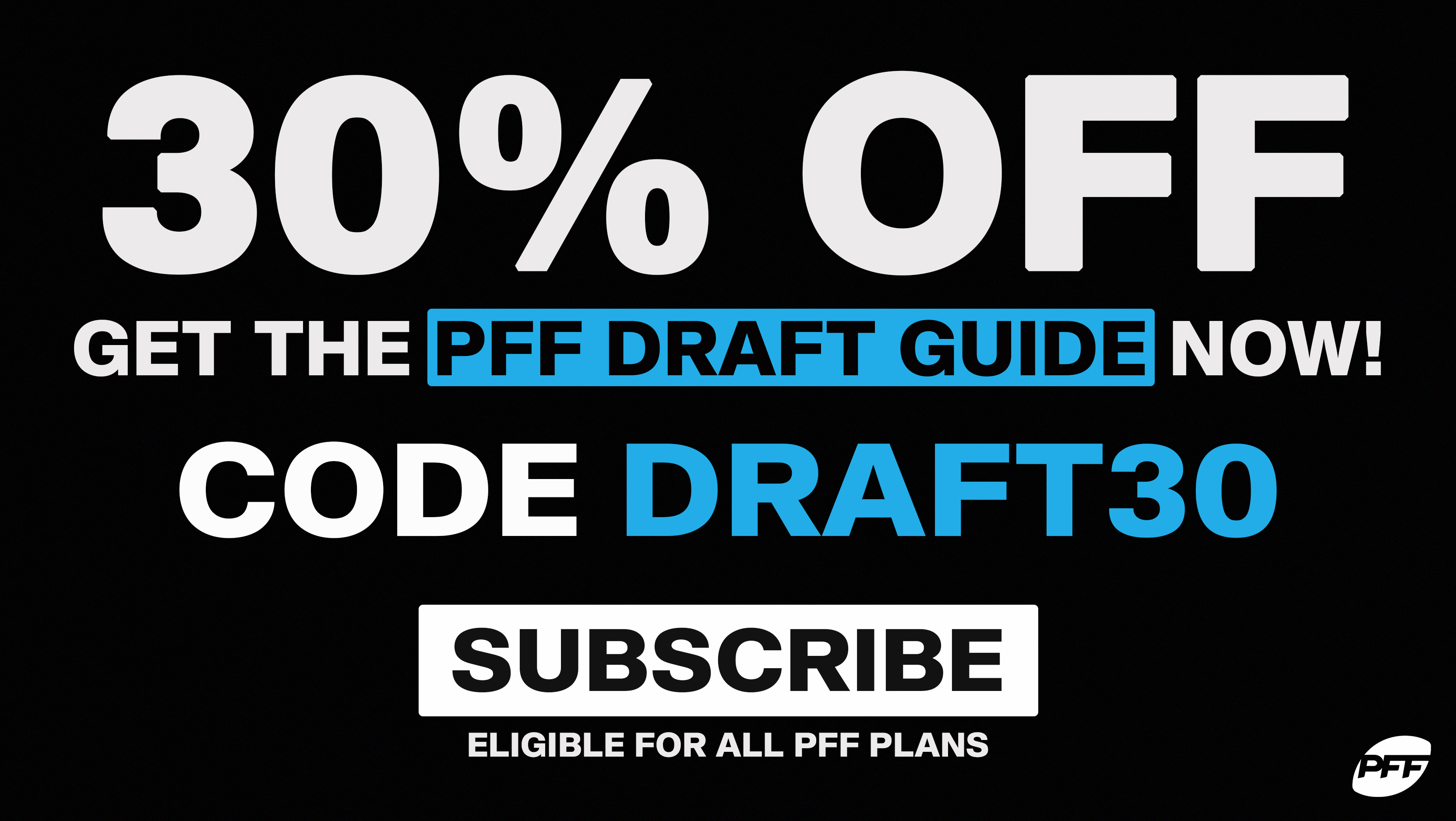 Here are eight draft stock risers and fallers whose draft slots — and fantasy football values — are moving ahead of the 2021 NFL Draft.
Draft stock rising
The North Dakota State signal-caller has replaced Justin Fields as the fan and media favorite for the 49ers at the third overall pick. It is easy to see why — Lance possesses arguably the highest upside of any quarterback in this entire draft class. He recorded an 88.7 passing grade with a stellar 28 touchdowns and zero interceptions in 2019, while also tallying 1,150 rushing yards and 14 rushing touchdowns.
Lance's blend of precise decision-making, downfield cannon and dynamic athleticism are tools worth paying future first-round picks to trade all way up to the No. 3 overall pick.
Even if the 49ers end up selecting Alabama quarterback Mac Jones, the hype train for Lance has reached new heights and elevated him past Fields in the eyes of most pundits. Do not be surprised if Lance is the third or fourth quarterback selected on draft night. The 6-foot-4 and 226-pound physical specimen ranks as the No. 4 quarterback on PFF's Big Board.
The former LSU standout possesses the draft stock of a rocket ship bound for Mars. The top tier of this wide receiver draft class is smaller than any group in recent memory. At 6-foot-3 and 215 pounds, Marshall is the only prospective first-round wide receiver above 6 feet tall.
Accordingly, Marshall's enormous size combined with his 4.38-second 40-yard dash wheels and outlandish 39-inch vertical have catapulted him into first-round lock and fantasy football darling territory.
The burly wideout caught 82% of his contested targets last season, the highest rate in college football. His draft profile reveals the upside of similar size and speed specimens like D.K. Metcalf and A.J. Brown.
Kadarius Toney is the most dynamic athlete in this draft class with the football in his hands. He forced 20 missed tackles last season (fifth-most) on 70 catches — he's a human joystick in the open field.
Kadarius Toney can't be tackled ????

— PFF Draft (@PFF_College) November 1, 2020
The 6-foot and 193-pound electric playmaker possesses elite acceleration with the flexibility to quickly sink and out of cuts. He ran a 4.41-second 40-yard dash, and his speed looks significantly quicker on tape. Check out this play where Toney blew past the entire South Carolina defense:
It's been five months, still not sure how Kadarius Toney did this

— PFF Draft (@PFF_College) March 18, 2021
Toney possesses sure hands, dropping only three of 123 career catchable targets. He hauled in 83% of his targets last season, fifth-most in the nation and trailing only Jaylen Waddle and Elijah Moore among draft prospects.
Percy Harvin was a 5-foot-11 and 200-pound lightning rocket out of the University of Florida back in 2009. He posted his best season in 2012 (90.2 PFF grade, third among all wide receivers) and led the league with 22 forced missed tackles (five more than anyone else). There is a lot of Percy Harvin in Kadarius Toney.
The top tier of running backs in the 2021 NFL Draft is clearly Javonte Williams, Travis Etienne and Najee Harris. Trey Sermon is emerging as the favorite to be the No. 4 running back in this class.
Here are the highest career rushing grades among all running backs in the 2021 NFL Draft:
The 6-foot and 215-pound bruiser flashed in his final season at Ohio State, averaging a highly efficient 7.5 rushing yards per attempt (fifth-best, minimum 100 carries). Sermon finished his college career with a bang, racking up a whopping 524 total rushing yards in his final two games against Northwestern and Clemson, the 29th- and 13th-ranked defenses in college football, respectively.
Draft stock falling
Justin Fields' mystifying slide continues to be the most puzzling story of NFL draft season. Reasons surrounding Fields' declining draft stock make zero sense — he owns every tool NFL teams want in a franchise quarterback, including pinpoint accuracy, a rocket arm, dynamite athleticism and elite production at a top-tier college program. What is missing here?
Fields registered a 93.6 PFF grade last season (third-best) with lethal accuracy downfield — his 68% accurate pass rate on throws past the sticks was tops in the nation. In the 2021 NFL Draft Guide, PFF's Mike Renner describes Fields as one of the most accurate passers that PFF has ever charted.
The Ohio State quarterback checks in at 6-foot-3 and 227 pounds with 4.44-second 40-yard dash speed. He is the No. 3 overall player on PFF's Big Board and will be a steal for whichever team ultimately selects him on draft night.
DeVonta Smith had a 2020 season for the ages with 117 catches, 1,856 yards, 23 touchdowns and a 94.9 PFF grade — the highest grade PFF has ever recorded for a wide receiver since we started grading college football in 2014.
So why is his draft stock declining? Enter the BMI and weight debate, with the latest whispers revealing Smith may weigh in as low as 166 pounds. Will a NFL team be comfortable spending a top-15 selection on a wide receiver that weighs less than 170 pounds? They should — whichever team pulls the trigger will be getting an absolute stud.
The reigning Heisman Trophy winner's tape speaks for itself. In his wide receiver superlatives article, PFF's Mike Renner dubbed Smith as the best route runner in the 2021 NFL Draft. Here he roasts Derek Stingley Jr. (PFF's highest-graded cornerback in 2019) for a 85-yard touchdown, reeling in a bomb from Tua Tagovailoa.
Can't wait for DeVonta Smith 80-yard touchdowns in the NFL ???? pic.twitter.com/YGyhU3ciZn

— PFF Fantasy Football (@PFF_Fantasy) April 26, 2021
It is difficult to find on-field cons for Smith. His weight has been beaten to death over the last few months, but that is his only negative. When that's the only concern — and it hasn't even come to light as an issue on a college football field — then there's not much to be worried about. Smith is a versatile game-breaker who just wins. That is a fit for any scheme in the NFL.
Once viewed as a virtual lock for the first round, Rondale Moore is at serious risk of dropping deep into the second round after his pro day measurables revealed a 5-foot-7 and 180-pound frame. NFL GMs might have a difficult time envisioning Moore as anything beyond a gadget player at the NFL level.
The former Purdue speedster had his best season as a freshman in 2018, when he amassed 114 catches, 1,258 yards, 12 touchdowns and 37 forced missed tackles (most in college football, 8 more than Laviska Shenault Jr., who ranked second). Moore is ready to be a stud slot weapon at the NFL as a sneaky good route-runner with ball skills.
NFL teams are likely to remember that Tavon Austin busted as a first-round pick with similar size and speed metrics, thereby pushing Moore down into the second round.
After pushing Penn State behemoth Pat Freiermuth to be the No. 2 tight end in this draft class after Kyle Pitts, Brevin Jordan's disappointing pro day essentially eliminated him from that conversation. The former Miami tight end measured in at just 6-foot-3 and 247 pounds with a pedestrian 4.69-second 40-yard dash and 31-inch vertical.
Jordan looks and plays like an oversized running back — he has 21 forced missed tackles on 105 career catches with a rare ability to make cuts for a tight end. However, can he also be an in-line threat and willing blocker? Or will he be limited to short crossing routes, like his 3.4-yard average depth of catch last season? The latter role would make Jordan a tough sell as a Day 2 draft pick.
From a physical perspective, new Patriots tight end Jonnu Smith is the optimal player comparison for Jordan. Smith is also 6-foot-3 and weighs 248 pounds with elite tackle-breaking ability — his 16 forced missed tackles since 2019 rank sixth-most among all NFL tight ends. Smith might be the best-case scenario for Jordan.