April is here, and we are now in the final stretch before the 2022 NFL Draft. NFL Scouting Combine numbers have all been recorded, free agency has adjusted new team needs and the final pro day figures are trickling in. With this new information comes new mock drafts and new mock draft predictions.
One hard-to-predict element of the draft process is trades. We know they will happen, but forecasting them is tricky. Given all the new information we now have from the past few months, here are six realistic trade opportunities I would love to see happen for a handful of NFL teams.
---
Click here for more PFF tools:
Draft Guide & Big Board | Mock Draft Simulator
Dynasty Rankings & Projections | Free Agent Rankings | 2022 QB Annual
Player Grades
---
The Falcons, well, they're a mess. They showed their entire hand and took a big risk in attempting to acquire Deshaun Watson at the expense of their relationship with long-time franchise quarterback Matt Ryan. When Watson chose the Cleveland Browns instead, Ryan likely wasn't too happy about being their second choice, contributing to both sides moving on through a trade with the Indianapolis Colts.
For Ryan, the Falcons picked up an extra third-round pick from the Colts. They also have an extra second-round pick from the Julio Jones trade the year prior. That gives them four Day 2 selections, as well as their top-10 pick in the first round. One would think five picks within the first 85 selections would be enough to stay at No. 8, but that Falcons roster looks like it requires a multi-year rebuild.
Atlanta needs top-tier talent at the most premium positions: quarterback, offensive tackle, pass-rusher and cornerback (A.J. Terrell can't do it all). If the Falcons want a quarterback at No. 8, they probably won't move back. But given they didn't go after Justin Fields or Mac Jones when they had the chance last year, taking a much bigger risk on this year's quarterback class feels desperate.
Instead, lure another team into the quarterback selection. Maybe the Pittsburgh Steelers at No. 20 would move up for Malik Willis. Or perhaps a team such as the Los Angeles Chargers at No. 17 would want to get aggressive for a top offensive lineman. Or maybe even see what the Buffalo Bills at No. 25 would surrender to move up for a cornerback or whoever they believe might bring them closer to a Super Bowl.
If the Falcons are moving back in this draft, they shouldn't be looking for much in return from this year's picks — they already have all those Day 2 selections. Instead, they could move back, stay in the first round this year and aim for an additional first-round pick and an additional Day 2 pick next year to make sure they can really infuse some new blood into that depth chart over the next two years.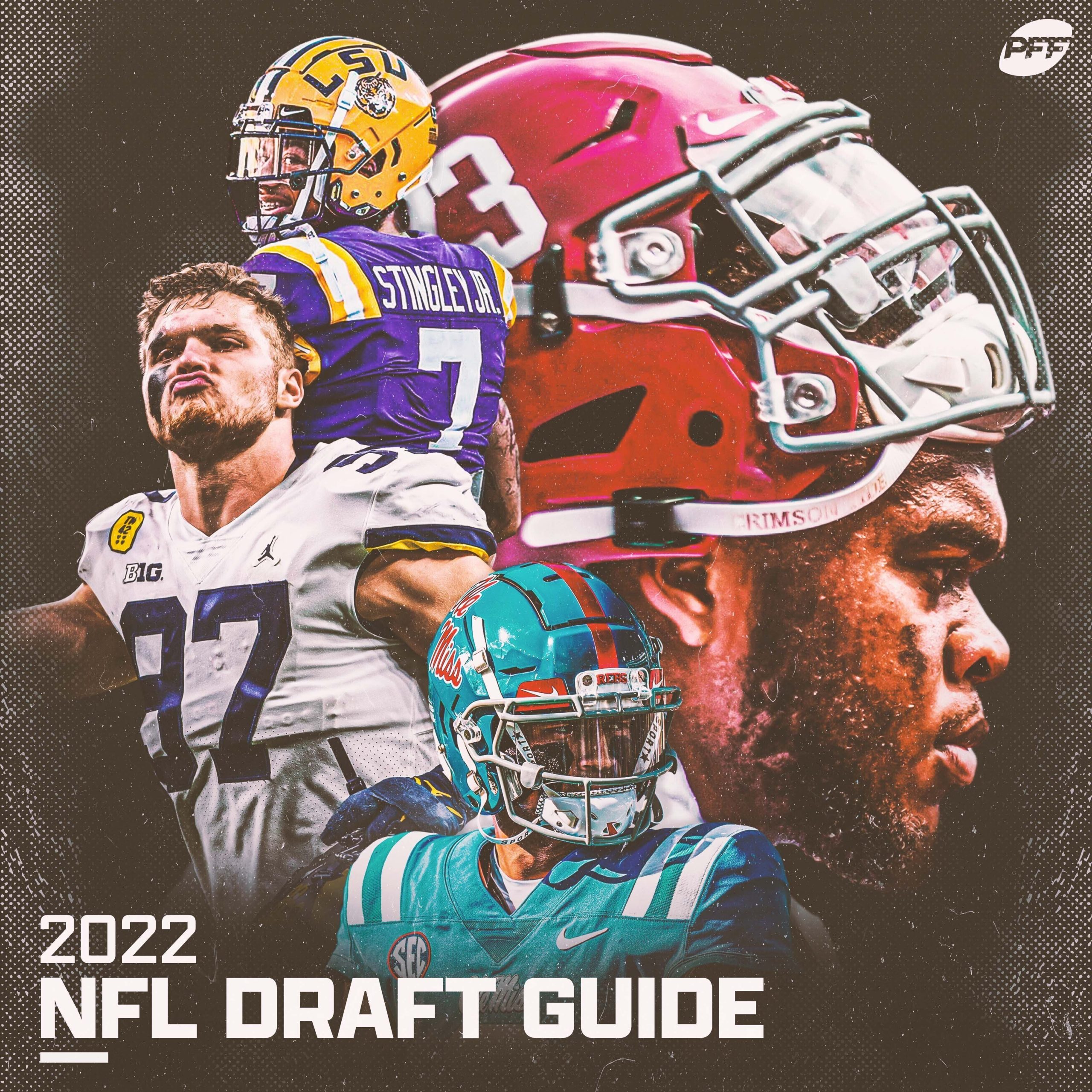 Me loving the idea of the Jets moving down all depends on who is left on the board. If they go pass-rusher or offensive tackle at No. 4, they could hold onto No. 10 until they're on the clock to see if one of Kayvon Thibodeaux, Jermaine Johnson II, Ikem Ekwonu, Charles Cross, Ahmad Gardner or Derek Stingley Jr. is still there. There's a good chance one or more of those names drops down. But if the Jets have their eyes on a receiver in the first round, I'd entertain trading back.
This receiver class is good, but I wouldn't say it's filled with "gotta have him" players. The Jets would benefit from any of Garrett Wilson, Drake London, Chris Olave, Jameson Williams or Treylon Burks. It feels as though there won't be more than one, if that, taken in front of them at the back end of the top 10. So if they're really eyeing receivers with their second first-round choice, they should be open to picking up a good pick or two in next year's draft.
Outside of the obvious scenario of the Pittsburgh Steelers looking to move up for a quarterback, another potential trade I like is trading down with the New Orleans Saints at No. 18. New Orleans could be eyeing a top offensive tackle to replace Terron Armstead, and moving to No. 18 would still put the Jets in front of wide receiver-needy teams like the Philadelphia Eagles (No. 19), New England Patriots, Green Bay Packers and Kansas City Chiefs.
Speaking of the Packers and the Chiefs keeping an eye on the receiver market, this one would be quite the splash.
Green Bay is looking to upgrade its receiver room after trading Davante Adams, and Kansas City is looking to do the same after shipping Tyreek Hill to the Miami Dolphins. Those are probably the top two receivers in the game right now, so to think a rookie wideout at the back end of the first round would replace even a fraction of Hill's or Adam's production and make a big difference for two teams in a championship window would be a steep bet (shoutout Justin Jefferson).
The Seattle Seahawks said they don't intend to trade D.K. Metcalf, but they said the same about quarterback Russell Wilson, now a Denver Bronco. Reports suggest Metcalf could be had for the right price. Both the Chiefs and Packers have an additional first-round pick for losing their former receivers. Seahawks fans would tell you that's not enough, and maybe it's not — but I don't think either team will pay more than that. But given that Metcalf is in the final year of his rookie deal and whoever trades for him will have to pay him handsomely shortly after, maybe both sides can reach a fair agreement.
---
2022 NFL Draft position rankings:
Top 10 players at every position
QB | RB | WR | TE | iOL | OT | DI | EDGE | LB | CB | S
---
NEW YORK GIANTS TRADE BACK UP INTO THE FIRST ROUND
The Giants control a lot of what happens at the start of the draft, holding two premium picks at Nos. 5 and 7. While you might read some suggestions saying their best trade option would be to move down from one of them, I would take the opposite approach.
Now, if a team offers a trade they can't refuse for one of those picks, they should certainly keep their ears open. But the Giants already have two third-round picks plus their early second-round pick on Day 2. They don't really need to move back from one of those top-10 picks to get extra draft capital. Instead, the better move would be using one of those third-round picks in addition to the second-round pick to make a jump back into the first round and pick up a third Day 1 player.
Their targets here all depend on what they do in the top 10. If they go with an offensive tackle and a cornerback at the top, they could move up for a good pass-rusher, say Boye Mafe, George Karlaftis or David Ojabo, with that extra fifth year in their contract. The same could be done if they double-dip in the trenches at the top and move up for a late first-round cornerback, such as Kaiir Elam, Andrew Booth or Trent McDuffie.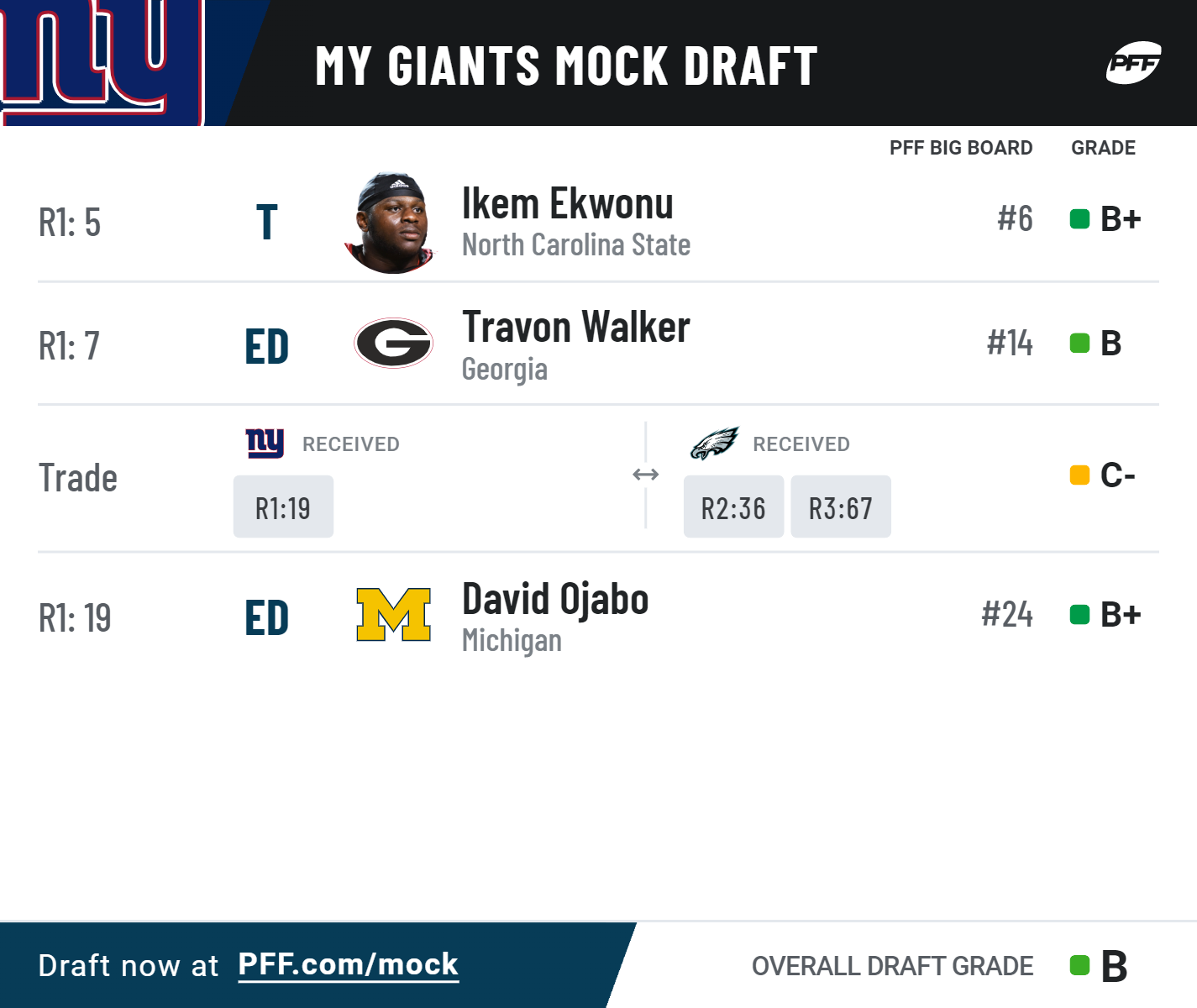 As is the case with every draft, a handful of teams picking in the top half of the second round might want to jump back into the first round to get that extra fifth-year option on a player's rookie contract. At Pick No. 31, the Bengals are in prime position to be a team that benefits from that.
Cincinnati did a great job upgrading the glaring weaknesses along their offensive line this free agency period. Though their roster isn't perfect, it is now at a point where they can be flexible at the back end of the first round if the right deal pops up. Cincinnati doesn't have an additional draft pick until the seventh round. Perhaps a team such as the New York Giants, New York Jets or Atlanta Falcons with multiple Day 2 picks could give Cincinnati some extra selections in the top 100 for moving back just a few spots from Day 1 to Day 2.
The Chargers have been one of the most aggressive teams in the NFL this offseason. They brought back receiver Mike Williams, went out and traded for pass-rusher Khalil Mack and signed cornerback J.C. Jackson to a big-money contract. Why stop now when they can continue to get even better?
Los Angeles released veteran offensive tackle Bryan Bulaga, which means their right tackle spot needs addressing. With most of the rest of their roster ready to compete for a division title, and even a potential conference title, right now, they can afford to get aggressive with multiple picks to move into the top 10 for players such as Evan Neal, Ikem Ekwonu or Charles Cross. Target picks for those guys could be anywhere in the Nos. 7-10 range from the New York Giants, Atlanta Falcons, Seattle Seahawks and New York Jets.
Such a trade would give the Chargers a good roster mix of talented players on big deals as well as rookie contracts.
---
Related content for you:
2022 NFL Draft: Is Travon Walker worth a top-five pick?
via Ben Linsey