What would the 2021 NFL Draft look like if it were up to the fans rather than the teams? To answer that question, I analyzed PFF's Mock Draft Simulator data by both player and team to create a 2021 NFL mock draft.
PFF's Mock Draft Simulator has collected data from well over one million fan mock drafts throughout this offseason. It offers incredible insight into team needs by revealing the top players that fans are drafting in each round. Additionally, it includes detailed draft profiles and player evaluations for the top 300 prospects.
The following mock draft reveals the fan favorites for every team picking in the first round of the 2021 NFL Draft.
View PFF's 2021 NFL Draft position rankings:
QB | RB | WR | TE | T | iOL | DI | EDGE | LB | CB | S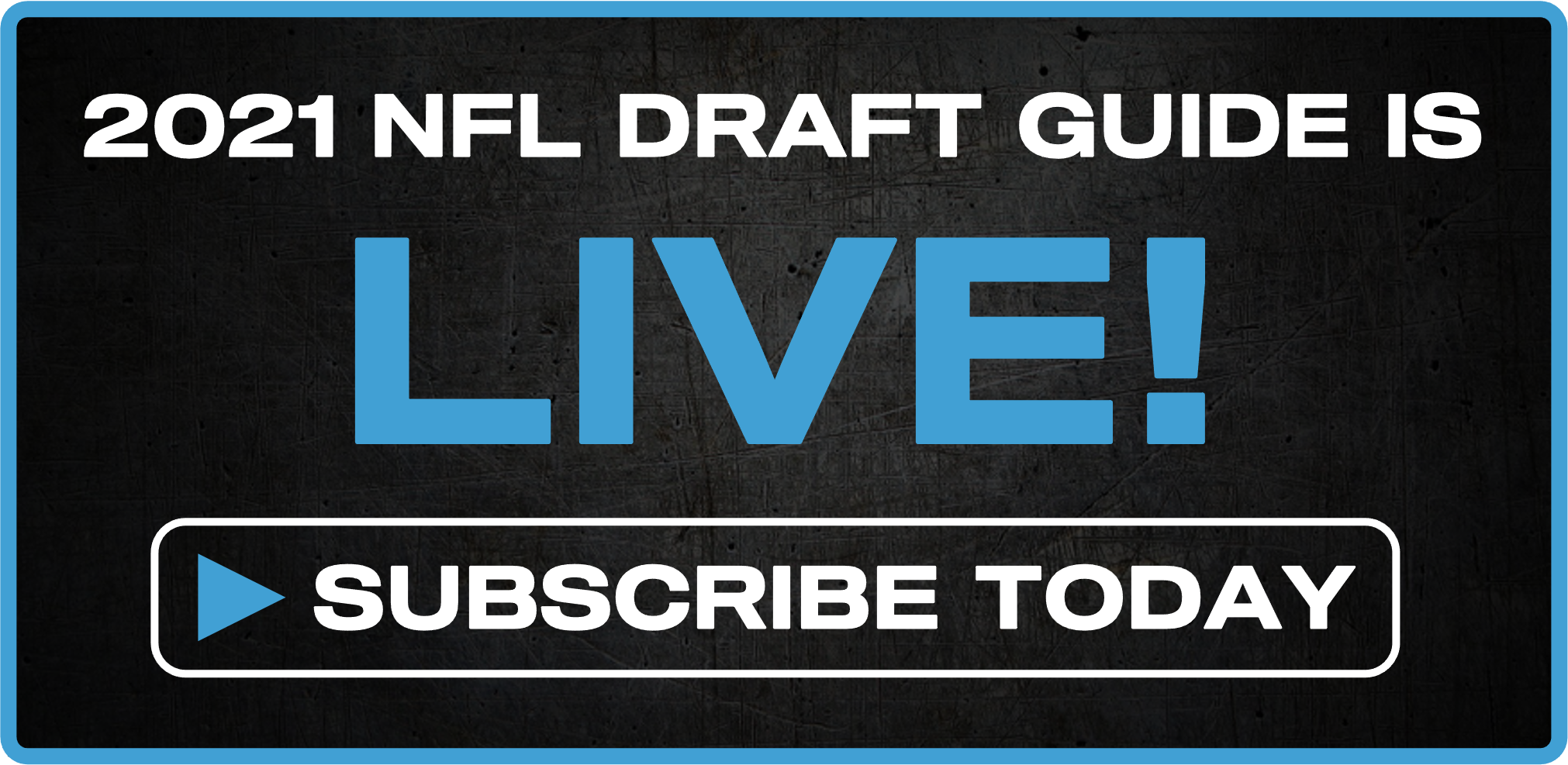 Trevor Lawrence to the Jaguars has been a fait accompli the entire offseason. Every game is a laser show for the stud quarterback, and he has the arm strength to open up the field. Lawrence even has sneaky wheels to function as a capable dual-threat signal-caller who can stress linebackers in coverage and avoid the pass rush.
Other consideration: None
Related: Trevor Lawrence continued to improve, and that's what separates him from the pack via Seth Galina
By trading Sam Darnold, the Jets are virtually locked into Zach Wilson at the No. 2 pick. Wilson has been compared to Aaron Rodgers due to his ability to thrive off-script both in and out of the pocket, flashing pinpoint accuracy to every level of the field.
Other consideration: None
Related: 2021 NFL Draft: A look Into PFF's projections for BYU quarterback Zach Wilson via Eric Eager
49ers fans don't seem to be buying the Mac Jones rumors at No. 3, or perhaps they are intentionally ignoring the steadily increasing drumbeat that Jones is Kyle Shanahan's guy. Fields has a complete skill set as a true dual-threat quarterback with exceptional accuracy. His blend of accuracy, arm talent and running ability forms a significantly higher ceiling than what Jones provides.
Other consideration: Trey Lance, Mac Jones
Related: Projecting Ohio State QB Justin Fields' impact as an NFL player via Eric Eager
Falcons fans are not ready to give up on the Matt Ryan era just yet. Here, they choose to give their veteran quarterback another weapon to pair with Julio Jones and Calvin Ridley. The Jones, Ridley and Pitts trio would be an absolute nightmare for NFL defenses. Pitts is the rare tight end who can consistently beat man coverage, even when lined up one-on-one against cornerbacks.
However, rumors are ablaze that the Falcons may trade out of this spot to a quarterback-needy team, such as the Broncos or Patriots.
Other consideration: Trey Lance, Patrick Surtain II
Related — 2021 NFL Draft: Florida TE Kyle Pitts is the best receiving prospect in the draft, regardless of position via Sam Monson
Guessing the Bengals' plans at Pick 5 has been the greatest debate of the 2021 NFL Draft news cycle. Should they protect Joe Burrow with an elite tackle prospect in Penei Sewell? Or should they give Burrow an explosive weapon, such as Ja'Marr Chase or Kyle Pitts? Bengals fans have spoken: They want to reunite Burrow with his college teammate after the duo broke every record for deep touchdowns in a single season.
Remember, Justin Jefferson just set the NFL rookie receiving record after playing as the No. 2 wideout at LSU, behind Chase. Fortify the offensive line in the second and third rounds and use the No. 5 pick to get Burrow the best wide receiver prospect we have seen in quite some time.
Other consideration: Penei Sewell
Related: Don't forget about Ja'Marr Chase — PFF's WR1 via Mike Renner
Miami is fully committing to Tua Tagovailoa, and Dolphins fans are prepared to set him up for success, protecting him with arguably the best tackle prospect over the past several years in Penei Sewell. Though he did not play in 2020, Sewell recorded a 95.8 PFF grade in 2019 at 19 years old, which was the highest-graded season PFF has ever seen from a Power Five offensive tackle. He possesses a stellar blend of floor and ceiling to anchor Miami's offensive line for the next decade.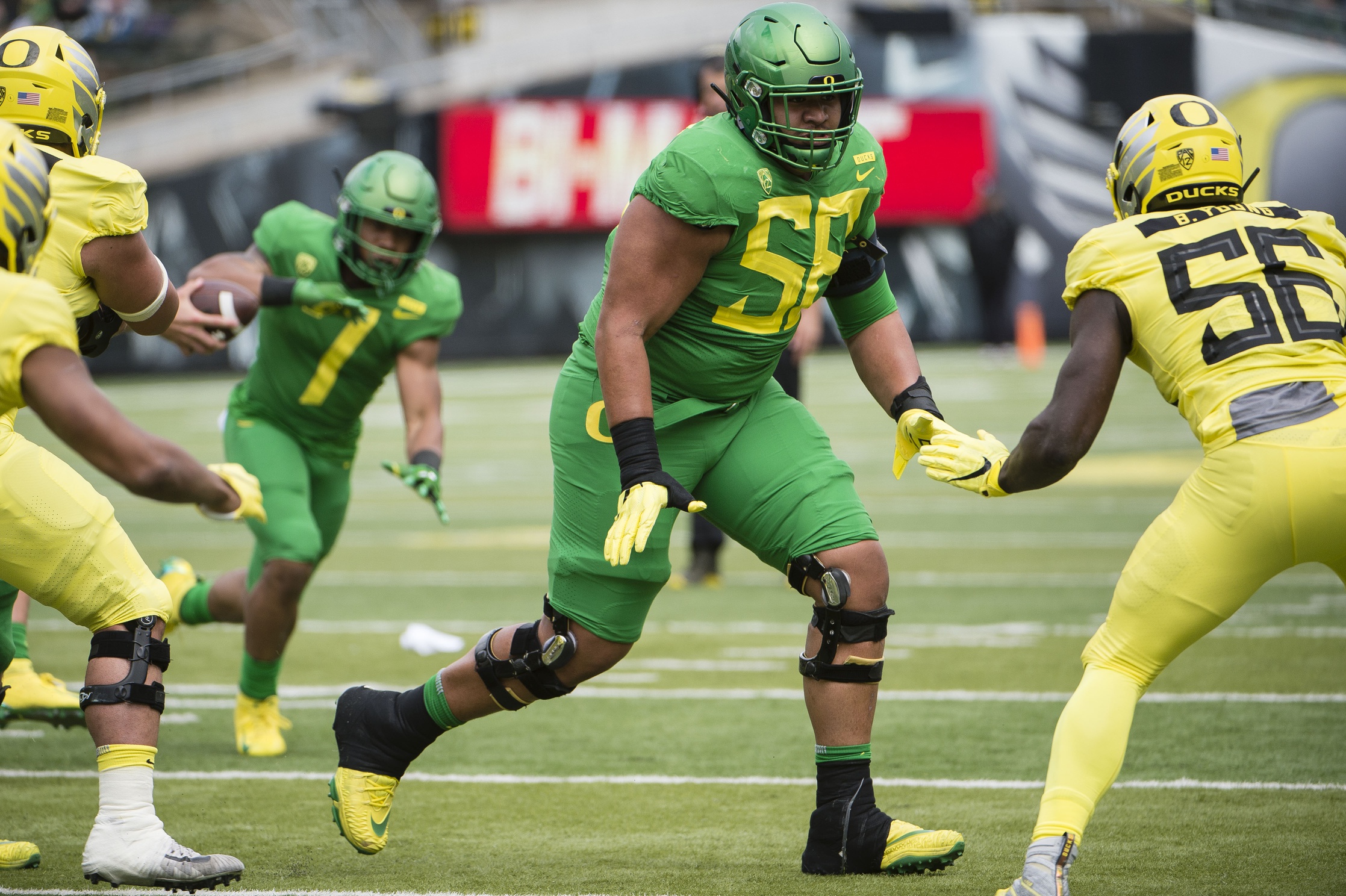 Dolphins fans are also enamored with both Chase and Pitts, as the pass catchers were actually selected more often than Sewell by users. However, neither Chase nor Pitts are on the board in this mock draft, which makes Sewell a phenomenal consolation prize.
Other consideration: DeVonta Smith
The Lions find their replacement for Kenny Golladay with the reigning Heisman Trophy winner. Size be damned, Smith is arguably the most polished wide receiver in this draft class, flashing savvy route-running chops and ridiculous ball skills. He posted an elite 95.7 PFF grade since 2019, ranking first among all wide receivers.
Surprisingly, Lions fans must have the Jared Goff fever, as they maintained little interest in upgrading the quarterback position. Their most selected players are a mix of the draft's top wide receiver prospects and linebacker Micah Parsons.
Other consideration: Micah Parsons, Jaylen Waddle
Related: 2021 NFL Draft Film Study — Alabama WR DeVonta Smith via Sam Monson
The acquisition of Sam Darnold did little to ease Panthers fans' angst regarding the team's future at quarterback. Though this data was largely collected prior to the Darnold trade, my suspicion is that Panthers fans would still approve of drafting Lance if he fell to the team at No. 8 overall.
Lance is uber-athletic with a monster arm and possesses possibly the best pure physical talent among any quarterback in this draft class. However, he is also extremely raw and will need time to develop before he is ready to play at the NFL level. That makes him a perfect fit to sit behind Darnold for a year or two while he learns the NFL game.
Other consideration: Mac Jones
Related: College-to-pro projections for North Dakota State QB Trey Lance via Eric Eager
Broncos fans apparently are not ready to give up on Drew Lock just yet, as stud linebacker Micah Parsons is their most selected player (though Trey Lance and Mac Jones rank second and third, respectively, by Broncos fans). The Broncos figure to field one of the NFL's best defenses next season, and Parsons reinforces that strength even further. The Penn State product will be a major force for Vic Fangio as the best linebacker prospect PFF has scouted in seven years of grading college football. His combination of size and explosiveness is special, highlighted by an unreal 4.39-second 40-yard dash at 6-foot-3 and 246 pounds.
Other consideration: Mac Jones
The Cowboys' leaky secondary has been a major weak point for the team of late, and their fans choose to add Surtain, the No. 1 cornerback prospect. He is the most technically advanced and consistent cornerback in this draft class, boasting a perfect blend of a high floor and a high ceiling. He did not allow more than 65 receiving yards in any game over the past two seasons.
Other consideration: Jaycee Horn
Related: 2021 NFL Draft Profile — Alabama CB Patrick Surtain II via Sam Monson
Giants fans are prepared to draft a first-round offensive tackle in back-to-back seasons, opting to grab Rashawn Slater to protect Daniel Jones. There are questions as to whether Slater will be at his best at tackle or inside at guard, but either way, he has the athleticism and tools to be an elite blocker in the NFL.
Of utmost importance to Giants fans, Slater posted the best tape against Chase Young in 2019 among any offensive lineman in college football. That will be critical as the Giants battle the Football Team for the NFC East crown.
Other consideration: Jaylen Waddle
Eagles fans were rightfully devastated after the team traded down with the Dolphins and forfeited a chance to draft either Kyle Pitts or Ja'Marr Chase. This comes a year after Philadelphia passed over Justin Jefferson to draft Jalen Reagor. And of course, the infamous selection of J.J. Arcega-Whiteside over D.K. Metcalf is still top of mind. Eagles fans are committed to continuing to attack the wide receiver position until they get it right.
Jaylen Waddle holds the closest prospect profile to Tyreek Hill since 2016, when Hill entered the league. Waddle is the complete package as a speed receiver who pops off the line of scrimmage. He is arguably the most explosive all-around athlete at the wide receiver position in this class. Jalen Hurts finally gets his WR1.
Other consideration: Jaycee Horn
Related: 2021 NFL Draft Profile — Alabama WR Jaylen Waddle via Sam Monson
Chargers fans' priorities are crystal clear: Protect Justin Herbert at all costs. Even though Los Angeles already invested big dollars in Corey Linsley and Matt Feiler on the offensive line this offseason, the team grabs the burly Christian Darrisaw to fortify Herbert's blindside for years to come.
Darrisaw is a mountain of a man at 6-foot-5 and 322 pounds with exceptional upper-body strength. He dominated a slew of talented ACC edge rushers last season, many of whom will be early-round picks in this year's draft. Darrisaw is ready to step in as a starter on Day 1.
Other consideration: Jaycee Horn
To the dismay of Vikings fans, the top three tackles are off the board in this mock draft. Though offensive line was the team's preferred option, Kwity Paye is a fantastic consolation prize to inject much-needed juice into the Vikings' lackluster pass rush. Minnesota's defense tallied the third-fewest quarterback pressures in the NFL last season, so a player of Paye's caliber to harass opposing quarterbacks is sorely needed. He has all the freaky tools necessary to develop into an impact pass-rusher at the next level.
Other consideration: Alijah Vera-Tucker, Trevon Moehrig
Patriots fans get their quarterback of the future in Mac Jones after he slips all the way to 15th in this mock draft. That is quite the range for Jones, who could conceivably go as high as third overall. If the 49ers ultimately pass on him, we may see the Patriots make an aggressive move to trade up for him.
Unlike the other quarterbacks with first-round projections in this class, Jones is more statue than athlete, which explains why fans are sourer on him than most NFL front offices. Jones' best trait is his accuracy on underneath throws. No quarterback in college football was more accurate within 10 yards than him. He possesses a veteran understanding of an offense, with meticulous timing and a sense of calm under pressure. He will be ready to start in the NFL on Day 1.
Other consideration: Jaycee Horn, Rashod Bateman
Related: Mac Jones is just as good an NFL prospect as Tua Tagovailoa was, if not better via Seth Galina
Jaycee Horn's draft stock is a rocket ship, and he is a steal at the 16th pick. Cardinals fans are hoping Horn can be the successor to Patrick Peterson and lock down top wideouts. He will have his hands full in the NFC West division playing against D.K. Metcalf, Brandon Aiyuk, and Robert Woods twice every season.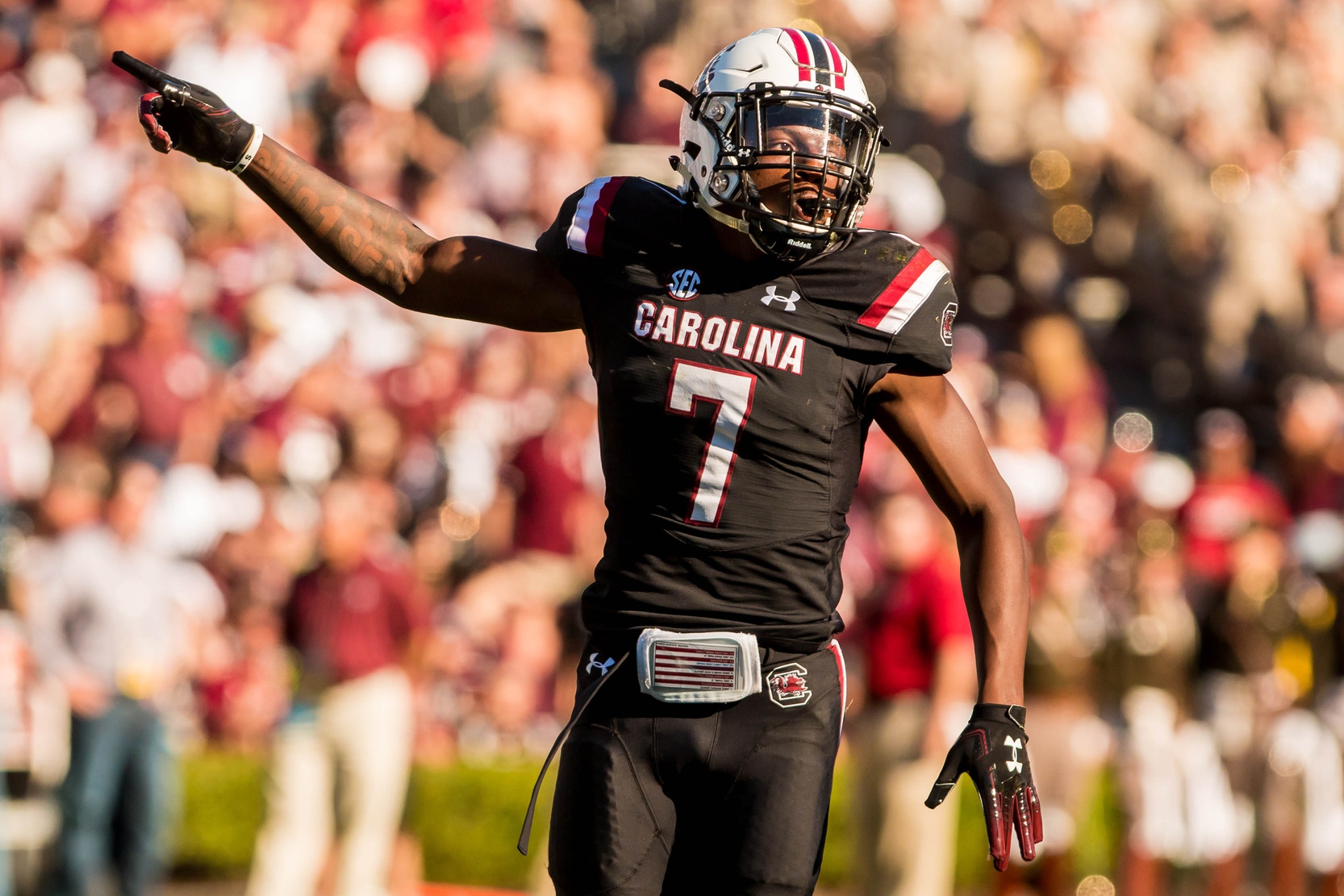 Horn has the speed, physicality, and confidence to dominate in man coverage. He stars at the catch point and is always in good position to turn around and locate the football.
Other consideration: Christian Barmore, Caleb Farley
Related: 2021 NFL Draft Profile — South Carolina CB Jaycee Horn via Sam Monson
The Raiders' secondary was a nightmare last season, and Trevon Moehrig would be a much-needed upgrade as a ball-hawking safety with true coverage skills that can carry over into the slot. Moehrig led college football in pass breakups in each of the past two seasons, and he also hits as hard as any safety in the draft class.
Other consideration: Teven Jenkins, Jeremiah Owusu-Koramoah
The Dolphins targeted offensive beef with Sewell at No. 6 overall, and here they go defensive beef with the 6-foot-4, 310-pound Barmore. His NFL comparison is Gerald McCoy, possessing the ideal build and tools to rush the passer from the interior. He is NFL-ready to start immediately and would give the Dolphins a ferocious presence on their defensive line.
Other consideration: Rashod Bateman, Jeremiah Owusu-Koramoah
Football Team fans are wildly excited about their defense. Washington adds an elite linebacker prospect in Jeremiah Owusu-Koramoah, who can be a versatile chess piece in the middle of the defense. He can simply do it all — cover the slot, rush the passer and defend the run.
Other consideration: Rashod Bateman
Unfortunately for Bears fans, they don't get their quarterback of the future, but they do give Allen Robinson a bona fide running mate. Rashod Bateman is ready to be an impact player from the onset. His draft stock is seemingly on the decline after he measured in at 6-feet and 190 pounds during his Pro Day when most draft analysts were expecting six-foot-two and over 200 pounds.
Regardless of size, Bateman's tape demonstrates his ability to win outside, from the slot and in contested catch situations. He is a monster after the catch, breaking 36 tackles on 147 career catches, and his 4.39-second speed is plenty quick enough to burn cornerbacks downfield.
Other consideration: Elijah Moore, Greg Newsome II
Related: 2021 NFL Draft Profile — Minnesota WR Rashod Bateman via Sam Monson
Colts fans address the team's pass rush with the explosive Jayson Oweh, who possesses the game-changing speed to make life miserable for opposing quarterbacks. He ran a 4.36-second 40-yard dash at 257 pounds during Penn State's Pro Day last month — an absolutely mind-boggling number for a player of that size. Oweh is quite raw and has a lot of developing to do, but his tools and athleticism create a clear path to superstardom.
Other consideration: Elijah Moore
After knocking it out of the park two years ago with an Ole Miss receiver by the name of A.J. Brown, the Titans go right back to the well with Elijah Moore. Though this seems like a high draft selection for a slot receiver, there is a distinct possibility that Moore can also play on the outside despite the fact that he rarely lined up there at Ole Miss. He possesses an ideal combination of speed and quicks for the slot while also maintaining the ability to get behind a defense. He is an after-the-catch dynamo with reliable hands, dropping only two passes last season.
Other consideration: Greg Newsome II, Caleb Farley
Related — 2021 NFL Draft Comps: Ole Miss WR Elijah Moore draws comps to Tyler Lockett via Kevin Cole
The Jets' secondary needs a makeover, and Newsome can be a lockdown centerpiece. His coverage stats from 2020 are mind-boggling — 12 catches, 93 yards  and zero touchdowns for a 31.7 passer rating on 223 coverage snaps. Newsome's ideal size, length and instincts make him a fit for either a man or zone scheme.
Other consideration: Azeez Ojulari
Teven Jenkins would represent a clear upgrade at the tackle position for a Steelers offensive line that struggled in 2020. His best asset is his immense strength, and he can overpower just about any defensive lineman he gets his hands on.
Though offensive tackle is rated as the biggest need by Steelers fans, there is a subset of fans hungry for the next bell-cow running back. Both Najee Harris and Travis Etienne showed up in the top five of the most selected Steelers draft picks. Though tackle is more of a real-life need, managers in fantasyland would be thrilled if Pittsburgh spent a first-round pick on one of the elite running backs.
Other consideration: Walker Little, Najee Harris, Travis Etienne
It makes perfect sense that Jaguars fans want to protect their new franchise quarterback with a first-round offensive tackle. Walker Little has all the physical traits of a stalwart tackle prospect, and his stellar 2018 season put him in the conversation for OT1 prior to the 2019 campaign. However, Little has barely played since then, seeing a grand total of 72 snaps over the past two seasons combined. It is impossible to judge where his technical skills stand after essentially two years removed from football. That makes him a worthwhile upside selection toward the end of the first round.
Other consideration: Dillon Radunz
Browns fans are fixated on getting after opposing quarterbacks, with edge rushers littered throughout their most selected players. Azeez Ojulari is one of the premier pass-rushers in this draft class with an advanced array of moves to beat offensive tackles. His 90.0 PFF grade last season ranked third among all edge defenders in college football.
Other consideration: Jaelan Phillips
It should come as no surprise that Ravens fans are smitten with the idea of adding another receiving weapon for Lamar Jackson — over 50% of Baltimore's selections are a wide receiver in PFF's Mock Draft Simulator.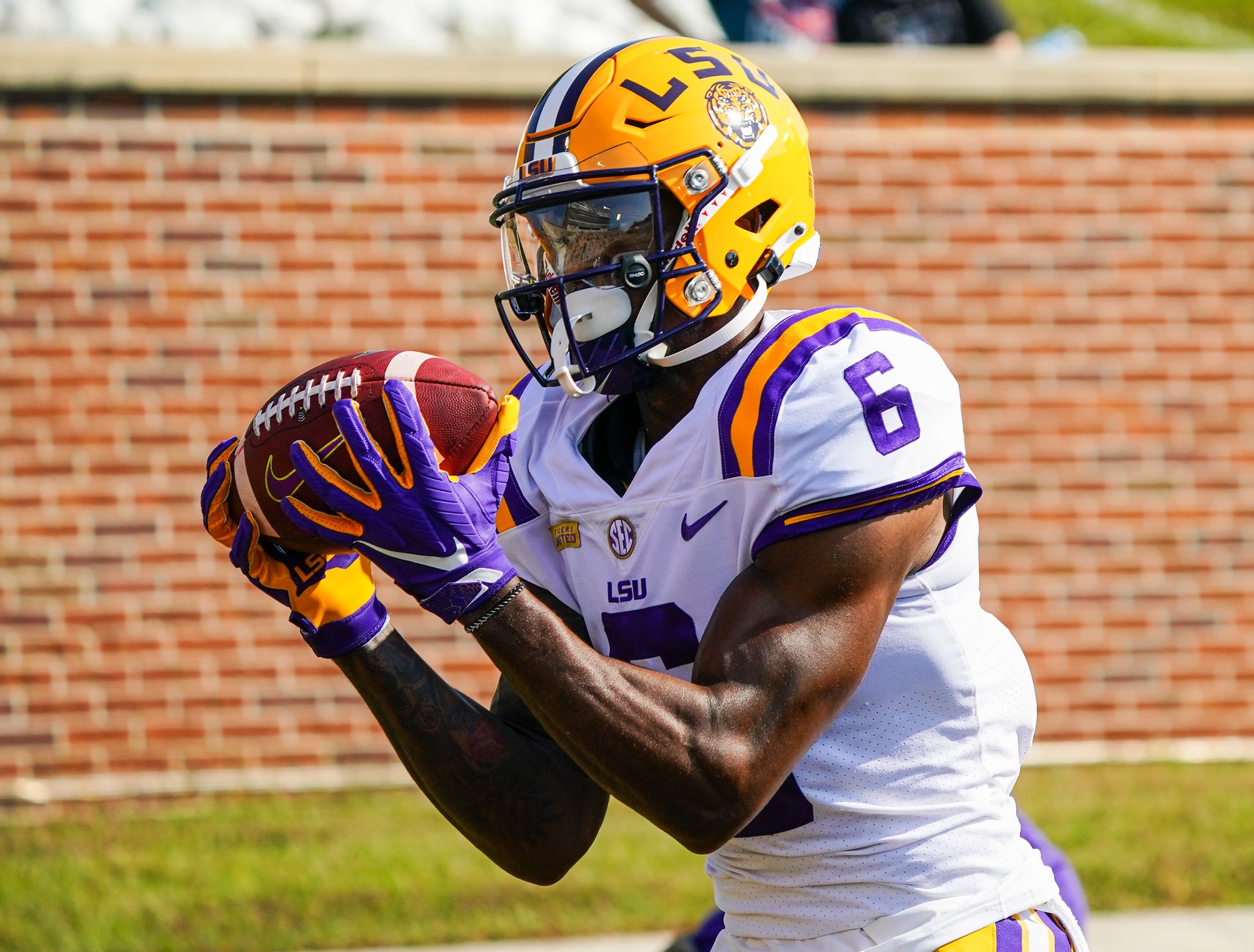 Terrace Marshall Jr. was blocked by Justin Jefferson and Ja'Marr Chase in 2019 but had himself a breakout 2020 season with a 48-731-10 receiving line. He is lethal at the catch point, reeling in 82% of his contested targets, which ranked first among all SEC wide receivers.
Other consideration: Jaelan Phillips
The Saints are in dire need of a top cornerback, making Caleb Farley the choice here. He opted out of last season, and his draft stock is in decline because of a back injury. However, it is rare to scoop up a cornerback prospect at the end of the first round with Farley's blend of coverage ability and ball skills. At 6-foot-2 and 207 pounds, Farley has the size to handle big wide receivers. He also possesses elite speed to keep up with faster wideouts.
Other consideration: Asante Samuel Jr.
Packers fans break the 19-year streak of skipping the wide receiver position in the first round. Javon Walker in 2002 was the last time Green Bay drafted a wide receiver with their first-round pick. Rondale Moore is one of this draft's most electric players with the football, with elite stop-start ability in the blink of an eye. He is only 5-foot-7 but boasts blazing 4.29-second speed with a 42.5-inch vertical. He often demonstrated the ability to power through contact from defenders.
This is a draft pick that Packers fans would be thrilled about, but in reality, it is rather unlikely Green Bay targets the position with their first pick in 2021.
Other consideration: Asante Samuel Jr.
Related — 2021 NFL Draft Comps: Rondale Moore possesses a unique skill set, and teams would be wise to take advantage of it via Kevin Cole
Bills fans decide to juice up the team's pass rush with the toolsy Jaelan Phillips. Tampa Bay demonstrated what a ferocious pass rush can do en route to a Super Bowl win, and the NFL is a copycat league — pass-rushers dominate Buffalo's Mock Draft Simulator selections.
Phillips is a physical freak who oozes power and blows through contact with offensive linemen. Injury history is the biggest concern for Phillips, especially considering he retired after 2018 due to a series of concussions. However, he came storming back to football in 2020 by putting up a monster season and recording nine sacks and 36 total pressures over his final seven games.
Other consideration: Gregory Rousseau
Shocking absolutely nobody, Chiefs fans are locked into fortifying the offensive line after a nightmare of a Super Bowl performance. Radunz dominated for the North Dakota State Bison over the past two seasons, allowing just 24 pressures on 715 pass-blocking snaps. He is a bit of a sleeper after playing at the FCS level, but his explosiveness and agility make him a starting-caliber NFL tackle.
Other consideration: Samuel Cosmi, Alijah Vera-Tucker
The Buccaneers' roster has virtually zero holes after running it back with all their key free agents. With no clear needs, Tampa Bay fans have the luxury of adding to their already league-best pass rush with Gregory Rousseau. Tampa Bay's 2020 season exemplified the importance of a strong pass rush, and Rousseau has the tools to be a top-five pick, though his one year of production in 2019 drops him to the end of the first round. His freaky build makes him a moveable chess piece who can rush from both inside and outside.
Also receiving votes by Bucs fans was Clemson running back Travis Etienne — quite the surprising pick after the Chiefs' misstep of snagging Clyde Edwards-Helaire at No. 32 overall last season. Etienne would add a new dimension to the Bucs' offense as an explosive receiver out of the backfield.
Other consideration: Travis Etienne