March is here, and NFL draft season is in full swing. PFF.com is going to be stuffed to the gills with content on all of your favorite draft prospects, as our draft guru Mike Renner has been grinding tape throughout the college football season. His work has already produced the second version of PFF's Draft Guide, available to grab with any PFF Edge or Elite subscription.
Compared to Mike, I'm late to the party when it comes to draft evaluation, but I come armed with PFF's database to help me watch tape of these guys, and I thought we could go through that journey together in this article series.
The first player I looked at was the Heisman Trophy winner, Alabama WR Devonta Smith. Next up was Ja'Marr Chase, followed by Jaylen Waddle,  Kyle Pitts, Rashod Bateman, Rondale Moore and Kadarius Toney.
We then switched things up by looking at the cornerback prospects, beginning with Caleb Farley, Patrick Surtain II, Jaycee Horn and Asante Samuel Jr.
The next player I'm going to look at is Tay Gowan, one of the more interesting stories in the draft. Gowan was a little-recruited prospect coming out of high school and spend time in the JUCO system, limiting him to just 50 career targets and fewer than 800 total snaps at the FBS level. Still, Gowan has size, speed and athleticism that will grab attention. Let's fire up those 50 targets for a starting point.
Even more so than wide receiver, this is not a complete picture of his game, but it will give us a good idea of what happens with the ball in the air and how close his coverage is even when the quarterback thinks his man is worth targeting.
For a first impression, this method makes a lot of sense, and we can go back and fill in the blanks later.
Timeline
Here are my thoughts in chronological order as I sifted through Horn's tape. I have labeled each takeaway with +/- (or double plus or minus for significantly good or bad things) and a ~ for neutral.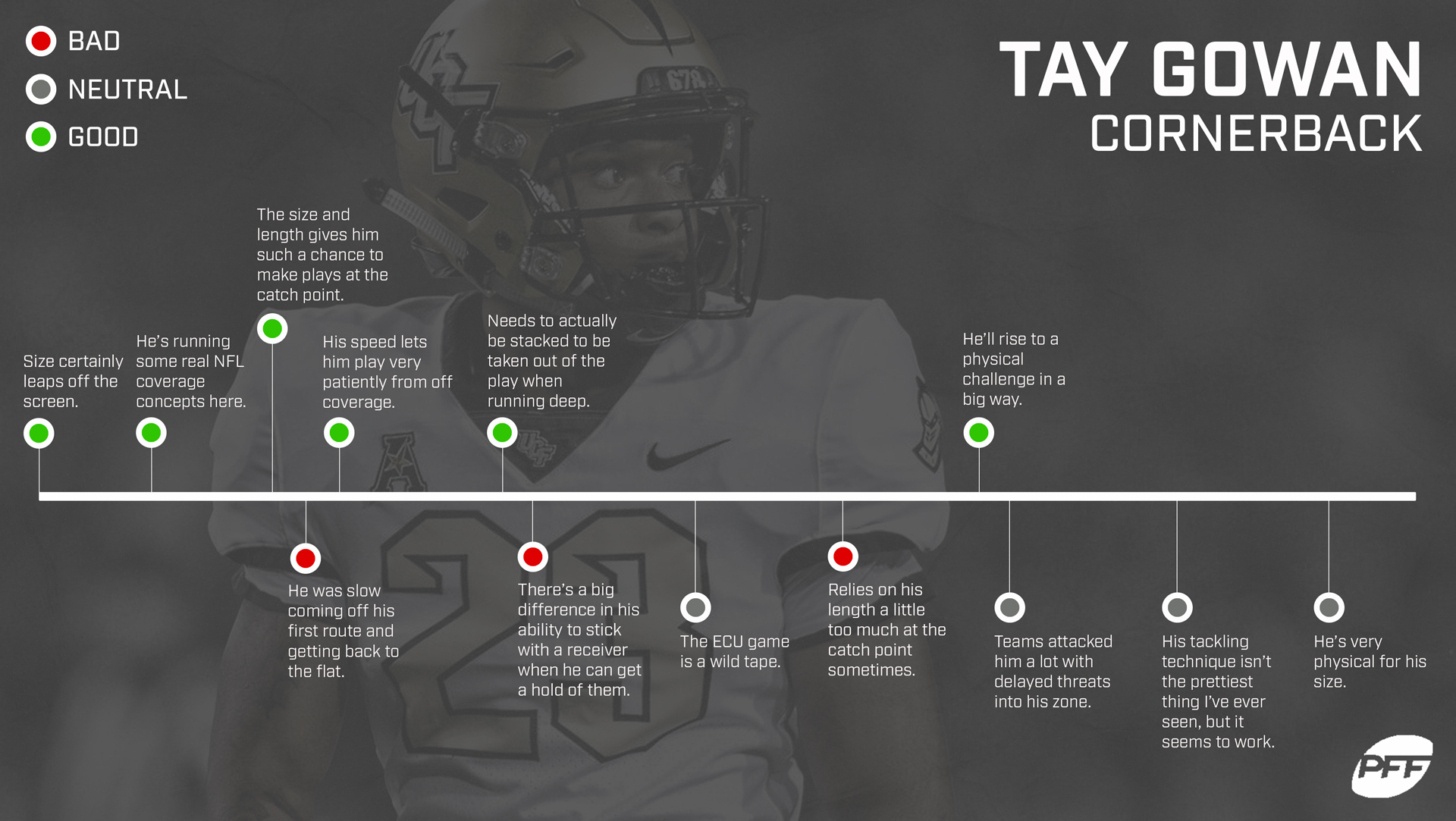 + Size certainly leaps off the screen
He's covering a tight end split wide as a wide receiver early in this reel, and he doesn't look undersized compared to the tight end. He looks like he's in a completely different weight class against smaller wide receivers.
The league covets size and length, but those players often lack the movement skills that smaller corners possess in abundance. Let's see how Gowan does with that and whether he can team his size with change-of-direction skills.
+ He's running some real NFL coverage concepts here
This has to be a good thing. A lot of college defenses run things you aren't going to see a lot of at the NFL level, but Gowan has already bounced between press-man at the line of scrimmage and dropping into a deep third as part of a Cover 3 shell, needing to split two vertical routes and make a play on the football when it's put in the air. This is encouraging in terms of projecting a player who was fairly limited at the college level.
++ The size and length give him such a chance to make plays at the catch point
There is a reason the NFL loves cornerbacks with size and length: When the ball is in the air, they just have such a huge area to work in and make the play. Gowan recorded seven pass breakups and two interceptions on just 50 targets in 2019, and his tape is full of plays where he gives the quarterback and receiver almost no room for error.
– He was slow coming off his first route and getting back to the flat
Against Pittsburgh, Gowan was locked on to his initial threat and didn't read the quarterback staring down the quick-out that was being run into the flat where Gowan had just come from. He was able to get over there and still limit the play to a short enough gain, but that's a play he should have been all over with a little more awareness.
A lot of NFL coverage is less about covering a guy one-on-one and more about understanding the synchronization of the defense as a whole, juggling responsibilities with other defenders as the route concept progresses.
+ His speed lets him play very patiently from off-coverage
There are a lot of plays where he is just sitting there waiting for the route to break off without exerting himself by gaining depth vertically. He just knows he has the speed to turn on the jets and keep pace with the go-route if it comes.
He doesn't have the kind of stop-start ability that someone like Asante Samuel Jr. has, but he can affect the same result at times by cheating toward those routes because of his confidence in being able to cover the deep route from his depth when he's in off-coverage.
+ Needs to actually be stacked to be taken out of the play when running deep
There are a lot of plays where he loses a step but can work back into phase with a combination of speed and hand-fighting. If you are going to remove him as a factor on the deep ball, you need to win enough to stack him, preventing him from getting level.
– There is a big difference in his ability to stick with a receiver when he can get a hold of them
This isn't surprising or unique to Gowan, but he can be shaken loose by receivers if they can generate a little separation with their break or release, and Gowan struggles to stay in their wake and not lose even more ground.
Those same routes don't work as well when he manages to maintain a foothold of contact throughout the play and allow his hold on the receiver to dictate his movement. When he can maintain that contact, he's an extremely sticky cover guy.
~ The ECU game is a wild tape
Gowan saw 10 targets in this game — a fifth of his career total — and he broke up three of those passes. There were some losses in there, as well.
Gowan was stacked by his assignment a couple of times running downfield, and the offense wasn't able to connect on plays that could have made his coverage numbers look a lot less pretty than they were by the end of it. He allowed four catches for 57 yards but was penalized and dodged a couple of bullets, as well.
– Relies on his length a little too much at the catch point sometimes
It hasn't been a problem to date, but he is comfortable with being in a bad body position relative to the ball's arrival because he has typically been bigger and longer than the player he is covering. He has been able to make plays on the football from weird angles or reach through or past the receiver to do so.
That's going to be harder in the NFL against better receivers and bigger bodies and could lead to him getting flagged for pass interference more than you would like. Again, it has yet to be an issue that's been picked up on — he has just two career penalties — but it's a potential issue waiting to happen.
+ He'll rise to a physical challenge in a big way
Against Temple, his receiver tried to instigate a physical contest in the route, and Gowan just tossed him to the ground. OK, he went a little over the line and got flagged for it, but sign me up for a cornerback who not only steps up to that kind of encounter but actively rises to the challenge and ends it on his terms.
~ Teams attacked him a lot with delayed threats into his zone
I'm not sure why, because he dealt with them well for the most part. It may have just been a product of a couple of the offenses he was facing, but he's routinely facing a second route attacking the space generated by the release of the first receiver and needing to peel back and shut down that second threat for a minimal gain. With the exception of one play earlier that we already mentioned, he was quick and efficient on these plays.
~ His tackling technique isn't the prettiest thing I've ever seen, but it seems to work
He seems to lean into tackles hunched over like he's trying to corral a small animal or something. I keep waiting for it to cost him and cause a miss, but it doesn't happen. He missed four tackles from 32 attempts over his career, which isn't a wonderful ratio, but neither is it catastrophic, particularly for a cornerback.
~ There were an unusual number of blown communication plays in that secondary
Who knows if any of this was Gowan's fault, and it may be a good reason why a lot of college teams steer away from some NFL concepts, but there seemed to be an unusual volume of blown communication plays and coverage busts within the UCF secondary. Gowan was in the middle of a few of them.
If exposure to NFL concepts is in his plus column, we should at least note that it didn't always go well for the defense.
The Bottom Line
Tay Gowan is a very intriguing cornerback who fits the size, athleticism and speed profile that the NFL is looking for at the position. There are plays on his tape that will catch the attention of anybody looking for help at the position, but there are also several factors working against him.
His experience and resume is extremely spartan, and comparing him to players with several years of high-level starting experience will be tough. Gowan's college career outside of the JUCO level featured just 50 targets, which is less than Patrick Surtain II averaged for three straight seasons at Alabama against the cream of the SEC.
Gowan has the speed to match up with his size, and he has good change-of-direction skills, at least for somebody of that stature. He has the physical tools to succeed at the next level, but the question will be whether he has enough experience — against a suitable level of competition, in particular — for teams to buy into that wholesale and be confident taking him with a high draft pick, especially compared to some other potential alternatives in the class.
Ultimately, that skill set will always get NFL people interested. His tape is good, so he should still be a relatively early pick in the draft, but there is enough cause for concern that there should be some distance between him and the elite of this year's cornerback class.