It's often said that you can't judge a draft until three years later. While I slightly disagree with that sentiment, if you haven't gotten production from your draft class three years in, you've generally burned those picks.
With that in mind, let's review the 2018 draft class, comparing our rapid-reaction grades at the time to how we'd regrade now.
Here's how each stacked up then:
Elite
Good
Above
Average
Average
Below
Average
New York
Jets
Miami
Dolphins
Baltimore
Ravens
Buffalo
Bills
Kansas City
Chiefs
Dallas
Cowboys
Cleveland
Browns
Los Angeles
Chargers
New England
Patriots
Detroit
Lions
Green Bay
Packers
Tennessee
Titans
New York
Giants
Cincinnati
Bengals
Minnesota
Vikings
Denver
Broncos
San Francisco
49ers
Pittsburgh
Steelers
New Orleans
Saints
Philadelphia
Eagles
Arizona
Cardinals
Indianapolis
Colts
Washington
Football Team
Chicago

Bears

Jacksonville
Jaguars
Houston
Texans
Tampa Bay
Buccaneers
Las Vegas
Raiders
Atlanta
Falcons
Carolina
Panthers
Los Angeles
Rams
Seattle
Seahawks
Now, here's how we'd grade each in that same unexciting grading style:
Elite
Good
Above
Average
Average
Below
Average
Baltimore Ravens
Carolina
Panthers
Chicago
Bears
Detroit
Lions
Arizona
Cardinals
Buffalo
Bills
Cleveland
Browns
Los Angeles
Chargers
Houston
Texans
Atlanta
Falcons
Denver
Broncos
Dallas
Cowboys
Las Vegas
Raiders
Jacksonville
Jaguars
Kansas City
Chiefs
Indianapolis
Colts
Green Bay
Packers
Philadelphia
Eagles
Miami
Dolphins
New York
Jets
Tampa Bay Buccaneers
San Francisco
49ers
Cincinnati
Bengals
Minnesota
Vikings
Pittsburgh
Steelers
New England
Patriots
Seattle
Seahawks
New Orleans
Saints
Washington
Football Team
New York Giants
Tennessee
Titans
Los Angeles
Rams
Jump to a team's 2020 draft class re-evaluation:
ARZ | ATL | BLT | BUF | CAR | CIN | CHI | CLE | DEN | DAL | DET | GB | HOU | IND | JAX | KC | LVR | LAC | LAR | MIA | MIN | NE | NO | NYG | NYJ | PHI | PIT | SF | SEA | TB | TEN | WFT
Round 1 (10): QB Josh Rosen, UCLA
Round 2 (47): WR Christian Kirk, Texas A&M
Round 3 (97): C Mason Cole, Michigan
Round 4 (134): RB Chase Edmonds, Fordham
Round 6 (182): CB Chris Campbell, Penn State
Round 7 (254): OT Korey Cunningham, Cincinnati
Then: Above Average
Now: Below Average
Josh Rosen, Christian Kirk, Mason Cole. Yes, all three have been starters, but all three have also been in contention for being the worst starters at their respective position in the NFL when they did. There's a good chance this is the worst draft class of 2018.
Round 1 (26): WR Calvin Ridley, Alabama
Round 2 (58): CB Isaiah Oliver, Colorado
Round 3 (90): DI Deadrin Senat, South Florida
Round 4 (126): RB Ito Smith, Southern Miss
Round 6 (194): WR Russell Gage, LSU
Round 6 (200): S Foyesade Oluokun, Yale
Then: Good
Now: Above Average
While second-round corner Isaiah Oliver has struggled mightily in a starting role, it's been the opposite for first-rounder Calvin Ridley, as his 1,374 yards last season were tied for the fourth-most in the NFL. The Falcons also found a late-round contributor in Foyesade Oluokun, who locked down a starting role last season, even if he did earn only a 56.6 overall grade.
Round 1 (32): QB Lamar Jackson, Louisville
Round 3 (83): OT Orlando Brown Jr., Oklahoma
Round 3 (86): TE Mark Andrews, Oklahoma
Round 4 (118): CB Anthony Averett, Alabama
Round 4 (122): LB Kenny Young, UCLA
Round 4 (132): WR Jaleel Scott, New Mexico State
Round 5 (162): WR Jordan Lasley, UCLA
Round 6 (190): S DeShon Elliott, Texas
Round 6 (212): OT Greg Senat, Wagner
Round 6 (215): C Bradley Bozeman, Alabama
Round 7 (238): EDGE Zach Sieler, Ferris State
Then: Above Average
Now: Elite
Getting Lamar Jackson with the last pick in the first round is about as big a win as exists in this draft class. Following that up with two more Pro-Bowlers in Orlando Brown Jr. and Mark Andrews is just icing on the cake after that. Say what you want about the Hayden Hurst selection at Pick 25, but they knew when to cut bait to maximize his value, as they got a second-rounder in return.
Round 1 (7): QB Josh Allen, Wyoming
Round 1 (16): LB Tremaine Edmunds, Virginia Tech
Round 3 (96): DI Harrison Phillips, Stanford
Round 4 (121): CB Taron Johnson, Weber State
Round 5 (154): CB Siran Neal, Jacksonville State
Round 5 (166): OG Wyatt Teller, Virginia Tech
Round 6 (187): WR Ray-Ray McCloud III, Clemson
Round 7 (255): WR Austin Proehl, North Carolina
Then: Average
Now: Elite
While linebacker Tremaine Edmunds has never graded higher than 59.4 overall for a single season, I'm sure Bills fans couldn't care less, given how Josh Allen played in 2020. That makes this easily an elite class. Sadly, it would have been on another level had they not dealt fifth-rounder Wyatt Teller to the Browns back in 2019, as the former Virginia Tech star became an elite guard this past year.
Round 1 (24): WR D.J. Moore, Maryland
Round 2 (55): CB Donte Jackson, LSU
Round 3 (85): CB Rashaan Gaulden, Tennessee
Round 4 (101): TE Ian Thomas, Indiana
Round 4 (136): EDGE Marquis Haynes, Ole Miss
Round 5 (161): LB Jermaine Carter Jr., Maryland
Round 7 (234): LB Andre Smith, North Carolina
Round 7 (242): DI Kendrick Norton, Miami (FL)
Then: Average
Now: Above Average
Everyone knows about D.J. Moore at this point, and he's still a young, ascending receiver. There are not too many big "hits" outside of him in this draft, but Donte Jackson is a solid enough corner to find in the second round, and he earned a 69.9 coverage grade last season.
Round 1 (8): LB Roquan Smith, Georgia
Round 2 (39): IOL James Daniels, Iowa
Round 2 (51): WR Anthony Miller, Memphis
Round 4 (115): LB Joel Iyiegbuniwe, Western Kentucky
Round 5 (145): DI Bilal Nichols, Delaware
Round 6 (181): EDGE Kylie Fitts, Utah
Round 7 (224): WR Javon Wims, Georgia
Then: Good
Now: Above Average
Roquan Smith has been pretty much as advertised after going eighth overall, and you can make a strong argument that he's the best first-round pick of Ryan Pace's tenure as GM. However, the second round isn't as enthusing, as guard James Daniels has never earned a season grade higher than 69.9, and receiver Anthony Miller was reportedly being shopped earlier this offseason. Pace did nab an excellent Day 3 steal — as has kind of been his MO — with defensive tackle Bilal Nichols.
Round 1 (21): C Billy Price, Ohio State
Round 2 (54): S Jessie Bates III, Wake Forest
Round 3 (77): EDGE Sam Hubbard, Ohio State
Round 3 (78): LB Malik Jefferson, Texas
Round 4 (112): RB Mark Walton, Miami (FL)
Round 5 (151): CB Davontae Harris, Illinois State
Round 5 (158): EDGE Andrew Brown, Virginia
Round 5 (170): CB Darius Phillips, Western Michigan
Round 7 (249): QB Logan Woodside, Toledo
Round 7 (252): OG Rod Taylor, Ole Miss
Round 7 (253): WR Auden Tate, Florida State
Then: Average
Now: Above Average
I know "above average" seems generous after the Billy Price dud, but not many draft classes come away with a top-three safety in the NFL. Jessie Bates is the saving grace for this class after his 90.0 coverage grade and 12 pass breakups this past season.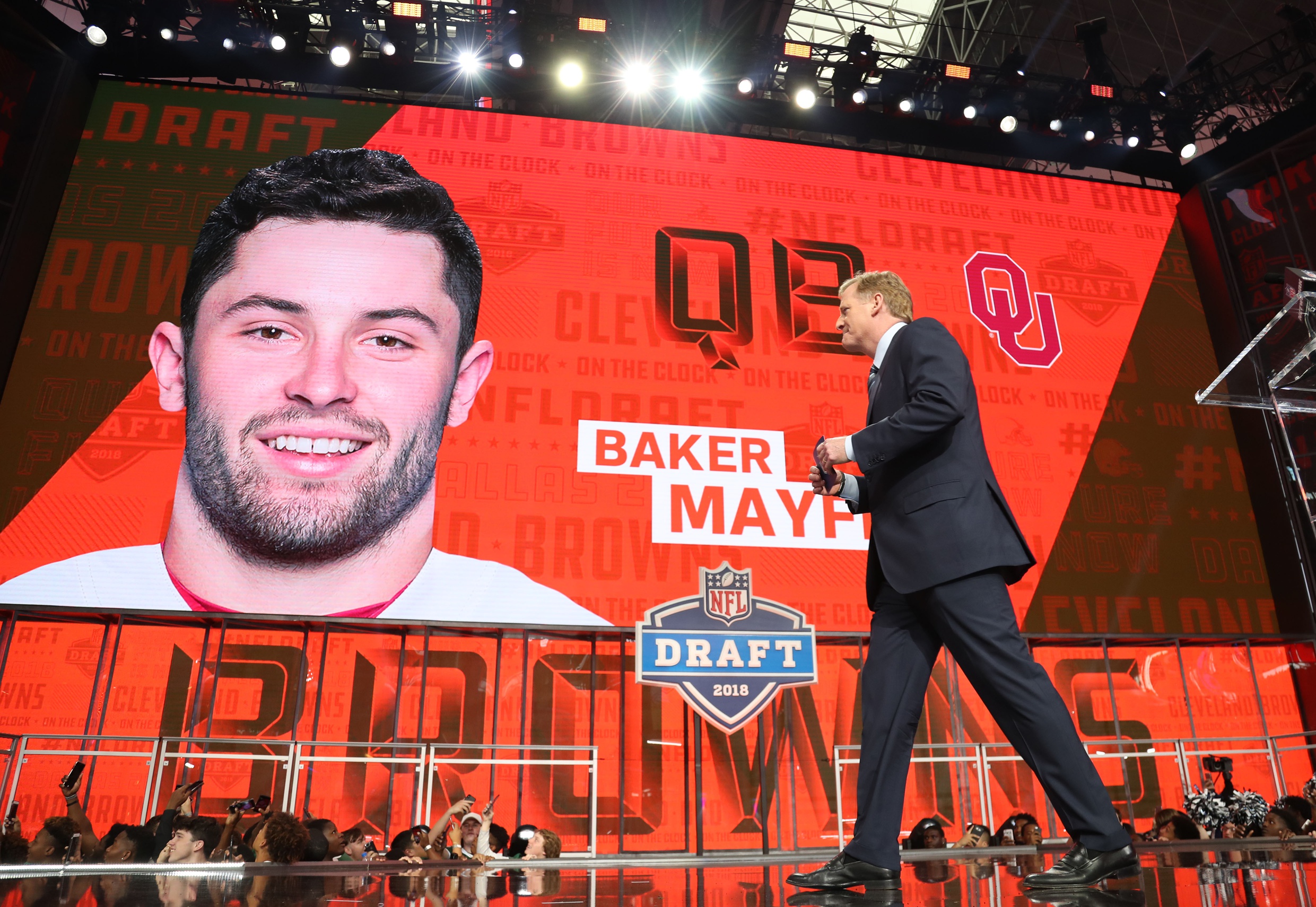 Round 1 (1): QB Baker Mayfield, Oklahoma
Round 1 (4): CB Denzel Ward, Ohio State
Round 2 (33): OT Austin Corbett, Nevada
Round 2 (35): RB Nick Chubb, Georgia
Round 3 (67): EDGE Chad Thomas, Miami (FL)
Round 4 (105): WR Antonio Callaway, Florida
Round 5 (150): LB Genard Avery, Memphis
Round 6 (175): WR Damion Ratley, Texas A&M
Round 6 (188): CB Simeon Thomas, Louisiana
Then: Good
Now: Good
One could argue this as an elite draft and I wouldn't push back too hard. It would be a minor miracle not to have a good draft when loaded with Picks 1, 4, 33, 35 and 67. Of those, they still went 3-5 with Baker Mayfield, Denzel Ward and Nick Chubb all proving worthy of their selection. Sadly, wide receiver Antonio Callaway was done in by the off-field issues that caused him to fall to 105 overall in the first place, because he looked like a special talent early on in his career.
Round 1 (19): LB Leighton Vander Esch, Boise State
Round 2 (50): OG Connor Williams, Texas
Round 3 (81): WR Michael Gallup, Colorado State
Round 4 (116): EDGE Dorance Armstrong, Kansas
Round 4 (137): TE Dalton Schultz, Stanford
Round 5 (171): QB Mike White, Western Kentucky
Round 6 (193): LB Chris Covington, Indiana
Round 6 (208): WR Cedrick Wilson Jr., Boise State
Round 7 (236): RB Bo Scarbrough, Alabama
Then: Elite
Now: Good
If Leighton Vander Esch never gets hurt, this class quite easily lives up to its elite billing. The linebacker earned an 85.4 overall grade as a rookie before the wheels came off the past two seasons. Second-round guard Connor Williams has had the opposite trajectory to his career and earned a 70.8 overall grade last season. Finally, third-round receiver Michael Gallup looks like the best of the bunch after racking up nearly 2,000 yards over the past two seasons.
Round 1 (5): EDGE Bradley Chubb, NC State
Round 2 (40): WR Courtland Sutton, SMU
Round 3 (71): RB Royce Freeman, Oregon
Round 3 (99): CB Isaac Yiadom, Boston College
Round 4 (106): LB Josey Jewell, Iowa
Round 4 (113): WR DaeSean Hamilton, Penn State
Round 5 (156): TE Troy Fumagalli, Wisconsin
Round 6 (183): OG Sam Jones, Arizona State
Round 6 (217): LB Keishawn Bierria, Washington
Round 7 (226): RB David Williams, Arkansas
Then: Good
Now: Elite
John Elway hit back-to-back home runs with his first two picks then called it a day. It's not pretty after Bradley Chubb and Courtland Sutton, but if you found a Chubb and Sutton in every draft, you'd be utterly stacked.
Round 1 (20): IOL Frank Ragnow, Arkansas
Round 2 (43): RB Kerryon Johnson, Auburn
Round 3 (82): S Tracy Walker, Louisiana
Round 4 (114): EDGE Da'Shawn Hand, Alabama
Round 5 (153): OT Tyrell Crosby, Oregon
Round 7 (237): FB Nick Bawden, San Diego State
Then: Below Average
Now: Average
Even though Frank Ragnow has been everything we thought he'd be as the 14th overall player on our draft board that season, he's still a low-value position, and the rest of the draft has been ugly. Second-round running back Kerryon Johnson managed only 916 snaps in three years because of injuries and was cut this offseason. I can't ding safety Tracy Walker too hard because he wasn't alone in his struggles in the secondary under Matt Patricia, so we'll see how he bounces back in a new scheme.
Round 1 (18): CB Jaire Alexander, Louisville
Round 2 (45): CB Josh Jackson, Iowa
Round 3 (88): LB Oren Burks, Vanderbilt
Round 4 (133): WR J'Mon Moore, Missouri
Round 5 (172): P JK Scott, Alabama
Round 5 (174): WR Marquez Valdes-Scantling, South Florida
Round 6 (207): WR Equanimeous St. Brown, Notre Dame
Round 7 (232): EDGE James Looney, California
Round 7 (239): LS Hunter Bradley, Mississippi State
Round 7 (248): LB Kendall Donnerson, Southeast Missouri State
Then: Elite
Now: Good
We couldn't have been bigger fans of the Packers' first two rounds in 2018, as they got two of PFF's top-three cornerbacks that year. After very encouraging rookie seasons from both, Jaire Alexander and Josh Jackson have seen their careers head in opposite directions. Alexander has developed into a top-three corner in the NFL, while Jackson has only managed 433 snaps the past two seasons.
Round 3 (68): S Justin Reid, Stanford
Round 3 (80): OT Martinas Rankin, Mississippi State
Round 3 (98): TE Jordan Akins, UCF
Round 4 (103): WR Keke Coutee, Texas Tech
Round 6 (177): EDGE Duke Ejiofor, Wake Forest
Round 6 (211): TE Jordan Thomas, Mississippi State
Round 6 (214): EDGE Peter Kalambayi, Stanford
Round 7 (222): CB Jermaine Kelly Jr., San Jose State
Then: Average
Now: Average
This class was light on draft capital yet still came away with a quality safety in Justin Reid. He earned coverage grades of 77.6 and 79.6 his first two seasons before the wheels came off for everyone on the Texans in 2020. That was it, though, in what's been a string of rough classes for Houston.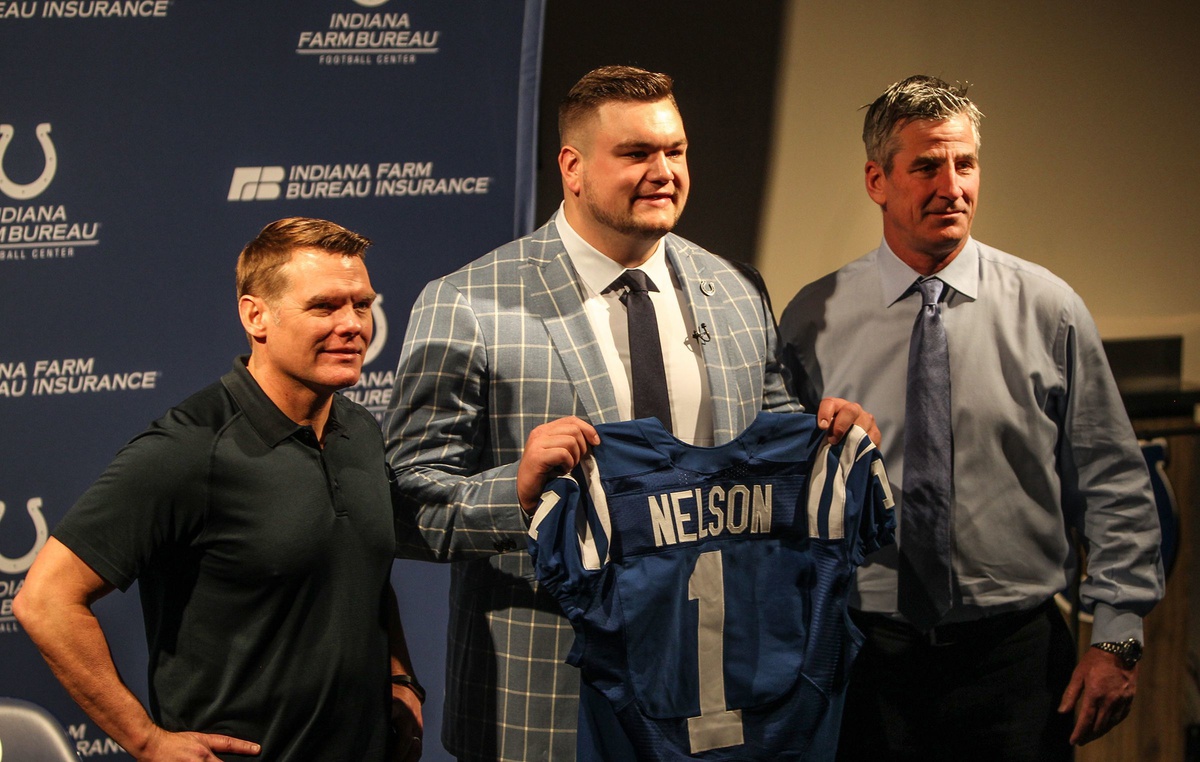 Round 1 (6): OG Quenton Nelson, Notre Dame
Round 2 (36): LB Darius Leonard, South Carolina State
Round 2 (37): OT Braden Smith, Auburn
Round 2 (52): EDGE Kemoko Turay, Rutgers
Round 2 (64): EDGE Tyquan Lewis, Ohio State
Round 4 (104): RB Nyheim Hines, NC State
Round 5 (159): WR Daurice Fountain, Northern Iowa
Round 5 (169): RB Jordan Wilkins, Ole Miss
Round 6 (185): WR Deon Cain, Clemson
Round 7 (221): LB Matthew Adams, Houston
Round 7 (235): LB Zaire Franklin, Syracuse
Then: Average
Now: Elite
One of the best draft classes of the PFF era. Picking Quenton Nelson, Darius Leonard and Braden Smith was akin to throwing down three-straight perfect 50s in a dunk contest. While the first two get all the headlines, Smith was kicked out to right tackle — a position he didn't play in college — and earned overall grades of 79.8 and 80.1 the past two seasons.
Round 1 (29): DI Taven Bryan, Florida
Round 2 (61): WR D.J. Chark Jr., LSU
Round 3 (93): S Ronnie Harrison, Alabama
Round 4 (129): OT Will Richardson Jr., NC State
Round 6 (203): QB Tanner Lee, Nebraska
Round 7 (230): LB Leon Jacobs, Wisconsin
Round 7 (247): P Logan Cooke, Mississippi State
Then: Average
Now: Average
This was the only year since 2007 that the Jaguars didn't have a top-10 pick, and the results have been a mixed bag. First-rounder Taven Bryan was always a project, but he took a step back in 2020 after an encouraging 75.5 overall grade in 2019. Second-rounder D.J. Chark cracked 1,000 yards in Year 2 before getting hurt this past season, and third-rounder Ronnie Harrison was traded to the Browns last fall.
Round 2 (46): EDGE Breeland Speaks, Ole Miss
Round 3 (75): DI Derrick Nnadi, Florida State
Round 3 (100): LB Dorian O'Daniel, Clemson
Round 4 (124): S Armani Watts, Texas A&M
Round 6 (196): CB Tremon Smith, Central Arkansas
Round 6 (198): DI Kahlil McKenzie, Tennessee
Then: Below Average
Now: Below Average
The Chiefs didn't come away with a player ranked higher than 109th on the PFF draft board in this one. While we were too low on Derrick Nnadi in retrospect, a run-only nose tackle is all they came away with in this class.
Round 1 (15): OT Kolton Miller, UCLA
Round 2 (57): DI P.J. Hall, Sam Houston State
Round 3 (65): OT Brandon Parker, North Carolina A&T
Round 3 (87): EDGE Arden Key, LSU
Round 4 (110): CB Nick Nelson, Wisconsin
Round 5 (140): DI Maurice Hurst, Michigan
Round 5 (173): P Johnny Townsend, Florida
Round 6 (216): LB Azeem Victor, Washington
Round 7 (228): WR Marcell Ateman, Oklahoma State
Then: Average
Now: Above Average
Kolton Miller has been the lone first-round reach of the Gruden era who has actually panned out at this point. He's improved by leaps and bounds, with his pass-blocking grade going from 52.7 as a rookie to 68.4 in 2019 to 81.3 in 2020. P.J. Hall and Brandon Parker were duds, but the Raiders got a productive sub-package rusher in Maurice Hurst at Pick 140 before inexplicably cutting him this offseason.
Round 1 (17): S Derwin James, Florida State
Round 2 (48): EDGE Uchenna Nwosu, USC
Round 3 (84): DI Justin Jones, NC State
Round 4 (119): S Kyzir White, West Virginia
Round 5 (155): C Scott Quessenberry, UCLA
Round 6 (191): WR Dylan Cantrell, Texas Tech
Round 7 (251): RB Justin Jackson, Northwestern
Then: Above Average
Now: Above Average
This is the grade when Derwin James is healthy. Unfortunately for the Chargers, that's infrequently been the case; James has played only 299 snaps over the past two seasons. Los Angeles really got nothing else out of this class, but the grade is reflective of just how good James is when healthy.
Round 3 (89): OT Joseph Noteboom, TCU
Round 4 (111): C Brian Allen, Michigan State
Round 4 (135): DI John Franklin-Myers, Stephen F. Austin
Round 5 (147): LB Micah Kiser, Virginia
Round 5 (160): LB Ogbonnia Okoronkwo, Oklahoma
Round 6 (176): RB John Kelly, Tennessee
Round 6 (192): OT Jamil Demby, Maine
Round 6 (195): DI Sebastian Joseph-Day, Rutgers
Round 6 (205): EDGE Trevon Young, Louisville
Round 7 (231): LB Travin Howard, TCU
Round 7 (244): EDGE Justin Lawler, SMU
Then: Average
Now: Average
It's difficult for a team to come away with much when it doesn't have a draft pick until No. 89 overall. Joseph Noteboom actually played well in spot duty at left tackle last year and keeps this draft class from being a complete wash. It would look a lot better had the Rams not waived fourth-rounder John Franklin-Myers after one season. The defensive lineman had a breakout year for the Jets in 2020, posting a 76.4 pass-rushing grade and 51 pressures.
Round 1 (11): S Minkah Fitzpatrick, Alabama
Round 2 (42): TE Mike Gesicki, Penn State
Round 3 (73): LB Jerome Baker, Ohio State
Round 4 (123): TE Durham Smythe, Notre Dame
Round 4 (131): RB Kalen Ballage, Arizona State
Round 6 (209): CB Cornell Armstrong, Southern Miss
Round 7 (227): LB Quentin Poling, Ohio
Round 7 (229): K Jason Sanders, New Mexico
Then: Good
Now: Average
The best thing you can say about this Dolphins draft class is that the team got back a first-rounder in return for Minkah Fitzpatrick. He's been one of the best safeties in the league, but it's hard to say how much credit goes to Miami when he's not in a Dolphins uniform. Tight end Mike Gesicki and linebacker Jerome Baker have flashed at times, but that's about all you can say for either.
Round 1 (30): CB Mike Hughes, UCF
Round 2 (62): OT Brian O'Neill, Pittsburgh
Round 4 (102): EDGE Jalyn Holmes, Ohio State
Round 5 (157): TE Tyler Conklin, Central Michigan
Round 5 (167): K Daniel Carlson, Auburn
Round 6 (213): OG Colby Gossett, Appalachian State
Round 6 (218): EDGE Ade Aruna, Tulane
Round 7 (225): LB Devante Downs, California
Then: Below Average
Now: Average
The Vikings already cut bait with 2018 first-rounder Mike Hughes by trading to the Chiefs earlier this offseason. The only player saving this class from a below-average grade is second-round tackle Brian O'Neill, who broke out with a 69.3 pass-blocking grade and an 83.7 run-blocking grade this past season.
Round 1 (23): OT Isaiah Wynn, Georgia
Round 1 (31): RB Sony Michel, Georgia
Round 2 (56): CB Duke Dawson, Florida
Round 5 (143): LB Ja'Whaun Bentley, Purdue
Round 6 (178): LB Christian Sam, Arizona State
Round 6 (210): WR Braxton Berrios, Miami (FL)
Round 7 (219): QB Danny Etling, LSU
Round 7 (243): CB Keion Crossen, Western Carolina
Round 7 (250): TE Ryan Izzo, Florida State
Then: Average
Now: Average
Left tackle Isaiah Wynn has developed into one of the better players in the NFL at his respective position, but it's safe to say running back Sony Michel and cornerback Duke Dawson have not. Going one for three on top-60 picks puts this draft class in the average range.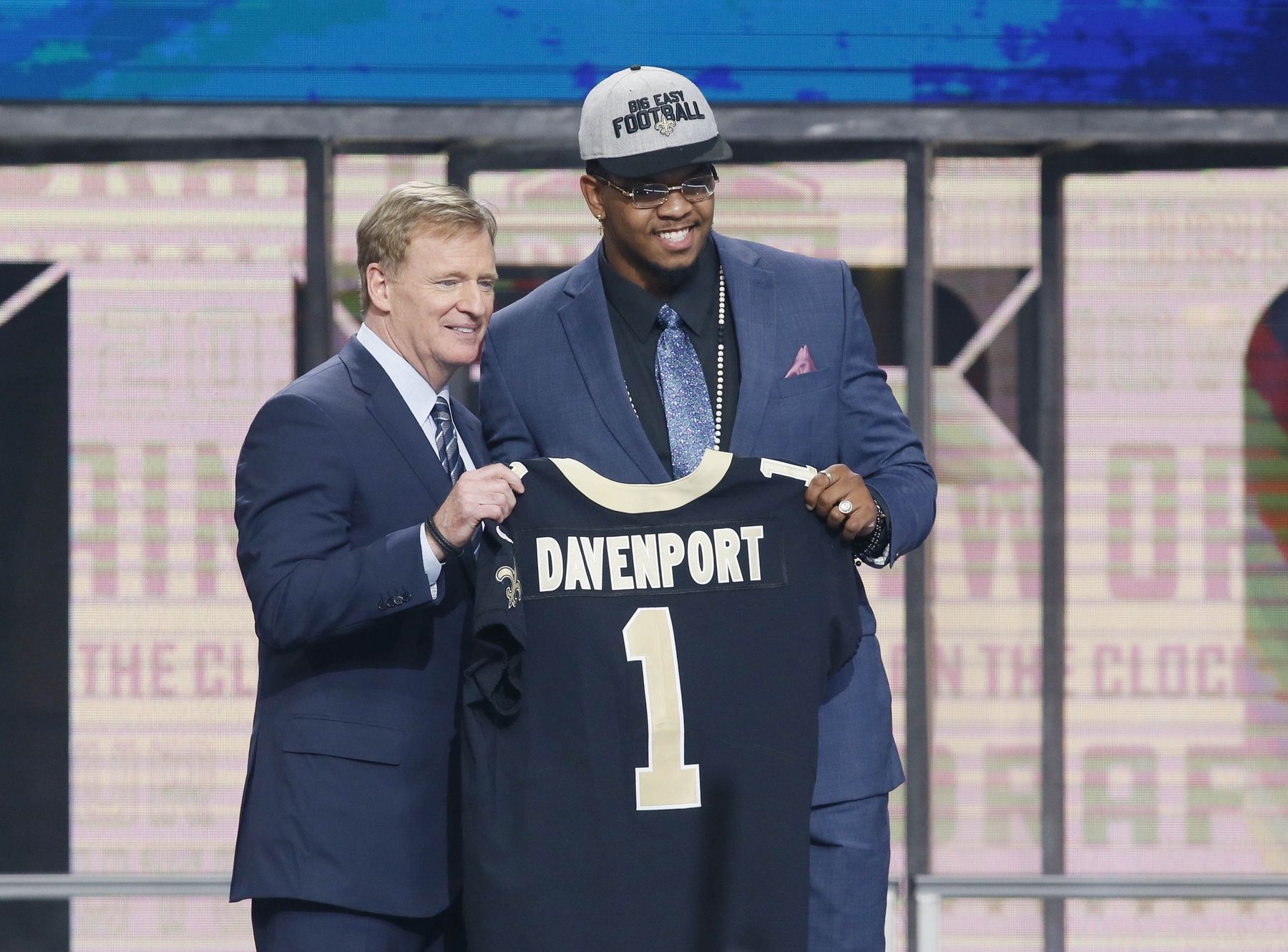 Round 1 (14): EDGE Marcus Davenport, UTSA
Round 3 (91): WR Tre'Quan Smith, UCF
Round 4 (127): OT Rick Leonard, Florida State
Round 5 (164): S Natrell Jamerson, Wisconsin
Round 6 (189): CB Kamrin Moore, Boston College
Round 6 (201): RB Boston Scott, Louisiana Tech
Round 7 (245): C Will Clapp, LSU
Then: Below Average
Now: Average
Average may be kind for this draft class, considering what the Saints gave up to acquire their lone impact player. They forfeited a future 2019 first-rounder to move all the way up to Pick 14 to secure Marcus Davenport. While he's been fine, recording pass-rushing grades of 73.6 and 73.3 over the past two seasons, he's nowhere near the type of impact player a team gives up that much draft capital for.
Round 1 (2): RB Saquon Barkley, Penn State
Round 2 (34): OG Will Hernandez, UTEP
Round 3 (66): LB Lorenzo Carter, Georgia
Round 3 (69): DI B.J. Hill, NC State
Round 4 (108): QB Kyle Lauletta, Richmond
Round 5 (139): DI RJ McIntosh, Miami (FL)
Then: Above Average
Now: Average
While we weren't massive fans of drafting a running back second overall, we still obviously saw Barkley as a talented player and liked the selection of Will Hernandez at the top of Round 2. However, Hernandez — like much of the Giants' offensive line — has struggled, going from a 72.5 pass-blocking grade in 2019 to a 50.9 mark this past season. The one saving grace of New York's draft class has been the play of third-rounder B.J. Hill, who has earned overall grades of 75.9 and 73.4 in part-time roles the past two seasons.
Round 1 (3): QB Sam Darnold, USC
Round 3 (72): DI Nathan Shepherd, Fort Hays State
Round 4 (107): TE Chris Herndon, Miami (FL)
Round 6 (179): CB Parry Nickerson, Tulane
Round 6 (180): DI Folorunso Fatukasi, Connecticut
Round 6 (204): RB Trenton Cannon, Virginia State
Then: Elite
Now: Below Average
So much promise, but so little production. The Jets secured PFF favorites Sam Darnold, Nathan Shepherd, Parry Nickerson and Folorunso Fatukasi, but only Fatukasi played well in 2020, headlined by an 86.2 run-defense grade. We still have hope for Shepard, though, as he inexplicably fell off in 2020 after a 71.3 overall grade in 2019.
Round 2 (49): TE Dallas Goedert, South Dakota State
Round 4 (125): CB Avonte Maddox, Pittsburgh
Round 4 (130): EDGE Josh Sweat, Florida State
Round 6 (206): IOL Matt Pryor, TCU
Round 7 (233): OT Jordan Mailata, N/A
Then: Good
Now: Good
The Eagles have suffered through their fair share of draft struggles of late, but 2018 was easily their best class in recent memory — especially if you account for the team's lack of draft capital. With only one top-100 pick, Philly got a quality starting tight end in Dallas Goedert, an ascending pass-rusher in Josh Sweat and an ascending tackle in Jordan Mailata. Mailata's emergence could push this grade even higher, as he's come such a long way from a rugby player to a quality tackle in three years.
Round 1 (28): S Terrell Edmunds, Virginia Tech
Round 2 (60): WR James Washington, Oklahoma State
Round 3 (76): QB Mason Rudolph, Oklahoma State
Round 3 (92): OT Chukwuma Okorafor, Western Michigan
Round 5 (148): S Marcus Allen, Penn State
Round 5 (165): RB Jaylen Samuels, NC State
Round 7 (246): DI Josh Frazier, Alabama
Then: Average
Now: Below Average
Terrell Edmunds is still one of the biggest first-round reaches we've ever seen compared to the PFF draft board — we had him 196th overall. So far, we think we've been a tad closer. However, we were off on James Washington and Mason Rudolph — two players higher on the PFF draft board than where they were selected. Neither has shown anything too promising through three seasons, unfortunately.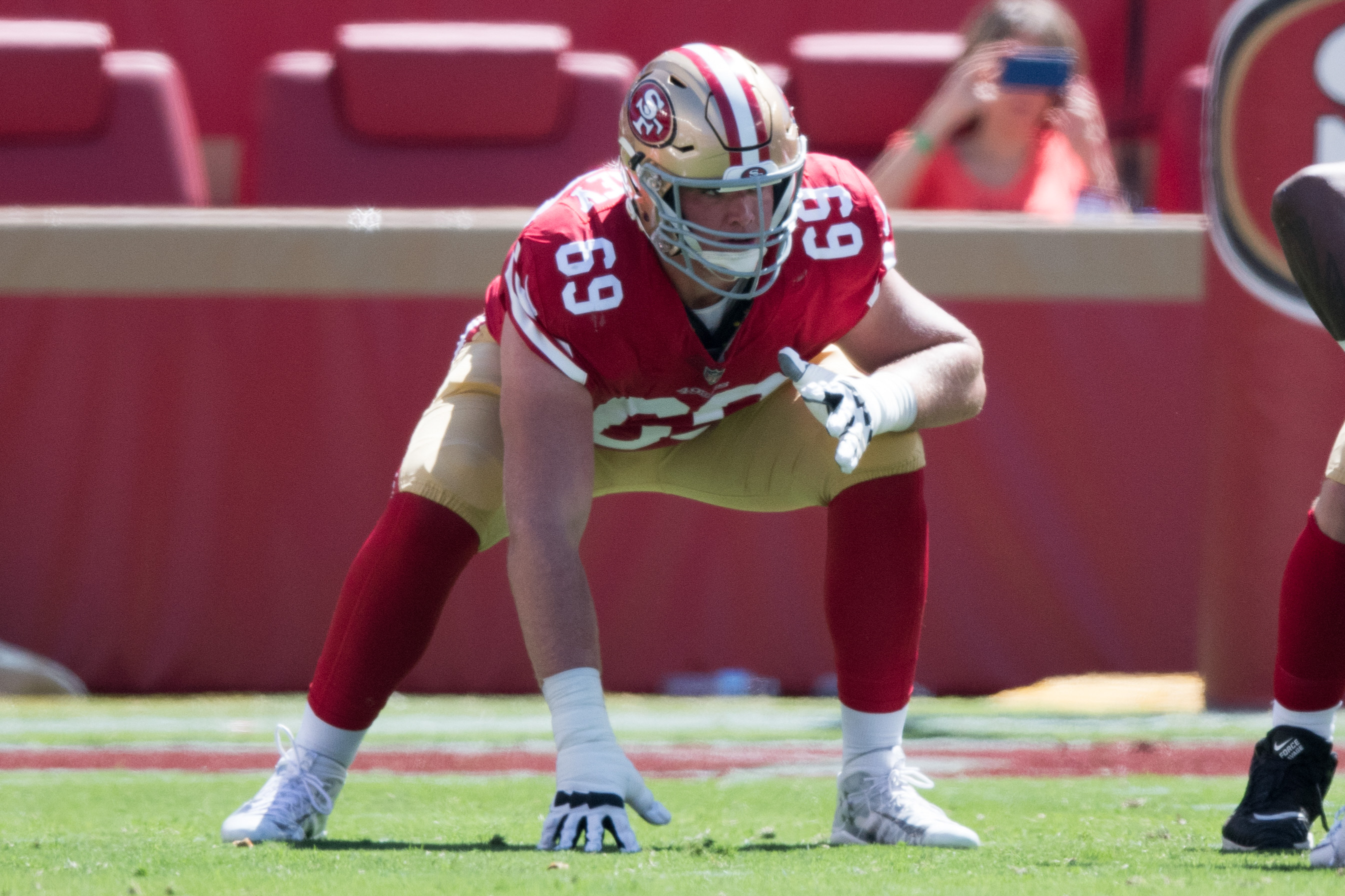 Round 1 (9): OT Mike McGlinchey, Notre Dame
Round 2 (44): WR Dante Pettis, Washington
Round 3 (70): LB Fred Warner, BYU
Round 3 (95): S Tarvarius Moore, Southern Miss
Round 4 (128): EDGE Kentavius Street, NC State
Round 5 (142): CB D.J. Reed Jr., Kansas State
Round 6 (184): S Marcell Harris, Florida
Round 7 (223): DI Jullian Taylor, Temple
Round 7 (240): WR Richie James Jr., Middle Tennessee
Then: Above Average
Now: Good
Even with the whiff on Dante Pettis at Pick 44, this was still a stellar draft class. Mike McGlinchey has consistently been one of the best run-blocking tackles in the league, while Fred Warner is comfortably a top-five off-ball linebacker. You could argue this as being an elite class had the 49ers not let fifth-round corner D.J. Reed walk to the division rival Seahawks, where he's flourished on the outside.
Round 1 (27): RB Rashaad Penny, San Diego State
Round 3 (79): EDGE Rasheem Green, USC
Round 4 (120): TE Will Dissly, Washington
Round 5 (141): LB Shaquem Griffin, UCF
Round 5 (146): S Tre Flowers, Oklahoma State
Round 5 (149): P Michael Dickson, Texas
Round 5 (168): OT Jamarco Jones, Ohio State
Round 6 (186): LB Jacob Martin, Temple
Round 7 (220): QB Alex McGough, Florida International
Then: Average
Now: Below Average
This draft class stands out for the wrong reasons. Rashaad Penny is one of the few first-round running backs in NFL history who has never actually been a starter. Third-rounder Rasheem Green has never earned a grade higher than 56.3 in a single season. Seattle's Day 3 picks weren't much better, and there's an argument to be made that their best selection was punter Michael Dickson.
Round 1 (12): DI Vita Vea, Washington
Round 2 (38): RB Ronald Jones II, USC
Round 2 (53): CB M.J. Stewart, North Carolina
Round 2 (63): CB Carlton Davis, Auburn
Round 3 (94): OT Alex Cappa, Humboldt State
Round 4 (117): S Jordan Whitehead, Pittsburgh
Round 4 (144): WR Justin Watson, Penn
Round 6 (202): LB Jack Cichy, Wisconsin
Then: Good
Now: Elite
This was the draft that started general manager Jason Licht's addiction to attacking the secondary. With three second-round picks, Licht double-dipped at cornerback in M.J. Stewart and Carlton Davis. Even though Stewart wasn't on the team's Super Bowl roster this past season, that commitment to bolstering the back end helped land a key cog of their secondary in Davis. And in my opinion, this draft also netted the Buccaneers the best nose tackle in the NFL when healthy in Vita Vea. Tampa Bay secured tarting running back Ronald Jones, starting guard Alex Cappa and starting safety Jordan Whitehead, too. That's a haul.
Round 1 (22): LB Rashaan Evans, Alabama
Round 2 (41): LB Harold Landry III, Boston College
Round 5 (152): CB Dane Cruikshank, Arizona
Round 6 (199): QB Luke Falk, Washington State
Then: Good
Now: Average
The Titans had only four selections — the fewest of any team in the draft — which means they really had to make them count. Three years later, we're still left waiting on breakouts from Rashaan Evans and Harold Landry. We admittedly whiffed on Landry after loving his edge bending ability at Boston College. He ranked 12th on the PFF draft board that season.
Round 1 (13): DI Daron Payne, Alabama
Round 2 (59): RB Derrius Guice, LSU
Round 3 (74): OT Geron Christian, Louisville
Round 4 (109): S Troy Apke, Penn State
Round 5 (163): DI Tim Settle, Virginia Tech
Round 6 (197): LB Shaun Dion Hamilton, Alabama
Round 7 (241): CB Greg Stroman, Virginia Tech
Round 7 (256): WR Trey Quinn, SMU
Then: Below Average
Now: Below Average
While the original article gave the Football Team a "good" grade, I have to assume that's a typo, considering we had their first three picks (13th, 59th and 74th overall) ranked 37th, 45th and 145th on the PFF draft board. It doesn't look too much prettier three years later, either. First-rounder Daron Payne earned only a 70.6 overall grade in his career-best 2020 season, second-rounder Derrius Guice is off the team and third-rounder Geron Christian allowed 24 pressures in only six games in his first year as a starter in 2020.