With the kickoff to the 2019 NFL season mere days away, it's time to dive into some of PFF's favorite breakout candidates. Some of these players flashed elite potential last year, whether in the NFL or college; while others figure to take a step forward this year as they embark on an expanded role with their respective teams. 
Here is each team's breakout candidate for the 2019 NFL season.

[Editor's Note: All ELITE subscribers have access to advanced stats and grades for all NFL players in the preseason, regular season and postseason. Subscribe today to gain access!]
AFC EAST
Wallace didn't see the field until Week 10 last year, but he shined when he was finally given a chance. Among the 66 NFL cornerbacks who played at least 200 coverage snaps from Weeks 10-to-17, Wallace ranked first in yards allowed per coverage snap (0.45), and he finished second to only Stephon Gilmore in coverage grade (85.3). He backed up that late-season ascendence with a strong 2019 preseason, too. He allowed just three receptions from eight targets this August, breaking up two passes and allowing a passer rating of just 47.9 into his coverage.
Wilson was well on his way to a career year in Miami last season before a hip injury prematurely ended his season. Still, despite missing the second half of the year, Wilson still recorded more yards after the catch per reception (13.3) than any other wide receiver with at least 35 targets, and he's finished first in missed tackles forced per reception in each of the last two years. He'll take his spot on Miami's starting lineup with a quarterback in Ryan Fitzpatrick who has targeted the slot at the highest rate among signal-callers over the last decade, so it's fair to assume that Wilson will be given every possible chance to aid this team's passing attack.
An Achilles injury kept Wynn on the sidelines last season, but now that he's fully healthy and Trent Brown is out of town, the former first-rounder has the chance to step in and shine at New England's left tackle spot. Wynn was one of the best offensive line prospects of the 2018 draft class: He earned the nation's 12th-best pass-blocking grade (85.0) and the second-best run-blocking grade (90.9) in 2017, all while giving up a measly five total pressures across his 346 pass-blocking snaps that year. He looked close to his best this preseason too, as he didn't allow a single pressure across his 22 pass-blocking snaps this August.
Williams entered the 2019 NFL Draft as the highest-graded interior defensive lineman that PFF College had ever seen, fresh off a season that saw him rack up 10 sacks, 16 hits and 29 hurries in his 15 games for the Alabama Crimson Tide. After a strong preseason, it looks like it's so far, so good for the Jets and Williams, who produced one hit and two hurries from his 42 pass-rushing snaps this preseason, winning five additional pass-rushing matchups in the process. Williams won 19.1% of his pass-rushing matchups this August, a mark that tied for first among 42 qualifying first-year interior defenders.
AFC NORTH
While quarterback Lamar Jackson got most of the attention last year, his rookie tight end quietly finished the season with the fifth-best receiving grade ever recorded by a first-year player with at least 300 routes run at the position. He caught 34 of his 48 targets last season, generating a passer rating of 129.9 that beat out the likes of Travis Kelce, Rob Gronkowski and Zach Ertz — keep an eye out for Andrews in 2019.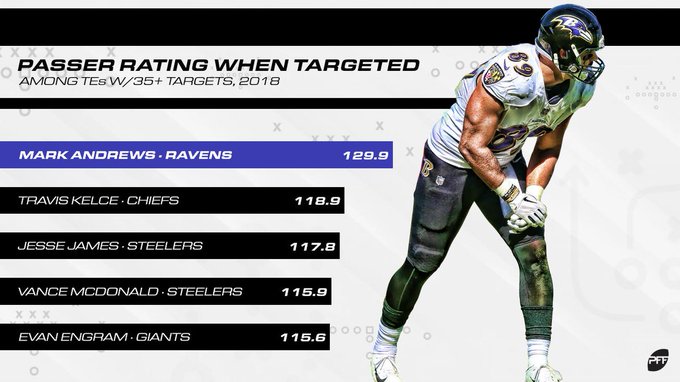 We're almost spoilt for choice when it comes to picking the league's most exciting young edge rusher, but few — if any — mention Lawson's name in that discussion. That should change in 2019. Over the past two seasons, Lawson has been nothing short of lights out on the field. His two-year pass-rush grade of 81.0 ranks 13th among edge defenders of the PFF era with at least 100 snaps in their first two seasons, while his two-year win rate of 20.1% is second to only Joey Bosa among the same group of players. If he can stay healthy, expect to hear Lawson's name a whole lot this year.
Higgins looked like the Browns' No. 1 option at times throughout the 2018 season, generating 2.01 yards per route run and a 126.9 passer rating with Baker Mayfield under center. Odell Beckham Jr. will grab the headlines and the lion's share of targets in the passing game, but Higgins has already shown he can turn heads as a productive second option.
The 2018 season was one to forget for the Steelers and James Washington, who ended his rookie year with an overall grade of just 49.2. But if the preseason is anything at all to go by, Washington could be well on his way to redeeming himself in Year 2. The former Oklahoma State Cowboy earned a receiving grade of 79.9 across his 16 targets this August, and he led the league in both deep receiving yards (146) and receptions from deep passes (4), which is a return to the norm for a player who racked up a nation-high 815 yards on passes of 20-plus air yards in his final collegiate season (2017). There's room for a deep threat in the Steelers' receiving corps — and Washington has the potential to fill it.
AFC SOUTH
After impressing as a rookie, Justin Reid will now be tasked with taking over the safety spot on a defense that has seen more than its fair share of turnover these last few months. Targeted 38 times a season ago, Reid intercepted three passes and broke up another six, all while missing just five tackles on 74 total attempts. It was a promising first year for Reid, but he's more than capable of taking it up a notch in Year 2.
Given Jacoby Brissett's tendency to look to the shorter range of the field,  Campbell figures to be a prominent fixture of the Colts' passing offense in 2019. A season ago, the former Ohio State pass-catcher ranked second among the 2019 NFL Draft class in receiving grade from short targets (from behind the line of scrimmage up to nine yards downfield), at 89.3. He caught 78-of-90 such passes for 849 receiving yards, 37 combined first downs and touchdowns, 15 plays of 15-plus yards, 4.66 yards per route run and a 131.9 passer rating when targeted — all of which ranked first among the wide receivers in the 2019 class.
Allen got off to a quiet start to his NFL career, earning a 53.4 overall grade from his 20 snaps in Week 1 of the preseason, but in Weeks 2 and 3, Allen looked every bit as good as we expected. Recording overall game grades of 87.3 and 83.2 in Week 2 and Week 3, respectively, Allen notched six total pressures from 23 pass-rush snaps over those games, with five of those pressures coming in his Week 3 game against the Dolphins.
The former Alabama linebacker was everything that the Titans had hoped for over the second half of the 2018 season. From Weeks 10-to-17, Evans' overall grade of 83.2 ranked first among rookie linebackers — as did his seven total pressures — and his 24 defensive stops ranked third. Evans' late-season performance makes him one of the most intriguing players to watch going into 2019.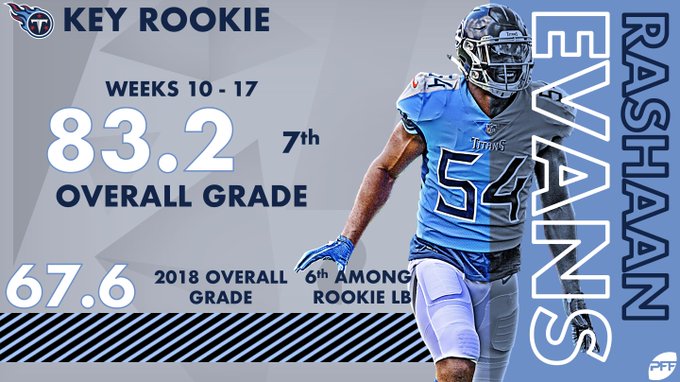 AFC WEST
With Demaryius Thomas out of town and Emmanuel Sanders coming off a torn Achilles, Courtland Sutton is primed to emerge as the Broncos' No. 1 receiving option in 2019, which is a role he started to assume down the stretch of the 2018 season. From Week 9 to Week 17, Sutton led the team in targets (44), receiving yards (380) and in first downs (17), while his 274 yards from deep passes ranked fifth among qualifying first-year players at the position.
The second-round pick has drawn rave reviews this offseason, and his services from the back end of the defense could not have come at a better time for the defensively mediocre Chiefs. Thornhill earned a 75.3 coverage grade across his 71 coverage snaps this preseason and allowed a passer rating of just 56.3 on throws into his coverage.
There are superstars all over this defense, from the versatile Derwin James (when he returns) to the excellent Casey Hayward to slot ace Desmond King to the annually destructive edge-rushing duo of Bosa and Ingram. But there's a man in the middle of the team's defensive line who has the potential to create just as much havoc as the guys on the outside. Tabbed as a top-10 talent by PFF's Mike Renner back in March, Tillery tied Quinnen Williams for the highest pass-rushing grade among interior defenders in college football a season ago, and he dominated as a pass-rusher week in and week out.
Bowing out of college football with 113 total pressures (second among interior defenders), a four-year pass-rush grade of 92.8 (first), a four-year pass-rush win rate of 16.0% (third) and a four-year pass-rushing productivity of 9.1 (second), Hurst not only entered the 2018 NFL Draft as the highest-ranked interior defender but the third-highest player on our big board. And while he was good, not great, last year as a part of the Raiders' struggling defense, Hurst powered his way to an 85.1 overall grade this preseason as he gets set to take center stage along the Raiders' new-look defensive line.
NFC EAST
Gallup entered the 2018 NFL season as one of the nation's most productive college wideouts, ranking second among those in yards per route (4.34) in 2016 and 15th in 2017 (3.18). Gallup looks primed to take a step forward from his rookie year (60.3 overall grade) in Year 2 after putting forth a dominant 2019 preseason that consisted of a 66.7% catch rate, 62 yards, one touchdown, three first downs, a 140.3 passer rating when targeted and an 87.5 receiving grade.
There were points of last year when Jon Halapio looked set to be a building block of the Giants' offensive remodeling. He began last year as the starter before succumbing to injury after just 116 snaps of action. But across those snaps, Halapio didn't allow a single pressure, and that's despite playing almost 50 pass-blocking snaps against a combination of Marcell Dareus, Malik Jackson, Calais Campbell, Yannick Ngakoue and Demarcus Lawrence, among others. From the 2018 regular season to the 2019 preseason, Halapio has earned an 86.8 pass-blocking grade and kept a perfect slate across 110 pass-blocking snaps.
Goedert was a key component of the Eagles' receiving corps in 2018, catching 35-of-46 targets (including the postseason) for 354 yards, five scores and a 115.7 passer rating when targeted last year. The now 24-year-old now has one year of NFL action under his belt and is just a season removed from being one of the most productive tight ends that PFF College has ever seen — expect big things from Goedert in 2019.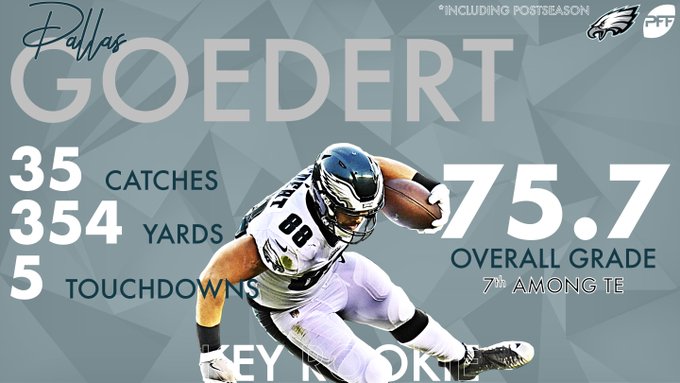 Injuries and general inconsistency have kept the Alabama product away from superstardom so far, but what he's done across his 939 career snaps so far is still incredibly impressive. Over the last two seasons, Allen's pass-rush grade of 70.7 ranks first among interior defenders from the class of '17, while Allen's pass-rush win rate (11.7%) and his pass-rush productivity (5.7) rank second and first, respectively. A big year from Allen would deservedly push his name up there with the very best players at the position.
NFC NORTH
At his best, there is nobody better at breaking tackles than David Montgomery. His 100 broken tackles on 258 carries last season broke a PFF College record, as did his monstrous 0.37 forced missed tackles per attempt. He is a superstar with the ball in his hands, and he will likely show it if he's given the opportunity in the Windy City.
Lining up at guard last year, Ragnow fell victim to some of the best interior pass-rushers in the league, tanking his grades to the point where his year could ultimately be judged as a disappointment. But his move back to center could spell big things for the sophomore offensive lineman after he dominated the position during his time in college to the tune of an 81.6 pass-blocking grade and a 94.4 run-blocking grade — dwarfing his mark from the right guard spot.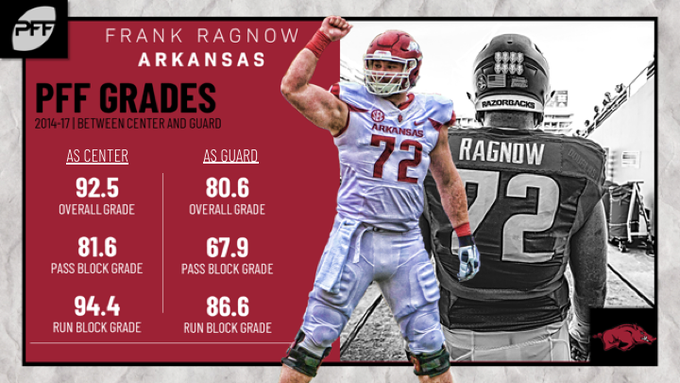 The Packers haven't had a top-tier playmaker in the secondary since Casey Hayward left, but that looks to be changing now that Jaire Alexander is in town. He contested a league-high 36% of his targets as a rookie in 2018, and his incredible Week 8 performance against the Rams — when he broke up five of the nine passes that were thrown into his coverage — showed the impact he can have on the back end of the defense.
Injuries have limited Cook's impact thus far, but if he can stay healthy, the sky really is the limit for him in what figures to be a zone-run-heavy offense in Minnesota. Among the 40 running backs who've carried the ball 50 or more times in outside zone since 2017, Cook ranks fifth in rushing grade (80.1) and tied for second in yards per carry (5.4).
NFC SOUTH
Over the first eight weeks of the 2018 season, it looked as if nobody could stop the former Alabama pass-catcher. In that time, he racked up 27 catches from 34 targets for 392 yards, 143 yards after the catch and a near-perfect WR rating of 154.3. He leveled out towards the end of the year, but if Ridley can find more of the same in 2019, the Falcons will be firmly in the conversation for having one of the best receiving tandems in the league.
A season ago, D.J. Moore led all first-year receivers in receiving grade (73.7) and recorded a total of 17 forced missed tackles that were second to only Odell Beckham Jr. After recording 781 receiving yards and 427 yards after the catch in Year 1, big things await for the Maryland product if he can take even the slightest step forward in 2019.
Cook is coming off a career-best year in Oakland, setting career-highs in receiving yards (896), receiving touchdowns (6), yards after the catch (361), first down receptions (46), missed tackles forced (7), plays of 15-plus yards (22) and receiving grade (81.5). He did all that despite the fact that only 78.8% of his targets were deemed to be catchable, which was the 16th-worst mark among tight ends with at least 30 targets last year. For comparison, former Saints tight end Benjamin Watson finished second among those players with a 93.2% catchable-target rate in 2018, so imagine what Cook's production would have been like with someone like Drew Brees at the helm. That's why Cook should be considered a breakout candidate at the ripe old age of 32.
Howard put forth an incredible sophomore season, ending the 2018 campaign with the third-highest receiving grade (90.0) and the third-best yards per route run figure (2.26) among qualifying players at the position. With an expanded role (Howard saw only 47 targets a season ago) and head coach Bruce Arians at the helm, Howard has a legitimate shot at taking the No. 1 tight end spot that's been vacated by the retired Gronkowski.
NFC WEST
Kyler Murray is a game-changer at the quarterback position, and when paired with head coach Kliff Kingsbury, the first overall pick has all the potential to make waves through the NFC. Murray was the highest-graded quarterback in college football in 2018, and we haven't seen a quarterback as dangerous with both his arm and legs since Russell Wilson first entered the NFL. Murray earned a 93.7 passing grade and an 84.4 rushing grade a season ago, picking up a 143.9 passer rating from a clean pocket and 667 yards from designed runs in a Heisman-winning season.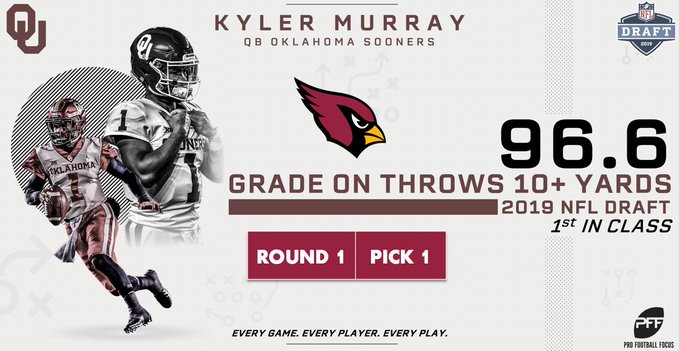 Everett was targeted just 48 times a season ago, and he caught 33 of those passes for 320 yards, three touchdowns and 144 yards after the catch en route to the fifth-best receiving grade among qualifying tight ends (79.7). Everett proved to be an absolute force with the ball in his hands last year (his broken tackle rate trailed only George Kittle, Vance McDonald and David Njoku among tight ends), and you can bet your bottom dollar that Sean McVay has already come up with a plan to get Everett more involved in 2019.
Mike McGlinchey didn't wow in pass protection a season ago — he allowed 39 pressures from 632 snaps, and his 64.2 pass-blocking grade ranked 65th among 82 qualifying tackles — but he was exceptional in the run game. The Notre Dame product paved the way for Matt Breida & Co. all season long, earning the league's third-best run-blocking grade (78.2) and the league's third-best impact run-block percentage (12.5%). If McGlinchey can elevate his work in the passing game while continuing his dominance in the running game, this man is a top-10 tackle.
The former undrafted free agent finished his rookie year as one of the NFL's highest-graded interior defenders, earning a 90.0 run-defense grade on 265 snaps as a first-year player. Ford followed that up with two strong preseason showings in Week 2 (72.0 overall grade) and Week 3 (71.5), and it looks like he's far from finished on a line that has gotten considerably stronger over the last few days.