The PFF Big Board is our final look at the top 250 players available for the 2018 NFL Draft. While the PFF production grades are used to fuel the process, our analysts are hard at work deciphering each player's strengths and weaknesses while looking for added context for their production through an extensive film study.
Here's a look at the newest iteration of the PFF Draft Board as we head towards the 2018 NFL Draft.
Version 2 of the 2018 NFL Draft Guide is here! For PFF Edge & Elite subscribers, a comprehensive guide featuring player profiles of signature stats, grades and exclusive PFF content including position by position rankings. Find out more information here and join PFF now!
1. Baker Mayfield, Oklahoma – quarterback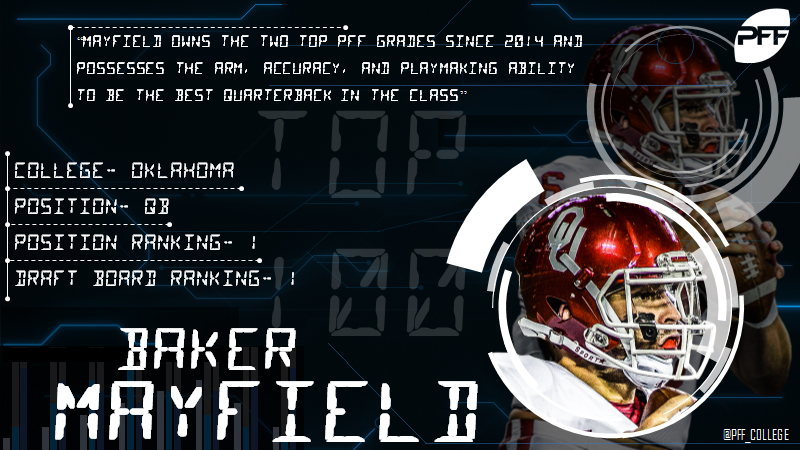 From a pure production standpoint, Mayfield has been in another class, and he has the necessary NFL tools despite questions about his height. He owns the two top PFF grades since 2014 and possesses the arm, accuracy and playmaking ability to be the best quarterback in the class. Mayfield has posted the lowest percentage of negatively graded throws in the nation for two straight years, and he led the draft class in big-time throw percentage last season, showing he was what it takes to create big plays down the field.
2. Sam Darnold, USC – quarterback
Darnold's high-end play is as good as it gets in the class, as he has next-level feel in the middle of the field and he's capable of making big plays outside of structure. Those skills showed through with the No. 2 percentage of big-time throws in the draft class last season, though he must improve his ball security after posting the fifth-highest percentage of turnover-worthy plays. Darnold has two years of excellent production at a young age and that should translate to the NFL.
3. Maurice Hurst, Michigan – interior defender
The prototypical 3-technique defensive tackle, Hurst offers a pass-rushing toolbox that no other interior player in this class can come close to matching. His four-year career of grades is unlike anything we've ever seen at the defensive tackle position, proving his durability and sustainability at the position.
4. Quenton Nelson, Notre Dame – guard
Nelson is the cleanest offensive line prospect in our four years of grading every snap of every game at the FBS level. His combination of flawless technique, athleticism and strength is beyond rare. You'll hear me throw around the term 'can't miss' almost never. Nelson is can't miss.
5. Derwin James, FSU – safety
James has all of the tools to become a game-changing playmaker at the next level. His size and athleticism allow him to make plays in coverage against the run and as a pass-rusher. All of James' skills led to him becoming the nation's top-graded safety in both 2015 and 2017. He can be a coverage weapon in a two-high safety look or in man coverage against tight ends and slot receivers, while his size allows him to be a force in the run game and to get after the quarterback.
6. Josh Rosen, UCLA – quarterback
Last year's top-graded quarterback on intermediate (10-19-yard) throws, Rosen has the zip and touch to make tight-window throws. His aggressiveness allows him to create big-play opportunities all over the field, but it also gets him into trouble with a high percentage of turnover-worthy plays. Rosen graded between 84.0 and 86.3 in all three years of his career at UCLA, all solid grades, though not the dominant performances you'd like to see for a quarterback in the mix to be the first overall pick.
7. Roquan Smith, Georgia – linebacker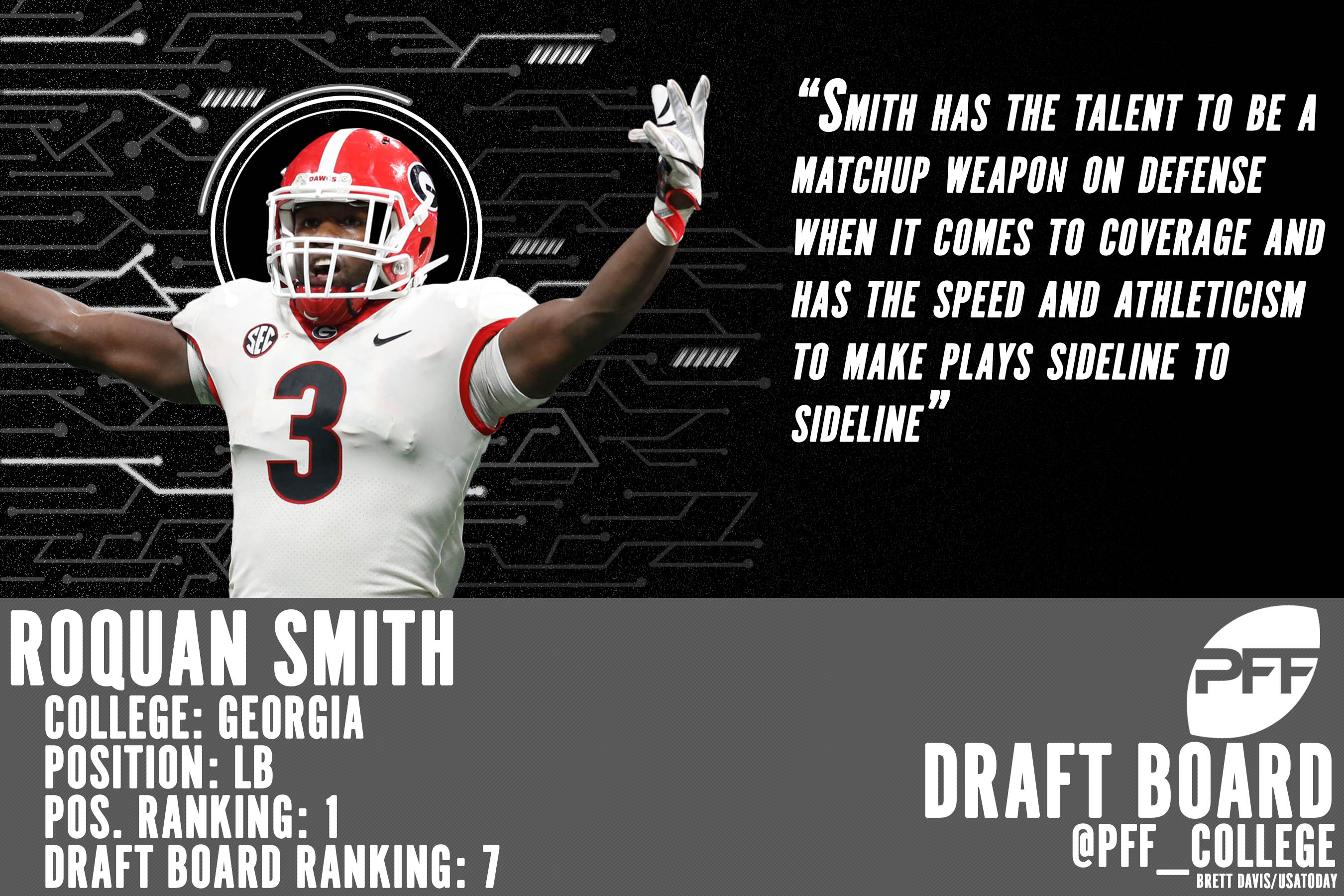 The class of this year's linebacker crop, Georgia's Roquan Smith is a talented and athletic linebacker who perfectly fits the mold of the modern NFL. Like Atlanta's Deion Jones, Smith has the talent to be a matchup weapon on defense when it comes to coverage and has the speed and athleticism to make plays sideline to sideline, neutralizing some of the game's most effective offensive weapons. There will be people that nitpick his game, but his PFF grades have been excellent and he had 74 defensive stops in 2017, the second-most among all linebackers. His coverage skills can be something special at the next level, he is the best linebacker in this class and should be taken high in the first round.
8. Josh Jackson, Iowa – cornerback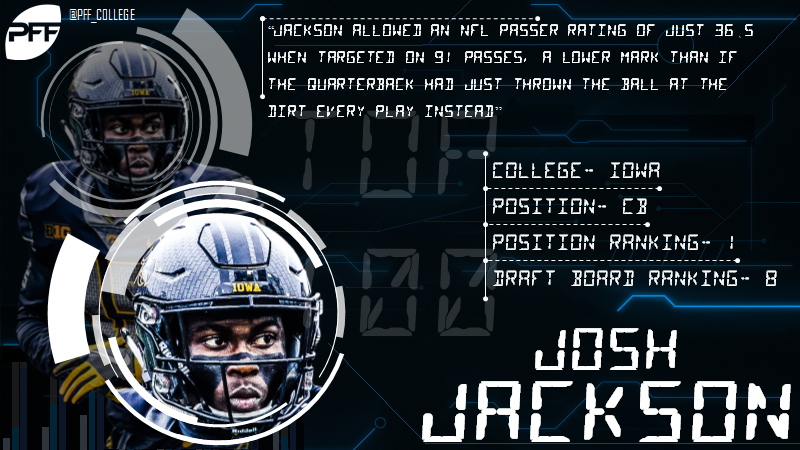 Iowa's Jackson broke out with a huge season in 2017, not just leading all corners in overall PFF grade in 2017, but he had the highest grade we have seen from any of the corners in this class across their entire college careers. He allowed an NFL passer rating of just 36.5 when targeted on 91 passes, a lower mark than if the quarterback had just thrown the ball at the dirt every play instead. He is also extremely young at the position, having only moved to corner in 2015, so his potential is sky high. 
9. Denzel Ward, Ohio State – cornerback
Ohio State has been a cornerback factory over the past few seasons, and Ward is the latest player to hit the NFL from that secondary. He has elite athleticism and quickness, with all the tools to be a top cover guy at the next level. He has extensive experience playing man coverage within that defense, but actually flashed some really excellent plays in zone coverage, so shouldn't be a scheme-specific player. He allowed just 35.1 percent of passes thrown his way to be caught in 2017. 
10. Minkah Fitzpatrick, Alabama – cornerback
Fitzpatrick has elite play and traits, but his NFL question is what position he will play at the next level. The position with the most value to NFL teams is perimeter corner, but he played just 13 snaps there in 2017 and how he will perform there at the next level is almost pure speculation. He has been a versatile and productive star in the Alabama defense at multiple positions and should have the athleticism to project outside at the next level, but that projection is an unknown variable.
11. Saquon Barkley, Penn State – running back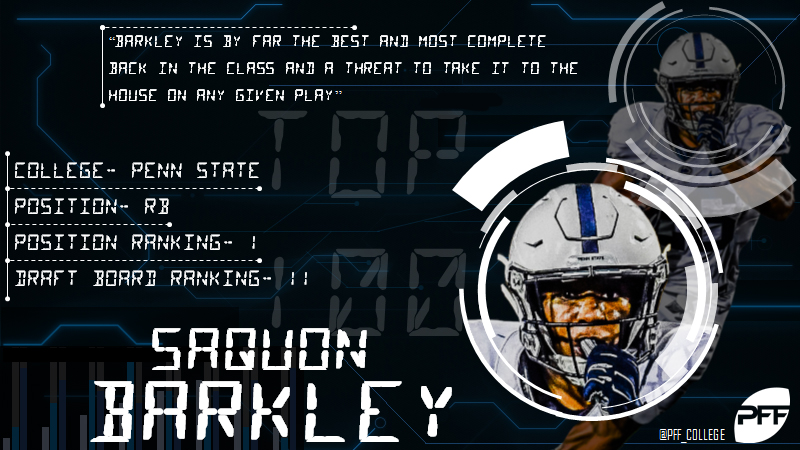 One of the most dynamic receivers at the running back position enters a league where passing has never been more important. Barkley is by far the best and most complete back in this class and a threat to take it to the house on any given play. He ranked fifth in 2017 among all FBS backs with a breakaway percentage of 56.8. His only real negative is a tendency to pass up three yards in tight confines to try and break outside for a bigger gain, but that is more than offset by the good he can do.
12. Harold Landry, Boston College – edge defender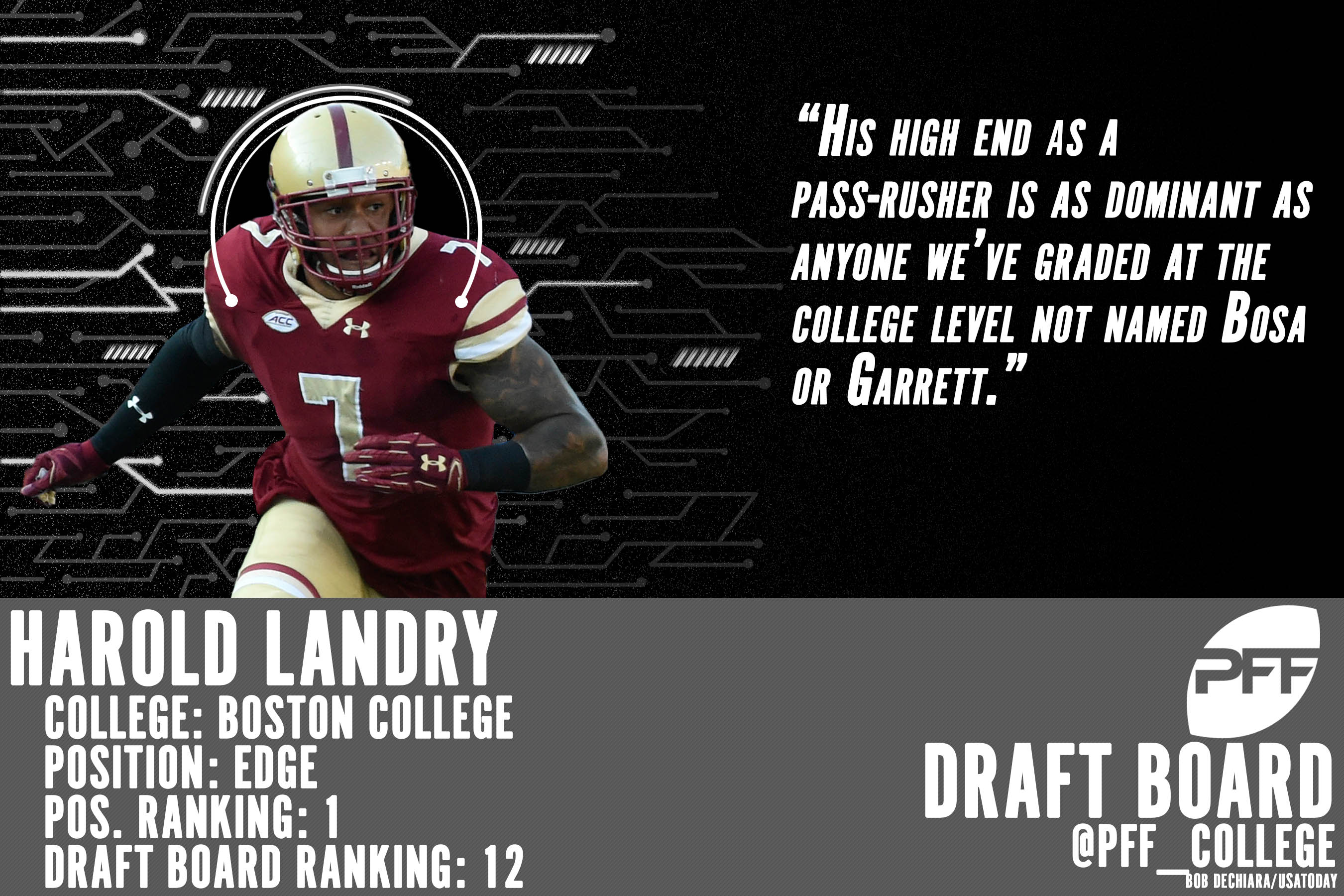 If Landry came out a season ago, he may very well have been a top-10 pick. His high end as a pass-rusher is as dominant as anyone we've graded at the college level not named Bosa or Garrett. We can forgive an injury-riddled 2017 when athleticism is such a big part of Landry's game.
13. Bradley Chubb, NC State – edge defender
Chubb is such an easy projection to the NFL with his blend of size, explosiveness and hand usage, that it's no surprise he's shot to the top of many boards. At the same time, he never quite dominated like the man ahead of him on our list and that's why he takes a backseat for us.
14. Frank Ragnow, Arkansas – center
Ragnow doesn't have the rare physical traits that Nelson possesses, but he's been arguably as dominant when healthy over the past couple seasons. He's been PFF's top-graded center in back-to-back seasons despite being only limited to 415 snaps this past year. In 2,603 collegiate snaps, Ragnow did not allow a single sack.
15. Mike McGlinchey, Notre Dame – tackle
McGlinchey's three-year sample of grading is about as good as we've seen since we started grading college players and easily tops in this class. The fact that he's done it at both left and right tackle makes it that much easier a projection to the next level. He's far from a perfect prospect, but he does so many things well that he's ascended to the top of this class.
16. Isaiah Wynn, Georgia – guard
A tackle at Georgia, Wynn's height and length projects best inside at the next level. Wynn will give you déjà vu at times with how consistent he is technically. He allowed all of five pressures this past season, and only 26 in his 2,609 collegiate snaps.
17. Will Hernandez, UTEP – guard
Hernandez may be limited to a straight-forward gap/inside zone scheme, but he should be a dominant run-blocker if he is put in one. The UTEP guard possesses an almost comically-thick build that makes him a people mover in the run game. He was PFF's highest-graded guard in 2016.
18. Connor Williams, Texas – tackle
Scrap Williams' injury-riddled 2017 tape and go back to his sophomore year. That season he was utterly dominant and allowed only four pressures all season. Not many true sophomores are capable of the level of play we saw from Williams in 2016, as he flashed all the tools necessary to be a high-level tackle in the NFL.
19. Lamar Jackson, Louisville – quarterback
It's all about setting proper expectations for Jackson who has incredible athleticism and a good arm that is capable of making NFL throws, yet inconsistent when it comes to down-to-down accuracy. That combination can be used to create an explosive offensive system as Jackson can drive the ball down the field and create big plays with his legs, though he may never be a classic, accurate passer who is counted upon to throw the ball 40 times per game. With the right offensive coordinator, Jackson has a chance to be a dynamic playmaker. 
20. Vita Vea, Washington – interior defender
Vea is the definition of a disrupter, he moves the line of scrimmage and not the other way around. Only playing 62.2 percent of Washington's snaps this past season is a little concerning, but there are few concerns about his on-field performance.
21. Dallas Goedert, South Dakota State – tight end
One of the best offensive playmakers in the draft, Goedert is weapon both before and after the catch. He has the size and body control to make spectacular catches and also the athleticism to create after the catch as he tied for the national lead with 12 missed tackles forced and averaging a gaudy 8.2 yards after the catch per reception last season. Goedert dominated FCS competition, but also showed well when facing FBS teams during his career, and he has offensive mismatch potential at the next level.
22. Jaire Alexander, Louisville – cornerback
To see the real Alexander, you need to go back to his 2016 tape, because injury marred his 2017 season. He has incredible short area quickness and the ability to break on the ball and contest at the catch point underneath. Long speed may be an issue, and even in that 2016 season he surrendered six touchdowns in coverage, but his ability to make plays underneath is at an elite level, and should find him a role as a slot corner at the minimum early. 
23. Calvin Ridley, Alabama – wide receiver
Ridley has excellent speed that shows up down the field and in his route-running, making him one of the more dynamic options in the class. His production was limited in Alabama's scheme, but he averaged 45.1 yards on his deep catches, showing what he's capable at the next level. His age is a question mark as he'll be 23 on opening day, but his downfield ability pushes him toward the top of the class. 
24. James Washington, Oklahoma State – wide receiver
Few receivers can match Washington's production over the last few years as he's been one of the best downfield threats in the class. He led the nation with 815 deep receiving yards last season and his ability to maintain his speed in and out of his breaks makes him a threat at all levels. He tacked on a dominant Senior Bowl week to his productive career and Washington has the skills to beat press coverage and win on the outside.
25. Mason Rudolph, Oklahoma State – quarterback
With three straight years grading at 90.0-plus, Rudolph is going overlooked in this draft class. He was certainly aided by weak Big 12 defenses and a loaded group of receivers, but Rudolph has a good feel for throwing outside the numbers and he's improved his ability to throw tight-window passes in between the numbers. Last season, he had the second-best grade in the draft class both from a clean pocket and when pressured, and Rudolph should at least be in the conversation when it comes to first-round hopefuls in the draft class.
[Editor's note: These rankings were ever-evolving as we headed towards the draft. Comments, questions or for further information, follow @PFF_College.]
Position ranks: QB | RB | WR | TE | OT | OG/C | EDGE | DI | LB | CB | S