It's been over a year since our analytics department produced the groundbreaking work on the importance of quarterback pressure from the edge and its devastating effect on an opponent's passing game. Within that body of work came two conclusions: One is the simple fact that a strong pass-rush directly impacts the most valuable play in football, the downfield pass. The other is the fact that pressure from the edge is inherently more valuable to a team than pressure from the interior.
When it comes to picking the league's most exciting young edge rushers, we're almost spoilt for choice. After all, edge — a position that's sought after every year in both the draft and free agency— is considered to be a premium position, as teams really need not look any further back than the 2017 Philadelphia Eagles (but if they wanted to, there's always the 2015 Denver Broncos) to see the scope of what's possible with a formidable, unrelenting presence off the edge.
Here, in reverse order, are the top edge tandems in the NFL right now.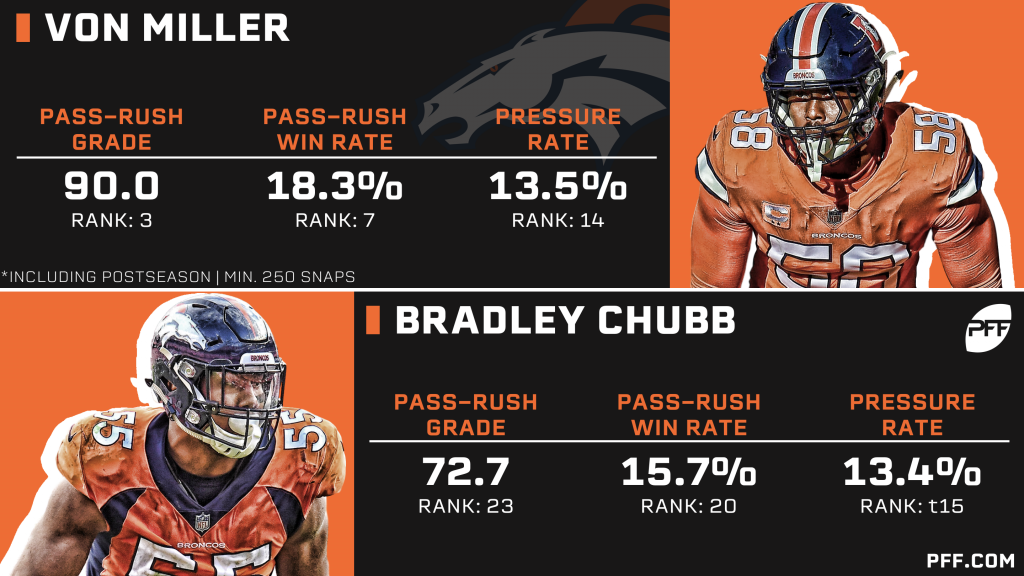 No surprises here, Von Miller has been nothing short of spectacular ever since he first stepped foot in Mile High Stadium. Miller is the only player — at any position — in the PFF era (2006-18) who has recorded eight single-season overall grades above 90.0, and he's done it in the eight consecutive seasons from 2011 to 2019. Among the 101 edge defenders who have played at least 1500 pass-rush snaps since 2006, Miller ranks first in pressure rate (17.1%), pass-rush win rate (19.0%) and pass-rush productivity (20.3).
From a box score standpoint, Bradley Chubb couldn't have done much more for the Broncos in his first year in the league. The first-year edge rusher racked up 13 sacks, eight hits and 36 quarterback hurries across his 456 pass-rushing snaps in 2018, and his 57 total pressures ranks tied for fifth in the PFF era among first-year edge defenders. If this duo is to crack the top three next year, Chubb will need to return to his college form when it comes to run defense and tackling, as his 2018 run-defense grade of 68.6 ranked 48th among the 111 qualifying players at the position, while his tackling grade (he missed 11 tackles on 58 attempts) of 40.2 ranked 91st.
Few have been as productive from a pass-rushing standpoint than Yannick Ngakoue over recent years. One of the league's most underrated talents, the Maryland product has produced a two-year pass-rush grade of 87.6 that ranks 10th among the 104 edge defenders with at least 300 pass-rush snaps since 2017, and he's produced at least 60 quarterback pressures in each of the last two seasons. Only Von Miller, Khalil Mack, Demarcus Lawrence, Cameron Jordan, Melvin Ingram III and Michael Bennett have recorded more pressures over the last two years than Ngakoue, who has 134.
Over the latter stages of his 11-year NFL career, Calais Campbell has blossomed into one of the very best players at his position, notably finishing among the top five in overall grade among his peers in each of the last three seasons. His latest showing — which earned a position-leading 91.1 overall grade — was the second-best single-season mark of his career, and that was all down to his remarkable production in all phases of the game. As a pass-rusher, he was one of only 11 edge defenders who recorded double-digit sacks, hits and hurries last year. Against the run, he tallied a staggering 46 run stops on the year – the most ever recorded by an edge defender in a single season.
Subscribe to PFF Edge to continue reading
Already have a subscription? Sign In