When the Oakland Raiders handed offensive lineman Trent Brown a record-breaking deal that made him the highest paid left tackle in the NFL, they did it for one reason: security. They want Derek Carr or whoever is behind center to not have to worry about the blindside. Just because they paid a high price though, doesn't necessarily mean it will come true. Don't get me wrong, Trent Brown's improvement over the past couple of seasons has been inspired, but he still has a very long way to go until he's mentioned in the same breath as the league's best pass protectors.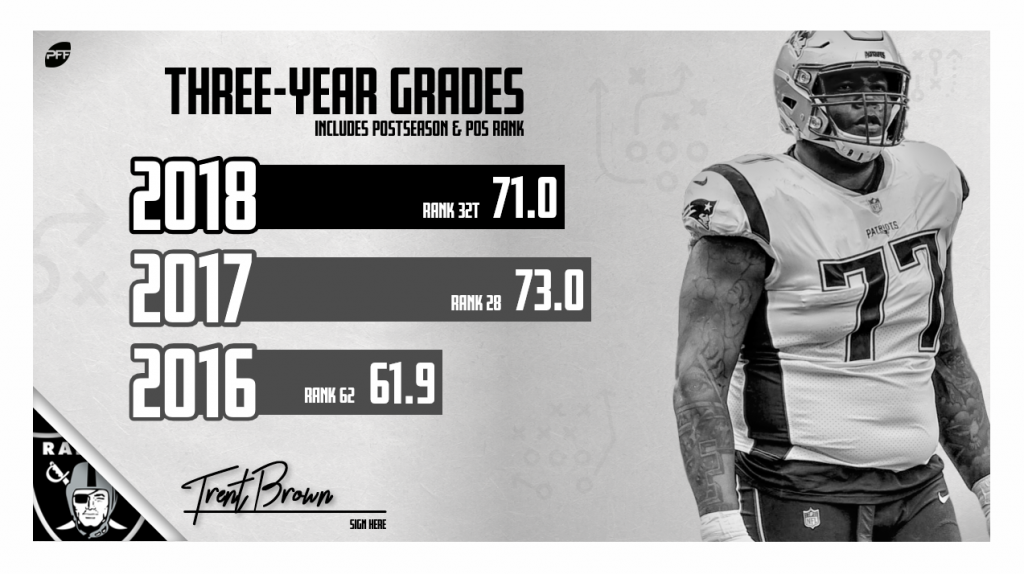 Among all offensive tackles that played at least 800 snaps in the NFL last year, Brown's pass-blocking grade ranked 37th. It's impressive that he was able to play at such a high level on the left side after playing right tackle the three years prior in San Francisco, but that's not exactly an inspiring number. Of those 49 qualifying tackles, his 33 pressures allowed ranked 33rd. Those numbers simply aren't close to elite production. While that certainly represents an upgrade over Kolton Miller who was in the bottom three of both those categories, they aren't close to elite.
It's worth noting that those numbers also come in one of the most favorable schemes in the NFL for linemen. Tom Brady's quick release combined with offensive line coach Dante Scarnecchia make life easier on offensive linemen. The same cannot be said for offensive line coach Tom Cable whose lines have ranked in the bottom three in terms of pass-blocking grade in each of the past four seasons. Brown has immense physical talent, and he'll likely be better at left tackle in year two at the position, but this move hasn't secured the blindside in the way the money would suggest.