When it comes to picking the league's most exciting young edge rusher, we're almost spoilt for choice. After all, edge, a position that's sought after every year, is considered to be a premium position, as teams really need not look any further back than the 2017 Philadelphia Eagles (but if they wanted to, there's always the 2015 Denver Broncos) to see the scope of what's possible with a formidable, unrelenting presence off the edge.
With that championship-winning blueprint stamped into memory, NFL teams will continue to take productive young edge defenders high in the draft for as long as the college game keeps producing them. Since 2015, edge has been the second-most picked position within the first two rounds (cornerback quite rightly takes the top spot), and those picks have given us a collection of players — players like Joey Bosa, Frank Clark, Myles Garrett and most recently Nick Bosa, Josh Allen and Brian Burns  — who have either made, or will make, their case to be crowned as the NFL's best young pass-rusher.
But there's another player who also deserves to be in that conversation. A player who, when healthy, has been as impressive a force in the pass-rush as any young star in the league. And though injuries have forced him to miss a considerable amount of time over his first two NFL seasons, Cincinnati Bengals edge defender Carl Lawson will enter the 2019 campaign with a new coaching staff, two years of experience and, finally, a clean bill of health — all ready to make a move as a part of a resurging Bengals side.
College production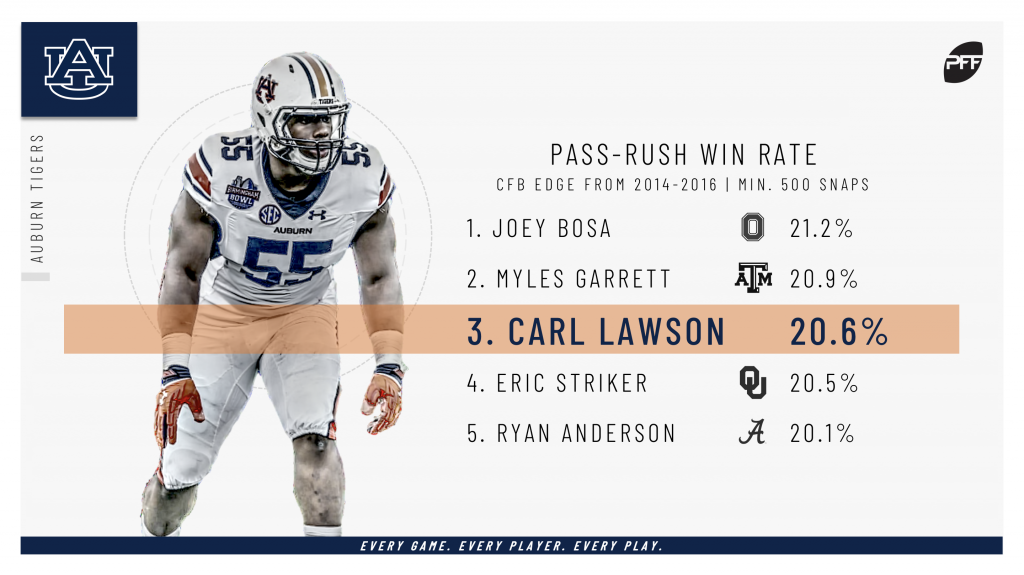 After an ACL injury forced him to miss the entirety 2014 season, the Auburn product battled through an injury-plagued 2015 season but impressed while doing so, notching three sacks, two hits and 23 hurries from only 196 pass-rushing snaps on the year. Among the 51 SEC edge defenders with at least 100 pass-rushing snaps that season, Lawson — who had just missed the previous season and was at less than 100% in the games in which he did play — ranked 14th in pressure rate (14.6%), 13th in pass-rush grade (74.3) and 10th in pass-rush win rate (15.6%).
But that was only the beginning. Having overcome the nagging ailments that had hindered him from 2014 through 2015, Lawson leaped off the screen throughout the 2016 season and demonstrated just what he was capable of at full strength. Starting as he quite clearly meant to go on, Lawson dominated his Week 1 matchup against the Clemson Tigers to the tune of five total pressures and a career-high 92.4 single-game pass-rush grade, winning 39.3% of his pass-rush snaps in what was a torrid time for Clemson right tackle Jake Fruhmorgen.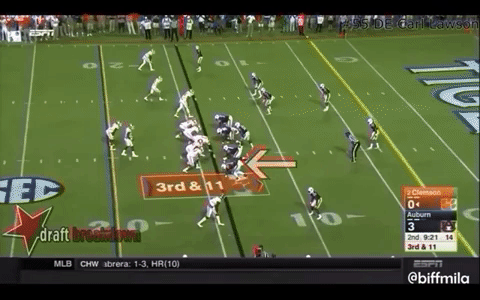 He didn't relent from then on. A one-man wrecking crew from both a two- and three-point stance, Lawson recorded at least three total pressures in 11 of his 12 games in 2016, including a seven-pressure outing against Mississippi State in Week 6 and a monstrous 11-pressure outing against Arkansas in Week 8. He finished what would be his final college season ranked second among SEC edge defenders in total pressures (69) but first in pass-rush grade (91.6) — beating out notable names like Derek Barnett, Myles Garrett and Charles Harris.
Injuries aside, there were concerns about Lawson's consistency and overall production against the run, but his talent as a pass-rusher was impossible to deny. From 2014 to 2016, he had amassed 12 sacks, 17 hits and 68 hurries from 539 pass-rushing snaps; he won 20.6% of his total pass-rushing matchups (which ranked third behind only Joey Bosa and Myles Garrett among edge defenders with at least 500 pass-rushing snaps in that span) and he earned pass-rushing grades of 85.0 or higher aligned both as a standup outside linebacker (89.0) and with his hand in the dirt (87.9) — making him a versatile, dynamic rusher, fit for almost any defensive scheme in the NFL.
Rookie year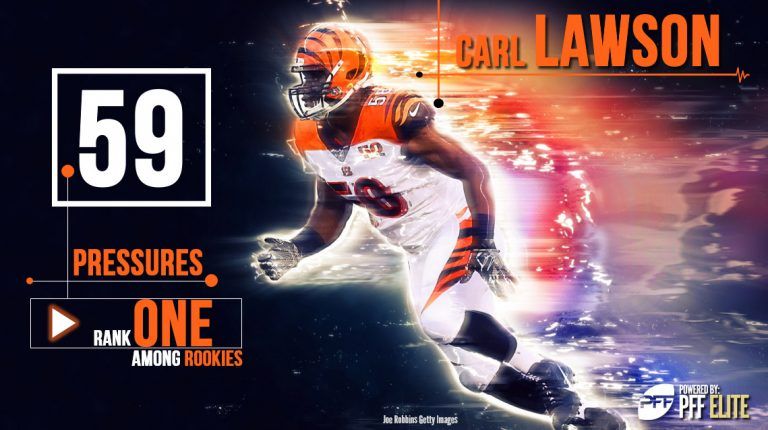 The questions surrounding Lawson's health made for a vertiginous drop on many a draft board, but the Bengals took a risk in the fourth round by selecting him — a first-round talent — with the 116th overall pick of the 2017 NFL Draft, a move that would later prove to be one of the best value picks of the entire event.
His rookie season went about as well as we expected it to, as he far outplayed his fourth-round label, and although he was limited (by his coaching staff, not through injury) to a rotational role on the Bengals' defensive line, he still ended the year with 59 total quarterback pressures — a figure that is still tied with Joey Bosa for the third-best mark ever recorded by a first-year player at the position. Among the 46 edge defenders in the PFF era (2006 – present) who logged least 300 pass-rushing snaps in their rookie seasons, Lawson's rookie pass-rush win rate of 18.5% ranks second, his pressure rate of 16.3% ranks third and his 17.3 snaps played per knockdown ranks seventh.
Among the very many highlights of his NFL debut was his standout performances against some of the league's best pass-blockers. At times, he showed complete control against some of the best that the league had to offer, and he showed a level of play while doing so that far surpassed a player of his experience. He racked up five total pressures from 38 pass-rushing snaps against Ronnie Stanley (who finished the 2017 regular season ranked 28th among all tackles with a pass-blocking grade of 76.2), he racked up two pressures against Joe Thomas (85.2) and he tallied three pressures each against stalwarts Alejandro Villanueva (76.5) and Anthony Castonzo (77.8).
Sophomore year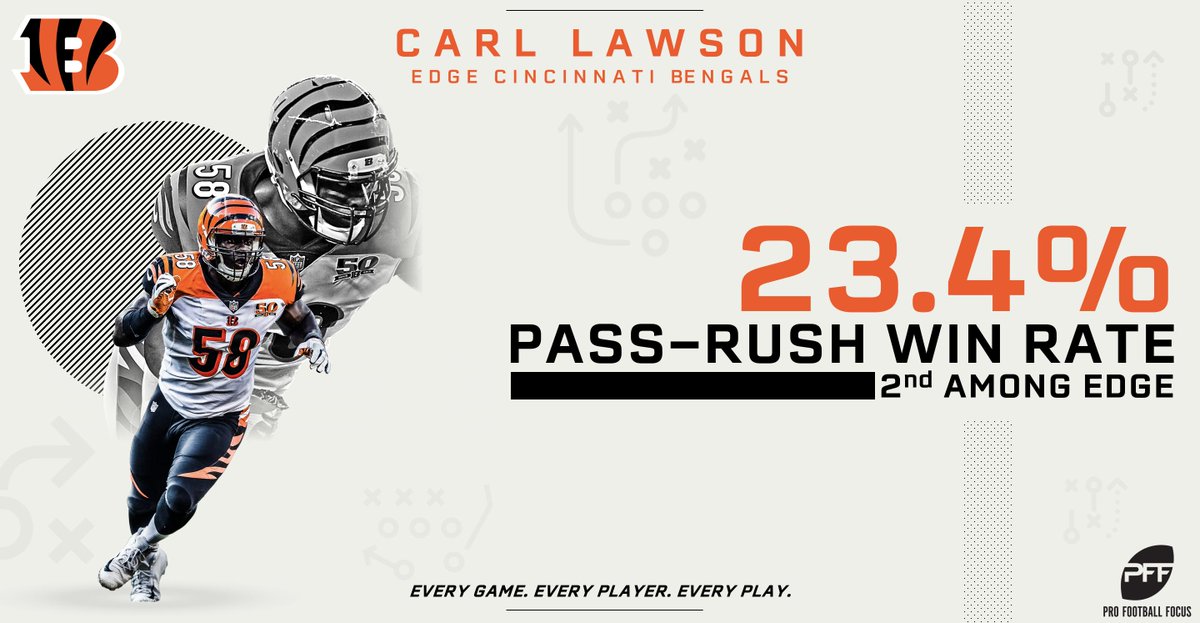 After such a promising rookie year, hopes were high for an even better sophomore year — and things began as if it were going to be. From Week 1 to Week 7, Lawson continued to pile up the quarterback pressure and notched one sack, seven hits and 17 hurries from his 175 pass-rushing snaps in that span. His 25 total pressures were just four shy of Von Miller (who had played 28 more pass-rush snaps) and Lawson's 80.9 pass-rush grade over that seven-game stretch ranked eighth among edge defenders with at least 100 snaps. All told, he had won a whopping 23.4% of his pass-rush matchups — second to only Jerry Hughes — and his 14.3% pressure rate tied with Von Miller for the league's 15th-best mark.
Unfortunately, the injury bug reared its ugly head in Week 8. Lawson's mightily impressive sophomore year was cut short by yet another ACL injury and that left us thinking about just what could have been had he been able to complete the campaign.
Putting it all together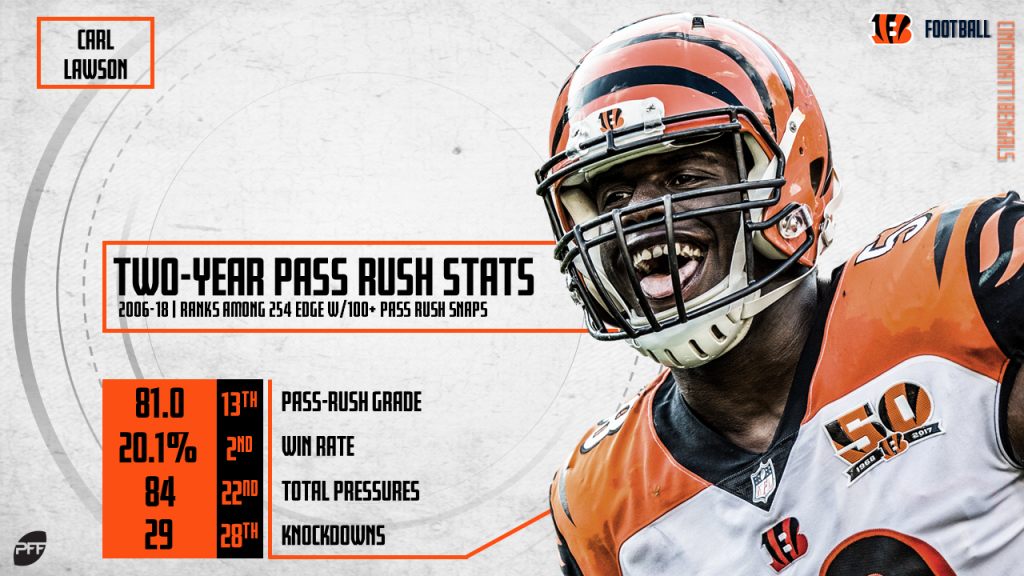 Now nearly seven months removed from the injury that cost him his sophomore season, Lawson will be preparing to hit the ground running. And thankfully, now that he's under the tutelage of a new coaching staff, he may finally be in a position to show the league what he's capable of when he's at 100%.
Over the past two seasons, Lawson has been nothing short of lights out on the field. His two-year pass-rush grade of 81.0 ranks 13th among edge defenders of the PFF era with at least 100 snaps in their first two seasons, while his two-year win rate of 20.1% is second to only Joey Bosa among the same group of players. And when we remove screens, play-action dropbacks, trick plays, defensive stunts, blitzes and passes that were thrown in under 2.5 seconds from his data set, and look at his work purely against pure pass sets, we can see that things start to look even better.
Among the 50 edge defenders with at least 100 pass-rushes against pure pass sets (snaps that meet the aforementioned criteria) over the last two years, Lawson's 86.8 pass-rush grade ranks 10th, while his pass-rush win rate of 29.2% and his pressure rate of 25.7% both ring in at eighth.
So, then, the questions present themselves naturally: Why, during the 23 games in which he was active, was he only on the field for 56.7% of his team's pass-rushing snaps? Why, after performing at such a high level in those games, was he out-snapped by the likes of Michael Johnson, who earned a pass-rushing grade of 52.9 compared to Lawson's grade of 81.0?
It's easy to play the what-if game, but if you'll allow me for a brief second: What if Lawson, who has won over 20% of his pass-rushing snaps since he entered the league, was used as a focal point of the pass-rush from Day 1? And say he was, what if he'd avoided that second torn ACL? The answer to the irrelevant yet interesting question is that we'd probably be talking about a player on par with the best that the position has to offer.
If he can return to 100%; if he is used by the new coaching staff as he should be; if he can take that next step from his promising rookie year, the title of the NFL's best young pass-rusher is there for Lawson to take.