After dropping our final offensive line rankings last week, we'll be hitting some on the defensive side of the ball this week. Dropping first is our secondary rankings, which took into the account the grades of all players listed at corner or safety – even if some dabbled at linebacker as well.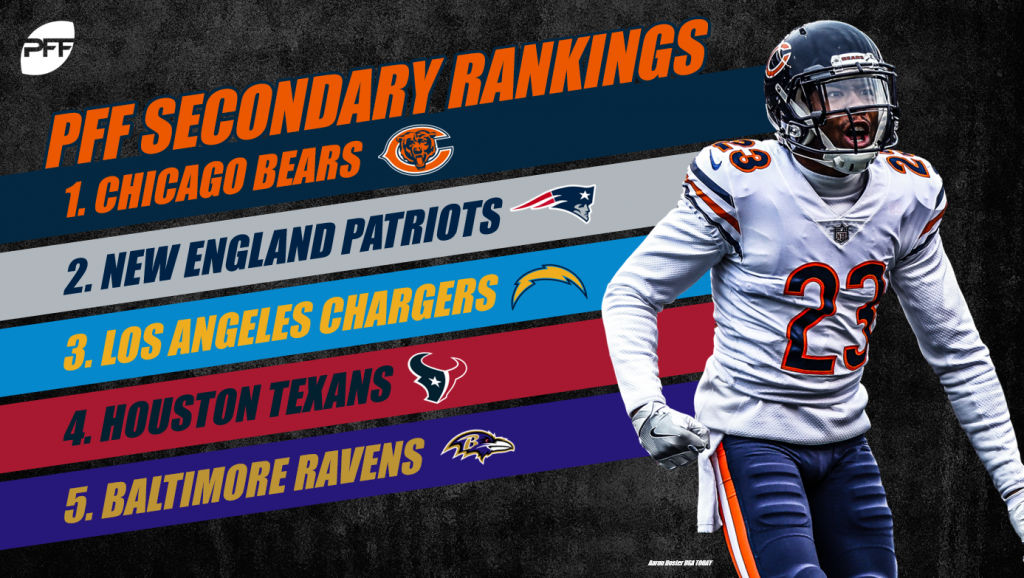 No surprise here. The Bears' secondary featured PFF's first-team All-Pro safety Eddie Jackson and second-team All-Pro corner Kyler Fuller. What really separates them from the pack though is the lack of a weak link. Every single player that played at least 200 snaps in their secondary – Jackson, Fuller, Adrian Amos, Prince Amukamara, Bryce Callahan, and Sherrick McManis – all earned grades above 80.0. 
The Patriots consistently get more out of their defensive backs than any team in the league. Their cornerback tandem this season of Stephon Gilmore (90.7 overall) and Jason McCourty (83.1) personifies that. Maligned at their last stops before New England, both put up the highest-graded seasons of their careers in 2018, combining to allow only 95 catches on 180 targets.
Along with Chicago, the Chargers were the only other NFL team to put multiple members on the PFF All-Pro secondary. Desmond King II earned the first team Flex position for his work as the league's best slot cornerback and Derwin James was second-team safety as a rookie. The scary thing is, that doesn't even include Casey Hayward Jr., who just last year won PFF's award for top coverage defender.  
Houston is a defensive success story that should give everyone on this list hope. After plugging holes at safety with Tyrann Mathieu and Justin Reid over the offseason, one of the worst units in the league turned around to be one of the best. All four starters earned grades of 74.7 or above, while Kareem Jackson had a career year at 85.7 overall.
You could argue no team in the NFL has more invested in their secondary with first-round picks at both starting corner positions and high-priced free agents at both safety positions as well as their nickel corner. That may also be the reason why their defense was so dominant in 2018. Marlon Humphrey was the highest graded of the bunch as he came on strong in year two. Humphrey allowed a catch rate of only 52.5% and only 464 yards on the season.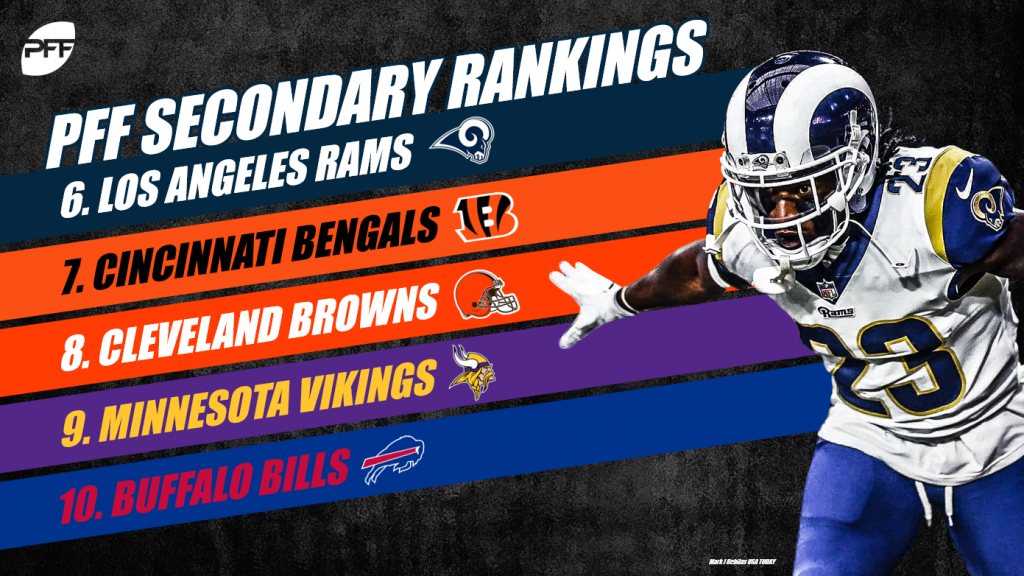 While Marcus Peters grabbed a lot of the headlines for his up and down play this year, two other guys quietly had outstanding seasons for Los Angeles. John Johnson III is quickly making a name for himself as one of the best safeties in the league after picking off four passes and breaking up seven others this season. Nickell Robey-Coleman, on the other hand, still doesn't get the respect he deserves as one of the most consistent slot corners in the league after earning an 82.6 overall grade this year.
While the defense as a whole didn't live up to their early-season hype, much of that was due to a linebacking corps that gave up more yards in coverage than any other in the NFL. Rookie Jessie Bates looks like he'll be a stud in Cincinnati for a while after allowing a passer rating of only 59.9 in his coverage this year.
Another team that gives hope to all the struggling secondaries out there. With the simple additions of Denzel Ward (79.0 overall) and Damarious Randall (72.7) along with a breakout year from Jabrill Peppers (77.6), the Browns secondary went from one that Gregg Williams blamed for not letting him call the coverages he wanted, to a top-10 unit.
They're obviously still a solid secondary, but most in Minnesota had higher expectations than this. Much of the blame can be aimed towards their two biggest stars, as Xavier Rhodes and Harrison Smith took huge steps back from a season ago. Rhodes had a career-low grade after allowing a career-high catch rate (65.2%), and while Smith's 79.7 grade this year was good, it came a year after his 91.8 overall grade was tops in the NFL.
After a dominant rookie season, Tre'Davious White was once again stingy in year two. He was given the task of following around opposing number one receivers in seven separate games this year and still only allowed 357 yards and 30 catches for the entire season.
Byron Jones' emergence as one of the league's top cornerbacks was one of the crazier stories of the entire season. After spending the last two years at safety, Jones turned into a PFF first-team All-Pro in his very first year back at the position he played at Connecticut. He allowed only 37 of 69 targets to be completed and had 10 pass breakups on the year.
No unit in the NFL disappointed more this season than the Jacksonville secondary. With all four starters returning and remaining healthy for the majority of the season, their fall from the top was inexplicable. Barry Church earned a 50.4 overall grade before being cut late in the year, while Jalen Ramsey gave up almost 200 more yards than he did last season.
The Titans have paid a lot of money in recent seasons to fill out this secondary, but it's their ability to identify talent in the draft that's still carried them. 2016 third-round pick Kevin Byard was a second team PFF All-Pro safety while last year's first rounder, Adoree' Jackson, was the second-highest graded player in the secondary.
The Falcons were yet another victim of inexplicable player regression. Robert Alford allowed a catch rate that was over 12 percentage points higher than 2017, and he also allowed 175 more yards than he did a season ago. His 138.9 passer rating and 12 penalties were second-worst and worst in the league, respectively.
All things considered, I think the Colts are happy with ending up in the middle of the back this season. The Colts secondary accounted for a total of $11.2 million against their cap this season –  a figure lower than 10 individual secondary players in the league this year.
Jamal Adams' career is off to a Hall of Fame-esque trajectory through two seasons. He was one of the league's most feared defensive weapons this year and ended up as a PFF first-team All-Pro safety. Adams' 44 total defensive stops and 22 quarterback pressures were both the most of any safety in the league.
After trading away their top cornerback and being without Eric Berry for the majority of the season, I think they'll take 17th. The play of Steven Nelson was a big reason why. Giving up 825 yards as he did doesn't sound great, but Nelson was targeted 113 times on the season – eight more times than any other player in the NFL. He allowed only 60 to be completed for a passer rating of 76.8.
Even if the results weren't horrible, the Seattle secondary sorely missed Richard Sherman this season. Their corners Justin Coleman (90.0 passer rating against), Tre Flowers (111.8), and Shaquill Griffin (100.4) all allowed at least 500 yards and 60-plus percent catch rate on the season.
It wasn't pretty early in the season for the Steelers secondary, but they bounced back over the course of the season. Safety Sean Davis' improvement was a big reason why. Davis' 69.8 overall grade represented a huge jump over his 47.3 from a season ago when he was one of the lowest-graded in the NFL. He cleaned up his missed tackles as well going from 19 last year to 12 this season.
The top-four of the Cardinals' back end was solid enough, but it was the other corners they threw out there that were routinely the issue. Brandon Williams, David Amerson, and Leonard Johnson all earned grades under 60.0 for the season. 
While this unit has lost a good amount of talent since their peak a couple of years ago, even the holdovers from that unit regressed mightily. Janoris Jenkins allowed a passer rating of 109.3 in his coverage this year while Landon Collins was even worse at 127.8. 
Even with a career year from D.J. Swearinger (79.8 overall), the Redskins secondary still couldn't overcome the injury to Quinton Dunbar. Fabian Moreau was thrust into more playing time, and he allowed a 65.8% catch rate and a 105.8 passer rating.
With how many injuries the Eagles suffered on the back end, it's a minor miracle they are still 23rd. Fifteen different players received snaps in the Eagles secondary, with 12 of them getting at least 100. Malcolm Jenkins 83.3 coverage grade on 1,038 snaps was a big reason why things didn't completely fall apart for Philadelphia.
The No Fly Zone is no more. Chris Harris Jr. was still at the top of his game with an 86.0 overall grade, but Bradley Roby didn't handle the transition to a full-time starter as well as John Elway had hoped. He allowed 807 yards, a 65.9% catch rate and a 117.3 passer rating in his coverage.
Maybe the only surprising thing about the Bucs ranking here is that it wasn't lower. No player earned a grade of 70.0 or above this season, while Justin Evans had the highest graded at 67.6 overall. Everyone knew it wasn't going to last forever for the 35-year-old Brent Grimes, and after allowing a career-high 116.3 passer rating this past year, it's probably the end of a great career.
Minkah Fitzpatrick's rookie year was incredibly encouraging, although being among the league leaders with 10 penalties is something that should be cleaned up going forward. Fitzpatrick only allowed a catch rate of 56.5% and a passer rating of 69.0. The same cannot be said for Bobby McCain, who allowed a 73.5% catch rate and 120.7 passer rating, both of which were among the worst at the position in the NFL.
While the Packers were almost guaranteed to get better from a season ago, jumping up only to 27th wasn't what they had in mind. There's still reason for hope though, as first-round pick Jaire Alexander flashed brilliance at times. His five pass-breakup performance against the Rams was one of the best performances from a cornerback all season.
After Patrick Robinson went down for the year in Week 3, it thrust more playing time onto P.J. Williams' plate, and the young cornerback was nothing short of a liability. He allowed 58 of 78 targets for 725 yards and a passer rating of 127.4. Unfortunately, Marson Lattimore and Marcus Williams couldn't repeat their other-worldly rookie seasons to make up for it.
After somehow still playing at a high level in his 14th season in the NFL, Mike Adams had the wheels fall off in year 15. The almost 38-year-old safety had the lowest-graded full season of his career, allowing five touchdowns and a passer rating of 121.6 in his coverage. Mid-season addition Eric Reid ended the year as the highest graded member of the Panthers' secondary, and that tells you all you need to know about this ranking.
He didn't play much, but Teez Tabor torpedoed the Lions' defense when he was on the field. His 29.9 coverage grade was the lowest in the NFL and on only 276 snaps, he allowed 22-27 catches for 371 yards, four touchdowns, and a perfect 158.3 passer rating.
While the overall ranking certainly isn't pretty for the Raiders, there's still some reason for hope. Former first-round pick Karl Joseph earned his highest grade as a pro (74.5), while other former first-rounder Gareon Conley looked much improved down the stretch. He finished the season allowing a catch rate of only 54.0% and a passer rating of 72.8.
Richard Sherman's presence could only do so much to prop up the league's worst unit. The free agent corner only allowed 25 catches in 14 games this season, but injuries and a ton of busted coverages are why they still sit at the bottom. Eleven other players besides Sherman received at least 100 snaps in the secondary, and none graded higher than 66.7 overall.