In today's NFL, the success of a team's offense can be traced back to the performance of the offensive line, and as proof, look no further than the 2017 Super Bowl Champions. In 2017, the Philadelphia Eagles fielded the best unit in the league, and dominant individual performances from their big guys up front were a major factor in their Super Bowl success. In short, the performances of tackles, guards, and centers can make or break games, or even seasons.
Looking back at the performances from all positions along the offensive line this year, it's no secret that we were treated to several standout outings. However, the highest single-game grade by an offensive lineman this year was brought to us by Jacksonville Jaguars center Brandon Linder, in his team's thrilling Divisional Round win over the Pittsburgh Steelers.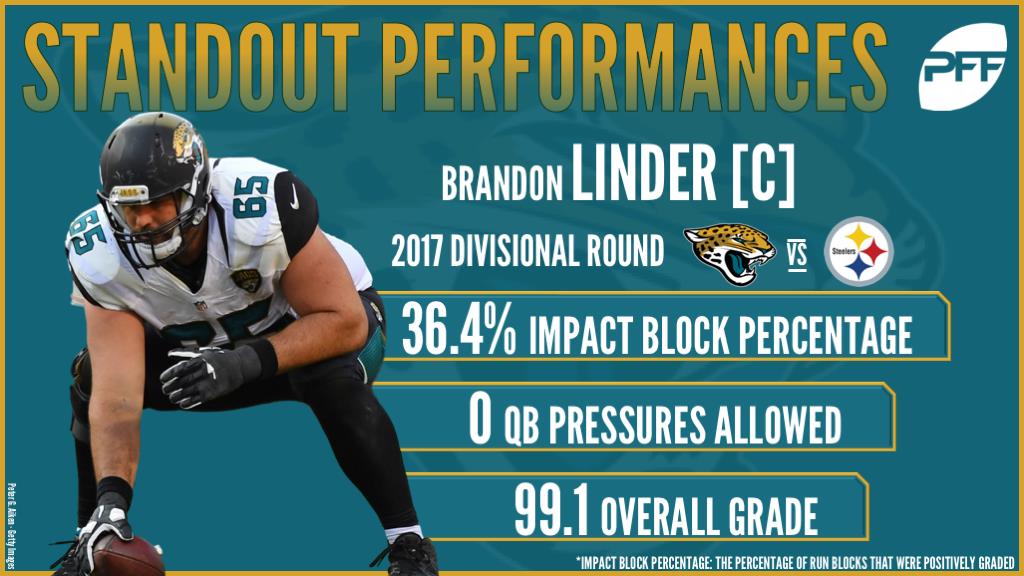 During the contest, Linder performed well in every aspect of the game, but he truly shined as a run-blocker. He was on the field for all 33 of the Jaguars' rushing attempts and spent the game demolishing the Steelers' defensive line and opening up huge holes for running back Leonard Fournette.
Linder saw the majority of his run-blocking matchups against Steelers interior lineman L.T. Walton and Linder quickly made his presence felt. On his 33 run-blocking snaps, a whopping 36.4 percent of those were positively graded, which was the fifth-best single-game mark of the season among centers. Linder ended the contest with a perfect run-blocking grade of 99.9, making him one of just nine offensive linemen to achieve this feat since PFF started grading games back in 2006.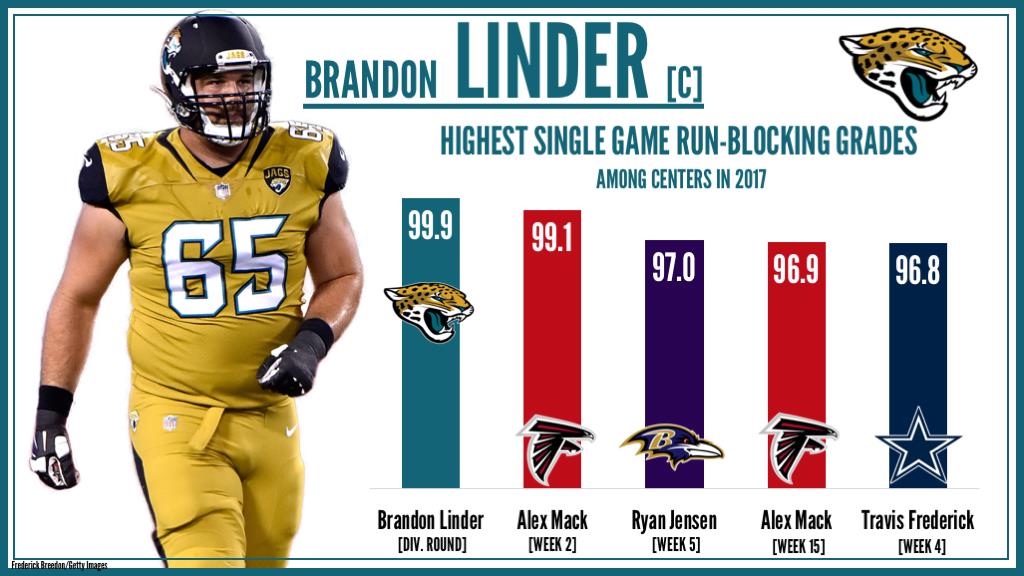 Linder solidified a terrific day by not only performing well as a run-blocker, but by performing well in pass protection too. Throughout the game, Linder was charged with 28 pass-blocking snaps and didn't allow a single pressure, which shouldn't come as too much as a surprise, as Linder ended the regular season with eight perfect games in pass protection, tying him for the third-most among centers in the league.
As we sit here today, there are few positions that are as underappreciated as center, but credit must be given where it is due, and Linder's performance is more than deserving of credit. Linder ended a historically great performance with a near-perfect overall grade of 99.1, the fifth-highest game grade ever achieved by an offensive lineman, regardless of position.
RUNNER'S UP
No. 2 Alex Mack vs. GB (Week 2) – 97.6 overall grade
Mack enjoyed a perfect game in pass protection and dominated the Packers interior defensive line in the running game to the tune of a 99.1 run-blocking grade.
No. 3 Brandon Scherff vs. SF (Week 6) – 96.3 overall grade
Washington's starting right guard didn't allow a single pressure on any of his 39 pass-blocking snaps and excelled as a run blocker, earning a 99.8 run-blocking grade, the second-best single-game mark among guards.
No. 4 Joe Staley vs. LAR (Week 17) – 95.5 overall grade
The only offensive tackle in the top five, the veteran didn't allow a single pressure on his 33 pass-blocking snaps and racked up a near-perfect run-blocking grade of 97.6.
No. 4 Alex Mack vs.  TB (Week 15) – 95.5 overall grade
Tying with Staley for the fourth-best game grade is center Alex Mack, who remained perfect in pass-protection and in racked up an impact run-block percentage (the percentage of blocks that were positively graded) of 34.4 percent, the highest mark among centers.
2017 Best Games: QB | RB | WR | TE | OL | EDGE | DI | LB | CB | S