In today's NFL, the linebacker position has become increasingly important to the success of a team's defense. Linebackers are no longer just big-bodied athletes that are used as blunt objects to hit hard and tackle well. In today's pass-heavy NFL, the best players at the position still need to be able to stuff running backs up the middle, but also need to be athletic enough to cover some of the fastest receivers from sideline-to-sideline.
In 2017, we were treated to a several great performances from players at the linebacker position, but the best single-game performance of the year in terms of overall PFF game grade was brought to us by none other than New York Jets inside linebacker Demario Davis, in his team's win over the Miami Dolphins in Week 3.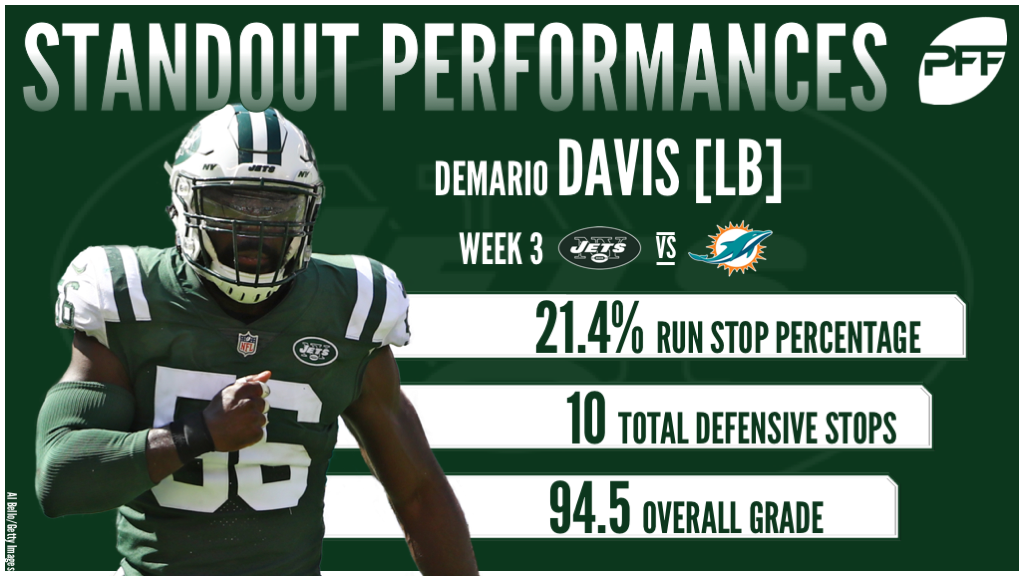 Playing a pivotal role his team's 20-6 victory, Davis did a tremendous job of stifling the Dolphins rushing attack. He was on the field for all 14 of the Dolphins' rushing attempts and he ended the contest with four tackles and three stops, culminating in a run-stop percentage of 21.4 percent, the best mark of his season.
On those 14 run defense snaps, Davis also managed to contact the ball carrier in the backfield twice and on the three occasions when Davis was the first defender to contact the runner, the offense lost almost an average of a yard on every play. All of this helped contribute to his run-defense grade of 88.7, his highest of the season and the fourth-highest run-defense grade of his six-year career to date.
In his team's Week 3 win over the Dolphins, Demario Davis was a menace against the Dolphins rushing attack. He ended the game with a run stop percentage of 21.4 percent – the best mark of his season. pic.twitter.com/PK9DWMXlig

— Mark Chichester (@chichester_mark) February 26, 2018
However, as impressive as Davis was against the run, he was arguably even better when he was tested in coverage. Throughout the contest, Davis logged 44 coverage snaps and was targeted seven times. While he did allow six of those passes to be caught, he allowed just 18 total receiving yards, with just nine of those yards coming after the catch.
The Jets used Davis' athleticism and speed to match up against a range of players in the Dolphins passing attack, and Davis saw targets while covering a wide range of players, such as running backs Jay Ajayi and Kenyan Drake, to tight end Julius Thomas, to star slot receiver Jarvis Landry, and it was against Landry, where Davis tallied his one and only pass breakup of the game.
Despite covering such dynamic players, Davis still excelled against the Dolphins underneath passing game and allowed just 3.0 yards per reception and 1.5 yards after the catch per reception, both of which ranked first among inside linebackers with at least five targets in Week 3. His 0.41 yards allowed per coverage snap ranked was the second-best mark of the week.
All told, Davis racked up an astonishing seven stops against the Dolphins passing attack, which wasn't just the most in a single game this year, but it's tied with Zach Brown (Week 4 of 2016) and Patrick Willis (Week 16 of 2007) for the most pass stops ever recorded by an inside linebacker in a regular season game in the PFF era (2006-present).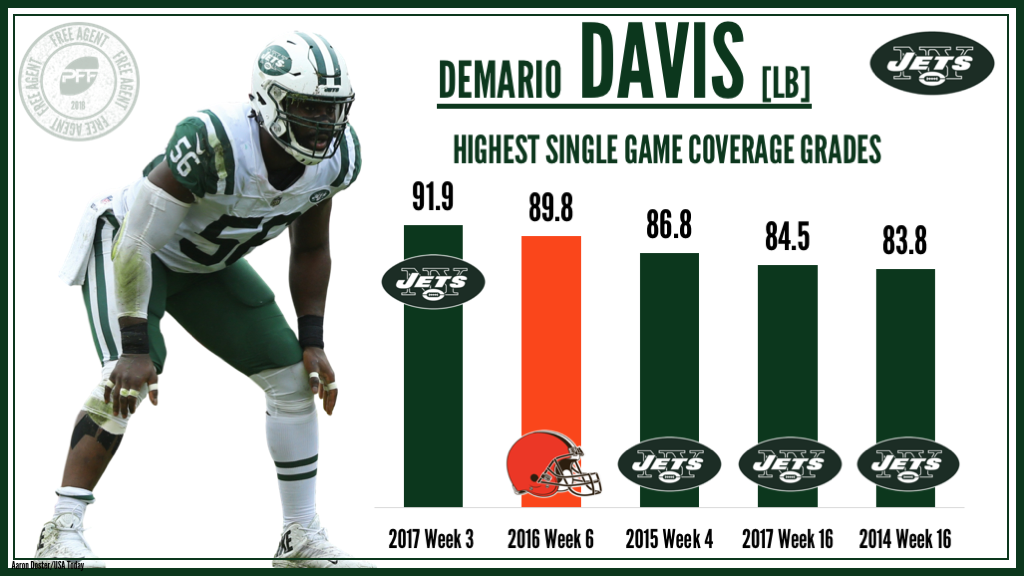 Davis ended his incredible performance with a whopping 10 defensive stops and an elite game grade of 94.5, which was, much deservedly, the highest single game grade of the year for a linebacker. With Davis set to hit free agency in a few weeks, it will be performances like this one that could lure teams to his signature.
RUNNER'S UP
No. 2 Bobby Wagner vs. NYG (Week 7) – 93.7 overall grade
Wagner tallied one pressure as a blitzer, but truly shined in coverage, where he recorded two pass breakups and three defensive stops.
No. 3 Bobby Wagner vs. SF (Week 12) – 93.3 overall grade
Wagner produced a hit and a hurry in the pass-rush, and was once again excellent in coverage, where he was thrown at six times, surrendering four catches for only 11 yards to go with an interception.
No. 4 Luke Kuechly vs. NYJ (Week 12) – 92.9 overall grade
Kuechly racked up two stops against the run and allowed just one reception from three targets.
No. 5 Deion Jones vs. NO (Week 14) – 92.6 overall grade
Jones was targeted eight times and allowed six receptions. Those six catches went for a combined 17 yards though and he tallied a game-ending interception and a pass breakup in the process.
2017 Best Games: QB | RB | WR | TE | OL | EDGE | DI | LB | CB | S