The Los Angeles Chargers' Casey Hayward, PFF's award-winner for best coverage defender in 2017, earned three of the five best single-game grades at the position this past season, including the No. 1 game grade by a cornerback, en route to an NFL-high 96.4 overall season grade.
Squaring up against the Dallas Cowboys on Thanksgiving in Week 12, Hayward put on a stunning display on one of the NFL's biggest stages during the regular season. Hayward allowed receptions on just 3-of-7 targets for a paltry 22 total yards and recorded two passes defensed and one interception. Also, his passer rating when targeted was just 11.3, the third-lowest rating allowed among cornerbacks with at least 24 coverage snaps in Week 12.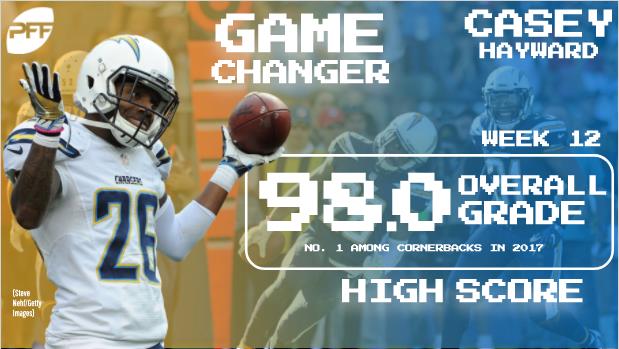 Additionally, Hayward missed zero tackles in the game and recorded one defensive stop. He allowed zero yards after the catch, as well.
Hayward earned a 98.0 game grade for his Turkey Day efforts, which would hold up as the top mark by a cornerback in 2017.
Playing 53 of his 55 defensive snaps (96.4 percent) along the boundary, Hayward went toe-to-toe with Cowboys wide receiver Dez Bryant for a majority of the contest. However, the famed wideout didn't look the part, as Bryant caught just 2-of-4 targets for 19 yards when lined up opposite of Hayward.
Hayward's other three targets came against running back Rod Smith and wide receivers Brice Butler and Terrance Williams, and he allowed just one reception to Smith for three yards and recorded his interception defending Butler on a corner route.
The former Green Bay Packers slot cornerback has quite effectively transitioned into an impact starter on the outside since joining the Chargers as a free agent in 2015 on just a three-year, $15.3 million deal. It goes without saying that the Bolts got significant bang for their buck with said deal, especially with Hayward's strong consistency and game-wrecking abilities.
RUNNER'S UP
No. 2 Kyle Fuller vs. CLV (Week 16) – 97.7 overall grade
Fuller was the most targeted Bears player in the game but allowed no receptions and had an interception and four pass breakups.
No. 3 Johnathan Joseph vs. CLV (Week 6) – 97.6 overall grade
Joseph had two interceptions and a pass breakup and only allowed two receptions and 6 yards on six targets.
No. 4 Casey Hayward vs. PHI (Week 4) – 96.9 overall grade
The Eagles wanted to get Alshon Jeffery on Hayward, but it didn't go their way. He broke up more passes than he allowed Jeffery to catch.
No. 5 Casey Hayward vs. BUF (Week 11) – 96.3 overall grade
Hayward was targeted eight times and allowed just one reception for 20 yards. He had two interceptions, two pass breakups, and two defensive stops in the game.
2017 Best Games: QB | RB | WR | TE | OL | EDGE | DI | LB | CB | S