Gone are the days when the safety position was seen as an afterthought. In today's game, where offenses are continually coming up with creative ways to utilize their best playmakers, NFL defenses require dynamic safeties who have the versatility to play both down in the box and up over the top and the ability to make plays against speedy receivers, big-bodied tight ends and elusive running backs.
The emergence of such safeties has become evident and the position has started to impact games more frequently than ever. This year, the league's safeties put up a combined 127 single-game grades of 85.0 or higher, the most ever recorded by the safety position in a single season. Of course, there were several standout performances, but none were better than the performance of Minnesota Vikings safety Harrison Smith in his team's Week 16 shutout win over their divisional rivals, the Green Bay Packers.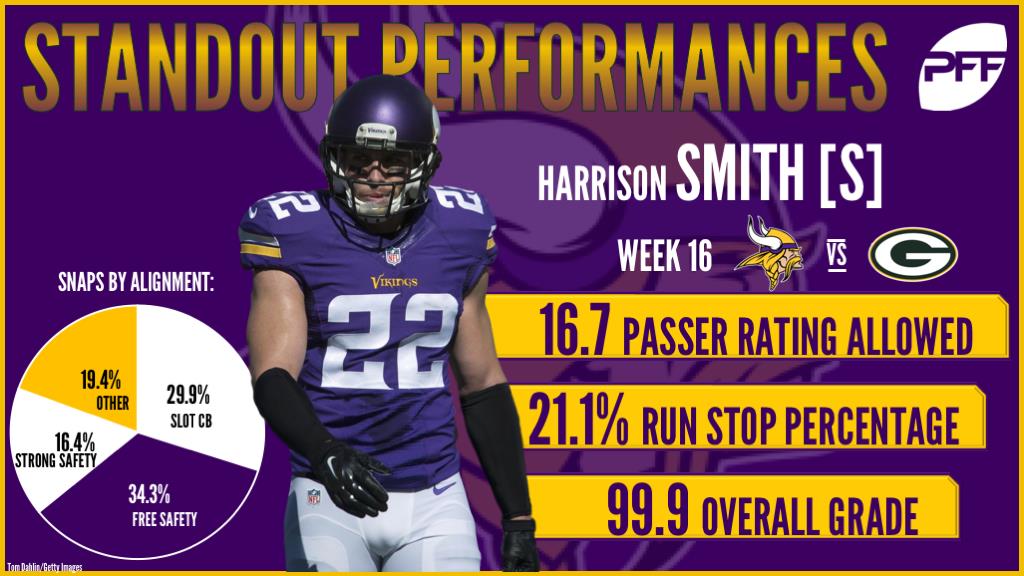 Throughout the contest, Smith embodied the new-era safety position, lining up all over the field. He played a total of 67 snaps and punched time at outside cornerback (6.0 percent of snaps), slot cornerback (29.9 percent), linebacker (7.5 percent), free safety (34.3 percent), strong safety (16.4 percent), and even edge defender (6.0 percent). He excelled at every position and made plays in all facets of the game, which led to his perfect game grade of 99.9, the highest grade attainable. Smith is the only safety ever to achieve this feat.
Smith spent 45 of his snaps in coverage, where he dominated all game against notable competition, which included tight end Lance Kendricks and wide receivers Randall Cobb and Jordy Nelson. During the contest he was targeted four times but allowed just two of those passes to be caught for a grand total of two receiving yards and he picked off the other two passes that were sent his way. All told, Packers quarterback Brent Hundley posted a paltry passer rating of just 16.7 when targeting Smith and he would have put up much better numbers if he just threw the ball into the turf every play instead of targeting him.
Smith ended the game with an elite coverage grade of 95.7, which was the ninth-highest coverage grade of the year among all defensive players, and the fourth-highest mark recorded by a safety.
Harrison Smith was dominant against the Packers. He was targeted four times but allowed just two catches for a grand total of two receiving yards. He ended the game with two picks, here's the first: pic.twitter.com/DNx6bghwbZ

— Mark Chichester (@chichester_mark) March 9, 2018
As dominant as Smith was in coverage, he graded even better against the run. Throughout the game, Smith logged 19 run-defense snaps and he ended the contest with five tackles and four stops, resulting in a run-stop percentage of 21.1 percent, the best mark of the week.
More impressively, four of those stops came when Smith lined up within 8 yards of the line of scrimmage, and his resulting run-stop percentage of 30.8 percent was also the best mark among safeties with at least 10 snaps when lined up in the box that week. Smith ended the contest with a near-perfect run-defense grade of 99.7, the second-best single-game mark of the season and the third-best single-game mark ever recorded by a player at the position.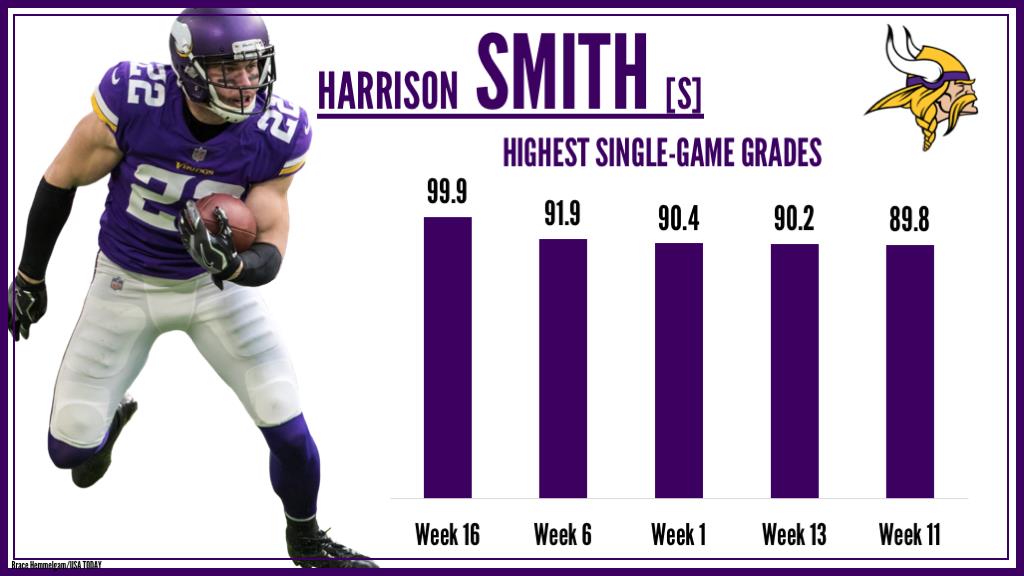 A performance like this one is just one of the very many reasons why Smith ended the year with a bevy of PFF's offseason awards, which included the Stephenson Award (the award for the best player in football regardless of position) and our Defensive Player of the Year Award.
Smith's outing was more than deserving of a perfect overall grade, and by attaining this, he became one of just four defensive players to do so over the last 12 years. It was a truly magnificent performance that was a crowning jewel in a spectacular season that made a legitimate case for him being named the best player in all of football.
RUNNERS UP
No. 2 Budda Baker vs. HST (Week 11) – 99.4 overall grade
The rookie safety had a game for the ages and racked up three run stops when lined up within eight yards of the line of scrimmage, while tallying a pass break up while in coverage. However, Baker's signature play came on a blitz, when he beat right tackle Breno Giacomini off the edge, strip sacked Savage and then recovered the ball.
No. 3 Eric Reid vs. LAR (Week 17) – 96.6 overall grade
Reid ended the game with a season-high four defensive stops, three of which came while in coverage. He allowed just 21 receiving yards from eight targets and tallied up a pass break up.
No. 4 Landon Collins vs. KC (Week 11) – 94.2 overall grade
Collins made plays all over the field and ended the game with a whopping six defensive stops. He was most impressive against the pass, where he allowed three receptions on seven targets for just 3 yards.
No. 5 T.J. McDonald vs. TB (Week 11) – 93.2 overall grade
McDonald was a star for the Miami defense, contributing three stops in run defense while only yielding one catch on two passes thrown into his coverage.
2017 Best Games: QB | RB | WR | TE | OL | EDGE | DI | LB | CB | S