Pass-rush has never been more important than it is in today's NFL, so it is a bad time to be heading into a free agent period that looks to be somewhat barren when it comes to talented edge defenders.
That Ziggy Ansah was just handed the Lions' franchise tag tells you all you need to know about the state of the upcoming open market for the position. Ansah is a good player, but nowhere near the level of the elite edge rushers in the league and has shown little to suggest he will ever reach that standard.
With Ansah off the table, there is one top-quality edge rusher currently scheduled to hit the open market, and it would be a seismic shock if he actually made it that far. The Dallas Cowboys are almost certain to apply the franchise tag to DeMarcus Lawrence, a 25-year-old defensive end coming off a monster season in which he sacked the quarterback 15 times and notched 79 total pressures.
Lawrence was also a quality run defender, posting impressive PFF grades in that area, and if he did make it as far as the open market, he would be one of the marquee names available at any position, and would break the bank as the most talented edge rusher on the market by some distance – all reasons he won't ever make it that far.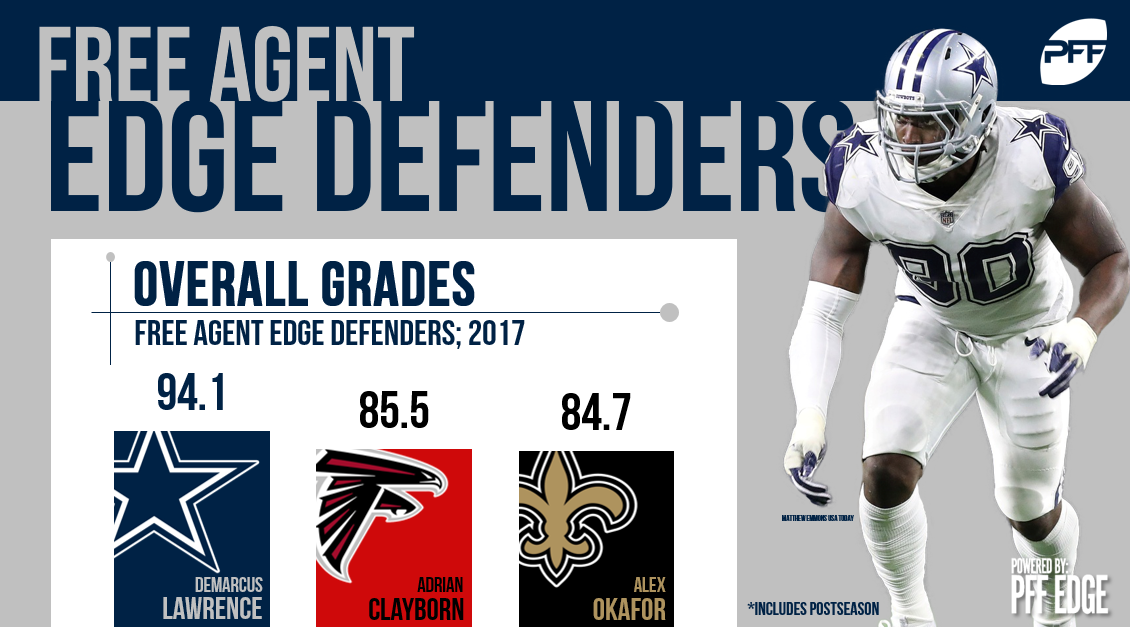 With Lawrence out of the reckoning, the remaining free agent edge rusher pool is shallow, older, and strewn with questions. There is no 'clean' player for teams to target that is without some form of significant flaw or question mark, and that's likely to have a knock-on effect on the draft for teams in desperate need of an upgrade in their pass-rush. This may not be the best edge rusher draft class in recent years, but we could see players drafted higher than they would otherwise have been because teams haven't been able to plug those gaps in the roster in free agency.
Age
Julius Peppers is in fourth place on the NFL's all-time sack list with 154.5, four sacks above Chris Doleman and only 5.5 behind Kevin Greene for third spot. Since PFF has been grading players (2006), Peppers has 128 sacks, 104 hits and 436 pressures, and he is coming off a 13-sack season despite being 38 years old. Peppers is still capable of generating pressure, but for the first time his PFF pass-rush grade took a significant nose dive.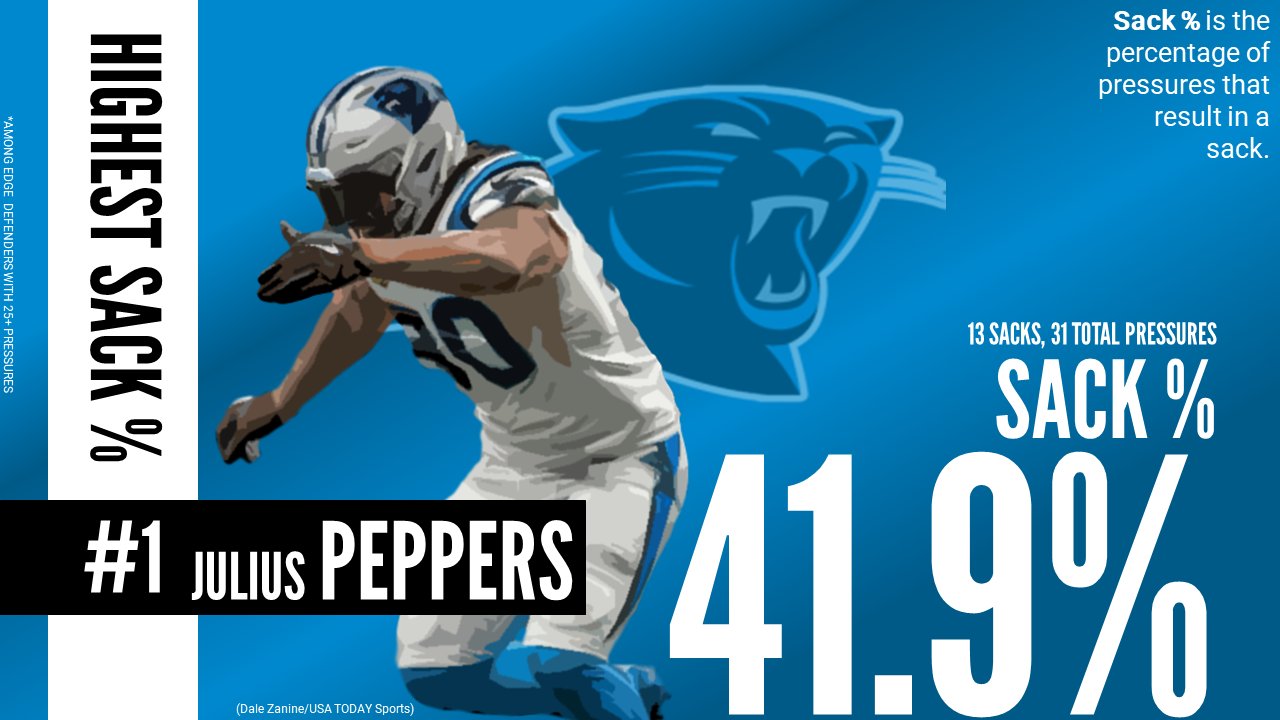 In 2017, Peppers recorded a sack on 41.9 percent of his pressures, compared to 19.1 percent over the previous two seasons. The average NFL edge defender converts pressure into sacks on around 15 percent of their pressures (15.8 percent in 2017), and while Peppers has always been a better finisher than the average edge rusher (19.0 percent for his career), his doubling of that rate last season essentially must mean that he is destined to regress in the coming season. It also hides the fact that his overall production declined, hence the drop in grading.
Peppers can likely still provide some situational pass-rush presence at his age, but the warning signs are now that he has finally started to slow down and may not be anything like the player his sack numbers suggest.
Another interesting option for whom age is a factor is William Hayes. A player that has always been underrated, Hayes consistently produces when he is on the field, and was again over 80.0 in overall PFF grade in 2017, where he has been in five of the past six seasons. Hayes actually had the best grade of his career despite playing incredibly sparingly for Miami and then getting injured to end his season. He may only have notched one sack, but he had at least one pressure in all but one game and played just 14 snaps in the game that he failed to register that pressure. Hayes is 32 and has never been given a huge workload by any team he has played for. He could be a very productive and cost-effective addition for a team trying to upgrade at the position without answering all of their prayers in one move.
The question marks
Adrian Clayborn hits free agency coming off a career year that features one of the most dominant outings from any player in the league. His performance against Dallas was the difference between the two teams, and one of the few 'perfect' 99.9 single-game grades we have ever given out. Clayborn destroyed the backup left tackles the Cowboys deployed to try to slow him down and notched six sacks and 12 total pressures in that game, which was by far the best total of his season.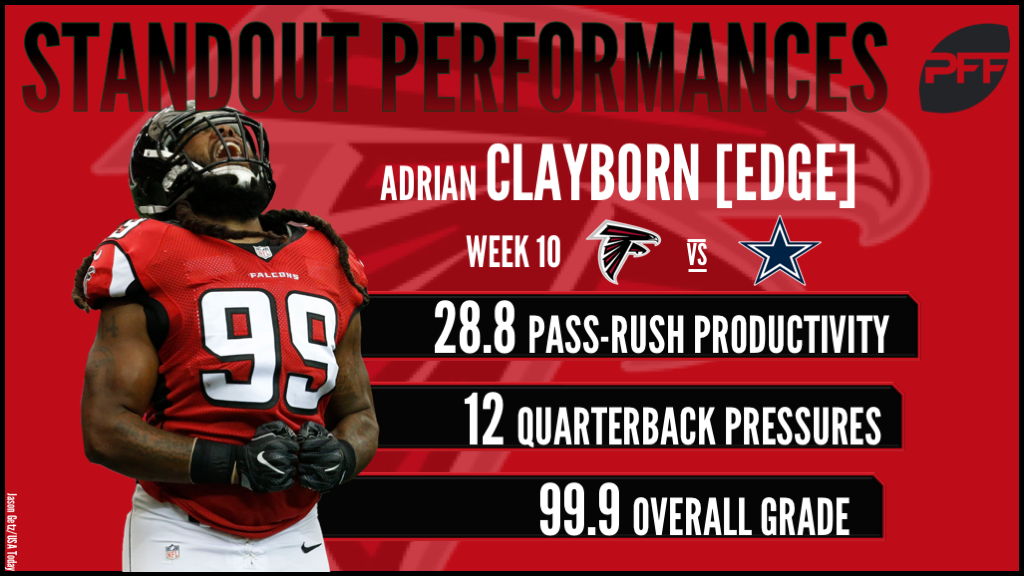 That being said, his season was unusually productive even outside of that game. He notched 55 total pressures over the season, and even taking out the 12 from the Dallas game, that still leaves him averaging almost three per game. Clayborn is 29 and has had multiple productive seasons in the league, but they have rarely been backed up by another strong season, so he would represent a risky proposition for a prospective suitor.
Junior Galette may be the most intriguing option out there. Just 29 years old, he came back to play in 2017 after back-to-back Achilles injuries. One of those can derail an NFL career, particularly for an edge rusher, and to suffer two back-to-back seemed like it would surely be the end of him, but in his first action back he was extremely productive. Overall, he notched 37 total pressures, even if only three of them were sacks. His PFF pass-rushing grade was 83.4, which was good enough to rank 23rd in the league, and to do that in your first action after back-to-back Achilles injuries is very impressive.
With another year removed from those problems, and still under 30, Galette could be the dark horse among this group for legitimate edge production in 2018 and beyond.
2018 Free Agency
---
Free Agent Tracker / Top Offensive UFAs / Top Defensive UFAs /
2017 free agent hits / February 22 update / Immediate Impact FAs /
Free agent edge defender class
2018 Free Agency Rankings
---
2018 Free Agent Previews
---
Arizona Cardinals / Atlanta Falcons / Baltimore Ravens / Buffalo Bills /
Carolina Panthers / Chicago Bears / Cincinnati Bengals / Cleveland Browns /
Dallas Cowboys / Denver Broncos / Detroit Lions / Green Bay Packers /
Houston Texans / Indianapolis Colts / Jacksonville Jaguars / Kansas City
Chiefs / Los Angeles Chargers / Los Angeles Rams / Miami Dolphins /
Minnesota Vikings / New England Patriots / New Orleans Saints /
New York Giants / New York Jets / Oakland Raiders / Philadelphia Eagles /
Pittsburgh Steelers / San Francisco 49ers / Seattle Seahawks /