What you need to know
The Arizona Cardinals will be looking for their long-term quarterback as one of the many teams in need of a signal-caller for the 2018 season after the retirement of Carson Palmer. Arizona will also have to look at securing either some of their own aging veterans on the defensive side of the ball, or looking to the free agent pool to bolster depth across a multitude of positions this offseason.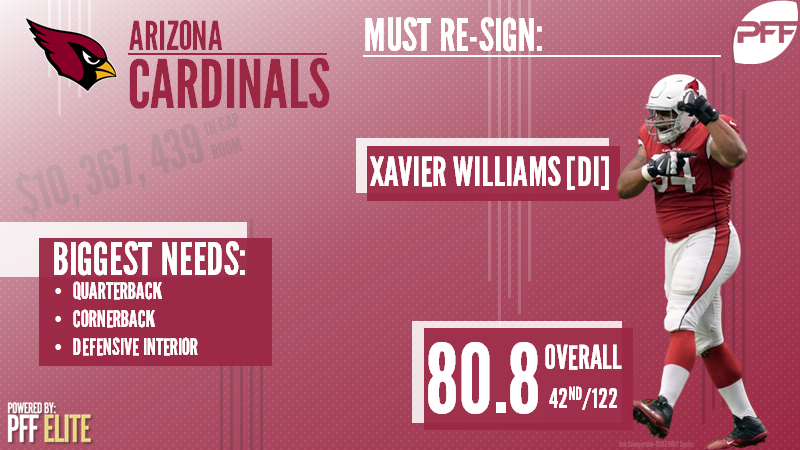 Salary cap room
$10,367,439 (28th in the NFL, as of 1/29/2018)
Biggest needs
Quarterback
Cornerback
Defensive interior
Offensive tackle
Wide receiver
Notable free agents
Must re-sign
Xavier Williams, DI, 80.8 overall grade
This one is simple, and most likely to actually happen. Williams is a restricted free agent, so in all likelihood by the time free agency opens, he'll still be a member of the Cardinals franchise, and it would make sense. Rucker is 34 years old and himself an unrestricted free agent and the Cardinals are still trying to figure out life without Calais Campbell on the interior of their defense. With the potential of Williams re-signing, they would bring back the league's leader in run-stop percentage among defensive tackles as he hauled down 16 run-stops on 110 snaps in run defense in 2017.
Dream splash signing
Patrick Robinson, CB, Philadelphia Eagles, 90.7 overall grade
Robinson would provide an immediate upgrade in Arizona, even over Tramon Williams, who is an unrestricted free agent himself, and 35 years old. Robinson had a breakout year in 2017, capped by his pick-six in the NFC Championship game and subsequent trip to Super Bowl LII. He showed capable of manning up with receivers in the slot as he allowed the league's fifth-lowest passer rating in slot coverage this season and overall on the season, he recorded five interceptions and another 11 pass breakups, including playoffs. One way or another, Arizona needs to address their secondary, and Robinson's versatility at the cornerback position would be a great fit.
[Editor's note: Read more about the free agency class of 2018 with the first ever PFF Free Agency Guide, which dropped for all PFF Edge & Elite subscribers. Not a subscriber? Sign up today and receive your copy with detailed profiles, exclusive PFF stats and much more.]
2018 free agent prospects
Nate Solder, T, New England Patriots
The 30-year-old Solder has long been Tom Brady's blindside protector, but the time for him to move on from New England may be looming near. For the Cardinals, their offensive line was in shambles most of the year, so a player with Solder's experience would be an immediate boost.
Andrew Norwell, G, Carolina Panthers
Who won't be in the Andrew Norwell sweepstakes come this free agent period? Arizona proves a team that is in dire need of a guard, and good guard play at that. Three different guards qualified for a ranking among our season grades, and neither of them graded out higher than a 46.2, nor ranked higher than 46th at the position. Norwell was the league's third-highest-graded guard and saw the league's top pass-blocking grade among guards, immediately filling big-time needs for the Cardinals.
Sammy Watkins, WR, Los Angeles Rams
Watkins moved from Buffalo out west to Los Angeles prior to Week 1 of the 2017 season, so a slight move to Arizona would make sense for the 26-year-old speedster. What receiver wouldn't want to learn from future Hall of Famer in Larry Fitzgerald, who once again proved age is just a number with his 85.3 overall grade this year, or ninth-best in the league. Whether Fitzgerald returns or not next season remains to be seen, and regardless, Watkins and Fitzgerald would make a formidable duo, or Watkins learning while filling Fitz' shoes makes sense.
2018 Free Agency
---
Free Agent Tracker / 2017 free agent hits
2018 Free Agency Rankings
---
2018 Free Agent Previews
---
Arizona Cardinals / Atlanta Falcons / Baltimore Ravens / Buffalo Bills /
Carolina Panthers / Chicago Bears / Cincinnati Bengals / Cleveland Browns /
Dallas Cowboys / Denver Broncos / Detroit Lions / Green Bay Packers /
Houston Texans / Indianapolis Colts / Jacksonville Jaguars / Kansas City
Chiefs / Los Angeles Chargers / Los Angeles Rams / Miami Dolphins /
Minnesota Vikings / New England Patriots / New Orleans Saints /
New York Giants / New York Jets / Oakland Raiders / Philadelphia Eagles /
Pittsburgh Steelers / San Francisco 49ers / Seattle Seahawks /
Tampa Bay Buccaneers / Tennessee Titans / Washington Redskins