Football is the ultimate team sport, but it's no secret that some positions on the gridiron are more important than others. Even after all these years, the quarterback position still reigns supreme.
We're spoiled with the abundance of talent at the position in today's NFL and we often take the stellar play of sure-fire Hall of Famers for granted. From Russell Wilson, Ben Roethlisberger, Drew Brees to even Nick Foles, we were treated to many great performances from quarterbacks in 2017, but, it will come as absolutely no surprise when revealed that the highest single-game grade of the year was attained by New England Patriots quarterback Tom Brady in his team's thrilling win over the Pittsburgh Steelers in Week 15.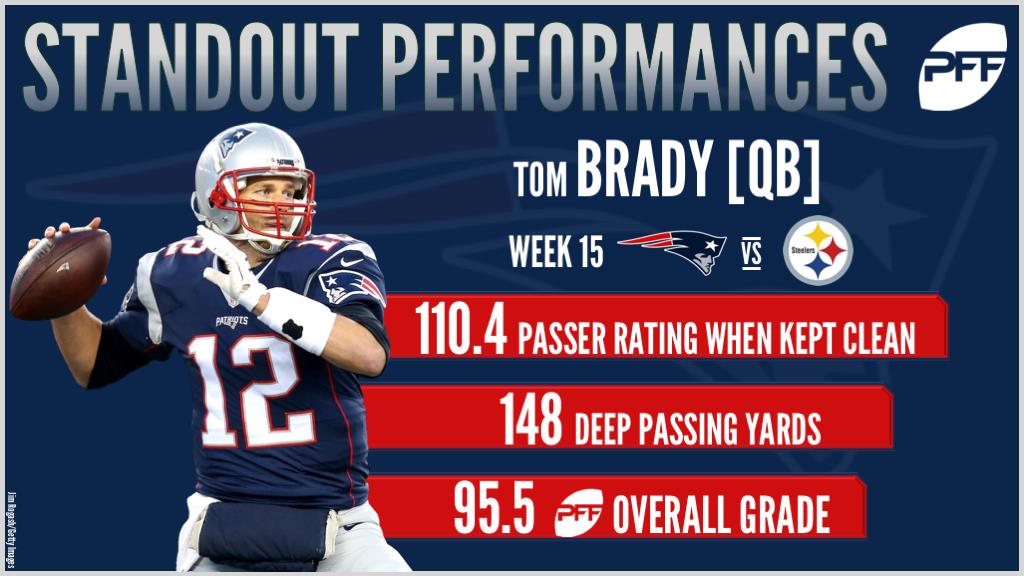 Throughout the contest, Brady was at his best when he was kept clean from pressure, completing 15-of-22 pass attempts for 192 yards, one touchdown, zero interceptions and a passer rating of 110.4, the eighth-best mark of Week 15.
He was also excellent when throwing deep, as he completed five of his eight deep pass attempts (attempts of 20 or more yards downfield) for a whopping 148 deep passing yards, which was by far the most of Week 15. His deep passer rating of 106.3 was the seventh-best mark of the week.
While Brady's numbers don't particularly jump off the page, a closer look at his performance reveals that several of his best throws on the day were called back on penalty and the usually highly reliable Rob Gronkowski dropped a touchdown pass. When taking all of Brady's performance into account, it's easy to see how he earned a passing grade of 95.4, the third-highest single-game mark of his career.
In his typically clutch fashion, Brady ended a spectacular passing performance with a 70 second, 77-yard drive to win the game. He went 3/4 for 69 yards with all three of his completions coming from throws that were under pressure. Here's the second of those completions: pic.twitter.com/a0KYix1pCs

— Mark Chichester (@chichester_mark) March 21, 2018
Throughout the contest, Brady dissected the Steelers' man-heavy defence over the middle of the field and when he set his sights between the numbers, Brady completed 11 of his 15 pass attempts for 165 yards, one touchdown and a passer rating of 103.5. This was mostly due to the mismatch that was created by Gronkowski. When targeting Gronk, Brady completed 9-of-11 passes for 168 yards, with all nine passes either moving the chains or putting points on the board.
As has become a trademark of Brady's game, he capped off a spectacular passing performance with a game-winning fourth quarter drive that started on his own 23-yard line. In just 70 seconds, he moved the ball 77 yards, accumulating a touchdown and a 2-point conversion. In typical, clutch fashion, he completed 3-of-4 passes for 69 yards, with all three completions coming from throws that were under defensive pressure. In fact, he put Gronk in a position to record the best 5-play stretch of grading we have seen in many years.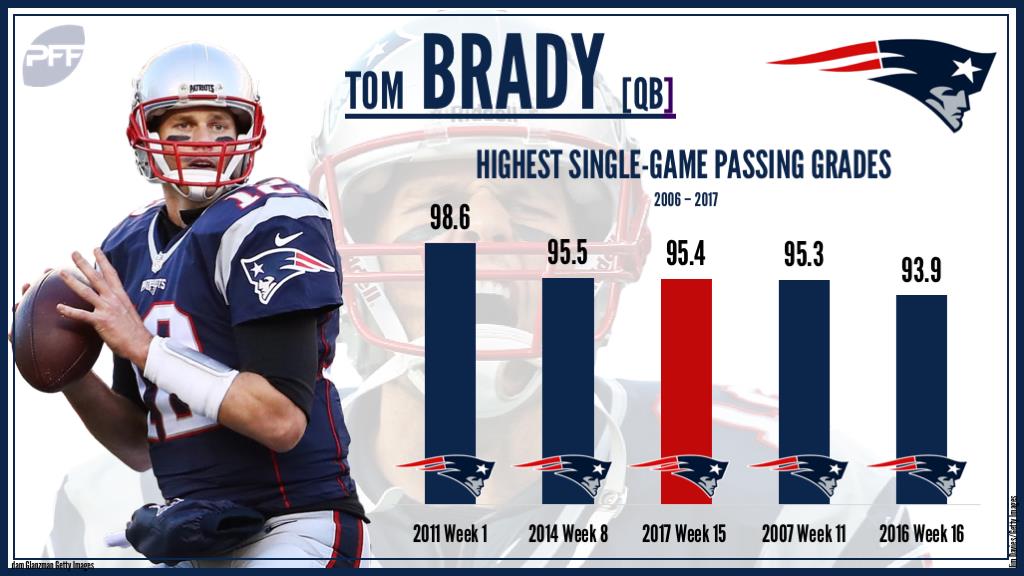 Brady ended the best performance of his MVP season with an elite overall grade of 95.5, the second-highest single game grade of his incredible career within the PFF era (2006-present) and the 15th-best single-game grade ever recorded by a signal-caller. Even after his 18th season, Brady continues to redefine what's possible for an aging quarterback. He continues to play the best football of his career and it would take a braver man than me to bet against him taking him this award in 2019.
RUNNERS UP
No. 2 Russell Wilson vs. IND (Week 4) – 93.8 overall grade
The perfect example of how Russell Wilson can be one of the NFL's most electrifying players. Wilson made big plays with both his legs and his arm, and was especially good when throwing deep, where he logged a deep passer rating of 106.3 – the fourth best mark of the week.
No. 3 Nick Foles vs. MIN (Conference Championship) – 92.9 overall grade
One of the most memorable post season performances of the last decade, Nick Foles lit up the Conference Championship and earned the second-best grade ever recorded by an Eagles quarterback. He was almost perfect when throwing under pressure, where he completed 7-of-10 pass attempts for 139 yards, two touchdowns and a passer rating of 152.1.
No. 4 Nick Foles vs. NE (Super Bowl 52) – 91.9 overall grade
On the biggest stage came the unlikeliest hero. Nick Foles played the most important game of his career two weeks after his incredible performance in the conference championship, where he was especially deadly when throwing from a clean pocket, going 22-of-30 for 302 yards and two touchdowns.
No. 5 Ben Roethlisberger vs. GB (Week 12) – 91.3 overall grade
Big Ben was lethal in Week 12  and was accurate on a whopping 82.2 percent of his pass attempts, which was the third-best mark of the week. He was almost perfect throwing deep, where he completed three of four attempts for 73 yards, two touchdowns and a passer rating of 156.3.
2017 Best Games: QB | RB | WR | TE | OL | EDGE | DI | LB | CB | S