The New England Patriots survived a last-possesion drive by the Pittsburgh Steelers, winning the game at Heinz Field, 27-24, after a last second interception.
Patriots QB Tom Brady finished the game 22-of-35 for 298 yards, throwing one touchdown and one interception on the day while RB Dion Lewis had 67 yards rushing and the game-winning touchdown. TE Rob Gronkowski had a triumphant return from a one-game suspension, catching nine passes for 168 yards. The Patriots utilized an overturned touchdown call from Steelers TE Jesse James, and intercepted a tipped Ben Roethlisberger pass two plays later with just :09 seconds remaining to seal the victory.
With that, we give you our PFF-exclusive takeaways from the contest for each team.

Top 5 Grades:
TE Rob Gronkowski, 99.9 overall grade
QB Tom Brady, 96.5 overall grade
RB Dion Lewis, 86.8 overall grade
T Nate Solder, 83.7 overall grade
S Devin McCourty, 83.6 overall grade
Performances of note:
The Steelers had been getting carved up in their regular zone defense every time they faced New England, so they adjusted and played a heavy man-coverage game, but the player that is capable of exploiting that every down is TE Rob Gronkowski, who the Steelers simply couldn't cover all game. Gronk caught 9-of-12 targets for 168 yards, 158 of which came against safety Sean Davis.
Tom Brady and Rob Gronkowski made the magic happen in the passing game, but Dion Lewis had a lot of hard-earned yards on the ground, racking up 67 yards on just 13 carries, 43 of which came after contact with three broken tackles along the way. He scored a crucial touchdown and was a vital part of this comeback win.
The only Patriots' defensive lineman creating consistent pressure, Flowers finished with a sack, two QB hits, and three hurries on his 29 rushes while getting in on two run stops. He dropped into coverage on only three snaps, but the Steelers were quick to exploit the mismatch on all three plays with RB Le'Veon Bell catching three passes for 30 yards.
It was a rough game for Roberts who got engulfed at the second level by Steelers' offensive linemen, particularly Maurkice Pouncey on a number of plays. Roberts is generally a downhill hammer against the run, but he was a step slow in this one and it led to a number of big gains up the middle.

Top 5 Grades:
G David DeCastro, 87.5 overall grade
QB Ben Roethlisberger, 84.2 overall grade
WR JuJu Smith-Schuster, 84.0 overall grade
LB Vince Williams, 83.2 overall grade
WR Martavis Bryant, 82.7 overall grade
Performances of note:
It was a clean game for Roethlisberger before a forced throw on the last play of the game resulted in the game-ending interception. He worked the short game well, completing 18-of-22 for 214 yards on passes thrown 0-9 yards in the air as he continually moved the chains and carried out Pittsburgh's ball-control plan. However, this game will be remembered for the forced pass at the end when the Steelers were in range to tie the game with a field goal.
DeCastro was dominant up front in the run game, creating movement at the point of attack and when asked to block on the move, as a puller. He won a number of battles with New England's best run-stopping defensive tackle, Malcom Brown, and he did a fine job of finding second-level linebackers in the run game as well. In pass protection, DeCastro allowed only one pressure on 35 attempts.
It feels a little harsh highlighting this because covering Rob Gronkowski one-on-one may be the toughest assignment in football, but Sean Davis was victimized all game long. He allowed 158 yards into his coverage, and a two-point conversion, and to compound matters, when the Steelers tipped a ball at the line, he dropped an interception that would have ended the game.
LB Vince Williams, 83.2 overall grade
Hauling in a one-handed interception on an underthrown Tom Brady pass as the New England quarterback was hit as he threw was one of the biggest plays of the game, but Williams was also in close coverage to force an overthrow to Dion Lewis, and made a couple of solid plays in the run game.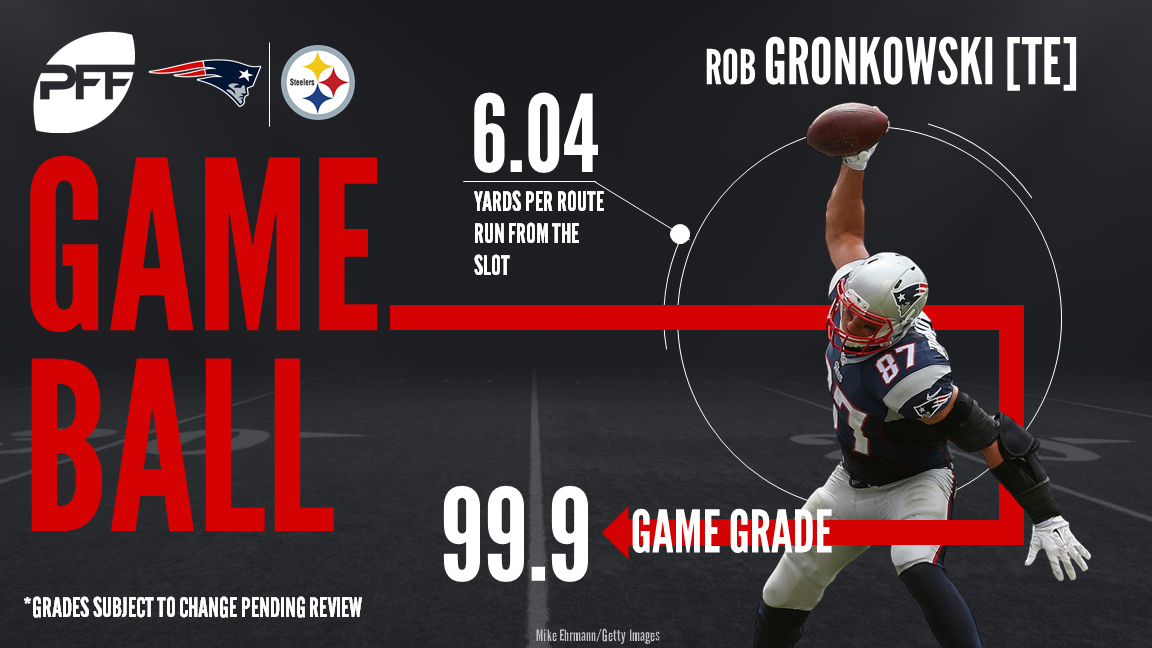 *Grades subject to change