PFF previews the 16 NFL games on Week 14 slate, highlighting storylines to watch while also taking a fantasy football and betting approach to offer insight for every NFL fan.
Headline of the game: Jared Goff looks for redemption against Bill Belichick and company
The last time Goff faced off against the Patriots, he posted a 49.1 PFF grade, going 19-for-38 with 229 passing yards, no touchdowns and an interception while taking four sacks. That game just happened to be Super Bowl LIII. He'll have his opportunity here in primetime to put that outing behind him — even if the stakes aren't quite as high.
With Goff now in his fifth season, there is a pretty clear understanding of him beginning to form. There are times when he has a clean pocket and can make simple reads where he looks like a former first overall pick in the draft. He has six games this season with a PFF grade over 75.0 — three of which cleared 82.0. On the flip side, there are also disastrous performances when the defense can make him uncomfortable and disrupt Sean McVay's offense. Goff has two games this season with a PFF grade below 40.0 (Miami and San Francisco) and another below 50.0 (Chicago).
Stylistically, Miami's defense has a lot of similarities to New England thanks to the Brian Flores connection. With both teams still having a lot to play for, Goff's matchup against Belichick is one of the more intriguing duels of the week.
Betting
The Patriots hope to keep their playoff hopes alive on Thursday Night Football, but PFF Greenline gives them a 32.3% win probability as things stand. The market has moved in their direction after an opening 6.5-point spread quickly jumped down to -5.
Rams backers have stepped in at the reduced number, as 62% of the cash and 65% of the tickets lean their direction after the line movement. Patriots backers have gravitated towards the moneyline, as the plus-money price is enticing given that this spread isn't close to any key numbers.
Cam Newton is the slightly better quarterback in this matchup, and the Patriots are generating positive expected points added (EPA) on both pass and rush attempts this season. Jared Goff continues to get plenty of help from our sixth-ranked receiving unit, as 56.0% of the Rams' total passing yards have come after the catch this year, the second-highest percentage in the NFL.
The Rams could struggle in this area on Thursday night, as the Patriots have the fifth-best opponent-adjusted coverage grade in the league. This matchup will come down to the offense that can be the most productive against the opposing top-tier defense. PFF Greenline finds no betting value on the current game lines.
Fantasy
The New England Patriots rank 30th in the league in passing yards and the Rams rank fifth in the league in fewest passing yards allowed. Needless to say, New England isn't likely to come out in this game throwing the ball all over the place — they'll continue to run the football as they have all season.
Over the past two weeks, the Rams rank 22nd in yards allowed before contact (1.6). That's the same as the Houston Texans, who are known for their atrocious run defense this season.
Damien Harris owns PFF's third-highest run grade this season (86.2) and has averaged over 15 carries per game since Week 8. His production and volume this season are too much to pass up even in a tough matchup on paper.
Cam Newton is always a threat to take the ball himself from inside the 5, which is super frustrating to any Harris fantasy manager. But the Rams have allowed a rushing touchdown to a running back in four consecutive weeks and Harris is long overdue to find the end zone. No other running back has as many rushing yards (641) and as few rushing TDs (two) as Harris this season.
We are just two weeks removed from Harris seeing two carries inside the 5-yard line, so it's not outside his range of outcomes for the team to let him punch the ball in for a score.
Jared Goff has been hot and cold all season, with almost all of his high-end fantasy performances followed up by duds the next week. He is not a quarterback that is worth considering because of a New England defense that has rounded into form over the past two weeks.
Over that time, they rank No. 1 in yards per attempt allowed (4.4), explosive pass percentage (7.4%) and passing touchdown percentage (0%). I would anticipate that the Rams will find more success running the ball versus a New England defense with PFF's 23rd-ranked run defense grade.
The Rams primarily run their backs out of outside zone concepts (46%), and that is when their ground game has been at its best. They lead the NFL in rushing touchdowns (seven) and rank second in yards per attempt (4.9) and fifth in PFF rushing grade.
The New England defense has faced the second-most outside zone rushing attempts this season and has struggled to stop it. They have allowed a league-high five rushing touchdowns and the fourth-highest yards per attempt (5.0) from the outside zone.
Cam Akers (5.6) and Darrell Henderson Jr. (4.9) both rank inside the top eight in yards per attempt from outside zone this season, so I see them both offering solid fantasy value.
I don't anticipate Akers seeing 20-plus carries for a second straight week — that uptick was due in part to Henderson missing time with an injury in Week 13. But that doesn't mean we can't see them both get 10-12 touches after Malcolm Brown saw his lowest snap share of the year (15%).
Akers offers the most upside of the two based on his recent production and the fact that the team seems to like using him near the goal line. He leads all Rams RBs in snaps inside the 10-yard line since Week 10.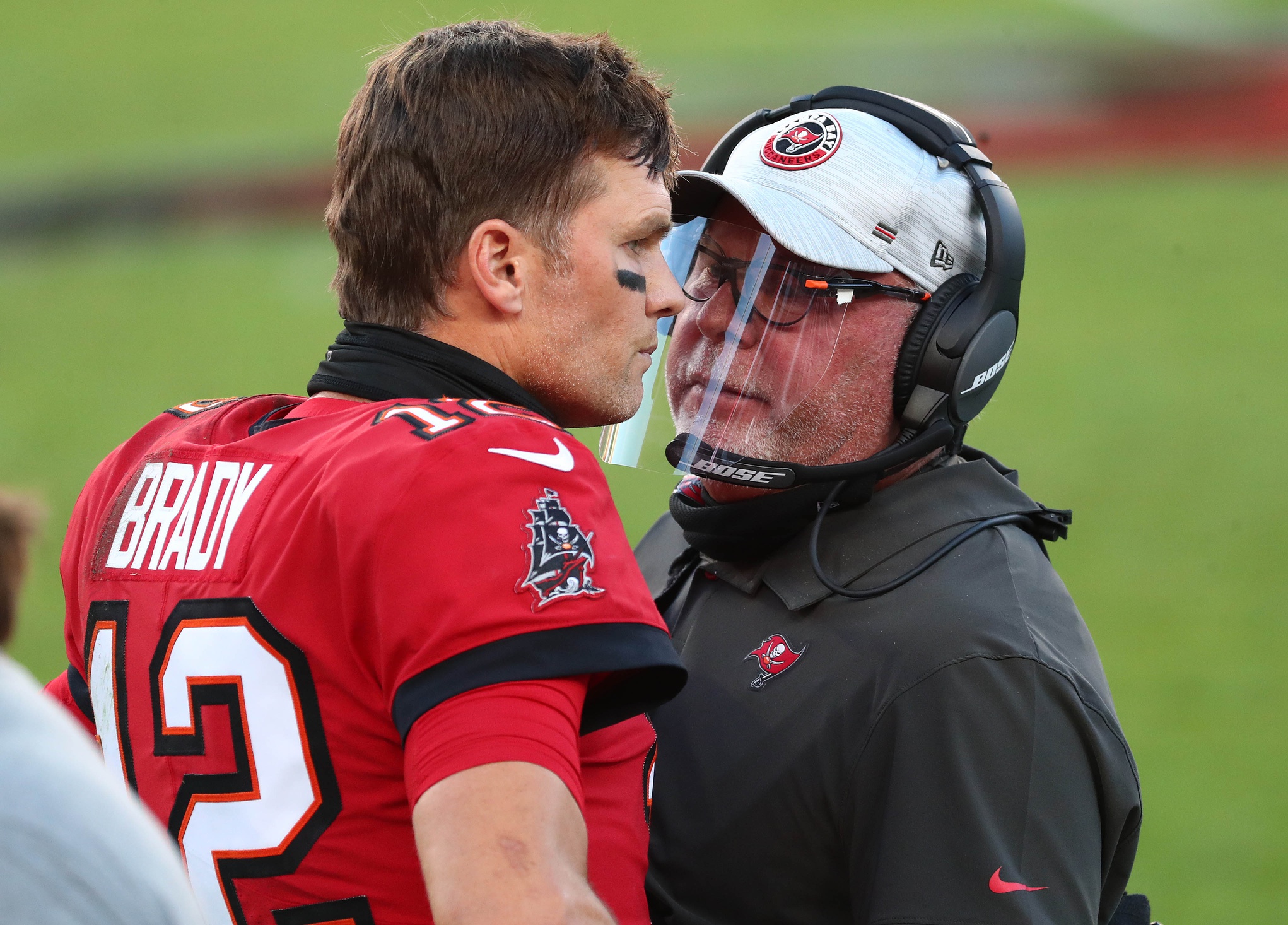 Headline of the game: At what point do growing pains and a lack of time to jell become empty excuses for Tampa Bay's offensive struggles?
The Buccaneers' offense hasn't been bad by any stretch. The unit heads into Week 14 ranked 11th in expected points added per play. The problem is that when you collect as much talent as Tampa Bay did on that side of the ball, expectations aren't simply to field a slightly above-average group.
Discussions surrounding what's wrong with the offense often fall back to the lack of preseason to acclimate all the new pieces to a new offense — particularly Tom Brady at quarterback. We've seen quarterbacks such as Andrew Luck, Carson Palmer and Jameis Winston each record 40 turnover-worthy plays in their first season under Bruce Arians, and while Brady isn't quite on that pace, miscommunications have led to interception opportunities for the defense. Deep passes have been one of the biggest problem areas of late, with Brady nearly throwing as many interceptions on passes of 20-plus yards downfield (four) as completions (five) since Week 8.
As the playoffs near, it becomes more difficult to simply chalk the disconnect up to lack of time together.
Betting
This is shaping up to be the game of the week, with both teams badly needing a win in order to control their playoff destiny. The spread hasn't budged off the opening number, with the cash and ticket percentages relatively split between the two teams. The Buccaneers have seen some juice added to their side, which indicates a likely move to -7. 
The Vikings have the slightly better opponent-adjusted offensive ranking, with these two teams back to back in team passing grade. That said, our Elo rankings are lower on both teams than their market-implied ranking currently sits. In a spot where both teams could be slightly overvalued, PFF Greenline leans toward the underdog on both the spread and moneyline. This could be a situation to wait on, as a better number could pop up later in the week.
Fantasy
We have seen ups and downs from elite defenses all season, most notably the New Orleans Saints and New England Patriots who have improved significantly since the start of the year. The Buccaneers' defense started out hot, but their efficiency has fallen off in recent weeks.
Even so, they still rank sixth overall in PFF defensive grade, and that has me hesitant to go back to Kirk Cousins despite his insane hot streak. Only Aaron Rodgers has put up more fantasy points above expectation than Cousins since Week 9, and the Vikings' quarterback has some less than ideal home/road splits this year.
He is averaging under 13 fantasy points per game on the road and over 25 fantasy points per game at home.
The Vikings' defense ranks 30th in PFF pass-rush grade this season, ensuring that Tom Brady will have ample time to distribute the ball to any and all of his playmakers. The 43-year-old quarterback trails only Rodgers in touchdown passes from a clean pocket this season (25).
Buccaneers' wide receiver Mike Evans is the name to call out because of how often he is targeted when the team gets near the goal line.
Evans is tied with Davante Adams with nine touchdowns from the inside the 10-yard line this season, and three have been with him lined up in the slot. No cornerback has allowed more touchdowns from the slot than Vikings' rookie Jeff Gladney.
The Bucs' wideout also leads Tampa Bay in targets (35) since Antonio Brown joined the team, so he's a strong play across all formats. The same can be said for Chris Godwin who also greatly benefits from operating as the team's primary slot wide receiver in the same matchup.
Godwin leads the team in catches (24) since Brown signed with Tampa, so he should be started across lineups with confidence.
Headline of the game: Pressure is on Daniel Jones to return and keep the Giants atop the NFC East
The Giants upsetting the Seahawks with Colt McCoy replacing an injured Jones was one of the bigger surprises in a week that contained several. It really wasn't McCoy who won the Giants that game, however. It was a defense that suffocated Russell Wilson — allowing just -0.26 expected points added per play — that delivered the win. Leonard Williams led that charge on the interior with seven pressures in the game. McCoy, meanwhile, averaged just 4.8 yards per pass attempt.
If New York wishes to tack on another win against Arizona at home, it'll likely need more from its offense, and that means Jones has to return from his hamstring injury and give the team a spark. Jones quietly ranks 11th at the quarterback position in PFF grade (80.4) this season, and there's a decent chance he makes them the favorite to come out of the NFC East if healthy.
Betting
The Cardinals find themselves on the outskirts of the playoff picture after a disappointing three-game stretch. The Giants have had the exact opposite stretch and now control their destiny in the NFC East. 
The betting market has bought into this recent performance, with the opening +3 moving off the key number down to 2.5. This is counter to both the cash and ticket percentages on the spread and moneyline, with the market liking the Cardinals at the reduced number.
Arizona has been popular in the betting market throughout the season, seeing the majority of cash in eight of its 12 games. The Giants have been the opposite but are now tied for the second-best against-the-spread record in the NFL.
The spread play could come down to the status of Daniel Jones, with PFF Greenline finding heavy value on the current number. This is a situation to monitor, as the latest news will be reflected in our projections.
Fantasy
The New York Giants defense has improved dramatically in recent weeks, presenting problems for opposing offenses. They have allowed the second-fewest fantasy points to QBs over the past four weeks, and that includes limiting Russell Wilson to under 16 fantasy points last week.
They own a 10 pressure rate since Week 7 — that is going to present problems for Cardinals quarterback Kyler Murray, who has been running less of late, limiting his fantasy ceiling.
After averaging nearly 10 carries per game in his historic start to the season, Murray is averaging just five carries over his last three contests. That's led to finishes outside the top 10 at the position for three consecutive weeks.
Kenyan Drake has scored double-digit fantasy points in each of his last four contests since returning from injury, and fantasy managers should continue to go right back to the Cardinals' back.
The Giants defense has been elite versus the pass in recent weeks but have struggled to stop the run. Since Week 10, they rank dead last in explosive run percentage (21.6%) and yards per attempt allowed (5.10).
Drake has eight carries of 10-plus yards in the last four weeks. He also has 10 catches on 12 targets, which bolsters his fantasy floor especially against Big Blue, which has faced the most RB targets this season.
Wayne Gallman Jr. has been nothing but fantastic since taking over the Giants' backfield. He ranks as the RB7 over that time span and seems like an insane value on DraftKings at just $5,700. He's coming off his first 100-yard game of the season and gets a dream matchup — the Arizona Cardinals own PFF's 30th-graded run defense this season.
Since Week 9, Arizona ranks 27th in explosive run rate allowed (14.7%), 29th in yards allowed before contact (1.9) and 25th in rushing touchdowns allowed.
DeAndre Hopkins runs strictly out of the left side of the Cardinals' formation, meaning that he will get another tough WR/CB matchup in James Bradberry who primarily lines up at RCB.
That's not to say Hopkins is a sit in traditional leagues, but the defense's focus on him might project a ceiling spot for Christian Kirk. Kirk is Arizona's main deep threat, and he will get the much more favorable cornerback matchup in Issac Yiadom.
Yiadom is by far the Giants' worst cornerback in coverage this season — he has allowed a 126.2 passer rating, four receiving touchdowns and 13.4 yards per reception.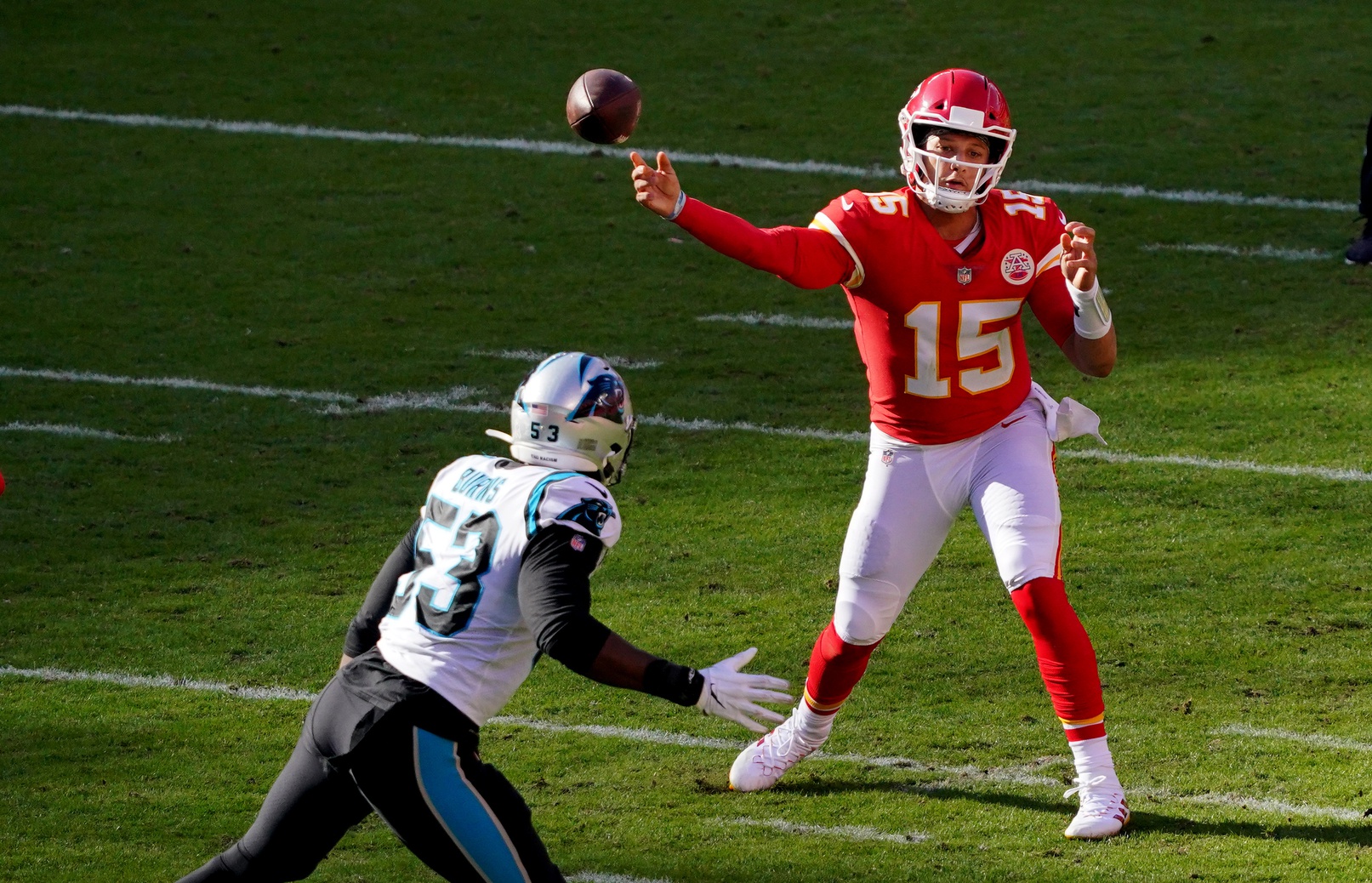 Headline of the game: How will Brian Flores choose to defend Patrick Mahomes and the Kansas City offense?
The Dolphins have one of the more unique defensive schemes in the NFL. They lead the league in Cover 0 usage — a scheme that has been in the news a lot recently thanks to one Gregg Williams — and they come in at fourth in the NFL in Cover 1 usage. In other words, they blitz often and run a lot of man coverage.
It just so happens that Mahomes leads the NFL in passing grade against Cover 0/Cover 1 and against the blitz. We saw with Tyreek Hill against Carlton Davis what happens if you leave even good cornerbacks on islands with some of the talent Kansas City has at the wide receiver and tight end positions. Miami does boast arguably the top outside cornerback tandem in the NFL with Byron Jones and Xavien Howard, but it's still a tough matchup for them. It will be interesting to see if Flores makes some adjustments this week or sticks to what his defense does best.
Betting
The Chiefs continue to be popular from a betting perspective but haven't awarded their backers with too many covered victories. They have received the majority of cash in 11 of 12 games, with Week 14 continuing to hold to this trend. The spread movement has moved away from them, as juice has been flipped based on the hook being included on the touchdown spread. 
Neither defense ranks in the top half of the NFL, according to our opponent-adjusted grades. The Dolphins have definitely trended in a more positive direction, but slowing down the NFL's top-ranked offense is a tall task. The total has held to the opening number, with any line movement opening up potential value, according to PFF Greenline. 
Fantasy
Patrick Mahomes has only thrown for one touchdown in two games this season — both occurred against the Denver Broncos. The Broncos have seemed to slow down the league's best quarterback, but he almost always bounces back for fantasy managers in a big way after those down performances.
Mahomes' only five-touchdown game this season came the week after he played Denver in Week 8. Make sure to get healthy exposure of Mahomes in DFS this week against the Miami Dolphins.
When Miami has faced elite fantasy QBs — Josh Allen, Kyler Murray, Russell Wilson, Justin Herbert — they have given up an average of 37 fantasy points.
The Dolphins have been a top-10 defense against running backs over the past five weeks in terms of fantasy points allowed, so fantasy managers shouldn't feel like they have to start Clyde Edwards-Helaire.
CEH has averaged under nine carries per game since the team added Le'Veon Bell. With Darrel Williams' increased role, there's no telling how much work the rookie will see on Sunday.
Edwards-Helaire could always stumble into the end-zone, but that's not a bet worth making. When K.C. is inside the 10-yard line, they call a pass-play at the second-highest rate in the NFL (56.6%).
Tua Tagovailoa threw for a season-high 296 passing yards and one touchdown in Week 13. Those are modest numbers at best, but the final statline does not define his performance. Jakeem Grant dropped an easy long ball that could have been a huge touchdown, and his expected passing touchdowns (2.8) was the fourth-highest on the week.
He can be a viable streamer this week against the Chiefs, who have allowed at least 28 fantasy points to the last three quarterbacks they have faced not named Drew Lock.
Myles Gaskin is a name to trust as a low-end RB1 because the Chiefs still can't stop the run. They have allowed the third-most fantasy points to RBs over the past four weeks.
Gaskin made his return from IR in Week 13 and reclaimed his usual heavy workload with 23 touches and a 72% snap share. Those touches should go a long way in delivering fantasy points for Gaskin managers in Week 14.
The Dolphins running back saw six carries inside the 10-yard and three inside the 5-yard line — none of which he was able to convert. That type of bad luck at the goal line usually tends to regress.
Headline of the game: Tennessee's lack of a pass rush remains a major problem
The Titans head into Week 14 ranked 28th in the NFL in pressure rate as a team (26.0%). That rate has been even lower the past several weeks without Jadeveon Clowney (23.9%). They have been unable to generate a consistent pass rush, and their secondary hasn't been able to buy any additional time for the guys who are rushing the passer; Adoree' Jackson's absence has been widely felt this season. A Super Bowl hopeful doesn't want to look up and see its defense ranked 30th in expected points allowed per play, but that's exactly where Tennessee finds itself, sandwiched between Las Vegas and Houston.
A 1-11 Jacksonville team is a matchup in which the Titans should be able to overcome their defensive woes relatively easily, but we've seen the past several weeks that the Jaguars can't be overlooked. They play hard, and they at least have some bite offensively. With Tennessee firmly entrenched in an AFC South battle with Indianapolis, this is a game the Titans can't afford to overlook.
Betting
Bettors have bought up the Jaguars in the early-week market, as they have covered four of their past five games. The spread has dropped from 9.5 to 7.5 but has yet to cross or test a key number. The cash and ticket percentages are all on the Titans, which indicates that this spread adjustment could have been a reaction from the two teams' most recent performances. 
The Titans still control their own destiny in the AFC South after facing the fourth-most-difficult schedule up to this point. Things become much easier, however, as they face the third-easiest schedule over their remaining four games.
A comfortable cover would be a welcome sight, but their league-average defense must have some success slowing down the Mike Glennon-led Jags offense. It shouldn't be too difficult of a task, but PFF Greenline still finds no value in this current game market.
Fantasy
This game has the second-highest total on the main slate, so there are sure to be fantasy points found for all players involved. Derrick Henry should bounce back after a down game — the Jacksonville Jaguars just gave up 30-plus fantasy points to Dalvin Cook.
Henry was limited to just 84 scoreless yards on 25 carries the last time these teams met back in Week 2, but that's been par for the course when Henry has historically played the Jags. The first matchup has also been underwhelming and the second matchup he blows up.
In his second games versus the Jags over the last two seasons, he has posted the following statlines:
17 carries for 238 yards and four touchdowns
19 carries for 159 yards and two touchdowns
The Big Dog is also coming off his lowest carry total of the season (15) and second-lowest yardage output (60 yards). The last time this season he was held under 61 yards, he rushed for over 200 yards the next week.
Henry's pending explosion might hinder Ryan Tannehill's fantasy upside slightly, but as we saw last week with Kirk Cousins, Adam Thielen and Justin Jefferson, the Jags' defense doesn't play favorites when they feed fantasy points to opposing offenses.
Corey Davis ranks third in the NFL in yards per route run behind Jefferson, and his price of 5.7K on DraftKings is way too cheap. The fourth-year breakout is upon us.
D.J. Chark Jr. busted hard in a great matchup on Sunday, but the matchup is too good to pass on for Week 13.
The Titans' defense made the likes of Rashard Higgins and Donovan Peoples-Jones fantasy relevant in Week 13. That makes the third-year WR a player fantasy managers must not lose faith in.
Both of Chark's catches went for 19-yard gains — those kinds of big plays can make Chark a difference-maker in the fantasy playoffs.
Headline of the game: Andy Dalton returns to Cincinnati in a battle of backup quarterbacks
This game doesn't have a ton going for it outside of Dallas' waning hopes to sneak out of the NFC East, but it does have Dalton making his first return to the franchise where he started nine seasons. With the Bengals losing the man who replaced him — Joe Burrow — to injury, they may be wishing Dalton was still on the roster for this game.
Brandon Allen has earned just a 40.5 passing grade over the past two weeks, making one big-time throw compared to five turnover-worthy plays. Somehow, that's a step above what Cincinnati got from Ryan Finley as a rookie in 2019, but neither signal-caller gives the team much of a chance with the current surrounding roster against a quality opponent.
Luckily for the Bengals, this iteration of the Cowboys isn't all that quality of an opponent, either. An offensive line that was dealt another blow (Jonah Williams) will have to contend with a strong group of edge rushers, though.
Betting
Check back with PFF Greenline later in the week for betting insights into this Week 14 game.
Fantasy
Even in a great matchup, it's extremely difficult to justify starting either Tyler Boyd or Tee Higgins as anything more than WR3 options should Ryan Finley be under center. As bad as Dallas' defense has been this season, it's been efficient quarterback play that has beaten them, not just raw passing volume.
They have actually allowed the third-fewest receptions and faced the fewest targets to WRs this season. With the quarterback carousel of Brandon Allen and Finley under center, the Bengals have a 2:4 TD to interception ratio, have taken 12 sacks, posted a QBR of 57.1 and averaged 5.5 yards per pass attempt. Not anybody's idea of efficient quarterback play.
Not to even mention that Dallas owns the league's fourth-highest pressure rate entering Tuesday night, which can only spell disaster for the Bengals' passing game.
Fantasy managers are better off just using Giovani Bernard as low-end RB2 because Dallas can't stop the run — second-most rushing yards allowed to RBs — and Gio is the "bell cow" for the Bengals.
Andy Dalton has shown in plus-matchups that he can deliver fantasy-friendly performances, so we can go back to the usual cast of characters in Dallas for Week 14. Start Ezekiel Elliott and Amari Cooper.
One Cowboys player who might be sitting on the waiver wire that managers can add is tight end Dalton Schultz. The Cowboys tight end has been involved enough with Dalton under center to consider going back to him in arguably the best matchup for tight ends. No team has allowed more targets or receiving yards to TEs this season than the Cincinnati Bengals.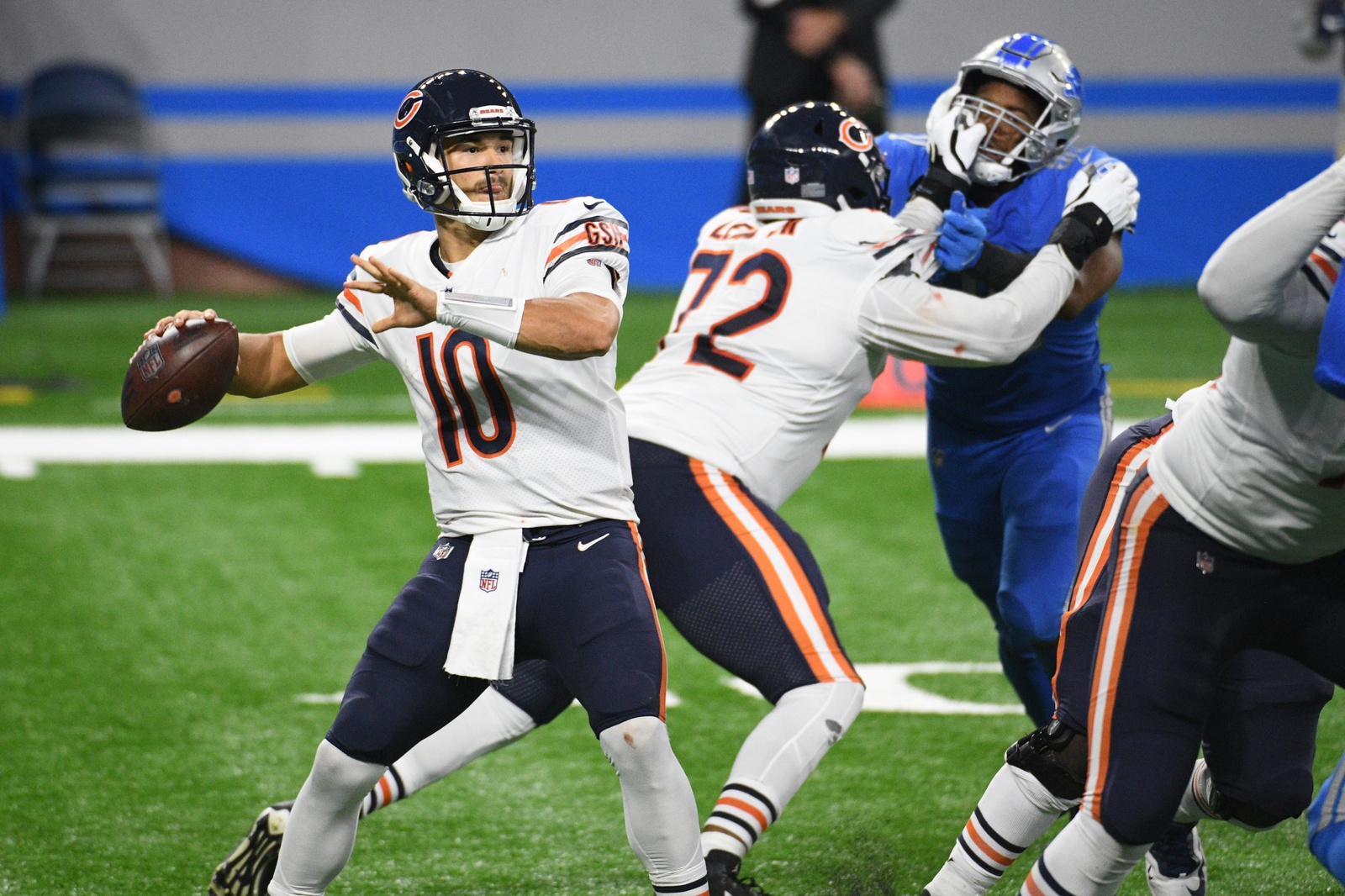 Headline of the game: The Bears are reminded once again of the 2017 NFL Draft they would rather forget
It's going to be a long time until the collective NFL world will let Chicago forget about the decision to take Mitchell Trubisky over Deshaun Watson and Patrick Mahomes, as it seems more than likely that Watson and Mahomes will dominate the league for the next decade. This game against Houston and Watson is only going to bring that narrative back to the forefront.
But while Watson has played better than he ever has this season, the Texans have been far from dominant. You can point to one of the worst defenses in the NFL and a weakened supporting cast offensively — along with a less-than-impressive offensive scheme — as the major reasons why. Watson ranks third in the league in PFF grade at quarterback, behind Aaron Rodgers and Mahomes. Since Week 5, his 8.8 passing yards per attempt leads the NFL. Yet, Houston still sits at just 4-8.
It's a rare situation where elite quarterback play has not been enough to elevate a team to at least mediocrity, but Watson's presence alone makes that Houston job desirable for potential coaching candidates. If Matt Nagy doesn't end up keeping his job, the same can't be said for Chicago, and you can point back to that 2017 NFL Draft as the reason why.
Betting
It is tough to judge which team had the more disappointing Week 13, as both teams let a winnable game slip away. The Bears appear to be in a complete freefall after letting the Lions steal a late victory in Week 13. Chicago now sits 24th in our Elo rankings, with the Texans three spots ahead.
We have seen worthwhile spread movement from the look-ahead line, but bettors appear to be favoring Chicago in the early-week market. Since the Texans are the slight favorite, most of the cash and tickets on the moneyline have been in their direction, with the market flipped on the spread.
Our opponent-adjusted passing grades have the Texans seventh and the Bears 30th. The discrepancy on the defensive side isn't as drastic, but the Bears still have a much better unit. PFF Greenline typically leans with the better quarterback, which is why we find value in the Texans at the current number.
Fantasy
David Montgomery had arguably the best matchup on paper in Week 13 against a lowly Lions defense that ranked near the bottom of the league in fantasy points allowed to RBs. Next up are the Houston Texans, who have been equally as bad as Detroit and are fresh off allowing over 38 fantasy points to Colts running backs in Week 13.
It won't only be Montgomery who poses a threat for the Bears because this should be a game where Allen Robinson II goes absolutely nuclear. Last week marked the third time all season when the Texans were forced to play without Bradley Roby — in each game without him they have allowed a WR to finish the week inside the top six at the position. Those WRs were Davante Adams (Week 7), D.J. Chark Jr. (Week 9) and T.Y. Hilton (Week 13).
When running backs play in split backfields, usually fantasy managers can feel good about starting them in plus-matchups. That's not the case with David Johnson this week, who surprisingly worked in a 50/50 committee with Duke Johnson Jr. after returning from IR.
David just narrowly edged Duke in snaps (37 vs. 34) and touches (10 vs. 8), but the latter's majority came in the form of six catches.
Houston owns PFF's 29th-ranked run-blocking unit, so fantasy managers can't expect much fantasy production from David — he will be touchdown-or-bust in Week 14. The Lions own PFF's 10th-highest run-blocking grade this season (70.5) — that may have been the reason behind Adrian Peterson's success last week in this same matchup.
Keke Coutee is sure to be a popular add off the waiver wire this week based on his nine catches for 141 yards last week. He was used as a downfield threat (13.4 aDOT) and that bodes well against the Chicago Bears who have faced the fifth-highest percent of deep targets from the slot (18.5%) this season.
Don't overlook Brandin Cooks, who still led the team in air yards (149) and had nine targets as well when accounting for plays negated by penalties. Eight of Cooks' targets were on first reads by Deshaun Watson — he is clearly the team's No. 1 wideout moving forward.
Headline of the game: A lot has changed since 2015
The NFL landscape changes faster than any other major American sport, and there are times when matchups like this hit you with that realization. Just five years ago, Cam Newton and Peyton Manning were facing off in the Super Bowl for these franchises.
Denver has yet to find a capable replacement for Manning at quarterback since that game. It's the only franchise in the NFL to have eight different players play 50 or more snaps at quarterback since 2016, and Drew Lock looks to be the latest miss at the position, posting a mere 57.9 overall grade in his second season out of Missouri. The Panthers, meanwhile, moved on from Newton this past offseason and brought in Teddy Bridgewater on a modest, multi-year contract to be their starting quarterback. He has performed reasonably well, but you have to think Carolina is still searching for their signal-caller of the future.
Neither team is anywhere close to a Super Bowl contender in 2020, highlighting just how hard it is to sustain success in the NFL.
Betting
Check back with PFF Greenline later in the week for betting insights into this Week 14 game.
Fantasy
With both Curtis Samuel and D.J. Moore placed on the COVID/reserve list, their availability is certainly in question for Sunday's game. Without them, expect Robby Anderson to become a cash-game lock in DFS at $6,200 in a matchup that favors the Panthers' pseudo No. 1.
We have seen the Broncos play two games without stud cornerback Bryce Callahan this season. They have allowed over 177 yards per game and an extremely high deep-ball pass rate (28.2%).
Lack of offensive firepower could force the Panthers to lean on Christian McCaffrey, who should be making his return to the lineup. He could be a true difference-maker in fantasy lineups this week against Denver, which has allowed the most rushing yards since Week 9.
The Panthers are also equally bad — sixth-most fantasy points allowed to RBs — so Melvin Gordon III needs to be back in starting lineups.
Fantasy managers can also turn to Tim Patrick, who has been operating as the team's No.  1 wide receiver lately with Jerry Jeudy's production in a freefall. Jeudy had just one catch on four targets on Sunday — it's clear that his lower-body injury is holding him back.
The matchup also favors Patrick because the Panthers' secondary has gotten exposed in recent weeks. They have allowed the second-most fantasy points per game to WRs over the past four weeks.
Headline of the game: Is it time to worry about the Seahawks?
Over the past four weeks, the Seahawks rank 21st in expected points added per play. Russell Wilson and the Seattle offense have been out of sync — not looking like the dominant group we saw torching NFL defenses week in and week out earlier this season.
We've come to expect some of the apparent issues in the passing game from Wilson throughout his career. He often holds onto the ball longer than he should (league-high 3.2-second average time to throw since Week 10) and takes unnecessary sacks. His 16 sacks taken since Week 10 are fewer than only Carson Wentz. The issue that typically hasn't been a part of Wilson's game are the turnover opportunities he has afforded opposing defenses. His six turnover-worthy plays over the past four weeks are tied for fifth-most in the NFL.
There is plenty of reason to believe Seattle will ultimately turn things around heading into the postseason, but things haven't been pretty as of late. A matchup here with the Jets should help them get back on track.
Betting
No team had a more disappointing Week 13 than the Seahawks, who let control of the NFC West slip away. Seattle's success continues to be a function of how well Russell Wilson performs, as his Week 13 game grade came in as his third-worst of the 2020 season. His five sacks taken were his second-most of the 2020 campaign; his 3.46-second average time to throw was simply too high.
The Jets offer a much easier test, as they have the 29th opponent-adjusted defensive ranking to pair with the NFL's second-worst coverage unit. Their pass rush has been surprisingly league average, so if Wilson continues to hold onto the ball, the Seahawks' offensive struggles could continue. 
The Seahawks have gotten the majority of the cash percentage in nine of 12 games, but the early-week numbers lean heavily toward the Jets. This coincides with the market movement away from the two-touchdown spread, as most are expecting the Seahawks to struggle to blow out the Jets. 
The Jets' offense has been adequate in recent weeks but still has the second-worst opponent-adjusted offensive ranking. PFF Greenline provides some hope that they can keep pace with the Seahawks, as we currently find the smallest of values on the over 47.
Fantasy
The Seahawks started the season historically bad at stopping wide receivers, but over the last month they've played significantly better. No wide receiver scored a touchdown against them in their last four games. They haven't allowed wide receivers to hit a combined 200 yards in those games and haven't allowed more than 65 yards to wide receivers in each of their last two.
The Jets have found stability in who their three starting receivers are, but there has been plenty of variability in how many targets each of them sees in a week. While receivers playing the Seahawks are typically tempting, in this case they should still be avoided.
If Ty Johnson gets the start at running back, he should be able to put together a strong performance against the Seahawks' run defense. Seattle just gave up 180 receiving yards to the Giants.
The Seahawks could have several good games from the usual suspects. Russell Wilson, D.K. Metcalf and Tyler Lockett are all must-starts as usual and should put up big numbers. Chris Carson received enough playing time last week, and the Jets' run defense is average enough that Carson can also be trusted in starting lineups.
Jacob Hollister is someone who could join the big names in playing well against the Jets. New York has allowed 11 receiving touchdowns to tight ends over the last 11 games. Darren Waller just put up the best tight end numbers of the season against them with 200 receiving yards. Hollister has seen a respectable five targets in each of the last two games. He is a high-upside, low-floor play for the week.
Headline of the game: Philip Rivers should have plenty of time in the pocket against one of the league's worst pass rushes
We often talk about Rivers' mobility, or lack thereof, and how certain matchups highlight that deficiency more so than others. In that vein, this matchup against Las Vegas shouldn't cause him many problems.
After nearly pulling off a second upset of the Chiefs, Las Vegas has looked like a completely different team in a blowout loss to the Falcons and a very near-loss to the winless Jets. One thing that has remained a constant throughout the season is that their defense can be exploited. Las Vegas ranks 24th in team pressure rate on the season and 25th in team coverage grade. Rivers, meanwhile, is coming off one of his better games of the season (81.9 overall grade) against a similarly deficient Houston defense in Week 13.
This is one of the more impactful matchups of the week, as it could determine a playoff spot in the AFC Wild Card race, but it's not going to be much of a contest if Las Vegas doesn't put forth a better performance than what we've seen of late.
Betting
This is a matchup between two teams that some would say were gifted a win in Week 13 to keep their playoff hopes alive. This is now a crucial spot for both teams, with the market holding to the opening spread. The early cash and ticket percentages have been on the Colts, who have the better offensive and defensive ranking in this matchup.
Jon Gruden has deservedly gotten a lot of praise for his late-game playcalling, but no coach puts his team in a better position to win throughout the game than Frank Reich. The Raiders have the slight edge in PFF passing grade, but every other worthwhile metric we use in our model points toward the Colts. In this all-important matchup, PFF Greenline leans heavily in their direction, making them one of the best bets in Week 14.
Fantasy
Jonathan Taylor produced some of his best football in recent weeks and is a must-start against this Raiders defense. He ranks second in PFF rush grade over the last three weeks with an 86.7 grade. He is converting 34.3% of his carries into first downs. The Raiders have given up 50-yard performances to five different running backs in the last three weeks, with four of those five backs being typical backups. What also helps is the five rushing touchdowns they've given up to backs during that time.
Las Vegas has also given up the eighth-most receiving yards to running backs this season. Nyheim Hines hasn't played as well as Taylor in recent weeks, but he will be given enough opportunities to also take advantage of this matchup.
The Colts defense has been one of the toughest this season, which is a big reason why the Colts remain in the playoff race. Darren Waller is coming off one of the best statistical performances from a tight end in the league's history, but expectations should be lower for this game. The Colts haven't allowed more than 65 yards to a tight end this season, and they've only given up one touchdown through 12 games. Derek Carr and the rest of the wide receivers should be avoided.
The Colts defense is most vulnerable against the run. They've been average in fantasy points allowed, but in two recent games Derrick Henry skewed those numbers. The most any back not named Henry picked up against this Colts defense is 72 yards. Josh Jacobs hasn't been healthy and typically doesn't play well in games where the Raiders are expected to lose. If Jacobs can't go again, Devontae Booker would receive most of the carries. In this case, Booker isn't a high-upside play, but he would have a high floor.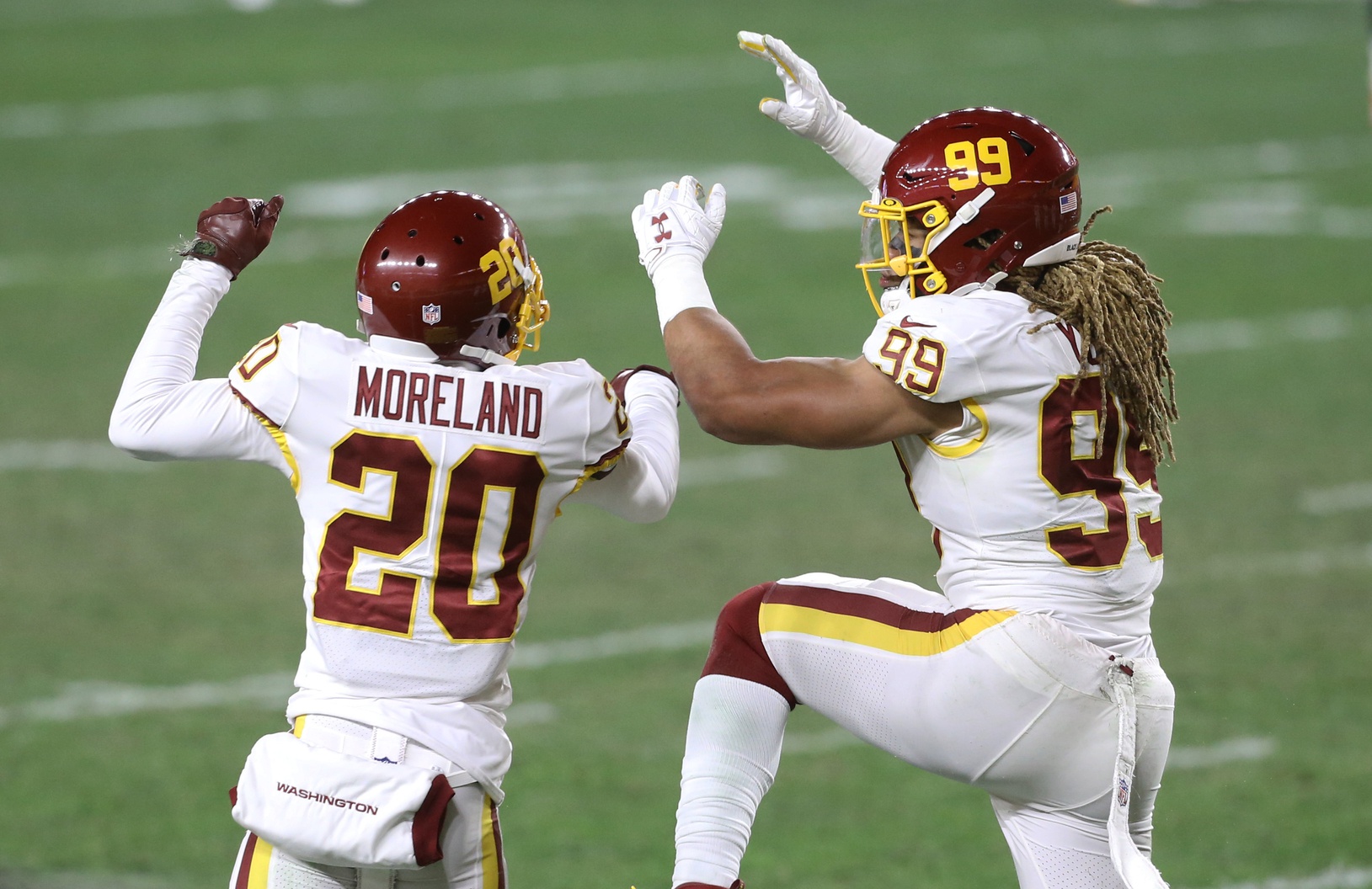 Headline of the game: Washington's defense is giving the team a legitimate shot at winning the NFC East
Washington is the winner of two straight after sending the 1972 Miami Dolphins into celebration and knocking off an undefeated Steelers team in Week 13. A lot gets made of their defensive front and all its first-round talent, but it's a group that is deserving of high recognition.
They completely shut down the Steelers on the ground to the tune of 21 yards on 14 attempts, and there was absolutely nowhere to run. Pittsburgh finished the game with -7 rushing yards before contact. The Football Team also picked up more total pressure on Ben Roethlisberger than any team this season despite his quick release, along with getting in the passing lanes to bat several passes.
The run game component will be more difficult to replicate in this matchup against the 49ers, but they should have plenty of opportunities to get after Nick Mullens and force him into several mistakes. In the late-season battleground that the NFC East has turned into, Washington's defense gives the team as good of a shot as any at returning to the postseason.
Betting
The opening -4.5 spread quickly disappeared after both teams' Monday night performance. The market has paused at 3.5, but added juice to Washington indicates that a move to 3 is likely coming. Our cash and ticket percentages lean slightly toward the 49ers on the spread, but a heavy percentage of the moneyline has backed Washington. 
Alex Smith has a much better PFF passing grade in this matchup, despite Washington still not generating a positive EPA on either pass or rush attempts. Our model lean is still solidly in their direction at the 3.5 point spread, but this is a situation that needs to be acted on quickly. A move to -3 could easily dissipate the value that currently exists in this market.
Fantasy
This is a matchup between two teams within the top eight of PFF defense grade and two average at best offenses.
The run games for both teams should definitely be avoided. The 49ers are finally healthy at running back, leaving them with a four-person committee. None of the backs played over 50% of snaps last week, and it's possible that Tevin Coleman plays more than four snaps in his second game back.
Antonio Gibson injured his toe during their Monday Night Football game. If he's out, Peyton Barber will be given more ciarres, while J.D. McKissic will see more targets. The 49ers, like the Football Team, are top-six in preventing fantasy points to running backs.
Terry McLaurin is the only player for Washington worth trusting in this matchup despite his poor numbers in his last game. McLaurin caught two of six passes thrown his way for 14 yards. Luckily, he gets to play a 49ers defense that just gave up 375 passing yards to Josh Allen. His top-four receivers were all wide receivers, so McLaurin should be just fine. It's possible another wide receiver plays well, but Washington rotates through a few different players so any one of them could step up.
Jordan Reed should have TE1 upside in this matchup for the 49ers in his revenge game. The Football Team has allowed 90 yards or more to tight ends twice and allowed 68 yards to Eric Ebron in their last game. Reed is a top-five tight end by PFF receiving grade, and he's consistently running 25 routes each game. Washington has allowed the third-fewest fantasy points to wide receivers but has been average against tight ends. It will be difficult for Brandon Aiyuk or Deebo Samuel to play better than average, but not for Reed.
Headline of the game: With all eyes on Philadelphia's quarterback situation, there's also a lot to glean from how Taysom Hill performs in a new matchup
All the talk and focus this week will be on the Carson Wentz–Jalen Hurts saga, but this is also an important game when it comes to Hill's evaluation. In his three starts this season, we've seen him twice against an Atlanta defense that doesn't pose much of a challenge. We've also seen him against Denver fielding a practice squad wide receiver at quarterback. The Broncos may have an above-average defense, but the game script awarded to the Saints thanks to an offense that couldn't move the ball shielded Hill, who still left the game with a 47.2 overall grade.
This game against the Eagles should provide a clearer picture on where Hill is as a quarterback. New Orleans has ranked second in the NFL in expected points added per run play the past three weeks with Hill behind center, but they come in at just 20th in expected points added per pass play despite the two matchups against Atlanta. We still haven't seen a whole lot that would indicate he can give the Saints enough as a passer in uncomfortable situations to where they would feel secure with him if he was forced to take quarterback snaps in the postseason. With a team pressure rate of 39.7% that ranks fourth in the NFL, the Eagles are capable of creating those uncomfortable situations.
Betting
The market doesn't seem too thrilled about the Eagles pivoting to Jalen Hurts at quarterback, as the opening 6.5-point spread quickly pushed out to 7 — with 80% of the cash and tickets on the Saints.
The total has also dropped down to 44, with the cash and ticket percentages both liking the under. We could see a number of quarterback runs, which tend to slow the offensive production down. 
There is quite a bit of unknown in this matchup for a game happening so late in the season. This makes it tough to find opportunities on any of the betting markets, with PFF Greenline just missing out on value for the total.
Fantasy
Eagles players should largely be avoided against this strong Saints defense. Miles Sanders is usually a must-start regardless of opponent, but he's someone who could be worth benching for the week. Sanders was averaging 15 carries per game over the first 11 weeks of the season, but he's coming off of games with six and 10 carries.
The Eagles brought back Jordan Howard, which took away some of Sanders' carries and could potentially take away his goal-line work. The Saints defense allows the fewest fantasy points to running back at 16.1 per game. Philadelphia likely won't be running much due to the game script. Boston Scott earned 37.2% of the third-down work in recent weeks, so Sanders lost some playing time in the pass game, too. This all adds up to another disappointing game from Sanders.
The Eagles defense is relatively average this year. They've been better against the run game, but that shouldn't stop anyone from playing Alvin Kamara. Kamara received 15 carries — the most for him in a game in over two months. He still hasn't been nearly as involved in the passing game as he used to be, but the run game production is still enough to start him.
Michael Thomas is also in a position to put up big numbers. He's gained over 100 receiving yards in two of his last three games. The one exception was the Broncos game where the Saints had a very conservative, run-heavy game plan. The Eagles defense gave up 121 yards to Davante Adams last week and D.K. Metcalf gained 177 yards against them the week before. The only problem with Thomas is that he hasn't scored a touchdown this season, and the Eagles are tied for the fifth-fewest touchdowns allowed to wide receivers. Thomas should have another 100-yard game on several catches but might not score.
Headline of the game: Anthony Lynn is fighting to not meet the same fate as Dan Quinn
This is the all-chaos matchup. Between questionable coaching decisions and late-game blown leads, these two teams have contributed to some wild finishes in recent seasons, and they've often found themselves on the losing end of those results. The Chargers followed up a myriad of questionable decisions both at the end of the first half and the end of the game in their Week 12 loss to the Bills by getting absolutely dominated by the Patriots in a 45-0 loss this past weekend.
Talent is not the issue when looking at what has been the problem in Los Angeles of late. They've had their share of injuries to key players such as Derwin James, but there is also still plenty to work with. Joey Bosa has been arguably the most dominant pass rusher in the NFL this season, generating a league-high 19.4% pressure rate. Justin Herbert has exceeded all expectations in his rookie season, and the Chargers have strong targets in Keenan Allen, Hunter Henry and Mike Williams for him to get the ball out to.
The Chargers have lost in the margins, and Anthony Lynn's seat is hot because of it.
Betting
The two most disappointing teams from a betting perspective face off in a matchup that one team has to cover. The betting market has gravitated toward the Falcons, which is more a reflection of the current standing of the Chargers. The opening -1 spread quickly flipped to 2.5, but value still exists on this number up to 3.
The Falcons are the far superior team in our Elo ranking and sit 12 spots ahead of the Chargers in our opponent-adjusted offensive grades. Justin Herbert has cooled off considerably, with three of his four lowest-graded games happening in the past four weeks. In that stretch, he has seven-turnover worthy plays and has taken 11 sacks.
The Falcons' defense has turned a corner and now have a top-10 opponent-adjusted defensive grade. This is a spot where you can get the better offense and quarterback at less than a field-goal spread. It never feels good to back the Falcons, but the Chargers could be the only team to overcome their stigma.
Fantasy
The Chargers are well-positioned to prevent the Falcons from having a strong fantasy football performance. The Los Angeles secondary is relatively healthy, so wide receivers haven't been producing as many yards. Three players have accomplished 50-yard games against the Chargers in the last four weeks, and no one over 80 yards. All of those games were against the four AFC East teams. They have allowed eight passing touchdowns in that time, so there should be at least one or two Falcons players who pick up a touchdown even if they don't produce many yards.
Three of the last four lead running backs to face the Chargers gained at least 80 rushing yards. The only problem is that the Falcons don't have a clear lead rusher anymore. Todd Gurley II and Ito Smith received eight carries each last week. It's possible that Gurley was eased into action and could see more this week. It's also possible the Falcons are seeing what they have in Smith and he could see more snaps this week.
Decisions with the Chargers are simple this week — start everyone involved in the passing game. The Falcons have allowed the most fantasy points to quarterbacks and the fourth-fewest to running backs. Those trends have continued in recent weeks.
Austin Ekeler should be safe to start as well. The Falcons have been good at preventing fantasy points to running backs because they've allowed the second-fewest rushing yards to backs and only five rushing touchdowns. They've been around league average when it comes to receiving value to backs. A significant amount of Ekeler's value comes from his work in the pass game, so Ekeler should also play well against this defense.
Headline of the game: Aaron Rodgers gets another good opportunity to pad his MVP resume
The MVP race is going to come down to Patrick Mahomes and Rodgers, and while Mahomes appears to have a leg up at the moment, Rodgers is just as deserving when looking at what he's accomplished this season. Rodgers, not Mahomes, leads the quarterback position in PFF grade heading into Week 14 (94.7). His 118.5 passer rating also leads the NFL, and Green Bay edges out Kansas City in expected points added per pass play this season, as well.
Now, Rodgers gets a Detroit defense that ranks dead last in the league in expected points allowed per play. It's also a defense that has recorded just a 33.9 coverage grade on the season — a mark that beats out only the Jets. Expect the Packers to look to pad Rodgers' stats a little bit as he goes after his third MVP award.
Betting
The opening touchdown spread added the hook, with juice applied in spots on the Lions. This movement has been driven by 69% of the cash and 77% of the tickets on the Packers, who are the clear market favorites on the moneyline, as well. This has been a common occurrence this season, as the Packers have received the majority of cash in nine of 12 matchups this year. 
The Packers have the fourth-easiest remaining schedule, as their hope for the No. 1 seed in the NFC needs some help from the Saints. Our model projects them to win this matchup, but it isn't close to the break-even probability of 79.8% from the moneyline market. 
Both defenses rank in the bottom half of the NFL in our opponent-adjusted grades, though they are in the top half offensively. This has led to the highest total of Week 14 after an opening 54 quickly pushed out to 55. PFF Greenline does find value in this total. Since the market continues to move, this is a spot to monitor throughout the week.
Fantasy
The Packers and Lions last squared off in Week 2 when Aaron Jones put together a career game. He ran for 168 rushing yards on 18 carries and two touchdowns. He also led the Packers in every receiving category with four catches on eight targets for 68 yards and a touchdown.
Jones should have a repeat performance, at least on the ground. He's run 32 times over the last two games for 220 yards and a touchdown. His targets have steadily declined as the season has gone on. The Lions have allowed 20 rushing touchdowns to running backs this season. The Lions run defense has trended in the right direction since a bad start to the season, but they've still allowed touchdowns, including three last week. The Packers could focus on the ground game, so it is worth considering avoiding Aaron Rodgers, Robert Tonyan, and any wide receiver not named Davante Adams.
The one way to attack the Packers defense all season has been with the run. James Robinson, Jonathan Taylor and David Montgomery have all gained at least 90 rushing yards against the Packers in the last four weeks. Adrian Peterson is probably going to be the safest play to take advantage of this. He's run the ball 31 times over the last two weeks for four touchdowns.
D'Andre Swift missed the last three games with a concussion and then an illness, which allowed Peterson to see so much playing time. If Swift is back, that complicates matters. After missing so much time, they might ease Swift back in. If they ease him in, it might be more as a receiver than a runner. They could also return Swift to the every-down role he had when he left, in which case he would be a must-start. Keep an eye on both the injury report and what the Lions are saying about how Swift might be used.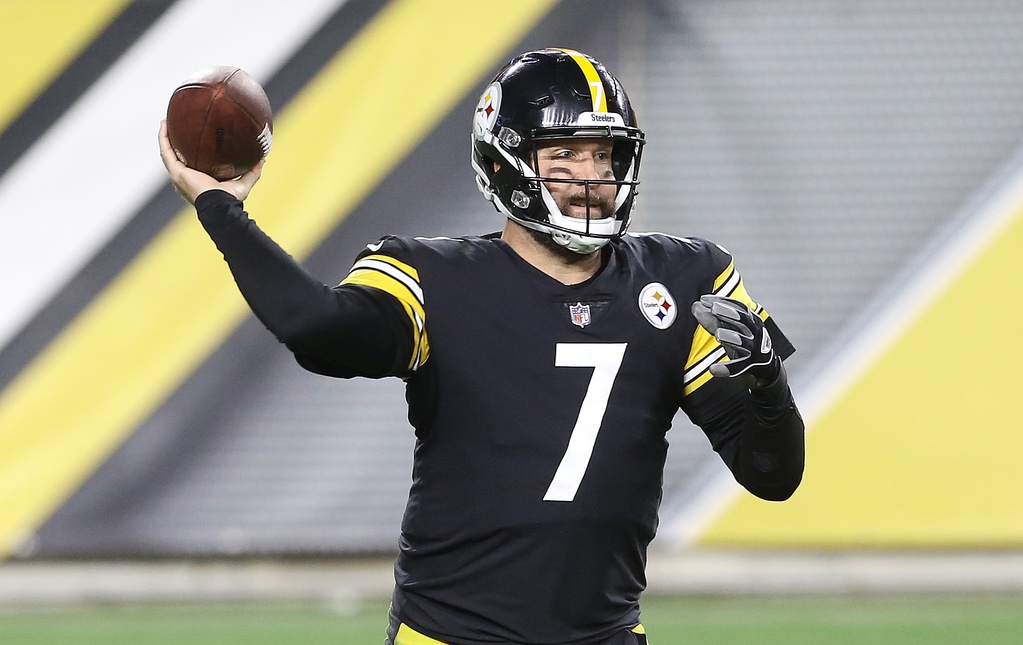 Headline of the game: Ben Roethlisberger is low on the list of problems surrounding the current Steelers' offense
The Steelers' offense has looked rough these past two weeks in games against Washington and Baltimore, but the problem certainly hasn't started with Roethlisberger. He has come away from those two games with PFF grades of 76.0 and 79.3 — two of his better performances of the season. Everything else has held the offense back.
Dropped passes top the list of glaring issues. Pittsburgh has dropped 11 passes over the past two weeks — five more than any other offense. When a team relies on the short passing game as the Steelers do, it can't afford mistakes like those, particularly with a non-existent run game. Pittsburgh has the 31st-ranked team run-blocking grade in the NFL, and a backfield headed by Benny Snell (56.0 overall grade) isn't going to be able to overcome that blocking.
Between questionable play calling, dropped passes and no run game, Roethlisberger has actually been a bright spot of late on that offense. It's clear that the Steelers have a lot to figure out on that side of the ball heading into the postseason.
Betting
It took one weekend of action for the market to completely turn on the Steelers. After opening as 2.5-point favorites, they find themselves as underdogs for just the third time this season. Their matchup against Washington showed the fragility of relying on a quality defense to win football games, as their offense didn't provide enough to beat an inferior opponent. 
The Bills looked like the second-best team in the AFC after a Monday night routing of the 49ers. Josh Allen earned the highest-graded passing game of his season and hit five big-time throws for the second time this year. The Steelers struggled to slow Alex Smith, which doesn't bode well for slowing the seventh-best offense in the NFL. Our models have been low on the Steelers all season, so finally feeling right creates an opportunity to double down, according to PFF Greenline.
Fantasy
The Steelers defense is excellent this season, but that shouldn't stop you from playing the Bills wide receivers. Seven different wide receivers have put up at least 90 yards, and 13 different wide receivers have scored touchdowns against them. Stefon Diggs is WR5 at this point in the season and shouldn't be benched regardless of the opponent. Cole Beasley is coming off of the best game of his career in terms of yards with 130. He has a chance to continue that, as some of the best wide receiver games against the Steelers have come at the hands of slot receivers.
The running back situation for the Bills should be avoided. The Steelers have allowed the second-fewest fantasy points per game to running back. Devin Singletary took the vast majority of snaps for the Bills in their last game, but it was largely because Zack Moss was benched after fumbling. They should be closer to an even split in this game, with neither back finding much success.
The Steelers offense is full of players who are must-starts every week, and the Bills defense shouldn't stop that. They are in the top half of the league in allowing fantasy points to quarterbacks, running backs and tight ends. The only question is running back. James Conner is expected to return this week, and it's worth paying attention to his workload. The could ease him back into action after missing some time, or — with how the rest of the Steelers back have played — they might want to give him all of the snaps.
Chase Claypool didn't see as much playing time in the Steelers' last game. He was incredible earlier in the season, but he's regressed to just being a good receiver. With the Bills playing well against wide receivers and his lack of playing time, this might be a week not to gamble on Claypool.
Headline of the game: Baker Mayfield gets another shot against a Baltimore defense that caused him problems earlier in the season
Mayfield is coming off one of the best performances of his NFL career against the Titans in Week 13, but we've seen him crumble multiple times this season against aggressive defenses that can create pressure and confusion on the back end like Baltimore did in Week 1 and Pittsburgh did in Week 6. Here, Mayfield gets another opportunity to silence some of those concerns and prove he has turned a corner.
On the year, his 32.1 passing grade under pressure ranks 31st out of 32 qualifying quarterbacks. If we know anything about Baltimore's defense, it's that they will send the blitz and try to get Mayfield off schedule again in those pressured situations. The Ravens rank first in blitz rate this season (46.8%) and are tied for the league lead in sacks on those blitzes (19). This game will largely come down to how well Mayfield handles that defense the second time around.
Betting
Check back with PFF Greenline later in the week for betting insights into this Week 14 game.
Fantasy
The Browns started the season supporting two running backs who were both must-starts every week. Nick Chubb's injury made Kareem Hunt the every-down back for Cleveland for the middle parts of the season. Now it might be the time to leave Hunt on the bench. Over the last three games, he has run the ball 37 times but only gained 106 yards on those carries. Hunt's involvement in the pass game is steadily declining as the season has gone on. He's scored one touchdown in the last five games after scoring seven times in the first seven games.
Hunt's life will get harder against this Ravens defense. They've allowed the sixth-fewest fantasy points to running backs. They've allowed more in recent weeks, but that has coincided with a number of injuries and Covid-19 cases in their front-seven. The Ravens are much healthier now, so they should be back to their normal run-stuffing ways. Chubb has run the ball at least 18 times in each of the last four games and is playing better on a per-play basis. He should remain in starting lineups.
Mark Andrews should be in store for a career game if he's healthy enough to play. In his first game against the Browns, he caught two touchdowns. Before landing on the Covid-19 list, he was catching more passes and gaining more yards compared to earlier in the season. Nick Boyle's injury allowed him to have even more playing time. If Andrews isn't able to play, then Luke Willson should also have the chance to put up good numbers. The Browns defense has allowed 10 touchdowns to tight ends this season, with plenty of them coming by names that aren't typically fantasy starters. Willson would make for a high-upside play.