• Biggest riser: New Orleans Saints (up eight spots since 2022)
• Biggest faller: Tampa Bay Buccaneers (down seven spots since 2022)
• Patrick Mahomes and the Kansas City Chiefs lead the way: The star quarterback finished behind only Joe Burrow in PFF passing grade last season, while his offense ranked second in both passing grade (90.0) and expected points added (EPA) per play (0.218) in the 2022 regular season.
Estimated reading time: 12 minutes



Week 1 is upon us! On Thursday night, the Detroit Lions will descend on Arrowhead Stadium to take on the Kansas City Chiefs, and the 2023 NFL season will officially be underway.
To kick off the season and a week full of intriguing matchups, here are my rankings heading into Week 1.
Postseason ranking: 1
Projected wins: 11.2
Will Patrick Mahomes continue his hot streak in season openers?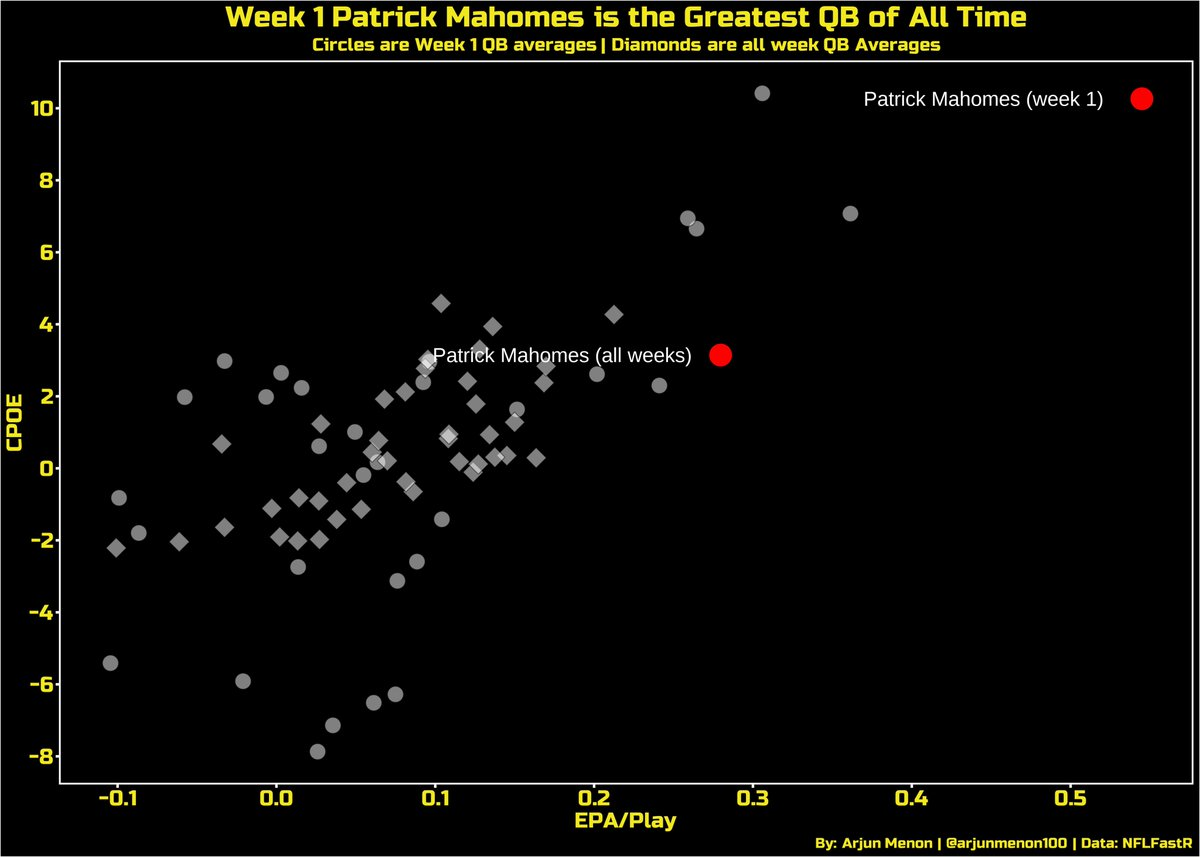 The star quarterback finished behind only Joe Burrow in PFF passing grade last season, while his offense ranked second in both passing grade (90.0) and expected points added (EPA) per play (0.218) in the 2022 regular season.
---
Postseason ranking: 4
Projected wins: 10.4
Joe Burrow had his best year in terms of PFF wins above replacement (PFF WAR) a season ago, with his 5.04 WAR ranking first among his peers. Along with Burrow, the Bengals have one of the best receiving corps in the league.
The Bengals' 80.5 team receiving grade ranked sixth in the league in 2022. Ja'Marr Chase, Tee Higgins and Tyler Boyd are a deadly combination.
The Bengals spent a lot of money on their offensive line before the 2022 season, but the unit did not perform accordingly. Their run-block loss rate (negatively graded run-block snaps) was 76.4%, the fifth-highest in the league. However, the addition of Orlando Brown Jr. will hopefully help shore up the line for 2023.
---
Postseason ranking: 5
Projected wins: 10.3
The Bills will be without Tremaine Edmunds and Von Miller for Week 1, so how will they adjust?
The graphic below shows that the Bills defense was very successful in the red zone last season.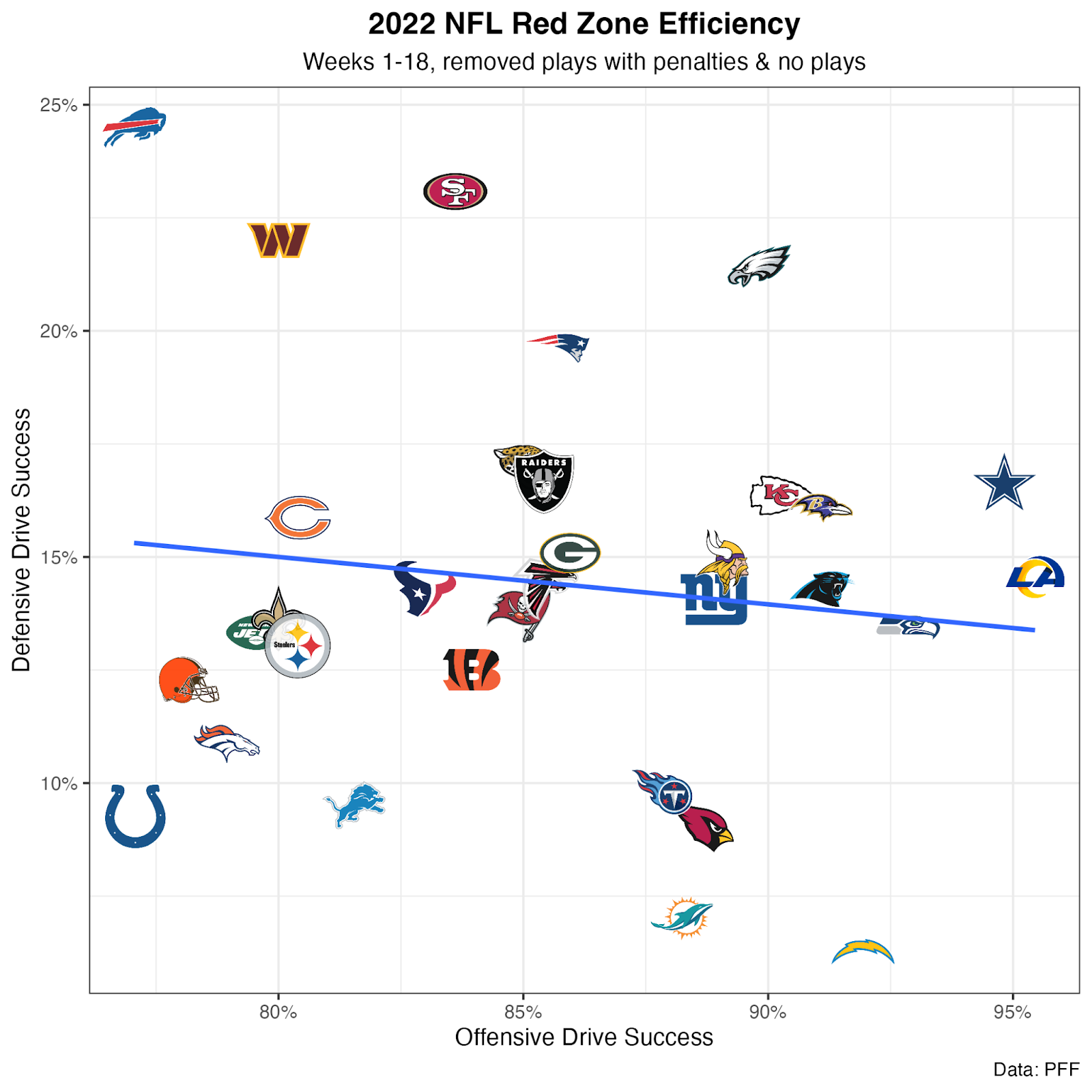 Another big question mark for the Bills is their offensive line. They drafted O'Cyrus Torrence and added Germain Ifedi, Connor McGovern and Ryan Van Demark over the offseason, but starting right tackle Spencer Brown allowed 42 pressures on 551 pass-blocking snaps in 2022, good for a 7.62% pressure rate that ranked 57th out of 63 qualifying tackles. His 53.7 run-blocking grade ranked 54th.
As a unit, this line ranked 28th in team run-blocking grade (50.7) and 21st in team pass-blocking grade (64.1) last season. There's definitely room for improvement.
The addition of tight end Dalton Kincaid to the offense allows them to run 12 personnel more often. A season ago, they ran 12 personnel only 1% of the time, 31st in the NFL. PFF's Sam Monson recently predicted that Kincaid will become the third rookie tight end in NFL history to eclipse 1,000 yards. Kincaid's 2022 receiving grade (91.8) was the best in the nation, and he averaged 2.4 yards per route run.
---
Postseason ranking: 2
Projected wins: 10.6
The Eagles were one of the top teams in explosive drive rate on offense last season. Quarterback Jalen Hurts was one of the best in the league in EPA per pass play (0.096), and wide receiver A.J. Brown had one of the highest deep target rates in the league (19.6%).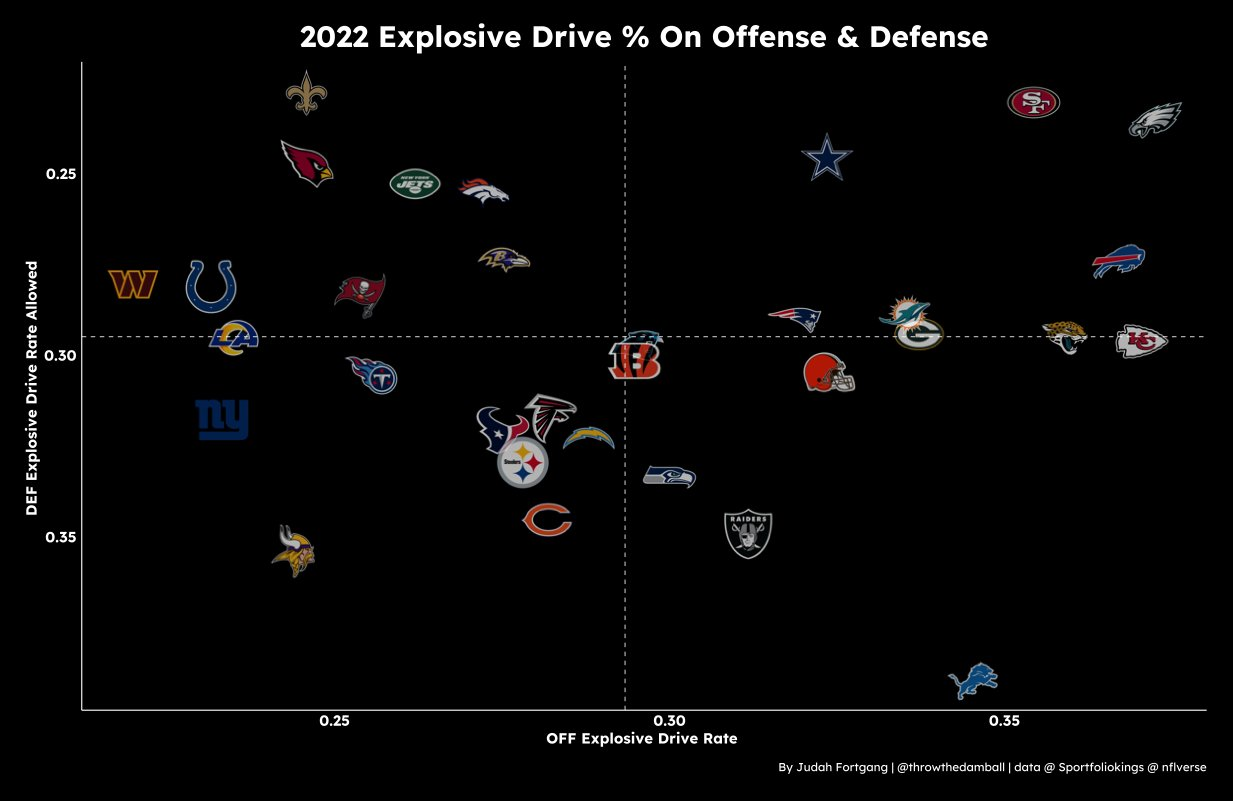 The Eagles have the eighth-hardest schedule in the league this year. However, they led the league in team pass-blocking and pass-rush grades last year, and replicating that performance will make their lives — and their schedule — much easier.
---
Postseason ranking: 3
Projected wins: 10.2
Will QB Brock Purdy continue his success? The 2022 draft's Mr. Irrelevent passed for 8.3 yards per attempt last season in his run as the starter — more than Patrick Mahomes and every quarterback in the league other than Tua Tagovailoa — but he attempted just 233 passes in an offense we know to be a virtual cheat code for production. His 1.09 WAR put him at 25th out of 43 quarterbacks last year.
The 49ers faced the highest rate of perfectly covered plays on offense. They found success despite that, finishing fourth league-wide in team offense grade (82.4).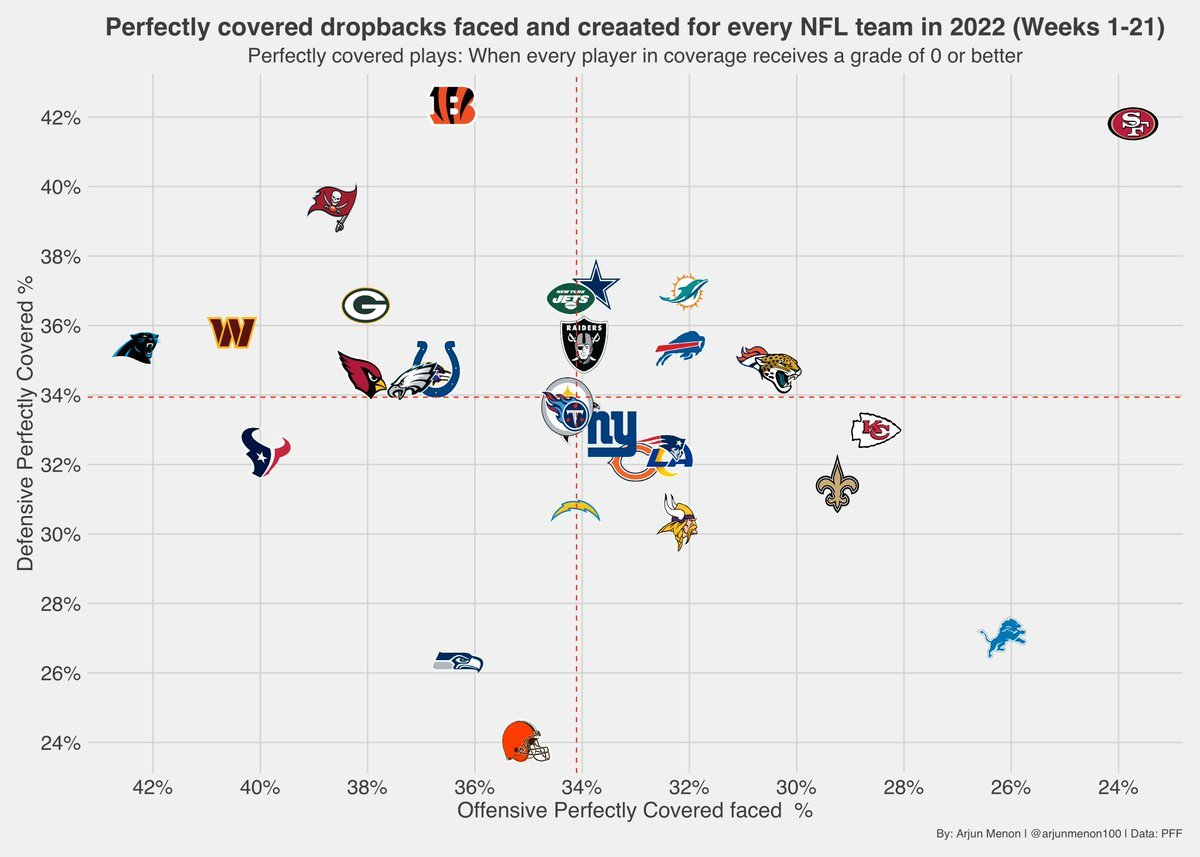 Their biggest concern is their interior defensive line, which struggled all last season, and it came to a head when the Eagles ran all over them in the NFC title game. The 49ers ended 2022 with the third-lowest-graded interior defender unit in the NFL, so they'll need that unit to step up in 2023.
---
Postseason ranking: 7
Projected wins: 9.8
The Cowboys ranked 15th in team offense grade in 2022 (75.2). They struggled, with Dak Prescott leading the league in interceptions with 15.
CeeDee Lamb's 87.0 receiving grade ranked eighth among wide receivers last year, while his 1,544 receiving yards ranked fifth. He was third in explosive pass plays (15-plus yards), which is promising for 2023.
Being in the same division as the Super Bowl runners-up is not easy, but Dallas might have a chance if Dak can stay healthy and his interception luck swings back in his favor.
---
Postseason ranking: 6
Projected wins: 8.9
The Jets overhauled their roster this offseason, bringing in quarterback Aaron Rodgers, wide receiver Allen Lazard and more.
Having the Offensive and Defensive Rookies of the Year makes for a solid roster. Cornerback Sauce Gardner generated the fourth-highest WAR among non-quarterbacks last season (0.67), while Garrett Wilson trailed only Deebo Samuel in broken tackles (22) and gained more than 1,100 receiving yards despite a disastrous quarterback situation featuring three backup-caliber passers trying to get him the football.
A season ago, the Jets earned a 71.4 team receiving grade, 21st in the NFL. Their -0.124 EPA per play was good for just 30th. Will Rodgers make a significant difference? The Jets struggled in the red zone last season, ranking 28th in successful drive rate. The Packers ranked 14th.
---
Postseason ranking: 8
Projected wins: 8.8
The Chargers have one of the hardest schedules in the league and are projected to win 8.8 games. They're in a difficult AFC conference, but Herbert and his receiving corps are a force to be reckoned with.
The Chargers quarterback finished ninth in passing grade in 2022 (76.7) but fell outside the top 20 passers in yards per attempt. He was sixth among quarterbacks in terms of WAR (3.11). If new offensive coordinator Kellen Moore can get Herbert to be more aggressive, this offense could make for entertaining viewing.
The Chargers receivers ranked 12th in receiving grade (76.3) and ninth in EPA per play in 2022. They were only second behind the Chiefs receivers in total yards.
---
Postseason ranking: 11
Projected wins: 8.7
The biggest challenge for the Dolphins this season is keeping Tua Tagovailoa healthy. Wide receiver Tyreek Hill is one of the best receivers in the league and generated the second-most WAR amongst non-quarterbacks last season (0.70).
Tua has shown a penchant for pushing the ball deep down the middle of the field, but there is room for improvement when it comes to his accuracy on these throws.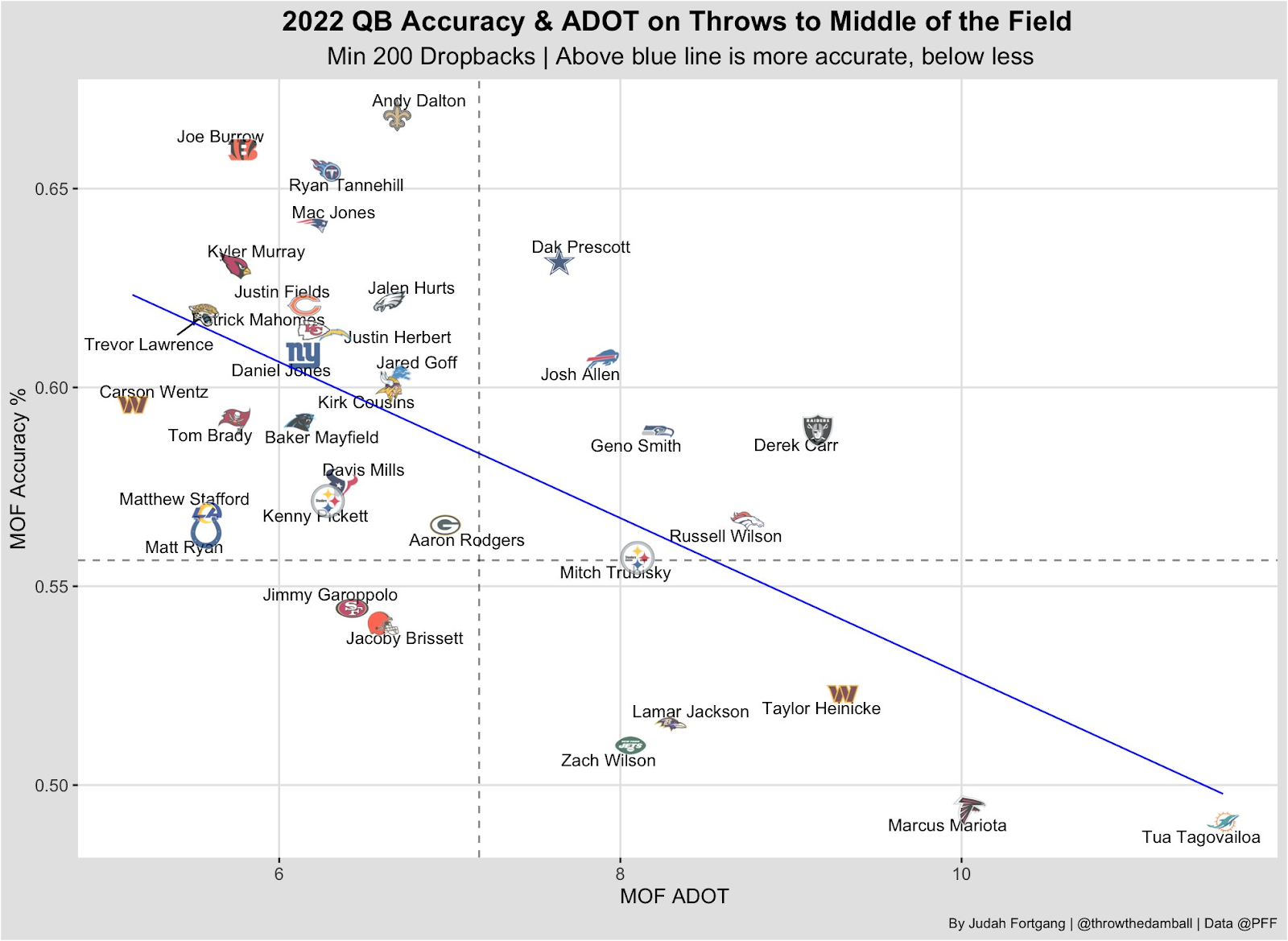 ---
Postseason ranking: 12
Projected wins: 9.0
The Jaguars play in arguably the easiest division in all of football. Their offseason was a mixed bag, as they finally got Calvin Ridley back from his suspension but lost key contributors like Jawaan Taylor and Arden Key to free agency. Their success likely hinges on the offense continuing its success from last year and Trevor Lawrence taking another step forward in his development and becoming more consistent on a throw-for-throw basis.
The defense returns many key pieces, but they are very thin across the board. The edge room is especially concerning unless Travon Walker can live up to his billing as a former first overall pick. Otherwise, there will be a big reliance on Josh Allen to carry the load in that department.
---
Postseason ranking: 9
Projected wins: 9.1
The Browns arguably have one of the best rosters in all of football, with depth across the board in key positions. Deshaun Watson was disappointing last year, but adverse weather conditions and rust could've likely played a part in his struggles. With another year in the system, along with the addition of Elijah Moore to the WR room, he could return to the form he showed in 2020 when he was one of the best quarterbacks in the game.
The defense was another low spot for the Browns last year, as they ranked dead last in broken-coverage rate. Hopefully, the Jim Schwartz hire and improved pass rush can help turn things around.
---
Postseason ranking: 10
Projected wins: 9.6
The Ravens signed Odell Beckham Jr. to a pretty expensive one-year deal and saw Calais Campbell, Marcus Peters and Ben Powers leave in free agency. Rookie pass-catcher Zay Flowers should give Lamar the best WR room he's had since joining the organization in 2018.
The Ravens' defense was elite in 2022, especially after the Roquan Smith trade, as they ranked fifth in EPA allowed per play from Weeks 9 to Week 18. Their pass rush is a little weak on paper, especially on downs where they're rushing four players. However, Smith and Patrick Queen might be one of the best blitzing linebacker duos in the NFL, and Mike McDonald did a tremendous job of manufacturing pressure via blitzes, stunts and simulated pressures last year, which we can expect to continue.
---
Postseason ranking: 14
Projected wins: 8.3
The Vikings have one of the hardest schedules in the league this season.
Cousins generated a career-high 3.61 WAR in 2022, good enough for fourth among quarterbacks. The presence of Justin Jefferson, who generated the most WAR among non-quarterbacks last season (0.71), makes his job easier. One negative was that Cousins threw 13 picks and took 45 sacks, which are clear areas of improvement for this offense in 2023.
---
Postseason ranking: 15
Projected wins: 8.9
The Detroit Lions are favored to win the NFC North for the first time in a while. This offense was one of the best in the league last year, ranking sixth in EPA per play and third in EPA per pass. The offense also ranked second in terms of forcing broken coverage from opposing defenses, and they did all of this without the work of Jameson Williams for most of the year. Even though Williams will be out the first six games of the season, the Lions' great offensive line and playcalling will likely keep them among the league's best offenses this season.
The Lions prioritized the secondary this offseason, turning over one of the league's worst pass defenses from 2022. They signed CB Cameron Sutton, Chauncey Gardner-Johnson and Emmanuel Moseley, and they drafted Brian Branch in the second round of the draft. This should be one of the most improved units from 2022 to 2023, given all the resources they invested from free agency and the draft.
---
Postseason ranking: 16
Projected wins: 8.4
Geno Smith burst onto the scene in 2022, leading the Seahawks to a surprise playoff visit.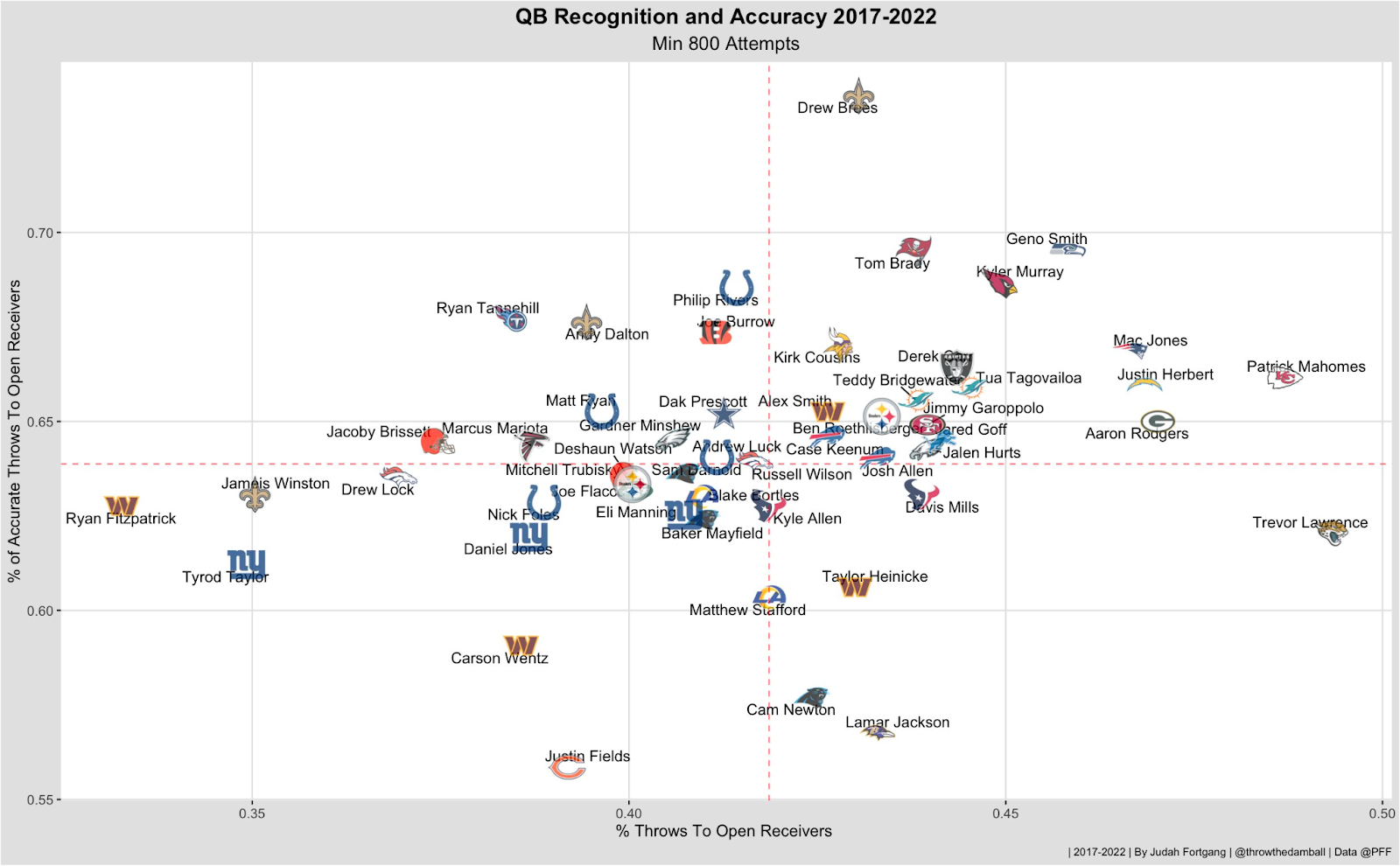 One of Smith's best attributes as a passer has been his ability to find the open receiver and deliver the ball accurately, both of which are very stable metrics year over year. With the addition of first-round pick Jaxon Smith-Njigba and the continued development of second-year offensive tackles Charles Cross and Abraham Lucas, Smith should have plenty of open receivers to throw to and more time to sit in the pocket in 2023.
Bobby Wagner, PFF's highest-graded linebacker a season ago, returns to the defense, adding a veteran presence to a young and talented group. With Tariq Woolen emerging last year and fifth overall pick Devon Witherspoon in the fold, this secondary and defense leaves plenty of room for optimism, though the unit is still young and unproven.
---
Postseason ranking: 13
Projected wins: 7.5
QB Daniel Jones generated a career-best 2.15 WAR in 2022. While his 70.0 passing grade ranked just 20th at the position, he finished 11th in EPA per play on the year.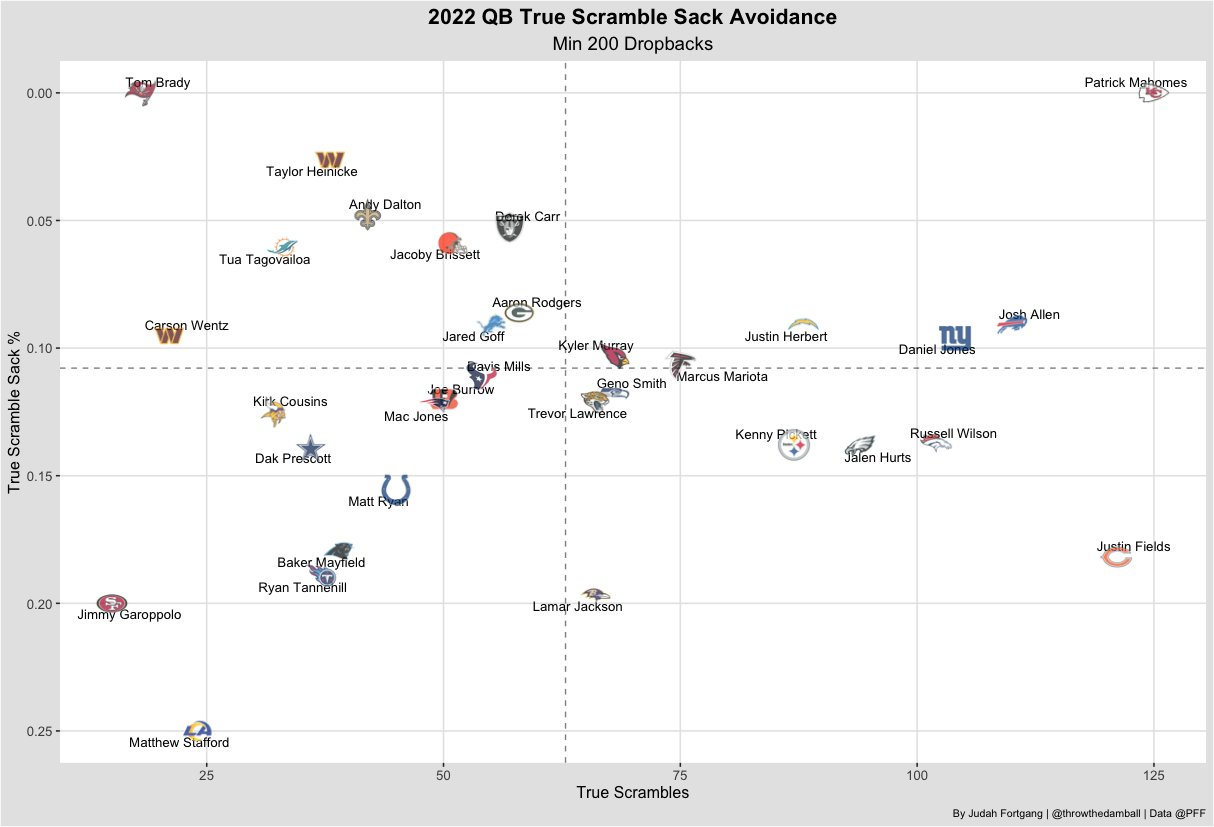 The Giants defense struggled in 2022, ranking 30th in team defense grade. Despite allowing the fifth-lowest open target rate, they allowed 11 yards per reception, and 38.1% of the passes they faced resulted in either a first down or a touchdown.
---
Postseason ranking: 26
Projected wins: 9.3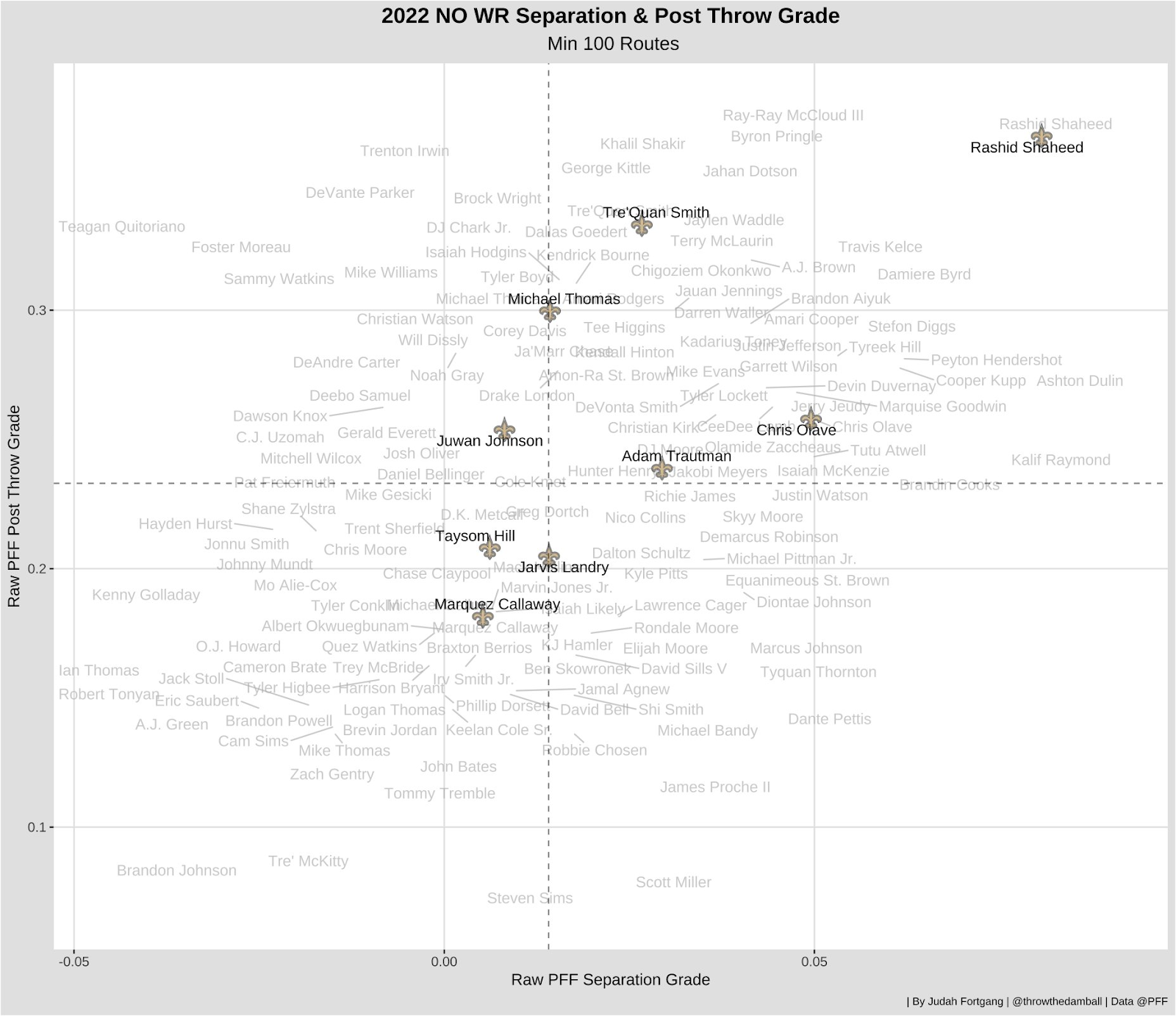 Derek Carr has been a product of his environment, producing when his supporting cast has been good and falling off when it hasn't. The Saints have a sneaky good WR room, with all the pass-catchers projecting as well above average both before and after the catch. The team forced coverage mistakes at the fourth-highest rate in the NFL last season, suggesting Carr will have plenty of open weapons to work with in 2023.
On defense, the team retains much of its talent in Demario Davis, Tyrann Mathieu and Cameron Jordan, who perennially rank in the top percentiles in PFF grade at their respective positions. With those anchors comes some upside, but as each of these players is in his 30s, there are many questions about the fragility of this defense. Will 2023 be that year when the Saints defense finally slows down?
---
Postseason ranking: 17
Projected wins: 8.7
QB Kenny Pickett performed above expectations as a rookie quarterback. He was 15th in WAR at the position (1.82), yet his receiving corps ranked 18th in receiving grade. They also finished dead last in explosive plays and yards after the catch per reception. To improve this season, they need to find ways to make big plays.
With T.J. Watt returning, their defense will be much improved after finishing 19th in team defense grade last year.
---
Postseason ranking: 18
Projected wins: 8.3
The Packers didn't make any big moves this offseason and didn't make any long-term commitment to Jordan Love as the starter. They gave their new quarterback a one-year "extension," but the total value of that deal was less than the fifth-year option would've been had they picked it up last summer.
Green Bay spent three Day 2 picks on skill position players to try to surround Love with as many weapons as possible to hopefully figure out if he's someone the team can rely on to be their franchise QB of the future.
The Packers didn't make any notable additions to their defense outside of drafting Lukas Van Ness in the first round, though he looks to be a long-term project rather than a major impact contributor right away.
---
Postseason ranking: 20
Projected wins: 7.6
The Patriots offense was a mess last year, which led to the organization bringing back Bill O'Brien as offensive coordinator. O'Brien should help Mac Jones get closer to where he was in 2021, utilizing more play action and motion than Matt Patricia did last season.
The Patriots' defense should once again be among the league's best, especially after drafting Christian Gonzalez in the first round, Keion White in the second and Marte Mapu in the third.
---
Postseason ranking: 22
Projected wins: 7.4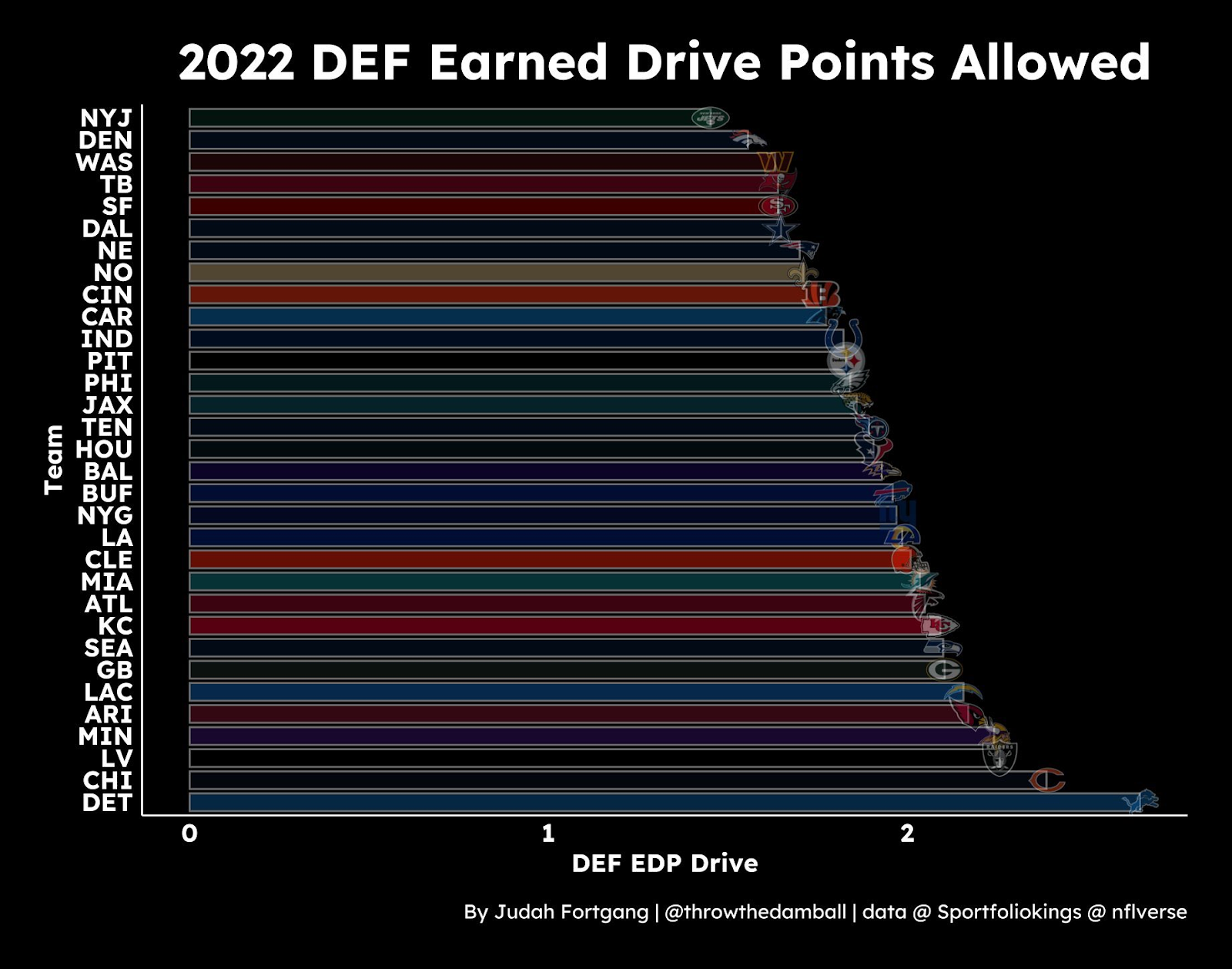 Last season, the Commanders defense was one of the best in the league at stopping opponents from moving the ball. And while defensive regression is always a factor in predicting future defensive output, the depth on the defensive with Jonathan Allen, Montez Sweat, Daron Payne and Chase Young makes regression a little less likely.
The central question for the Commanders is the play of second-year QB Sam Howell. Following a dominant 2020 campaign in which he was the fourth-most valuable college QB according to WAA, many thought Howell was the favorite to be the No. 1 overall pick in the 2021 draft. Should Howell perform at that level, this team could fly up the rankings, though if he plays to his fifth-round pedigree backed by an offensive line that allowed one of the highest pressure rates in the league last year, the ceiling will be capped.
---
Postseason ranking: 23
Projected wins: 8.1
Russell Wilson produced career lows in both PFF grade and WAR last season. Will he improve upon his level of play or continue to decline? The Broncos won't have it easy, being in one of the most competitive divisions in the tougher conference.
This receiving corps ranked 30th in team receiving grade last season. They led the league in deep targets and finished third in receiving yards on deep targets, but they completed only 35% of these passes. The addition of Marvin Mims Jr. may help, as the rookie was an explosive receiver at Oklahoma.
Denver's offensive line also struggled, ranking 27th in offensive grade. However, the additions of Ben Powers and Mike McGlinchey will hopefully improve this.
---
Postseason ranking: 25
Projected wins: 7.5
The Raiders receivers flew under the radar last season, finishing the year 11th in receiving yards and 14th in yards after the catch. But now without Derek Carr, the team will need Jimmy Garoppolo to step up to the plate.
Their defense finished 30th in coverage grade in 2022, allowing the second-most EPA per play in the league. They struggled to cover receivers and allowed 342 open targets. They have very few playmakers on defense — look for rookies to step up this season.
---
Postseason ranking: 19
Projected wins: 7.5
The Bears defense struggled mightily last season, finishing the campaign with a league-worst 47.3 team defense grade. They especially struggled with run defense, as over 64% of their plays were graded negatively.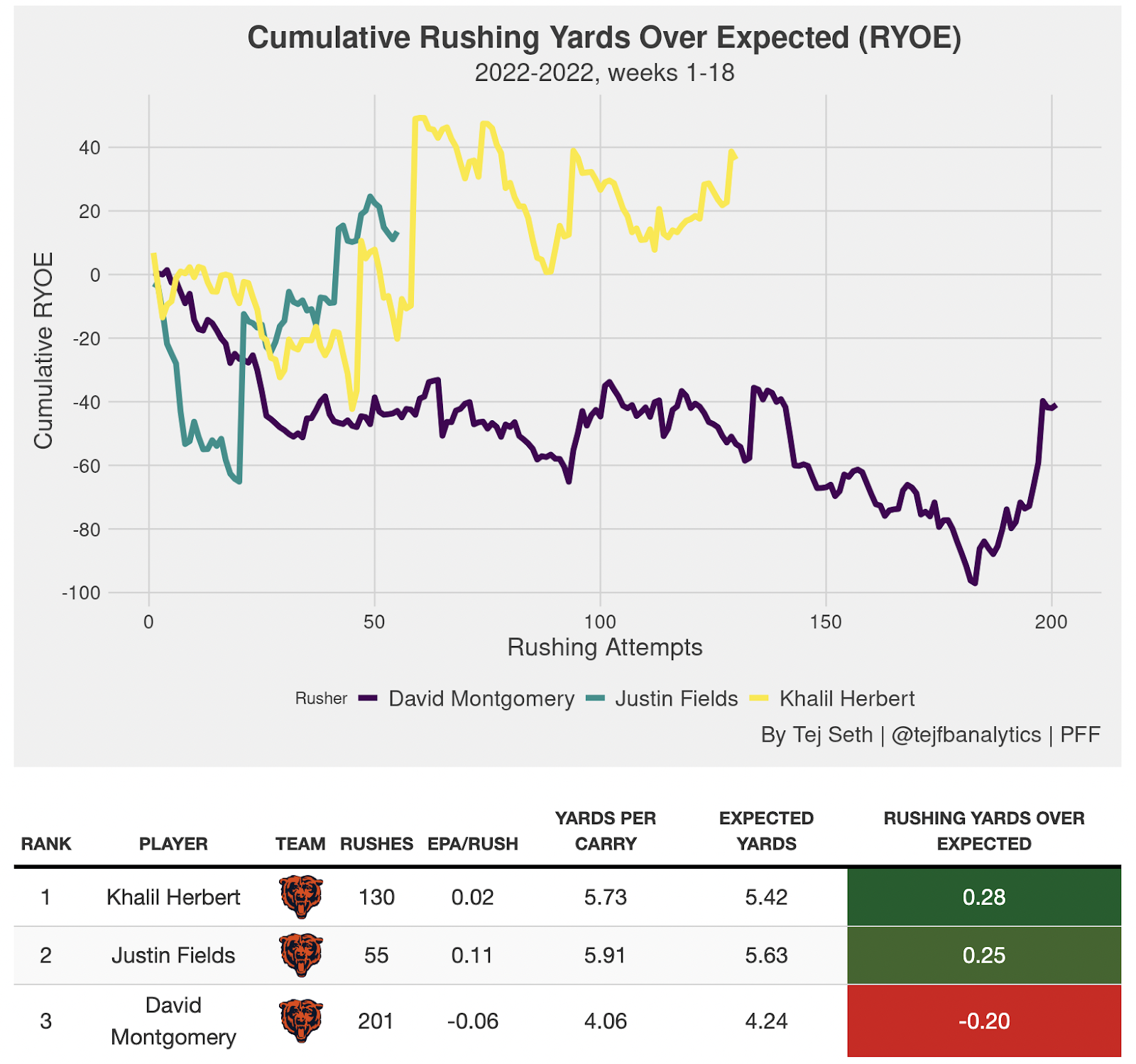 QB Justin Fields is a great scrambler and a cheat code in the running game when he's utilized to his full potential. The Bears led the league in rushing yards in 2022 and will likely look to lean on this rushing attack again in 2023.
---
Postseason ranking: 27
Projected wins: 8.2
The Falcons have the easiest schedule in the league, according to PFF's power rankings. However, they play in one of the easiest divisions in the league and may have a chance, even with a below-average roster.
QB Desmond Ridder finished his rookie season with 708 passing yards, two touchdowns, zero interceptions, a 60.1 passing grade and 64 rushing yards.
---
Postseason ranking: 24
Projected wins: 8.2
The Titans offensive line struggled in pass protection, allowing the highest pressure rate in the league (32.1%) and ranking 22nd in PFF grade. Despite this, veteran quarterback Ryan Tannehill was ranked 18th in passing grade (71.9).
The Titans finished 12th in receiving yards and fourth in receiving yards after contact, but the addition of DeAndre Hopkins will help. Hopkins caught 64 passes for 717 yards and three scores in just nine games with the Cardinals. In an easy division, they should be able to come up with some wins.
---
Postseason ranking: 28
Projected wins: 8.0
With a new coach and quarterback, Carolina has low expectations as it seeks to take a long-term view in retooling the team. Offensively, head coach Frank Reich should bring stability and keep the Panthers from bottoming out, but the team's weapons are questionable — no player on offense earned a PFF grade in the top 35% at their respective position last season.
Jaycee Horn remains a steadying force on defense, and Derrick Brown emerged last season with an 84.4 PFF grade. But with Brian Burns now holding out, the defense might regress from the league-average unit we saw last year.
There are reasons for optimism with Reich and Bryce Young, but 2023 might best be viewed as a development year for the organization.
---
Postseason ranking: 21
Projected wins: 7.5
The Buccaneers struggled on fourth downs last season, opting not to go for it on fourth down way too often.
Baker Mayfield will be their starting quarterback for 2023, and while he has the experience and has shown glimpses of greatness, he is unlikely to take them to a Super Bowl. The team is ranked 14th in strength of schedule.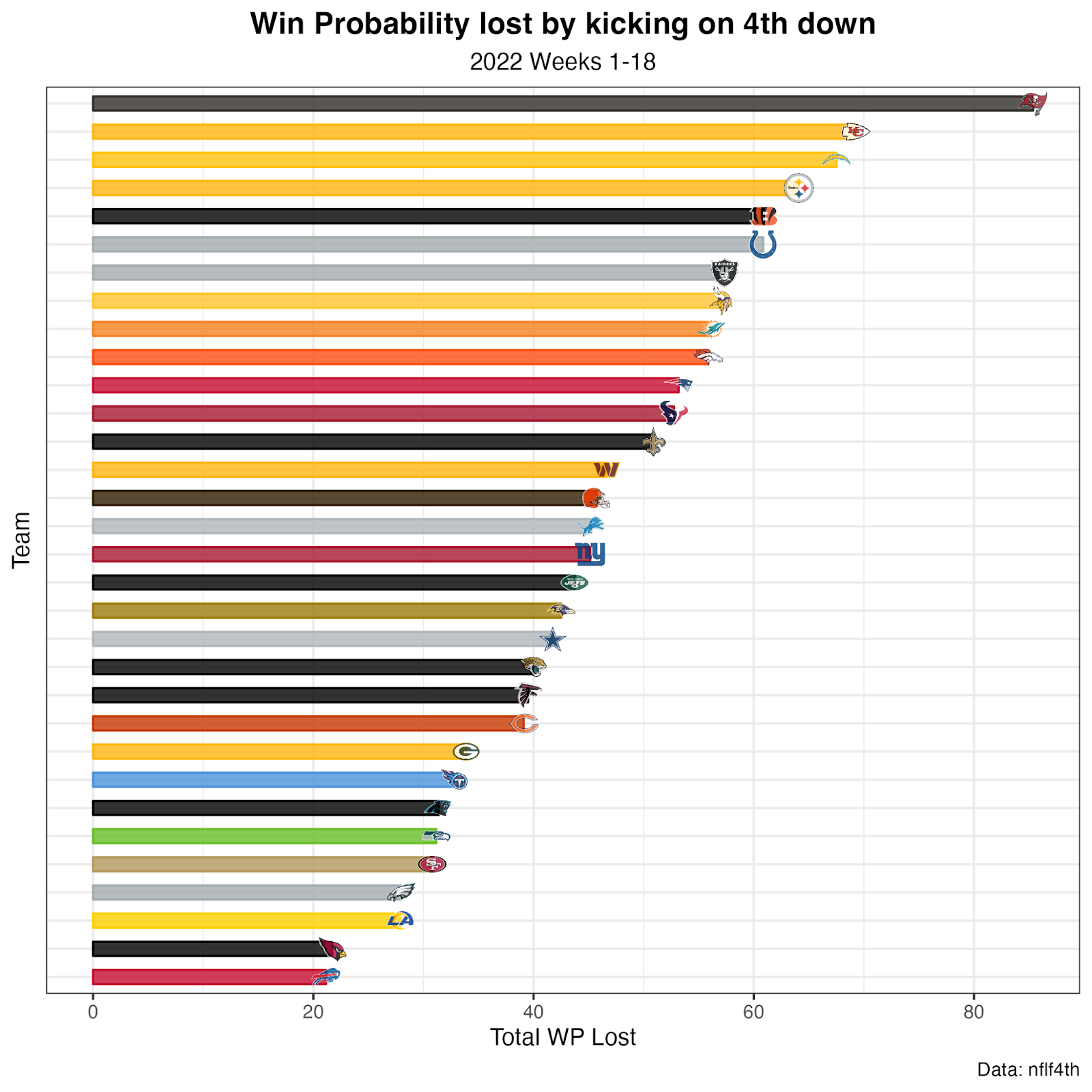 ---
Postseason ranking: 30
Projected wins: 7.2
The Rams are one of the youngest teams in the league. When comparing their Super Bowl roster to the current roster, there are a lot of easily noticeable changes. The two biggest issues with the team lie with their secondary and offensive line.
After trading Jalen Ramsey, it's clear the Rams don't possess the shutdown corner they've been able to trot out for the past four years. A lot of the versatility Ramsey brought via moving inside to the slot and being one of the best run-defending corners in the NFL is now gone and will be extremely difficult to replace.
The Rams offensive line was a mess last year. Matthew Stafford got hurt multiple times before getting shut down for the rest of the season. They drafted Steve Avila with their first pick in this past draft, but that might not be enough to improve the offensive line to where it needs to be.
---
Postseason ranking: 29
Projected wins: 7.7
The Colts have struggled over the past few seasons. They have one of the easiest schedules in the league this season, but they're still expected to win 7.7 games.
As you can see in the graphic below, they struggled to be efficient in both the running and passing game in 2022, performing better than only the Texans and Buccaneers. With Anthony Richardson as their starting quarterback, they're going to need him to produce, especially if Jonathan Taylor does not play.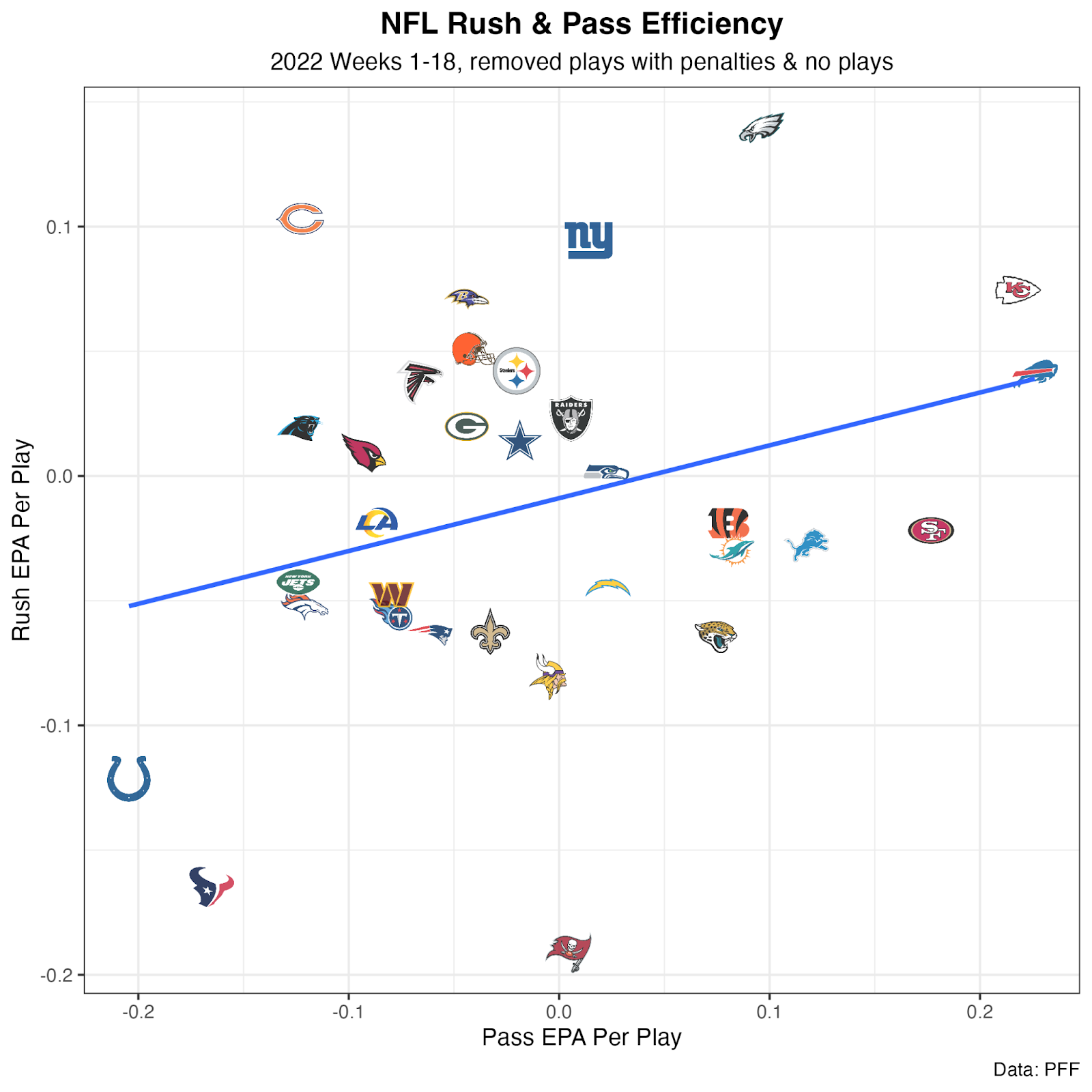 They had the third-lowest-graded offensive line in the league (67.4).
---
Postseason ranking: 31
Projected wins: 6.0
The Texans simply don't have enough weapons to support rookie QB C.J. Stroud. This receiving corps ranked 31st in EPA per play in 2022 (-0.165). The team has since traded away Brandin Cooks, and the additions of Robert Woods, Noah Brown and Tank Dell don't figure to bring the production they need. On top of that, they also had the sixth-lowest-graded offensive line in the league (62.3) in 2022.
The Texans had the second-lowest-graded defense in 2022. For now, 6.0 projected wins seems reasonable.
---
Postseason ranking: 32
Projected wins: 5.1
Despite naming Kyler Murray a captain, he may not play at all this season. Joshua Dobbs is the starter, and he's played only 182 snaps in his NFL career.
This team struggled in most areas in 2022. The defense was ranked 27th in PFF grade (60.8). Arizona has a lot of work to do.