With all of PFF's data pointing to the quality of a particular team's offensive line and run scheme as being more important factors in the running game than pure running back talent, evaluating the situation around a particular player is paramount. It's important to note that this isn't a direct reflection of the running back's talent — that's what our position rankings are for — although that plays a factor when it comes to the share of touches we assume they'll get in the backfield. For example, Tony Pollard went into a great situation to produce when called upon last year with the Dallas Cowboys' offensive line but was not good enough to realistically take touches away from Ezekiel Elliott. This is the ranking of a running backs' ability to not only produce efficiently but also voluminously.
[Editor's note: Subscribe to PFF ELITE today to gain access to PFF's Premium Stats and new Player Grades experience in addition to the 2020 NFL Draft Guide, 2020 Fantasy Rookie Scouting Report, PFF Greenline, all of PFF's premium article content and more.]
When the Colts moved up to select Taylor at pick No. 41, it was a rare occasion for two reasons. He became the first Colts running back drafted before the fourth round in Chris Ballard's tenure as general manager. That and the fact that Ballard traded up to do so for only the third time in his career tells me all I need to know about how many carries Taylor will command in 2020. He also goes to a Colts offensive line that finished last season ranked third in PFF's offensive line rankings and is the only one of the top five to return all five starters. It's hard to be in a much better situation than that.
The biggest thing separating Edwards-Helaire from Taylor is the quality of the offensive line (ranked 16th in 2019), but all the other pieces are in play for him to succeed. While the Chiefs employed a running-back-by-committee backfield last season, I expect Edwards-Helaire's usage to be more similar to that of Kareem Hunt's considering his draft slot. Hunt had 272 attempts and caught 53 balls as a rookie in 2017. That reception total would actually be a downgrade for Edwards-Helaire, who caught 55-of-64 targets for 453 yards at LSU last season.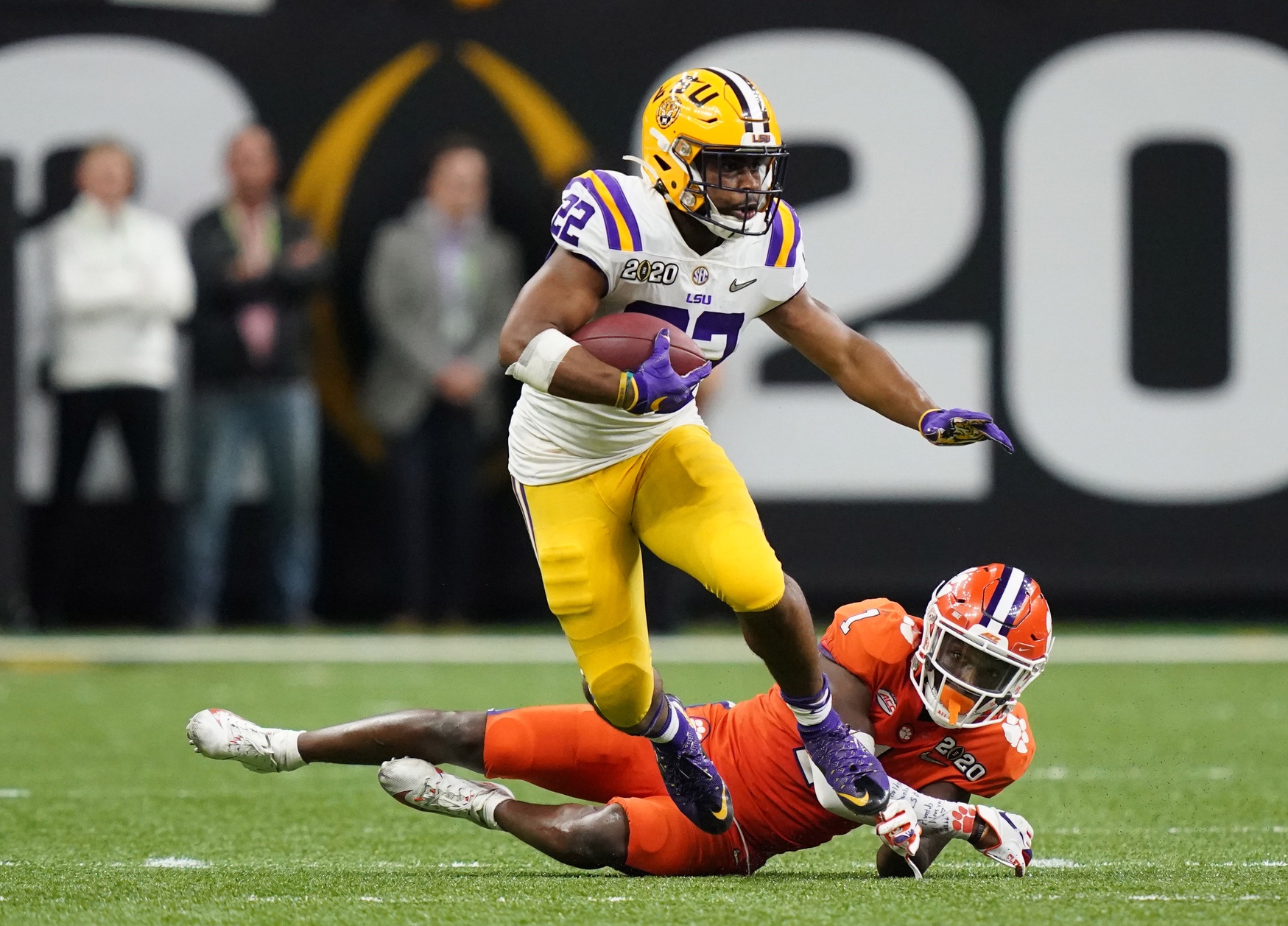 Dobbins would be higher if it weren't for the Ravens' running-back-by-committee approach in recent seasons. But that's not as big a deal when you run as much as the Ravens do. Baltimore's 527 designed runs in 2019 were 66 more than any other team, and even if you filter out those that went to Lamar Jackson, their running backs still ranked sixth with 392 carries. That's a lot of touches to go around. If there are some concerns, it's that defenses have a whole offseason to prepare for their unique scheme and the loss of future Hall of Fame right guard Marshal Yanda.
This isn't about what Vaughn will do in the running game, but rather what he can do as a receiver. Only the Los Angeles Chargers (169 times) targeted running backs more than the New England Patriots last season (155). While Tom Brady is obviously going to a new scheme with Bruce Arians, it's difficult to see the Buccaneers trying to reinvent the wheel at this point in his career. Vaughn looks comfortably like the best back on the Buccaneers' roster to command those targets after hauling in 41 passes for 454 yards with nine broken tackles in his career at Vanderbilt.
From a workload standpoint, there's nothing holding Akers back — there's little talent at the position on the Rams' roster and Sean McVay has obviously been willing to ride the position with Todd Gurley in recent years. The issue is the 31st-ranked offensive line that didn't make a single addition before taking Clemson guard Tremayne Anchrum in the seventh round. It's still going to be bad. If there's any silver lining, it's that Akers is used to that. He ran behind the fourth-lowest graded run-blocking line in the Power-5 last season.
Swift should have no issue taking the bulk of the touches away from 2018 second-rounder Kerryon Johnson, as injuries have zapped his effectiveness. Johnson has suffered knee injuries that forced him to miss extensive time in each of the past two seasons and has recurring shoulder problems, as well. He went from a 77.9 rushing grade in 2018 and 5.4 yards per carry to a 68.2 rushing grade last season and 3.6 yards per carry. The question with Swift will be how good his run blocking is. The Lions were a top-10 run-blocking team in 2019, but they lost one of their best players in Graham Glasgow and will need rookie third-rounder Jonah Jackson to hit the ground running.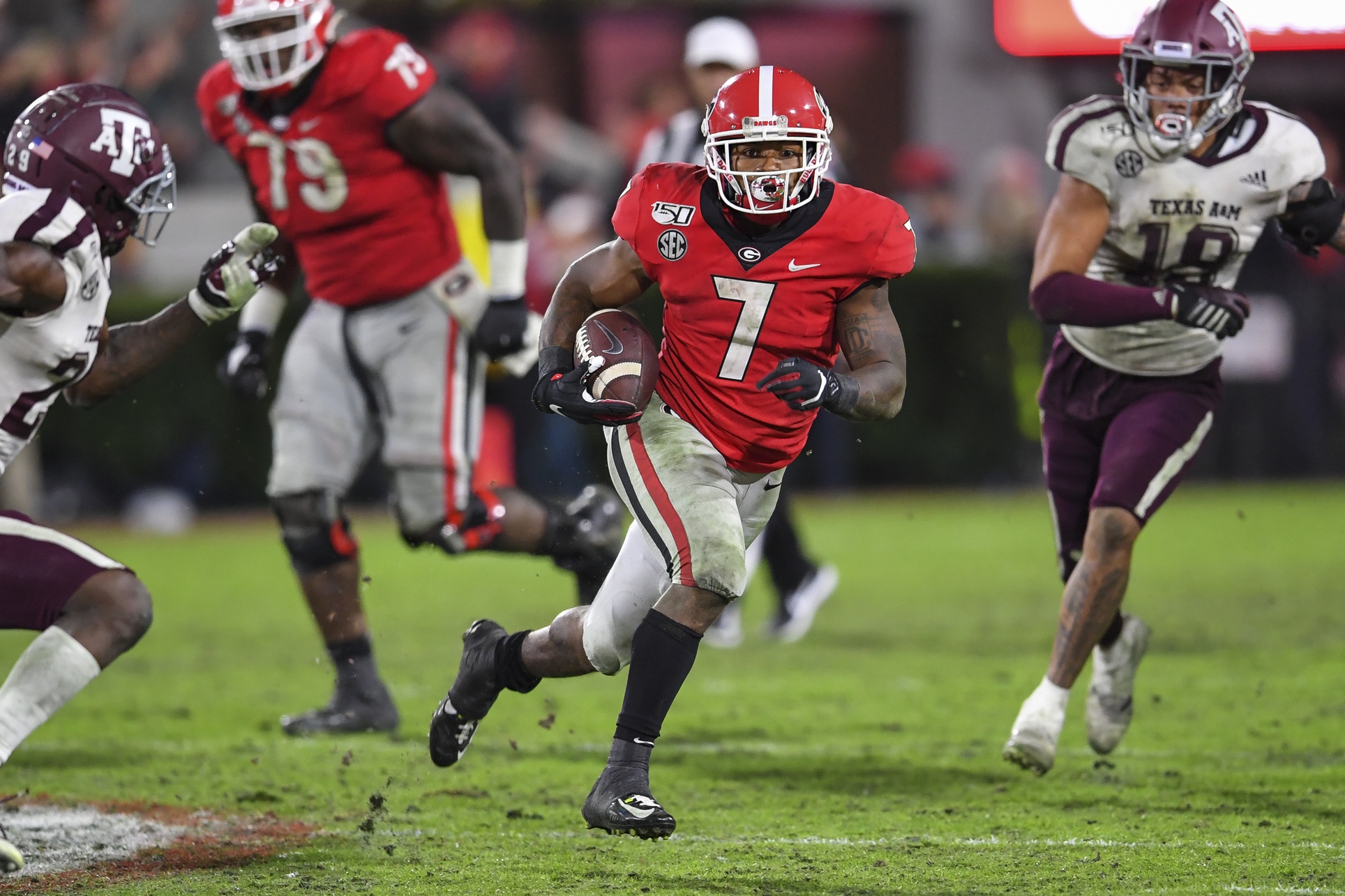 With Devin Singletary's serious ball control issues, it shouldn't be too difficult for Moss to eat into his touches behind an offensive line that returns every starter from 2019. Singletary fumbled four times on only 152 carries and dropped five of his 34 catchable passes as a rookie. Even with a 74.9 rushing grade and 5.1 yards per carry average, that's a quick way to get in a coach's dog house. Moss had eight fumbles on 710 carries in his entire college career (1 on 234 in 2019) and only dropped five of 71 catchable.
McFarland has the benefit of one of the best offensive lines in the NFL — the Steelers finished ninth last year in our rankings and have been perpetually top-10 the past half-decade. The issue will be touches, as the Steelers were the pass-heaviest team in the NFL the last time Ben Roethlisberger was healthy in 2018. Not only that, but backup Jaylen Samuels commanded all of 14 carries when James Conner was healthy.
Kelley offers a distinctly different body type and skillset from starter Austin Ekeler. Even with Melvin Gordon out the first four weeks of last season, Ekeler commanded only 14 carries per game while backup Justin Jackson saw five-plus carries in each of those outings when healthy. The issue here could be simply taking carries away from Jackson, who earned a 78.1 rushing grade on 50 carries in 2018 before an 89.5 rushing grade on 29 carries in an injury-shortened 2019.
Dillon is buried a bit behind Aaron Jones on the depth chart, but it shouldn't take too much for him to unseat Jamaal Williams and his 146 touches last season. Williams' unimpressive 67.9 rushing grade in 2019 was a career-high. Dillon's playstyle means a lot of high-leverage, short-yardage and goalline carries for him in 2020.