With Travis Etienne deciding to return to school for the upcoming college football season, the 2020 running back class suddenly looks fairly thin. After the top five guys are off the board, there are a lot of question marks to be found towards the bottom of the class. And while there may be more top-end talent than what we saw in the 2019 draft, you may not be able to find many viable starters or backups on Day 3, as we've seen in years past.
[Editor's Note: PFF's 2020 NFL Draft Guide is LIVE and available to all EDGE and ELITE subscribers. Download your copy today!]
1. D'Andre Swift, Georgia
Swift doesn't have the elusive numbers that Moss has, but his trump card comes in the form of his receiving ability. He's hauled in 73 passes over his three years at Georgia — with a handful of those coming from an actual wide receiver alignment — and he has only three drops over that span. Swift also has three-down potential at 5-foot-9, 215 pounds, and the fact that he comes from a very pro-style running scheme that has pitted his talents against SEC competition only helps his stock.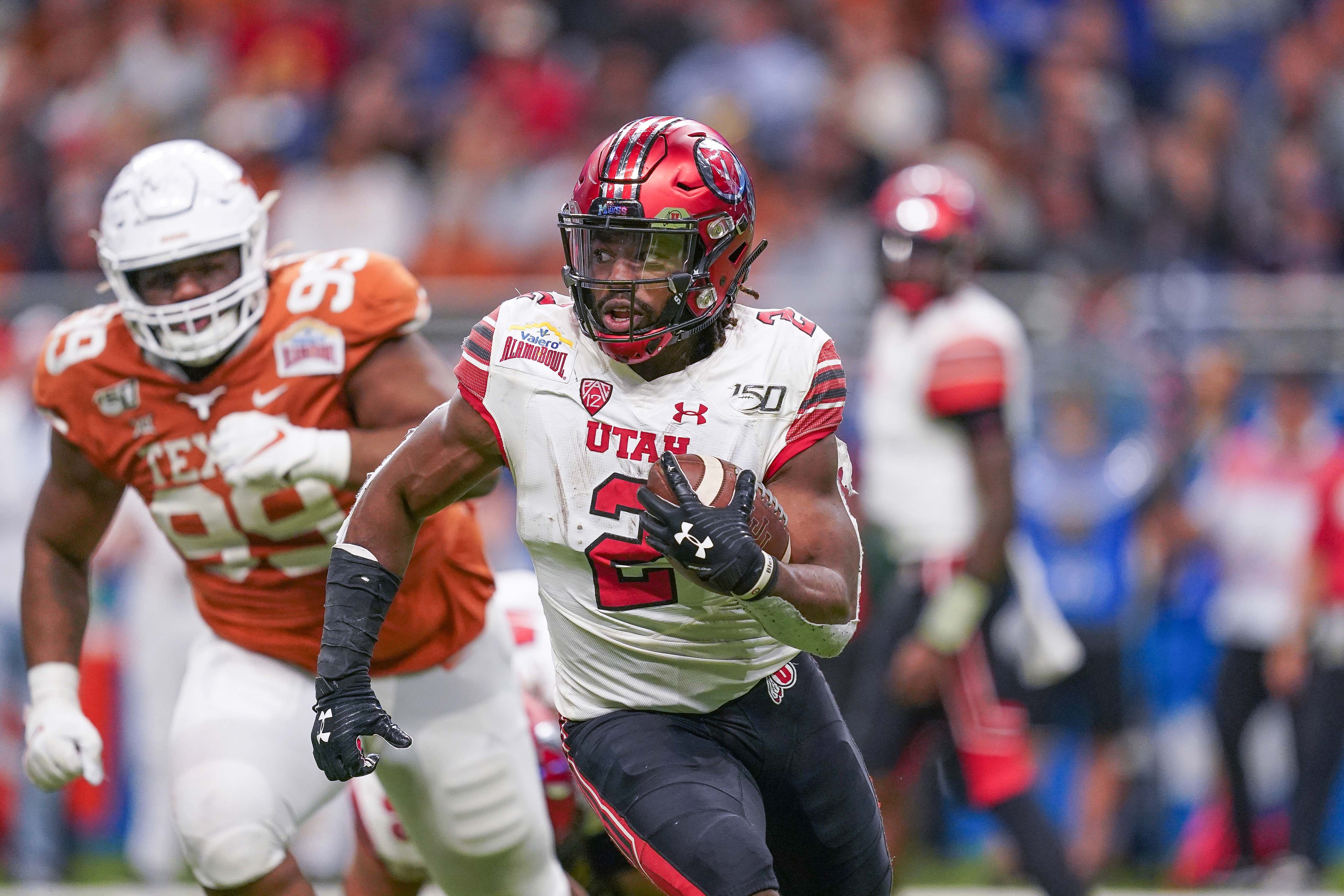 2. Zack Moss, Utah
Moss may not have the same elite measurables as some of the other backs in this class, but he has a trump card we've seen translate again and again to the NFL — the dude breaks tackles. Whether it's as a runner or as a receiver, Moss is a safe bet to be on his feet after first contact. In fact, Moss broke at least four tackles in each of the games in which he carried the ball at least 10 times, even though he played through injury for a portion of the year.
He had the third-highest single-season broken tackle per attempt average of any running back we've charted in our six years of doing college football, and as a receiver, he caught 66 career passes and forced 33 broken tackles after the catch. Those are insane figures that are a safe bet to continue in the NFL. At 5-foot-10 and 222 pounds, Moss has every-down running back potential.
| | | | | | | |
| --- | --- | --- | --- | --- | --- | --- |
| Week | Opposition | Rushing Grade | Att. | Yds. | Yds. After Contact | Missed Tackles Forced |
| 1 | BYU | 79.7 | 29 | 187 | 121 | 16 |
| 2 | Northern Illinois | 74.7 | 18 | 80 | 54 | 10 |
| 3 | Idaho State | 75.1 | 10 | 106 | 110 | 6 |
| 4 | USC | 69.8 | 6 | 20 | 26 | 2 |
| 7 | Oregon State | 90.3 | 5 | 121 | 104 | 3 |
| 8 | Arizona State | 67.0 | 25 | 99 | 100 | 7 |
| 9 | Cal | 78.0 | 17 | 115 | 69 | 5 |
| 10 | Washington | 71.9 | 27 | 100 | 83 | 8 |
| 12 | UCLA | 78.7 | 17 | 127 | 87 | 4 |
| 13 | Arizona | 85.0 | 25 | 199 | 121 | 12 |
| 14 | Colorado | 68.7 | 20 | 88 | 54 | 5 |
| 17 | Oregon | 70.5 | 19 | 113 | 84 | 5 |
| 18 | Texas | 69.6 | 16 | 57 | 29 | 4 |
| SEASON TOTAL | | 91.7 | 234 | 1,412 | 1,042 | 87 |
3. Jonathan Taylor, Wisconsin
Taylor knocks it out of the park from pretty much every production metric. He averaged over 1,300 yards after contact per season over his career to go along with his average of over 70 broken tackles per year. At the same time, though, he was pounded into the dust with 925 carries in only three years. The worry with Taylor is that even after some added emphasis on him in the Wisconsin passing game this year, his hands still looked pretty rough. In total, he dropped eight passes on 50 career catchable targets and had another drop that didn't count on a play nullified by penalty. That sort of unreliability could limit his role at the next level.
4. Clyde Edwards-Helaire, LSU
The single biggest mover at the position with his play in 2019, Edwards-Helaire showed a fairly complete NFL skill set for the Tigers this year. He's short at just 5-foot-8, but he's not small at 209 pounds. All that lack of height does is make his lateral agility a nightmare for opposing linebackers on angle routes. He hauled in 55 of his 64 targets for 453 yards in the LSU passing game this year, with three drops and 14 broken tackles mixed in. He also finished with the second-highest rushing grade of any back in the country at 92.0.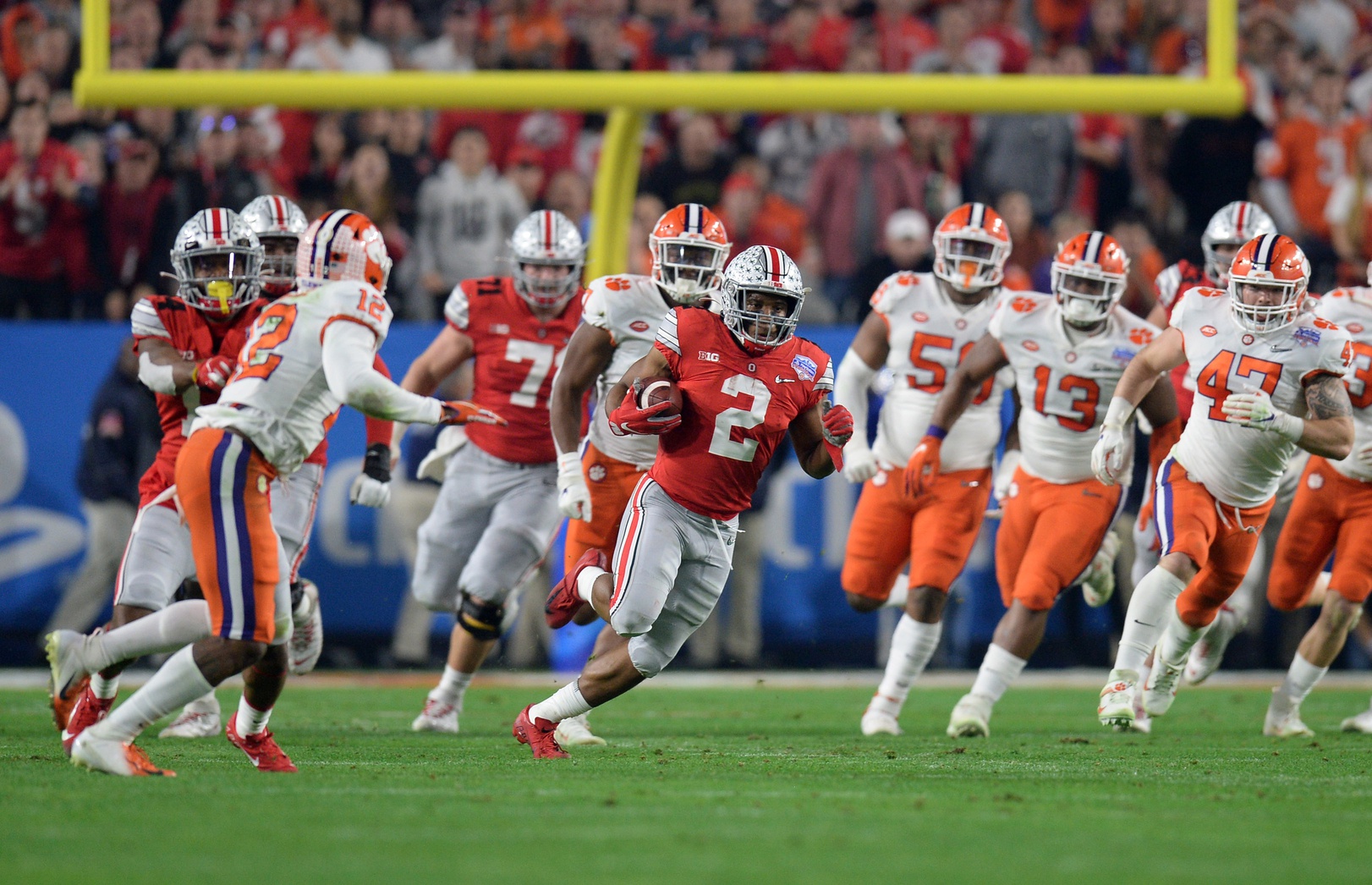 5. J.K. Dobbins, Ohio State
Vision isn't a skill that's widely discussed during the NFL draft. That's understandable considering A.) It can't really be quantified and B.) A lot of people don't know what they're really looking at. The reads and responsibilities for a running back differ from run scheme to run scheme, so there are no hard and fast rules that can be applied to every play. That being said, Dobbins has arguably the best vision in the class. Once upon a time, I wrote up exactly what that means to me. Basically, Dobbins is consistent with his pacing as he approaches the line of scrimmage, and he's decisive with his cuts. Add in what looks to be sub-4.5 speed at 215 pounds, and you have a nice big-play threat at the position.
6. Antonio Gibson, Memphis
Gibson is a unique evaluation, to say the least. While some of the running backs on this list are closing in on 1,000 career touches, Gibson has all of 77 touches in his Memphis career, the vast majority of which came in the second half of 2019. It's difficult to be more productive and elusive on such limited touches than Gibson was, though. He broke 17 tackles on 38 receptions this past season, and he broke 16 tackles on 33 rushes. The power and balance he showed as a runner was special, not to mention the receiving ability he showed. Gibson played the role filled by Tony Pollard last year when he split time between running back and the slot. We saw how well prepared Pollard looked as a pass-catcher in 2019, and I'd expect Gibson to have similar results.
7. Cam Akers, Florida State
Akers has the raw physical tools of a top-tier running back prospect, but he doesn't quite have the production. He's had some legit drop problems too, with five drops on 35 catchable passes this season. The one silver lining for Akers is that he played behind a pretty rough offensive line at Florida State, where he had to pick up 3.9 of his 4.9 yards per carry after contact this season. Akers didn't do his offensive line many favors though, as he showed some questionable vision when asked to find holes.
8. Lynn Bowden Jr., Kentucky
While Bowden never technically played running back at Kentucky, we included him here because that's where his skillset best fits in and…well…it's our list. He broke tackles at a higher rate than fellow SEC-er D'Andre Swift last season even when you limit it to only designed runs (48 broken on 163 designed runs for 1,350 yards). While that's still not apples to apples as quarterback designed runs tend to provide more space to work, it's indicative of the type of elusiveness we're working with here. In his time at quarterback for the Wildcats, Bowden showed off a willingness to run between the tackles. Add in his receiving ability from his time manning the slot and you have yourself a nice little offensive weapon.
9. Ke'Shawn Vaughn, Vanderbilt
Vaughn didn't do himself any favors at the Senior Bowl weigh-in when he checked in at only 205 pounds after Vanderbilt listed him at 218. He's definitely on the smaller side for running backs, but his running style will very much translate to the NFL. Vaughn is very decisive and cranks it up to full speed when he sees a hole, and that is what led to him averaging 3.7 and 5.3 yards after contact per attempt in 2018 and 2019, respectively, despite the less-than-stellar offensive line play in front of him at Vanderbilt.
10. J.J. Taylor, Arizona
You can't watch Taylor without rooting for this guy to succeed at the next level. He's only 5-foot-5, 185 pounds, but he runs completely unaware of that fact. Behind a rough offensive line at Arizona, he was still able to produce and broke 38 tackles on 147 attempts last season. Where he really offers value in the NFL, though, is as a receiver. He caught 63 passes for 486 yards with 19 broken tackles and only three drops in his career for Arizona. Taylor is extremely difficult to pin down in space, and his bouncy route-running should translate well to the NFL.