It's been a long offseason, but we've made it, folks. NFL football returns this week, and things kick off with a bang — a matchup that features two of the league's best young quarterbacks. Even in the worst of the Week 1 games, there are still players to monitor. These are a few to keep your eye on in each of the 16 openers.
Watson and Mahomes will always be linked after coming into the league together in the 2017 NFL Draft, and the fact that they're both among the best in the NFL at creating for their offenses outside of structure only strengthens that connection. Over the past two seasons, both rank among the top five quarterbacks in the league in yards per attempt under pressure, but Watson has taken over 50 more sacks than Mahomes in that same time frame. This game will come down to not only which quarterback is able to produce more big plays, but also which quarterback does a better job of limiting the negative plays — the biggest thing that has separated Mahomes and Watson to this point in their careers. 
Injuries have created a perception that Watt is no longer an elite player. Based on what we saw early last season, that couldn't be further from the truth. At the time he went down with injury in Week 9, Watt was leading the NFL with 52 pressures, and his 25.7% pass-rush win rate trailed only Myles Garrett among defenders with 100 or more pass-rushing snaps. The Texans' defense will rely on him to be dominant as a pass-rusher, and there's no reason to believe he won't fulfill those expectations. An opening test against Mitchell Schwartz — PFF's top tackle heading into 2020 — is one of the better stages for him to show it. 
Thornhill got off to a strong start in his rookie campaign at free safety before a Week 17 injury knocked him out for the Chiefs' postseason run. His 78.0 coverage grade ranked 15th among 83 qualifying safeties, and the Chiefs' deep coverage as a whole was impressive. Their 24.7% completion rate allowed on passes thrown 20 or more yards downfield was the second-lowest mark in the NFL. You have to imagine that Watson and all of Houston's speed at wide receiver (Brandin Cooks, Will Fuller and Kenny Stills) will test Thornhill and the Chiefs' secondary deep early and often in this one.
These two went toe to toe last season, and the result was must-see TV. I don't imagine anything will be different now that they're facing off twice each year in the NFC East. McLaurin's rookie season exceeded all expectations. He finished with an 86.5 receiving grade that ranked behind only Odell Beckham Jr.'s debut in 2014 (91.2) among qualifying rookie wide receivers in the past decade.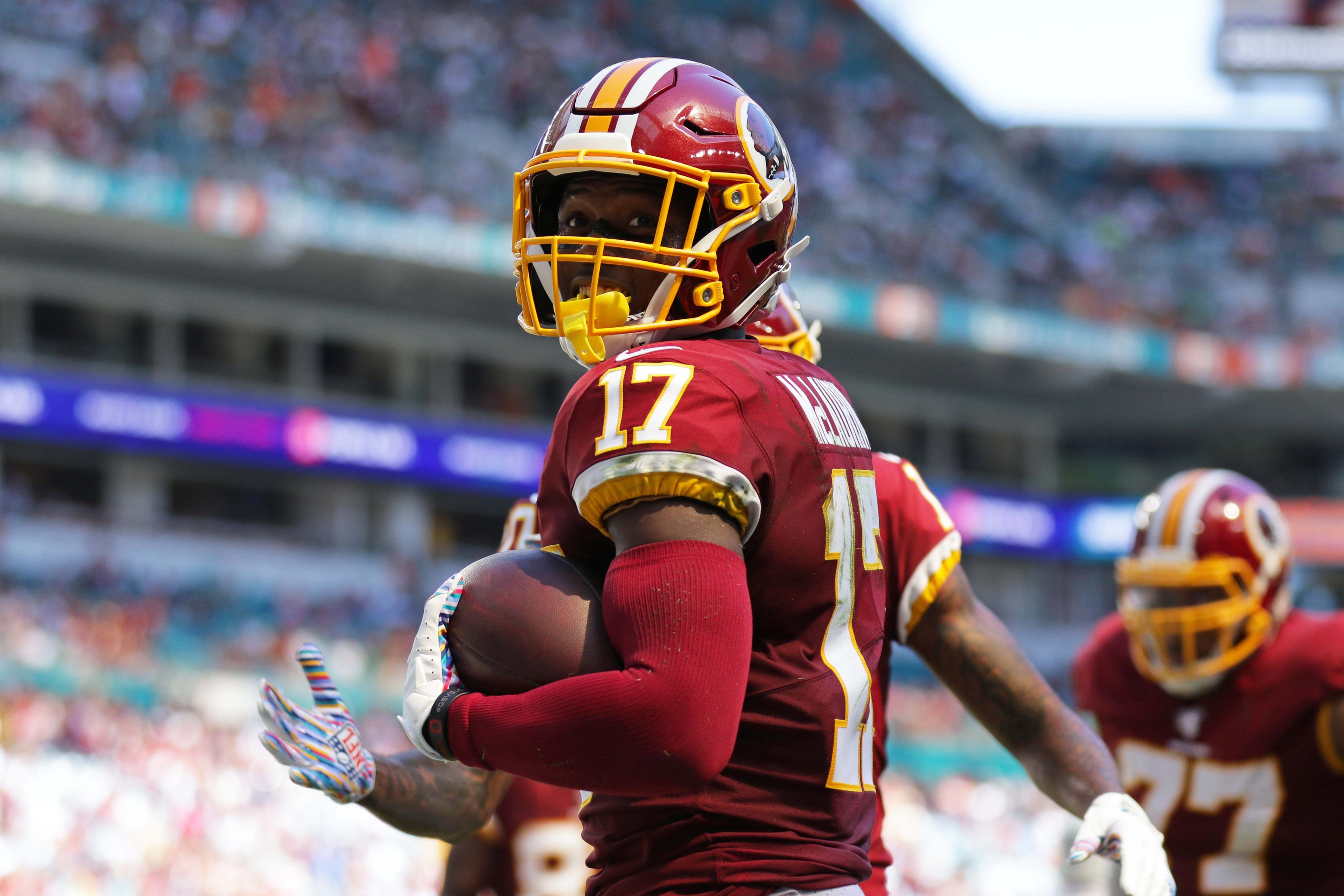 Slay, meanwhile, has earned his reputation as the lockdown, man-coverage cornerback who will shadow the opposing team's top receiver week in and week out while with the Lions. McLaurin is clearly that guy for Washington, and you have to expect Slay will see a heavy dose of him in his first game as an Eagle. His 48 forced incompletions in man coverage since 2015 trail only Stephon Gilmore. 
The Eagles' desire and need to add speed to their wide receiving corps this offseason wasn't a secret. They drafted Jalen Reagor to help fill that void, but he'll miss the opener with an injury. Luckily for Philadelphia, Jackson is back and healthy to begin the season against a Washington defense that he torched in the opener last season for 154 receiving yards and two touchdowns. Altogether, 104 of those receiving yards and both touchdowns came on two deep receptions, and if you look at the Eagles' offense as a whole in 2019, those 104 receiving yards on passes 20 or more yards downfield were just 61 yards shy of the team lead (Miles Sanders, 165). He'll have the opportunity to show that he can still stretch the defense with the best of them in Week 1.
There are few superlatives that don't apply to how dominant Young was at the college level. We've seen highly drafted rookie edge defenders like Nick Bosa, Myles Garrett and Joey Bosa dominate early in their NFL careers, and Young graded better than all of them in college this past season with a 96.0 mark. He joins a Washington defensive line loaded with four former first-round picks — Ryan Kerrigan, Jonathan Allen, Daron Payne and Montez Sweat — and it shouldn't take him long to show that he's the class of that group in 2020. Lane Johnson will pose one of the tougher potential matchups that Young will see this season. 
No player had more success against Gilmore last season than Parker in Week 17 when he caught seven passes for 119 yards on the reigning Defensive Player of the Year. It capped off a late-year resurgence for Parker, as he finished second among all players in receiving yards from Week 10 through the end of the season, trailing only Michael Thomas. Miami has been waiting on that type of play from the former first-round pick, and the team will need it to continue after seeing several members of its receiving corps opt out of the 2020 NFL season. Repeating that kind of performance against Gilmore — the best cornerback in the league — is easier said than done, however. 
Newton provides a vastly different profile stylistically to the player he is replacing — Tom Brady. Newton has been one of the least accurate quarterbacks in the NFL over the past several seasons while recording one of the longest average time to throw marks. The opposite can be said for Brady. Then, of course, you get to the unique rushing ability Newton brings to the table — his 376 non-quarterback sneak designed runs since 2011 lead the way at the position. Health will be the key for Newton in 2020. The last time we saw him healthy, he was off to a solid start to the 2018 season before a shoulder injury derailed any momentum. 
New faces on Dolphins' offensive line
It's clear that the Dolphins made the offensive line a priority this offseason, signing two prospective starters in Ereck Flowers and Ted Karras while drafting two prospective starters in Austin Jackson and Robert Hunt early in the 2020 NFL Draft. However, this was easily the worst offensive line in the NFL in 2019, and it still projects as our worst offensive line in the NFL heading into the 2020 season. Four new starters — none of whom are established, multi-year quality starters in the NFL — is generally not a recipe for early success along the offensive line. Yes, there is more talent, but the group is also going to need time, and Bill Belichick's defense isn't going to make things easy for it in Week 1. 
Davante Adams vs. Young Vikings' cornerbacks
There are few, if any, route-runners in the NFL who are better than Adams. He consistently ranks as one of the better wide receivers in the NFL at creating separation, and he makes use of that in the red zone, where he has profiled as the league's best receiver over the past several seasons. That all goes to say it will be trial by fire for Minnesota's new young starters at the cornerback position. Adams will cycle through matchups against Holton Hill, Mike Hughes, Cameron Dantzler and potentially Jeff Gladney — four players who have just over 1,000 career defensive snaps between them in the NFL. It could be a big day for Aaron Rodgers' top target. 
Ngakoue finally got his wish with the trade out of Jacksonville, and he now receives a fresh start in Minnesota opposite Danielle Hunter along the Vikings' defensive line. He brings a clear pass-rush upgrade to Minnesota's defense over the other options it had on the roster to replace Everson Griffen's production.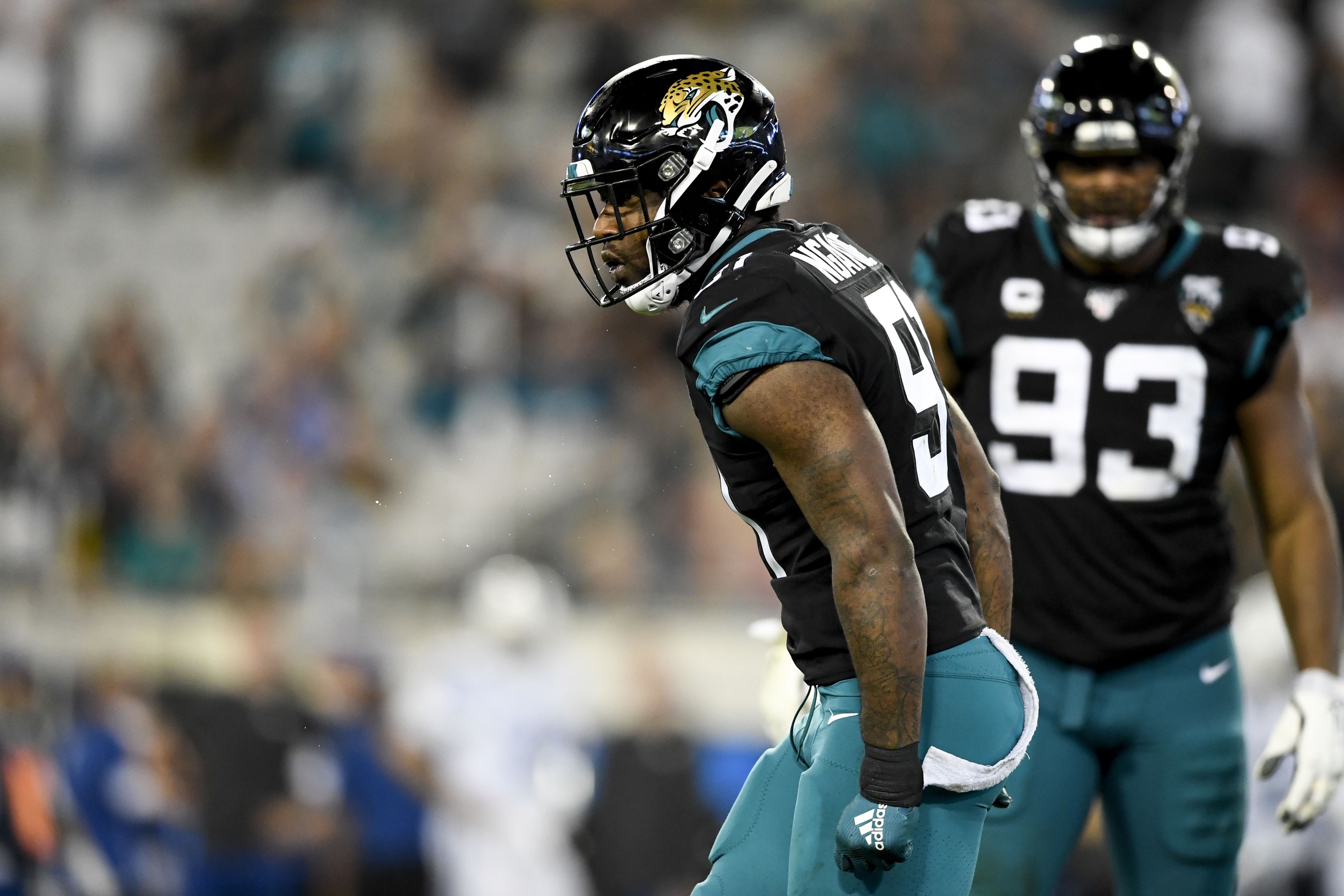 Over the past three seasons, Ngakoue's 88.6 pass-rushing grade ranks 11th out of 95 edge defenders with 500 or more pass-rushing snaps, but he's really had only one truly dominant season in his NFL career (2017). Still, he and Hunter will pose a problem for Green Bay, particularly at the right tackle position, where the Packers are facing some uncertainty. 
Without any significant additions to its receiving corps this offseason, Green Bay will rely on Lazard to step up and be a legitimate No. 2 option for Rodgers behind Adams. He did offer some things to build on last season with a 69.5 PFF grade and clear rapport with Rodgers. One of the more promising developments were the results he put up against single coverage. Lazard earned an 86.7 receiving grade with a 141.3 passer rating when targeted against single coverage in 2019, and it appears he'll be given every opportunity to show that the Packers were right to trust in what they already had on the roster at the wide receiver position. 
Hicks isn't the first big name that comes to mind among those returning from injury this season, but his return is big for Chicago. His last fully healthy season in 2018 was the best of his career — a year in which Hicks earned a 91.7 PFF grade that ranked fourth among qualifying interior defenders. He has spent most of his time in recent seasons lined up over the right guard, and that means he should see plenty of snaps against the Lions' third-round selection. Jackson had the best pass sets of any interior offensive lineman in the draft class, per the 2020 PFF Draft Guide, and showed a strong grading profile across seasons at both left and right guard for the Buckeyes. He won't have things easy out of the gate against Chicago, though.
The Lions have built some steam as a sleeper in the NFC North, and a lot of that comes down to what their offense looked like last season before Stafford went down with injury. He was pushing the ball downfield with an average depth of target of 11.4 yards (highest in the NFL), and it was working. The Lions fielded the fifth-most efficient passing offense in the league through the first nine weeks of the season by expected points added per play. With Kenny Golladay, Marvin Jones and Danny Amendola all returning to go along with another year of development for a healthy T.J. Hockenson, Stafford has the weapons to pick up where he left off. The biggest question for the Lions' 2020 season is whether he will. 
There was an expectation that Quinn would be able to parlay his best season in several years with the Cowboys in 2019 into a nice deal, but the five-year, $70 million contract he ended up signing at 30 years old outpaced those presumptions. Quinn turned in one of the best seasons that we've seen at PFF in 2013 when he picked up a 93.6 overall grade and 91 quarterback pressures, but he's never been able to repeat that dominance. His 57 pressures this past year were the most he has recorded in a single season since that 2013 campaign, though, and he joins a talented pass rush with Hicks and Khalil Mack both in the starting lineup. There's a decent chance he posts solid production with that group. 
You want speed? You get exactly that with this matchup. Jackson is now the Panthers' top option at cornerback after the Giants signed James Bradberry in free agency, and he also happens to be one of the fastest players in the league — running a 4.32-second 40-yard dash at the 2018 NFL combine and finishing second in the 40 Yards of Gold Tournament to Marquise Goodwin. That speed didn't prevent Jackson from giving up the big play in 2019, however, as he allowed 16.9 yards per reception (fifth-highest mark among cornerbacks with 30-plus receptions allowed).
Ruggs is certainly a threat to capitalize on those big-play opportunities. He clocked in with 4.27 speed at the 2020 NFL combine and averaged at least 15 yards per reception in each of the past three seasons with Alabama. It will be interesting to see whether he entices Derek Carr to push the ball downfield more than he has in years past.
Anderson's addition makes the receiving corps one of the strengths on this Panthers' roster. He may not be the clear No. 1 option on this team like he was of late in New York, but he does give them one of the better deep-ball threats in the NFL.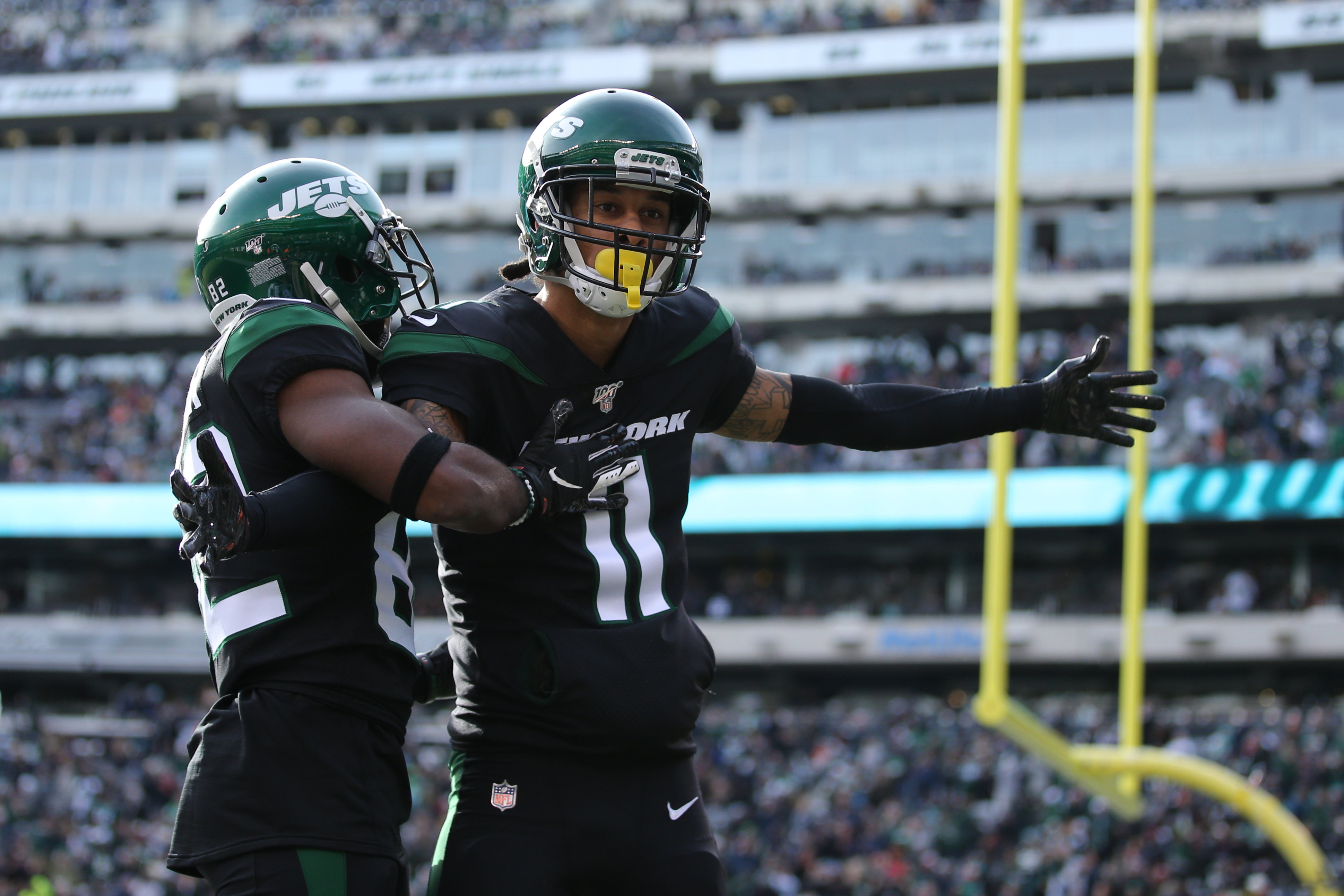 Since entering the league in 2016, Anderson has seen fewer targets thrown 20-plus yards downfield than only Julio Jones, Mike Evans and Antonio Brown. However, just 41% of those deep targets were charted as catchable — fewer than any of the five receivers with 100 or more such targets over that time frame. Teddy Bridgewater isn't exactly known as a gunslinger, so it will be interesting to see how he meshes with guys like Anderson and Curtis Samuel who have the kind of speed that you want to attack defenses with deep. 
The Raiders selecting Ferrell fourth overall in the 2019 NFL Draft was a surprise, and he didn't do all that much this past season to justify that high pick. On the season, his 62.3 PFF grade ranked 75th among 103 qualifying edge defenders, but there were some promising results later in the season that provide some optimism for a potential jump in his second season. From Week 12 through the end of the season, Ferrell's overall grade jumped to 82.4, which ranked eighth at the position and was buoyed by an 83.0 grade in run defense. Las Vegas will need that to carry over and see more out of Ferrell as a pass-rusher in 2020. 
After the 2020 NFL Draft, the consensus line of thinking seemed to be that Moss would be a clear complementary piece to Singletary's lead role. But as the offseason has progressed, Singletary's claim to his lead back job appears to have become more and more tenuous. The Athletic's Joe Buscaglia recently speculated that Moss could take over as the lead back if Singletary's ball security doesn't improve, and Moss is already the favorite for goal-line touches.
I wrote prior to the draft that Moss' 40-yard dash time isn't what you should be looking at. Rather, his elusiveness while at Utah is the key — it's a facet of play we've seen translate from college to the NFL. It will be interesting to see how the snap breakdown looks against what was one of the better run defenses in the NFL in 2019. 
While both John Brown and Cole Beasley played well for the Bills this past season, they each profile better as complementary pieces in the passing game. That's exactly what they are now after Buffalo acquired Stefon Diggs in a trade with Minnesota this offseason. Diggs is a clear-cut No. 1 option at wide receiver who can create separation at all levels of the field with his route running. 
The thing to watch early in the 2020 season is how well he connects with Allen deep. Despite one of the strongest arms in the NFL, Allen has been one of the least effective deep-ball passers in the NFL over the past several seasons. He threw an uncatchable ball on 65% of his 20-plus yard passes in 2019 — the worst rate in the league among qualifiers. Perhaps, the NFL's leader in receiving yards on passes 20-plus yards downfield last season (Diggs – 635) can help loosen things up for Allen and Buffalo. 
The Jets had a decision to make in the first round of the 2020 NFL Draft — get Sam Darnold a left tackle or get him a legitimate No. 1 option in the passing game in one of the more impressive receiver draft classes in recent memory. The Jets opted for the former option, selecting Becton and his rare combination of size and athleticism.
Clearly, he has all the tools needed to succeed, and he did earn an 83.0 PFF grade at Louisville this past season. However, we had more reservations about him as an early first-round pick here at PFF than most people because  Louisville's offense didn't provide a ton of opportunities to show what he could do in traditional or true pass sets with how many rollouts, play action, etc. they ran. Holding up in pass protection and giving Darnold more clean pockets to work from will be the biggest thing the Jets need to see from him in his rookie season.
Given his physical tools and what he showed as a pass rusher in his final season at Kentucky, Allen should only continue to improve on what was a solid start to his NFL career in 2019 — a year in which he posted double-digit sacks. Castonzo is one of the tougher pass-blocking assignments he'll see next season when he lines up over left tackle. In each of the past six seasons, Castonzo has recorded a PFF pass-blocking grade of 77.0 or higher. Last season, Allen matched up with Castonzo 11 times on pass-rushing snaps and was able to pick up just one hurry on the year. 
The past few seasons have been an unceremonious fall for a player who many considered one of the best cornerbacks in the NFL. The interceptions and pass breakups haven't been there for Rhodes, and he has been beaten at one of the highest rates in the league. Last season, his 47.9 PFF grade ranked 115th out of 121 qualifying cornerbacks, and his completion rate allowed of 84.3% was the worst mark in the NFL. There is a chance this Colts' zone scheme allows him to play faster and look better than he has of late in Minnesota, though. The Jaguars don't exactly pose the toughest test Rhodes will face all season, but it will still be telling to see how he performs in Week 1. 
If it weren't for injury concerns, Shenault's name would likely be higher on the list of wide receivers who came off the board in the 2020 NFL Draft. He's a rare athlete with impressive explosiveness and suddenness that makes him dangerous with the ball in his hands and provides reason to believe that his route running will improve with time. Jacksonville will likely opt to move him around the formation — something he did at Colorado with snaps in the slot, out wide and in the backfield. Wherever his touches come, you want to see the ball in this guy's hands. Hopefully, we get that chance in the opener.
Ravens' blitz vs. Browns' offensive line
There is a strong case to be made that no team improved its offensive line as much as the Browns did this offseason, adding Jack Conklin and Jedrick Wills to replace Greg Robinson and Chris Hubbard at tackle. Both are players who profile better as run blockers than they do as pass blockers, but it's hard to imagine Cleveland gets worse in pass protection at those spots, even with Wills swapping sides from right tackle to left tackle. They'll face a tough Week 1 test against Baltimore, which blitzed at by far the highest rate in the NFL last season (55.5%) while trusting its talented secondary to hold up on the back end. 
Mayfield has a lot to prove in 2020. Expectations were high for the former Heisman winner after performing like one of the top rookie quarterbacks in the PFF era in 2018 (83.2 overall grade), and that only made the results of this past season that much more disappointing for Browns fans.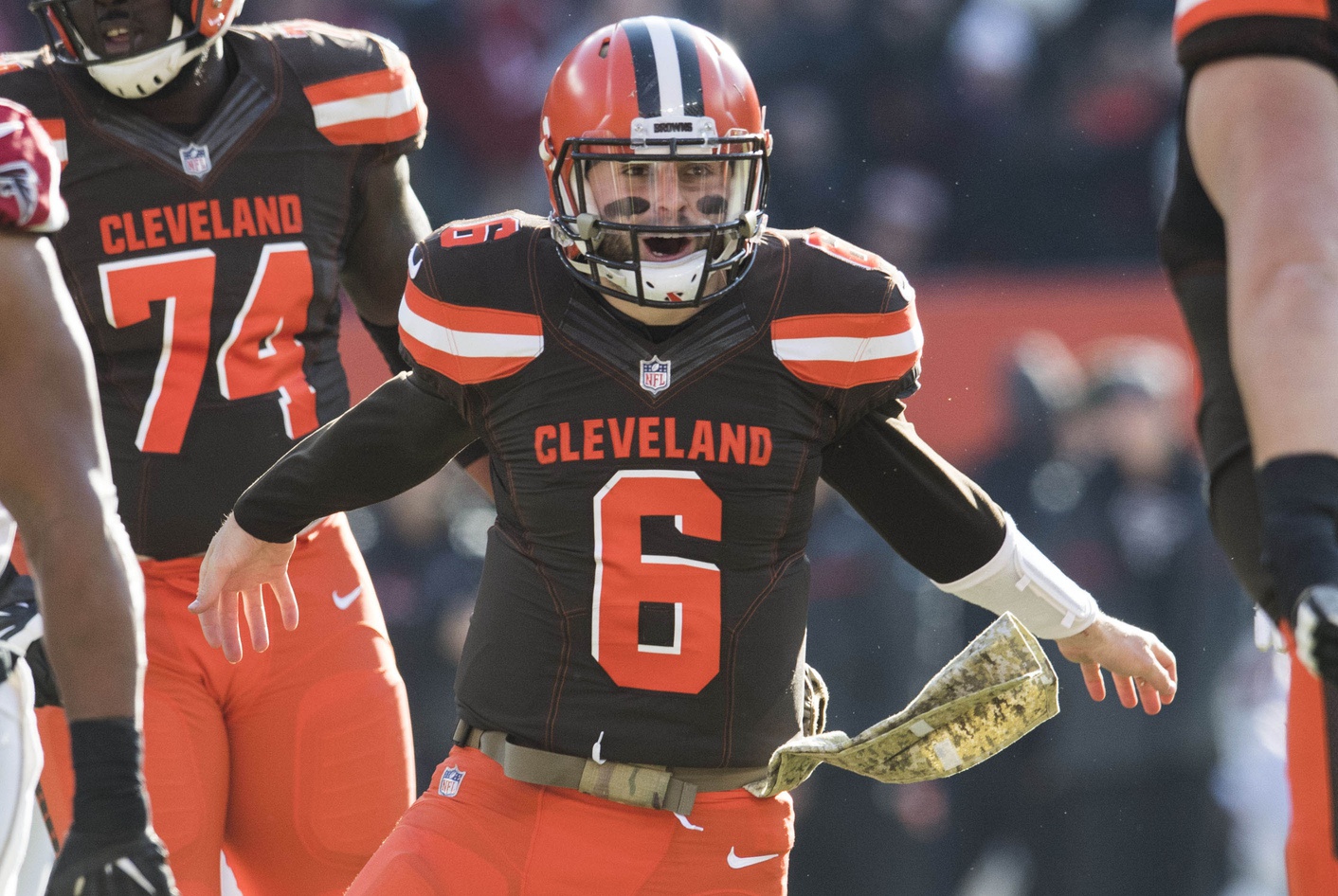 With two new tackles and a new tight end to go along with a coaching staff that just brought the best out of Kirk Cousins in Minnesota, the excuses are dwindling. Mayfield will need to get back closer to what he showed at Oklahoma and as a rookie while cleaning up some of the accuracy and pocket presence issues that plagued his second season. 
There was talk about Baltimore adding another wide receiver this offseason, but there weren't any prominent free-agent signings or draft selections that give any indication Brown isn't the clear-cut No. 1 option at the position heading into 2020. Now healthy after battling some injuries as a rookie, there's no reason to believe Brown can't thrive in that role. Looking at all wide receivers with 50 or more targets in 2019, Brown's 134.4 passer rating when targeted led the way — he was a big play waiting to happen in the league's most efficient offense. He'll likely see a lot of Denzel Ward in this matchup, which should be a good battle. 
Falcons' young cornerbacks vs. Seahawks' receivers
Giving Russell Wilson deep threats like Tyler Lockett and D.K. Metcalf takes an obvious strength and enhances it to the point where defenses are going to have a lot of trouble stopping Seattle. Wilson had the highest PFF passing grade on passes 20 or more yards downfield in 2019, and Lockett and Metcalf were two of 15 wide receivers who recorded 350-plus receiving yards on such passes last season. Add in Josh Gordon returning from suspension, and it will be a tough test for Atlanta's young secondary — which will be without longtime cornerback Desmond Trufant in 2020. If the Seahawks let Russ go to work in Week 1, it could be a long day for that cornerback group. 
The Seahawks acquiring Adams was one of the biggest NFL stories of the past several months, so naturally, I'm excited to see how he is utilized in that defense. He can do a bit of everything — taking tight ends in man coverage down the seam, playing in two-high safety looks when Seattle wants to pivot from Cover 3, coming down and making plays in the run game, offering legitimate pass-rushing upside off the edge. He's been one of the most valuable defenders in the NFL over the past three seasons, per PFF WAR, and will make this defense better. He should see a fair share of new Falcons tight end Hayden Hurst over the middle in this one. 
Fowler will be an interesting player to watch in Atlanta this season. He has improved in each of his four NFL seasons, but that improvement has only gotten him to a 72.0 PFF grade in 2019. His 67 pressures and 11.5 sacks both stick out as impressive marks, but over 50% of his pressures in 2019 were labeled as "clean-up" or "unblocked, meaning it may be harder for him to repeat that performance in 2020. Still, Fowler profiles as a nice upgrade over what Atlanta got from Vic Beasley Jr. last season, and he has a soft matchup in this one against Seattle's offensive line, particularly if lined up over right tackle. 
When he's healthy, Green is easily one of the game's most difficult covers. There's no area of the field he can't win in — as evidenced by seven consecutive PFF grades of 82.0 or higher from 2012 to 2018 — and there are few cornerbacks who can go toe to toe with him. The problem is that he hasn't been healthy all that often of late, but he should enter Week 1 ready to go. And Hayward is one of those cornerbacks who can match up with him. Since leaving Green Bay in 2015, his 92.5 coverage grade ranks first among 134 qualifying cornerbacks. The Chargers play a lot of zone coverage, so Hayward won't be tracking Green in man looks, but when the two do match up, it should be fun to watch.
King is the third-highest graded cornerback in the NFL since entering the league in 2017, but despite that, there were questions as to where he fits into this Chargers' secondary following the addition of Chris Harris Jr in free agency. Harris has been primarily a slot cornerback throughout his career, and that is where King has played most of his snaps over the past three years.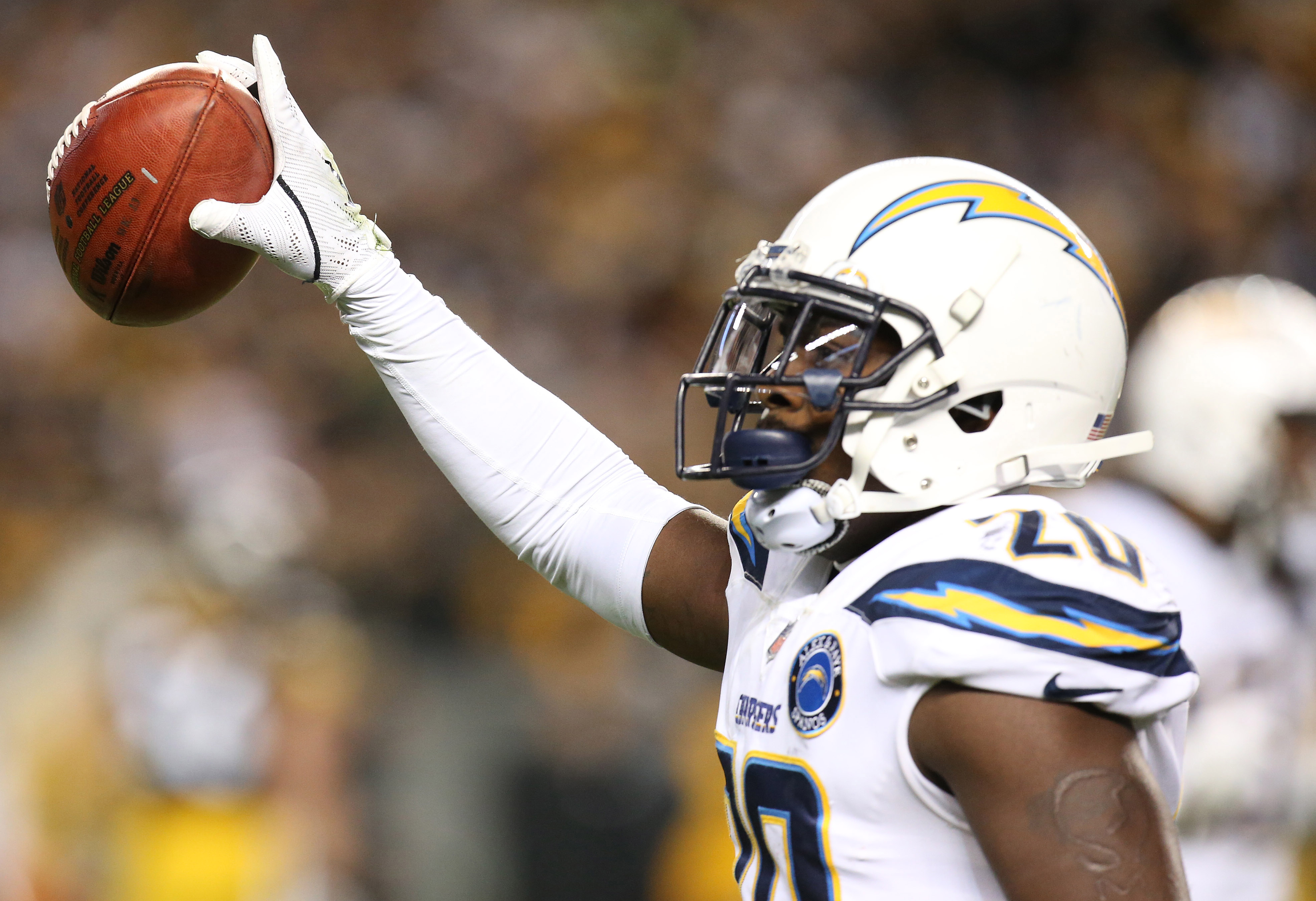 The injury to Derwin James, while disappointing for the Chargers' defense, does provide more clarity for how King might see his snaps in 2020. There's a good chance he fills that strong safety role if the Chargers don't opt to move down Rayshawn Jenkins, and King should play well in that position with his run support, tackling ability and experience in the slot. We won't know for sure what Anthony Lynn's plan is until the defense takes the field against Cincinnati, though. 
There is no chance that Burrow comes in and repeats what he did at LSU as a rookie in the NFL. I do think there is a chance that Burrow has some early success with Cincinnati, though. The accuracy and pocket presence that he showed in college isn't just going to disappear, and the latter will serve him well behind an offensive line that still projects to be one of the shakiest units in the NFL. Even without James, this Chargers' secondary and pass rush should pose a tough test for Burrow. Seeing how he responds is one of the biggest storylines to watch in Week 1. 
From 2016 to 2018, Jones played significantly more snaps lined up over left tackle than he did over right tackle, but that split was more even last season, with just 483 of his 1,069 defensive snaps coming on the left side of the offensive line. It seems likely that Jones and Devon Kennard will rotate through the left and right side of the offensive line in 2020, so this matchup probably won't be an every-down affair. It's still worth watching for when the two do go head to head, though. 
Jones picked up the first 90.0-plus PFF pass-rushing grade of his career in 2019 — he is as dangerous as ever heading into his ninth season. On the other side, Williams didn't play at all in 2019, but he turned in PFF pass-blocking grades of 80.0 or higher in every season from 2013 to 2018. Moving on from Joe Staley to a player like Williams is about as good as it could go at the left tackle position. 
We've had some time to sit back and digest the Hopkins trade for a few months, but it still doesn't look any better. He is a top-three receiver in the NFL, and the Cardinals were able to acquire him to complement Year 2 of the Kliff Kingsbury-Kyler Murray pairing for essentially a second-round draft pick. Hopkins was a favorite target of Deshaun Watson under pressure, and that's an area in which he could help Murray, who was charged as being responsible for more of his own sacks than any other quarterback in 2019. The sheer gravity that he commands should open things up for the rest of this receiving corps when the ball isn't coming his way, as well. 
Just how well Aiyuk plays doesn't look to be as important in Week 1 as it may have been weeks or months ago when Deebo Samuel's early-season availability was in doubt, but Aiyuk still projects to play a big role in this offense. He fits the mold of the receivers that Kyle Shanahan has tried to bring into this offense — elusive athletes who can produce after the catch. 
Aiyuk's jumps at the 2020 NFL combine showed how explosive he is, and he's coming off a 2019 season at Arizona State where he averaged nearly 11 yards after the reception per catch. It took Samuel a while to get rolling in San Francisco last season, but perhaps Aiyuk is able to hit the ground running in Week 1.  
This game has plenty of intrigue, and Brady in a new city against Brees is the headliner on that list. Brees has trailed off toward the end of each of the past two seasons, but there is still no one in the NFL more accurate than him. Over the past three seasons, just 12.7% of his passes have been uncatchable — the lowest rate in the league by over 2 percentage points. The Saints' offense will once again be one of the most difficult attacks to stop in the NFL in 2020. 
Brady is high on the accuracy charting rankings himself, but there are questions as to what he and the Buccaneers' offense will look like in 2020 after his disappointing year offensively in New England last season. Personally, I think there's plenty of reason to believe he'll bounce back with a massive improvement to his supporting cast. Seeing what he looks like in that environment makes this one of the most anticipated Week 1 matchups.   
The return of Gronk is another layer to this game that makes it must-watch television. After a season-long hiatus, he has returned to link up with Brady, and the big question is how that time off will impact his play.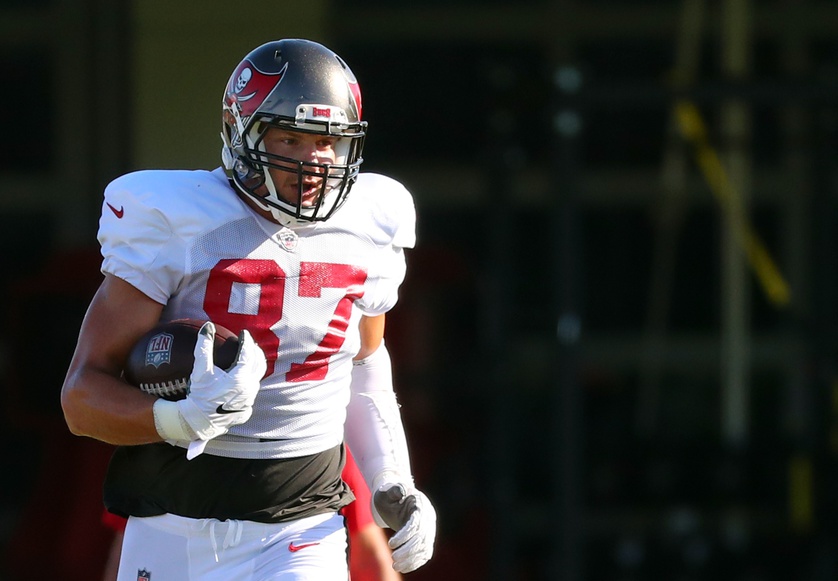 Will he be worse off than the slightly diminished version of Gronkowski that we saw in 2018 (who was still very good)? Or will the time off have helped him get back to pre-2018 form after his body took a beating for years? I think the latter is probably a tad optimistic, considering pre-2018 Gronkowski was arguably the best tight end the NFL has ever seen. But even if he isn't all the way back, he can still cause problems for opposing defenses situationally.
Though his numbers and PFF grades have slipped since his rookie year in 2019, Lattimore is still one of the best cornerbacks in the NFL. He has averaged 309 coverage snaps per touchdown allowed over his first three years in the NFL — sixth among 66 cornerbacks to play at least 1,000 coverage snaps over that time span — and has limited production well despite routinely drawing some of the toughest assignments at the position. And that trend will likely continue against Mike Evans in this game. The two have gone head to head five times already, with both winning and losing some reps. Round 6 should be a good one. 
Cooper and Ramsey were both involved in blockbuster trades to land on their current teams, and each profiles near the top of their respective positions heading into 2020. Cooper has had a noticeable impact on the Cowboys' passing attack since landing in Dallas, as Dak Prescott ranks fifth in completions 20-plus yards downfield in the 25 games he has played with Cooper compared to just 22nd in the same category prior to Cooper's arrival. Ramsey, meanwhile, is coming off the lowest PFF grade of his career in 2019, but his 91.0 grade over the past three seasons is one of the best marks among cornerbacks. He'll have his hands full regardless of who he lines up across in this one with how deep Dallas is at wide receiver. 
The rich got richer this offseason when Dallas added Lamb — the sixth overall player on the PFF Big Board for the 2020 NFL Draft — to a receiving corps that already had Cooper and Michael Gallup. That trio of wide receivers can do some serious damage in the NFC. Lamb has terrific hands, was one of the best receivers after the catch in college football and runs crisp routes. His player comparison from PFF's Mike Renner in the 2020 NFL Draft Guide was DeAndre Hopkins. There's plenty of reason to be hesitant on rookies early this season, but Lamb should make an immediate and noticeable impact on the Cowboys' offense. 
If you're not watching Donald every time he takes the field, you're doing it wrong. Even if the stats don't always show it, he is the most dominant player at his position in the NFL. Donald owns the highest PFF pass-rushing grade of any defender in each of the past five seasons. He has 50-plus more pressures than any other defender over the past three seasons — a mind-boggling feat as an interior defender — and that all comes with a heavy dose of extra attention from offensive lines. 
Zack Martin is one of the few interior offensive linemen who can hold their own against Donald, but Donald will still pose a tough test for a Cowboys' offensive line that looks to be undergoing some early-season shuffling with Travis Frederick's retirement and La'el Collins opening the season on IR.
Steelers' pass rush vs. Giants' offensive line
Though the Steelers lost Javon Hargrave in free agency to Philadelphia, this still projects as one of the league's most dangerous pass-rushing units. T.J. Watt, Cameron Heyward and Bud Dupree all return, as does Stephon Tuitt from injury after getting off to the best start of his career in 2019. His 89.1 PFF grade and 85.0 pass-rushing grade were both on pace to be career-highs through the first five-plus weeks of the season. 
A Week 1 matchup against a Giants offensive line that projects to have three new starters — including at both tackle spots — could provide an opportunity for the Pittsburgh pass rush to tee off. The propensity that Daniel Jones has shown for holding on to the football in the face of imminent pressure won't help matters.
The Steelers' 2020 season will largely go as Roethlisberger goes. Given the state of their offense last season without Big Ben — an offense that ranked last in the NFL in expected points added per play — the only direction appears to be up, especially with the reports that Roethlisberger feels and looks as good as he has in years.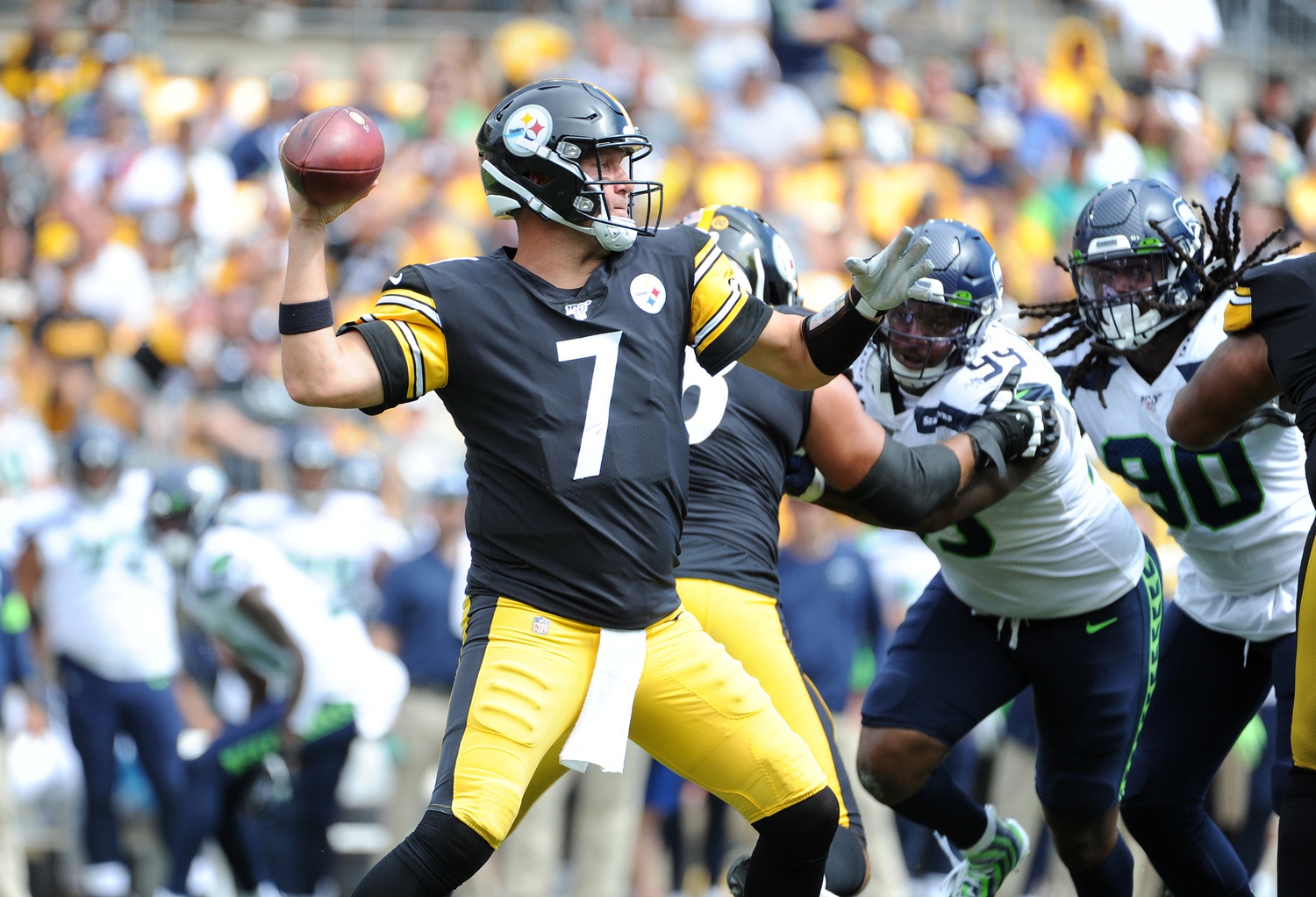 Though he led the NFL in passing yards in 2018 on the back of a league-high 675 attempts, we started to see a dip in PFF grade over previous seasons. Roethlisberger's 78.2 overall grade in 2018 was his lowest mark since 2011. How he looks in the opener should be telling when it comes to what we should expect from him this season. 
Bradberry profiles as the Giants' biggest splash signing in free agency, and the pressure will be on him to perform in a secondary that has a lot of questions to answer. Bradberry's grading profile hasn't been all that impressive over the past few seasons in Carolina, earning coverage grades of 64.9 and 65.4 in 2018 and 2019, respectively. But the critical context there is that Bradberry has drawn plenty of tough assignments in an NFC South division that isn't short on high-level wide receivers. No cornerback has lined up across from more top-32 graded wide receivers over the past three years than Bradberry, and he'll need to show he can continue to win in those difficult assignments in New York.
Sutton and Jackson are both ascending players at their respective positions. Sutton took a big leap in his second season — raising his PFF grade from 63.8 in 2018 to 83.1 this past season (10th among wide receivers). The stat that might stick out most is him cutting his nine drops as a rookie to three in 2019 on 36 more targets. 
Even though Sutton is a threat to win downfield on nearly every rep, it's going to be tough to do so with Jackson lined up across from him. The former USC Trojan took a major step forward this past season — finishing the year ranked sixth among cornerbacks in coverage grade — and has been one of the best at the position in limiting deep production since entering the NFL. Jackson has recorded 10 more forced incompletions than receptions allowed on passes 20-plus yards downfield since 2017. 
The Clowney saga has come to an end, and his landing spot makes sense for both sides. For Tennessee, Clowney immediately becomes the team's top pass-rushing option, even if he isn't nearly as dominant in that phase of the game as he is against the run. As PFF's Eric Eager explored earlier this offseason, Clowney has performed better on true pass-rushing snaps than his numbers may suggest. For Clowney, he has the opportunity to show he can be one of the game's best edge defenders with a healthy season on a team that is firmly in the AFC playoff conversation before hitting the market again next offseason to pursue a long-term deal.
Few players were more polarizing than Lock this offseason, and that shouldn't come as a surprise. He started just the last five games of the 2019 season as a rookie and was up and down in those performances, finishing the stretch with a 58.1 overall grade. At the very least, Denver has given him what he needs to be successful heading into his first season as the full-time starter, adding Jerry Jeudy and K.J. Hamler at wide receiver along with making draft and free agency investments for the interior offensive line. Tennessee profiles as a good early test for Lock with several strong pieces in their secondary.