The first wave of 2021 NFL free agency is starting to slow down, and just a few of the top free-agent options remain on the market. Some teams — such as the Cleveland Browns and Washington Football team — got a lot better, while other teams will now head into the 2021 NFL Draft with more needs than they had before free agency began.
PFF's Ben Linsey recently listed one positive takeaway for all 32 NFL teams after the big first week of NFL free agency. Today, I'm going to do the opposite and list our least favorite move made by each franchise.
ARZ | ATL | BLT | BUF | CAR | CIN | CHI | CLE | DEN | DAL | DET | GB | HOU | IND | JAX | KC | LVR | LAC | LAR | MIA | MIN | NE | NO | NYG | NYJ | PHI | PIT | SF | SEA | TB | TEN | WFT
The Cardinals ranked 26th among NFL teams in outside-coverage grade in 2020, and the play from Patrick Peterson and Dre Kirkpatrick had a lot to do with that.
The veteran duo departed in free agency, which has left Arizona in need of two new starting outside corners. Still, they decided to do nothing to address this in free agency, other than re-signing Robert Alford after they initially cut him. And I wouldn't bank on Alford filling one of those starting spots and producing at a high level — he hasn't played a down since the 2018 season when he posted a 53.1 coverage grade.
Arizona is now stuck hoping that one of the top cornerbacks is still on the board at Pick 16 in the 2021 NFL Draft. Taking a corner there isn't a bad thing, but it is risky to bet on there being a quality corner — such as Caleb Farley or Patrick Surtain II — still available when they are on the clock.
---
ATLANTA FALCONS: IT'S NOT CONCLUSIVE, BUT THEY SEEM TO BE ROLLING WITH MATTY ICE AND NOT TAKING A QB IN ROUND 1
During the second day of the legal tampering period, it was reported that the Falcons decided to restructure Matt Ryan's contract. This move makes it seem as though they are comfortable with Ryan being their starter for the next two to three years, squashing the idea that they would take a quarterback with the fourth overall pick.
Ryan is still a quality quarterback. After all, he did finish in the top 10 in PFF grade just this past season. The roster around him isn't contending for a Super Bowl any time soon, though. So, the question becomes: Can Ryan, who will turn 36 this offseason, sustain this level of play until he gets some help? It's a significant risk to take, especially when there is a first-overall-pick-caliber quarterback there for the taking in Justin Fields.
They could still go quarterback with that pick, but the odds have changed with this restructure, and that's not good long-term for the franchise.
---
BALTIMORE RAVENS: NOT MAKING A MOVE FOR A WIDE RECEIVER
The Ravens' wide receiver group finished among the five lowest-graded units in the NFL in 2020. After Marquise Brown, the best wide receiver the Ravens had on the roster entering free agency was either Miles Boykin or Devin Duvernay, both of whom have a career receiving grade just above 60.0.
After the first wave of NFL free agency, the second-best receiver on the roster is  … still either Boykin or Duvernay, because Baltimore didn't make a move for anyone else. And after seeing the deal Corey Davis received from the New York Jets, they definitely could have.
---
With what they had at their disposal, Buffalo had a decent first week of free agency. They upgraded at wide receiver by cutting John Brown and signing veteran Emmanuel Sanders, who was among the 25 most productive wide receivers in terms of yards generated per route run in 2020. They were also able to retain right tackle Daryl Williams, who is coming off the best season of his career with a 79.2 PFF grade that ranked ninth among right tackles.
It's not the end of the world, and it won't have a severely negative impact on the team, but the Bills could have used the money they gave to linebacker Matt Milano for more important positions.
Milano has been somewhat inconsistent, but he's looked like one of the top coverage linebackers in the league at times. Back in 2018 and 2019, he ranked 14th and fourth, respectively, in coverage grade. At the same time, Milano posted sub-60.0 grades against the run, in coverage and as a tackler in 2020, leading him to rank 37th in PFF WAR at the position last season.
---
Outside of starting right tackle Taylor Moton, Carolina's offensive line is looking like a bottom-of-the-barrel unit.
It was the right decision to let starters Russell Okung and Chris Reed walk away. Okung has struggled to stay on the field of late, and Reed has consistently graded as a below-average guard. Just this past season, Reed ranked 21st in PFF grade among left guards.
The replacements the team signed are questionable, though. Cam Erving, who signed for $10 million over two years with $8 million guaranteed, has featured up and down the line in his six NFL seasons but has yet to show quality play. Among 141 offensive linemen to play over 3,000 snaps since 2015, the former first-round pick's 41.6 PFF grade ranks dead last by over eight grading points. 
Pat Elflein, who signed for $13.5 million over three years, played up and down the interior in his four years with the Minnesota Vikings and consistently struggled in pass protection. He comes in last among all offensive linemen in pass-block grade over the past four years. 
It also looks as if John Miller, who ranked 27th among right guards in PFF grade in 2020, is set to start again in 2021 after re-signing on a one-year deal.
Carolina's signal-caller, whomever it may be, is currently set up to endure one of the worst offensive lines in the NFL.
After days of hope that Chicago's long-time quarterback problem would finally be fixed with a blockbuster trade for Russell Wilson, Seattle decided to slam the door shut almost as soon as it started to creak open. The Bears were then forced to go onto their Plan B — Andy Dalton.
This, of course, means that their quarterback problem remains. Dalton is coming off a year where he ranked 23rd at the position in PFF grade while filling in for Dak Prescott down in Dallas. He's a modest upgrade with his manageable accuracy and decision-making, but his inability to push the ball downfield is going to keep this offense down in the basement of the NFL. Dalton ranked 30th in big-time throw rate this past season.
Still, this wasn't the worst move of the week. That accolade goes to their decision to cut starting outside cornerback Kyle Fuller. 
Fuller has had some ups and downs throughout his NFL career, but he has been the most valuable player on their defense since 2017, according to PFF WAR. They signed veteran Desmond Trufant to step into Fuller's shoes in the hope that his 2020 season in Detroit was a fluke. 
In Trufant's seven years with the Atlanta Falcons — 2013 through 2019 — he ranked among the 15 highest-graded outside corners in coverage four times. He battled injuries in Detroit this past season that limited him to only six games, and he struggled mightily with a 36.7 coverage grade. However, as we all know, Matt Patricia's defense in Detroit was quite predictable —  star receiver Davante Adams has said as much. That obviously does the secondary no favors.
Trufant should rebound if he is healthy, but that's a big if, and I wouldn't expect him to produce like Fuller did for the Bears.
---
Hendrickson earned a big payday for his sack total in 2020, but the 2017 third-round pick's pass-rush grade tied for 41st among 77 edge defenders over his four seasons with the Saints.
Hendrickson boasts 23 sacks on his NFL résumé. Fourteen of them came last season, ranking behind only T.J. Watt for the most at the position. But of those 14 sacks, a whopping 11 were either in a cleanup or unblocked situation, which is the most PFF has recorded by anyone in a single season over the past decade.
Even worse, Cincinnati could have used the money it allocated to Hendrickson to retain one of its own, such as edge defender Carl Lawson — who fetched a three-year, $45 million deal from the Jets. Lawson ranked ninth in pass-rush grade and third in win rate this past season with the Bengals, and he also generated five times as much WAR as Hendrickson.
---
Cleveland showed once again that they are one of the smartest teams in the league. They had two glaring issues within their roster entering free agency: The secondary and a second edge defender to line up opposite Myles Garrett.
Instead of risking it all on sack totals, as Cincinnati did, they went out and secured safety John Johnson III and slot corner Troy Hill, two of the top defensive backs on the market, to turn their secondary from a weakness into a strength. 
Last year, Cleveland ranked 22nd among the 32 defenses in expected points added (EPA) per pass allowed, and the secondary ranked 27th in combined coverage grade. Johnson, the seventh-highest-graded safety in coverage in his four-year career; and Hill, the highest-graded slot corner over the last two years, won't let that happen in 2021.
---
DALLAS COWBOYS: HOW THEY ADDRESSED SLOT CORNER
After signing Dak Prescott to the mega-deal he has long deserved, the Cowboys had little money to dish out to free agents. Other than the deal struck with their franchise quarterback, there was only one major contract: A three-year, $16.5 million contract with $8 million guaranteed to slot corner Jourdan Lewis. 
This year's free agency class was littered with talented slot corners, but instead of bringing in someone new, Dallas retained Lewis, who was the fourth-lowest-graded player at the position in 2020.
There is a chance Dallas re-signed Lewis to play him on the outside opposite Trevon Diggs, but that could then close the door on them taking PFF's CB1 Caleb Farley with the No. 10 pick in the 2021 NFL Draft. And if they do take Farley, Lewis would then kick inside, and that wouldn't be good. A fresh face to man the slot would have been a better route for Dallas to take.
---
Like the Browns, Denver only made a handful of moves to start the 2021 league year, but they were all significant ones that attacked their biggest weakness: The cornerback room. Callahan, who played both on the outside and in the slot, was the third-highest-graded cornerback in coverage last year, and the Broncos' cornerback room still ranked 22nd among the 32 units in coverage grade.
The Broncos made a move right out of the gate in free agency to address the issue by signing Ronald Darby. He was one of the most productive cornerbacks in the league this past season for the Washington Football Team, racking up 17 forced incompletions. That tied with James Bradberry for the most at the position. In single coverage, Darby joined Callahan as one of the five highest-graded corners.
As good as Darby's signing was by Fangio and new general manager George Paton, the move of the week was swooping in and grabbing Kyle Fuller following his release from the Chicago Bears.
Fuller was once a Fangio disciple in the Windy City, and he enjoyed the best years of his NFL career in the Denver head coach's system. In 2017 and 2018, Fangio's final two seasons as Chicago's defensive coordinator, Fuller was one of the five highest-graded outside cornerbacks in the NFL and led the group in total plays made on the ball (41).
---
More from PFF's live free-agency coverage: 
2021 NFL Free Agency LIVE Deal Grader | The 100 best available NFL free agents remaining | 2021 NFL Free Agency Tracker | PFF Improvement Index for all 32 teams | Fantasy Football Free Agency Tracker
---
Detroit lost its top three wide receivers in free agency and supplanted them with Tyrell Williams and Breshad Perriman. They will join forces with Quintez Cephus and Geronimo Allison to form the Lions' wide receiver room for 2021 — assuming they don't address the position at No. 7 overall in the 2021 NFL Draft. If they stay put, it might just be the worst wide receiver group in the NFL.
Williams didn't play a down in 2020 due to a season-ending injury, and prior to that, he endured a three-year stretch where he was one of the 10 lowest-graded receivers in the league.
Perriman is one of the most inconsistent players at the position. He's now on his fifth team in five years and has season grades on his profile as low as 44.4 (2017 with Baltimore) and as high as 72.8 (2019 with Tampa Bay). Since he entered the league in 2016, Perriman ranks 66th among 72 qualifying wide receivers in receiving grade. He is big in stature but struggles in contested scenarios, and he isn't going to negate that with any sort of separation ability.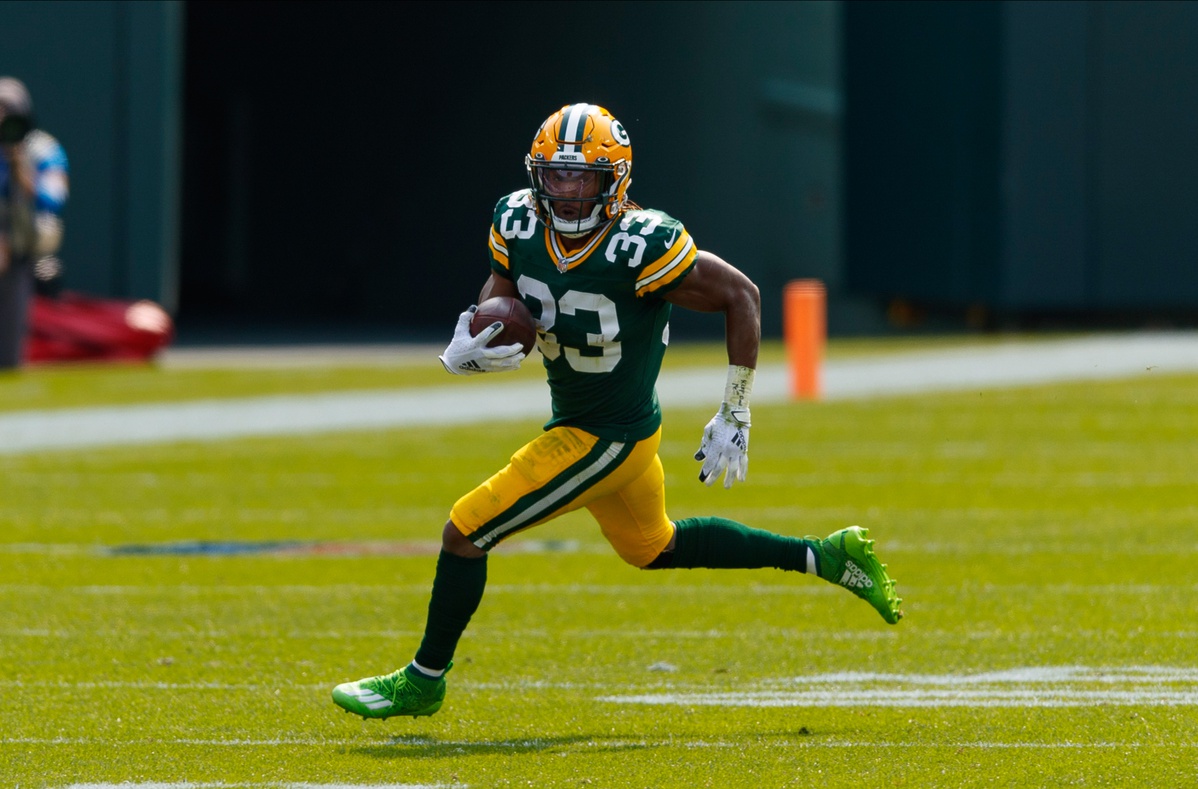 This is no slight to Jones; he is a remarkable athlete and a good NFL running back. The issue is that his position is not valuable in terms of wins and losses on the football field, yet Green Bay handed him $12 million on average over the next four years instead of grabbing a legit WR2 for Aaron Rodgers.
Jones was the 10th-most valuable running back of the 2020 season, coming in worth 0.13 WAR. For perspective, that mark ranked just ninth in Green Bay's offense alone last year. Only Rodgers, David Bakhtiari and Davante Adams are getting paid more on a yearly basis than Jones within the Packers' offense.
On the bright side, the guaranteed money tied to the signing isn't as egregious as Ezekiel Elliott's figure, but it still wasn't a great move.
---
HOUSTON TEXANS: THEIR FREE AGENCY SPENDING WAS THAT OF A REBUILDING TEAM, WHICH IS A GOOD THING
Houston dished out a slew of one- and two-year contracts to low-level free agents throughout the first week of the new league year. All indications are that Deshaun Watson will no longer be a Houston Texan come Week 1, so this is exactly what a rebuilding team should be doing. This, of course, conflicts with the report that the Texans have no interest in trading the quarterback, so they may reasonably believe that this methodology gives them the best chance to win in 2021.
Whether or not it's Houston's intention, this free agency period is that of a "tanking" team commencing a rebuild. For that reason, I have no qualms with any deal dished out to these non-impactful free agent signings as it gets them in prime position to secure the No. 1 pick in 2022.
But if the Texans are genuinely trying to win, the worst decision stands out as bringing back Vernon Hargreaves III. It was only for one year, but he is currently penciled in as the starter opposite Bradley Roby. That sets them up for disaster, as Hargreaves earned the sixth-lowest-graded coverage grade among outside corners in 2020 (37.3).
---
INDIANAPOLIS COLTS: SIGNING SAM TEVI WITH THE POSSIBILITY OF HIM STARTING AT LT
Indy suffered two crushing retirements this offseason, with quarterback Philip Rivers and left tackle Anthony Castonzo both calling it quits. Castonzo established himself as one of the best players at the position ever since he entered the league as the Colts' 2011 first-round pick. Over the past three seasons, he was the eighth-highest-graded left tackle in pass protection.
Just a couple of days ago, Indianapolis opted to sign former Los Angeles Charger Sam Tevi to possibly take over Castonzo's spot. If the Colts end up passing on a tackle in the first couple of rounds of the 2021 NFL Draft and Tevi is the guy for 2021, it could spell bad news for Carson Wentz.
In Tevi's three years of starting experience, he has produced the worst pass-block grade among tackles (51.6) and has allowed more pressure than anyone in that group (134). For reference, Castonzo gave up just 78 quarterback pressures in that same span and less than half the total number of sacks and hits combined.
---
The Jaguars' decision to tag left tackle Cam Robinson was one of the most puzzling moves of the offseason. Instead of opting to use an early-round pick in the 2021 NFL Draft to bring in a talented tackle or even trading one of those picks away to Baltimore for Orlando Brown Jr., Jacksonville decided to retain Robinson, who has generated negative WAR over the past two years.
In his four NFL seasons, Robinson ranks dead last among qualifying left tackles in PFF grade (56.2). That mark is seven grading points worse than the second-lowest-graded left tackle and 14 grading points worse than third place.
---
Ever since Thuney entered the league in 2016, he has been among the best left guards in the game. In fact, he ranks sixth at the position in PFF grade over that five-year span. Among all guards, Thuney has never ranked lower than 13th in a single-season in PFF WAR generated.
However, Kansas City handed him a contract that was far too large, even with that standout production. This signing was among my colleague Timo Riske's least favorite deals made in the first week of free agency. As he noted, this capital should have been allocated elsewhere, as the difference between an average and elite offensive line is minimal in terms of wins responsible for. Teams just can't have a flat-out liability protecting up front.
---
It's no secret that PFF values running backs differently than NFL teams and the general football fan. It's one of the most overvalued positions on the field, yet the Raiders are paying Drake a hefty per-year figure, and he isn't even going to be the featured back in their offense.
Las Vegas was reportedly attracted to Drake's ability to produce in the passing game. While he certainly has gotten the opportunity to make plays as a pass-catcher throughout his five-year career with the Dolphins and Cardinals, his grades don't match the hype. Drake ranks 51st among 57 qualifying running backs in receiving grade since he entered the NFL in 2016, a major factor in him owning a single-season career-best WAR ranking of 24th (2018) at the position.
The team's primary focus in free agency was supposed to be the secondary, but that couldn't have been further from the case. Ever since Jon Gruden took over as head coach in 2018, the Raiders have had one of the worst, if not the worst, secondaries in the league. Their 40.4 coverage grade over that span ranks dead last among the 32 defenses.
The Raiders did cut Lamarcus Joyner, who they played out of position from the slot, where he was the lowest-graded player in coverage since 2019, but made no upgrades across the board. There are still some veteran options on the market, but at this rate, it's looking like Las Vegas will enter 2021 with a bottom-tier group once again.
---
Los Angeles was among the big winners in free agency after the way it handled the offensive line. The group the Chargers had protecting NFL Rookie of the Year Justin Herbert in 2020 produced the worst overall PFF grade we have recorded by an offensive line in the past decade.
To fix that, they went out and secured the highest-graded center of the 2020 season, Corey Linsley, and an underrated lineman who has experience playing both guard and tackle at a high level, Matt Feiler. Los Angeles also brought in tight end Jared Cook and guard Oday Aboushi while re-signing Michael Davis. The first two contracts are understandable, but Davis' for three years and $25.2 million with $10 million guaranteed is questionable.
He's getting paid like a top-20 cornerback, but over the past two years, he ranks 37th of 62 qualifying cornerbacks in outside coverage grade. I don't think it's going to come back and bite the Chargers in the end, but they could have gotten better value on the open market than Davis.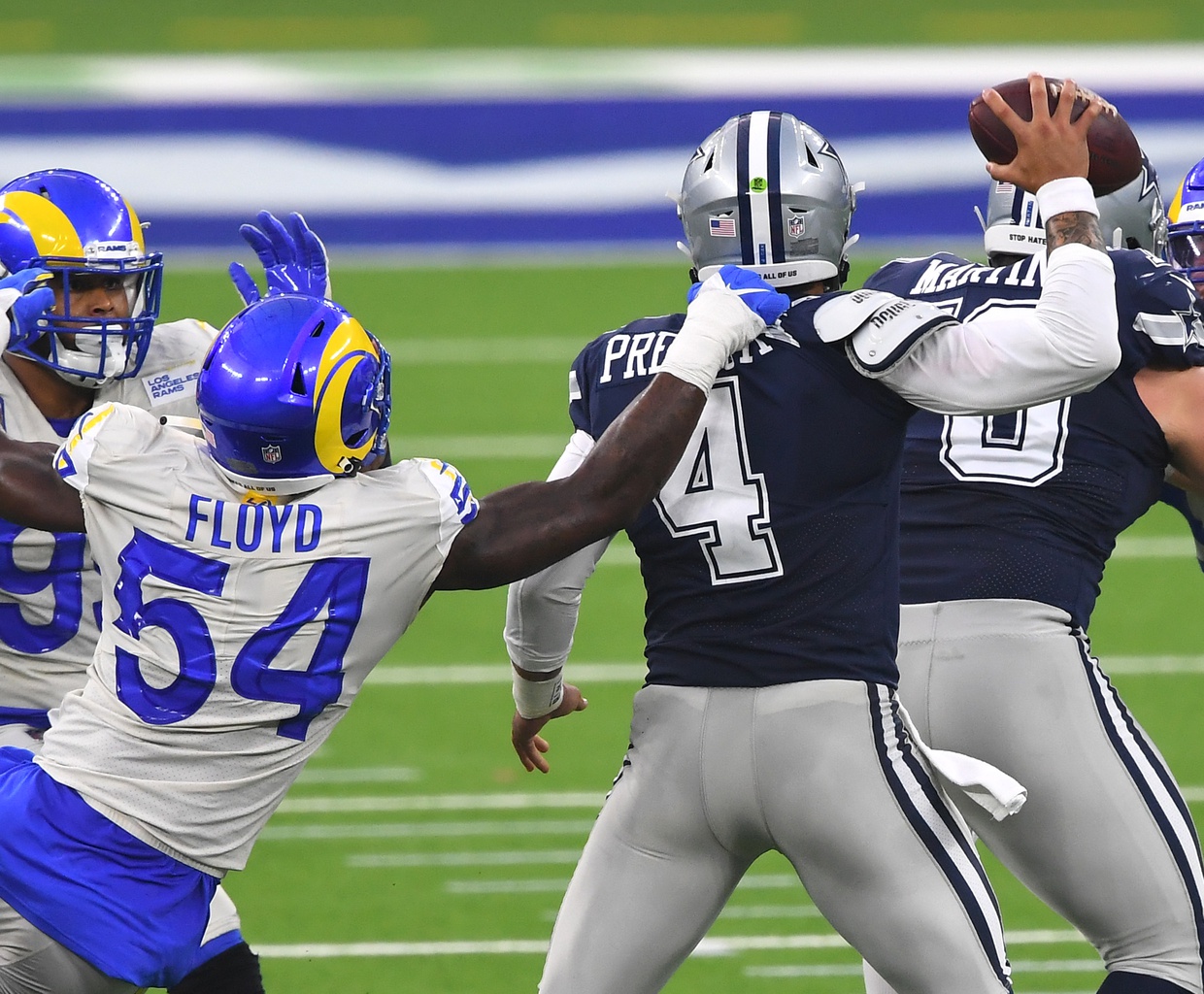 On a talented Rams team in 2020, both safety John Johnson III and cornerback Troy Hill finished the year among the five-most valuable non-quarterbacks on the roster, generating 0.89 and 0.56 WAR, respectively. Johnson's mark was actually the fifth-highest by any defensive player across the league in 2020, and Hill produced his mark while leading the league in slot coverage grade.
The Rams were cap-strung this offseason but opened up some space to make a play in free agency. Instead of re-signing one or both of Johnson and Hill, they decided to hand out a four-year contract worth $64 million with $32.5 million guaranteed to edge defender Leonard Floyd, who generated just 0.10 WAR for the team in 2020.
Floyd's 2020 campaign was inflated by an impressive sack total and a bevy of cleanup and unblocked pressures on a line that features arguably the best player the NFL has ever seen, Aaron Donald. Floyd tied for fifth on the season in total sacks but finished 61st in pass-rush win rate. That will likely remain true so long as Donald continues to dominate, but the Rams didn't need to give up this kind of money to retain him. Plenty of other cheaper edge rushers on the market could have racked up that production in such situations.
---
MIAMI DOLPHINS: NOT DOING ANYTHING TO IMPROVE THE OFFENSIVE LINE
While Miami's offensive line didn't match the ineffectiveness of the team's 2019 unit, it was still among the worst in the league in 2020. The unit combined for a 27th-ranked PFF grade among the 32 offensive lines, and instead of the team making moves to fix that in free agency, all of the key contributors outside of center Ted Karras are set to return.
To replace Karras, Miami signed Matt Skura, who was benched in Baltimore during the 2020 season, finishing the year with a third-to-last ranking in PFF grade at the position.
---
Peterson was the fifth overall pick in the 2011 class and established himself as one of the league's top corners following an underwhelming rookie campaign. From 2012 through 2019, he was the third highest-graded outside corner in the NFL. In 2020, Peterson finally started to show some decline. He produced his lowest coverage grade since his rookie year with a 53.1 mark and ranked just 42nd of 61 outside cornerbacks in that metric.
While he struggled regardless of situation, Peterson was particularly exposed in single coverage, which is uncommon relative to the rest of his career. From 2012 through 2019, he sat at the 87th percentile in single coverage grade and dropped all the way down to the 13th percentile in 2020. Peterson, who just turned 31-years-old, clearly has lost a step. He'll provide immeasurable value off the field with mentoring Minnesota's young cornerback room, but I wouldn't count on him returning to his old lockdown form.
---
New England had one of the most head-scratching free agencies in recent memory. They handed out the second-most guaranteed money ever in free agency with no clear answer for the quarterback position. Newton led the Patriots to the 26th-ranked passing offense in terms of EPA per play generated and really provided no downfield passing offense. There's an argument to be made that all of their most notable signings — edge defender Matthew Judon, wide receiver Nelson Agholor, defensive back Jalen Mills, interior defensive lineman Davon Godchaux and tight ends Jonnu Smith and Hunter Henry — received deals well above their true worth. Assuming New England doesn't make a power play to trade up in the 2021 NFL Draft for a prospect like Justin Fields, this screams quarterback purgatory.
---
NEW ORLEANS SAINTS: GIVEN THE CAP SITUATION, THERE'S NOT MUCH THEY COULD HAVE DONE BETTER
New Orleans was full of cap casualties this offseason due to their horrifying cap situation. Really, they should have had one main goal: finding the room to re-sign quarterback Jameis Winston. Not only did they find the money to do that through cuts and restructures, but they found enough to place the tag on safety Marcus Williams, who ranks fourth at the position in both PFF grade and WAR generated since entering the league in 2017.
---
The Giants had an incredible free agency period. Their receiving room is one of the most improved positional groups across the NFL after the signing of Kenny Golladay, and their secondary got a massive boost with the addition of cornerback Adoree' Jackson. There was, however, a questionable decision made prior to these additions: cutting ties with starting right guard Kevin Zeitler.
New York's offensive line in 2020 produced the lowest pass-block grade of any team in the NFL, and Zeitler was far and away their best pass protector. He has generated the 15th-most WAR by a guard over the past two seasons and ranks eighth among right guards in PFF grade over that same span. They desperately need second-year players Andrew Thomas and Matt Peart to take a big step forward in 2021 and out of necessity will likely be in the market for a lineman within the first couple rounds of the 2021 NFL Draft.
---
NEW YORK JETS: THEY WERE ONE OF THE BIG WINNERS IN FA, BUT THE JARRAD DAVIS SIGNING WAS QUESTIONABLE
New York came into free agency with more cash than most of the NFL, and they put that to use by dishing out several major deals. Most weren't bad, overvalued deals like we saw with New England. They managed to secure wide receiver Corey Davis, who was one of the 10 highest-graded players at the position in 2020, for just $13 million per year over the next three seasons. The Jets also bolstered their lackluster production on the edge by signing Carl Lawson, who was the highest-graded free agent pass-rusher available at the position. Retaining safety Marcus Maye via the franchise tag and signing Lamarcus Joyner for a cheap one-year deal with the intention of moving him back to safety were also great moves by New York.
The one questionable decision was signing off-ball linebacker Jarrad Davis. The one-year deal is not a long-term commitment, but paying over $5 million for 2021 to likely start isn't a great idea. In his four-year NFL career, the former first-round pick ranks dead last in PFF grade at the position with a 45.8 mark.
---
PHILADELPHIA EAGLES: NOT MUCH MORE THEY COULD HAVE DONE GIVEN THEIR CAP SITUATION
Philadelphia had to cut ties with a handful of veterans, including interior defensive lineman Malik Jackson and wide receiver Alshon Jeffery, to get under the cap. They were able to execute just one notable signing as a result, but they hit a home run with that contract. Philly signed safety Anthony Harris — our No. 7-ranked free agent overall — to a one-year, $5 million contract. Harris emerged in 2018 after three years of limited snaps as a former UDFA and has since been one of the five most valuable safeties in the NFL. Not a bad get for a team that was extremely limited this offseason.
---
The Steelers were faced with a tough decision this offseason. They could either cut ties with 17-year starter Ben Roethlisberger, who just turned 39 years old, or they could restructure his contract and give him one last ride in 2021. Pittsburgh opted to do the latter, and that is not a good thing.
There were signs of Big Ben declining back in 2018 when he earned a 75.2 passing grade, and he looked rough in his lone start in 2019 before suffering a season-ending elbow injury. Last season, the decline became more apparent. He had just one game with a PFF grade above 80.0 on the year and finished the season with a 69.0 mark (24th). His downfield passing was inconsistent, as he produced the sixth-worst uncatchable pass rate when targeting the sticks.
---
SAN FRANCISCO 49ERS: RETAINED A LOT OF FREE AGENTS IN THE SECONDARY, BUT STILL LET MAJOR PIECES WALK 
Nearly every significant contributor in San Francisco's secondary was on an expiring contract, along with tackle Trent Williams — who was the highest-graded player at his position in 2020. The team was clear in its intention to keep all of its guys, and after signing Williams to a monster six-year, $138 million deal, it did almost that. The 49ers re-signed cornerbacks Emmanuel Moseley and Jason Verrett, along with safety Jaquiski Tartt, but not cornerbacks Richard Sherman, Ahkello Witherspoon and K'Waun Williams. 
The loss of Sherman and Williams are massive for San Francisco. We got a glimpse of life without Sherman last season, and the coverage play took a clear step back. In the 11 games without him on the field, San Francisco dropped to 14th in EPA per pass play allowed at 0.95. In the five games with him in 2020, they allowed negative EPA per pass at -0.09, and the year prior they ranked second in that metric at -0.154. As for Williams, he battled injuries last year, but still maintained a quality level of play covering the slot. In his four years with San Francisco, Williams ranked eighth in the NFL in slot coverage grade and generated the third-most WAR among defensive players on the Niners' roster (Sherman is first by a mile).
Update: Williams has since re-signed with San Francisco. Having no Sherman is still going to hurt, and I would still expect the group to regress, but  Williams coming back is massive for the coverage unit.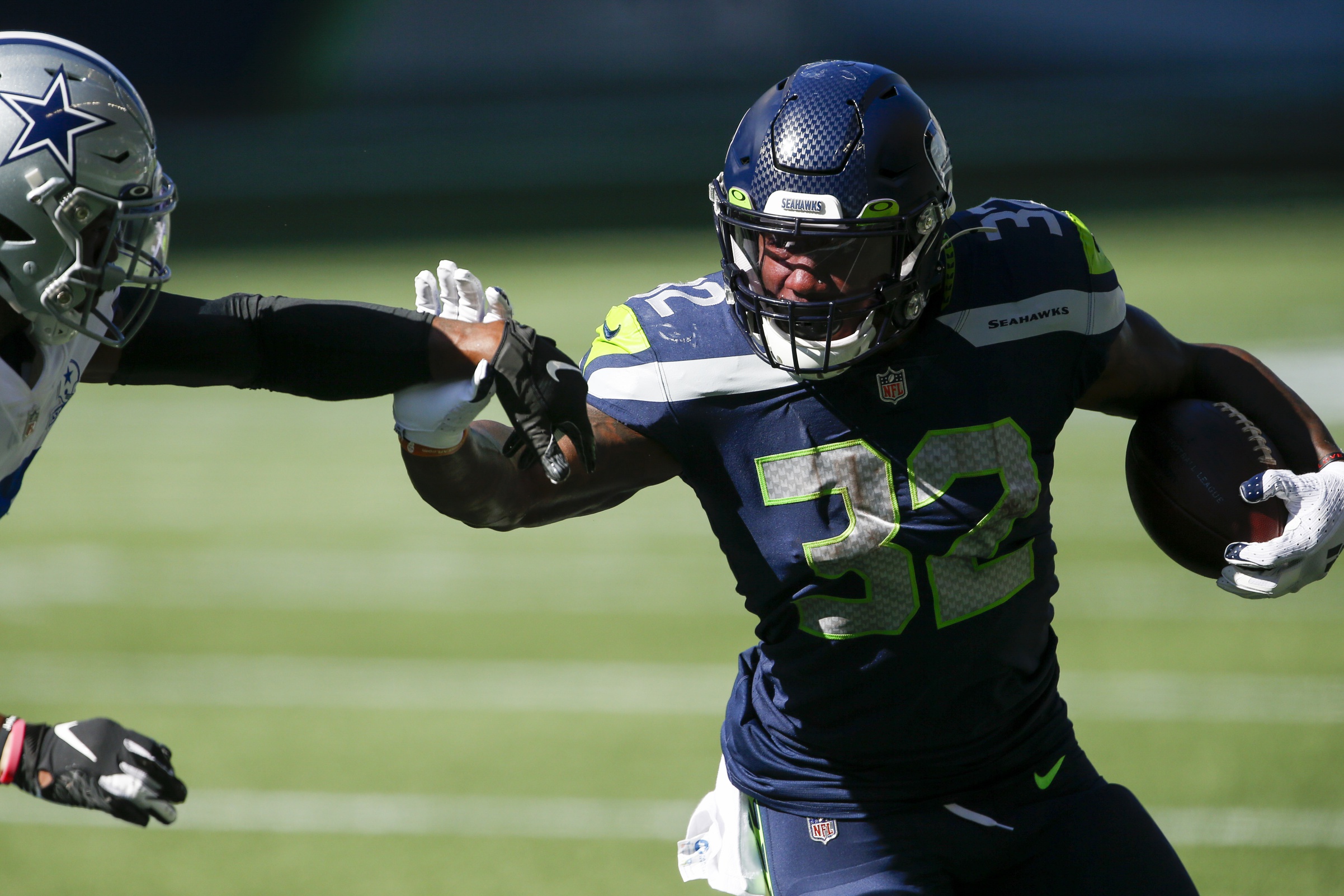 I'm beating a dead horse here talking about running back contracts, but again, this did not need to happen. Letting Carson walk would have had no impact to their overall team success. He wasn't even one of the five most valuable players on Seattle's offense in 2020, nor has he been in his three years collectively as the featured back. They would have been much better off throwing his three-year, $24.625 million contract at more important positions.
---
The sole goal for Tampa Bay the last couple of weeks has been to retain all of their marquee players that were set to hit the open market, not bringing in anyone new. Despite having minimal cap space, they were able to pull this maneuver off, as wide receiver Chris Godwin, off-ball linebacker Lavonte David, edge defender Shaquil Barrett and tight end Rob Gronkowski were all retained in one way or another. Godwin and David have each been one of the five most valuable players at their respective position over the last couple of years, and Barrett wasn't too far off that among his position at 11th. This team is as complete as they come and has a chance to repeat in 2021.
---
Bud Dupree is one of the riskiest bets in the 2021 free-agent class. Before he went down with a torn ACL last December, Dupree was notching sacks left and right. It's an attractive stat that teams will pay up for, as was evident this past week, but not every sack is the same. Dupree saw more than 60% of his pressures in 2020 come courtesy of cleanup or unblocked situations — by far the highest rate at the position — and generated a lowly 61.2 pass-rush grade, which ranked 71st among 105 qualifiers.
That's been the story of his career. All but one of Dupree's six NFL seasons ended with him earning a sub-62.0 pass-rush grade. He might boast a high motor, but he doesn't consistently win true one-on-one situations. His departure from Pittsburgh's scheme likely will reveal that.
---
There are few bones to pick with the way Washington approached free agency, but the decision to place the franchise tag on guard Brandon Scherff for the second-consecutive season was a bit rich. If Scherff plays on the tag this season, it'll cost Washington a whopping $18 million. They have until July 15 to come to a long-term agreement, but considering the massive contract that Joe Thuney received from the Chiefs, the juice of that contract may not be worth the squeeze. Yes, he was the fourth-highest-graded guard of 2020, but just like in the case of Thuney, handing out that kind of deal isn't going to make the passing offense significantly better than what it would be with an average right guard.