The first wave of 2021 NFL free agency is starting to slow down, and just a few of the top free-agent options remain on the market. Some teams — such as the Cleveland Browns and Washington Football team — got a lot better, while other teams will now head into the 2021 NFL Draft with more needs than they had before free agency began.
PFF's Ben Linsey recently wrote a piece that looked at one positive takeaway for all 32 NFL teams, so what better way to follow that up than with a deep dive into the PFF database to look at one stat for every team's best free-agency signing.
More from PFF's live free-agency coverage: 
2021 NFL Free Agency LIVE Deal Grader | The 100 best available NFL free agents remaining | 2021 NFL Free Agency Tracker | PFF Improvement Index for all 32 teams | Fantasy Football Free Agency Tracker
ARZ | ATL | BLT | BUF | CAR | CIN | CHI | CLE | DEN | DAL | DET | GB | HOU | IND | JAX | KC | LVR | LAC | LAR | MIA | MIN | NE | NO | NYG | NYJ | PHI | PIT | SF | SEA | TB | TEN | WFT
Beachum has earned a PFF pass-blocking grade above 72.0 in each of the past eight years. Only five other tackles have achieved this feat: Andrew Whitworth, Duane Brown, Anthony Castonzo, Mitchell Schwartz and David Bakhtiari.
---
---
The veteran guard has played 1,751 pass-blocking snaps against AFC North competition since being drafted by the Bengals in the first round of the 2012 NFL Draft. He has earned pass-blocking grades above 70.0 in 35 of his 44 games against teams from the AFC North and has allowed just two sacks, nine hits and 34 hurries.
Over the PFF era (2006-present), a total of 68 offensive guards have played at least 300 snaps against AFC North defenses. Zeitler's average of 159.2 snaps played per sack or hit allowed ranks first among that group.
---
The seventh-year tackle has played up and down the offensive line since being drafted by the Panthers in 2015, playing 187 snaps at left tackle, 409 snaps at left guard, 226 snaps at right guard and 2,851 snaps at right tackle.
Williams has graded above 78.0 as both a pass-blocker and run-blocker at right tackle over the last two seasons — Lane Johnson, Jack Conklin and Ryan Ramczyk are the only other right tackles who have graded as high in both facets of the game.
---
Only three edge defenders earned a pass-rush grade above 89.0 on early downs last season — Joey Bosa (91.2), T.J. Watt (90.7) and Haason Reddick (89.9).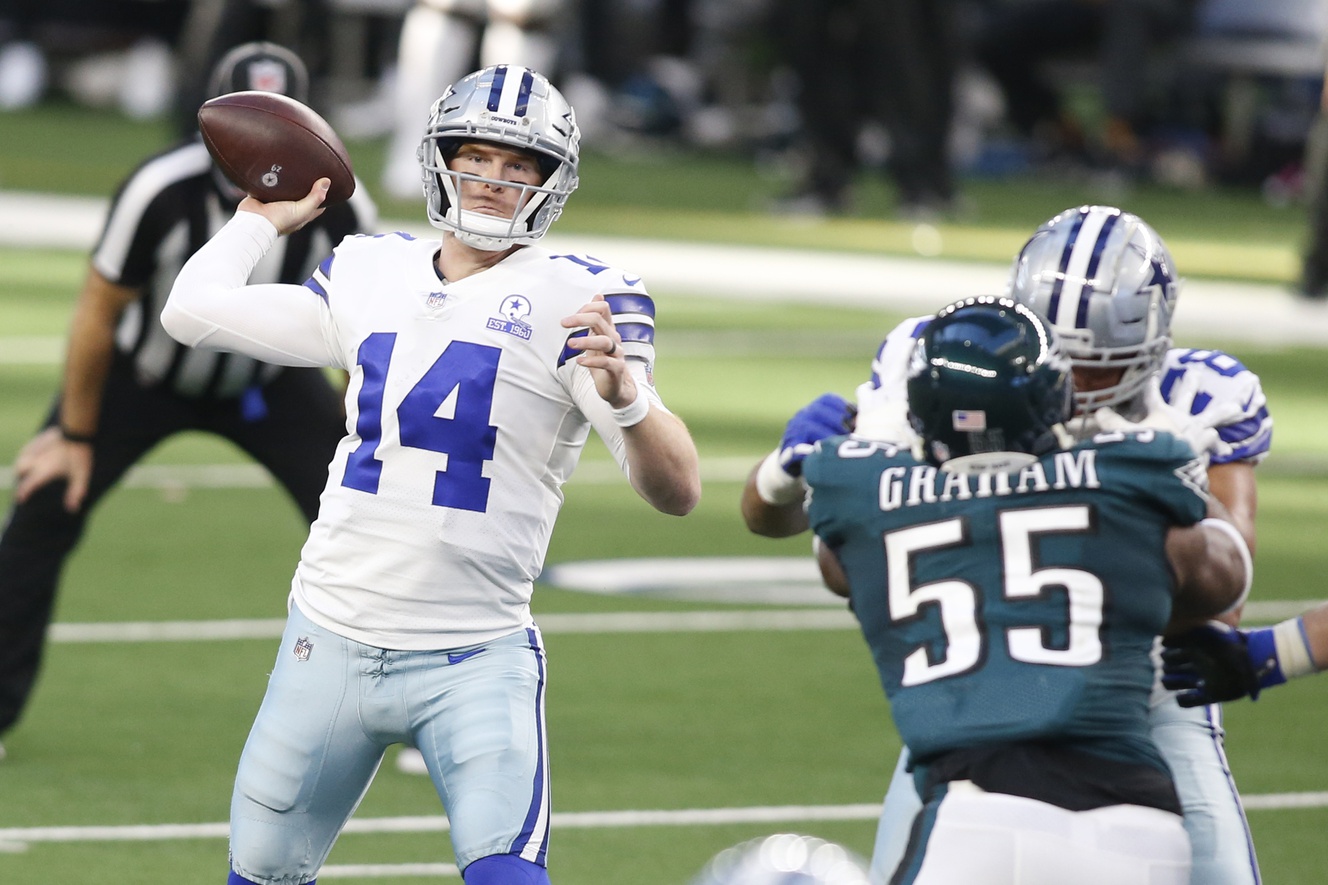 If there's one stat that might ease some of the pain for Bears fans here, it comes from Dalton'saccuracy. Over the last two seasons, 17.8% of Dalton's pass attempts have been charted as "perfectly placed," a figure that ranks ninth among the 37 quarterbacks who have attempted at least 400 passes since 2019. Trubisky (13.7%) and Foles (13.5%) rank 32nd and 33rd, respectively, among that same group of quarterbacks.
---
Hilton has allowed a passer rating of only 79.2 on his slot targets since 2017, the fourth-best figure among the 61 corners who have been targeted at least 50 times in the slot over that period.
---
Over the PFF era, 152 safeties have faced more than 100 targets in coverage. Among that group, Johnson ranks 10th in forced-incompletion percentage (14.2%).
---
Dallas successfully locked up its franchise quarterback for the long-term by signing him to a four-year, $160 million deal that has a staggering $126 million in total guarantees. Over his career, Prescott has averaged 55.8 pass attempts per turnover-worthy play against the blitz, second to only Tom Brady among the 53 PFF-era quarterbacks who have attempted 500 or more passes against the blitz.
---
In the four years since he joined the Broncos, Harris has racked up 21 batted passes at the line of scrimmage. The next-closest interior defensive lineman, Kansas City's Chris Jones, has just 15 over that same period.
---
Williams has averaged 16.1 yards per reception over his career, eighth among the 159 wide receivers who have seen at least 300 targets since 2006. Longtime Lions legend Calvin Johnson follows just one spot behind on this list at 15.9 yards per reception.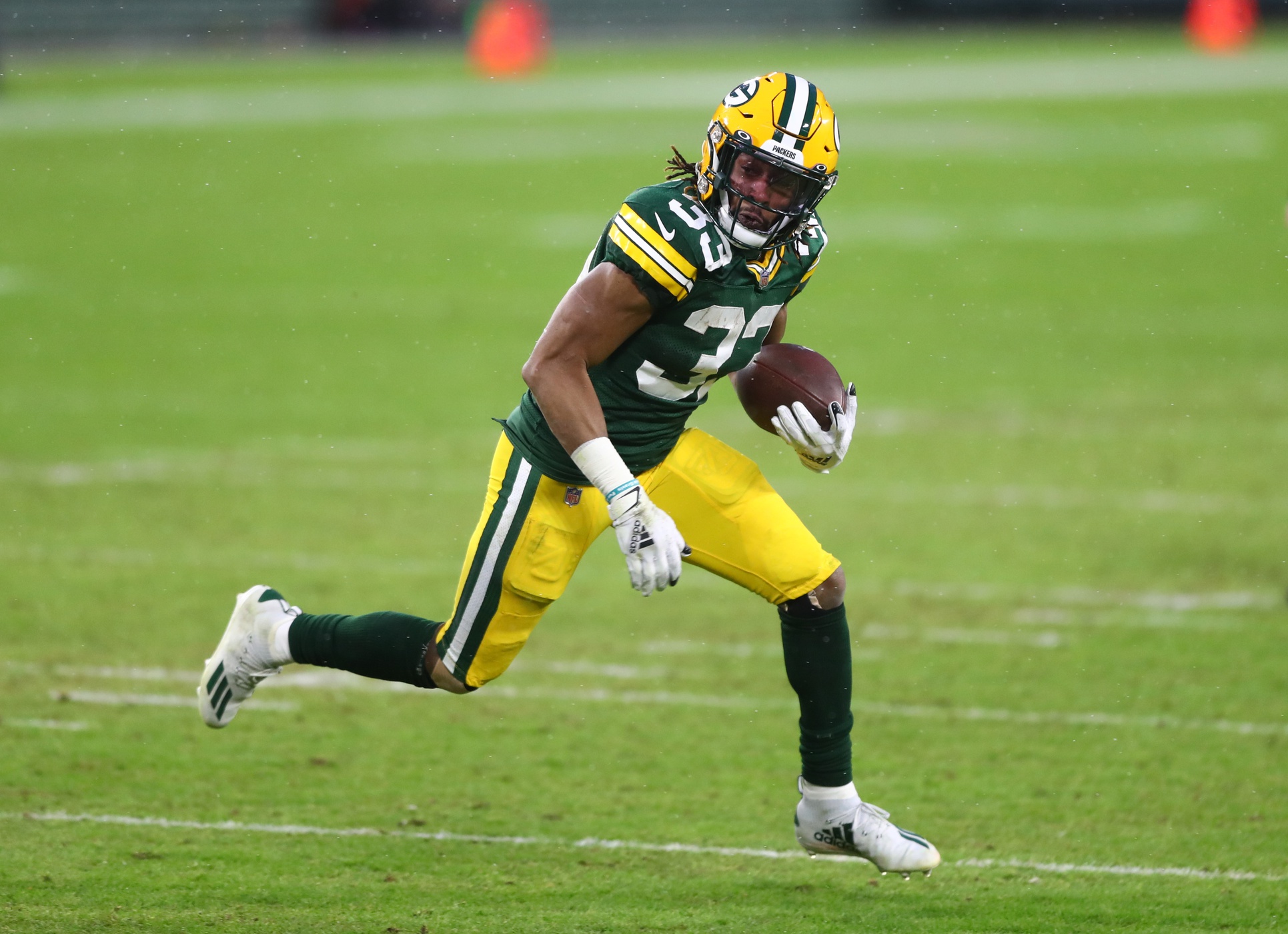 The Packers running back has averaged 1.95 yards before contact per attempt over his career, third to Phillip Lindsay (2.15) and Christian McCaffrey (1.98) among the 30 backs who have run the ball at least 300 times since 2017. Jones ranks fourth among that same group in yards after contact at 3.22.
---
Only 18 of Taylor's 1,031 clean-pocket pass attempts over his career have been charted as turnover-worthy. His 1.75% turnover-worthy play rate from a clean pocket ranks third — to only Tom Brady (1.33%) and Aaron Rodgers (1.68%) — among the 89 signal-callers who have thrown at least 500 passes from a clean pocket since 2006.
---
Mack has converted 26.4% of his rushing attempts into either a first down or touchdown since entering the league in 2017, the third-highest rate among the 62 running backs with at least 250 rushing attempts over that time.
---
The veteran pass-catcher has come down with 56.4% of his contested targets over the last four seasons, the sixth-best rate among the 44 receivers who have seen 50 or more contested targets over that period. The only players ahead of him are Michael Thomas (61.7%), Chris Godwin (60.5%), Stefon Diggs (60.5%), Kenny Golladay (60.2%) and Tyler Lockett (58.0%).
---
A grand total of 115 offensive linemen have played 300 or more third-down pass-blocking snaps since 2018, but only five players have done so without allowing a single sack. Those players are Joe Thuney (441 snaps), Mitchell Schwartz (357 snaps), Brandon Brooks (327 snaps), David DeCastro (467 snaps) and Graham Glasgow (463 snaps).
Thuney hasn't allowed a third-down sack since Week 13 of 2017.
---
Brown lined up as an outside receiver on 90.0% of his snaps last season. He generated a 122.8 passer rating on his outside targets, 10th among 78 wideouts who were targeted at least 30 times on the outside.
---
Linsley will be entering his eighth year in the league, and he has yet to grade below 65.0 over a season. He's earned an 84.6 overall grade for his career, the sixth-best grade among centers over the last seven years. The only centers ahead of him are Travis Frederick, (90.5), Jason Kelce (90.3), Alex Mack (88.8), Brandon Linder (85.7) and Rodney Hudson (85.0).
---
Including the playoffs, Floyd recorded a career-high 54 pressures last season, a top-20 figure among edge rushers. His previous career-high was just 39.
---
Fuller has generated a passer rating of 108.2 on deep targets since 2016, seventh-best among the 52 wide receivers who have seen at least 50 deep targets over that span.
---
Peterson hasn't allowed a touchdown in zone coverage since Week 15 of the 2018 season. Since entering the league in 2011, the veteran corner has allowed a 62.9 passer rating on plays where the defense has lined up in a zone-coverage shell, third among the 124 cornerbacks who have seen at least 100 such targets over the last decade. He has allowed just four touchdowns to 12 interceptions on those zone looks.
Mike Zimmer's defense played a zone-coverage shell on 70.3% of snaps in 2020, the seventh-highest rate in the league.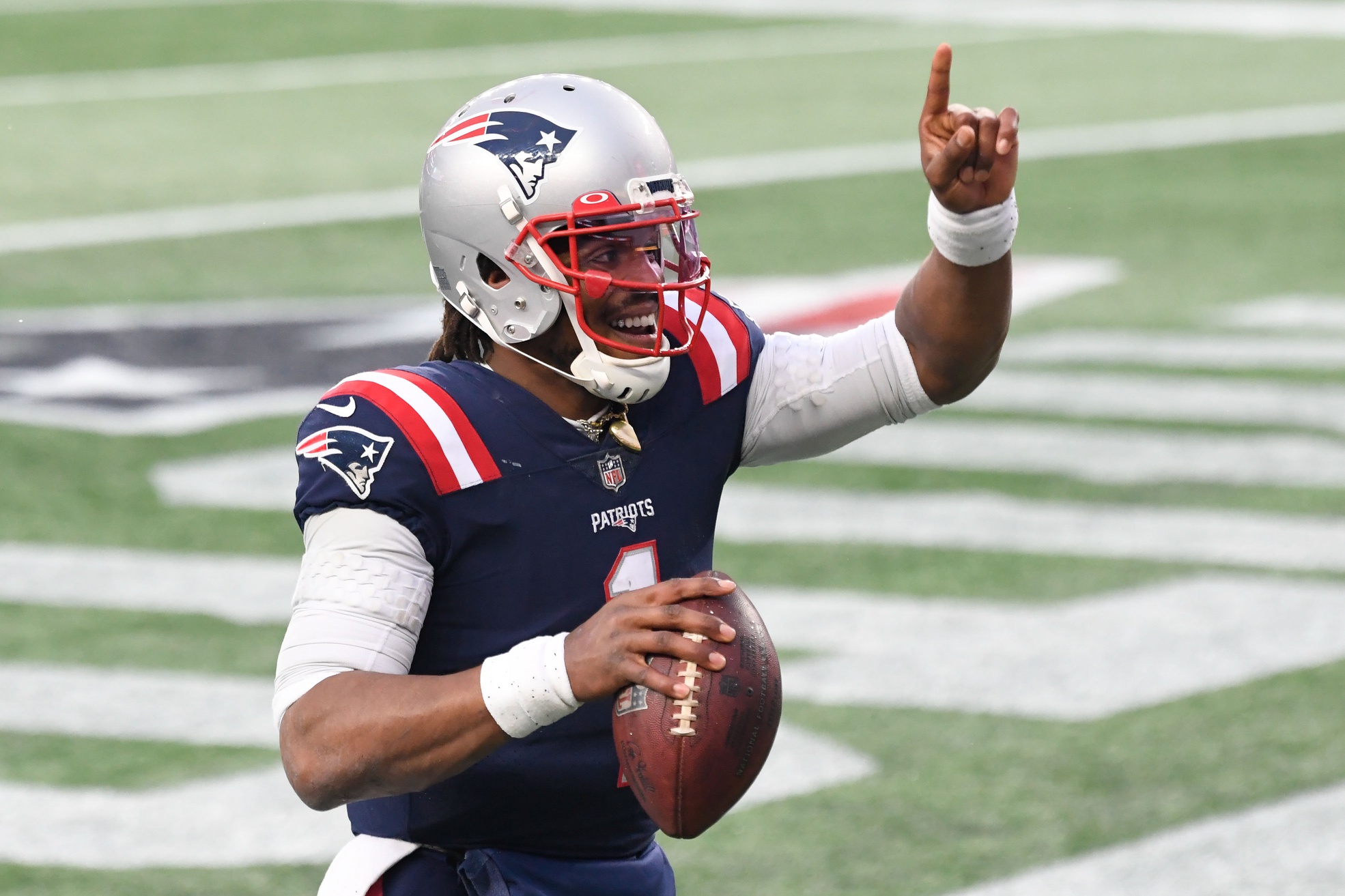 Since entering the NFL in 2011, Newton ranks first among QBs in first downs generated (409), rushing yards after contact (2,702), missed tackles forced (124) and red-zone rushing touchdowns (69).
---
Winston has earned a positive PFF grade on 19.0% of his plays over his career, which is tied with Deshaun Watson for fourth among the 151 quarterbacks who have played at least 500 snaps since 2006.
---
The former Detroit Lion has caught 60.2% of his contested targets since 2017, fifth among the 104 wide receivers with at least 25 contested targets over the last four years.
---
Davis hasn't dropped a single deep pass since joining the Titans in the first round of the 2017 NFL Draft. He's come down with all 17 catchable deep targets over that span, making him the only receiver with at least 35 total deep targets over the last four years who has a perfect catch rate on deep passes.
---
Harris has forced an incompletion on 25.0% of his targets in coverage since entering the league in 2015. Over the PFF era, 257 safeties have seen 75 or more targets in coverage — Harris' forced-incompletion rate ranks first.
---
Since entering the league in 2017, JuJu ranks second in the NFL in both receiving yards (2,393) and receiving touchdowns (19) from the slot.
---
Verrett allowed only 0.82 yards per coverage snap last year, 10th among the 85 cornerbacks who played 300 or more coverage snaps.
---
The fifth-year tight end has averaged 15.8 yards per reception against single coverage over the last two seasons, the fifth-best mark among the 38 tight ends who've seen at least 25 such targets since 2018.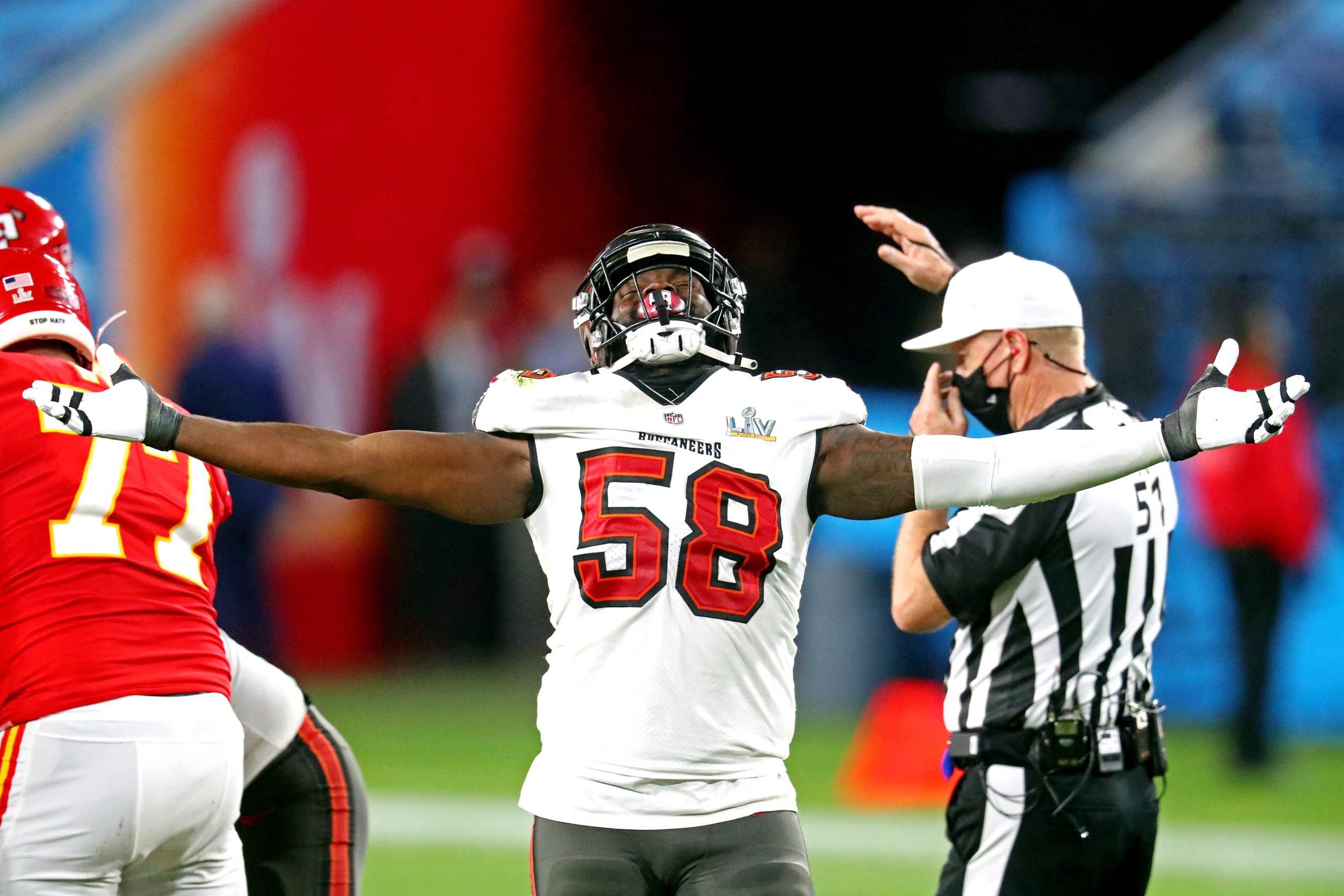 Barrett has produced pressure on 20.1% of his third-down pass-rush snaps since joining Tampa Bay in 2019, second among the 68 edge defenders who have rushed the passer at least 150 times over the last two years.
---
Autry's 1.64-yard average depth of tackle against the run ranks 12th among the 118  interior defenders who have played 300 or more run-defense snaps since 2018.
---
William Jackson has allowed a catch on just 37.1% of his targets in single coverage, the second-best rate among the 71 cornerbacks who have seen 100 or more single-coverage targets since 2017.