PFF's No. 1 ranked free agent for the 2021 offseason has inked a record contract before the 2021 league year officially begins on March 17, agreeing in principle to a four-year, $160 million deal worth up to $164 million, per ESPN's Adam Schefter.
The contract is a slam dunk for Prescott and his representation, demonstrating exactly what Dallas Cowboys owner Jerry Jones said on Dallas radio station 105.3 The Fan back in January. "I don't know how you could have any more leverage," Jones said of Prescott.
Throughout negotiations, the belief was that Dallas wanted a five-year deal while Prescott wanted a four-year deal so he could reach free agency again sooner and cash in once more. The deal is four years, $160 million ($40 million per year), with a staggering $126 million in total guarantees. For reference, Deshaun Watson's four-year extension signed in 2020 came with $112 million in total guarantees.
Prescott's $66 million signing bonus is also the largest in NFL history, just topping Russell Wilson's $65 million signing bonus on his 2019 extension.
Not only did Prescott get the shorter deal he wanted, with more per year and more in total guarantees than Watson, but he also secured no-trade and no-tag provisions.
An interesting and smart maneuver is still being carried out, as the franchise tag will further benefit Prescott in the future. While Dallas and Prescott have agreed in principle, the team will still place a second consecutive franchise tag on the quarterback before the deadline — carrying a value of $37.69 million — before the quarterback officially signs his contract.
Implementing this move ensures that if a team tries to franchise tag Prescott at any point in his career, it would be a third franchise tag at an exorbitant amount. Effectively, like Minnesota Vikings QB Kirk Cousins, this ensures that the signal-caller will never be franchise tagged again.
As we saw with Cousins departing from the Washington Football Team back in 2018, multiple suitors for Prescott would have created a bidding war, and Prescott is probably held in higher regard than Cousins was at the time.
Cousins was able to sign a fully guaranteed three-year contract, the likes of which the NFL had never seen, further illustrating the type of leverage quarterbacks in that situation have. It's not just the overall value that Dallas would be competing against, but also favorable terms for Prescott. In the end, Dallas recognized the cards were strongly in their franchise quarterback's favor and locked in a fair deal for all involved.
Dak Prescott is a remarkable success story. Selected with a compensatory draft pick at the end of the fourth round of the 2016 NFL Draft, he is now the NFL's second-highest-paid player ever. Fellow 2016 quarterbacks in No. 1 overall pick Jared Goff and No. 2 overall pick Carson Wentz may have gotten their extensions sooner, but neither will be playing the 2021 season with the team that drafted them. Prescott, on the other hand, is just getting started in Dallas.
Dak will now return to one of the league's best receiving groups, led by WRs Amari Cooper, CeeDee Lamb and Michael Gallup. Tight end Blake Jarwin will also be returning from a season-ending injury of his own, as will both starting tackles Tyron Smith and La'el Collins.
With better luck from a health perspective, there's no reason Dallas shouldn't have one of the more potent offensive attacks in the NFL in Mike McCarthy's second season as the Cowboys' head coach. Prescott doesn't have to preoccupy himself with future concerns and can play the high-octane football we've become accustomed to.
The Cowboys entered the day projected to have about $20 million in 2021 salary cap space, per Over The Cap, and Prescott's $37.69 million franchise tag would have made matters even more complicated. His 2021 cap hit will certainly be lower than the tag amount, and per ESPN's Todd Archer, the deal includes two void years in 2025 and 2026 to help with Dallas' salary cap in 2021 and 2022.
Teams may prorate bonus money up to a maximum of five years, so the first void year helps in 2021 by allowing the record $66 million signing bonus to be prorated over five years ($13.2 million cap charge in each season).
While the full details are not known at this time, Prescott presumably has a large roster bonus or base salary in 2022 that the team already plans to restructure into a signing bonus and then push some of that money into the second void year in 2026. Dallas now may have some room to add a few pieces to their defense in free agency.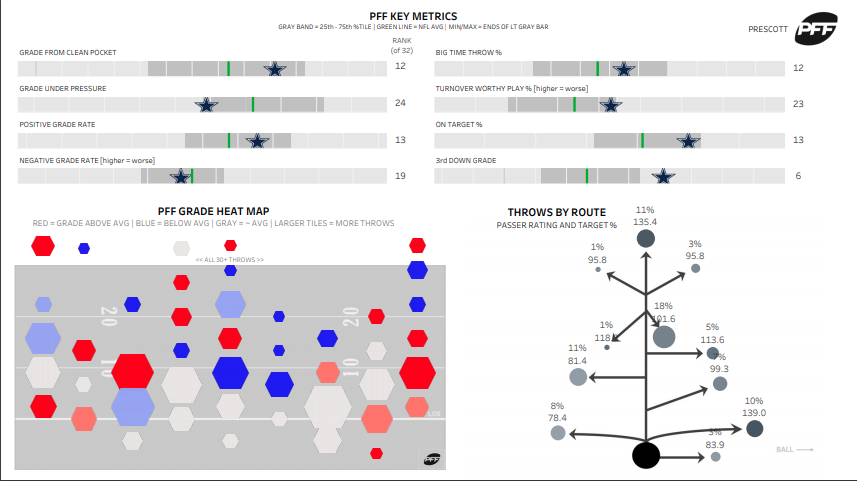 Prescott plays the quarterback position with an intelligence level that continues to outpace his number of years in the NFL. We saw that play out statistically in his passer rating when kept clean in 2020 before injury. His 117.2 mark was well above the league's 103.7 average.
Prescott is always sniffing out defensive pressures to give himself as much time in the pocket as possible, therefore ensuring he doesn't get rid of the ball before he needs to. This leads to his unique coolness at the position. Nothing fazes him. His smooth pocket movement and shifty behavior outside the pocket perfectly complement the fluttery touch he shows when throwing all over the field.
Prescott played the first part of the 2020 season with the worst offensive line and the worst defense he's ever had, but that still didn't stop him from being on pace for the best campaign of his career. He produced an 85.2 overall grade that ranked seventh among quarterbacks through Week 5.
He is also a brilliant reader of defenses, although he probably needs to take more chances down the field. Prescott's average depth of target ranks only 25th-highest among all quarterbacks with at least 500 dropbacks since 2016 — his rookie season. This is the big area where he can still grow. He also needs to feel a little more confident pulling the trigger on tighter windows deep downfield.
The flipside is that he's become a savant in other areas. He's a Tier 2 quarterback still, but one that you would have no problem projecting into Tier 1, especially after what looked like the start of a beautiful 2020 campaign before his season-ending ankle injury.