Young quarterbacks will always be the center of attention in the NFL. They represent hope to fanbases, many of which sorely need something to look forward to after years of subpar play at the league's most important position. While there is a group of potential star signal-callers coming out of the last three draft classes, each player has his own strengths and weaknesses.
[Editor's note: Subscribe to PFF ELITE today to gain access to PFF's Premium Stats and new Player Grades experience in addition to the 2020 NFL Draft Guide, 2020 Fantasy Rookie Scouting Report, PFF Greenline, all of PFF's premium article content and more.]
So what would the ideal young quarterback look like? I've combined the best traits of the quarterbacks from the 2018, 2019 and 2020 draft classes to find out. Who knows — maybe this Frankenstein could even rival Patrick Mahomes.
For the last three seasons, PFF has been charting ball location on passes for every FBS quarterback, giving us a pretty good idea of who the most accurate quarterbacks at both the college and NFL levels are. Even before he broke out last season, Burrow's accuracy rate of 63.9% during the 2018 season was a top-10 mark among 101 quarterbacks with 250 or more pass attempts. And then you get to 2019 when Burrow looked damn near like a robot put on Earth to hit Justin Jefferson and Ja'Marr Chase in stride. The table below shows the accuracy rate of every first-round quarterback taken in the last three years in their final collegiate season.
| | |
| --- | --- |
| Quarterback | Accuracy rate in final collegiate season |
| Joe Burrow (2019) | 71.7% |
| Baker Mayfield (2017) | 66.0% |
| Kyler Murray (2018) | 63.4% |
| Tua Tagovailoa (2019) | 63.0% |
| Dwayne Haskins (2018) | 62.3% |
| Sam Darnold (2017) | 62.0% |
| Daniel Jones (2017) | 61.9% |
| Justin Herbert (2019) | 59.7% |
| Jordan Love (2019) | 57.6% |
| Josh Rosen (2017) | 54.2% |
| Josh Allen (2017) | 50.4% |
| Lamar Jackson (2017) | 49.2% |
Burrow's accuracy rate of 71.7% doesn't just lead that group, but it is higher than any other qualifying quarterback since 2018. Burrow didn't put up that number by dinking and dunking his way to it, either. Burrow's accuracy rate on throws past the sticks in 2019 was 63.8% — higher than any other quarterback at the college level in the last three seasons with at least 100 attempts. Accuracy and being able to make the plays you're supposed to make are the core of being a high-level quarterback in the NFL, and Cincinnati has to be excited about what Burrow has shown so far in that department.
Honorable mentions: Baker Mayfield, Cleveland Browns and Tua Tagovailoa, Miami Dolphins
Even if Mayfield's 2019 season wasn't as bad as the passer rating would suggest, there was a significant decline from the impressive play we saw for three seasons at Oklahoma. This followed a rookie debut that had many thinking Mayfield was on the brink of taking a step toward being one of the next faces of the position. As PFF's Sam Monson pointed out recently, the heart of that drop off was a significant decline in accuracy. Mayfield went from a top-five accuracy mark in the NFL as a rookie (something he was known for at Oklahoma, as well) to one of the worst accuracy marks in the NFL this past season. I'm willing to go out on a limb and say the top marks Mayfield put up from 2015 to 2018 didn't just disappear and that he'll bounce back in what should be a new and improved system in 2020.
As for Tagovailoa, the accuracy mark shown in the table above from 2019 is lower than the number he put up in 2018 (65.7%). Only 20.1% of his throws past the line of scrimmage were uncatchable per our charting, a number that was fourth among Power-5 quarterbacks. There may still be injury concerns surrounding Tagovailoa, but the Dolphins shouldn't be overly concerned about his accuracy translating to the NFL.
Throwing with touch and anticipation is a huge part of being an accurate quarterback, but I wanted to separate them out to highlight someone here who significantly outperformed expectations as a sixth-round selection last season largely because of these traits.
Minshew was the NFL's third-best deep passer in 2019, yet he has one of the weaker arms in the NFL. Among qualifying quarterbacks, Minshew's 129.0 passer rating on throws 20 or more yards downfield ranked first. His 49.0% completion rate and 16.7 yards per attempt trailed only Patrick Mahomes and Jimmy Garoppolo (who excelled on just 31 deep shots all season). Going back and looking at the tape, you see plenty of passes that aren't lasered into his target but rather dropped in over the top of the defender.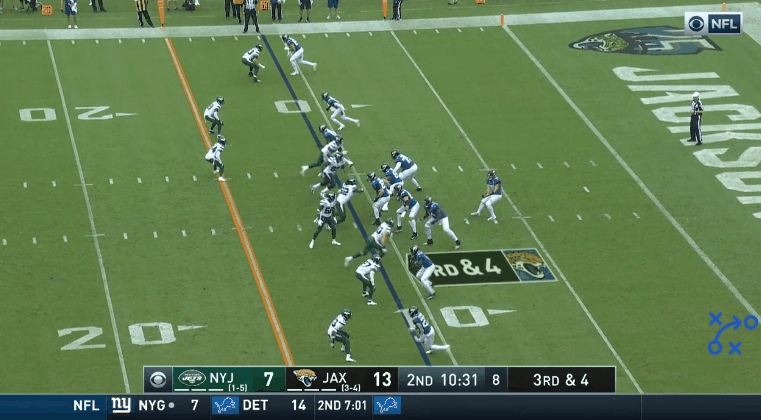 This is a beauty dropped right on the money over the shoulder of D.J. Chark, and it's the kind of pass that made Minshew such an effective downfield passer. He's not going to rocket balls into tight windows, but that's not something you have to do when you can throw with accuracy and anticipation.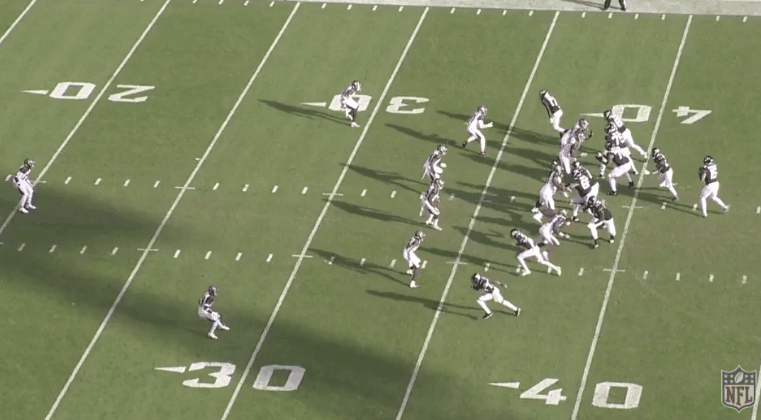 Minshew gets rid of this ball right when Chark turns upfield on his out-and-up at the 30-yard line, and the ball hits him at the 10 — behind the cornerback and in front of the safety. When you don't have a rocket for an arm, this is how you must win. Minshew did a great job of that as a rookie.
Honorable mention: Joe Burrow, Cincinnati Bengals and Tua Tagovailoa, Miami Dolphins
I'm not going to spend too much time on these guys, since both Tagovailoa and Burrow show up for similar reasons that landed them in the accuracy section. As the PFF Draft Guide says, Burrow's anticipation in the red zone was fantastic this past season, as he regularly threw the ball before his receivers' breaks. Tagovailoa, meanwhile, was one of the more accurate quarterbacks we've seen at the college level to all areas of the field, and his touch and anticipation was a big reason for that without great arm strength.
Allen had plenty of question marks coming out of Wyoming — many of which still remain two years into his NFL career — but the thing he's always had behind him is one of the best arms in the league. In our scouting report video of Allen two years ago, PFF senior analyst Sam Monson said of Allen, "It is unquestionable that he has the strongest arm in this draft class. He has an absolute howitzer attached to his shoulder, and that entices people." The arm strength allows him to make throws that other NFL quarterbacks simply can't, particularly when looking at off-platform throws.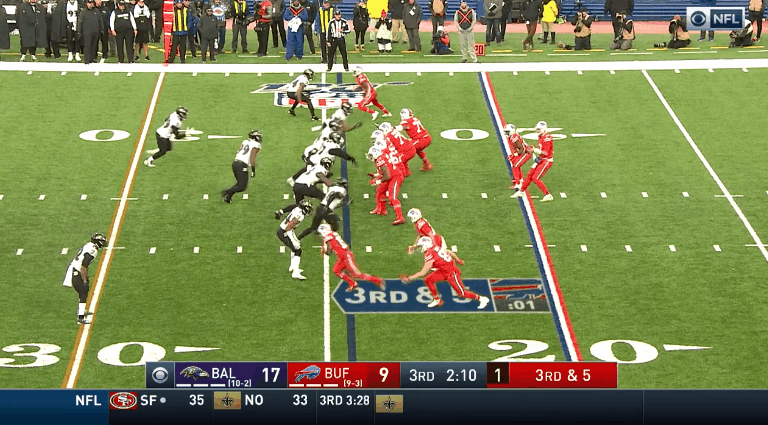 This pass against the Baltimore Ravens in Week 14 last year is a good example. Allen is flushed to his left and quickly has to open up and get rid of the ball while drifting backward. His arm allows him to put it on a rope to a well-covered Cole Beasley 25 yards downfield on the sideline. It's a pass that Beasley should have come down with.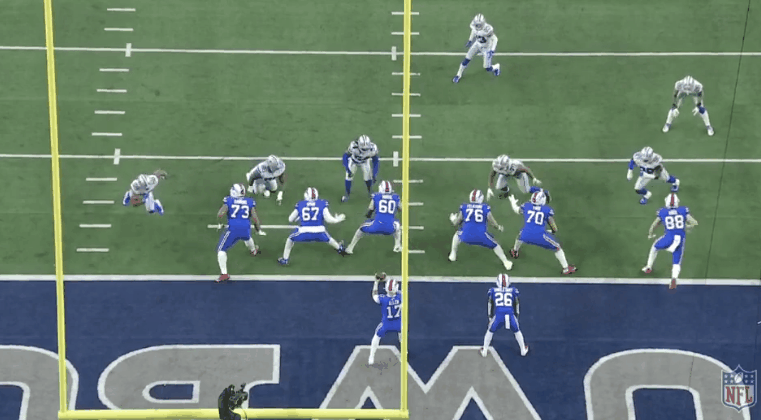 A week earlier, Allen threw this absolute laser to Beasley on the move — these throws show the high-end of what he's capable of. It's an impressive ceiling, for sure. Allen needs to continue to improve his accuracy and down-to-down consistency, but there is no quarterback in this group — and very few in the NFL — who has a better arm than Allen does.
Honorable mentions: Kyler Murray, Arizona Cardinals and Drew Lock, Denver Broncos
Murray is proof that arm strength doesn't necessarily always correlate with size. The torque he can generate with his hips to sling the ball downfield and into tight windows — likely a byproduct of his baseball background — is among the best in the NFL. That has already translated into some impressive results when targeting players downfield, something that is reflected in a sixth-place ranking in our recent list of the top deep passers in the NFL this past season. There are a pair of throws on his tape against the Carolina Panthers and Atlanta Falcons where Murray hits his receivers in stride 40-plus yards downfield that leave you excited about what things are going to look like when he puts it all together.
Lock's arm strength comes with more of a physical profile that you would expect. He's big, athletic and can zip it. He only played five games last season, but the arm strength certainly showed up on tape. Whether it was a touchdown pass down the seam to Noah Fant against the Houston Texans or a bullet to a crossing Daesean Hamilton against the Detroit Lions, it's hard not to be impressed with his natural ability to spin it.
Look, we're all for the passing game here at PFF, but if you can be the most efficient offense in the NFL by EPA per play while running the ball on 52% of your offensive snaps, carry on by all means. Jackson has been the key that has unlocked the Ravens rushing attack. You could make the argument that he's the most dangerous runner in the NFL, period. Among all players with 100 or more rushing attempts last season, Jackson averaged over a yard more before contact than any other runner per attempt (3.6). A league-high 38% of his runs went for first downs or touchdowns, and he forced fewer missed tackles per rush than only Josh Jacobs and Alvin Kamara.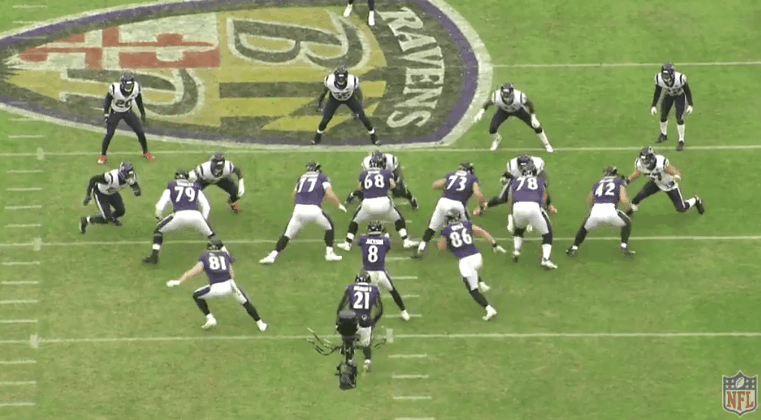 One… two… three… four… five defenders on their faces on this 39-yard run by Jackson against the Houston Texans. It's not just his speed — it's his ability to stop on a dime and change directions without losing speed. Greg Roman has done a masterful job of tailoring Baltimore's offense to Jackson's strengths, and though his MVP trophy came on the back of significant improvement as a passer in his second season, his ability in the open field as a runner is something that no one else can match at the quarterback position.
Honorable mentions: Kyler Murray, Arizona Cardinals and Josh Allen, Buffalo Bills
Early in their NFL careers, Murray and Allen are clearly two of the better rushing quarterbacks in the NFL, doing it in very different ways. Murray isn't going to invite contact, and he's not going to make a ton of people miss, preferring to slide or get out of bounds to avoid contact. But if he gets open field in front of him, look out. The guy has wheels, something that led to over four yards before contact per attempt on his 94 rush attempts in 2019. Allen, on the other hand, averaged over 3.5 yards after contact on his carries last season and forced 20 missed tackles on the ground compared to Murray's six. In a similar fashion to Cam Newton, Allen is a big guy who is hard to bring to the ground. Both styles have worked thus far.
Burrow makes his second appearance on this breakdown, but it was hard for me to justify anyone else for this category after what he displayed last season. As PFF's lead draft analyst Mike Renner put in this year's PFF Draft Guide, Burrow was "unfazed in the pocket this season," noting that he "steps into deep balls with bodies collapsing around him." It's something that Burrow himself thinks is one of his biggest strengths, as well, stating at the 2020 NFL Scouting Combine that he thinks his pocket presence is the thing that will translate most to the NFL level.
You don't get an 81.6 passing grade under pressure in the SEC by mistake. That was higher than what Kyler Murray was able to produce in 2018 (79.5) and what Baker Mayfield put up in 2017 (79.4), their final college seasons. In fact, it's higher than any quarterback drafted in the past three seasons. As for Burrow's raw passing numbers under pressure: 81-of-122, 1,391 yards, 17 touchdowns and one interception, good for a passer rating of 141.1. Those are silly numbers.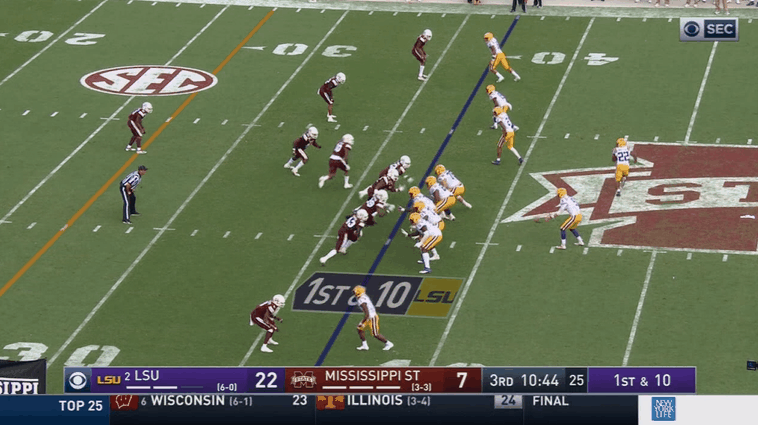 This play against Mississippi State really shows it all. The center gets beat almost immediately, which forces Burrow to step up into more interior pressure. He maneuvers it with ease, keeping his eyes downfield the whole time and gets to an open area where he unleashes an absolute dime. The feel and maneuverability he displayed in the pocket last season while maintaining his attention downfield is not something you see in the collegiate ranks all that often.
Honorable mentions: Tua Tagovailoa, Miami Dolphins and Lamar Jackson, Baltimore Ravens
If Tagovailoa had not gotten hurt last season, the debate between him and Burrow at the top of the quarterback position in this year's draft would have been a lot closer. As Renner pointed out, Tagovailoa performs extremely well in three of the most important aspects of quarterback play: accuracy, decision-making and pocket presence (something Renner called arguably his most impressive trait given his age). Tagovailoa was rarely sacked when under pressure at Alabama, and when he got the ball out, good things happened. His 9.1 yards per attempt and 104.3 passer rating under pressure since 2018 were both top-three marks among all FBS quarterbacks with 100 or more attempts.
Given how good Jackson is as a runner, his ability to maneuver the pocket can sometimes get overlooked. Coming out of Louisville, PFF senior analyst Steve Palazzolo pointed out that Jackson is "more than willing to go through multiple reads" and "has no problem making plays from the pocket." Continuing that trend, a large chunk of his rushing production came on designed runs rather than scrambles this past season. That pocked presence helped Jackson finish the 2019 season as the sixth-highest graded passer in the pocket in the NFL, and Baltimore's offense ranked fifth in the league in yards per play when pressured (4.8).
If there is one thing that Haskins can hang his hat on following his rookie season, it is how well he limited turnovers. That's something rookies often struggle with because the windows they're throwing into close quicker at the NFL level. Haskins' 1.9% turnover-worthy play rate as a rookie was a top-five mark across the entire NFL. The conservative approach the team employed early in his tenure as a starter helped, but Haskins still did a good job of not unnecessarily putting the ball in harm's way. This is a trait Haskins showed at Ohio State, too.
| | |
| --- | --- |
| Player | Collegiate Turnover-Worthy Play Rate |
| 1. Baker Mayfield | 2.6% |
| 2. Kyler Murray | 2.9% |
| 3. Dwayne Haskins | 2.9% |
| 4. Joe Burrow | 3.0% |
| 5. Tua Tagovailoa | 3.1% |
The table above highlights the lowest career turnover-worthy play rates for quarterbacks from the 2018, 2019 and 2020 classes in college. Haskins was right up there with Mayfield and Murray at limiting opportunities for the defense to come away with the football. Haskins still has some things to figure out at the NFL level, but he has legit arm talent at his disposal — and limiting negative swings the way he has in the league is a good start.
Honorable mention: Kyler Murray, Arizona Cardinals
Among the 32 NFL quarterbacks with the most dropbacks last season, Murray's turnover-worthy play rate of 2.7% ranked 11th. As the table above shows, it's also an area where he performed well with the Sooners, ranking ahead of Haskins in this group. It's another promising sign for a player many believe to be one of the league's up-and-coming stars at the position.