Alabama quarterback Tua Tagovailoa announced he would forego his remaining eligibility and declare for the 2020 NFL Draft on Monday. If it wasn't for a gruesome hip dislocation suffered before the end of the half against Mississippi State earlier this year, the announcement would have been a formality. The injury though throws a wrench into his draft prospects and NFL career. Let's take a look at where exactly he stands on the football field and which teams should be vying for his services in late April.
You can debate the merits of who is more desperately in need of a franchise quarterback, but the odds are if Tagovailoa is given a clean bill of health come draft time, he'll be heading to one of these teams picking in the top half of Round 1.
5. Miami Dolphins
6. Los Angeles Chargers
7. Carolina Panthers
9. Jacksonville Jaguars
13. Indianapolis Colts
The team that basically started the 'Tank for Tua' slogan didn't quite employ it efficiently enough to assure themselves the former Alabama QB. One has to think with as much firepower as they have though with two other first-round picks in tow, Tua will be a Dolphin if they really want him.
With Philip Rivers set to become a free agent this offseason, the future of the Chargers quarterback position may not be the former top-five pick for the first time in 15 years. Rivers is coming off the fourth-lowest graded season of his career and had the third-most turnover-worthy plays of any quarterback (32). They're perfectly situated to go up and get Tua, but it will likely take some future first-rounders to do so, as they don't have the added draft capital that some other QB-needy teams do.
The Panthers have some soul searching to do before the draft at the quarterback position. Kyle Allen was the lowest-graded starter in the NFL last year, and third-round pick Will Grier had one of the most underwhelming seasons of any rookie QB. Cam Newton is under contract for one more season at a very reasonable $21.1 million cap charger, but there's been a seemingly growing rift between him and the organization this season. Combine that with his recent health issues, and there's a real chance Newton is under center elsewhere in 2020.
Gardner Minshew exceeded even the wildest expectations one could have had for a sixth-round pick, but that doesn't mean the Jaguars quarterback situation is solved just yet. Minshew still had more turnover-worthy plays than big-time throws this year and his arm strength concerns haven't evaporated yet. With the 20th overall pick in their control as well from the Jalen Ramsey trade, Jacksonville has the ammo to leapfrog into the top-five and get their guy.
The Colts could do much worse than Jacoby Brissett under center, but they could also do much better. He earned a 62.6 passing grade as a starter in 2017 and a 58.1 this past season. The latter figure ranked 26th out of the 27 quarterbacks who took at least 350 dropbacks this season. GM Chris Ballard has had the opposite approach to the draft though than what it would take for Indianapolis to secure Tua. They've traded backward in the first-round each of the past two seasons with their latest swap with the Washington Redskins netting them the 34th overall pick in this year's draft. The need is obvious, but don't expect Ballard to break character even with the most valuable position in football at play.
All those teams above could draft Tua, but should they draft Tua is the real question? The short answer: yes. Here's why.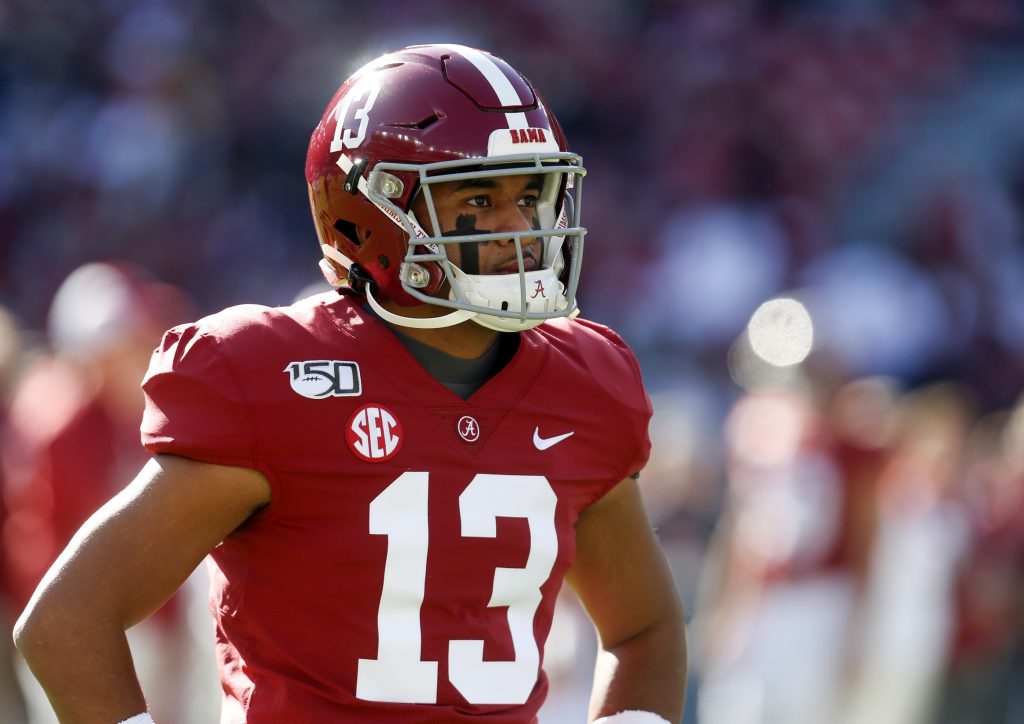 If I were to break down quarterbacking into the most important macro-level traits, they'd be the following (in order of importance):
Accuracy
Decision Making 
Pocket Presence
Arm Strength
For Tagovailoa, he knocks three out of four of those traits out of the park. Let's dive into each.
Accuracy
This is Tagovailoa's calling card. Back in 2018, he had the highest percentage of passes charted with perfect ball placement of any Power-5 quarterback. Yes, higher than number one pick Kyler Murray. Joe Burrow and Jake Fromm bested him in that regard this season, but Tagovailoa was still elite from an accuracy standpoint in 2019. What's maybe more impressive, though, is that he rarely misses throws entirely. Only 20.1% of this throws past the line of scrimmage were deemed uncatchably inaccurate. That ranked fourth among Power-5 quarterbacks. Those are pretty darn good accuracy figures to have when projecting to the NFL.
Decision Making
Avoiding costly mistakes with the football is something Tagovailoa has done better than any prospect in recent memory. On 781 career dropbacks, Tagovailoa has only 24 turnover-worthy plays. It's also something he's improved upon every year unlike recent prospects like Deshaun Watson or Sam Darnold who had large spikes in their final college seasons. He made only six turnover-worthy plays in all of 2019 before being injured. That 3.1% career turnover-worthy play rate puts him in great company among the career rates for recent first-rounders.
| | |
| --- | --- |
| Player | TWP rate |
| Kyler Murray | 2.9% |
| Daniel Jones | 4.3% |
| Dwayne Haskins | 2.9% |
| Baker Mayfield | 2.6% |
| Sam Darnold | 4.4% |
| Josh Allen | 4.4% |
| Josh Rosen | 4.9% |
| Lamar Jackson | 4.0% |
Pocket Presence
This is arguably Tagovailoa's most impressive trait given his age. True juniors are not supposed to have the pocket manipulation skills that Tagovailoa has displayed over his career. It's something that Burrow notably took a big step forward in from 2018 to 2019, but Tua has been unfazed by pressure in the pocket nearly his entire college career. He not only had a 105.0 passer rating when faced with pressure the past two seasons, but he also only converted pressure to sacks 13.2% of the time. The latter is an elite figure for a college quarterback and puts him in company with guys like Patrick Mahomes (11.4%), Drew Brees (12.4%) and Tom Brady (14.1%) in the NFL.
Arm Strength
This is the one trait that will get picked apart by evaluators all spring. Tagovailoa's arm strength is on the low end for NFL standards and can only get worse with his hip injury robbing him of some torque in his lower half. He's had one pass his entire college career travel 50-plus yards downfield. That throw, shown below, was an interception against LSU in 2018 and looked as if it was everything Tagovailoa had in the tank.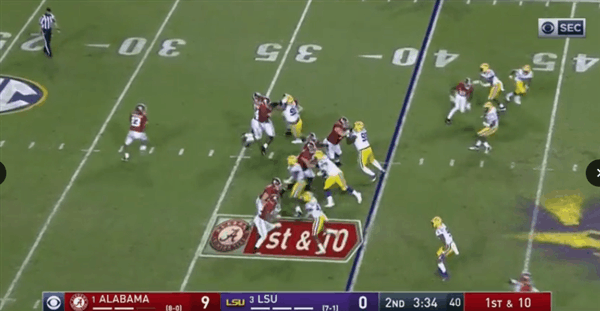 From release to landing spot is still comfortably under 60 yards on that throw. There are quarterbacks with weaker arms starting in the league, but we'd be lying if we said it wasn't a concern.
The biggest piece of the quarterback puzzle, though, isn't really a trait at all. It's simply how you've produced on the football field. While there's no such thing as a sure thing in the NFL draft, Tagovailoa has dominated college football so unprecedentedly in his tenure at Alabama that you'd be overthinking it to not view him as a franchise-type QB prospect if healthy. What stands out about Tagovailoa when compared to some other prospects in recent years is how much better he was at an earlier age. Not only have we never seen prolonged stretches of bad football from Tua, but we also saw high-level play from him dating back to his true freshman year. Burrow didn't grade out like an elite quarterback until he was in his age 23 season, Murray was 21 when he broke out last year and Baker Mayfield was 20 in his first year as a starter for Oklahoma. Tua, on the other hand, was 19 when he came in the second half to lead Alabama to a win over Georgia as a true freshman in the National Championship and earned a 72.3 overall grade on 29 dropbacks. 
We've seen nothing but elite-level play from him since in the most difficult conference in America. His career passing grade is 91.7. Of course that's not the end all be all, but on-field production is obviously something we feel strongly about being the best indicator of success at the next level.
If there is any on-field red flag for Tagovailoa, it's that he was surrounded by one of the most absurd collections of talent in college football history. This past season, he very well could have been throwing to three future first-round wideouts while being protected by two first-round tackles. A lot of QBs could have put up absurd stats with the help Tua had around him. That's how you get games like South Carolina earlier this season where Tua went 28-36 for 444 yards and five touchdowns with no picks earning a middling 71.5 passing grade. 81.5% of his yards in that game came after the catch.   
For the season, Tua only connected on 31 passes 15-plus yards downfield. For comparison, here's how many the recent first-round QBs had their final year of college.
| | |
| --- | --- |
| Player | Completions 15+ yards downfield |
| Kyler Murray | 60 |
| Daniel Jones | 22 |
| Dwayne Haskins | 59 |
| Baker Mayfield | 60 |
| Sam Darnold | 55 |
| Josh Allen | 30 |
| Josh Rosen | 53 |
| Lamar Jackson | 45 |
Only Josh Allen and Daniel Jones had fewer and neither has been particularly impressive downfield passers in the league yet. While one of the hallmarks of a great quarterback is taking what the defense gives you, he's not exactly alleviating arm strength concerns with that figure.
We've made it this far without even discussing the elephant in the room. Tagovailoa's hip injury is very serious and career-threatening. We're not trained medical professionals here at PFF, but after consulting with one, it's clear that Tagovailoa could have complications pop up in the coming months that could end his career through no fault of his own or doctors. Avascular necrosis of his hip's ball joint could develop at any time over the next 4-6 months following his injury resulting in the death of that bone. Any team debating selecting Tagovailoa will obviously have to thoroughly vet his recovery. But assuming he makes a complete recovery, we have far fewer concerns with his on-field play. Tagovailoa is a franchise quarterback prospect and any team in need of a quarterback at the top of the draft should be willing to part ways with a few extra draft picks to secure his services.